Robert 'Bob' George Fox, 438 Squadron
March 7, 1922 - January 29, 2015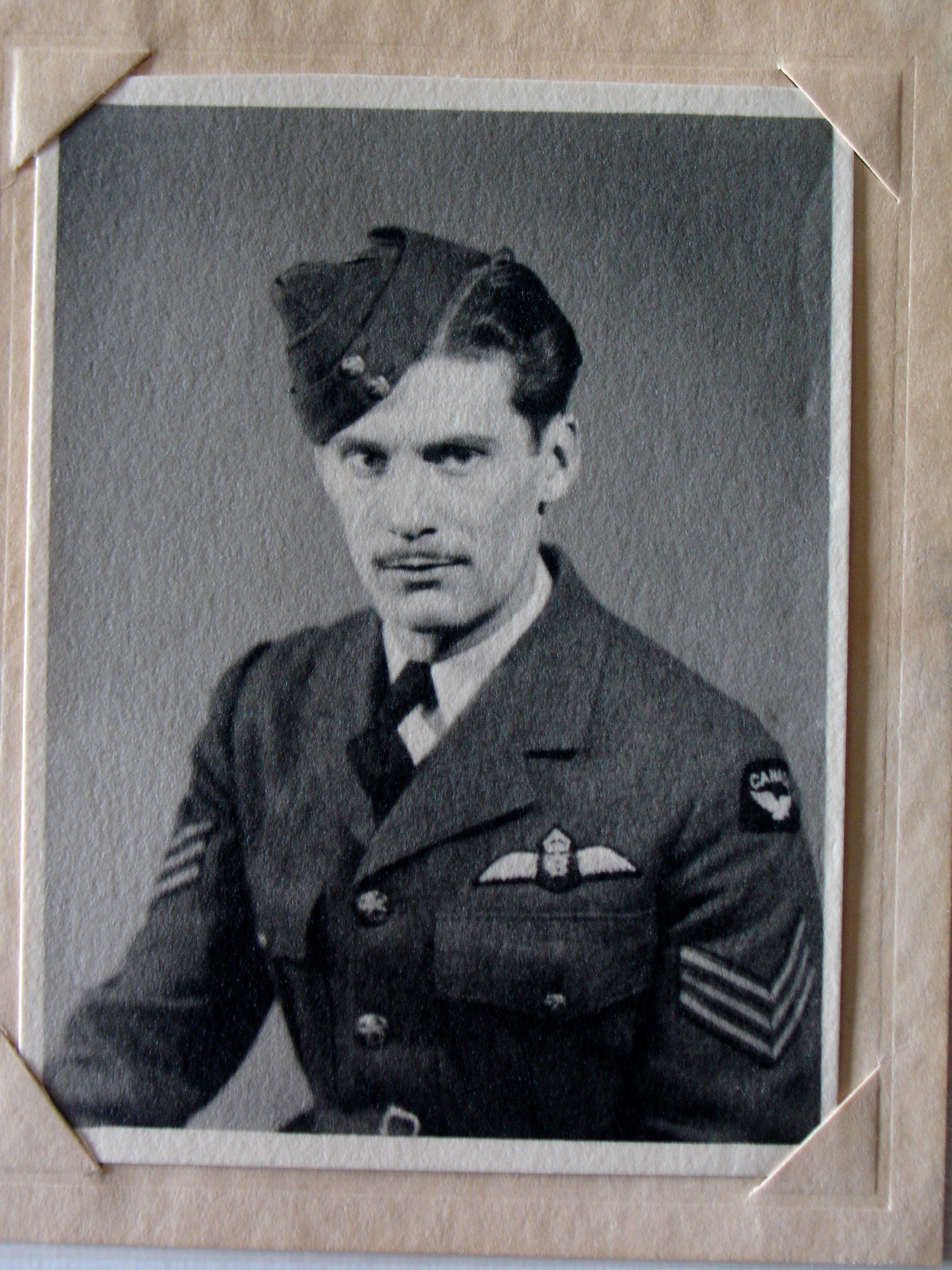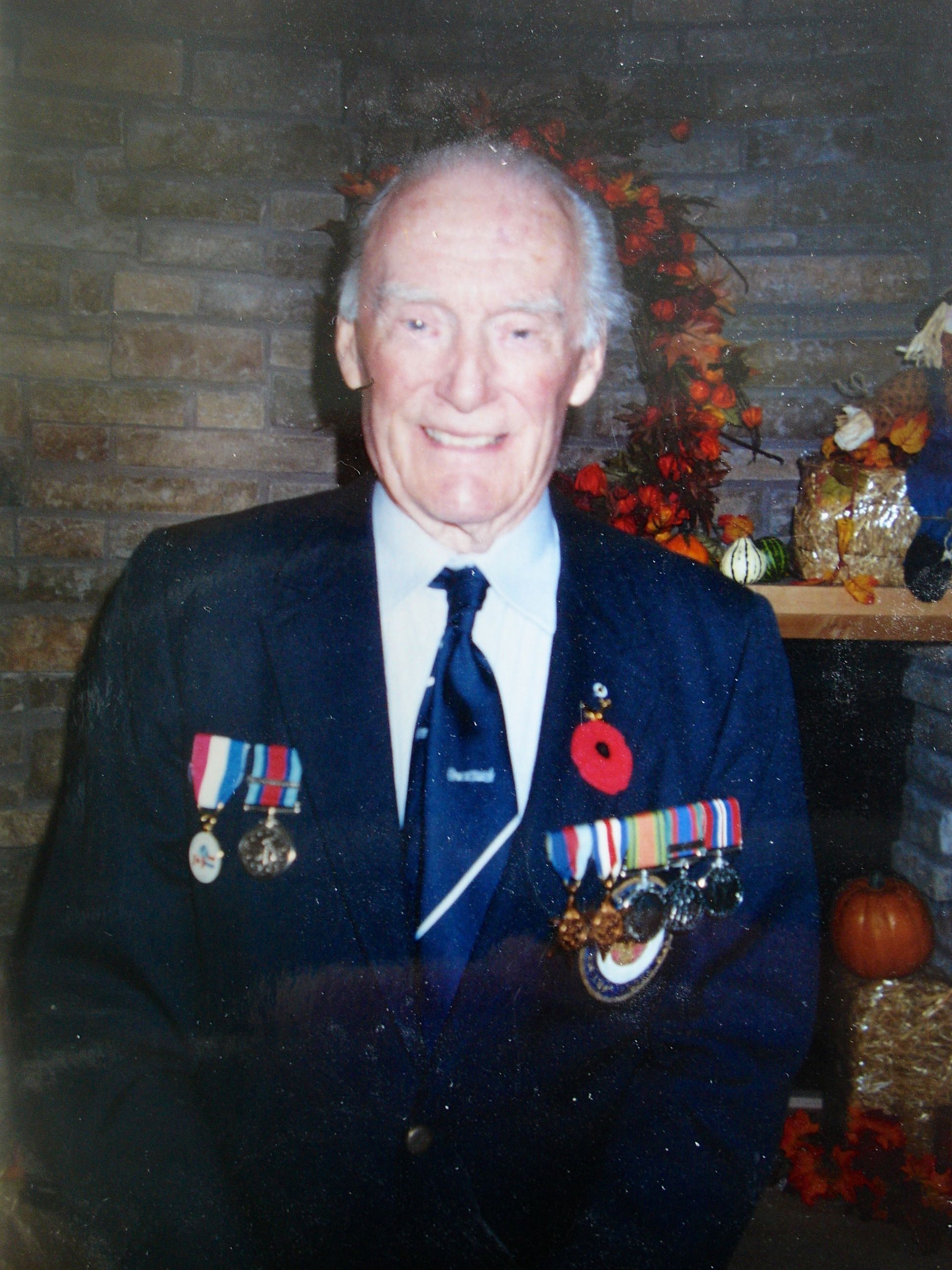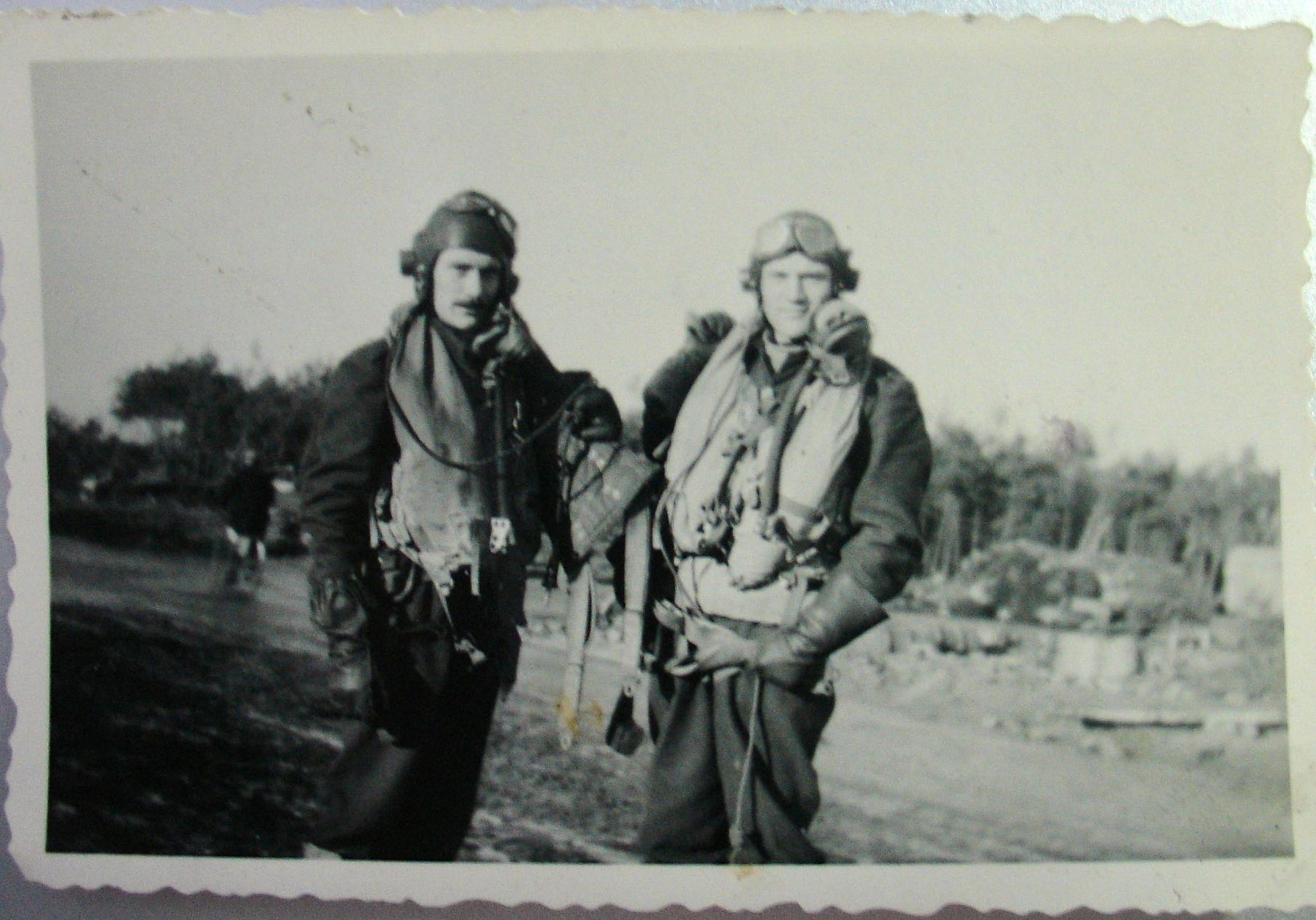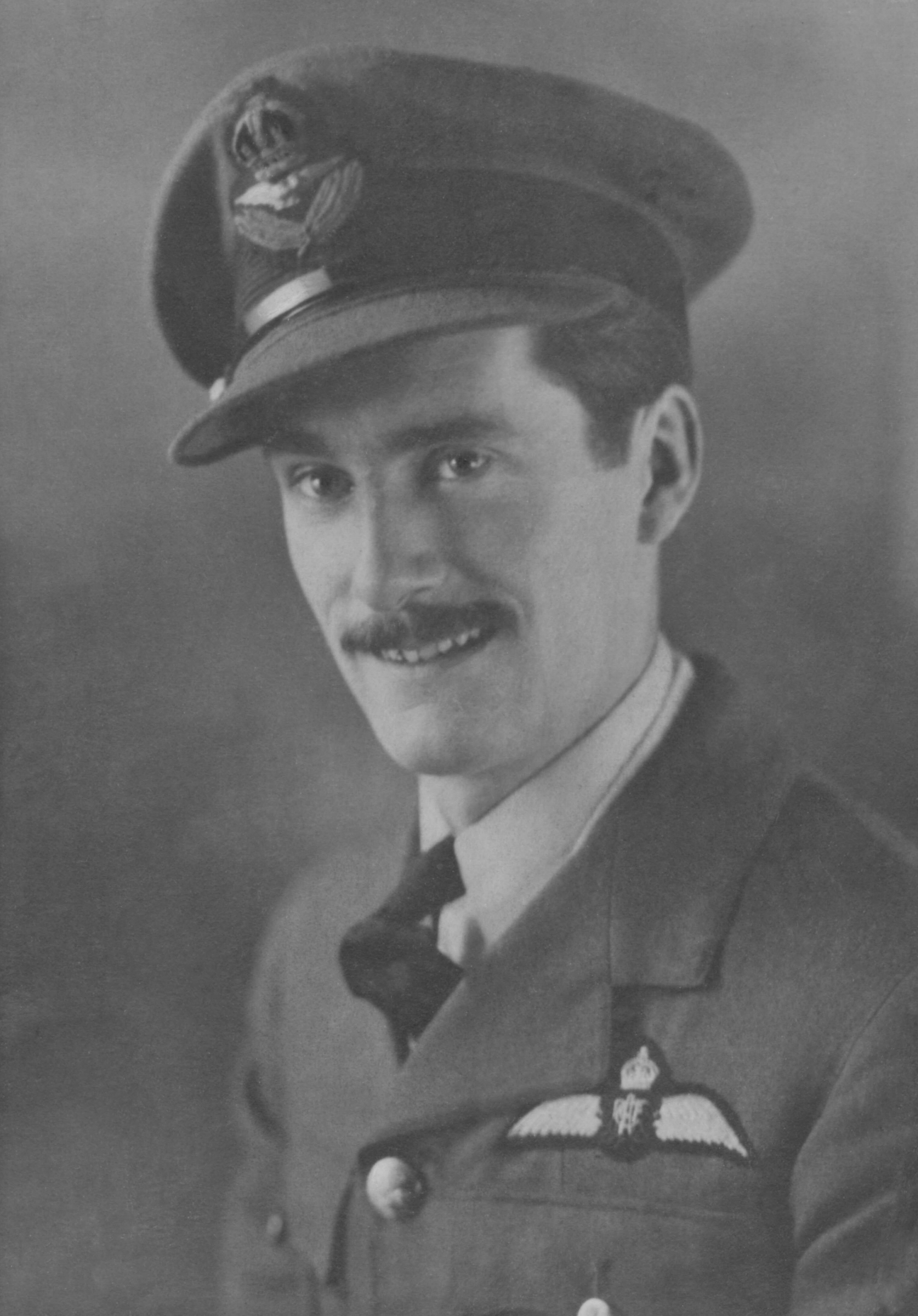 DIARY
Bob kept a diary of sorts in a Flex-O-Ring Memo Book from February 2, 1942 to April 10, 1944. He also noted names and addresses of Air Force 'chums', and "Gals", indicating the community they either were from or were living.
TRANSCRIPT
DATE BOOK
R. G. Fox
R-149953
RCAF
Feb. 2, 1942
Regina, Sask.
TRAVELS
Feb 2/42
Left Regina for #1 Manning Depot at Toronto. Had a good time in Toronto is a great place.
March 16, 1942
Left Toronto for a radio course at McGill University, Montréal. It was a wide open city and a good station. The view of Montréal and the St. Lawrence River from Mount Royal is marvelous.
April 19, 1942
Left Montréal for Toronto where I remustered to aircrew.
May 1, 1942
Went on a 48 Niagara Falls and Buffalo New York. The Falls for grand and I shall always remember them. I had a swell time in Buffalo and the people showed us a good time. The USO services in my opinion can't be beat for the work and trouble they go for fellows in the service. Heard Gene Krupa's orchestra there and that was a treat in itself. The 48 was a success.

Gene Krupa, drummer, 1939 with Benny Goodman
May 9, 1942
It is a grand spot. The view of Hamilton and Lake Ontario from Lookout Inn is one of the nicest views I've ever seen.
July 2, 1942
Left Toronto for Sydney Nova Scotia, a mining town, but nice. Ocean swimming at Glace Bay was perfect.
August 18, 1942
Left Sydney for Regina on two weeks leave. A lot of fellows have joined up but it was swell to see Marg and the folks again.
August 30, 1942
Left Regina for Toronto to see Lyla. Stayed a day and then back to Sydney to end a perfect leave.
October 23, 1942
Left Sydney for #3 ITS Victoriaville, PQ. Station is good but all French people in the town. A little town called Richmond is a place for fun. It's only 30 miles from here and I go there for the weekends.
December 30, 1942
Finished ITS with an average of 83% and am going through for a pilot. Got a month's leave and spent New Year's in Toronto with Lyla.
January 10, 1943
After perfect stay in Toronto, I had for Regina to see the folks. He old hometown has changed a great deal but it was still swell to be home with the folks.
January 23, 1943
Left Regina for Toronto and then on to Victoriaville.
February 7, 1943
Left Victoriaville for #4 EFTS at Windsor Mills. Really a perfect station and a swell bunch of fellows in my class. Got 83% in ground school and highest in flying.
April 19, 1943
Left Windsor mills for two weeks leaving Toronto and then posted to #1 SFTS at Camp Borden. Stayed in Toronto a few days and then went to Buffalo, New York and Niagara Falls. End of a good leave.
August 20, 1943
Received my Wings at Camp Borden from W/C Welstead CFI, and spend a week sleep in Toronto as I was unable to get home. Phoned the folks though and it made me happy to hear their voice once again. Had a very good leaving Toronto before going to #1 OTU Bagotville, Québec.
August 28, 1943
Arrived at Bagotville to train as a fighter pilot. Hurricanes are the 'cat's meow.' The towns are full of French people and as usual no place to dance so I stay in camp most of the time. A fairly good station.
October 28, 1943
Left Bagotville on two weeks embarkation leave with the folks. It was so good to see the folks again. Spent two days with Bernie on the way to Halifax.
November 24, 1943
Left Halifax on the 'RMS Mauretania' for England. The ship was crowded but had a calm and quiet crossing.
December 1, 1943
Landing in Liverpool and then onto Bournemouth. Had a real time there. Kind of a drunken time.
December 31, 1943
Left Bournemouth for #3 EFTS at Shellingford where I brought the new year in asleep in bed. I hope 1944 is a very successful year for us all.
January 5, 1944
Left Shellingford. Thank God for Bournemouth.
January 21, 1944
Left Bournemouth for #61 OTU Rednal on spitfires and what a grand kite. A very good time at Rednal and a marvelous time at the reserve drome.

http://www.controltowers.co.uk/R/Rednal.htm
In logbook, Bob notes: Feb 5, 1944: F/O Wright killed on height climb -- oxygen failure.
Canadian Virtual War Memorial
April 4, 1944
Left Rednal for Bournemouth where I got leave and spent it with Chappie at Douglous.
April 10, 1944
Posted to #3 TEU Annan, Scotland flying Hurries and Typhoons. I hate them compared to Spits. [Honily, Wickshire]
LOGBOOK ENTRIES:
Bob, like other men who went through the BCATP, kept a meticulous logbook, from his first flight on Tiger Moth 8930 on February 9, 1943 at Windsor Mills, Quebec to his last flight of WWII on July 28, 1945 on a Spitfire IX Mk 283 at 83 GSU Ferry Flight, Dunsford.
He made note of the date he earned his wings at Camp Borden, but no other comments made about the day to day flights until he sent overseas.
From January 30, 1944 until March 31, 1944, he flew the Spitfire at No. 61, [Operational Training Unit] OTU, Rednal, Shropshire.
On April 17, 1944, he was sent to No. 3 [Tactical Exercise Unit] TEU, Annan, Dumfrieshire. Here he flew the Hurricane.
On May 8, 1944, he was at 667 Squadron, Gosport, Hants, where again, he flew the Hurricane.
June 7, 1944, he returned to No. 3 TEU at Annan, flying the Hurricane.
June 10, 1944, Bob was with No. 3 TEU at Honiley, Wickshire where he first flew the Typhoon. For the month of June, he was practicing formation and cross over turns, aerobatics, battle formation, local and low flying, plus participated in a tail chase. He continued at #83 [Group Support Unit] GSU, Bognor, Regis, July 7 - August 2, 1944.
As Bob progresses through his tour, he makes note of his tasks (dive bombing railroad tracks, armed recce, train yards destruction, rail cutting, damaging canal locks, damaging/destroying bridges, targeting petrol truck, damaging armoured cars and transport. He noted his fellow pilots who were shot down behind enemy lines, made it home, or 'went down in flames'. He also noted those who finished their tours.
By January 1945, he was either the Red or Blue Leader.
He indicates, with a swastika in the inside margins, German targets.
Below is a selection of entries from Bob Fox's logbook, connected to Typhoons. Each operation is written using red ink.
Typhoons flown with 438 Squadron:
T, D, X, V, M, K, Y, Z, S, H, F3G, F3R, F3T, F3Y, F3D, F3S, 5VF, MP641, F3J, F3V, F3H, F3E, F3A, F3Y, F3X, F3A, F3G, F3P, F3W, F3Z, RB621, F2Q, F3K, SW428
August 3, 1944: Posted to 438 Squadron, Cruelly, France
September 6, 1944: Squadron moved to Brussels; 9 - 440 pilots force landed, lost due to weather.
September 10, 1944:

Frank Crawley

crashed at edge of Drome, walked out of it.
September 11, 1944: No target seen; light flak; crossed Jerry border
September 18, 1944: Bognor to Opiham:

F/O Hank Wallace

hit in nose tank -- got back OK.
September 26, 1944:

S/L Beirnes

&

F/O Macklem

hit by flak [in Auster]; got back OK.
September 28, 1944: Isselburg; good bombing --

F/O Vickers

hit and baled out behind enemy lines
September 28, 1944: Wesel: Not bad bombing -- intense light flak; happy valley;
September 29, 1944: East of Emmerich; German damaged; tracks knocked out on return bounded by 20 plus ME109s (4 of us); claimed one damaged,

F/O Cornelison

September 30, 1944: Goch: Tracks partly knocked out -- ammo train hit -- heavy flak;
October18, 1944: Rail cutting, Holten; No hits on track, no flak;

F/L MacMann

force landed behind enemy line
October 21, 1944:

F/O Smith

(439 Squadron) missing -- got back OK
November 3, 1944: Light flak around Venlo;

F/O J Fraser

force landed east of target
November 18, 1944: Returned due to engine trouble, intense, accurate heavy flak
November 18, 1944: Holfarth; no hits seen; intense light flak;

F/O Dawber

bailed out. OK
December18, 1944: Endhoven;

F/L Andy Lambros

finished tour.
December 24, 1944: South of Aachen; Nothing seen, light flak, Wing lost 8 pilots; a cheery Christmas for us;

F/O Butch Washburn

&

W/O Bob Breene

both missing; fellows got a few flamers.
December 25, 1944: SE of Aachen: received my commission; damaged 1 transport and 1 flamer, light flak
January 1, 1945: 75 plus ME109s and FW 190 shot up the Drome -- kites everywhere -- a few shot down --

F/O Bob Lawrence

and

F/O Hugh Fraser

each destroyed two.

S/L Pete Wilson

died of wounds -- hit taking off --

F/O Macklem

received shrapnel in shoulder --

F/L Keller

(438) and

F/O Angelini

both missing. Our boys were out on runway ready to take off when Huns strafed -- none hurt. Huns strafed ½ hour -- many kites left burning -- a well planned show.
Within Bob's logbook is a single sheet of paper with "Operation Bodenplatte" written. 1.1.1945 German AF lost more than 350 a/c and pilots (178).
OPERATION "BODENPLATTE"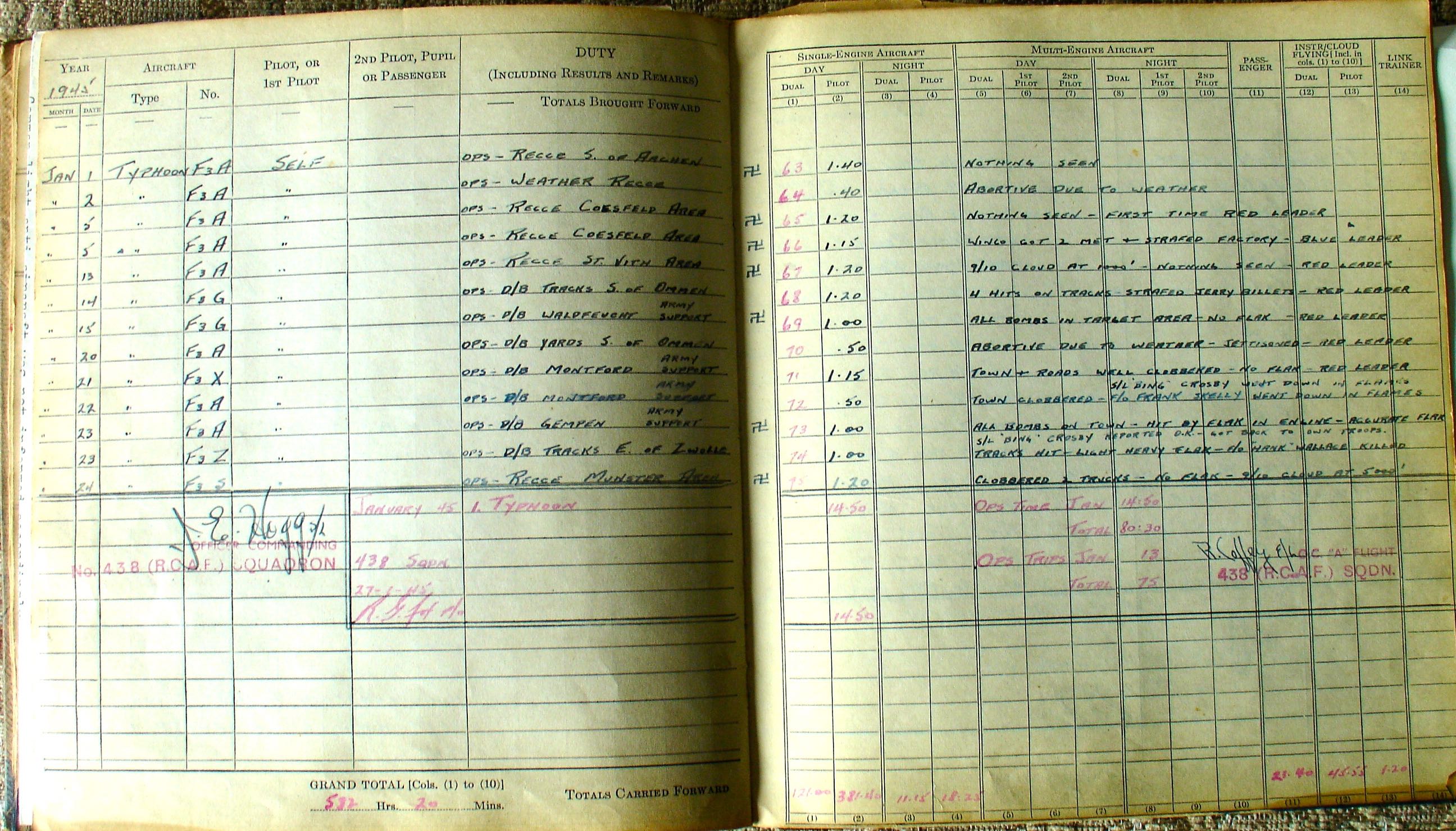 This operation was called "Bodenplatte" or "The Great Blow". I personally was excluded from planning, preparation and conduction of this ore than doubtful operation, since at that time I was already dismissed from my position.
General Dieter Pelz as "General of the Kampfflieger" (Bomber Arm) was the planner and leader of this attempt. He had chosen bombers and night fighters as guiding planes (pathfinders) with a very limited success. Also the losses by the light anti-aircraft barriers in massive positions against the V-1 were remarkable. They were not know to the Germans. Also the German light anti-aircraft was not information accordingly about this huge German fighter fleet operating against Allied bases. They were considered being mainly hostiles.
The English version of my book, The First and the Last, refers to this desperate last big fighter operation as follows:
In the early morning of January 1, 1945, every aircraft took off, some fighter units flying night fighters and bombers, and went into a large-scale well-prepared low-level attack on Allied Airfields in the north of France, Belgium, and Holland with the aim of paralyzing the enemy's airforce at one stroke. In good weather, this large-scale action should have been made correspondingly earlier. The briefing order demanded the very greatest effort from all units. According to the records, about 400 Allied planes were destroyed, but the enemy were able to replace their material losses quicker than we were, and in this force action we sacrificed our last reserves. Because of terrific defensive anti-aircraft fire from the attacked airfields, fling through barrages intested against V1 bombs, enemy fighters and fuel shortage, we had a total loss of nearly 300 fighter pilots, including 59 leaders. Only by radically dissolving some units was it possible to retain the remainder. But this task fell to my successor.
Signed by Adolf Galland

https://www.independent.co.uk/news/people/obituary-general-adolf-galland-1318925.html

https://en.wikipedia.org/wiki/Adolf_Galland
January 5, 1945: Nothing seen; first time Red Leader.
January 22, 1945: Monford; town clobbered;

S/L 'Bing' Crosby

went down in flames;

F/L Frank Skelly

went down in flames
January 23, 1945: Gempen, army support; All bombs on town; hit by flak in engine -- accurate flak;

S/L 'Bing' Crosby

reported OK, got back to own troops.
January 23, 1945: East of Zwolle; Tracks hit, light heavy flak;

F/O Hank Wallace

killed [Could this be the man Bob refers to in his Memory Project interview?]
February 21, 1945: West of Rotterdam; Site well hit;

W/O Gord Errington

hit; bailed out; OK in enemy territory
March 3, 1945: Bocholt; track cut by Red Section; Light flak;

F/O Don Heard

missing
March 7, 1945: Dulmen; no hits; strafed train and factory; F/L Burden OK; 3 others hit by flak.
Bob Fox's last operation was on March 14, 1945, east of Borken, claiming 4 cuts, light heavy flak. Mediums bombed Ruhr.
He wrote: TOUR FINISHED: "WHEE"!!! The adjutant for 438 Squadron told me I was put in for a DFC -- it never came through.
Bob Fox joined 83 GSU Ferry Flight on March 24, 1945. He wrote on March 27, 1945, "Tempest V 5V491: Experience on type -- a lovely kit -- speed plus!!!"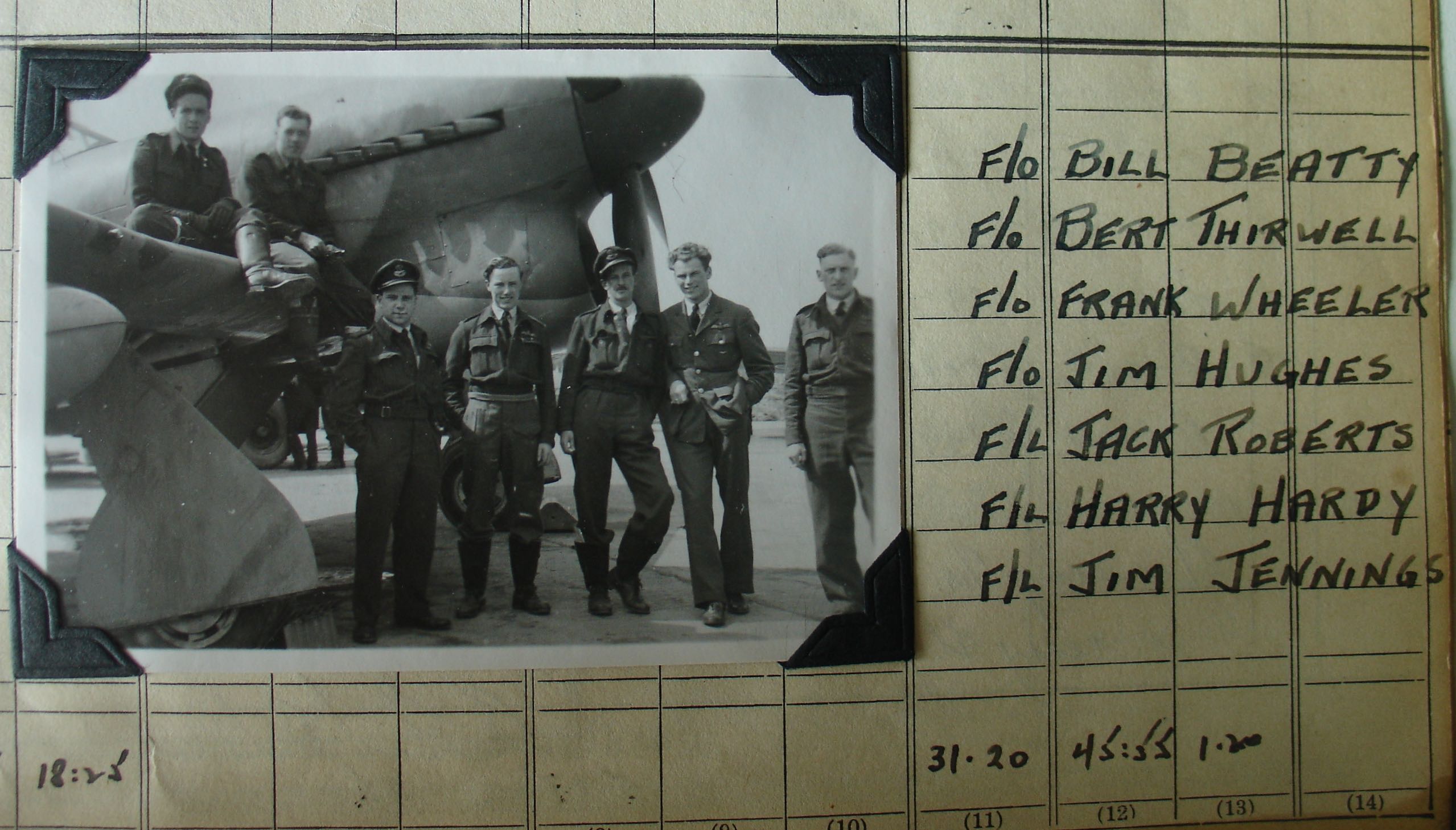 May 6, 1945: VE Day
August 14, 1945: VJ Day

September 4, 1945: Left Liverpool at 0900 hours on the Empress of Scotland
September 9, 1945: Arrived in Canada 1600 hours (Quebec)
September 10, 1945: Stepped off the boat 0100 hours
September 12, 1945: Arrived in Regina 2100 hours

Grand total flying hours: 596 hours 10 minutes.
From January 31, 1957 to March 31, 1961, Bob was an Auxiliary Fighter Controller, based in Manitoba.


Links: