George Harold Sharpe J13612
1922 (Approximate) - September 18, 1944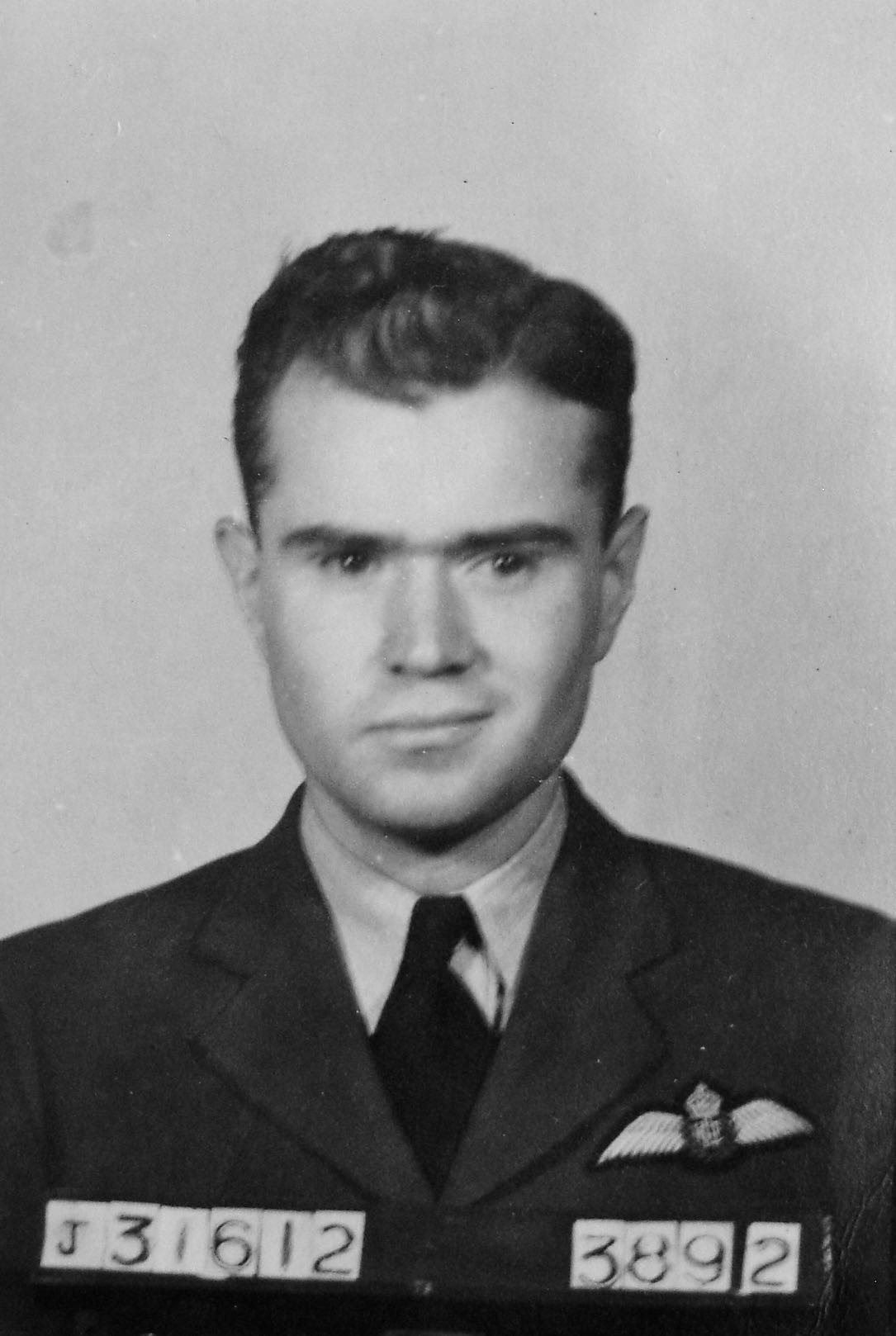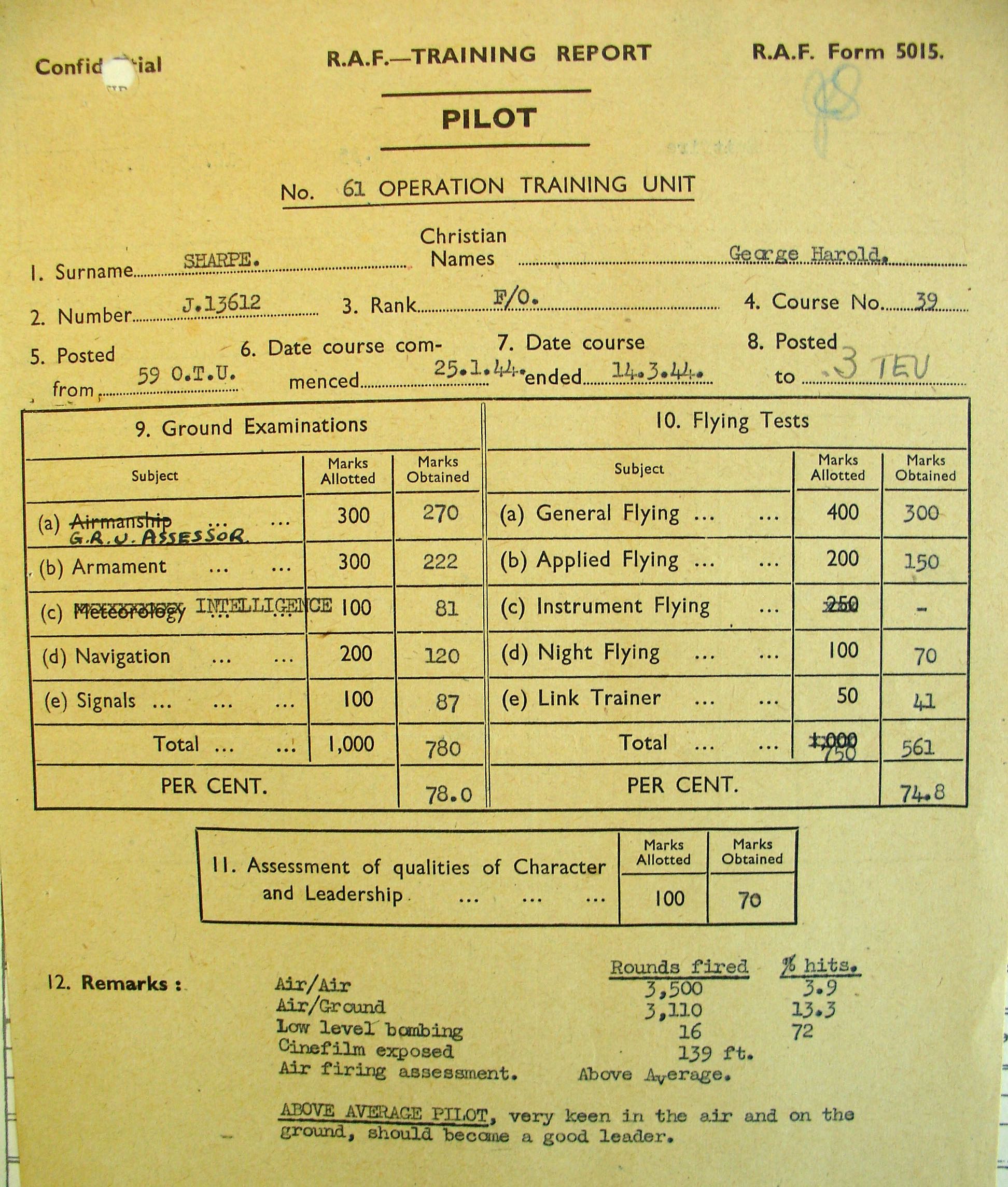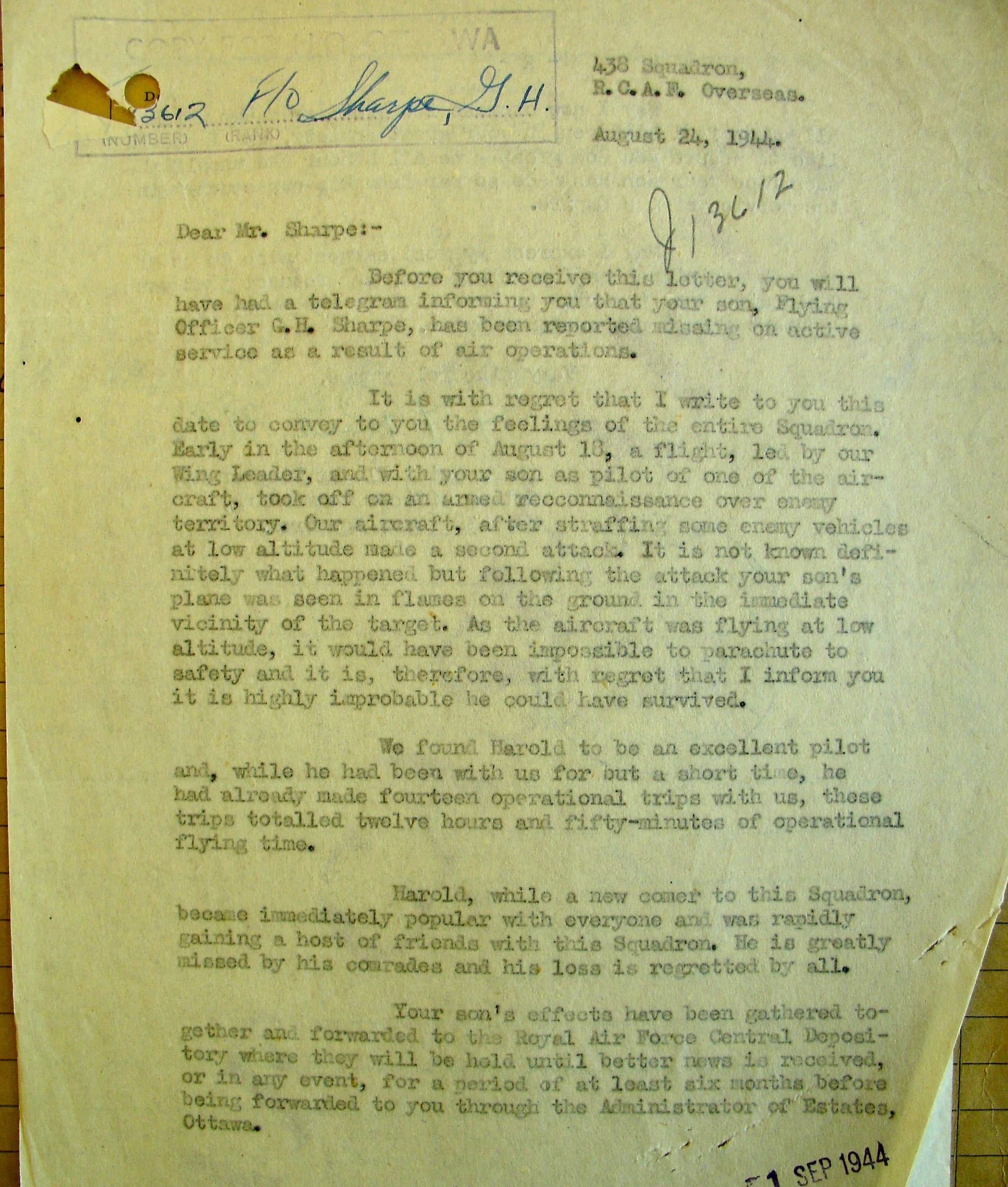 438 Squadron
George Harold Sharpe, known as Harold, was the son of Whippe W. and Emma Sharpe, Victoria, BC. A second son, F/L D. H. Sharpe, served with the RCAF. There was also a daughter. In September 1944, Mr. Sharpe was a partner in a department store in Stettler, Alberta.
Harold Sharpe filled out his attestation papers in January 1942. He was an unemployed student at the time. He indicated he was a cadet at college, he liked badminton, swimming and skating. He smoked 8 cigarettes daily, but did not consume alcohol.
He was assessed as average pilot material, nervous type, tense and immature. But he was keen, alert and enthusiastic.
By August 1942, he was assessed as "an exceptionally good student. Very co-operative. Has plenty of initiative and self confidence. Very good appearance. Quiet and reserved. Commission material."
On Course 40, from November 30, 1943 to January 19, 1944, he was assessed, "Average. This pilot has done all 1st and 2nd phase training. He is good in formation, close and battle. His cross over turns are good and turnabouts and breaks -- good. Aerobatics -- good and dog fighting quite good. Instrument flying is good. Should make a useful fighter pilot."
At No. 61 OTU, posted from 59 OTU, he was on Course 39 from January 1 to March 1944. "Above average pilot, very keen in the air and on the ground, should become a good leader."
On August 24, 1944, Mr. Sharpe received a letter from the 438 Squadron Leader, with the details of Harold's crash. He "took off on an armed reconnaissance over enemy territory. Our aircraft, after strafing some enemy vehicles at low altitude made a second attack. It is not known definitely what happened but following the attack, your son's plane was seen in flames on the ground in the immediate vicinity of the target. As the aircraft was flying at low altitude, it would have been impossible to parachute to safety and it is, therefore, with regret that I inform you it is highly improbable he could have survived. We found Harold to be an excellent pilot and, while he had been with us for but a short time, he had already made fourteen operational trips with us, these trips totalled twelve hours and fifty minutes of operational flying time. Harold, while a newcomer to this Squadron, became immediately popular with everyone and was rapidly gaining a host of friends with this Squadron. He is greatly missed by his comrades and his loss is regretted by all."
In July 1946, Mr. Sharpe received a letter from the RCAF Casualty Officer explaining more of the circumstances of Harold's death. "It was ascertained through the interrogation of eye-witnesses, that the aicraft in which your son was flying [Typhoon MN347] was one of many attacking transport in the vicinity of Orville. At 2.30 pm, your son's aircraft was hit by anti-aircraft fire and was seen to crash on a farm at La Bosserve in the district of Orville, 8 kilometres SE of Vimoutieres. At the time of the liberation of this area on August 22, 1944, your son was buried at the side of his aircraft by Canadian soldiers. The report states that the grave has been very well kept, having a small white wooden fence about 2 feet 6 inches high, fixed around it." At some point, Sharpe's body was reinterred in Bayeux War Cemetery.
In a letter, Mr. Sharpe indicated that he lost his own brother in WWI and two sons in WWII.
LINKS: