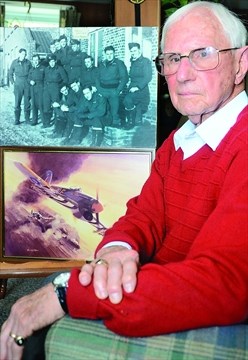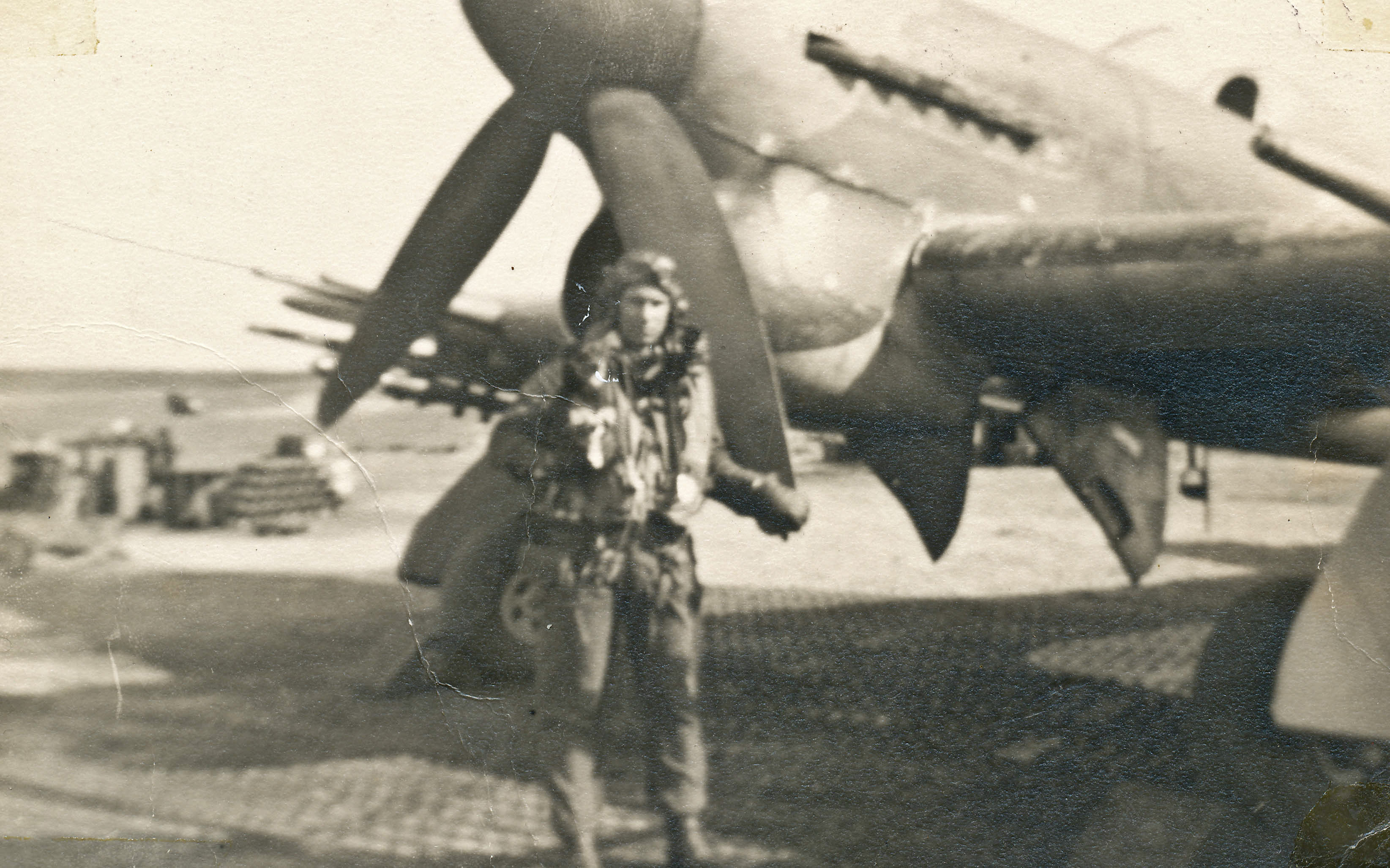 RAF 245 Squadron
John Thompson was born in Woodbridge, Ontario. He enlisted with the RCAF in 1941 and was discharged in 1945.
He was a Typhoon pilot with the RAF in the 245 Squadron and did 100 ops. The following information came from an interview with Anne Gafiuk in June 2017.
The Typhoon wasn't my favourite. I would pick the Spitfire or the Mustang, but I did not get a choice. When I went to GSU, the W/C or the head fellow looked through my logbook and saw I had 5-6 hours on Typhoons at OTU. I told him I wanted to fly Spits. Typhoons: They scared me! He said, You are an experienced Typhoon pilot, RAF squadrons wanted someone with experience on Typhoons and you're it! Your plane is leaving in ? hour down to Holmsley South. It was an Anson. I started my career in 245 there...a month ahead of D-Day.
I got myself in trouble. The C/O, Collins, told me to take a Typhoon to do aerobatics. I went back to my old aerodrome; showed my new airplane off with low-level flying. I was asked about the aerobatics because he got a phone call from the other C/O. He told me, 'You have a choice: you can stay here because you are a pretty good pilot or you can be shipped back to the GSU and take your chances.' (You taxi aircraft as required.) I did this with 245 until I was ready to tell Collins, who was a RAF Permanent Force Pilot, that I would go back to GSU. Then I stopped having to taxi the a/c.
"When D-Day came, Collins assigned me as a spare man on a target; my part was very little that day -- I could see the coast of Normandy and saw the hundreds of ships, but I had to go back. I was the only Canadian on this squadron."
John discussed the rockets on his version of the Typhoon. They were penetrating -- for armour piercing: tanks and bigger targets or fragments -- for trucks, thin skinned vehicles/targets. The heads weight about 80 pounds.
John remembers being told not to dog fight with a 190 or Messerschmitt when you have rockets, as the Typhoon would have been an easy target, as the rockets affected the aircraft's maneuverability. "Typhoons were very unforgiving. If you made a mistake, it could be lethal. The Spitfire and the Hurricane were much easier to fly."
John did not like the Typhoon at first. "It was too big, but I got used to them. Not that I got to love them!"
He said that the German Air Force never showed up on any sortie he was involved in. He would see the planes in the distance. "They would fly past us and then disappear. They night make one dive at you, but if they missed, they would just continue on."
John discussed the ground crew. "They were mostly British. No Canadians. They took care of the airplane. They had a very positive outlook. The aircraft had to be pristine! They were very respectful to their airplanes. One fellow was from South Africa. He had a fairly big moustache. When we taxied back from a trip, he sat on the wing tip and guided us with is hands."
There were issues with the Typhoon. "We were on full oxygen once we got into the cockpit. The Typhoon had a bad habit: the exhaust fumes got back into the cockpit. Many pilots just dived down and we lost them, so we were made to wear oxygen masks everytime we flew. This South African fellow: I took my oxygen mask off and he gave me a cigarette! I thought, 'If this blows, everything blows!'"
The British class system was evident in the RAF Squadrons, according to John. "The British were a bit uppity. There was still a class system. We were called 'Colonials'. That rolled off me like water off a duck. They would hardly speak to me, the Brits. From the Sgt Mess to the P/O Mess. Many times I would rather go back to the Sgt. Mess."
John did not believe in good luck charms. "It wouldn't help you one bit! It was your ability that counted. It is not a question of luck. There were better pilots than me and they got shot down. Heavy flak....and why that one shell hit is anyone's guess. I did not want to be superstitious because that was bad luck."
After the war, John worked for Avro Aircraft for seven years, then went to work for the municipality as an assessment commissioner.
LINKS: