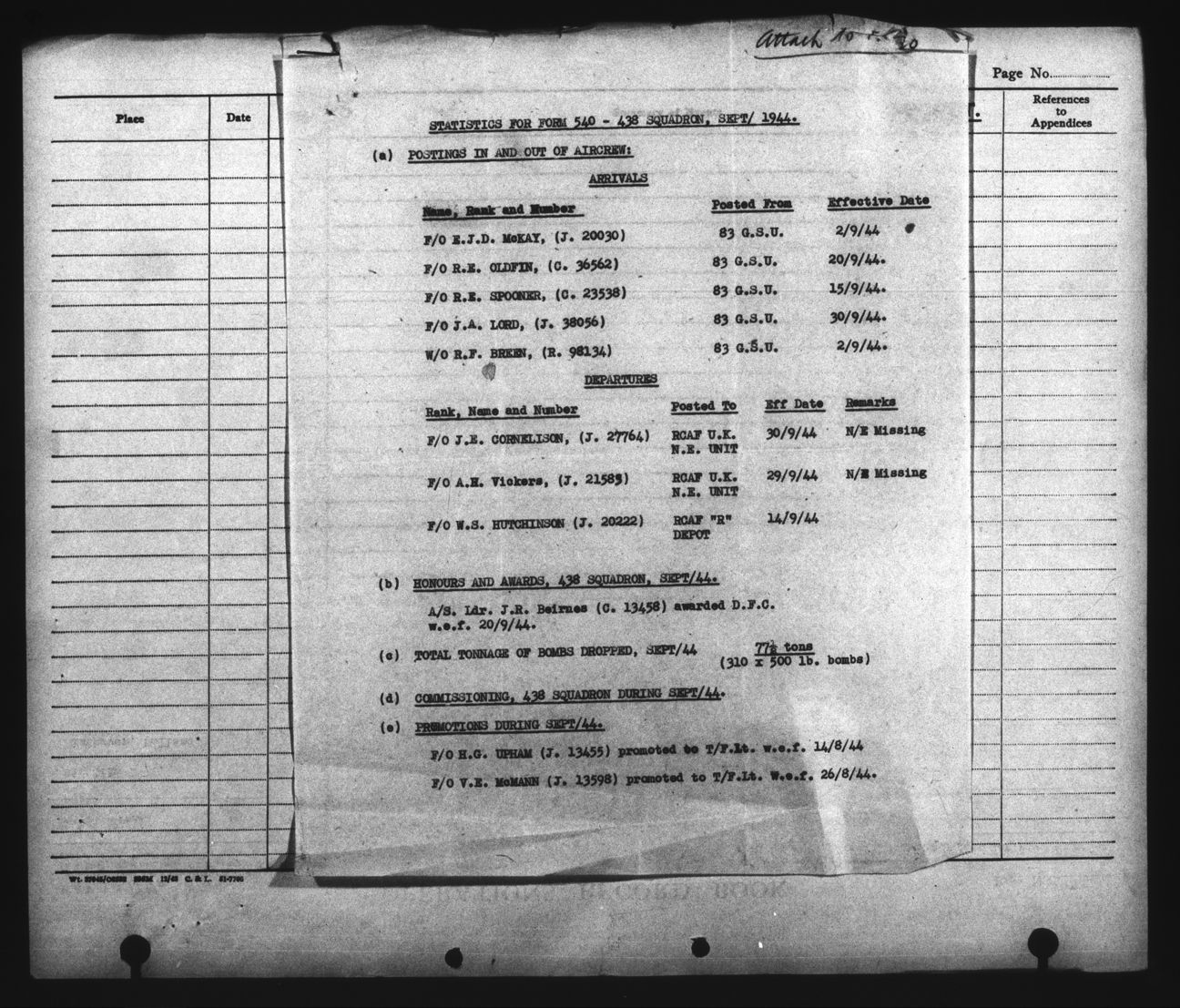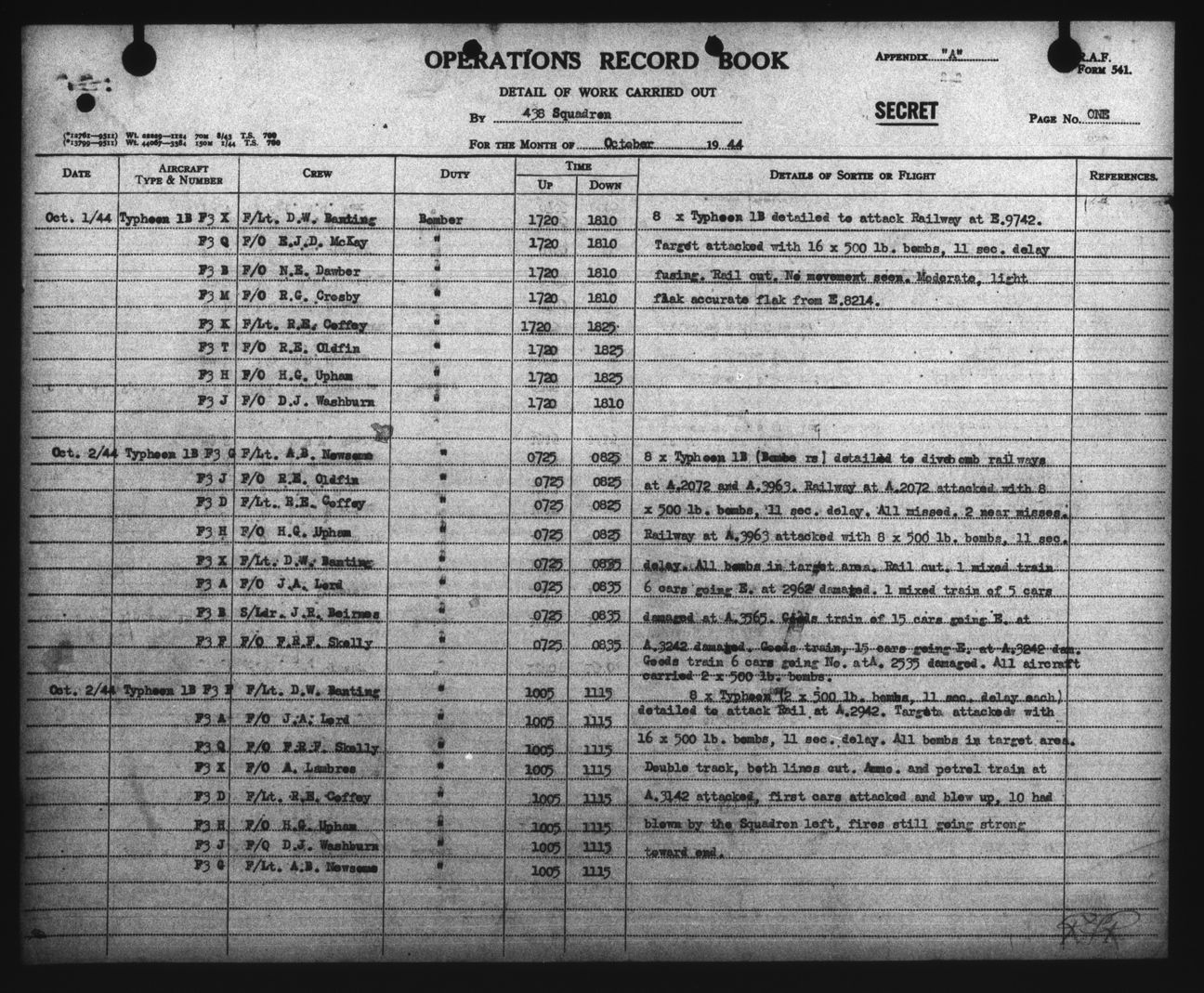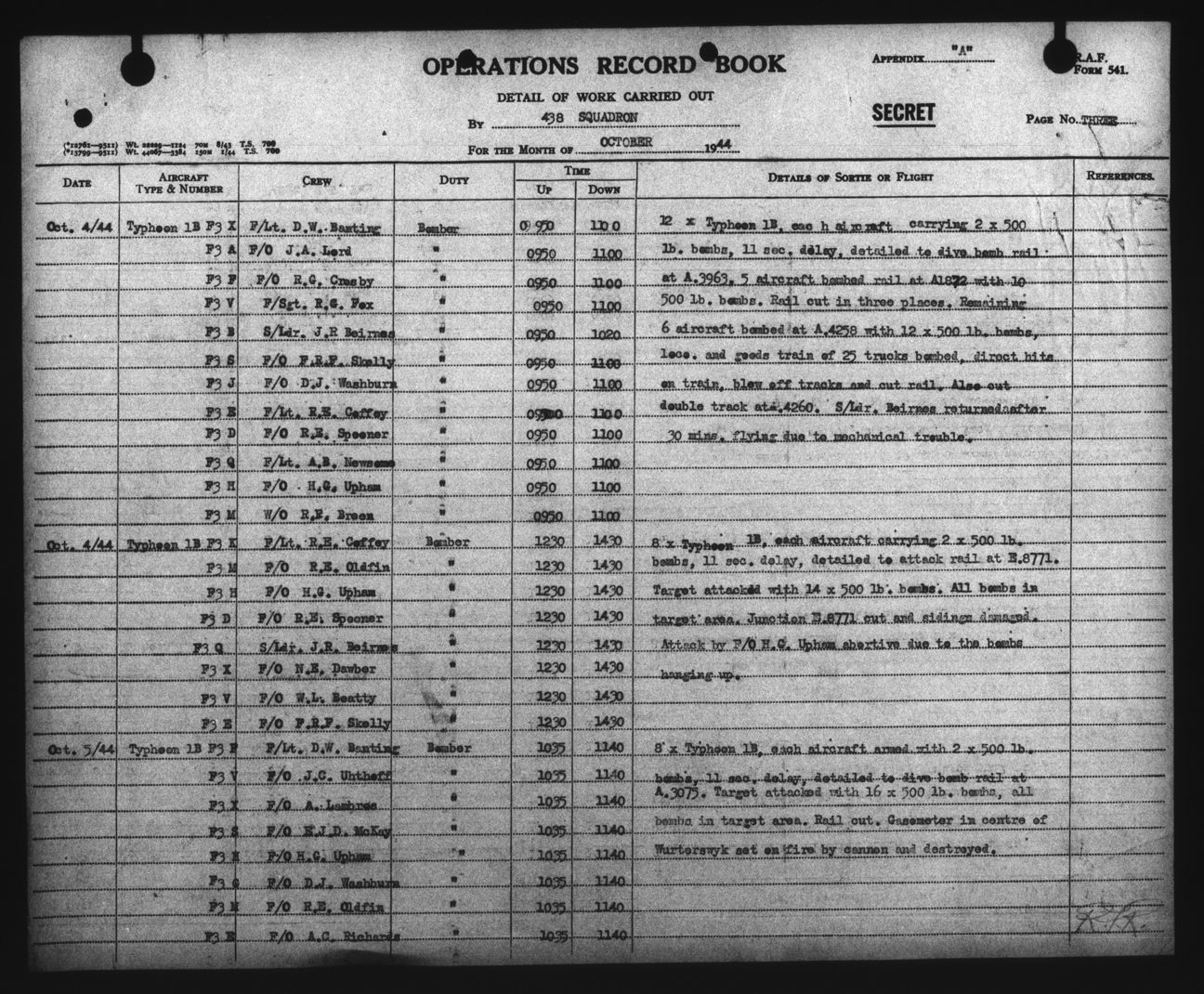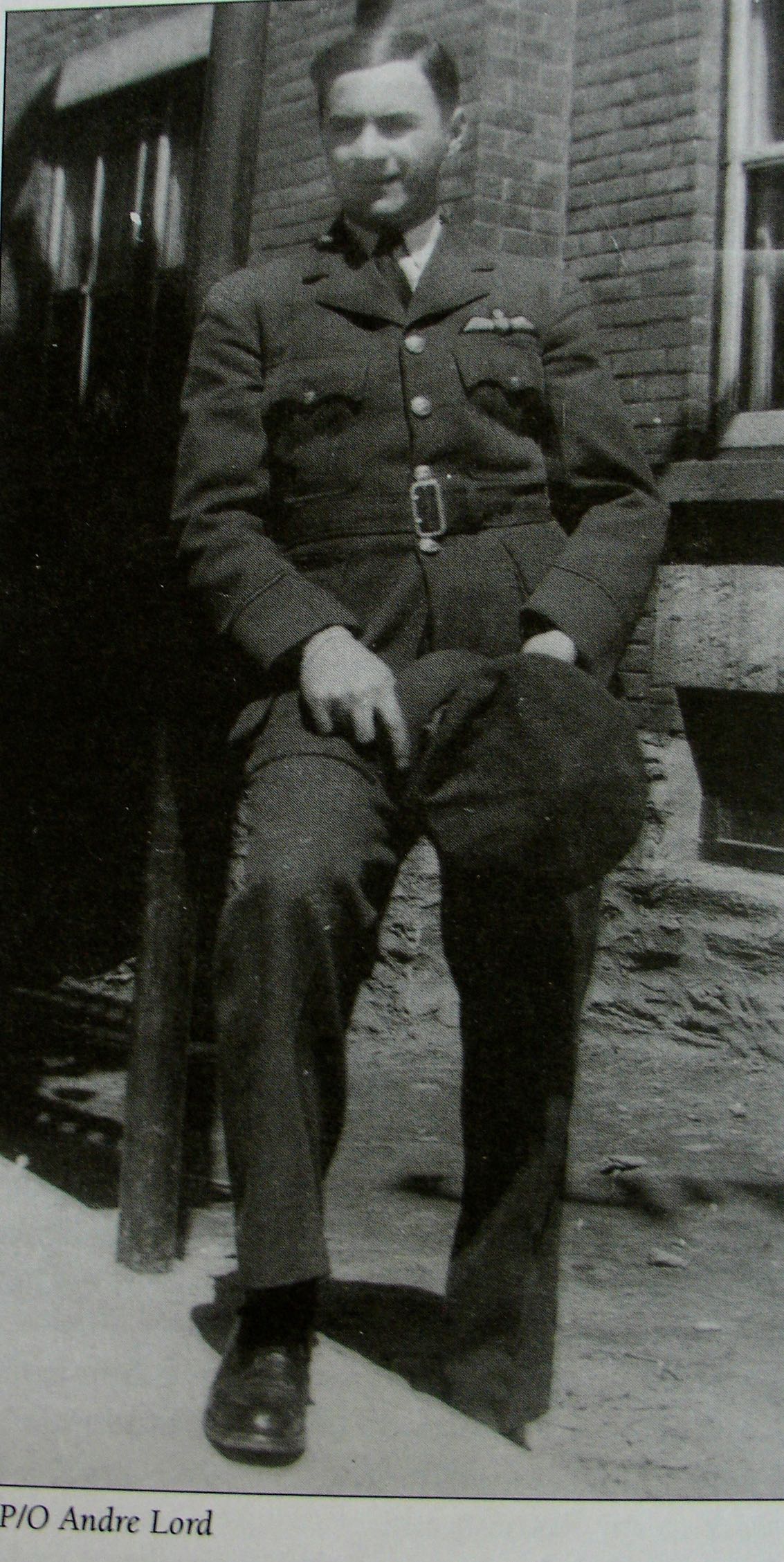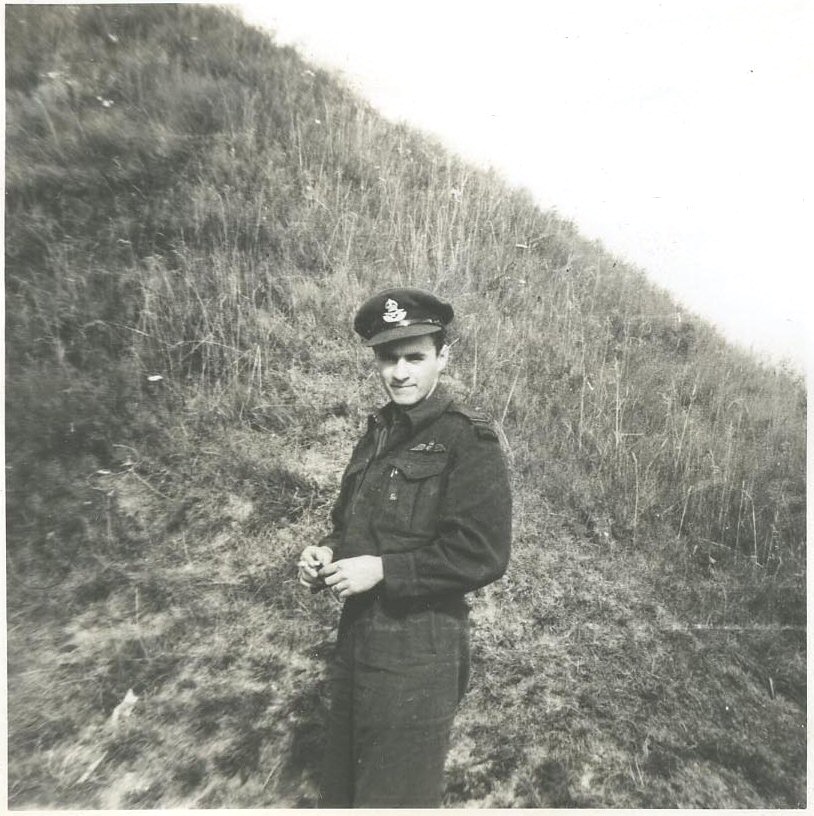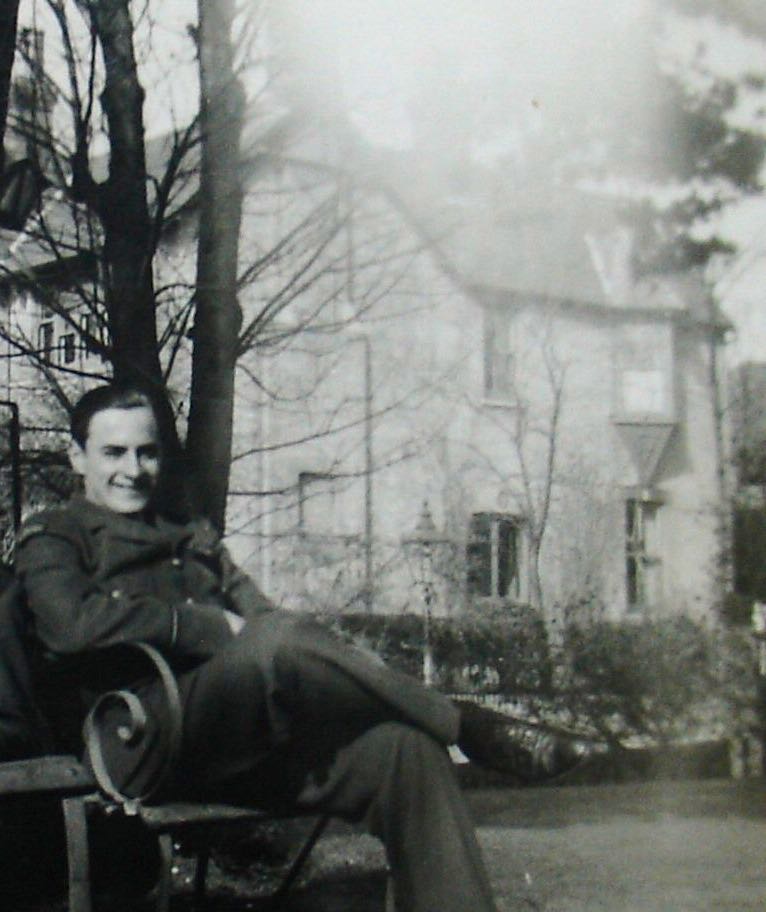 438 Squadron
Andre Lord was from Sherbrook, Quebec. He signed up with the RCAF on September 14, 1942, on his 18th birthday.
He was sent to the Lachine, Quebec Manning Depot where he was issued two bedsheets, a pillow case and paraded, with other new recruits to their barracks. Two grey wool blankets with a black stripe down the middle supplemented their bedding. The young men had their hair cut. We were sheared like animals. Andre remembers waiting for hours to receive his kit. From Manning Depot, he was transferred to No. 2 Wing for six weeks, then to No. 3 Wing.
By Christmas, he was posted to Trenton for tarmac duty where he was so close to airplanes, he could touch them. He was offered his first ride in a Cessna Crane and he took it!
From Trenton, he was sent to #1 ITS in Toronto at the Hunt Club on Avenue Road for eight weeks where he learned aerodynamics, air navigation, armament, engines, meteorology, air regulations, etc. He had his first ride in a Link trainer.
From Toronto, he was sent to No. 13 EFTS in St. Eugene, Ontario on May 30, 1943 for two months.
He was posted to No. 8 SFTS in Moncton, NB for four months. He received his wings on November 12, 1943, with a commission, then transferred to No. 1. O.T. U., Bagotville, Quebec.
He spent time in Borden and in Greenwood, NS attending a special course intended to give the pilots an idea of what life as a fighter pilot would be like.
On May 10, 1944, he boarded the Empress of Scotland for England. He was at No, 61 O.T.U., Rednal, Shropshire, on Spitfires. From there, he went to No. 3 E. T. U., Aston Down for two weeks to learn how to fly the Typhoon. By mid-September 1944, he was with 438 Squadron.
Andre flew 76 wartime operations with 438 Squadron.
After contacting Francois Dutil, historian of 438 Squadron about Andy Lord, he shared a few stories about the Honorary Colonel of 438. I first met Andy in early November '89, my very first day in St-Hubert, just posted in from Moose Jaw. He was plainly, make that very plainly clad, having a smoke (he was a chain smoker) in front of the hangar, I honestly thought he was the janitor. I joined him (I smoked back then) and asked him what he did at the squadron; he replied he was the new Squadron Honorary Colonel. I asked him which unit he had served in and when, he said he actually flew with 438 leading me to believe he was a post war member. When I inquired further, he replied mid 44 until the end. When I mentioned, Oh, so you missed the Hurricane and went straight onto the Typhoon, he was quite surprised and visibly pleased I knew this. I then clicked and looked at him in awe and asked, So you were in Eindhoven on 1 January '45 He dropped his cigarette. And I was then treated to the entire battle by somebody who was there, who witnessed it all, who had his aircraft shot out from under him. WOW!! I was a happy camper!
We were friends from that moment on, Andy would often come into the squadron for no other purpose than seeking me out to relate his war experience. I ate it up!!
The attached image is of a painting commissioned by Andy; at center bottom stands Andy by the tail of his burning Typhoon, shooting at German aircraft with his service revolver. He was extremely upset, as it was a new aircraft. Two 401 Squadron (also on the airfield) ground crewmen ran out of a ditch, grabbed him and dragged him to safety (with quite a lot of cursing) in a ditch just before the aircraft nearer where he was standing exploded.
In 1994, at the 60th anniversary of 401 and 438 squadrons in St-Hubert, (we called in the RAMCAT 60), I sat next to a former wartime member of 401 Squadron, a rigger (airframe tech) who was there and we started talking about the battle. He says his clearest memory of that day was of a nutcase shooting a revolver amid half a dozen burning Typhoons, that he and his buddy actually ran through a hail of bullets to drag him to safety and had to beat him up a bit to make him follow them. He thought the man was surely dead by now. I just sat there mouth agape. I told him not only was he still alive, but he was actually sitting right behind him at the next table. Talk about a magical moment! Ever see two guys who faced death together reunite after 50 years? I still get goose bumps just typing this! It was incredible. Even their wives were crying.
The original painting is owned by an ex CO of 438 Squadron. Twenty prints were made. Number 1 hangs in the main hallway of the Eindhoven City Hall. Andy brought it over himself in 1994.
Andre Lord's full story can be found in three books: All The Fine Young Eagles by David L. Bashow, 1996, For We Were Young and We Had Wings by Harry McFee, 2004 and Fifty Stories by Two Old Farts by Andre Dumas and Andy Lord.
Links: