Arthur Charles Brooker J26903
February 7, 1918 - December 31, 2003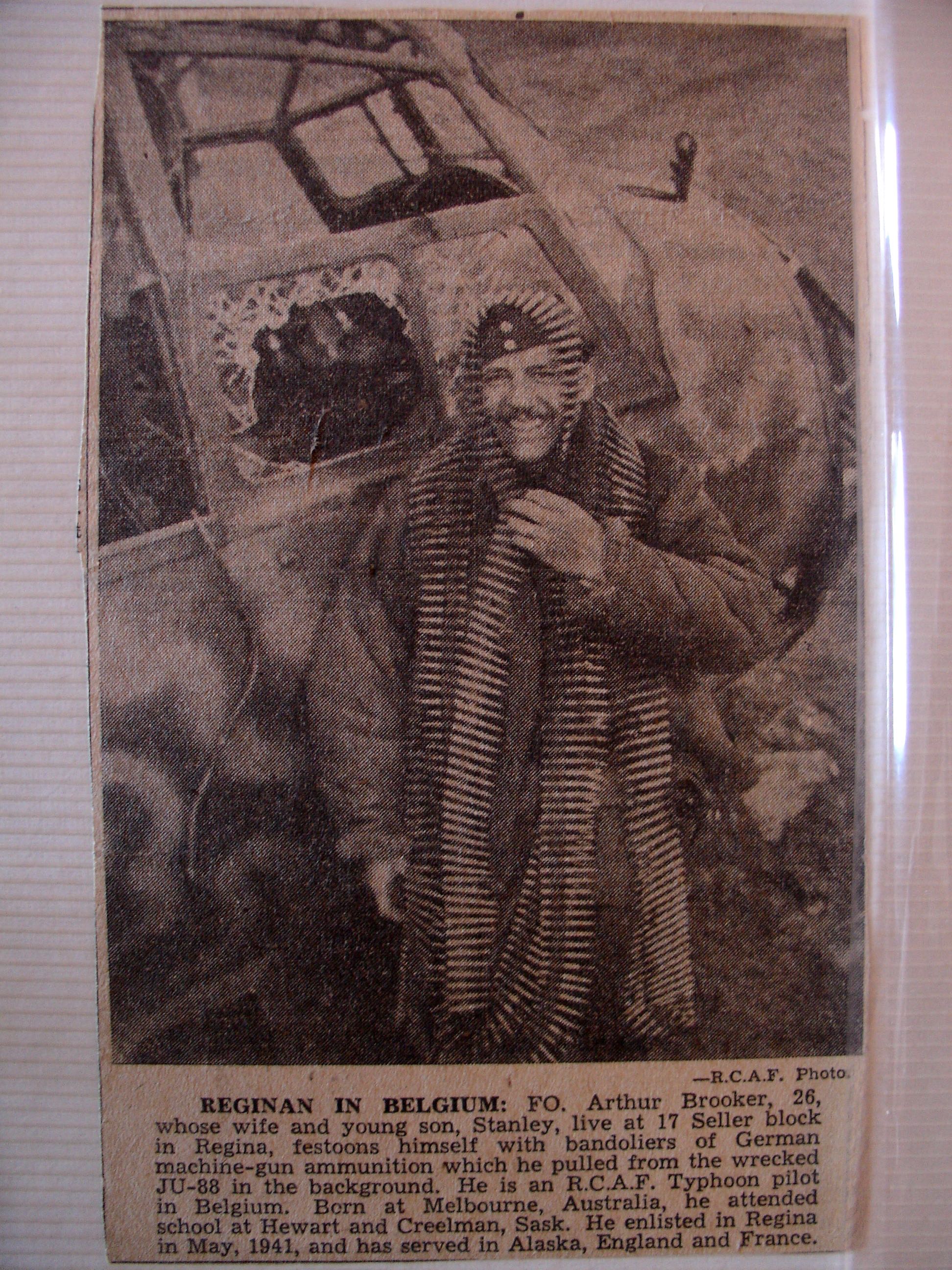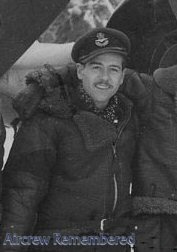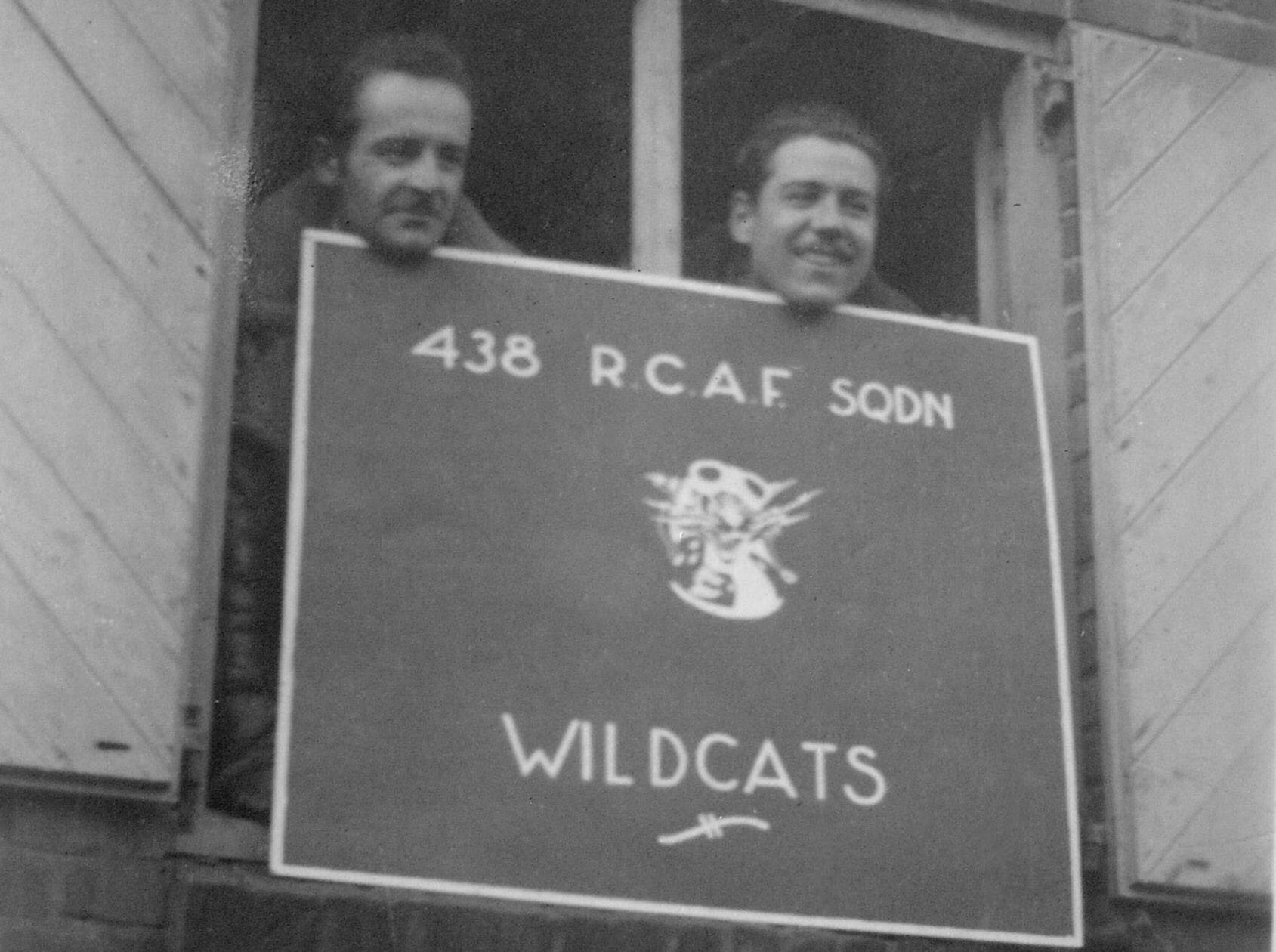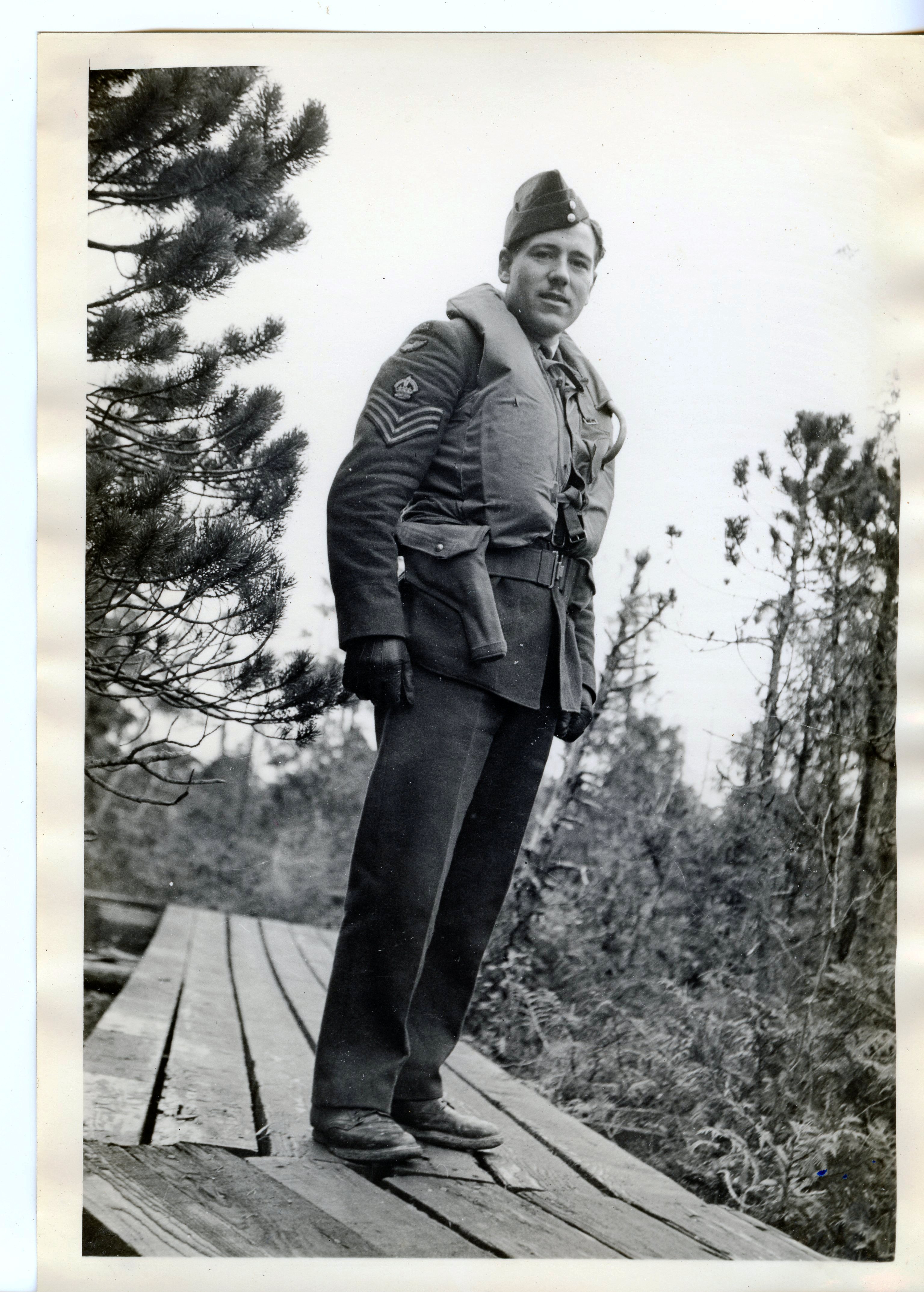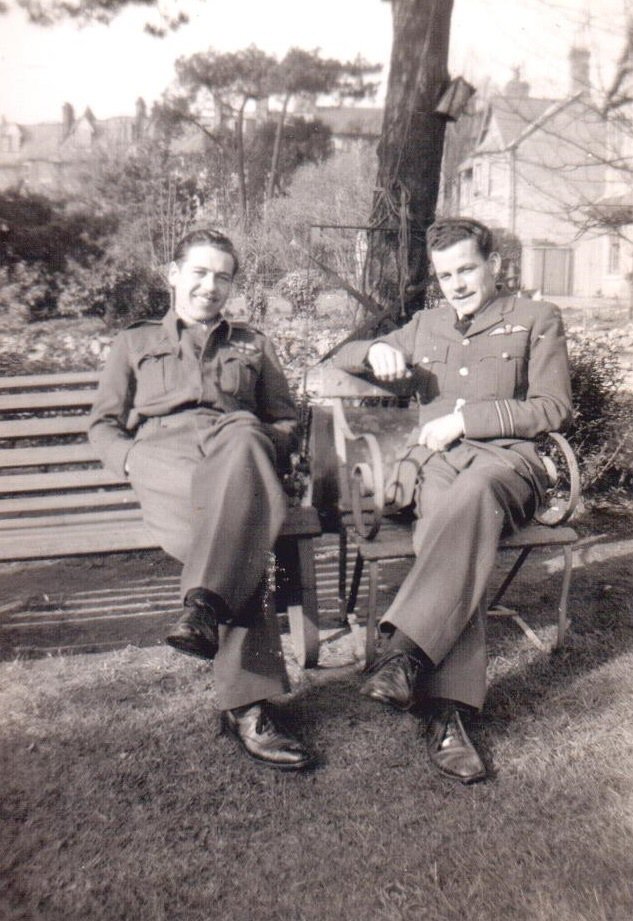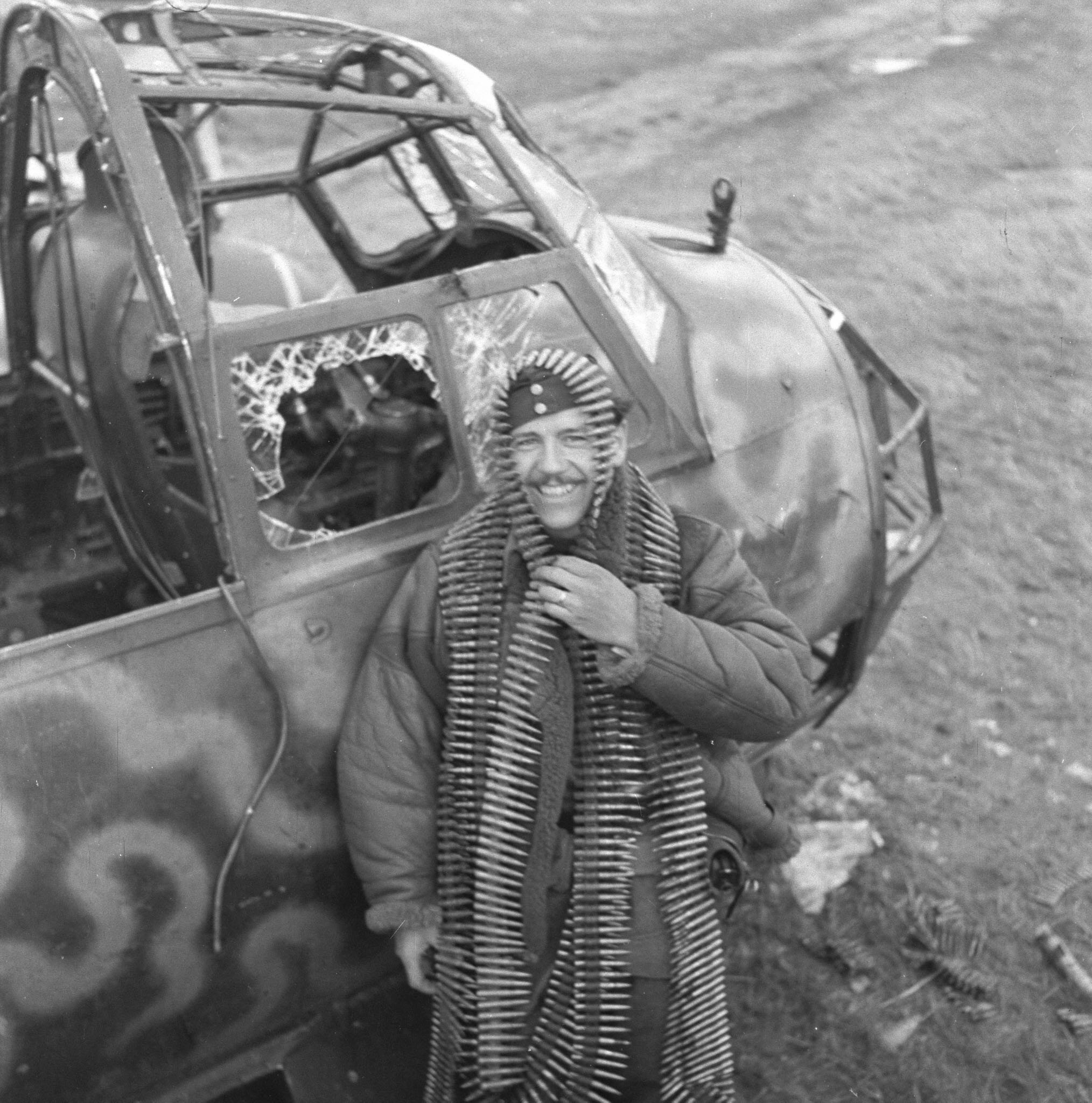 438 Squadron
Arthur Charles Brooker was a pilot with 438 Squadron during the Second World War. He was born in Melbourne, Australia; he and his family moved to England in 1920, then to a farm at Heward, SK in 1923, then to Creelman, Saskatchewan in 1926, where his parents bought the Balmoral Hotel. He married Marie Widdifield in January 1942.
Brooker joined 118 Sqn in Dartmouth N.S. in April of May 1942; he began flying on May 6th. In June, he piloted Kittyhawk AL224 cross country from Dartmouth to Alaska.
From the Keremos, BC Review, written by Neal Zahnd in 2003: "'Art' as he was called, decided he wanted to learn to play an instrument. At the age of 10, he made his own fiddle from an old tea box and a piece of bone. The family soon played at dances -- his mother played the piano and his father: the drums -- where Art also played the fiddle and the saxophone. At a Regina festival, Art won the Best Actor Award and a two month scholarship to the Banff School of Fine Arts. This award was a disappointment for Art as they required a fee of $50 and no other payments, so he had to turn it down. The acting bug was still there and Art went to Moose Jaw, SK and played the villain in 'Ten Nights in a Bar Room' and for this he was paid $80/month. He also played the saxophone for the dances after the show. Somewhat later, he played a Coptic priest in 'We're No Angels.' Art Brooker also saw the darker side of life. In 1940, he joined the RCAF. He became a pilot, then an instructor, and joined a squadron on the West coast of Canada. The squadron was sent to Digby, England. F/O Brooker was soon flying Hawker Typhoons and flew 91 wartime missions with 438 Squadron, 2nd TAF. In 1946, he returned to civilian life. He worked in Regina, SK for 25 years as a postal clerk. He retired in Mission, BC. In 1986, he played 31 concerts at Expo 86. He played for the Variety Club for nine years (no pay) where the money went to the Children's Fund. In 1991, Art and his (second) wife, Jean, moved to Keremos, BC and the soon got to playing for afternoon dances at Cawston. Everyone who knew Art agrees that he was a talented musician, a fighter and a fine man." Additional information: Art sold life insurance in Moose Jaw, SK, then managed a hardware store in Creelman prior to becoming a postal clerk.
In 1944, he was due to go to England, hitching a ride on a Dakota. The plane was shot down over Dunkirk, crashing. He and the pilot were rescued by a Czech patrol.
In an RCAF Press Release dated May 1945: "Last of the original pilots of the "Wildcat" City of Montreal squadron, F/L Arthur Brooker, Suite 17, Sellar Block, Regina, Saskatchewan, doesn't want to go home now. 'I feel like the guy they burned the school house to get rid of,' he commented as he fingered his clearance sheets at this Typhoon airfield in Germany. 'I've flown from Dartmouth, NS from Annette Island in Alaska, Vancouver and from Scotland, England, Normandy, France, Belgium, Holland and Germany. I'd like to see Berlin now before I go.'"
"Known as 'expendable' to his squadron mates because of his aversion to that word in describing aircrew, F/L Brooker was formerly a stock-actor with a Moose Jaw company, but he doesn't want to return to the stage. 'I'd like to get a little radio shop, perhaps in Regina, after the war,' he says.
"The reason for his lengthy tour was medical. He was grounded periodically because of pressure reaction on his ears, but each time he wheedled the medical officer into retaining him under observation so that ht might complete his tour instead of being screened. Each time the trouble returned, he would cease flying for a short time until it disappeared, then another op or two.
"'I was half way through the tour when the darn trouble started and I did want to finish it. Now that I've finished, I feel let down somehow. The boss has told me to get away on leave -- and I'm paid up, but I'd like to see the end now,' he said matter of factly."
A few stories involving Brooker can be found in Typhoon and Tempest, The Canadian Story, pages 54, 55, 81, 115.
LINKS: