Dean Jerome Washburn
February 22, 1921 - December 24, 1944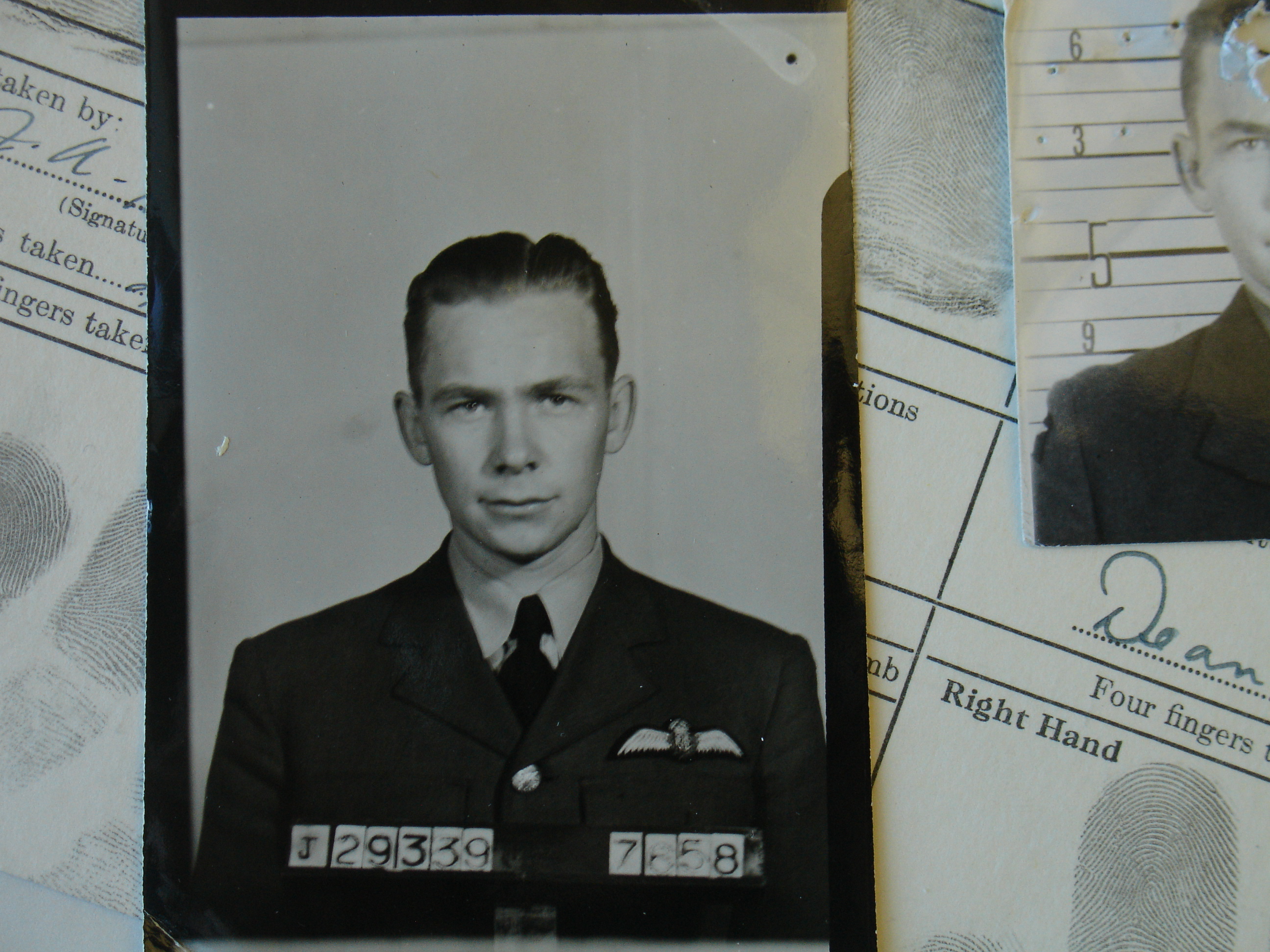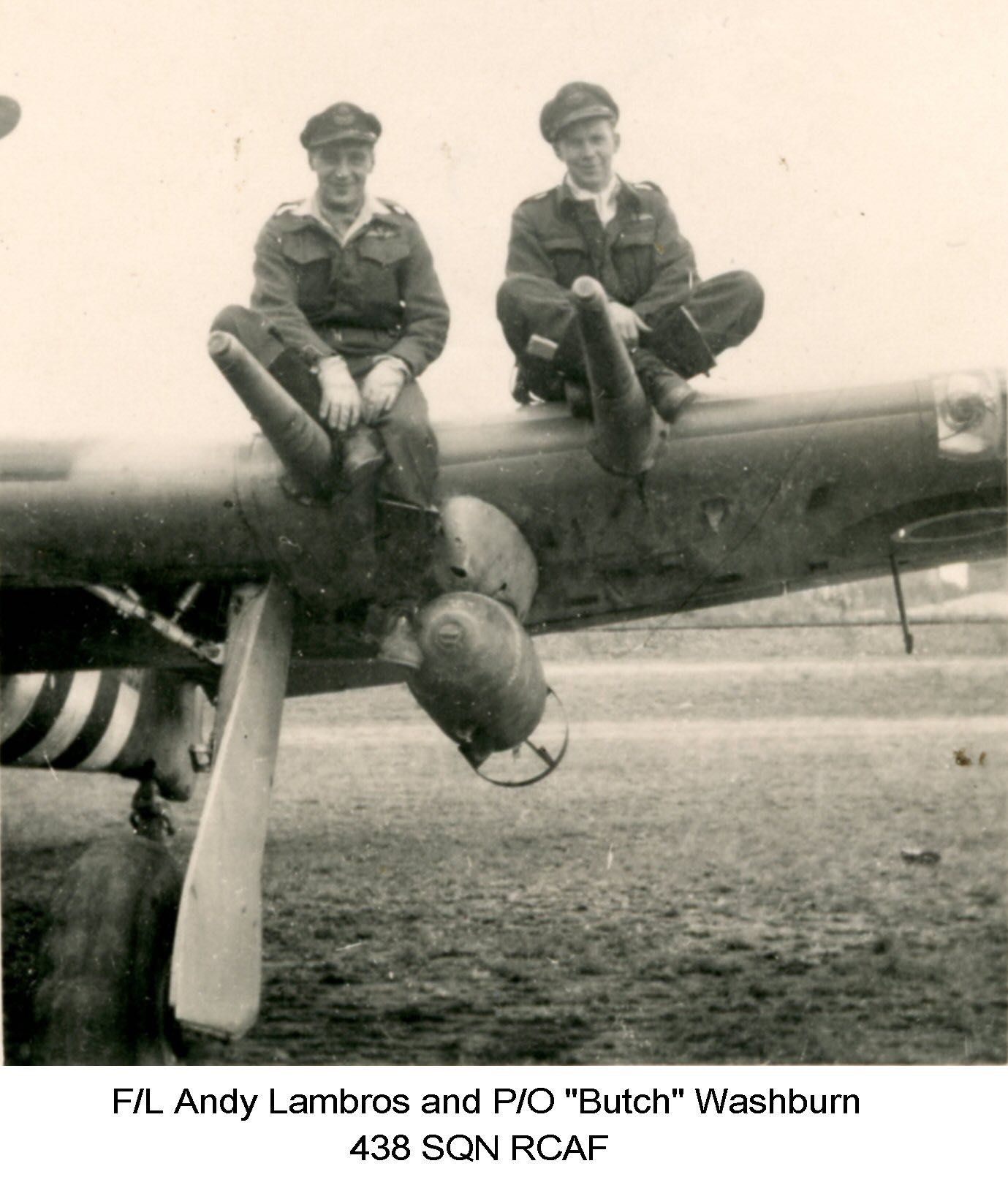 This Street Has A Name
By Anne Gafiuk
Published in the Fernie Free Press, November 2017
Dean Jerome Washburn's name is found on a street sign, connected to a mountain north west of the picturesque town of Fernie, British Columbia. Washburn's name is also etched in stone in the cenotaph outside the Fernie Courthouse.
Born on February 22, 1921 in Lindsay, California, Washburn arrived in British Columbia with his parents, Lenox and Teresa, as a young child. His sister, Lenora Frances, was born a few years later.
Washburn attended Fernie High School from 1937 to 1941. His strengths were in General Science and Industrial Arts. He enjoyed sports including hockey, basketball, swimming, hiking and skiing. As a teenager, he held jobs as a grocery store clerk and as an apprentice ice operator for East Kootenay Power Co. before enlisting in Calgary with the Royal Canadian Air Force in the summer of 1941.
He went through the British Commonwealth Air Training Plan to become a pilot, travelling first to Manning Depot in Brandon, Manitoba. He then worked his way through flying school, taking him to Regina, Fort William, Ottawa, Halifax, and Torbay, Newfoundland before making his way overseas in October 1943.
He was first mentioned in the Operations Records for 438 Squadron on July 9, 1944, flying a Typhoon. "Aircraft detailed to attack target, armed with 500 lb. bombs, inst. nose, .025 tail. Aircraft unable to locate target, only one aircraft dropping bombs on woods. 10/10 cloud, very thin base. 4,500'. Intense light flak encountered."
He was well thought of. Evaluations included: "A good Officer and pilot. Should do well overseas. An above average pilot. A good leader with an exceptionally keen pair of eyes. Quick to act in emergencies. An asset to the Squadron. An extremely capable pilot with excellent leadership qualities. Cool in emergencies."
Washburn, like the other Typhoon pilots, would fly on average two daytime sorties.
In a newspaper article, Washburn was quoted about the sortie he was involved with in Holland. "F/O Dean Washburn, Fernie, BC, said there were lots of hits on the gate. 'The winco's bombs hit nicely between the locks and a small bridge, but they skipped right out under the bridge. I saw Banting's bombs hit right on the bridge at Grijpskerk and it blew up with a bright flash."
On Christmas Eve, 1944, Washburn, with seven other pilots, suited up for their first sortie of the day. "8 x Typhoon 1B detailed on Armed Recce to Malmedy - Enskirchen - Mayen - Houffalise Area. Aircraft patrolled area and attacked scattered Met. in southern portion of area, claiming 2 smokers. F/O D. J. Washburn was hit by flak at 600 ft at F.1303 and spun in. Aircraft armed with cannon only."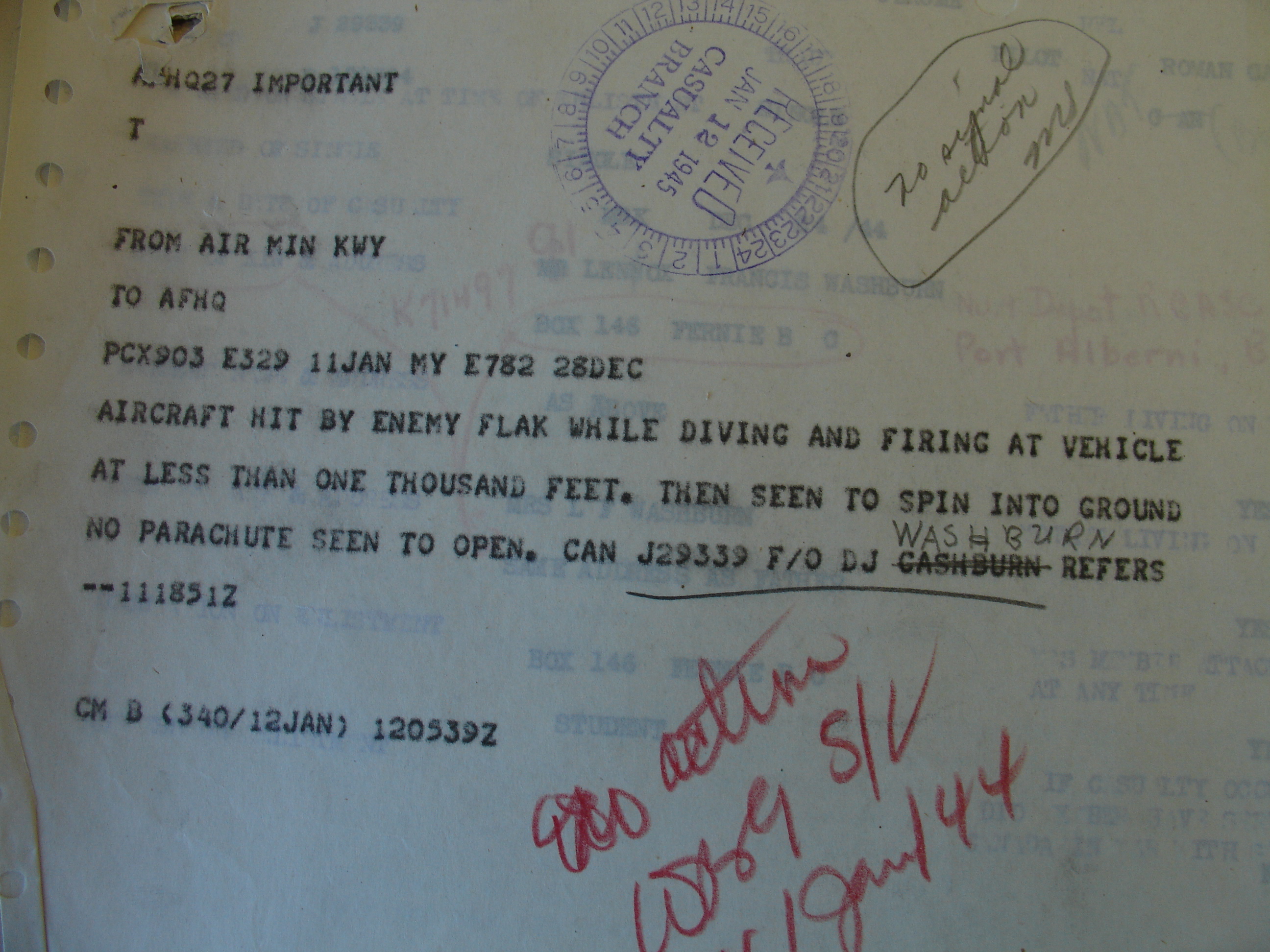 Another pilot was also hit while diving in on a tank. Both were believed killed. Fifty percent of Typhoon pilots were lost every 90 days.
On December 27, 1944, Mrs. Washburn received a letter from the Squadron Leader, Commanding 438 Squadron.
The purpose of the flight was to attack any enemy vehicles that might be in the target area. Your son spotted a vehicle in a small village and while diving and firing upon the target at less than 1000 feet, he was seen to be hit by enemy flak. The aircraft was seen to recover, momentarily, from its dive and then spin into the ground. I regret to inform you that, as no parachute was seen, there is very little possibility of Dean being safe.
We lost one of our best pilots when this aircraft did not return for Dean has proved himself to be a great pilot. He had completed 82 operational sorties amounted to 86 hours over enemy territory and was nearing the end of this operational tour.
Your son was popular with the Squadron and was fast becoming an ace pilot. He's greatly missed by his comrades and his loss is regretted by all.
The stretch of Mt. Washburn Street is not long. It houses a school and a few homes in the Mountview neighbourhood of Fernie. Mount Washburn, with a glacier on its north side, is the highest peak between the Elk and Bull Rivers, rising to a height of 3033 m (9951 ft.), is about 45 kilometres from Fernie via Sulphur Creek Road and Bull River Forest Service Road.
Both the street and the mountain are fitting tributes to a young man from Fernie who, after the war, wanted to return to school to study electricity and continue to fly.