Douglas Keith Moores J17640
1922 (Approximate) - August 15, 1944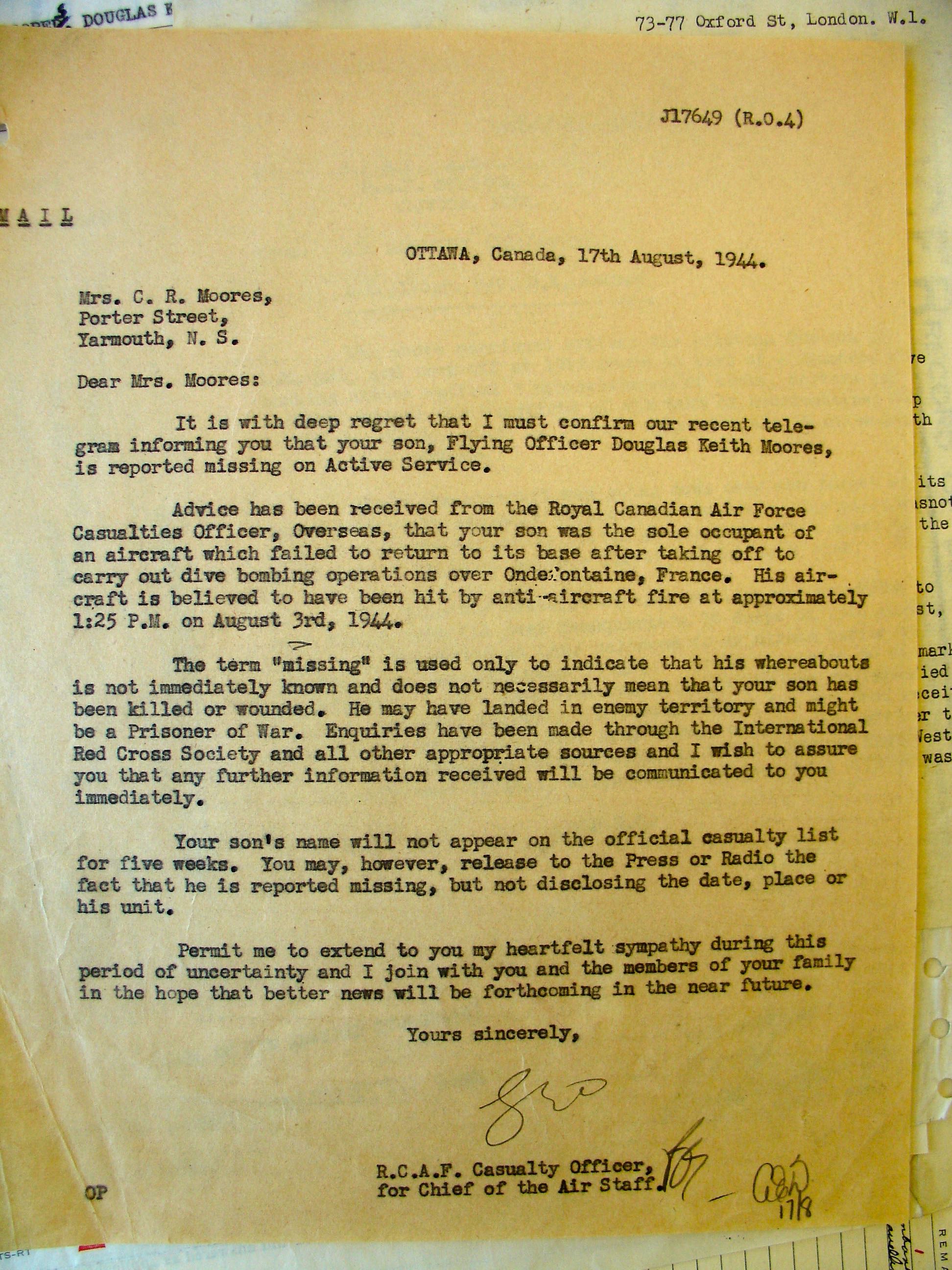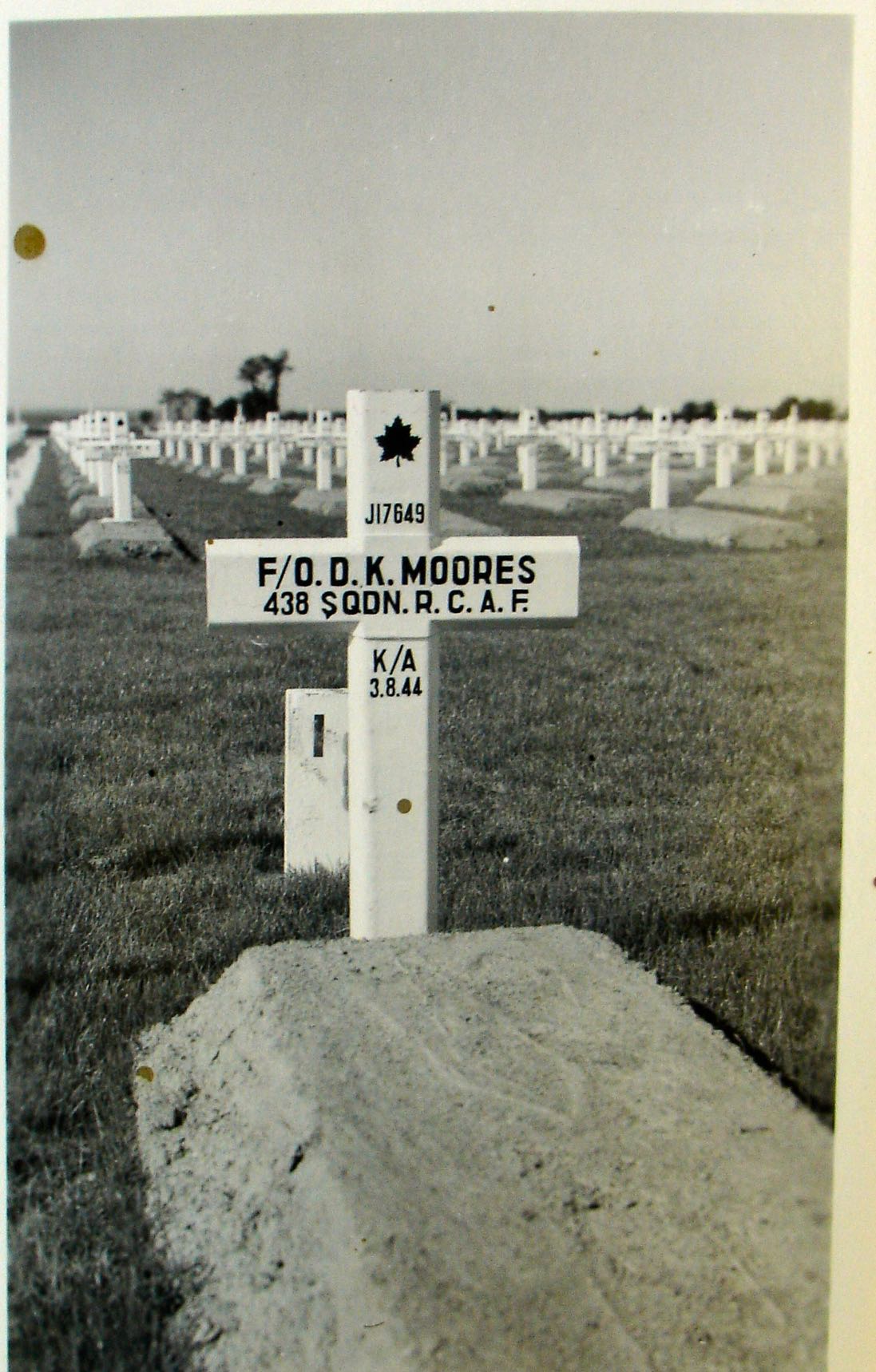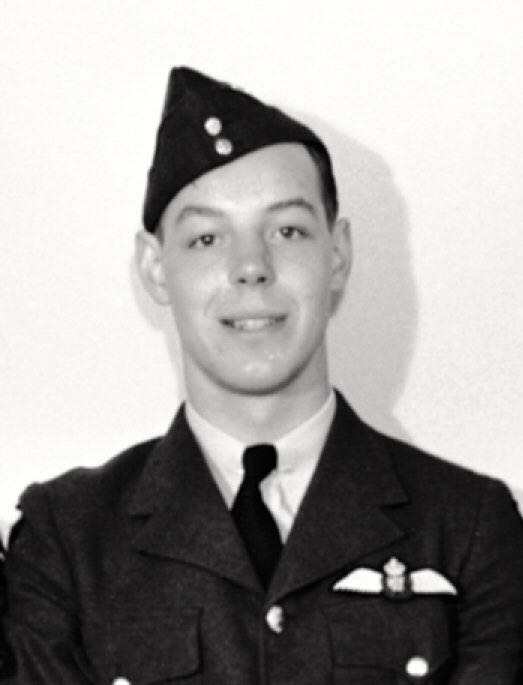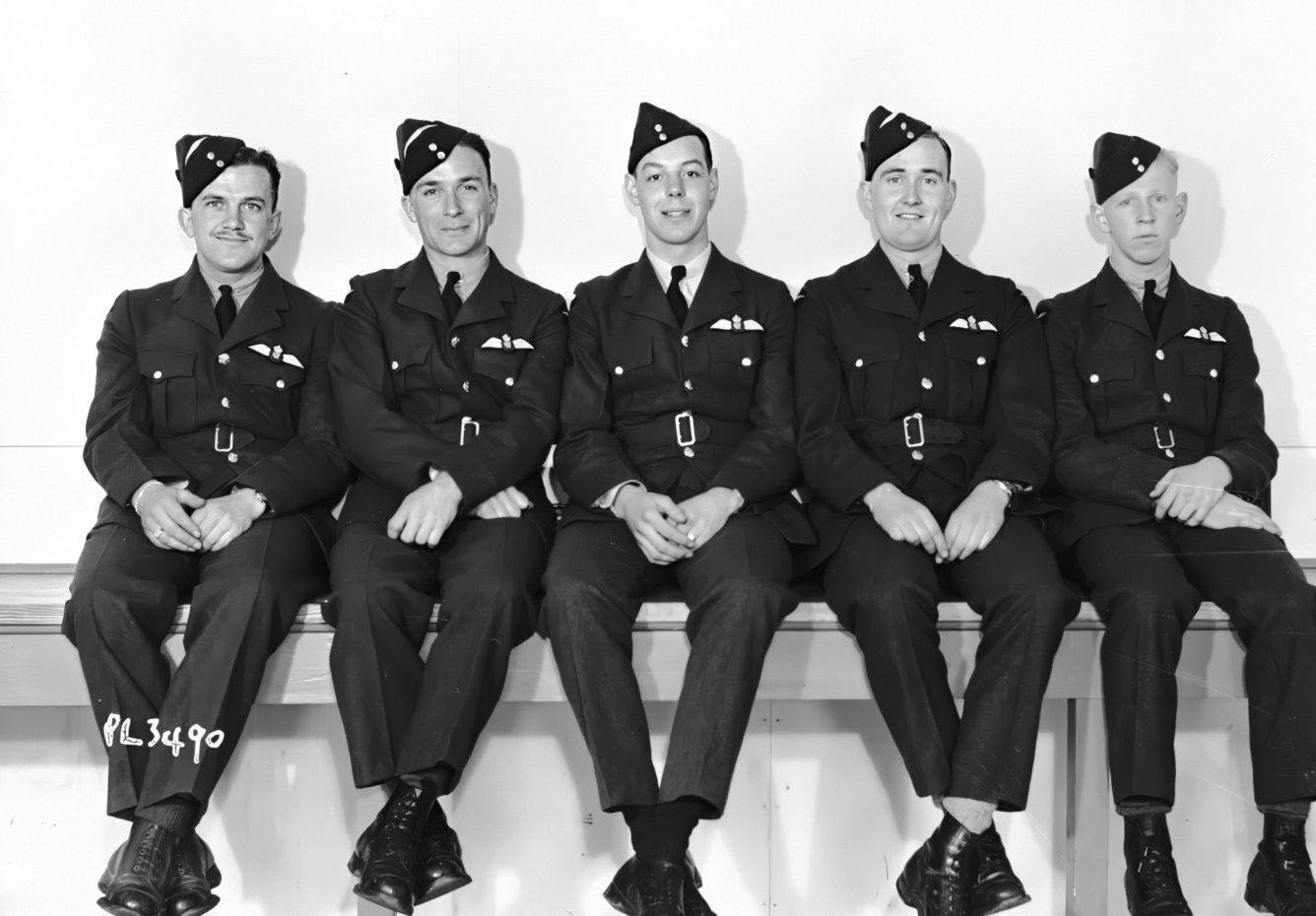 438 Squadron
Douglas Keith Moores was the son of Clinton Ray and Elsie Moores. He had one sister and two brothers, one in service. The family attended the United Church. His father was a WWI veteran. Moores was the manager of a store in Yarmouth, Nova Scotia.

In November 1940, he was assessed, "fair all around. Probably best as Observer." During his training, he was 18th out of 154, and assessed as an excellent pilot material. "Above average. Full out in his work with plenty of dash and determination. Second aircrew recommendation: Air Observer."

At No. 31 OTU, November 1941, Moores was assessed: "He was a very slow starter but has made quite good progress since. He has, however, put in insufficient time for Atlantic Ferry Duties but should make a good operational pilot with more experience. This NCO was slow to start with and therefore was not up to standard for night flying until the end of the Course, during which time, bad weather prevailed for most of the time. This accounts for his not having carried out any Night Flying."

In April 1942, Moores was involved in an accident in Hudson III V.9039. His Observer was W. A. Louckes (R70763) and his Wireless Operator was L. F. Attrill (R90046). Moores and Louckes were uninjured but Attrill was slightly injured. "Due to a bad landing in conditions and failure to go round again. Misinterpretation of instruction received in Canada. Insufficient dual instruction in No. 6 (C) OTU.

December 17, 1943: "On posting to 55 OTU, Duties Pilot. Total hours: 747, 189 in last six months. Conduct satisfactory; temperate. Score: 4.4.5.4.5.4. An officer of no pronounced ability and slightly below average of his fellow officers of the same rank.

November 5, 1943: Moores had a doctor's appointment to check his vision. "Ocular Muscle Inco-ordination." He had seen a consultant in ophthalmology 9.10.42 after which he had a course of visual training. "His vision generally was improved for about two weeks since when it has deteriorated again. He has answered and returned two questionaires sent out by the consultant in Ophthamology stating that his vision has deteriorated but he has heard nothing further. No visual defects found on examination. Complaint is again of inability to judge landings."

December 12, 1943: "500 operations. Nil accidents. Flying Gladiators, Fairy Battles, and Defiants. Present trouble has been flattening out too high and has made half a dozen heavy landings. During the past week, has given himself two bad frights. General health poor, has had a number of colds; three times last winter colds and sore throat. Sleeping and appetite poor. No headaches. Sent up by Flight Commander who was beginning to wonder about his flying. OPINION: No ocular cause for his flying troubles demonstratable today. Would suggest that he be seen by the Neuropsychiatrist as the muscle imbalance for which he had the eye training is now no longer present but flying difficulties persist." The Neuropsychiatrist reported: "This officer has always been a rather highly strung type. He has difficulty with flying every since he began to learn. Although most prominent in landing, it has also shown itself in other ways eg. his dislike for aerobatics. He recognizes himself the essential cause of his difficulty, which is, as he puts it, that is he is 'shy of the ground.' He is keen to fly and has no symptoms of neurosis. He thinks he can cope satisfactorily. His disposal must be decided by the Executive who are able to judge his flying ability."

From December 14, 1943 to March 28, 1944, Moores took a course at No. 57 OTU. He had been at 55 OTU. He was assessed as a good average pilot in formation flying in combat. His markmanship and low level bombing was average. "A good pilot who has done well. He has no particular faults and took things in his stride. Should do well in a Squadron and will make a good No. 1 with experience."

On August 17, 1944, an RCAF Casualty Officer for Chief of the Air Staff wrote a letter to Moores's mother: "Your son was the sole occupant of an aircraft which failed to return to its base after taking off to carry out dive bombing operations over Ondefontaine, France. His aircraft is believed to have been hit by anti-aircraft fire at approximately 1.25 pm on August 3, 1944."

October 28, 1944: Requested by 83 Grp (Rear) HQ. (Pilot missing: 3.8.44). No. 143 Wing HQ. Score: 64. "This pilot was a very capable chap, an asset to our squadron." R. F. Reid, S/L, P.Y. Davoud, G/C

On November 1, 1944, Casualty Enquiry No. 34: "The dive bombing attack against a concentration of tanks, mortars, and machine guns on the outskirts of the town of Ondefontaine....27 miles south west of Caen, France. While the aircraft was going down over the target on its bombing dive, it suddenly exploded in mid-air. The pilot was not seen to bale out and he is listed as missing. The cause of the explosion is believed to be a direct hit by enemy flak. The identity bracelet [and snapshots] of this officer was forwarded to this branch from the Rear Headquarters 30 Coprs on 13th August, 1944, and was stated to have belonged to an airman buried at Ondefontaine." Moores was buried by Allied Personnel who found his body in the field alongside the crashed aircraft. Because the aircraft crashed about nine days prior, the village of Ondefontaine being in the battle line, it was only two days after its liberation that the funeral ceremony and burial was able to be performed. His body was reinterred at the Bretteville-sur-Laize Canadian War Cemetery.

Moores married Elizabeth Sherwood, 21, in London, England, in October 1942. She was from Stockton-on-Tees, Co. Durham, England. Together, they had a son, Robert Michael Moores, born July 26, 1943.