Edward Dale Brydon J44042
May 15, 1924 - April 26, 1945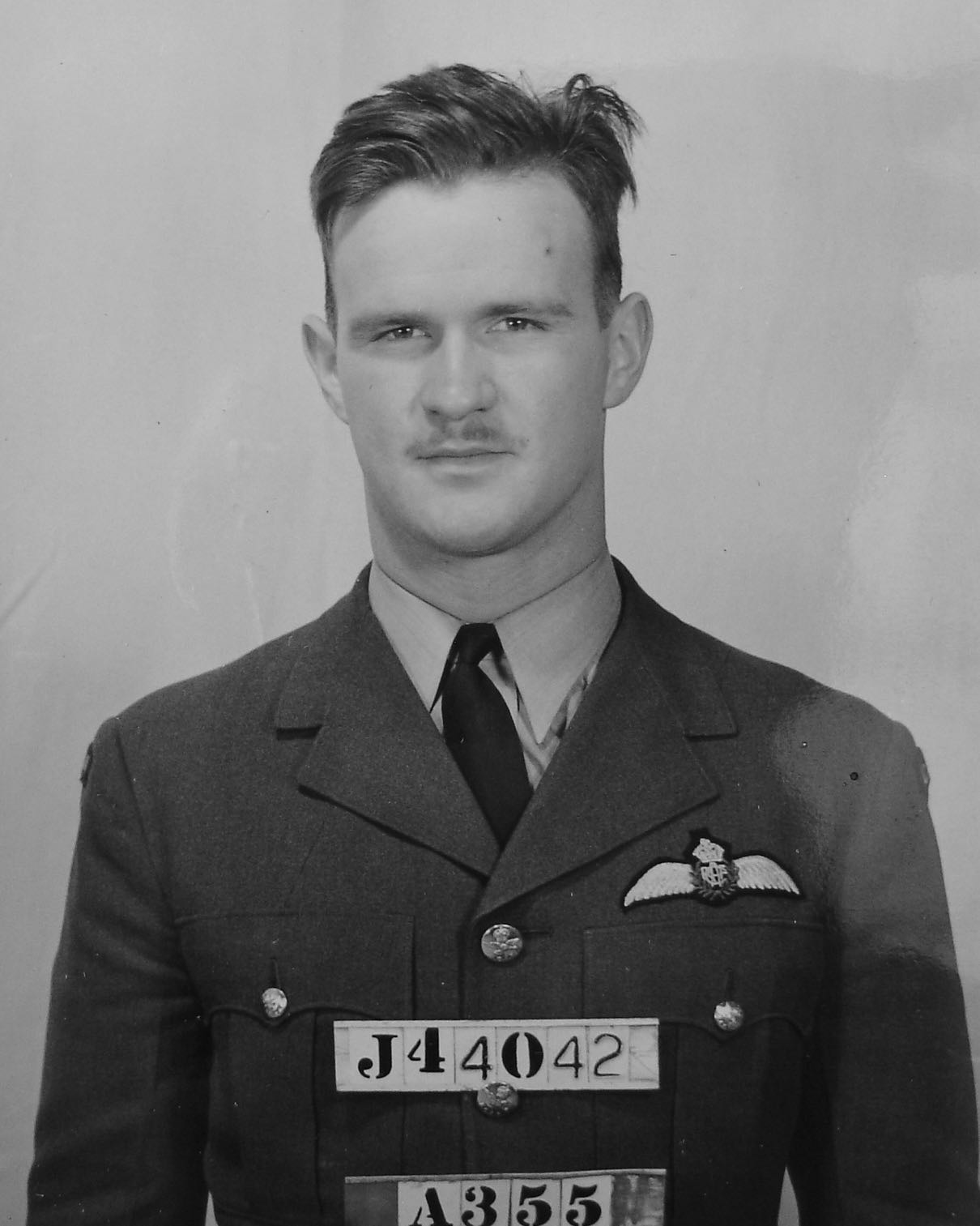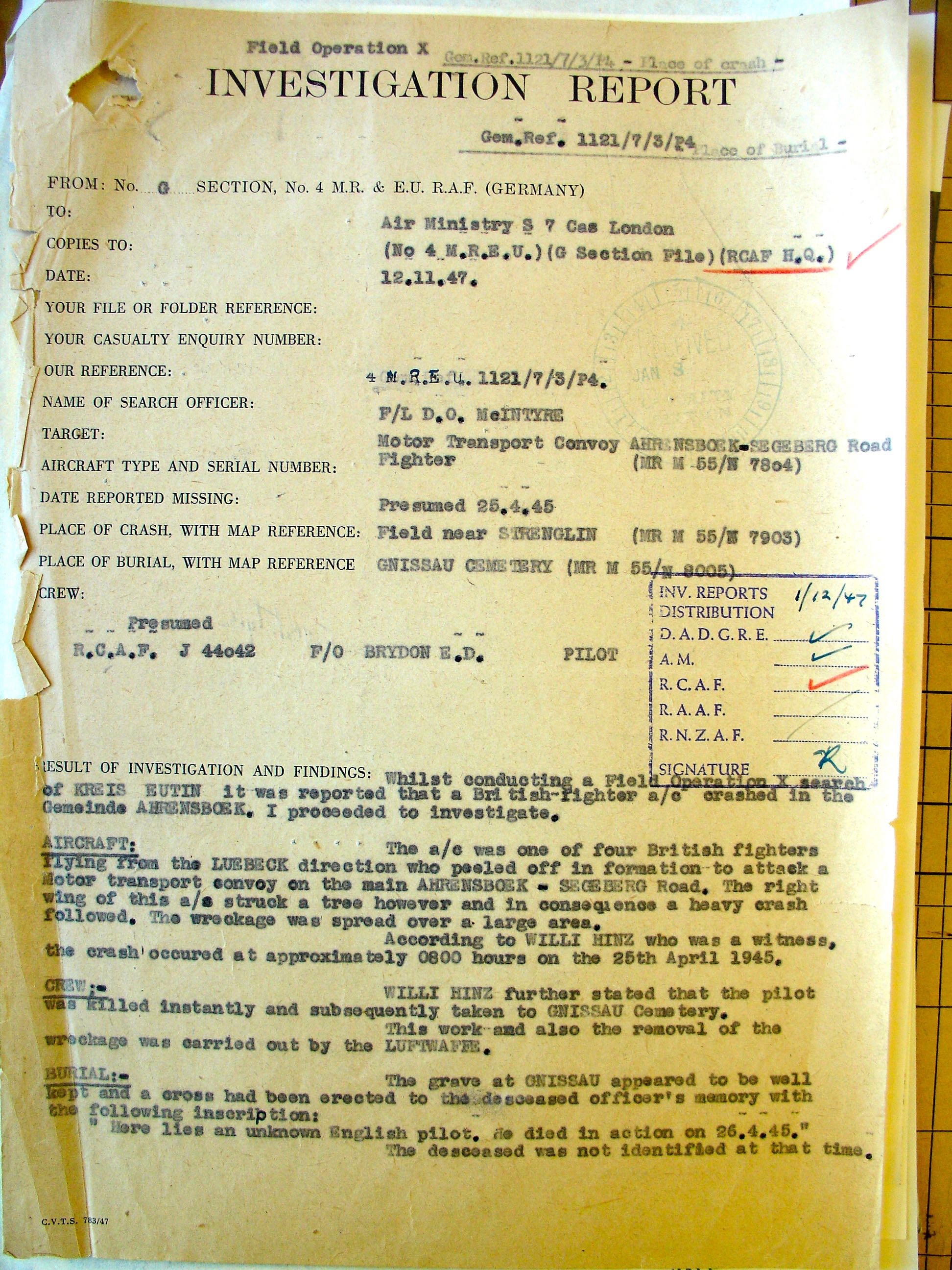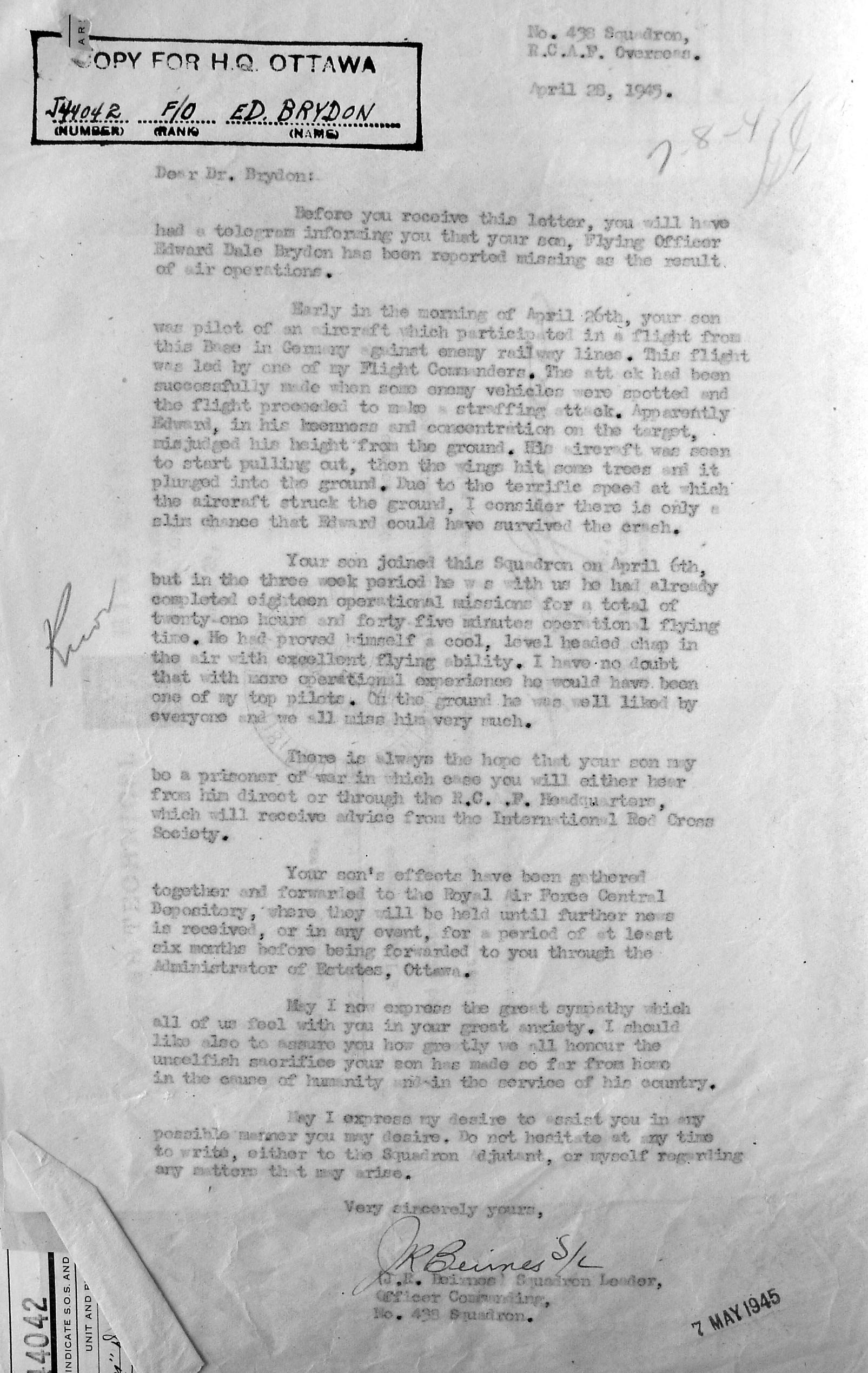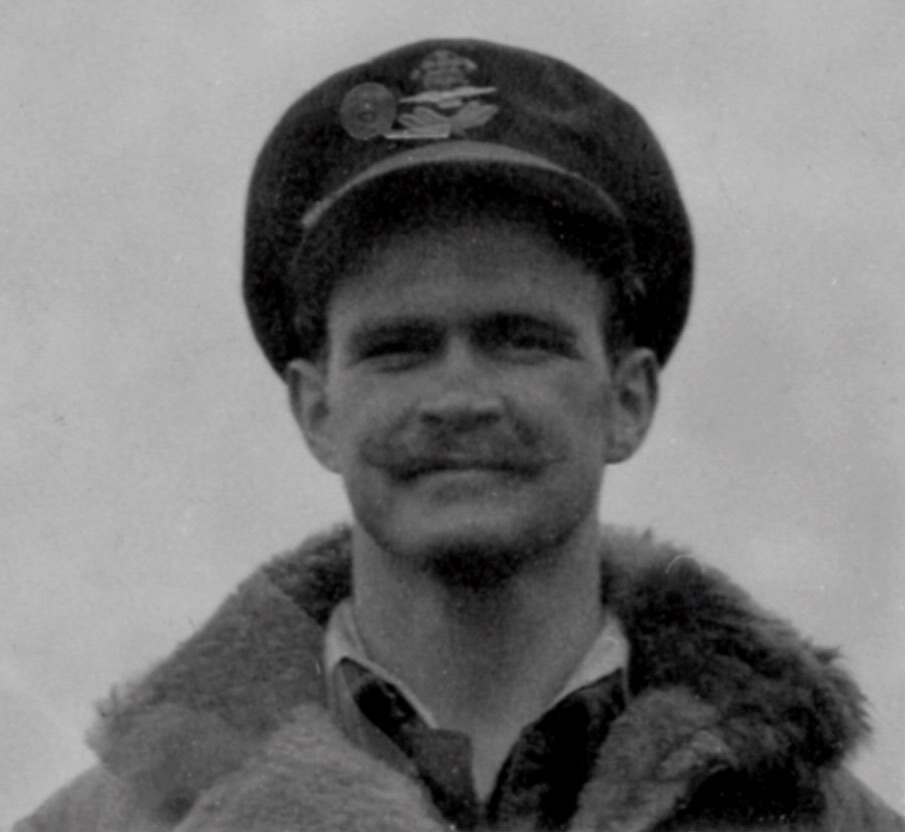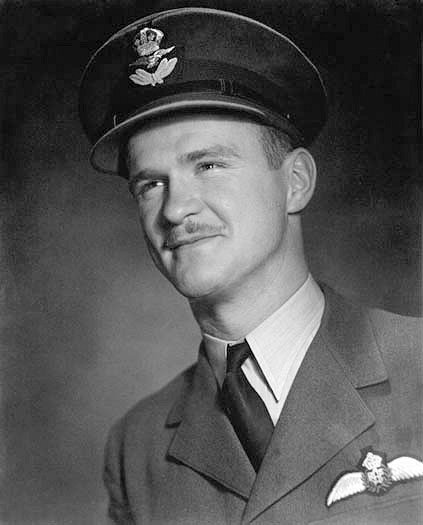 438 Squadron
Edward 'Ted' Dale Brydon was the son of Dr. William Hall and Ethel (nee Dale) Brydon of 249 Main Street, Brampton, Ontario. He had two brothers and four sisters. The family attended the Grace United Church. Brydon was very sports minded, especially in gym work and rugby.
Brydon was keen to sign up after he graduated high school but his parents refused to allow him to sign up for the RCAF at 17 1/2 years of age.
He enlisted in Toronto, taking his training at Oshawa, Bagotville, and Camp Borden. In January 1943, the interviewing officer assessed him as a "stocky lad, good education, alert and keen. Well motivated. Good appearance and manners. Very keen on pilot duites. Has over 30 hours logged solo in Taylor Craft. This lad should do well. Has read technical literature, built model planes and taken instruction in flying. One brother in RCOC. Seems a steady, confident type, motivation sound."
September 2, 1943: 82 out of 100 in assessment of qualities of character and leadership. "A cool, reliable airman with lots of confidence and ability. A steady worker who showed an earnest attitude throughout his course."
November 12, 1943: A very cooperative student with good natural ability. Keen type, mature for age, asks intelligent questions and is very good on both aerobatics and instruments. General flying high average." He was assessed as being extremely suitable for Fighter type aircraft and as a flying instructor.
He went overseas in December 1944. He joined 438 Squadron on April 6, 1945. He had completed 18 operational missions before his fatal flight in Typhoon RB429.
S/L Jack Beirnes wrote a letter to Dr. Brydon, dated April 28, 1945. "Early in the morning of April 26th, your son was the pilot of an aircraft which participated in a flight from this base in Germany against enemy trailway lines. This flight was led by one of my flight commanders. The attack had been successfully made when some enemy vehicles were spotted and the flight proceeded to make a staffing attack. Apparently, Edward, in his keenness and concentration on the target, misjudged his height from the ground. His aircraft was seen to start pulling out, then the wings hit some trees and it plunged into the ground. Due to the terrific speed at which the aircraft struck the ground, I consider there is only a slim chance that Edward could have survived the crash...He had proved himself a cool, level headed chap in the air with excellent flying ability. I have no doubt that with more operational experience, he would have been one of my top pilots. On the ground, he was well liked by everyone and we'll miss him very much".
On Brydon's confidential report, dated April 28, 1945, signed by S/L Beirnes: "Total hours: 407.45. Last six months: 89 hours. Conduct satisfactory. Excellent pilot whose ability on the ground and in the air is above average. Very popular with pilots. Flight commander material." W/C F. G. Grant wrote, "Not much experience but was learning the fighter-bomber game quickly. Good appearance, courteous."
Witness Willi Hinz, a farmhand, stated that the pilot of the crashed Typhoon was taken to Gnissau Cemetery. A cross was erected with the inscription: "Here lies an unknown English pilot. He died in action on 26.4.45" Brydon's body was exhumed on July 30, 1947 and identified, buried in the Hamburg/Orlsdorf British Cemetery.
Dr. Brydon received notice that his son was killed during operations and it was reported in the Brampton Conservator on May 3, 1945. "'Ted' was the sole occupant of an aircraft which took off to carry out dive bombing operations on a railway eight miles northeast of Hamburg, Germany on April 26. While carrying out a low level straffing attack his aircraft hit a tree. A piece of the aircraft was seen to come off and it crashed 10 miles north of Lubeck, Germany at 7:40 am and 'Ted' is believed to have lost his life at that time."