Frank Richard Fisher Skelly J39985
January 24, 1920 - January 22, 1945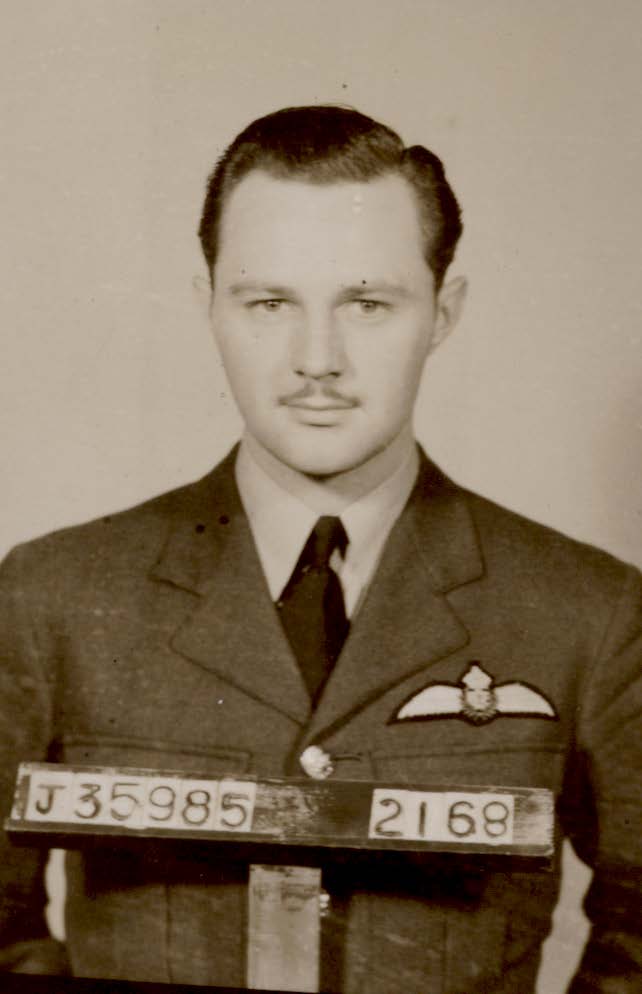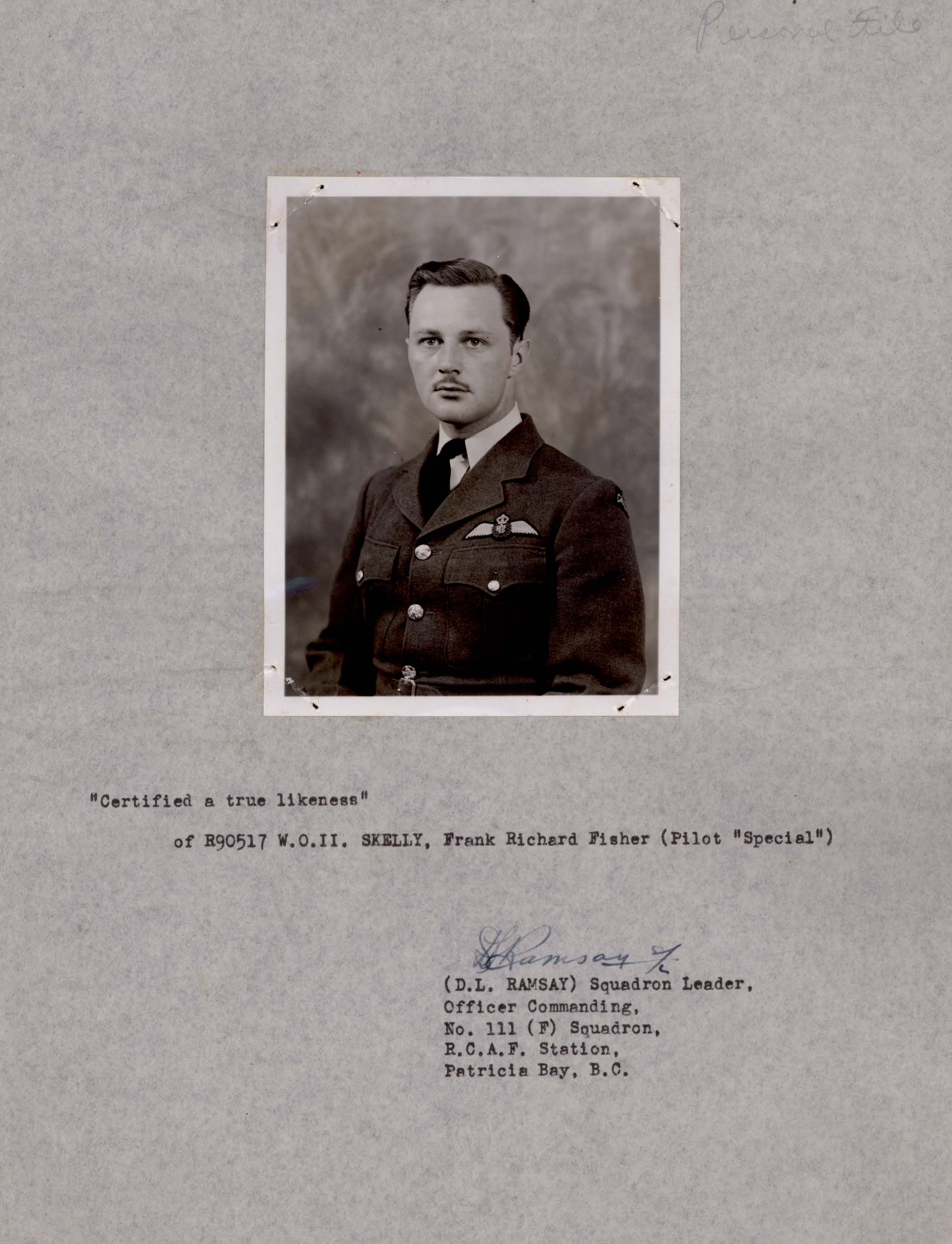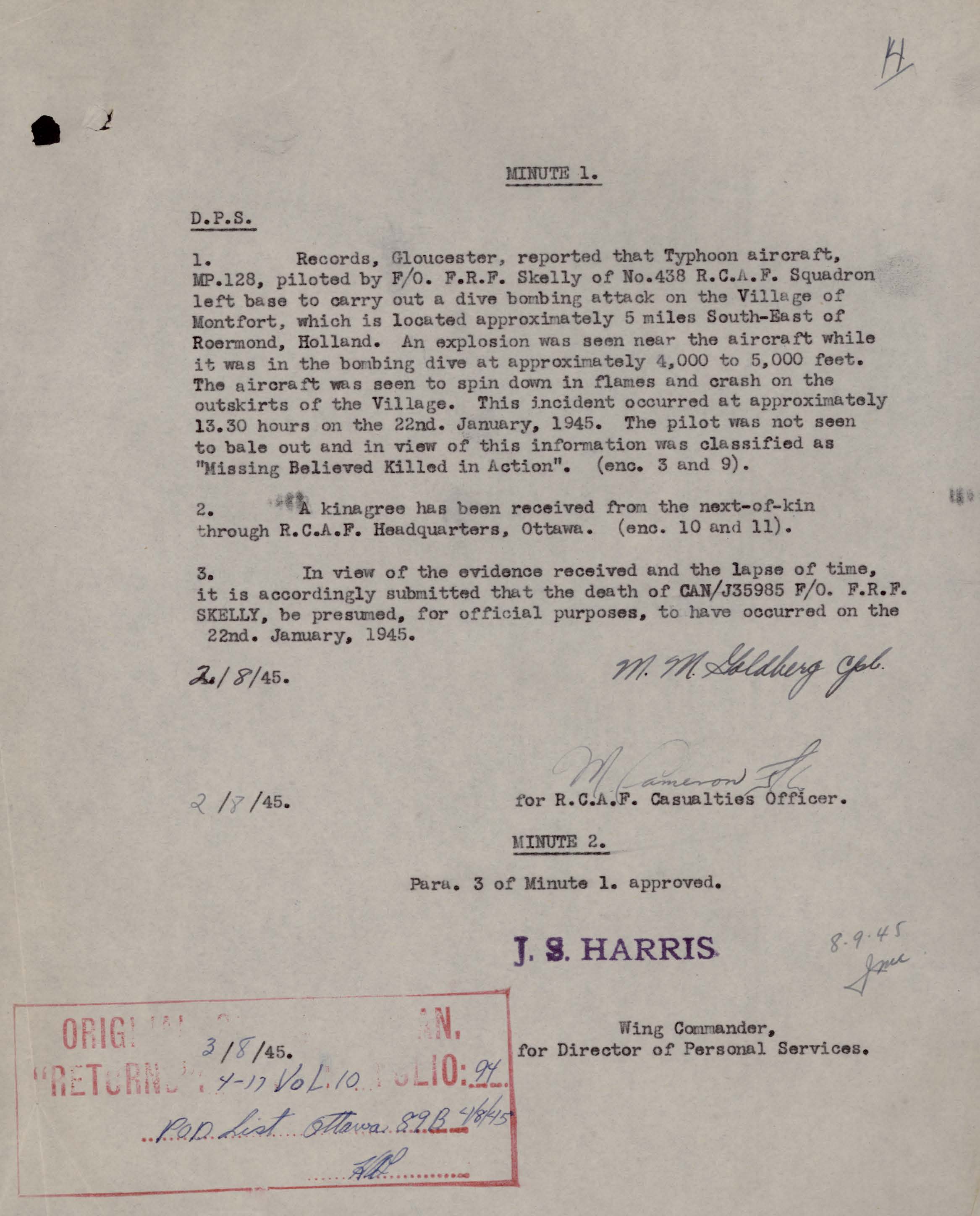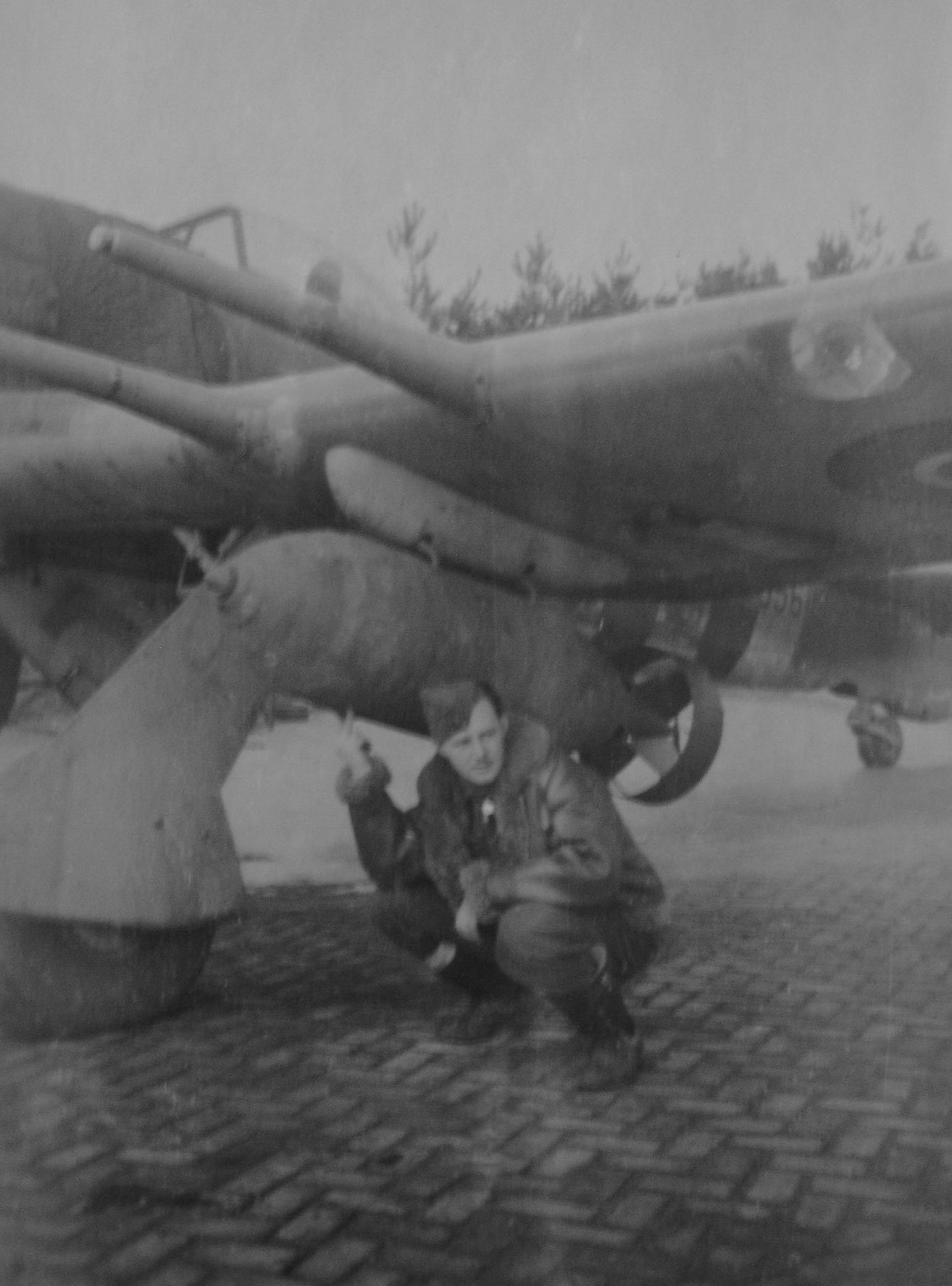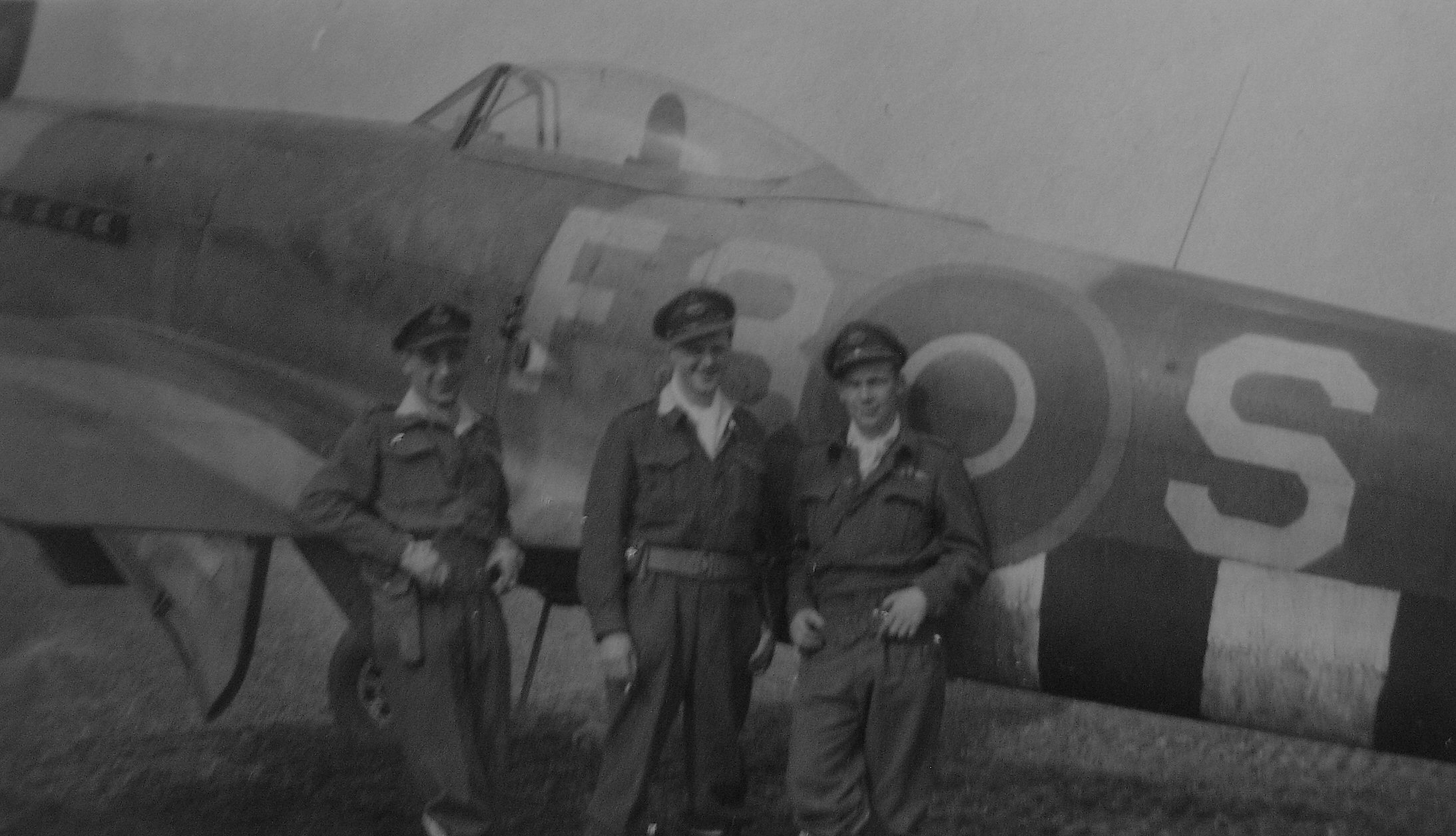 438 Squadron
Frank Richard Fisher Skelly was the son of Richard Stanley and Florence Skelly of Kirkland Lake, Ontario. He was born in Cobolt, Ontario. He had one younger brother and one younger sister. The family attended the United Church. Frank had four years of high school and then one year of night school. He was a parts stock clerk for Tech Motor Sales Ltd., a Ford dealership, for three years. He indicated that he was 'not particularly' interested in returning to his position after the war. He wanted to remain in the RCAF as part of their permanent force. He liked hockey, skating, swimming, rugby and basketball. His hobbies included mechanics.
He enlisted on February 18, 1941 in North Bay, Ontario. In March 1941: "Clean cut lad, good physique, intelligent, not nervous. Polite, pleasing personality, believed his education plenty for Pilots course. Good type, should be excellent material. Officer calibre." In May 1941, he was evaluated: "Somewhat tense, but tries hard and is very keen. Borderline hypertension."
He started out as training for air gunner, but had originally applied to be a stenographer clerk with the RCAF.
He started out at No. 1 Manning Depot in March 1941, then to No. 3 B&G May 1941, then No. 2 ITS, No. 2 EFTS and No. 2 SFTS by October 1941. He was with No. 111 Squadron, Rockcliffe, by November 1941. He was at the Elmendorf Field, Alaska by June 1942, Kodiak in May 1943. He received his commission July 1943. In October 1943, he was at Pat Bay with 111 (F) Squadron and then travelled to Halifax where he found himself at No. 57 OTU in January 1944. By June 1944, he was attached to 438 Squadron.
At No. 2 EFTS, Course 31, June - August 1941, he was evaluated as "average student, quite satisfactory progress. Requires checking. Gets careless. Good spirit." At No. 2 SFTS, Course 35, August to October 1941: "Progressed at good average rate. Has no serious faults and is above average on clear hood and instrument flying. Young, lots of life, rather easily led by others. Neat in appearance and dress. Good student."
At No. 57 OTU, January - April 1944: Skelly was assessed as good average or average, except in low level bombing where he was poor average. "A good average pilot who has shown steady improvement. Has no particular faults, is a well mannered officer and should do well with more experience."
On June 20, 1942, in Alaska, he was wounded -- lacerated left arm, dorsal surface, moderately severe. He had run out of a hanger and in the darkness, due to black out conditions, missed the push plate and pushed his hand and arm through a glass door, breaking the glass. He was sent to the hospital for attention.
In February 1943, with 111(F) Squadron, F/L Doak evaluated Frank Skelly as superior in trade profiency and very good in character.
At Elmendorf Field, Anchorage, Alaska, he was involved in a crash landing. This was recorded on his Service Conduct Sheet. The offense: "Being dangerously engaged in low flying in that while hin charge of his section did dangeroulsy carry out low flying which was likely to cause damage to His Majesty's aircraft...in direct disobedience to Flying Orders." He received a severe reprimand.
In July 1944, Skelly had a pea-sized piece of shrapnel removed from the left side of his nose near his cheek. "It was quite deeply embedded. Wound closed with a fine nylon suture. This officer also has scabies. Treated. Hives present." He had been involved in an accident with two other pilots 3 1/2 miles from Caen on July 15, about 1400 hours. They had been in three ton truck that had been struck by an exploding enemy shell. T/F/L R. F. Reid was injured as well, but T/F/O Ross Eveleigh Johnson was killed instantly.
The official report was that "Typhoon MP.128 piloted by F/O F.R.F. Skelly of No. 438 RCAF Squadron left base to carry out a dive bombing attack on the village of Montfort, which is located approximately 5 miles se of Roermond, Holland. An explosion was seen near the aircraft while it was in the bombing dive at approximately 4000 to 5000 feet. The aircraft was seen to spin down in flames and crash on the outskirts of the village. This incident occured at approximately 13.30 hours on the 22nd January 1945. The pilot was not seen to bale out and in view of this information, was classified as 'Missing Believed Killed in Action'."
From the 438 Diaries: "B.78, 143 Wing HQ, Eindhoven, Holland, Jan 22, 1945 This was another grand day and the pilots have been at it steady since morning. Altogether three dive bombing shows were done, using 1,000 lb bombs, on attacks on towns in close Army Support work. All attacks were successful but, unfortunately, in the attack on Montfort, one of our kites with F/O "Frank" Skelly (Can J35985) as pilot was seen to explode in a burst of flame and spiral to the ground. No flak was seen though it is possible that he could have suffered a direct hit. No parachute was seen so there is little possibility that Frank could have survived." "Jan 23/45 This looks like a real break in the weather. The first "de" was off shortly after nine o'clock and again three "ops" missions were performed. Two of these were dive bombing attacks on towns, part of a Close Army Support programme and were quite successful. 1.000 lb bombs were used. The third mission was a rail-cutting job using 1000 lb bombs. The rail was believed cut but one of the kites, flown by F/O "Hank" Wallace blew up in the air just about the time he would be releasing his bombs. This is the second time in two days that this has happened and in neither case was any flak seen by other pilots. This has raised their "wind" considerably and the O.C. in conjunction with the Group Captain , The C.T.O. , the Armament Officer , etc. Are trying to dig up a solution."
Bill Eull of 111 Squadron website says, "But there is an eerie and perhaps revealing note in the following day's entry: "Jan 24/45 It has been decided by the Group Armament Officer that 11 second nose fusing will be used in future whenever possible rather than the .025 fusing." Maybe the problem was not due to a clever new German tactic, weapon or skill, after all.
On January 25, 1945, S/L Hogg wrote to Mrs. Skelly about the circumstances of the crash of Typhoon MP 128. "Early in the afternoon of January 22, 1945, a flight from this Squadron, led by one of my Flight Commanders, and with your son as one of the pilots, took off on a dive bombing attack on an important enemy target. While in his bombing dive, the aircraft was hit by enemy fire and was seen to explode. Unfortunately, he was not see to take to his parachute and I regret to inform you that there is very little possibility of Frank being safe under these circumstances....Frank was nearing the end of his second operational tour with 88 operational sorties and 92:20 operational flying hours over enemy territory to his credit."
Frank died just two days before his 25th birthday. His remains were reinterred in 1948 in the Jonkerbos War Cemetery from the field owned by Mr. Van Pol of Montfort, where he was initially buried near the crash three years earlier.
LINKS: