George Percy Edington J11044
January 30, 1920 - October 27, 1986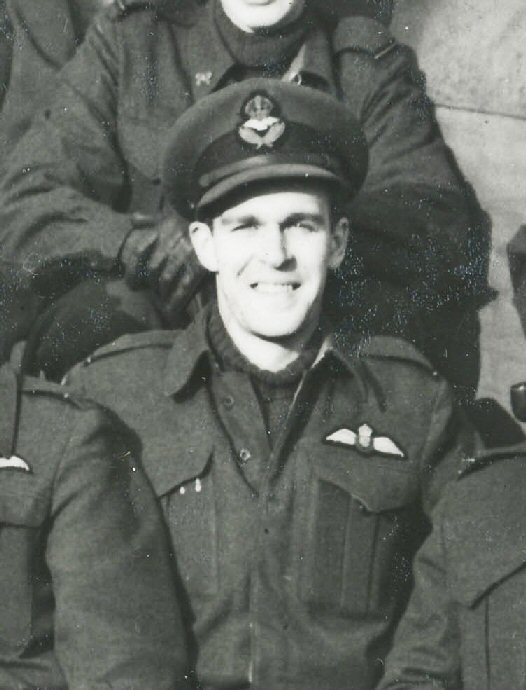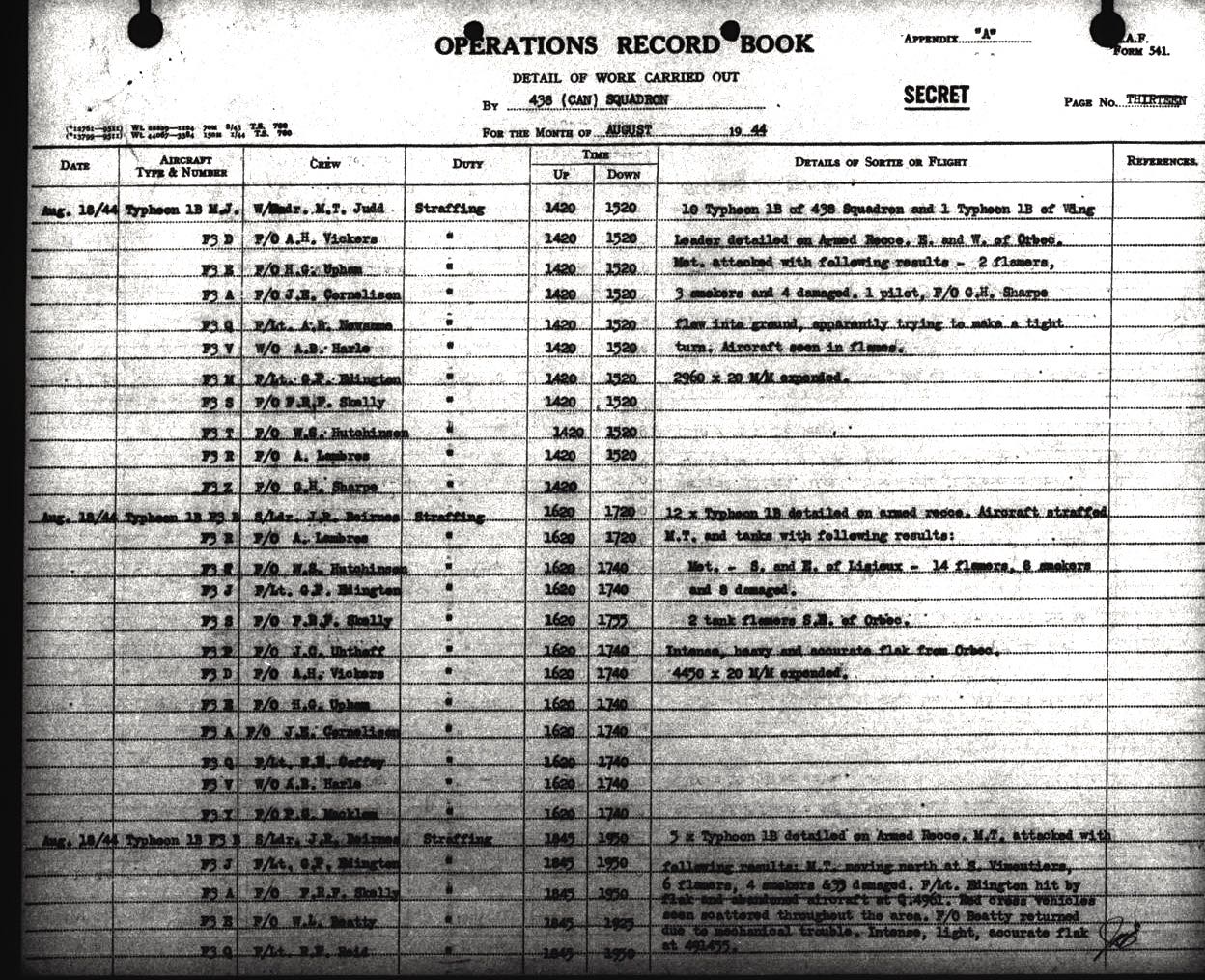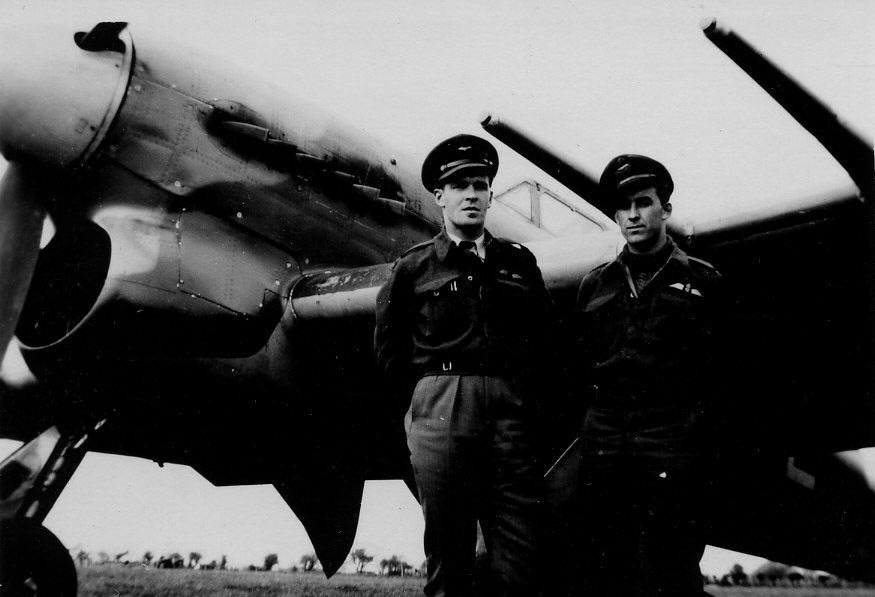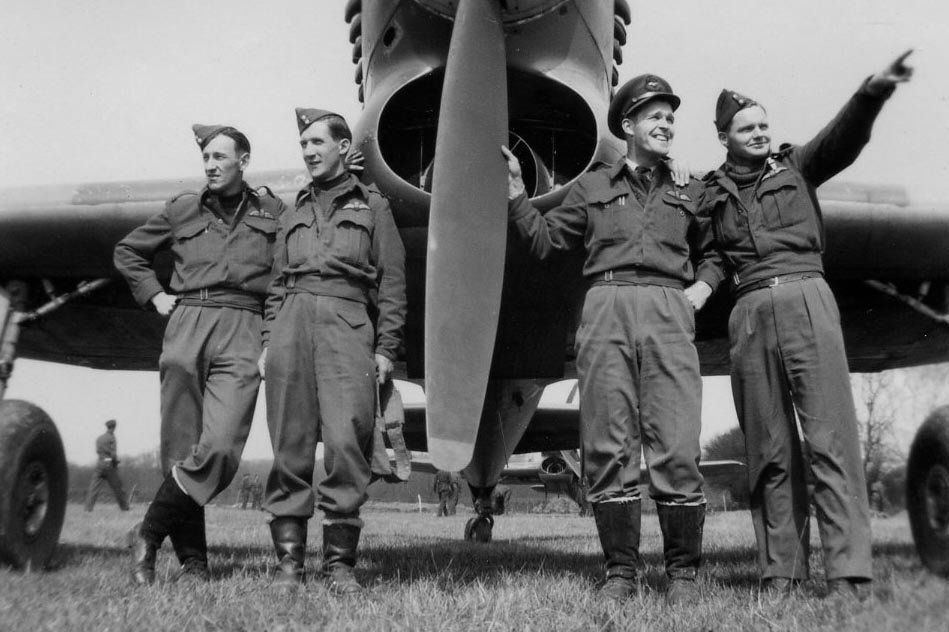 438 Squadron
George Percy Edington was from Vancouver, British Columbia. He earned his wings on March 27, 1942. He was with 118 Squadron on Kittyhawks in Alaska and BC, then to the UK in November 43, flying the Hurricane and Typhoon almost on a daily basis with 438 until he is shot down on 10 August 1944.
He married Thelma Grace Newton in Calgary in July 1942.
Noted on July 30, 1944: Aircraft detailed to attack on G.C. 22 - buildings at048584, 16x1000 lb bombs, Inst. nose, .025 tail dropped from 7,500' to 2,000' at 60 degree angle from South to North, 2 direct hits, remainder just South and North of target, Buildings on West of target still standing. Meagre, inaccurate flak encountered over target.
Flight Lieutenant George Edington flew Typhoon MN579 (squadron code F3-J) with 11 other Typhoons on August 18, 1944.
From the 438 Station Diaries: " Today is a grand clear day, a few straggling clouds but not ground haze. The boys really went to town today from earn morn until late at night and created records in all directions. We regret that this tremendous success had to be made at the loss of two aircraft lost and two pilots, one who baled out over enemy territory. He was CAN J11044 F/Lt. G.P. Edington, one of the 'old timers' of the Squadron, whose aircraft was hit by flak and took fire. He abandoned aircraft at Q.4961. 'Ed's' parachute was seen in a tree in an apple orchard and it is hoped he was in satisfactory condition to try an escape. The other Canadian was J13612, F/O G. H. Sharpe. He was not seen to crash, but the burning wreckage of his aircraft was seen on the ground. It is believed he made too tight turn when making an attack and spun, although he was one of the newer pilots, he was a grand chap and very popular in the Squadron. Most of our pilots dropped into bed early anticipating another heavy 'go' tomorrow."
12 x Typhoon 1B detailed on armed recce. Aircraft strafed M.T. and tanks with following results: Met: s and E of Lisiux. 14 flamers, 8 smokers and 8 damaged. 2 tank flamers SW of Orbec. Intense, heavy and accurate flak from Orbec. It was noted that Red Cross vehicles were seen scattered throughout the area.
Edington became a prisoner of war.