Jack Rife Beirnes C13458
November 24, 1914 - June 1, 1945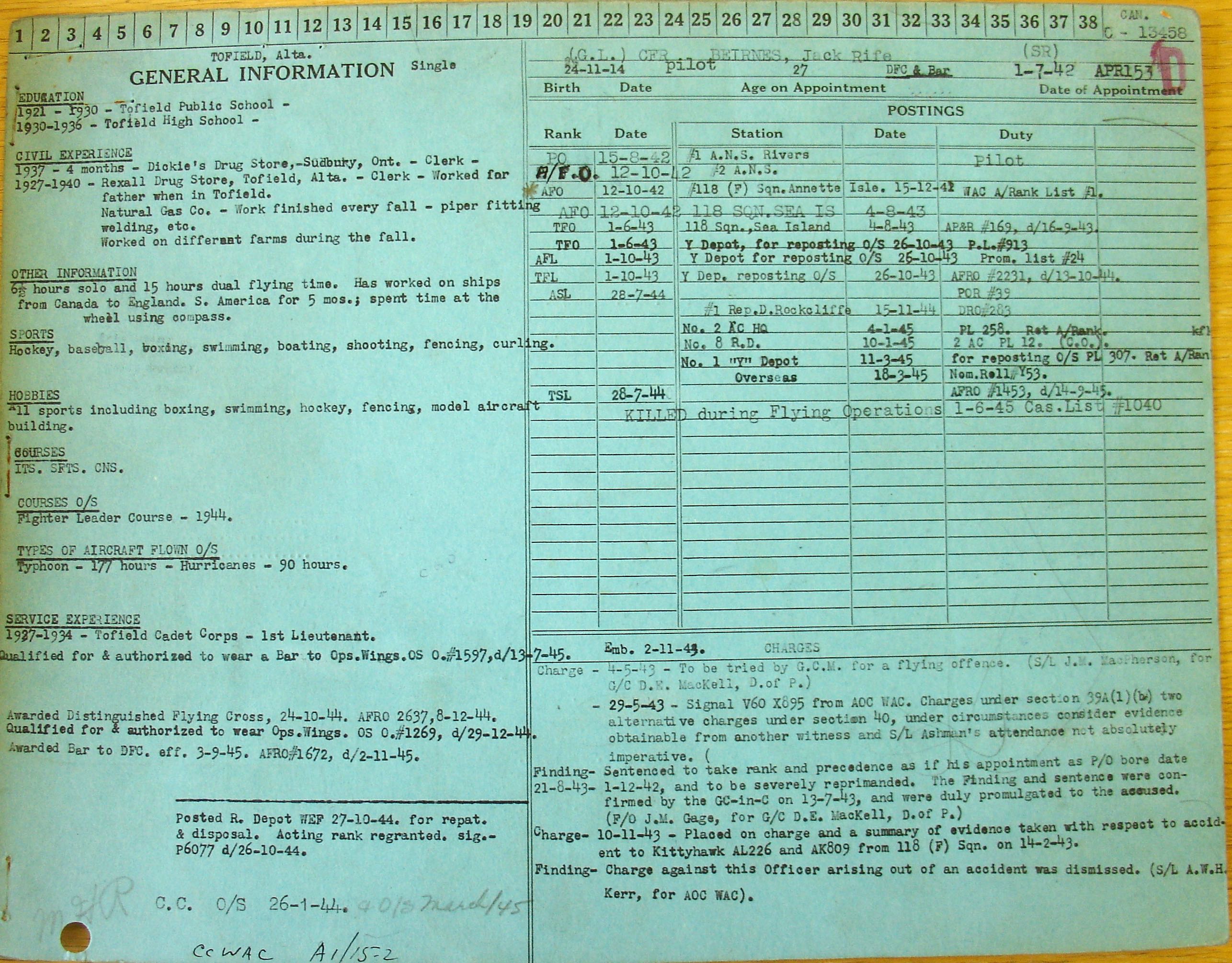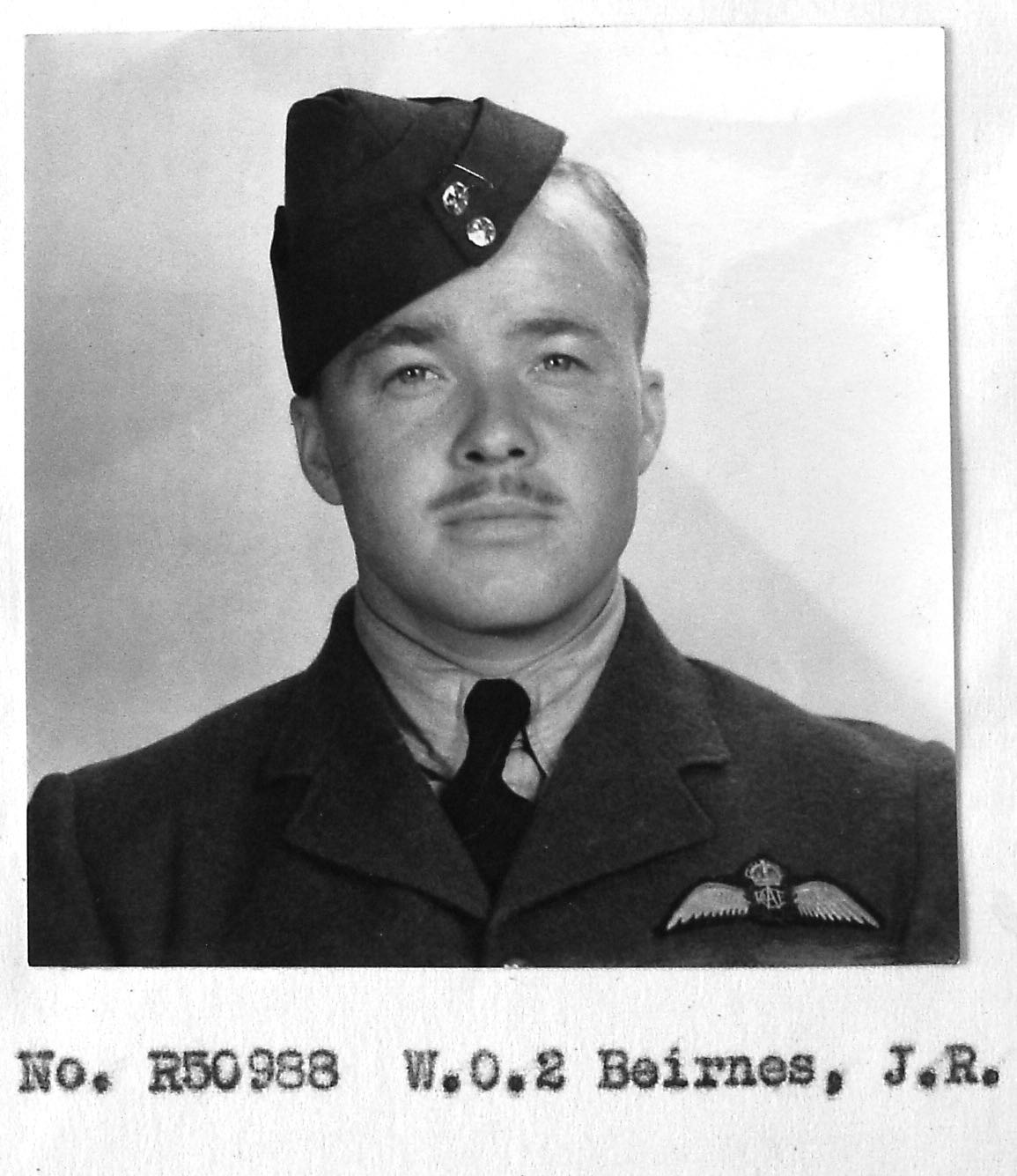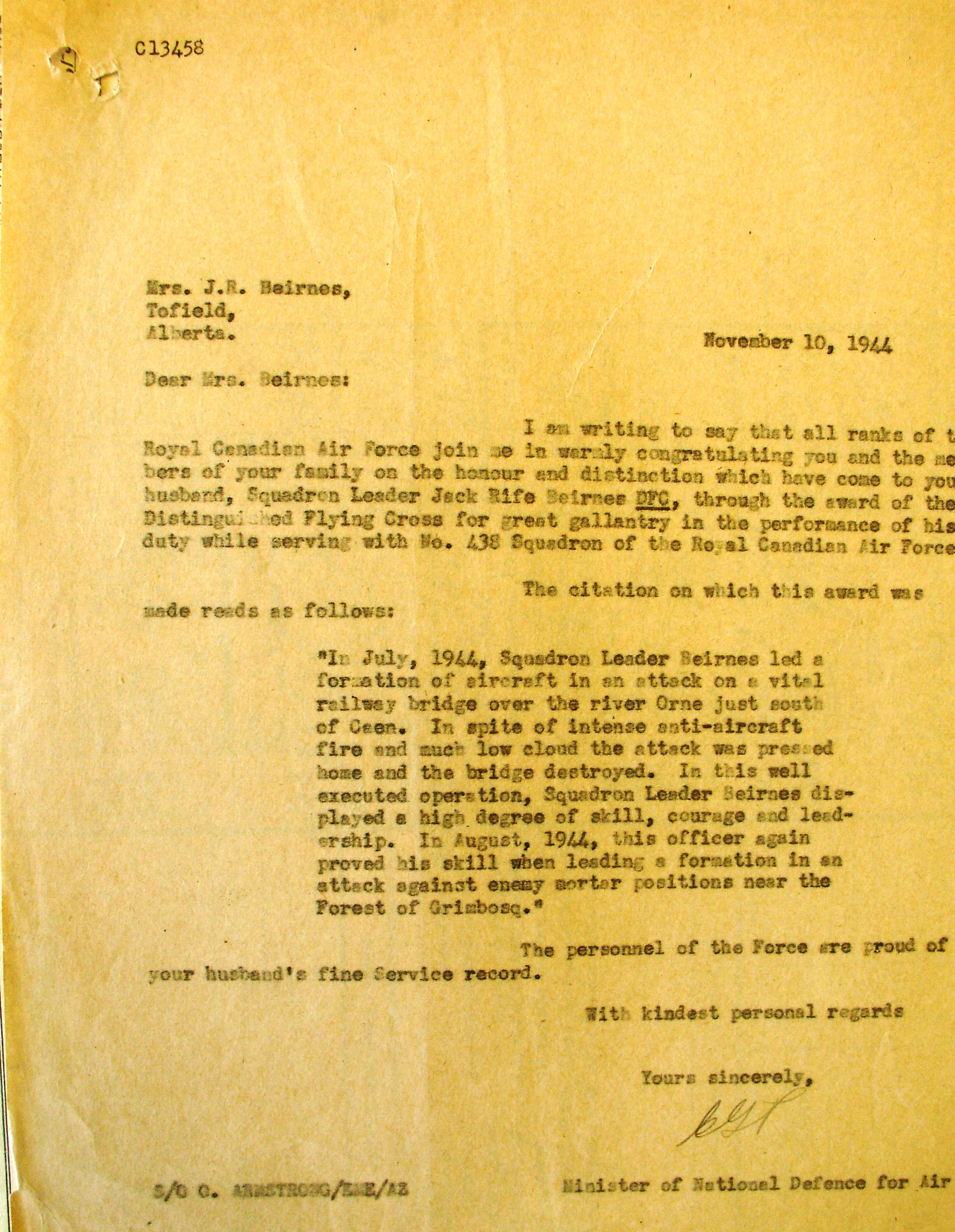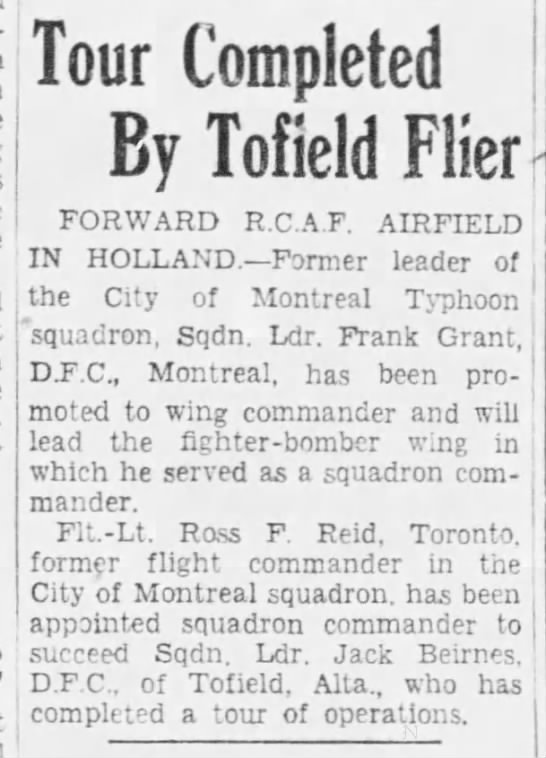 438 Squadron
Jack Rife Beirnes was the son of Arthur Appleton (a druggist) and Nellie Mellis (nee Wood) Beirnes of Tofield, Alberta. He was born in Birtle, Manitoba. He had two brothers: Arthur D. and Donald W.. Donald died on January 4, 1942. The family was Presbyterian. Jack was married to Gwendolyn (nee Firth) Beirnes, 27, of Edmonton and together they had a son: Donald Gordon Beirnes, aged 1, at the time of Jack's death. He was born on August 5, 1944. Jack and Gwendolyn were married in Edmonton on September 12, 1942.
Jack Rife Beirnes stood 5'6" and weighed 155 pounds. He had light brown hair and blue eyes. Within the files via Ancestry.ca, he wrote letters to the RCAF about his desire to serve. He first applied with the RAF in Calgary on August 31, 1936. He was rejected. "This candidate has doubtful nervous and physical stamina...it would appear his nervous stability has not improved sufficiently to recommend him as a candidate for the RAF at the present time."
He was a drug clerk before he enlisted with the RCAF in January 1940. "A good type." He liked hockey, baseball and tennis. He also enjoyed smoking a pipe occasionally and drank alcohol in moderation. He had a Grade X education. He liked to build model aircraft and do free hand sketching.
He had his private pilot's license and claimed 35 hours flying solo, 14 hours dual. He was Lieut. in the Cadet Corps. He was thought of as alert and well dressed. "Appears satisfactory in every respect except slight lack in Academic Qualifications. Keen to serve and fly as evidence by two trips to UK to engage with RAF and by flying training. Strongly recommended for selection."
Jack Beirnes found himself at No. 1 Manning Depot by April 1940.
At ITS: Toronto: May 23, 1940 to Edmonton Flying Club until July 1940. "Above average as pilot. Make good fighter pilot." In Ground Training: "The marks obtained are the result of the first examination. The marks in brackets are the marks on the supplemental examination." 54.7 (62.1) He was 5th in a class of 5.
At SFTS: Camp Borden: July 1940 - October 22, 1940 when he was sent to Trenton, as Tow Target Pilot, posted September 30, 1940, then to Rivers, Manitoba until August 1941. At No 1 ATP: "This pupil's ability is a low average but he is much too complacent in the air and should be constantly impressed with the need for alertness." In Ground Training: "Passed all subjects but failed to obtain required 60% aggregate." Position in class: 31 out of 45.
He was at Pennfield Ridge in August 1941 until December 1941, when he was sent to 118 F Squadron, Dartmouth, NS, December 16, 1941. He then was in Patricia Bay, BC by June 1942, then up to Annette Island shortly afterwards. He remained in Alaska from June 1942 - August 16, 1943. He was at Sea Island through to October, then sent to Halifax where he was sent overseas.
While in Alaska, he and another pilot, Arthur Jarred, were involved in stunting in Kittyhawks, resulting in the death of the Jarred. For more information about this, please read Chapter 5 in Quietus: Last Flight by Anne Gafiuk.
By July 28, 1944, he was reposted 438 Squadron (Sq. Com Duties).
Beirnes received the DFC. "In July 1944, S/L Beirnes led a formation of aircraft in an attack on a vital railway bridge over the river Orne, just south of Caen. In spite of intense anti-aircraft fire and much low clod, the attack was pressed home and the bridge destroyed. In this well executed operation, S/L Beirnes displayed a high degree of skill, courage and leadership. In August 1944, this officer again proved his skill when leading a formation in an attack against enemy mortar positions near the Forest of Grimsbosq."
He returned to Canada in November 1944, then was back overseas by March 1945.
While flying Typhoon 1B SW 393 from B.166 Flensberg, Germany, he was involved in a fatal accident on June 1, 1945. "He took off at 1035 hours to carry out formation practice with the remainder of his squadron. At 1045 hours, he was leading Blue section of the said formation when his engine stopped. He then proceeded to make a normal forced landing first turning to port then to starboard. While turning starboard near the ground he was seen to try to lift his st'b'd wing but was unable to do so because of low air speed. His wing then hit the ground and his aircraft turned over and broke up." Cause of accident: "Engine failed while flying formation, reason being stated in technical report. Aircraft struck ground in the manner as stated above due to error in judgement on the part of the pilot." He died of multiple injuries about the head and face.
Bob Spooner, also of 438 Squadron remembered Beirnes saying Beirnes was "a great guy." Bob had deep respect for Beirnes. He kept a newspaper article about Beirnes' death in his logbook. See photo above for article. More information about Beirnes can be found in Typhoon and Tempest by Hugh Halliday, including a photo of Beirnes' funeral.
Jack's brother, Donald Wood Beirnes, 22 years old, was killed on January 4, 1942 and is commemorated on the Alamein Memorial in Egypt. While flying for 82 Sqn RAF, his Blenheim IV being ferried from Egypt to Malta failed to arrive at destination.
LINKS: