John Edgar Cornelison J27764
Unknown - August 29, 1944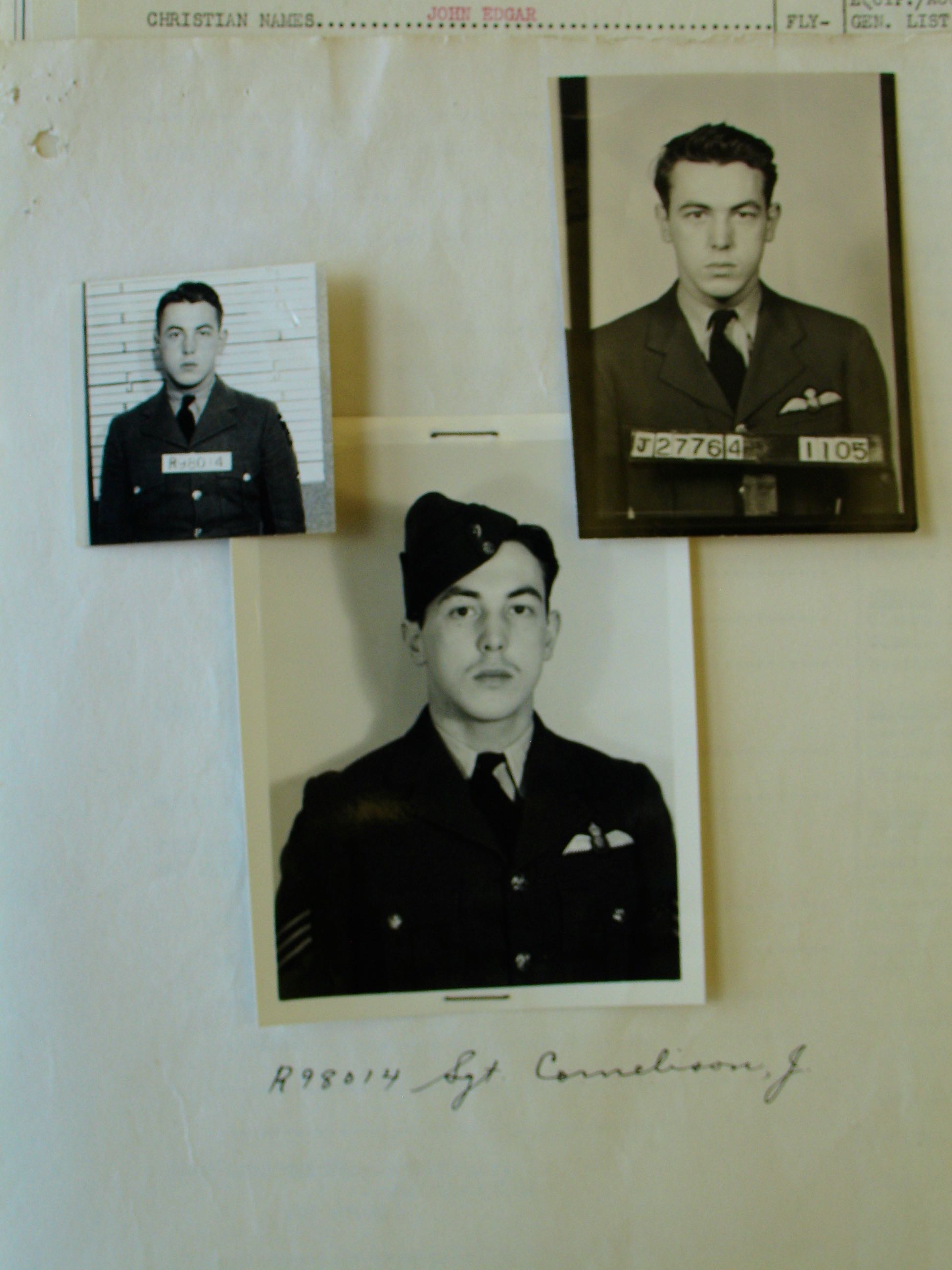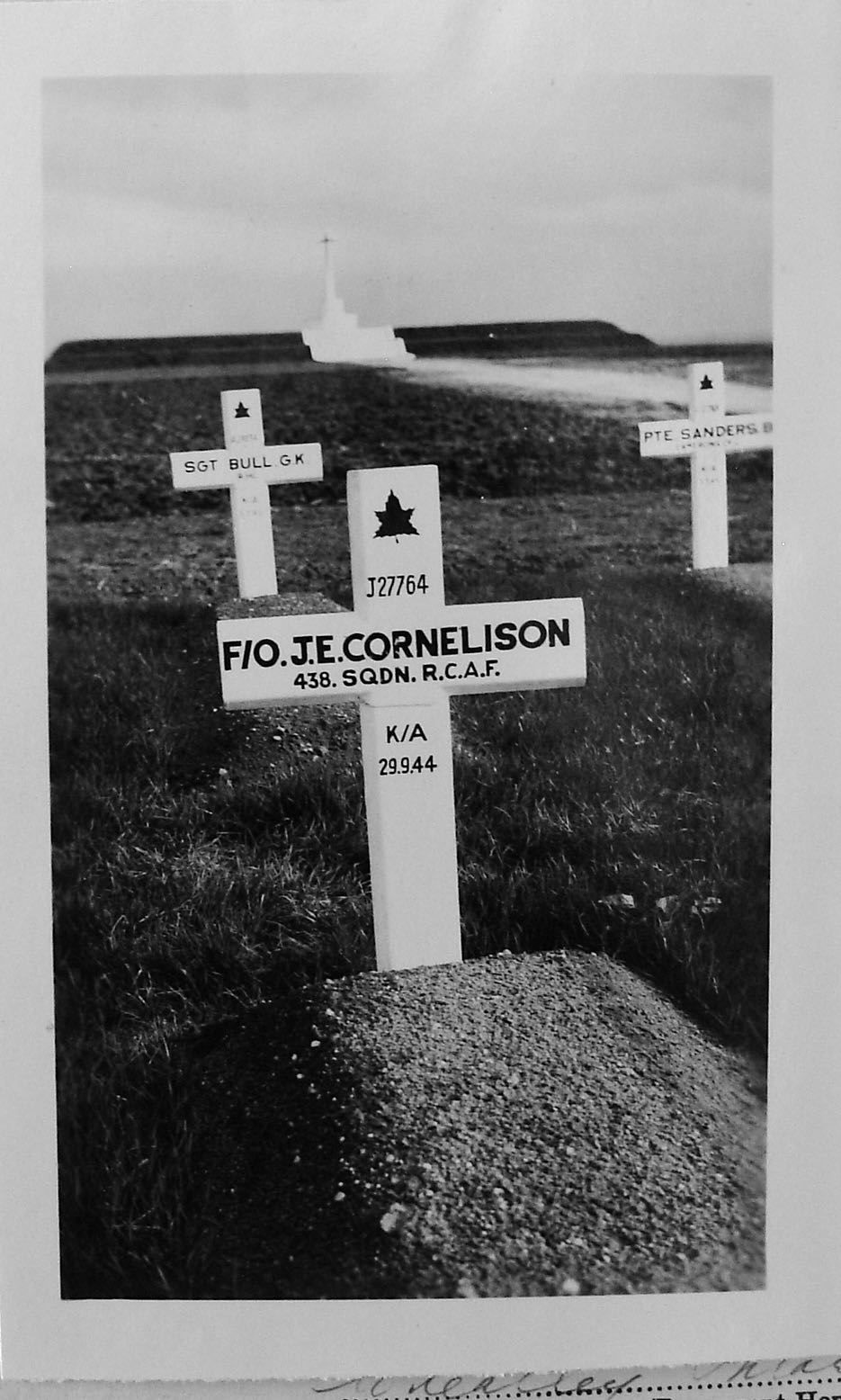 438 Squadron
John Edgar Cornelison was the son of Dr. and Mrs. E. H. Cornelison of Louisville, Kentucky, USA. He had a younger brother and sister still at home. He attended 2 1/2 years pre-med at the University of Kentucky and University of Louisville. He enjoyed baseball, basketball, and track where he placed 3rd in the State, football and swimming, where he was city champ.
On his medical, it was noted that he had a nearly complete upper denture and a partial lower denture. He was a "well-developed, sturdy type" and had excellent responses to tests. He wore glasses to read to avoid straining his eyes. He was considered to be physically and mentally fit for all aircrew duties and well above the average. "He is real good material. He is sincere, determined and not emotional. Believe he should do well with training."
While living at the YMCA in Windsor, Cornelison enlisted on March 13, 1941, as an Aircraftman Second Class. He was selected to train for pilot or observer. On completion of his basic training at No. 1 Manning Depot in Toronto, on July 26, 1941, he proceeded to No. 16 SFTS Training School, Hagersville, and then to No 1 Initial Training School, Toronto, September 1, 1941.
His aircrew training commenced in Initial Training Course 35 and he was finished on October 26, 1941. He was reclassified to LAC, remustered to pilot and was posted to No. 7 EFTS, Windsor. He completed EFTS Course No. 41, December 19, 1941 and proceeded to No. 14 SFTS, Aylmer, Ontario, December 20, 1941. He graduated as a Sergeant Pilot from Course No. 45, April 10, 1942 and was awarded his Pilots' Flying Badge.
Cornelison married Mary Margaret, 23, on May 16, 1942, in London, Ontario. Their daughter, Diane Margaret, was born August 30, 1943, both living in Windsor, at the time of Cornelison's death in September 1944.
He was posted to No. 1 Air Observer School, Malton, Ontario, June 2, 1942 and was granted indefinite leave without pay to Dominion Skyways Limited. [The Malton AOS opened in May 1940, the first AOS in the BCATP. It was operated by Dominion Airways (Training) Limited. Most aircrew training was with Avro Anson aircraft flown by civilian pilots; the training flights ranged over most of the southern Ontario, avoiding the USA. From the book Metmen in Wartime by Morley Thomas.
Cornelison was recalled and proceeded to No. 1 OTU, Bagotville, Quebec and promoted to the rank of F/S, October 10, 1942. He was posted to Western Air Command HQ, Vancouver, BC, March 27, 1943 and then to No. 118 Squadron in Alaska at Annette Island, March 31, 1943. He was promoted to W/O2 April 10, 1943 and was granted a commission as P/O in the Special Reserve, General List Pilot Branch, retro-active to March 10, 1943.
He moved with 118 Squadron to Sea Island, BC August 16, 1943. On October 26, 1943, he proceeded to Halifax, Nova Scotia for transmission overseas.
Cornelison arrived in the United Kingdom November 9, 1943 and proceeded to No. 121 Air Field HQ November 20, 1943 for flying duties with 438 Squadron. He was promoted to F/O retroactive to September 10, 1943.
While serving with 438 Squadron, he flew 75 sorties.
On September 29, 1944, Cornelison was flying Typhoon PD479. His aircraft failed to return to base after taking off to carry out bombing operations on a railroad in Western Germany. The aircraft was last seen engaging an enemy aircraft six miles east of Nijmegen, Holland at approximately 11 am that day. In another report, after the four Typhoons in the group completed their bombing, they were "bounced by 30 plus M.E. 109s" and dog-fights ensued.
According to the Preliminary Report about the accident, the investigators noted: John Edgar Cornelison "crashed in a Typhoon on 29.9.1944 between the British/German lines. After having been searched by the Germans and all possessions had been robbed by them, the remains of this Officer were buried without any form of ceremony on the scene of the crash."
He was later buried at Browebeek Canadian War Cemetery, Netherlands.
More information about Cornelison can be found in Typhoon and Tempest by Hugh Halliday, on pages 43, 45, 79, 87, 189, and 187.