John Sinclair Holmes R188236
1922 (Approximate) - July 16, 1944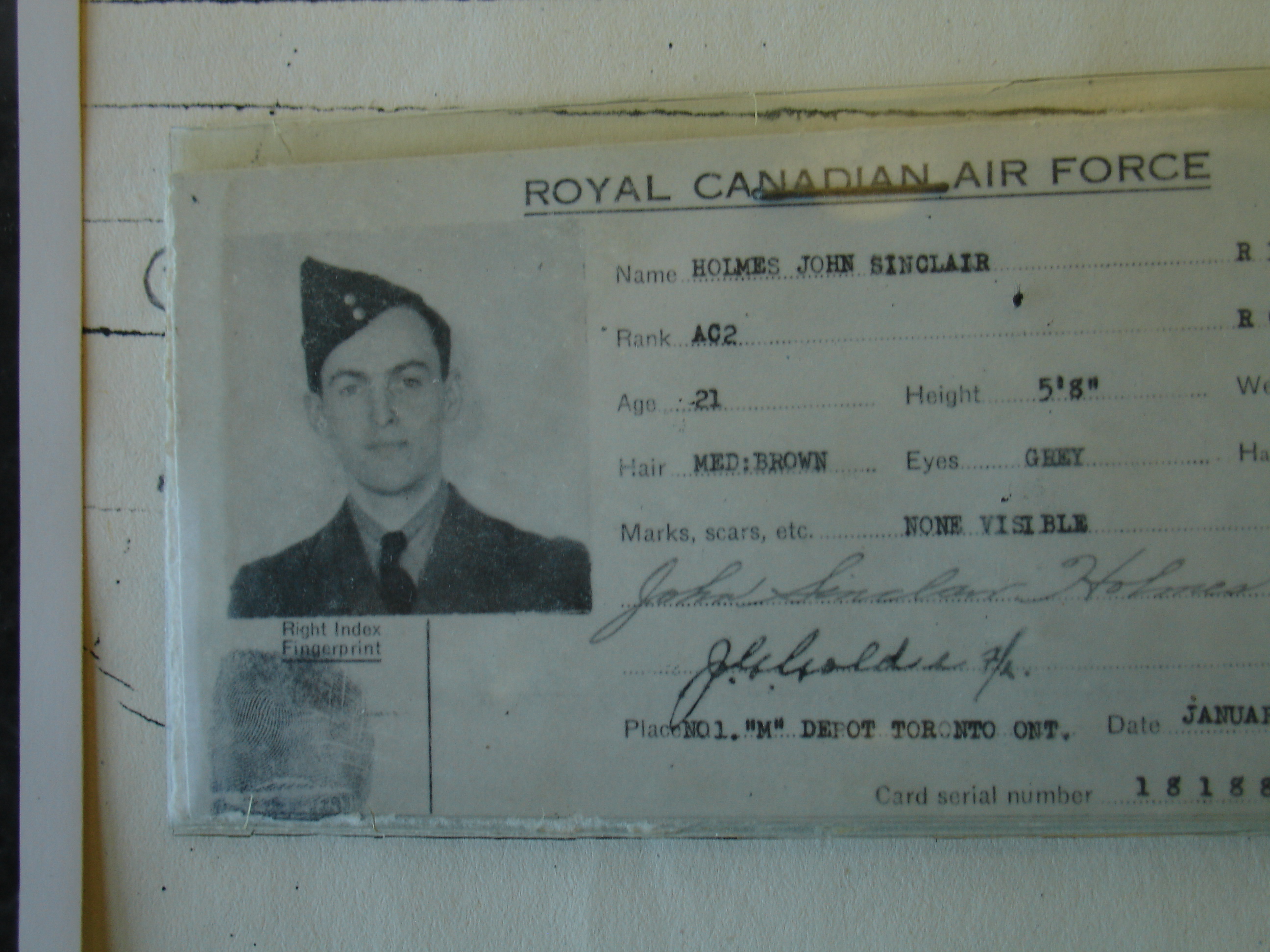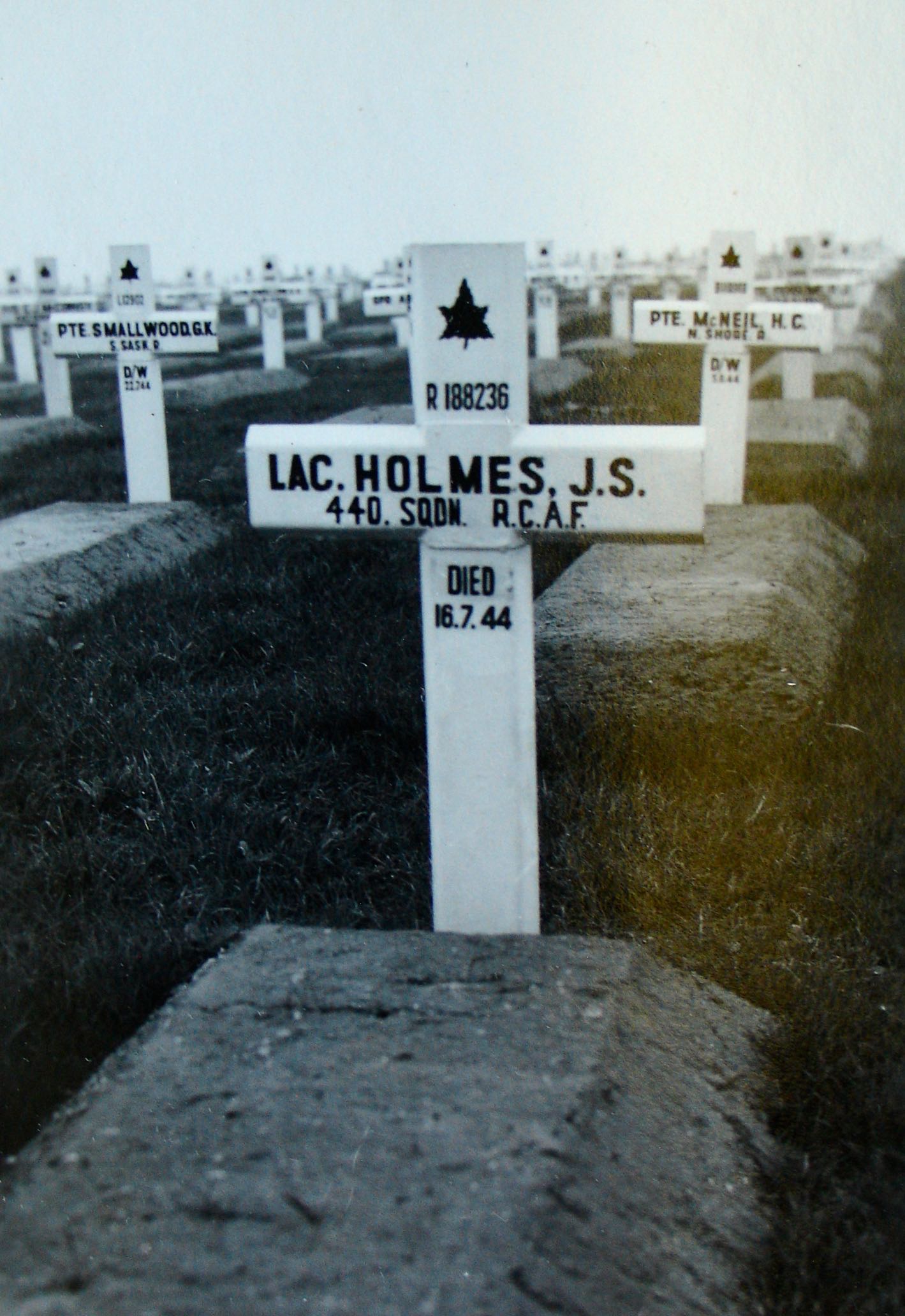 438 Squadron
John 'Sinclair' Holmes was the son of Alexander Brown Holmes (a WWI veteran) and Deborah Elizabeth Holmes. John had an identical twin brother, Alex, and they both served with 438 Squadron. They also had two sisters, Capt. Dorothy Holmes in Bermuda, and Deborah at home. Born in Niagara Falls, Ontario, they attended Bedford Park and John Wanless Public Schools and Northern Vocational School in Toronto. He enlisted in August 1942. Both brothers trained at Galt and St. Thomas as ground crew, and in April 1943, were posted to Alaska. They were sent overseas in October 1943, stationed in Scotland. The brother arrived in France June 26, 1944.
Prior to enlistment, Sinclair Holmes was a paint salesman.
On July 21, 1944, Mrs. Holmes received a letter from 438 Squadron. "It is with regret that I write to you this date to convey to Sinclair's family the feelings of my entire Squadron. Early in the evening of Sunday, July 16, your son, together with another airman were working on one of our aircraft preparing it for its next operational trip. An aircraft from another Squadron taking off for an operational sortie, went out of control, left the runway, and exploded in the immediate vicinity of the two boys, resulting in the instantaneous death of the two boys and the pilot. Your son, together with his twin brother, has been with this Squadron since we were at Annette Island. He was a happy, likeable chap who as well as being 'tops' in his trade, helped the morale of everyone by his sunny nature. Sinclair will be greatly missed by his comrades and by the officers, each and every one of whome knew him by name....Your son's funeral took place at his graveside in the Canadian Services Cemetery at Beny-Sur-Mer at 6:30 pm on Monday, July 17, 1944, this Service being conducted by the Protestant Chaplain, S/L H. E. D. Ashford. Owing to war operations, it was not possible to accord full Service honours, but his funeral was well attended by his comrades and the bearers were picked from his closest friends."
A Court of Inquiry was struck. "WOII C. J. McConvey was authorised by his Squadron Commander, S/L W. H. Pentland of No. 440 Squadron, 143 Wing, to take part in an operational sortie over Normandy, France in Typhoon MN703. All necessary action priior to flight had been taken by WOII McConvey. At approximately 1920 hours, WOII McConvey was taking off from B9, acting as the starboard member of a formation of three, each aircraft carrying two 1000 pound bombs. Soon after take off commenced, he began to swing, appeared to overcorrect, eventually ran off the runway, struck a mound of earth, 180 feet from the edge of the runway, became airborne for 180 feet, touched down again for approximately 400 feet during which time he travelled through a field of wheat. At this point, the port wing of Typhoon MN703 struck the starboard wing of parked Typhoon MN633. Seventy feet farther on, a crater was found where one bomb had exploded completely disintegrating the aircraft killing the pilot, WOII McConvey, and also killing two airmen in the near vicinity. R.191061 LAC Wilman, RH and R188236 LAC Holmes, JS, also damaging Typhoon MN633 (Category E) and Auster Aircraft NJ 674 (Category AC)...the dense growth of wheat dragging on the ail fusing link pulled off the safety clip from the tail unit of one bomb. During the rest of the travel, the bomb was armed in the tail. Striking the parked aircraft and the resultant swing probably collapse the undercarriage and the acceleration detonated the armed bomb. No recommendations to make."
For more detailed information from the Court of Inquiry, please see 440 McConvey.
LINKS: