Lewis E. Park J212491
June 30, 1921 - June 27, 1944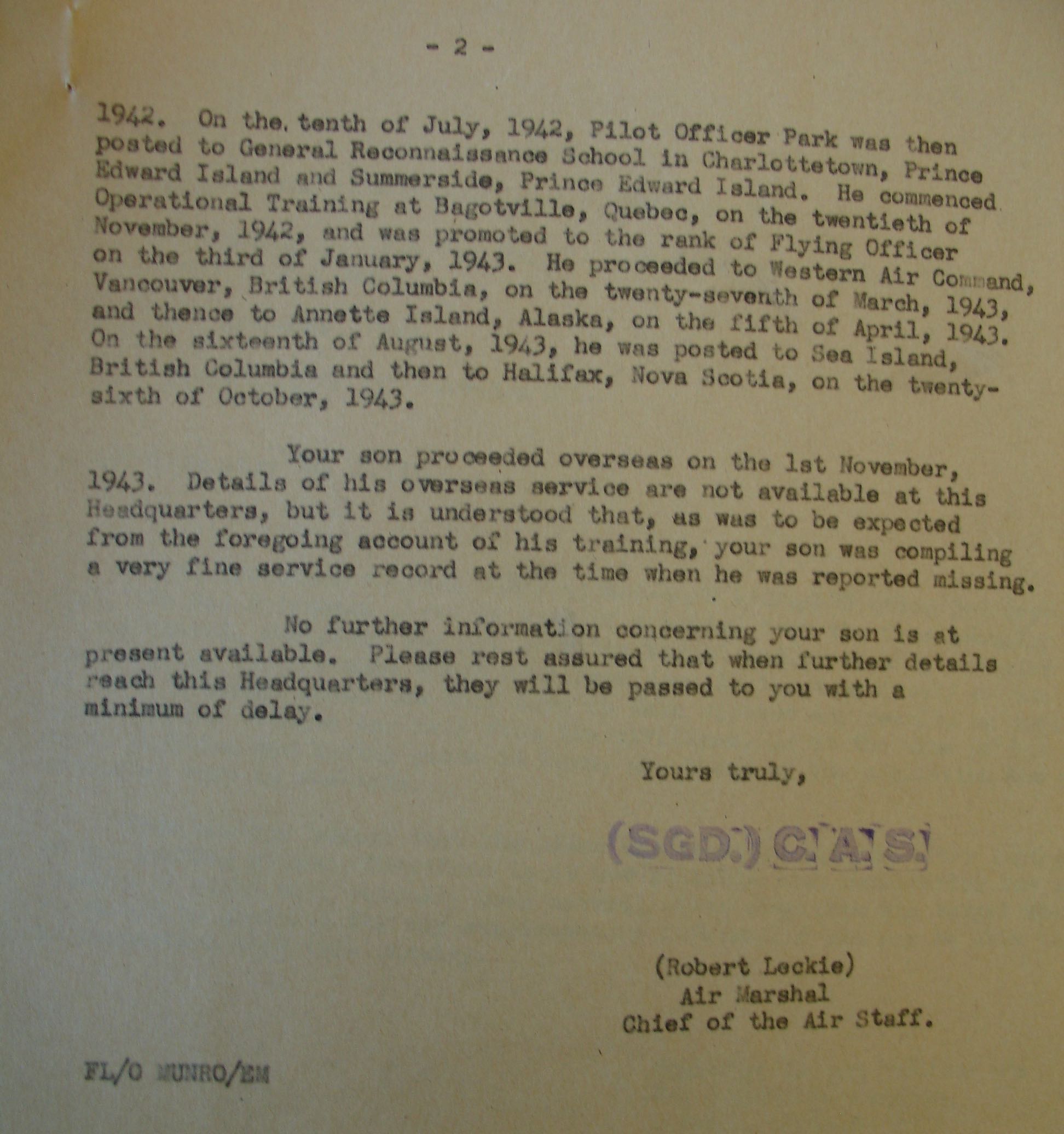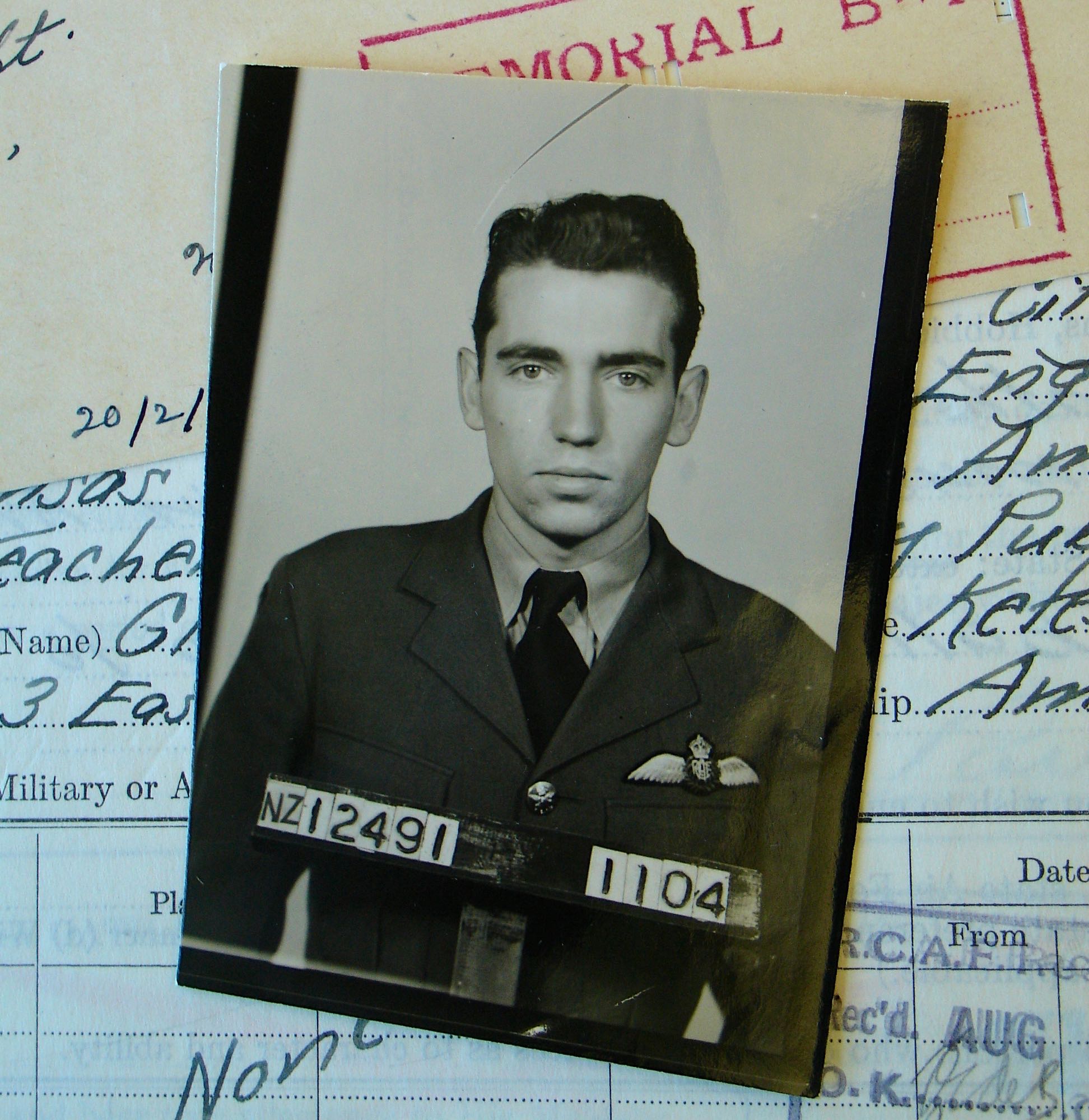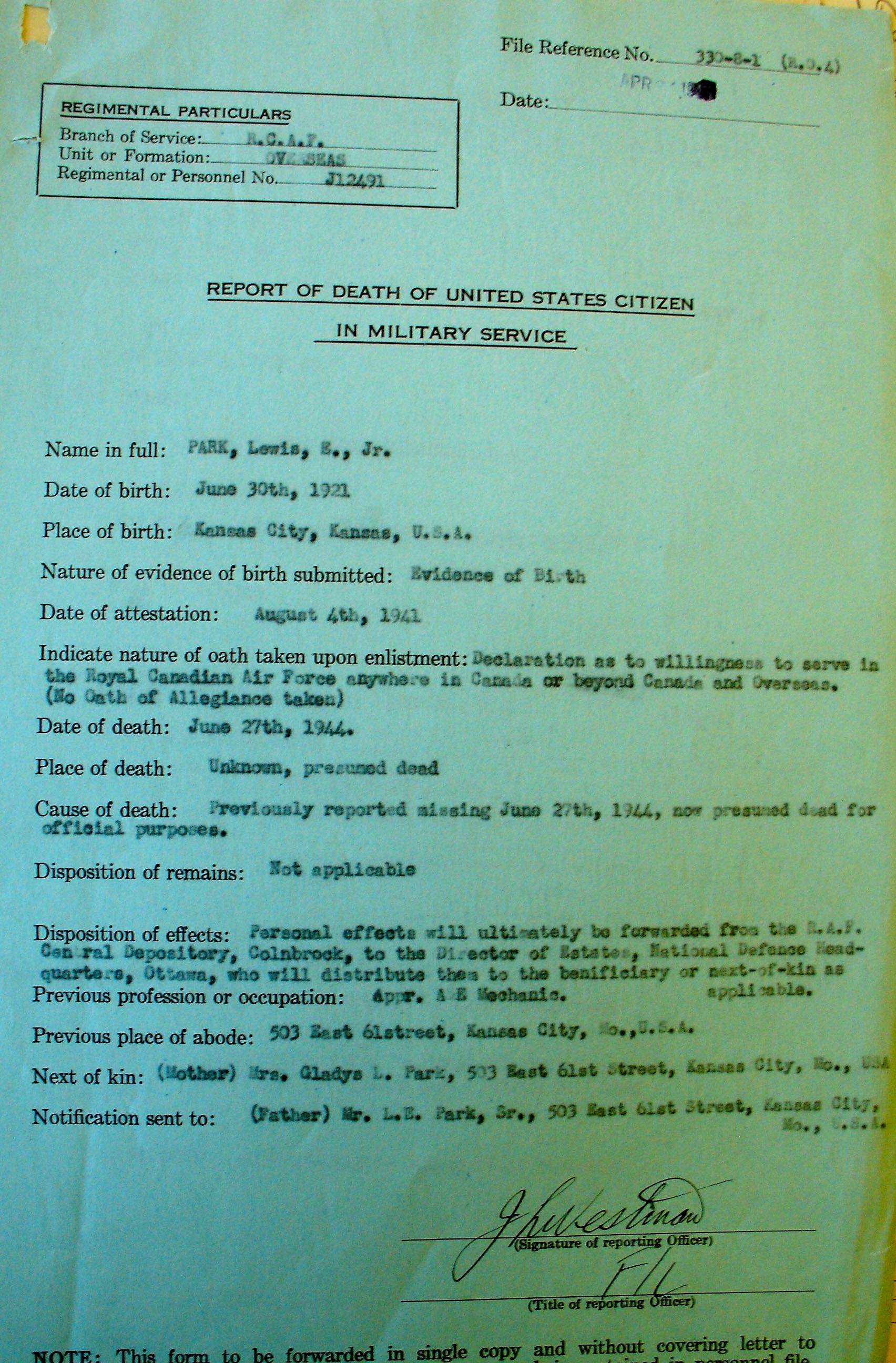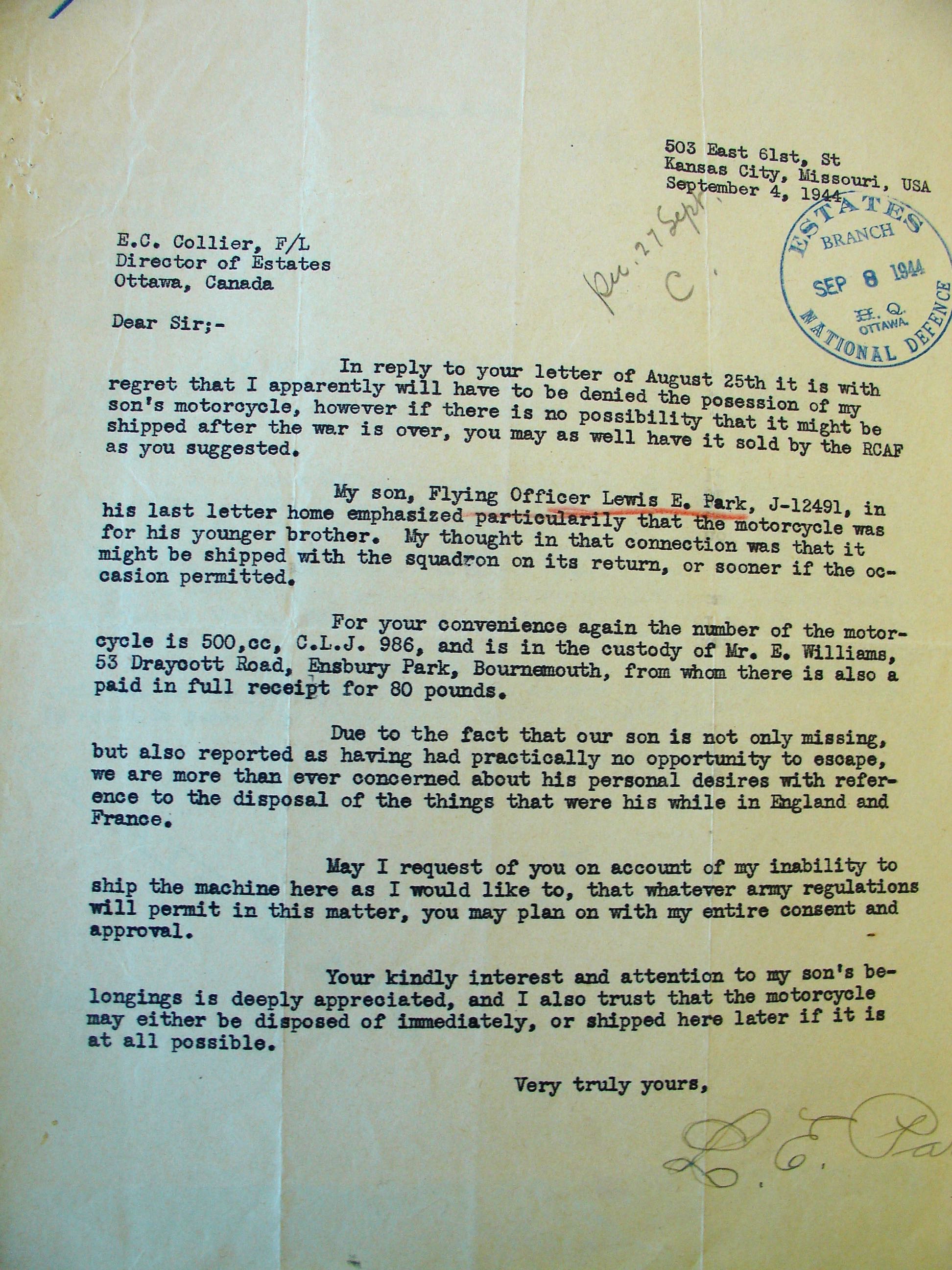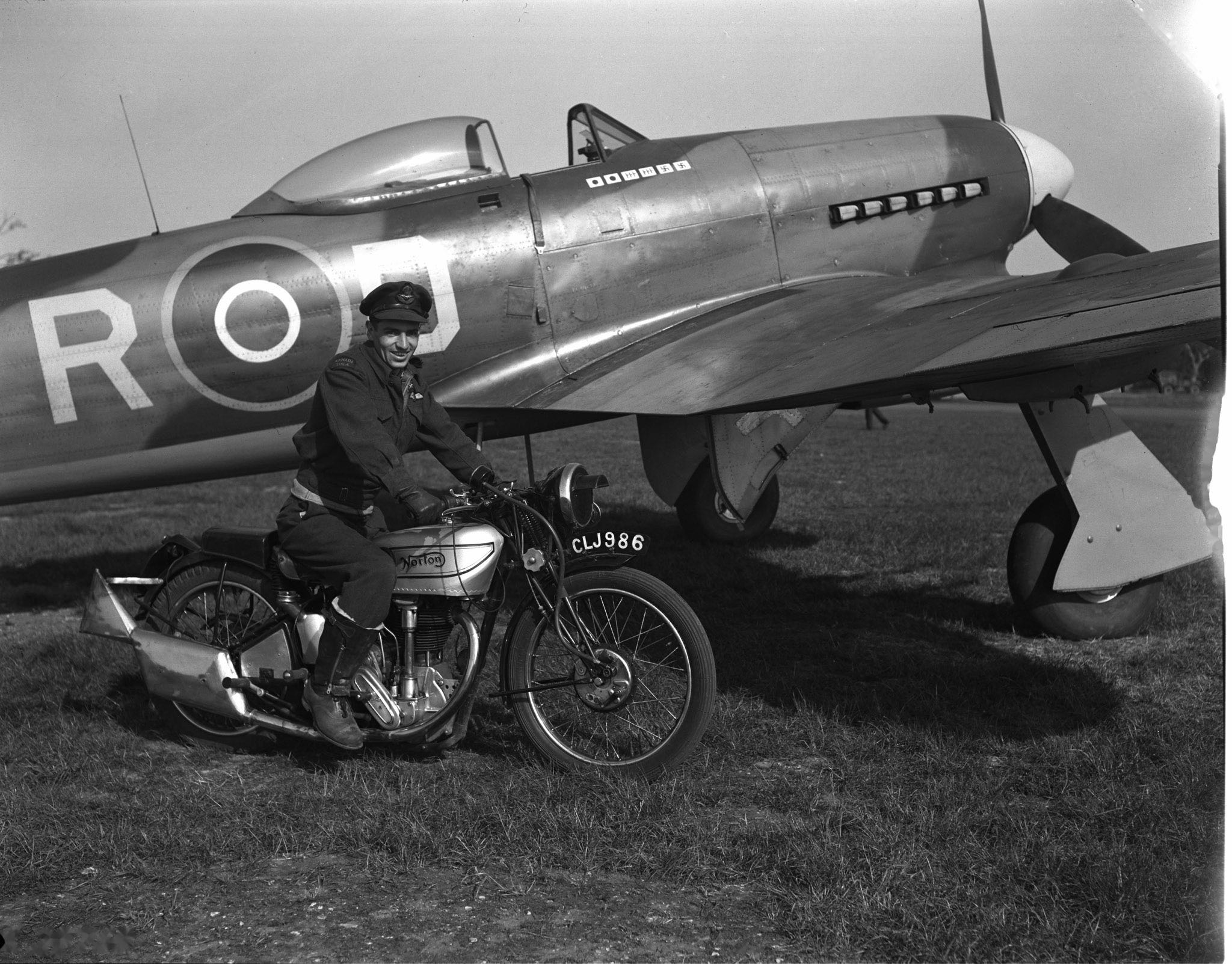 438 Squadron
Lewis E. Park, Jr. was from Kansas City, Missouri, the son of Lewis E. and Gladys L. (nee Wright) Park. He had been an apprentice aeroengine mechanic, and wanted to return to school after the war. He had one brother, Richard, and two sisters, Marjorie and Adelia. The family attended the United Church.
He had his private pilot's licence prior to his enlistment in Winnipeg, Manitoba on August 4, 1941. He liked to play baseball and he indicated his hobby was model aeroplanes. He was assessed: "Very fine, personable, good appearing American. Excellent aircrew material." He indicated that promises were made to him at that time that he would be employed on fighters.
He received his training at Penhold and Edmonton, Alberta, then posted to No. 5 EFTS in High River, Alberta, then to No. 7 SFTS at Macleod, Alberta. He was graded 'above average' and received a 'distinguished pass', ranking 5th in a class of 41.
He was at No. 1 GRS, Summerside and requested a transfer in October 1942. Park wanted to move to a Fighter Operational Traning Unit. He had been diverted from GR traning and trained as a staff pilot by #31 GRS prior. A letter indicates that Park was very dissatisfied with the employment as a staff pilot. The RCAF felt that Park would be a 'doubtful asset' if he continued to be a staff pilot, as Park threatened to resign and return to the USA. He wrote a five page letter outlining his position. [See Canadian Virtual War Memorial] He was posted to No. 1 OTU at Bagotville on the 20th of November, 1942.
In December 1942, Park was assessed. "From the time this officer entered the service, his whole ambition was to be a fighter pilot and now with his new position should improve immensely." In June 1943, W/C G. Diamond, Annette Island, wrote, "This officer has only been with this Squadron a short time. During that time, he has applied himself diligently to his work and should turn out to be a good fighter pilot." In July 1943: "He has shown himself to accept greater responsibilities. Good officer type."
Park was posted overseas November 1, 1943.
On January 24, 1944, Park was involved in an accident in Hurricane IV KE612 at 143 Airfield. He wrote, "The accident happened while taxiing back to the dispersal area after the flight had been completed on turning from the runway on to the perimeter in a 50 mph wind. I found that I could neither stop the aircraft nor make the turn, my left wheel ran off the perimeter into 6" of mud, causing the aircraft to nose up." Because of the heavy winds, and extra armour plate around the engine (300 lb), no blame was attached to Park.
On June 27, 1944, F/O Park was flying Typhoon MN746. He left base at 1800 hours to carry out a dive bombing attack on a bridge over the River Orne, near Caen, France. While over the target at approximately 8000 feet, a very heavy and accurate flak was encountered and the aircraft was seen to receive a direct hit in the centre of the fuselage. It exploded in mid-air and as F/O Park was not seen to bale out, it was believed he was killed instantly. This occurred about 1830 hours. The wreckage would have come down in the town itself, or in its suburbs. The S/L indicated that they spent two half days in Caen without any results in this case and could not receive any help from the civilians, plus heavy fighting was taking place; those who were not evacuated were in shelters.
On July 3, 1944, S/L F. G. Grant of 438 Squadron wrote a letter to Mr. and Mrs. Park. "During the afternoon of June 27th, a flight, led by one of my Flight Commanders, and with your son as pilot of one of the aircraft, took off from our base in France on a sortie against a difficult but very essential target. While proceeding to the target, the aircraft of which your son was pilot, received a direct hit from anti-aircraft guns. As the Flight Commander saw the aircraft break up in the air without your son being able to take to his parachute, I regret to inform you that it is highly improbable that he could have survived. Your son was one of my most promising pilots and was fast becoming an invaluable member of my Squadron. Lou, who was very popular with the Squadron, will be greatly missed by his comrades and his loss is regretted by all." A memo later indicated that no burial particulars might ever be received, as Park's body might well have disintegrated by the force of the explosion.
In September 1944, Mr. Park wrote a letter asking about his son's motorcycle, indicating that Lewis bought the motorcycle for his younger brother. A letter written in October 1944 noted that the motorcycle was in damaged condition, and repairs were being discussed.
On March 16, 1945, the tail of Typhoon MN746 was discovered. There was no local knowledge of the crash. The investigator indicated that he would concentrate on finding the remains of the aircraft and endeavoured to trace the place of burial of the pilot. He commented that in the same field were remains of a Messerschmidt 109 and a 4-winged bomber.
In April 1945, Mr. Park wrote a letter to Air Marshall Leckie in Ottawa requesting information about his son's military record, which he later received. He requested two official RCAF photographs: one of Lewis on a motorcycle [see Canadian Virtual War Memorial] and another one reprinted in the Toronto 'Mail & Globe' of the men of 438 Squadron participating in a song-fest.
March 1947, Mr. Park was still hopeful his son's remains would be found, which did not come to pass. Park's name is on the Runnymede Memorial for those with no known grave one of the 20,450.
More information about Park can be found in Typhoon and Tempest on pages 43, 54, 58, 182 and 186.
LINKS: