Ross Frederick Reid J9936
October 5, 1922 - 1989 (Approximate)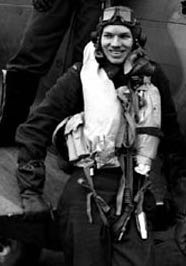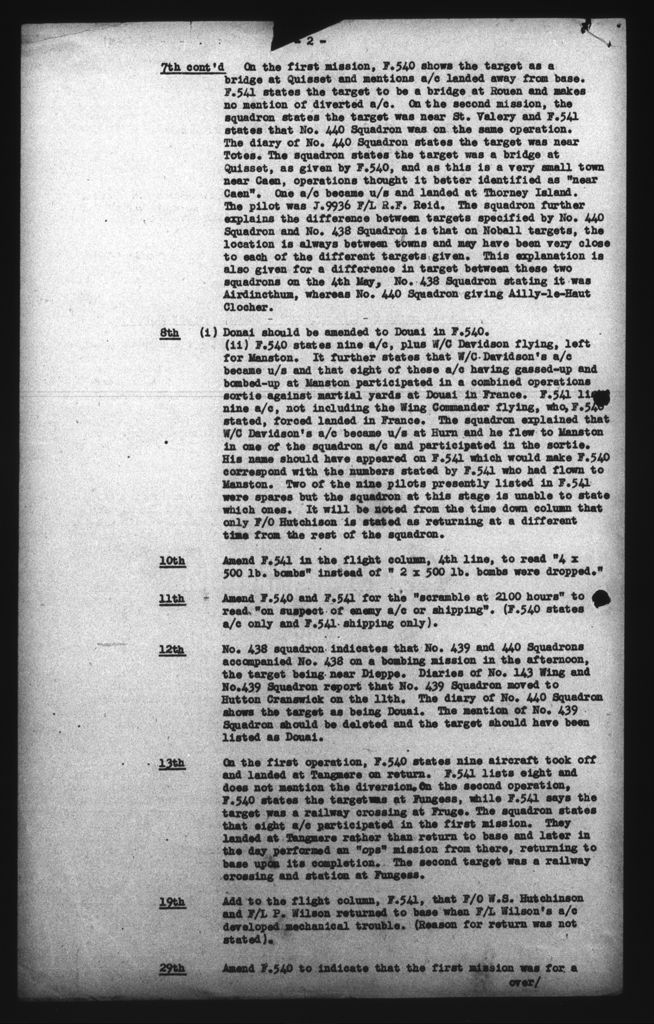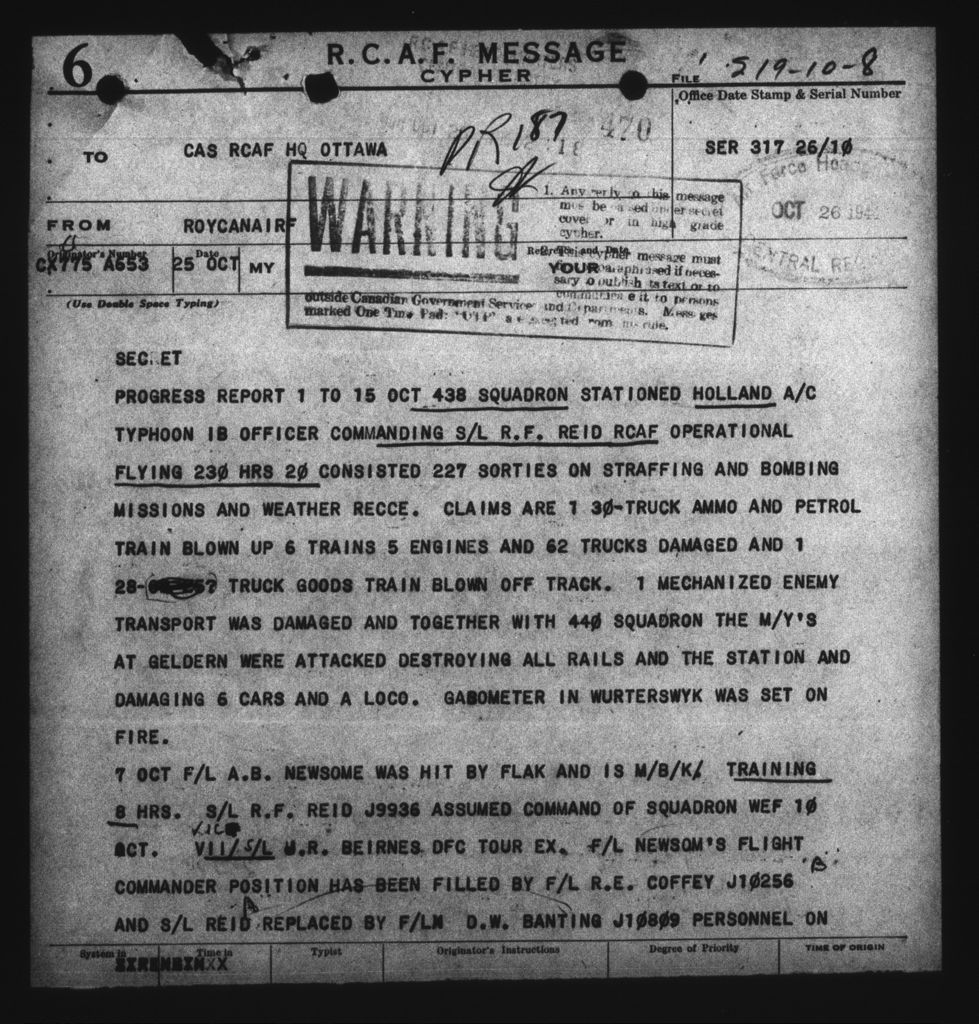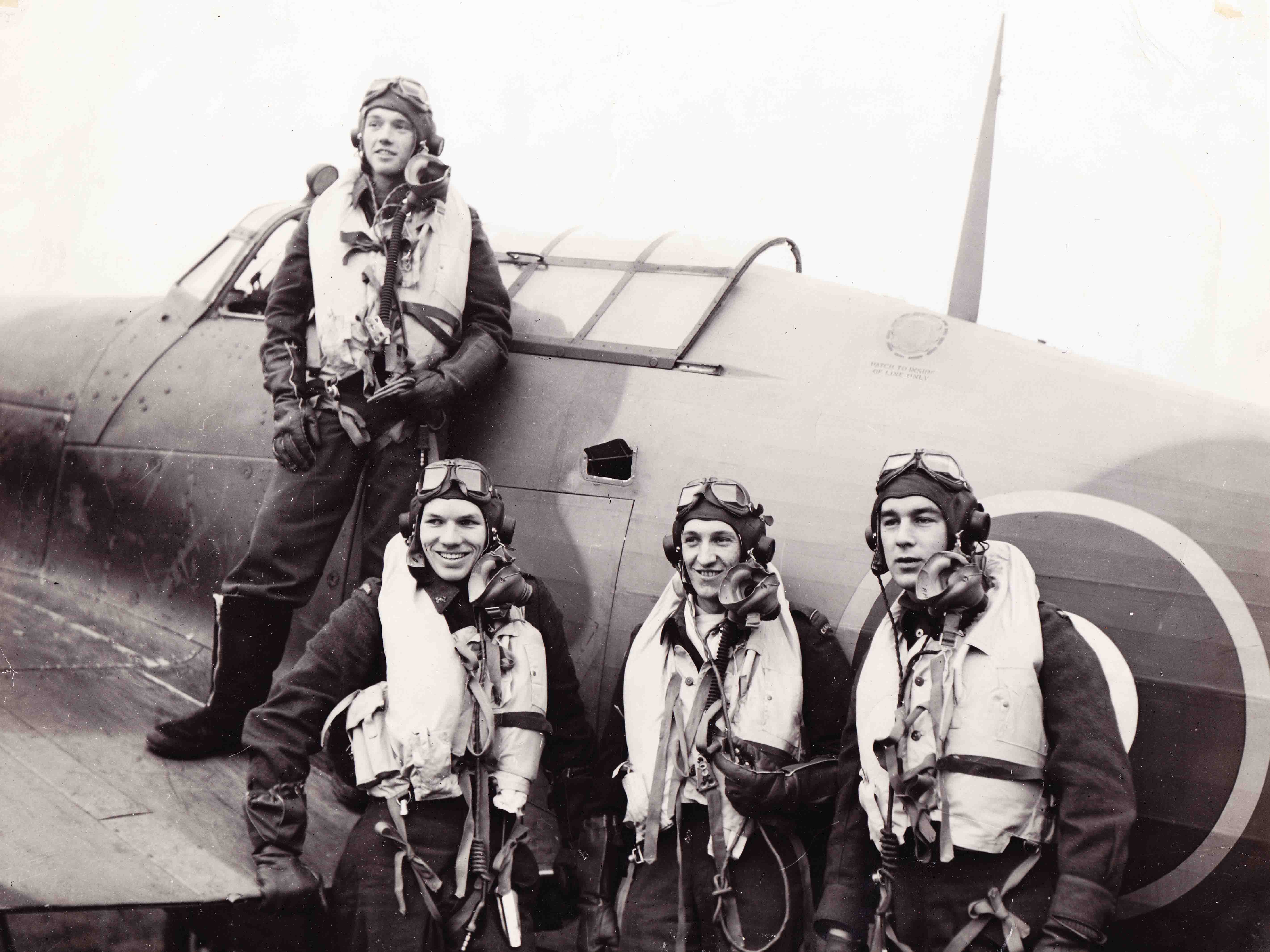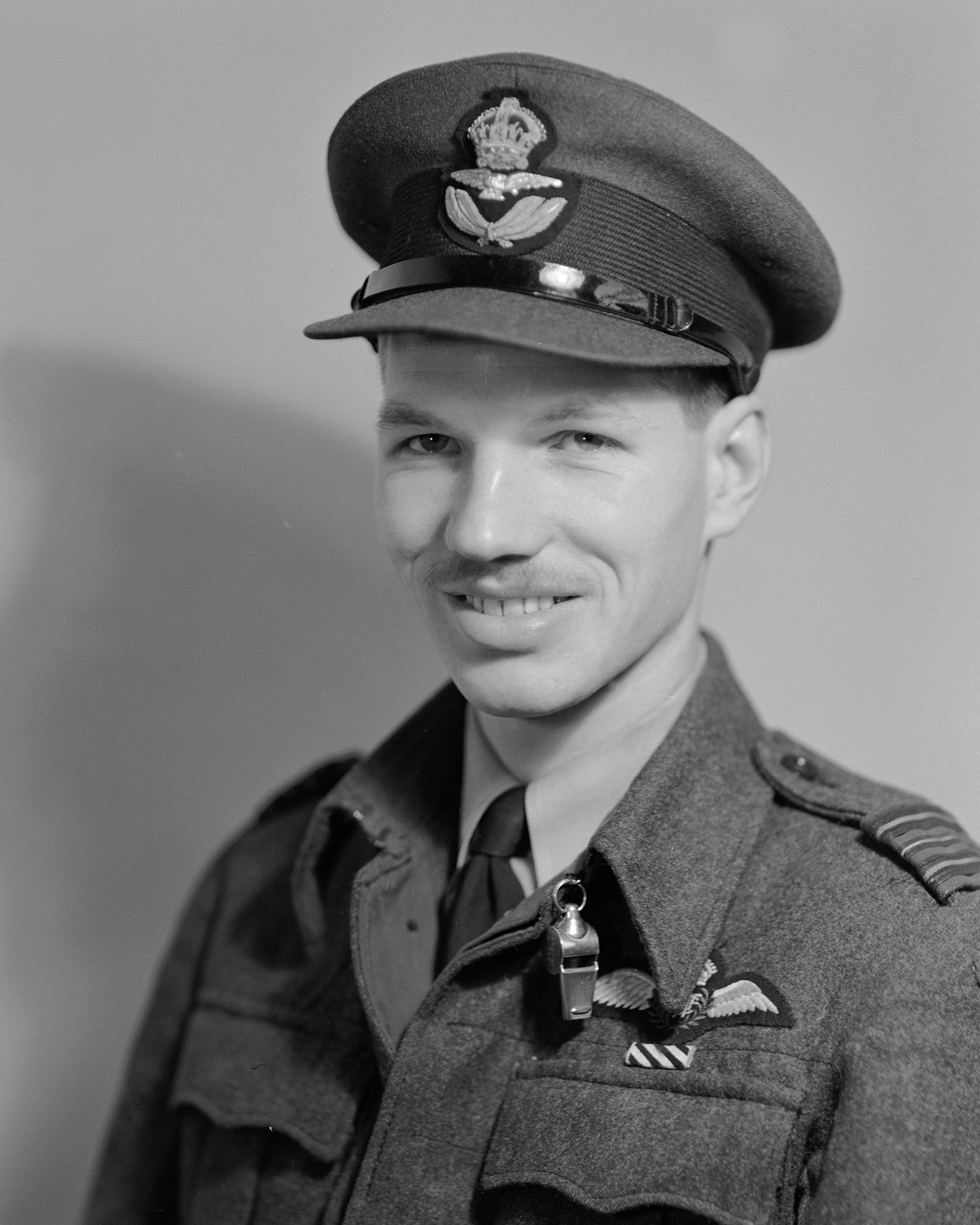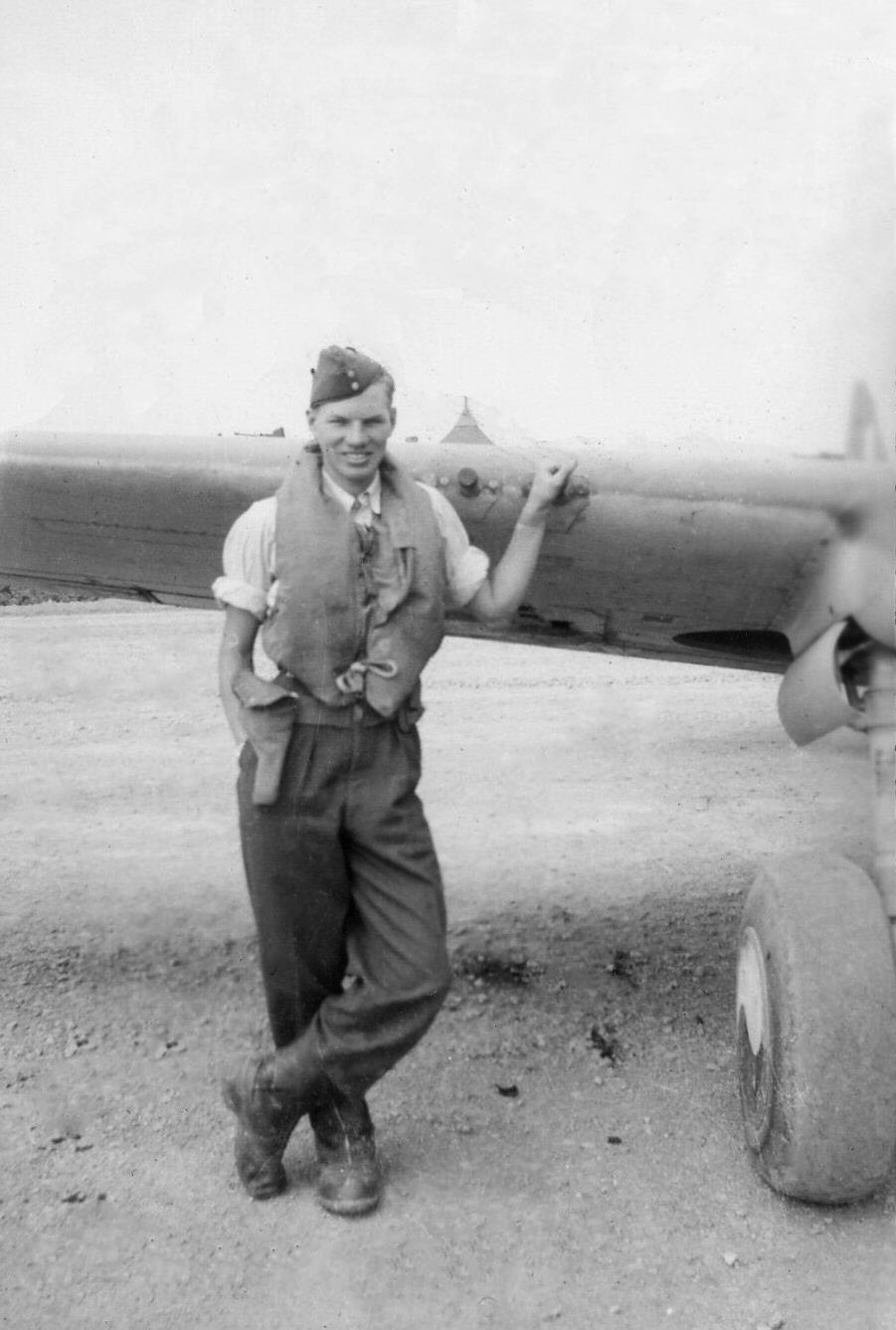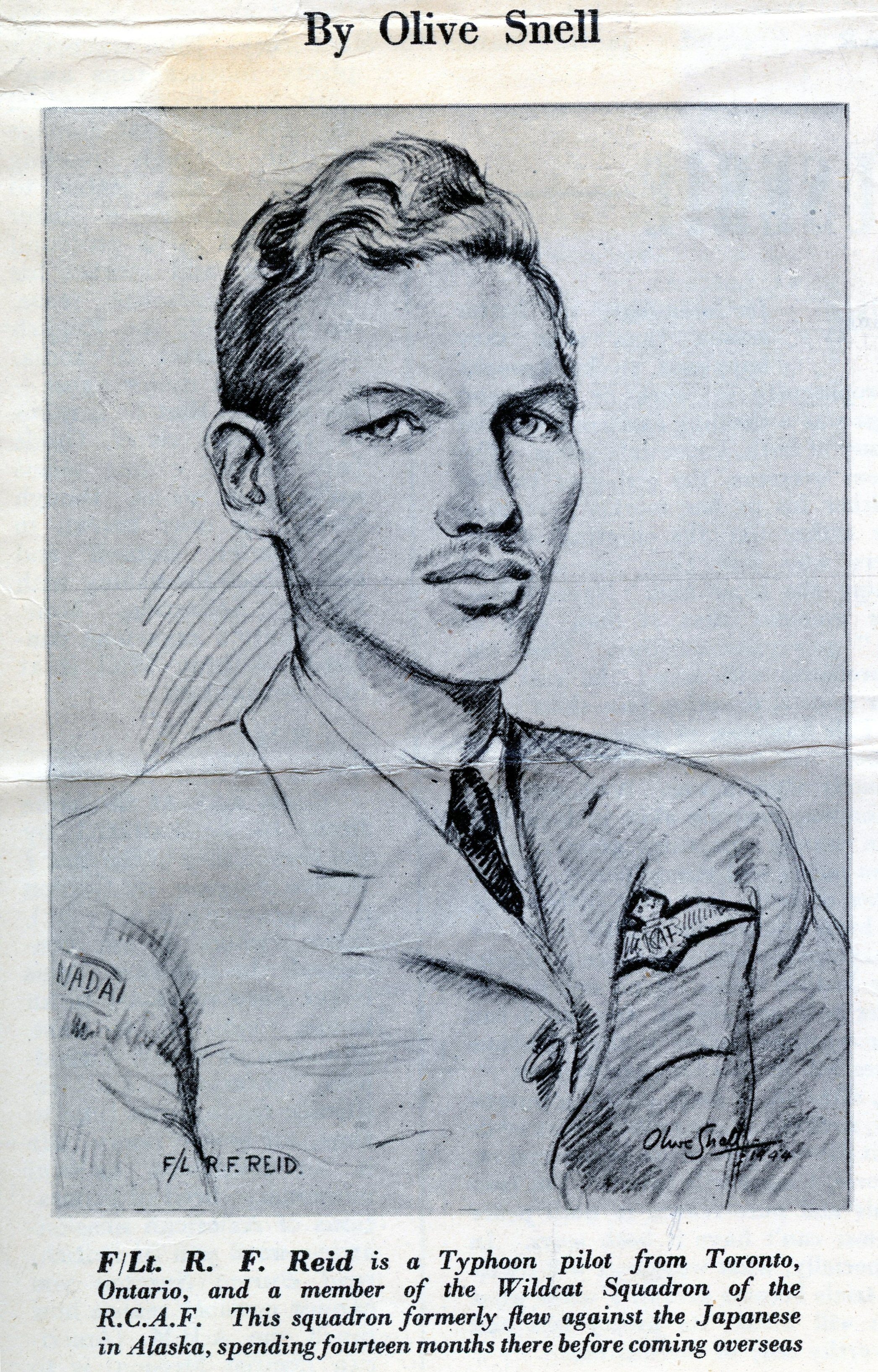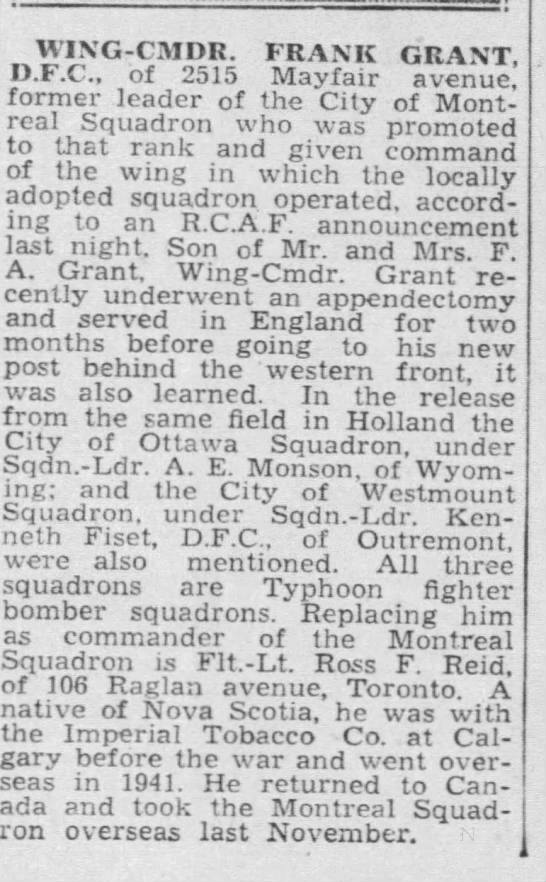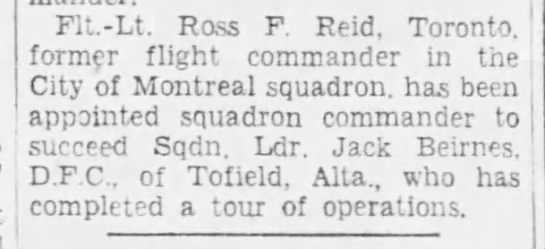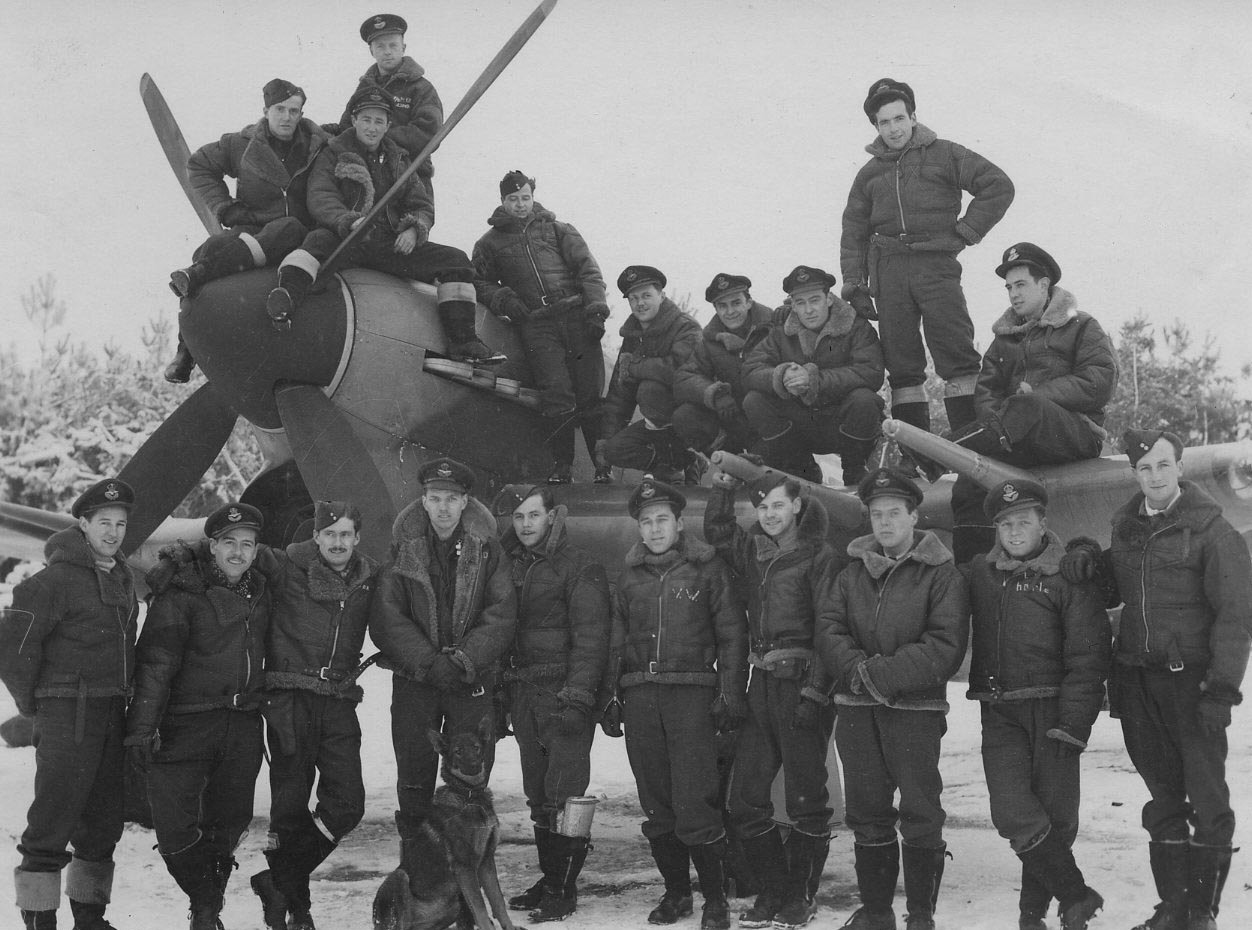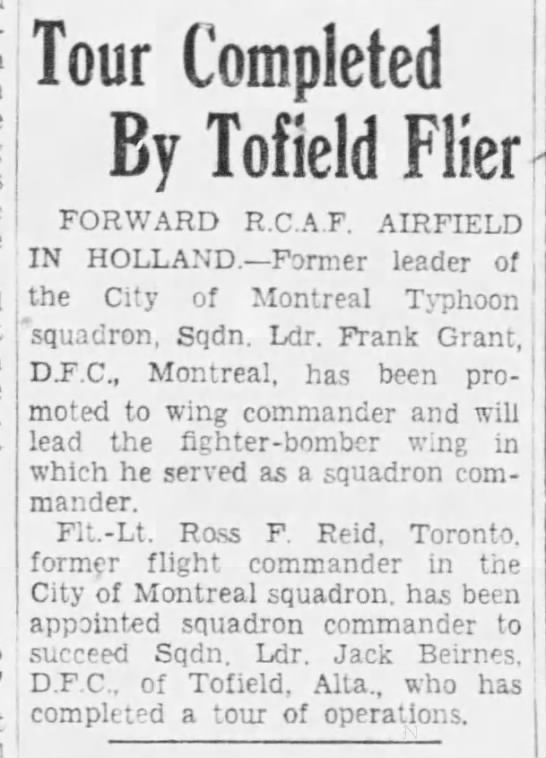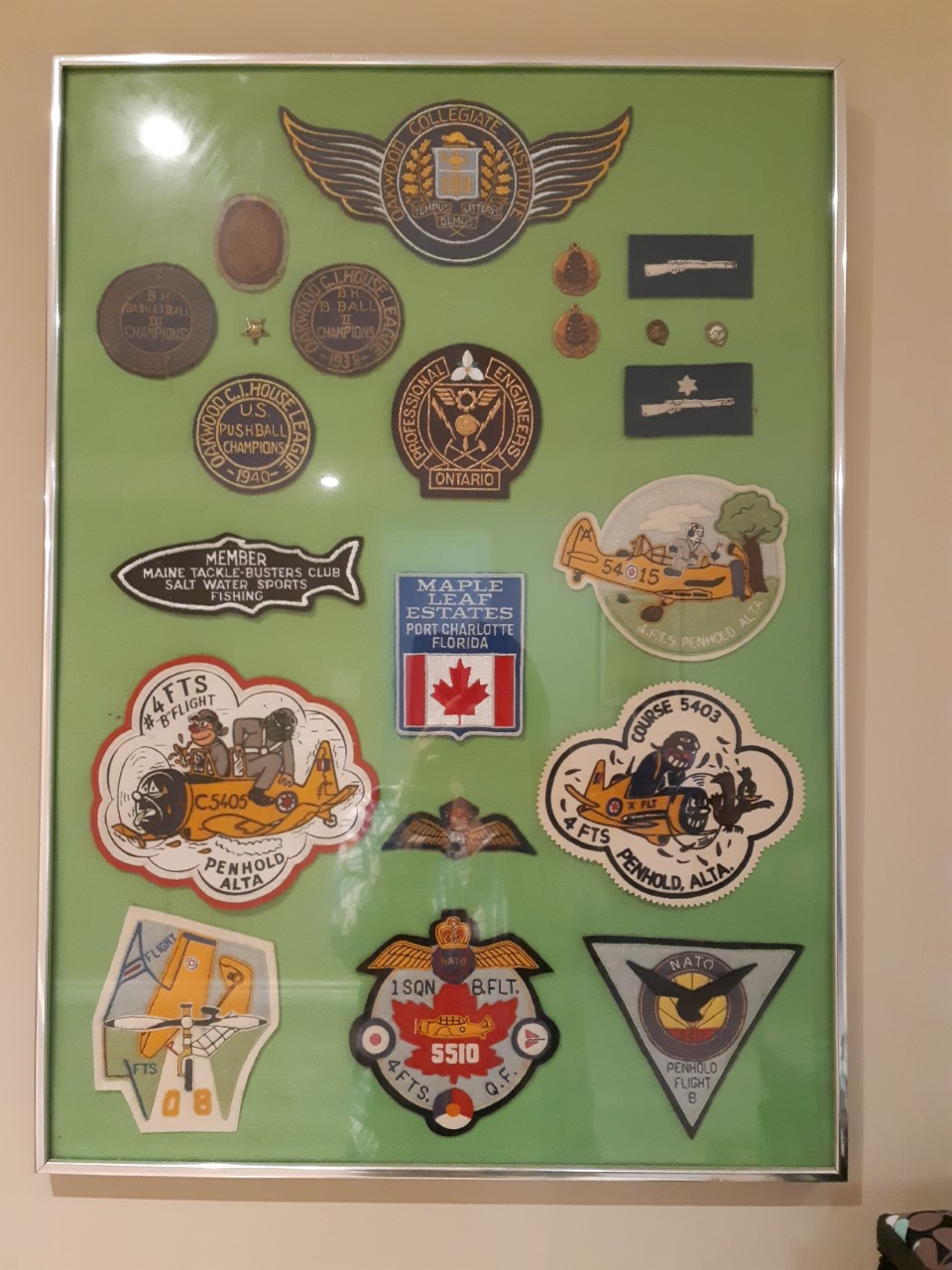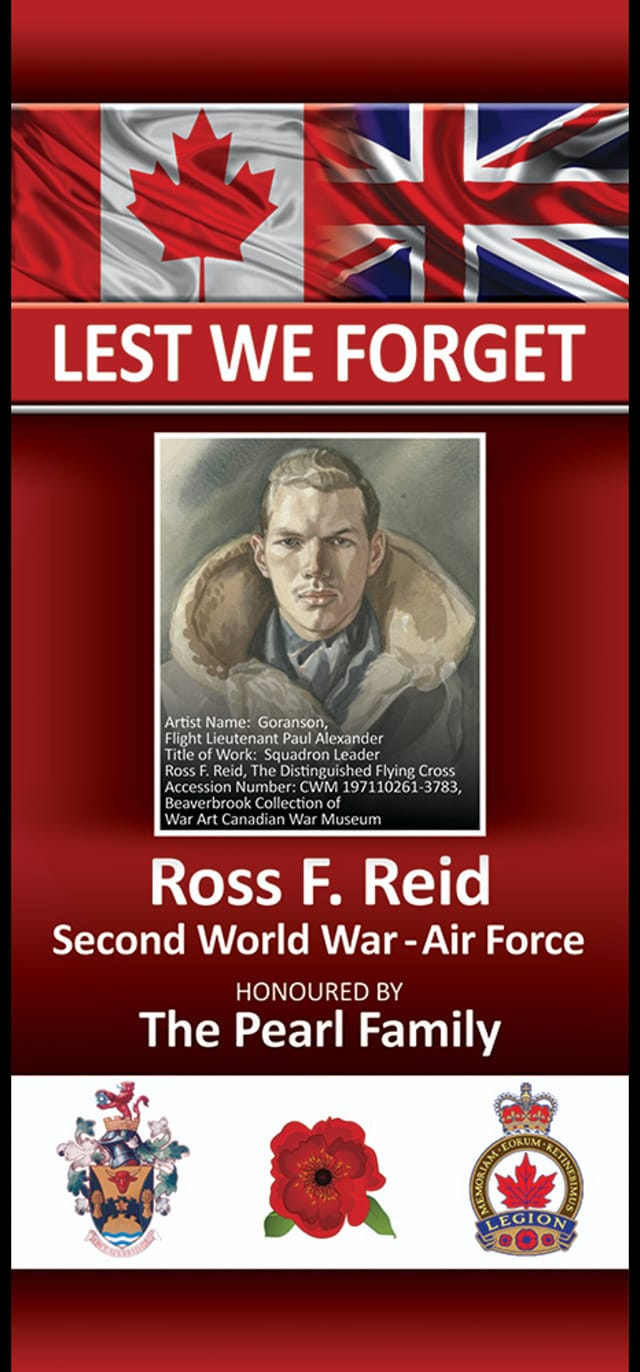 438 Squadron
Flight Lieutenant Reid, born in Toronto, Ontario, was a member of 438 Squadron. He wrote to Walt Disney in February 1944, asking if Mr. Disney would design their squadron's logo....and he did! Reid was also S/L.
"A Typhoon Pilot Remembers" appeared in SITREP: The Newsletter of the Royal Canadian Military Institute, Volume 41 No.7 (September 1984). It was written by Sidney Allison. Thank you to both Sidney Allison and Hugh Halliday for finding the article!
Reid joined the Royal Canadian Air Force in May 1941, and a year later found himself flying Kittyhawk fighters with No.14 Home Defence Squadron at Sea Island, British Columbia. He was transferred to Dartmouth, Nova Scotia, joining No.118 Fighter Squadron, Annette Island, Alaska.
When he was overseas, Ross said, "Flying over the invasion fleet that morning was the most spectacular sight I ever saw. The memory of it will live with me all my life."
From the article: "Reid made frequent visits to the battlefield on the ground to better understanding of the troops' needs in air support. During his seventh visit to the front lines, he went with a fellow pilot and an NCO in a truck in search of lumber for use as parachute drying racks. Enemy artillery found them and the truck received a direct hit from an 88-mm shell. Reid managed to escape the wreckage and ran with others to shelter in a nearby cave. There he found that his leg was a mass of gore from shrapnel wounds. A short while later, he took an ambulance jeep back to the scene to look for his comrades, only to find that the pilot had been killed there. Reid was back flying within a week, just in time to fly support missions for the air assault on Brussels."
From the article : "Reid once had occasion to fly an Auster observation plane to Eindhoven, Holland. En route he was fired on by German ground troops and got lost during the lively interlude of evasive flying that followed. However, he did manage to perform a perfect 3-point landing in a farmer's field. Some helpful Dutch civilians hauled the aircraft out to the road, but it had sustained some damage which made it unable to take off. Leaving it in the resolute Dutchmens' care, Reid was driven away on the motorbike of a member of the Orange Resistance Army. When Reid was able to get back to the repaired Auster a week later to fly it out, he found it was trapped by a long row of trees which lined the road. Undaunted, his Dutch friends cheerfully set to with axes and lopped down trees for half a mile, enabling him to take off finally in safety and style.
More information is found in the article, "In September 1944 S/L Ross Reid took command of 438 Squadron, a 21-year old Squadron Commander. He continued to fly combat sorties until late December 1944, when his superiors noted that he had reached to 100 'trips.' This was the maximum allowed for a fighter-bomber pilot, and he was ordered grounded as tour expired. Following a riotous New Year's Eve visit to the Eindhoven RCAF Military Hospital, he was rudely awoken at dawn by the racket of a full-scale air raid. It marked the devastating last mass assault of the war by the Luftwaffe, aimed against Allied airfields in the Low Countries. Hurriedly, hitching an ambuance ride, he tore back to the squadron's hard hit base. He took command again on the spot. One of the heros of 438's defence of the airfield was an armament sergeant who stood in the open to fire a Bren gun from the hip, and managed to bring down a Focke Wulfe in flames. This gallant NCO never received an award for his action, and sad to report, died recently just as a testimonial in his honour was being planned to take place at the squadron's reunion.
Continued in the article, "S/L Reid finally left 438 in early 1945, he had been with the squadron for 32 months, a record as one of the longest serving wartime pilots with a single unit. He returned to Canada in April 1945, and was at sea aboard the Queen Elizabeth with 20,000 U.S. troops when news arrived of the death of President Roosevelt. Ross reached Toronto with perfect timing on VE Day, 'When the whole town went mad with joy.' After a short period as an administrative officer, he was released from the RCAF in August 1945, a veteran of air warfare at the ripe old age of 22.
The conclusion of the article, "He then attended the University of Toronto, obtaining his degree in engineering. Returning to the air force as a Regular officer, he served from 1949 to 1956. After a successful civilian career in engineering, Ross retired a short while ago, only to take up a new role as an associate management consultant with his own firm, R-Squared Management Services. He is more than a little disappointed in the fact that a previously arranged visit to Alaska will prevent him from attending the reunion of his beloved old squadron this September. However, he has been able to donate to the occasion something which is sure to become a treasured memento - a large new oil painting of the City of Montreal 438 Squadron crest proudly sporting a snarling wildcat. May it long serve to evoke the memories shared by Squadron Leader Ross Reid, DFC, and his fellow airmen of the RCAF, who rode their Typhoons into battle to defend freedom's cause with such selfless gallantry."
October 1942, he married Billie in Toronto. After the war, Reid earned an Engineering degree and became a professional engineer (P. Eng.). He worked for the Air Force after the war, then AVRO (as a mechanical engineer on the engine systems for the AVRO Arrow, another private company), then with the APEO (Association of Professional Engineers), then as CEO of Consulting Engineers of Ontario. Reid was also held a part-time but senior position with the Geotechnical Engineers group. He was awarded the Sons of Martha award for his contributions to his profession. (Thank you, Chris, son of Reid, for this information.) He received the The Sons of Martha Medal in 1977 for his contributions to Engineering by the Professional Engineers of Ontario. It was discontinued in 1979 and replaced by the Order of the Sons of Martha, renamed the Order of Honour in 1994. Holders of the Sons of Martha are "ex-officio" Officers of the Order. His name is listed as PEO Order of Honour Officer here (scroll down to 1977): https://peo.on.ca/about-peo/awards/order-honour/officer
In November 2022, Reid's oldest son, Gary, and granddaughter, Ashley, shared another story and images for inclusion on this page. "One of my favourite anecdotes my father told me: at Christmas he got word that the Germans had just abandoned a forward airbase. So he got into that little scout plane with his wingman and flew to the base. The Germans had left in a hurry. There was an entire Christmas banquet laid out in the mess hall with a big uneaten, steaming turkey. So they decided to take the turkey home for his boys. Unfortunately, the bird steamed up the cockpit, so they flew back to the base with the canopy partly pulled back and his wingman holding the turkey outside the plane the entire time."
LINKS: