Theodore Alexander Bugg J11316
April 15, 1920 - August 12, 1944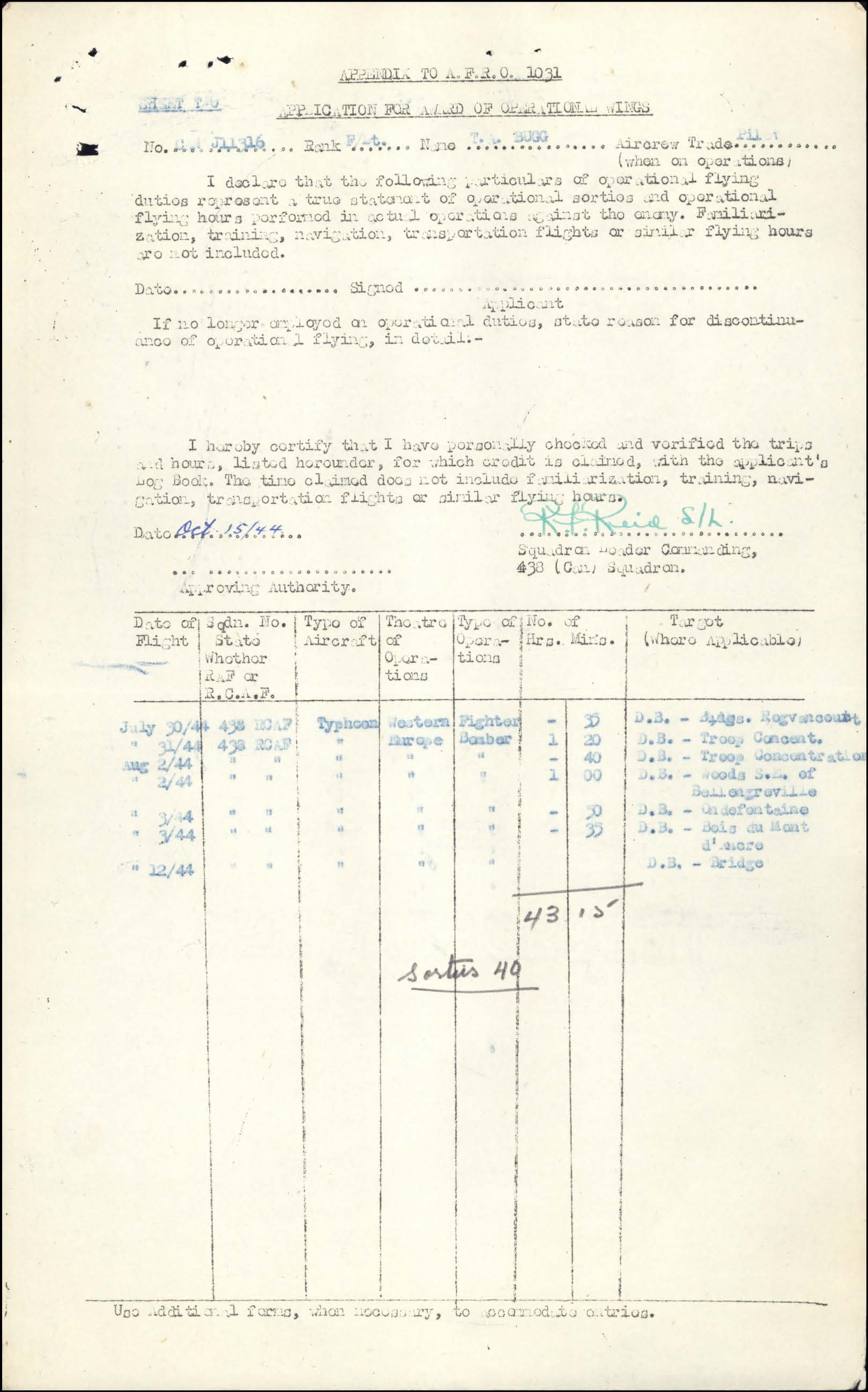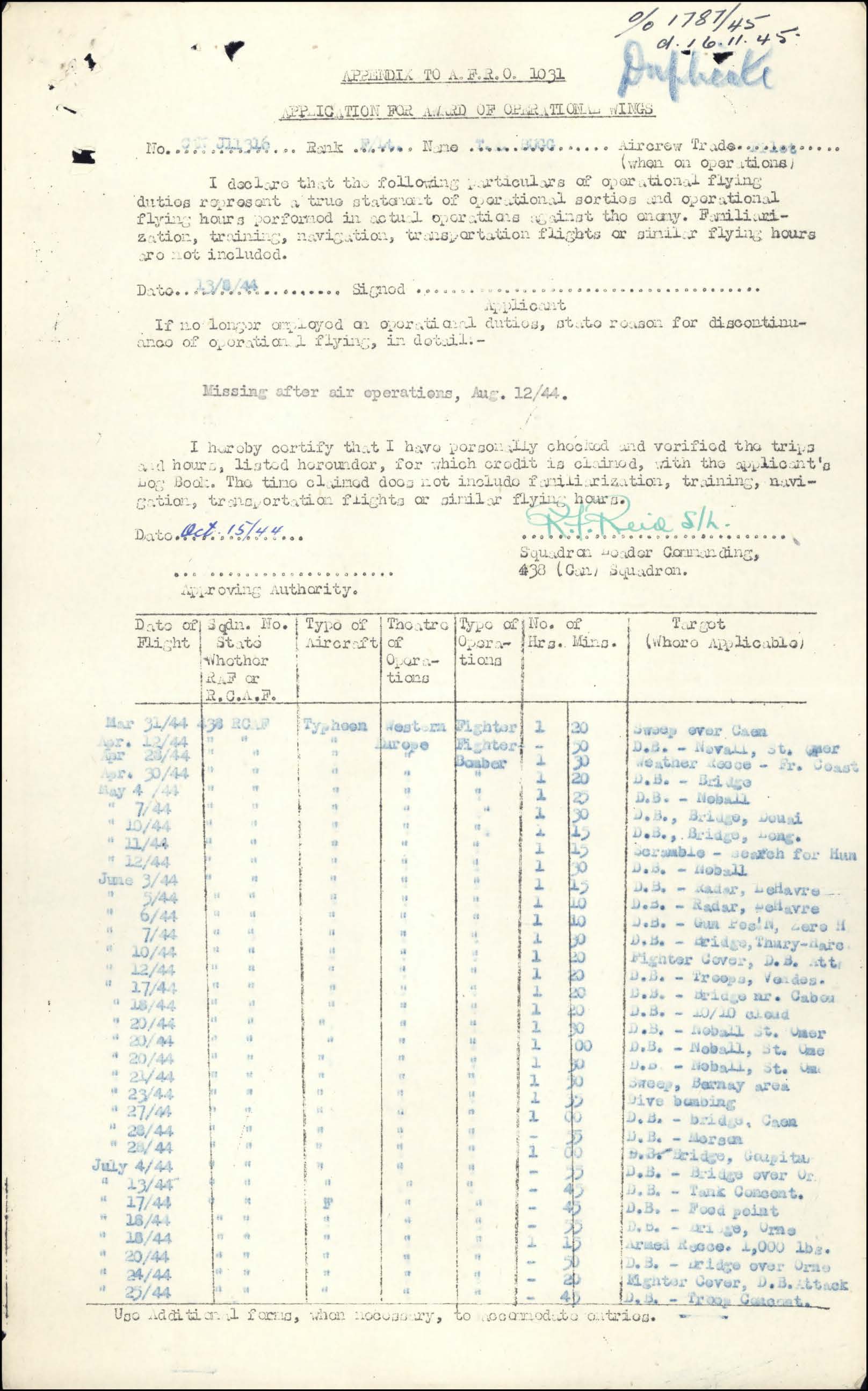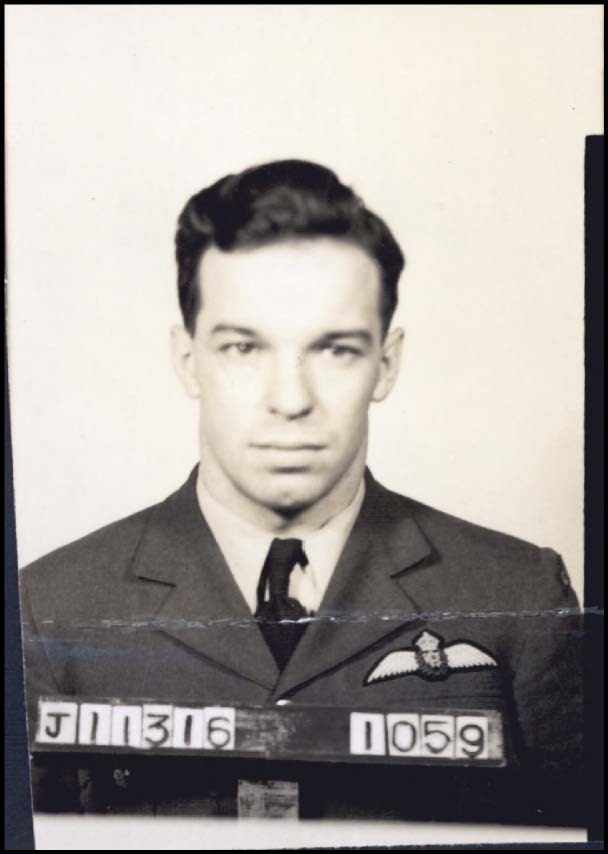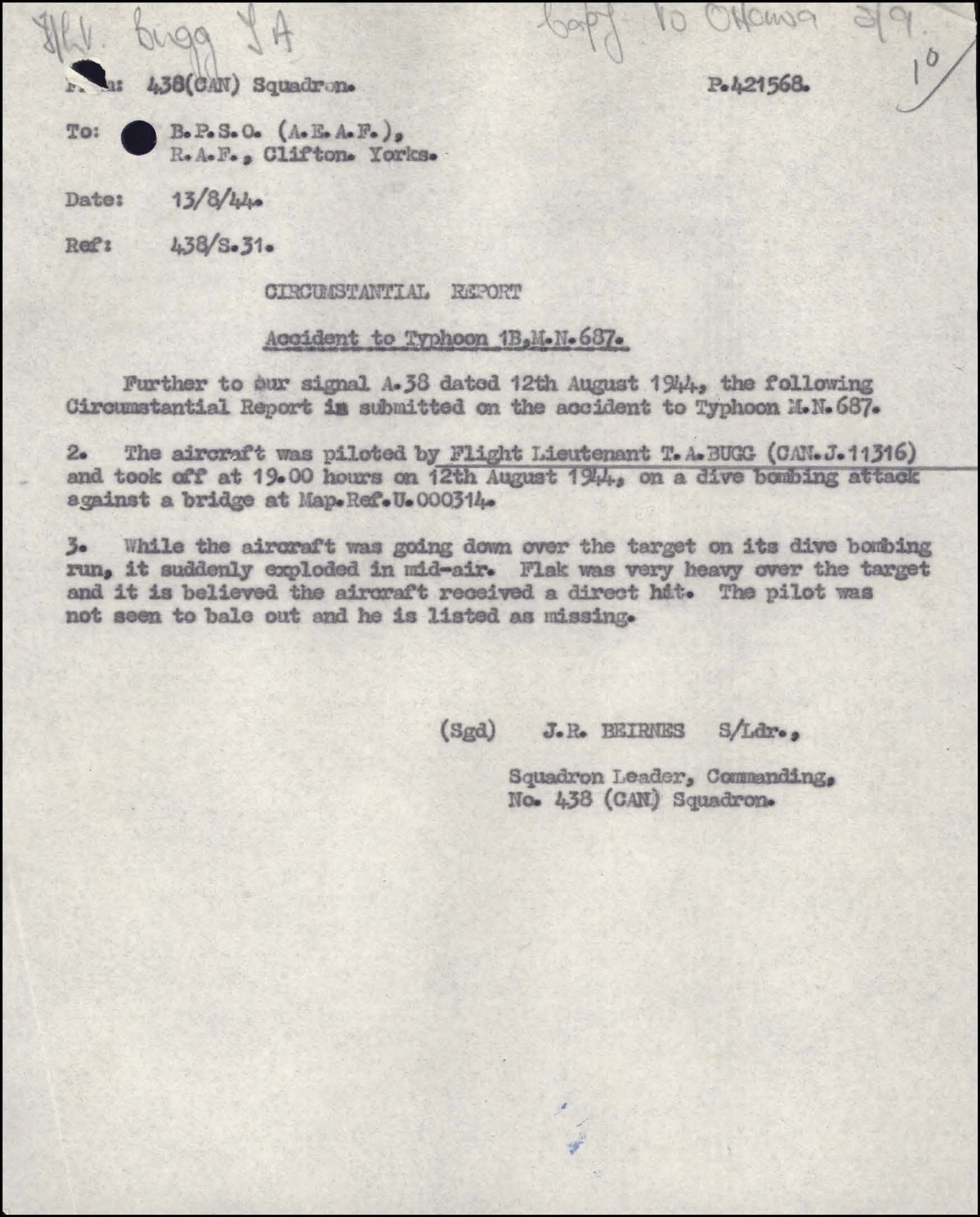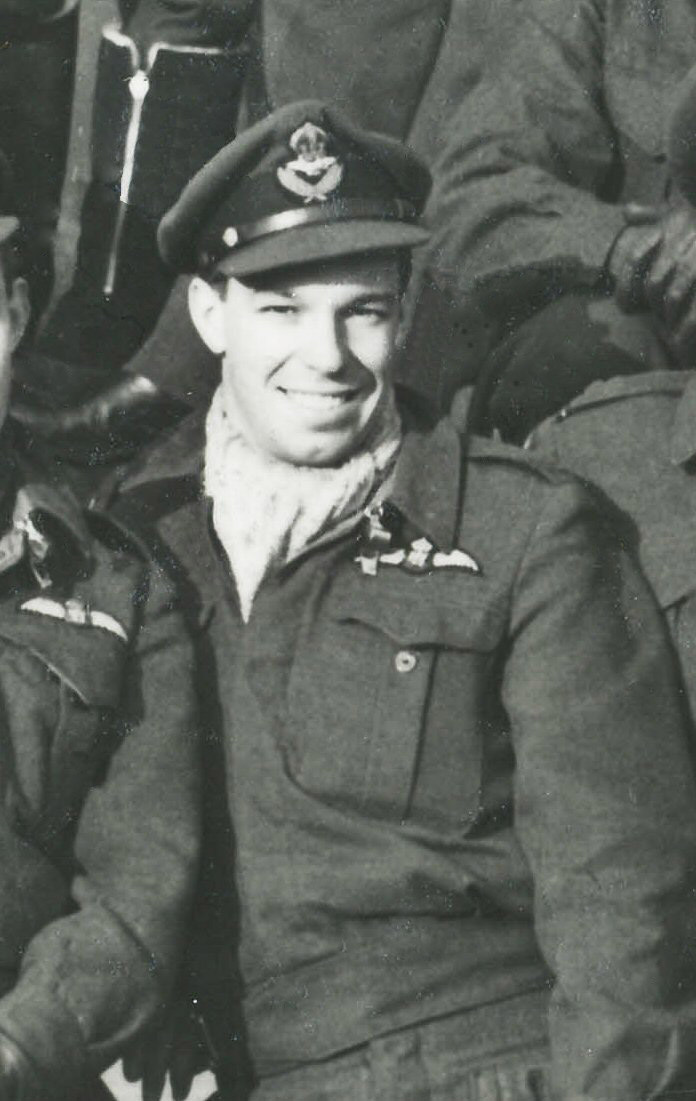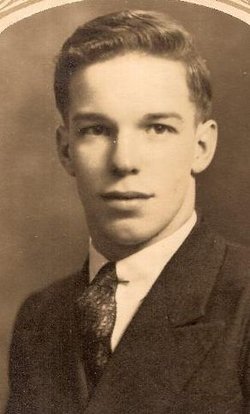 438 Squadron
Theodore Alexander Bugg of Niagara Falls, Ontario, was the son of Thomas Osborne and Vivian Belva (nee Crowky) Bugg. (He was born in Robsart, Saskatchewan.) He had two brothers and two sisters. One brother, Thomas D. was overseas. The family was Baptist. Theodore was married to Ruth Irene Bugg on February 21, 1942 in Niagara Falls, and together, they had a daughter, Darlene Ruth Bugg, who was three at the time of her father's death.
He was a chemist for North American Cyanamid Limited prior to enlistment. He could speak English, French and had reading knowledge of German. He liked to play rugby, basketball, baseball, tennis and badminton. He also liked swimming and skating.
He started the process to enlist with the RCAF May 1941. By November, he was in! "A fine type; he is quite intelligent and steady. He should make a darned good pilot or observer and probably is of officer material. Wants pilot. Above average physically and mentally."
He started his journey through the BCATP in Toronto, then to No. 10 EFTS, then to No. 6 SFTS. He took the course at No. 1 FIS, Trenton in May 1942. He was sent to 1 OTU Bagotville by April 1943, then was with 118 Squadron Annette Island by July 1943. He was considered 'above the average'. He returned to Canada, to Sea Island, BC by August 1943. He was overseas by November 1943. He went missing August 12, 1944 and presumed dead on August 12, 1944.
In October 1942, he was involved in a collision between Harvard 3183 and Yale 3434. Gross carelessness on the part of Bugg was assessed. He was warned against overconfidence. In April 1943, he was involved in a taxiing accident at No. 6 EFTS, Dunnville.
On August 18, 1944, S/L Beirnes wrote to Mrs. Bugg about her husband's death. "Early in the evening of August 12, 1944, a flight from this Squadron, led by one of my Flight Commanders and with your husband as pilot of one of the aircraft [Typhoon MN 687], took off from our base in France, on an attack against a heavily defended bridge. It was very necessary that this bridge be destroyed. Just as the aircraft with Ted as pilot went into its dive, it apparently suffered a direct hit by flak and exploded in the air. As neither the Flight Commander nor the other pilot saw any parachute open, I regret to inform you that it is highly improbable that he could have survived. Your husband, who was one of the older members of this Squadron, was an excellent pilot, one who could be depended upon to do the right ting in any emergency. Ted had 35 operational trips with a totla of 43 hours and 20 minutes to his credit, as well as a parachute jump over the English Channel."
In January 1946, his death was still being investigated. "Typhoon 1B MN 687...was reported missing on 12 August 1944. It was piloted by J11316 F/L T. A. Bugg. F/L Bugg took off at 1900 hours from Clifton on a dive-bombing attack against a bridge...At approximately 1920 hours, while the aircraft was going down over the target on its dive-bombing run, it exploded in mid-air. Flak was heavy and it is believed the aircraft received a direct hit. The pilot was not seen to bale out....Tere is no trace of a grave for F/L Bugg, but the following two unknown have been located and registered at St. Philbert-Sur-Orne, either of which may be that of Lt. Bugg....Enquiries have failed to identify either of these guns with F/L Bugg's aircraft. They were not the guns which were originally installed on Typhoon 1B MN687, and there appears to be no way to trace replacements. RCAF Overseas Headquarters received a letter from Mr. Maurice Adam, Route du Fauconnier, Mayenne, France, in which he stated a fighter plane was shot down by German A.A. in a garden at No. 5 Haut-des-Vers. The remains of the pilot are said to be buried in the south corner of the garden, owned by Miss Neveu. Mr. Adam found the identity bracelet of the pilot, which he handed into the police station at Falaise. The name TED BUGG was inscribed on one side of the disc and on the other side was J11315 LOVE RUTH."
In October 1946, Ted Bugg's remains were reinterred at Bretteville-sur-Laise Canadian Cemetery.
More stories and photos of Ted Bugg are found in Typhoon and Tempest on pages 43, 52, 59, 63, 66, 166-169, 179, 185.
For additional information, please see the link to Find a Grave.
LINKS: