William James Kinsella J95521
April 3, 1923 - April 4, 1944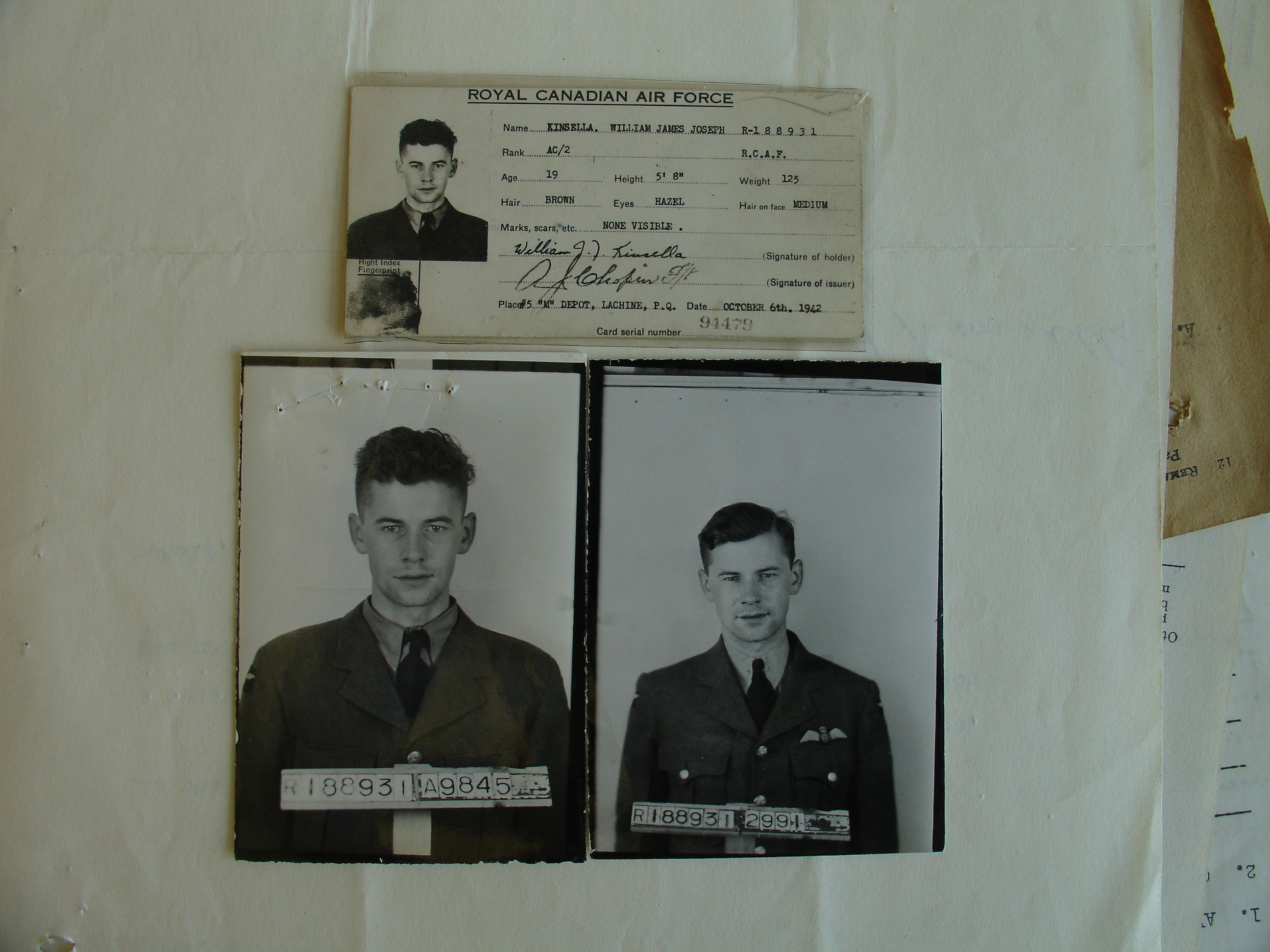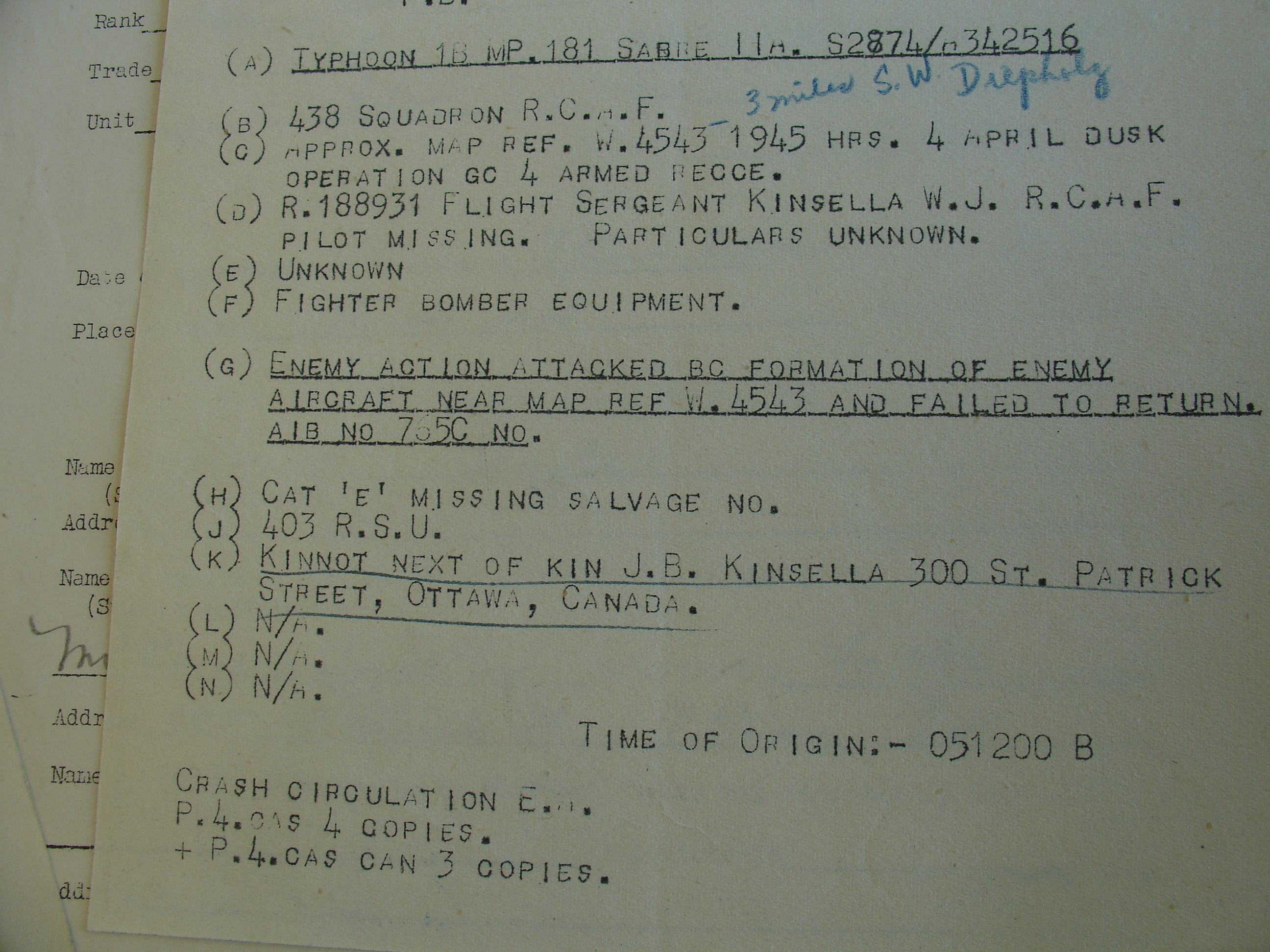 438 Squadron
William (Bill) James Kinsella was born on April 3, 1923 to James Bernard and Beatrice Kinsella of 300 St. Patrick Street, Ottawa, Ontario. He had one brother and four sisters. On his 80th birthday, his siblings placed an 'In Memoriam" to their brother in a paper.
In October 1944, he was assessed as "Applicant is good type. Wants to be a pilot. Calm, clean and well set up. Recommended aircrew."
By the time Kinsella finished his course at No. 61 OTU on November 21, 1944, he was assessed, "A good average pilot and NCO keen and enthusiastic though his gunnery was poor. A good NCO. No bombing due to inclement weather." He was then sent to No. 3 TEU.
On April 2, 1945,the day before his birthday, Kinsella was involved in an incident, flying Typhoon MN758 at 14.55 hours at Warmwell, Dorset for a 1 hour and 10 minute flight. He was on a non-operational flight during the day for an A/F and E Air Test. "From take-off, and for five minutes afterwards, the engine was running normatlly. Then I noticed the throttle was fully forward and boost was -I and RMP 3400. I brought the boost and RPM back twice and the next time the normal boost re-gained suddenly. It flew normally for three minutes then I noticed smoke coming from the engine while on downward leg of circuit. I noticed fumes in cockpit so I turned on my oxygen fully and cut my switches off for fear of fire. I was going too fast to lower my undercarriage so landed it wheels up." It was assessed: On removal of oil scavenge filters, a considerable quantity of bearing metal and pieces of piston ring was found. This indicates internal failure of one or more pistons resulting in cylinders being flooded with oil. Further investigation carried out. F/L R.E. Spooner commended Kinsella. "The forced landing was carried out with a good deal of skill, the aircraft receiving damage only to propeller and underside."
On April 4, 1945, the day after his birthday, Kinsella was not so lucky. On the circumstantial report of Typhoon 1B MP181: "The aircraft was piloted by CAN.R.188931, W/O2 Kinsella, W. J. and took off on a four aircraft Armed Recce to the Rheine-Diepholz area. W/O 2 Kinsella was flying No. 2 to F/L E. J. McAlpine (CAN J5788) who was the leader of the flight. At approx. 1945 hours, while strafing enemy M.T. moving into Diepholz, the aircraft were bounded by 12 plus enemy M.E. 109s who came in from the NE at 3500 feet. During the ensuing encounter, the two pairs of aircraft became separated and W/O2 Kinsella and F/L McAlpine failed to return. One unidentified aircraft was seen to crash at Map Ref. W4543 but it is not known which of these aircraft this was, if either. The two aircraft on the Recce returned to Base safely. W/O2 Kinsella has been reported missing." Signed F/L R. E. Spooner for S/L J. R. Beirnes
In a hand delivered letter dated September 23, 1949, written by W/C W. R. Gunn, RCAF Casualties Officer, Mr. Keller was told, "The grave of your son was located in the cemetery at Wagenfeld, Germany. This is a small place approximately ten miles south west of Diepholz, Germany, and approximately fifty two miles west of Hanover, Germany. It was ascertained that your son's aircraft had crashed on the outskirts of this town, but no other information could be secured." Kinsella's body was reinterred in the permanent British Military Cemetery at Hanover. Gunn apologized for the length of time it took to convey the information to the family.
On October 20, 1945, Mr. Kinsella wrote a letter to F/O W. M. Wismer, RCAF Casualty Officer. He had some questions. He wanted to know what method was followed by the authorities when investigating a casualty report. He wondered how, in the case of his son, how it was possible for two planes to disappear without leaving a trace, even when the location of the action had been pinpointed. He added that his son was promised a commission, but owing to a brief illness on the part of his O.C., it was postponed. Mr. Kinsella hoped that his son would be given the promotion, which did happen.
More information about Kinsella can be found in Typhoon and Tempest by Hugh Halliday on pages 115, 121, 180, 186.
LINKS: