Bernard Percy Swingler J21837
December 17, 1922 - February 22, 1945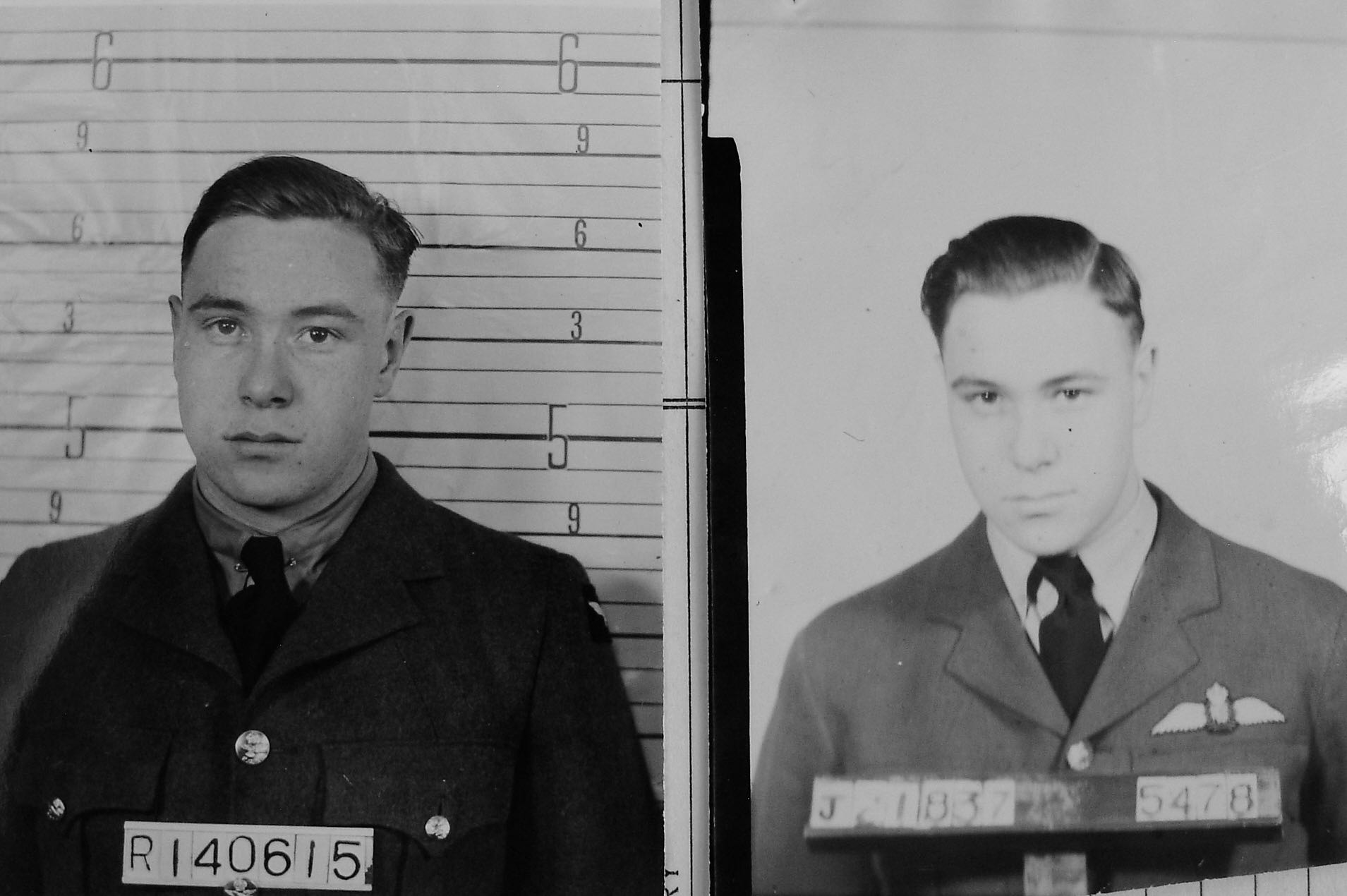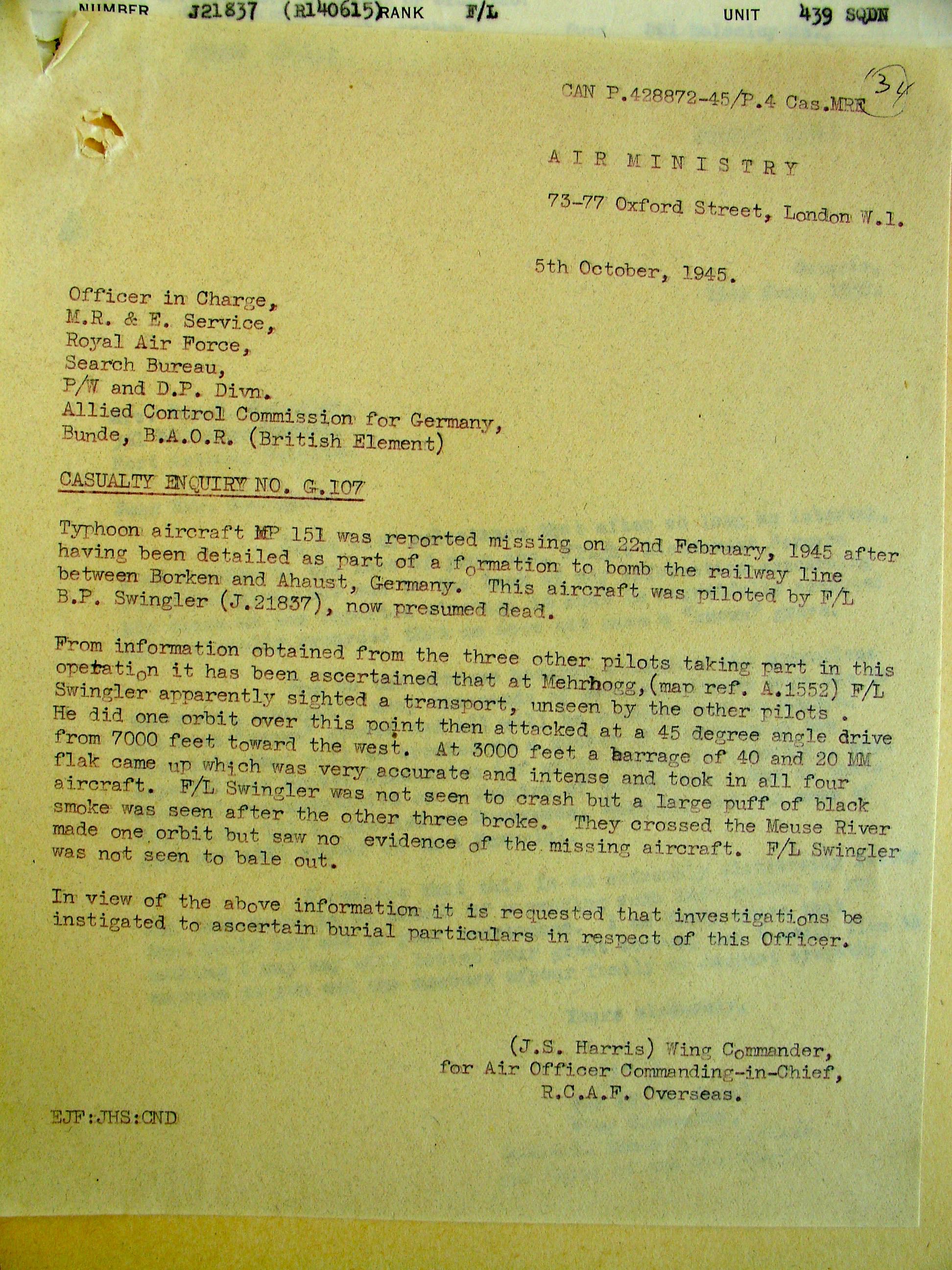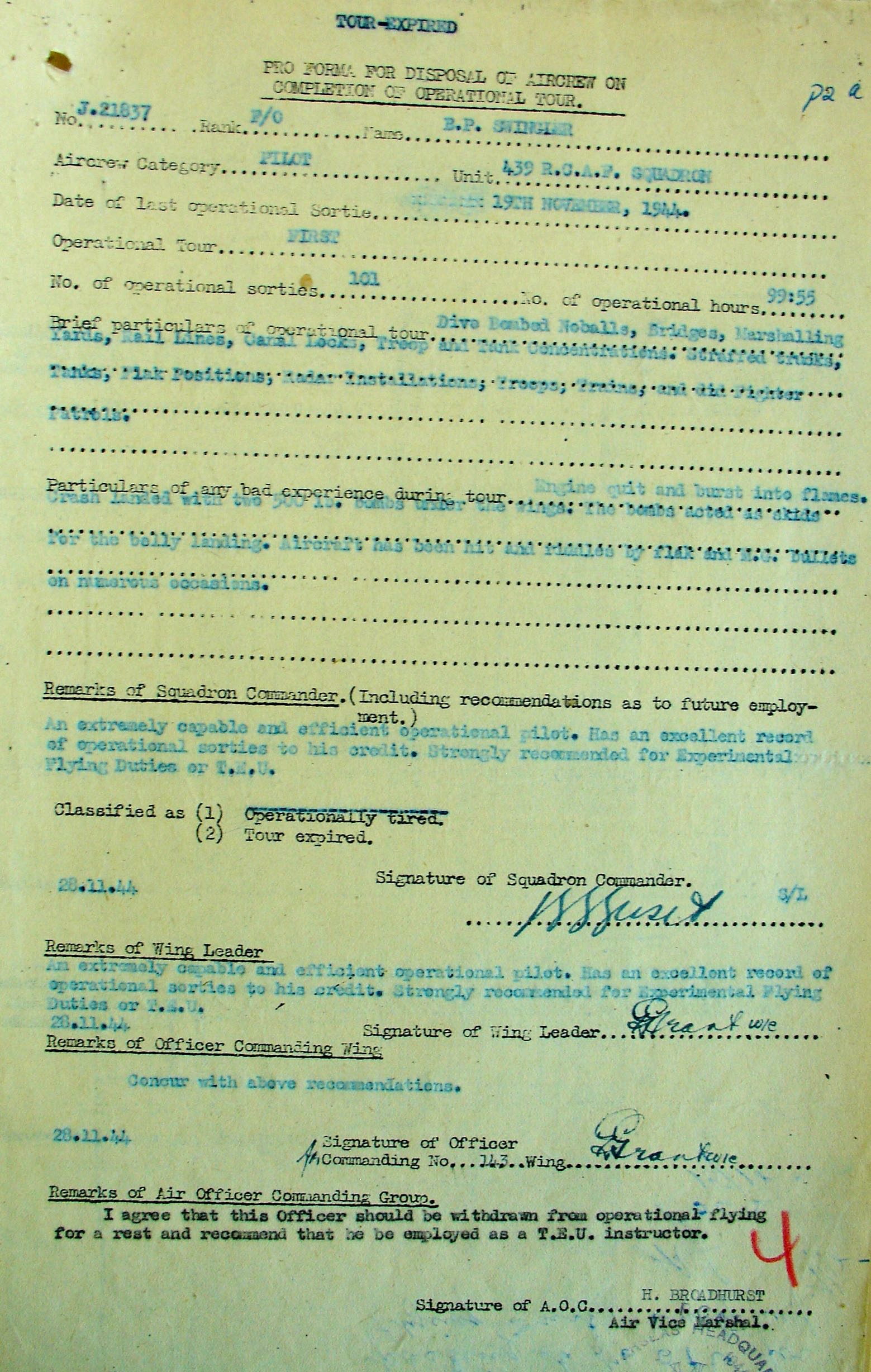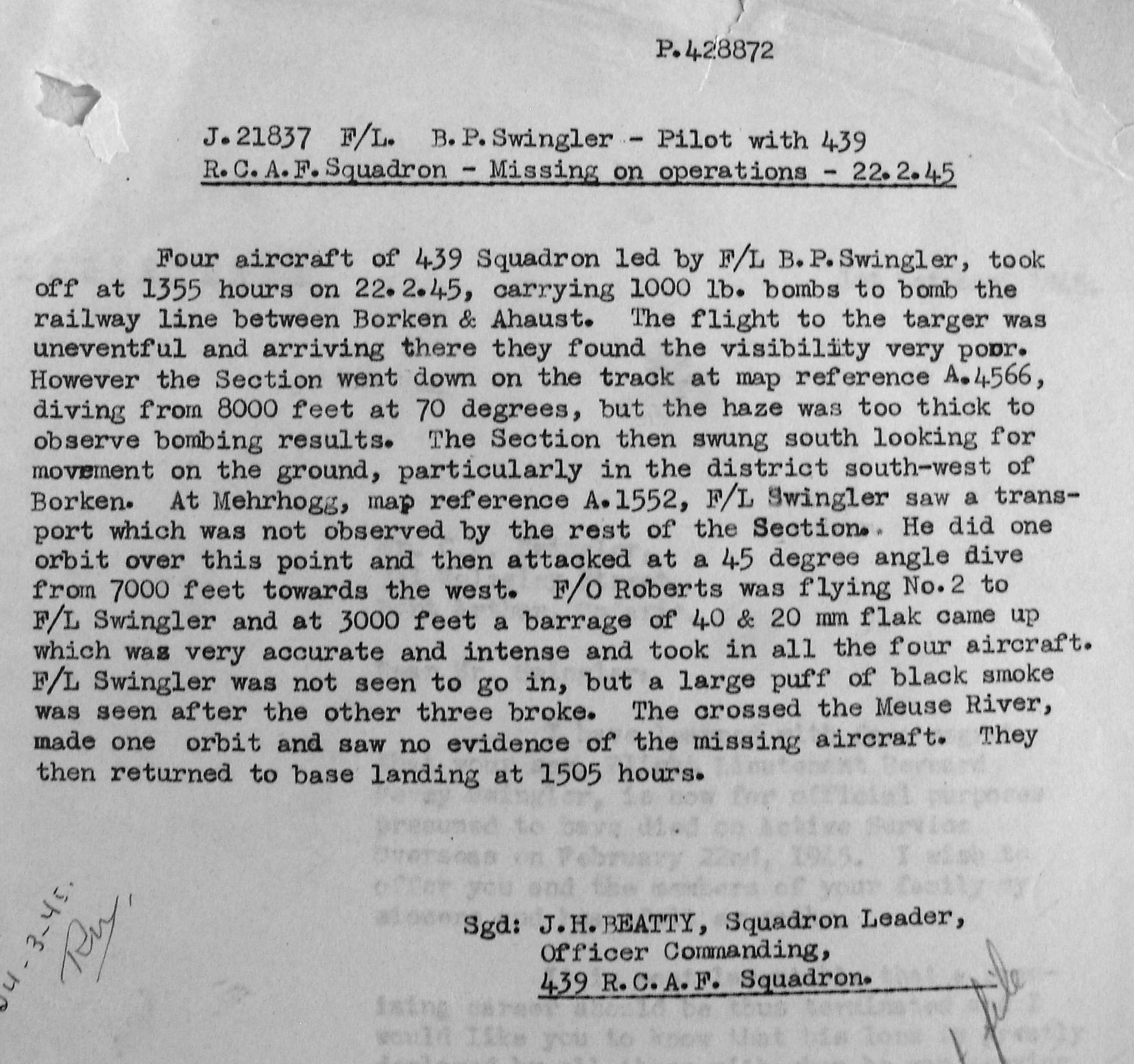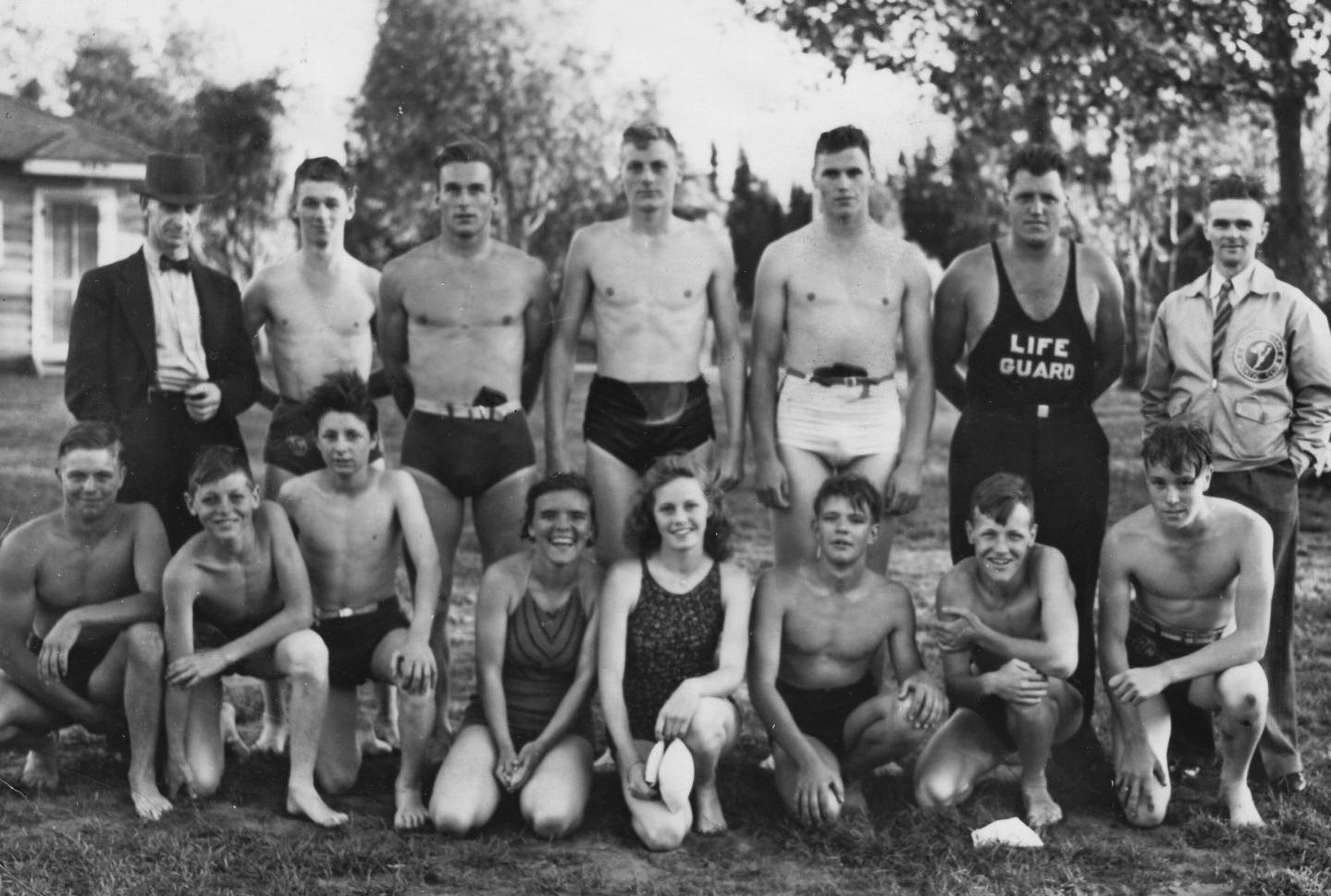 439 Squadron
Bernard Percy Swingler was the son of Charles W. and Eva G. Swingler, of Port Arthur, Ontario. He had one or two brothers and one sister. He was an aircraft mechanic and bench worker at Canadian Car and Foundry Company, at Fort William (Thunder Bay), Ontario. He wanted to be a PT instructor after the war. See photo above from the Boulevard Swimming Club, 1939, courtesy of the Thunder Bay Public Library Collection.
In March 1942, he was being interviewed. Because one of his brothers died two days earlier, it was difficult to assess him. He was considered alert and rather reserved. He was airsick on his one flight. It also said that Swingler had "plenty of stamina and appears to be keen on pilot."
At No. 2 ITS, he was assessed, "A quiet, good-natured, rather stolid airman. He is tenacious and has plenty of good sense. He has set himself a goal and is determined to reach it. He has ability and is not afraid of work. He has qualities of leadership and character that have made him liked and respected. He is recommended for commission."
At No. 2 EFTS: "A very good reliable student, above average ability. Should go a long way in flying. Link mark: 70%"
He was recommended for bomber pilot at #12 SFTS.
By November 19, 1944, he had one tour under his belt. He had 101 operational sorties, with 99:55 flying hours. He dive bombed bridges, marshalling yards, rail lines, canal locks, troop and tank concentrations, strafed trucks and tanks, flak positions, radar installations, trucks, trains and air fighter patrols. One bad experience was as follows: "Engine quit and burst into flames. Crash landed with 2-500 lb bombs under the wings. The bombs acted as skids for the belly landing. Aircraft had been hit and riddled by flak and M.G. bullets on numerous occasions." He was assessed: "An extremely capable and efficient operational pilot. Has an excellent record of operational sorties to his credit. Strongly recommend for Experimental Flying Duties or TEU." S/L Fiset, 439 Squadron, wrote, "An exceptionally fine type of officer. His example is an asset to the squadron, as a gentleman as well as a leader. He is keenly interested and efficient in all pertaining to the Air Force and the execution of his duties. His promotion to T/F/L due 18 December 1944 is recommended. A good strong operational pilot who is above the average as a leader. Has a nice personality and is endowed with a lot of good common sense. A good sound officer who is a credit to the Air Force."
S/L J. H. Beatty wrote: "Four aircraft of 439 Squadron led by F/L B.P. Swingler, took off at 1355 hours on 22.2.45 carrying 1000 pound bombs to bomb the railway line beween Borken and Ahaust. The flight to the target was uneventful and arriving there they found the visibility very poor. However, the Section went down on the track...diving from 8000 feet at 70 degrees, but the haze was too thick to observe bombing results. The Section then swung south looking for movement on the ground, particularly in the district south-west of Borken. At Mehrhogg, F/L Swingler [in Typhoon MP151] saw a transport which was not observed by the rest of the Section. He did one orbit over this point and then attacked at a 45 degree angle dive from 7000 feet towards the west. F/O Roberts was flying No. 2 to Swingler and at 3000 feet a barrage of 40 and 22 mm flak came up which was very accurae and intense and took in all the four aircraft. F/L Swingler was not seen to go in, but a large puff of black smoke was seen after the other three broke. They crossed the Meuse River, made one orbit and saw no evidence of the missing aircraft. They then returned to base, landing at 1505 hours."
On March 3, 1945, Mrs. Swingler received a letter explaining to her some of the details of her son's death. "'Babe' as he was known to the Squadron, joined us on the 21st February to commence his second tour as Flight Commander. The next day, he did one operation, following which he led the Squadron on a dive bombing operation....Your son was one of the most popular pilots ever to be with this Squadron, always full of humour even during our most trying moments, and always prepared to lead his Flight or the Squadron in operations. When news was received of his posting, every pilot and airman was over-joyed and asked me if the information was authentic, even those who did not know Babe, but heard of his daring exploits. To say that he was a capable and conscientious leader is minimizing his true merits in this respect. He had a forceful personality, was a very clean living individual, and had an admirable taste for good music, which we could not help but notice. I knew your son quite well, having flown with another Squadron in this Airfield during the same period." S/L J. H. Beatty
'Babe' Swingler's files are available through Ancestry.ca.
LINKS: