Frank Macdonald Thomas J20648
April 18, 1923 - July 8, 1944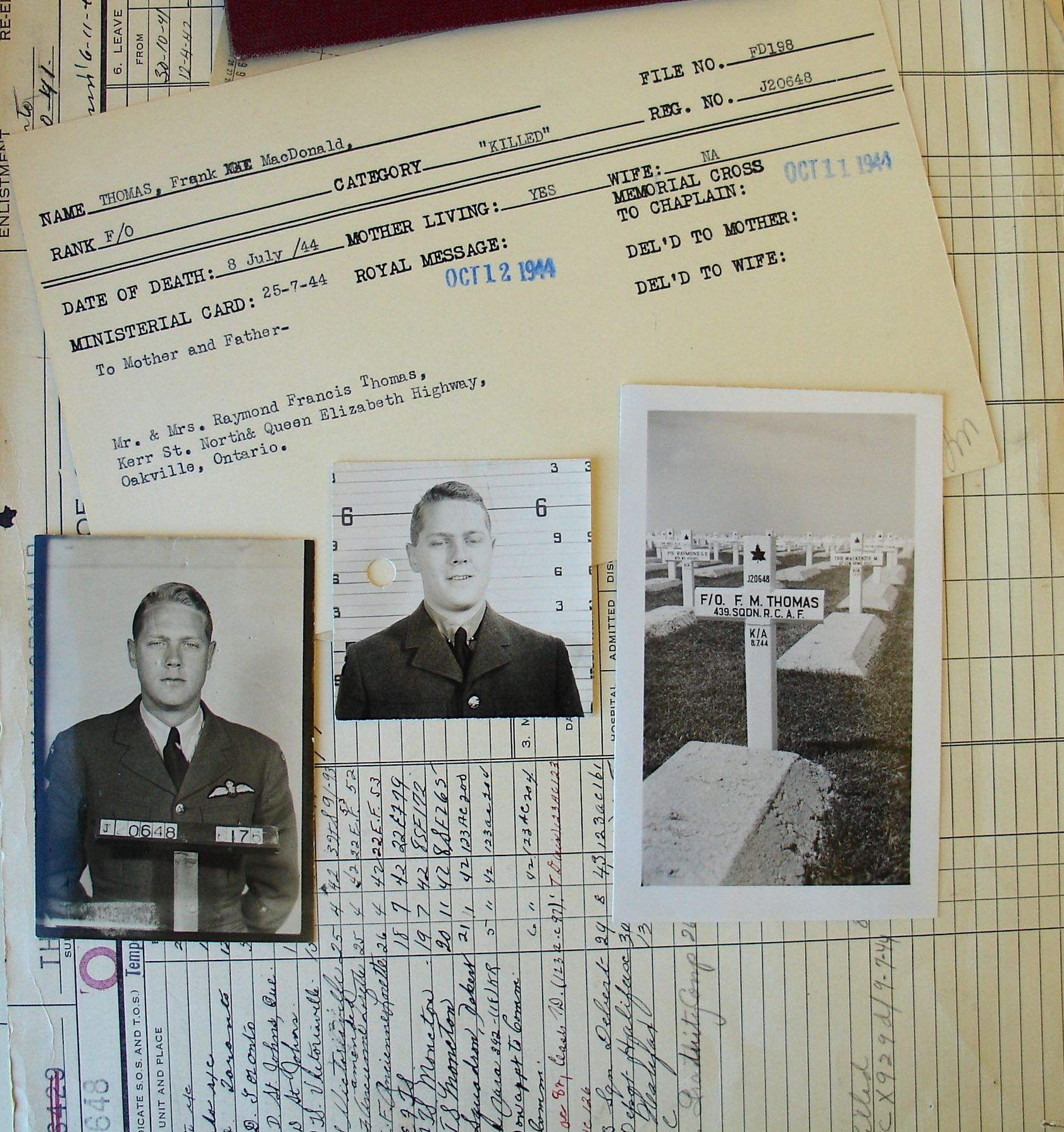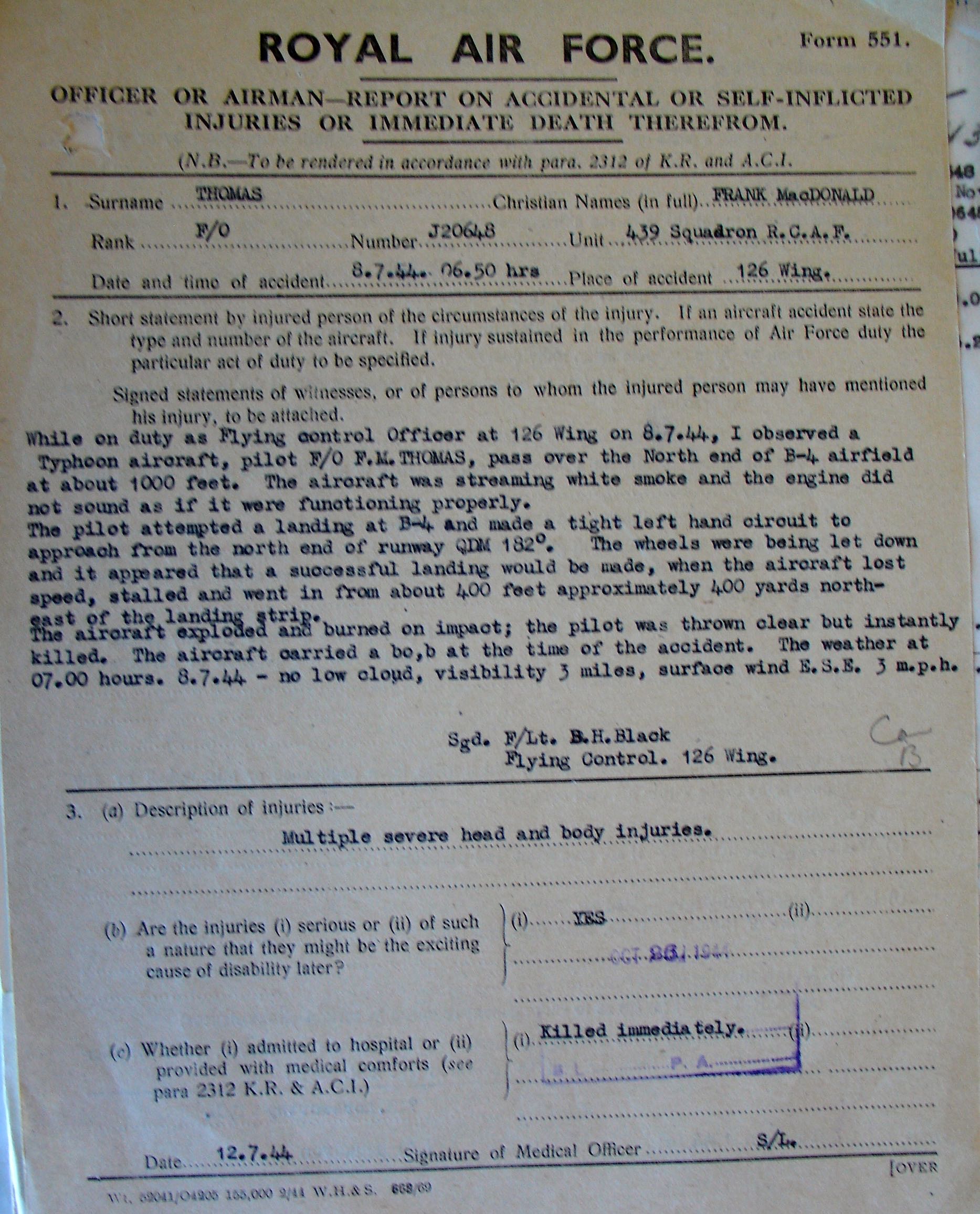 439 Squadron
Frank Macdonald Thomas was the son of farmer Ronald Francis and Olive Anne (nee MacDonald) Thomas, Oakville, Ontario. He had one sister. The family was Presbyterian.
He enlisted in Toronto, Ontario on October 29. 1941, was awarded his Pilot's Flying Badge and commissioned as a Pilot Officer on November 6, 1942. He was promoted to Flying Officer May 6, 1943. He embarked for overseas on October 12, 1943 and was taken on strength by 439 Squadron on January 1, 1944.
S/L Norsworthy wrote to Mr. Thomas explaining as much about the crash that claimed Frank's life. "Frank had been in the squadron such a very long time that even now the lads can hardly realize that hs is no longer with us. Frank was such a quiet, good natured person, that it was a rare pleasure to have him around one. He never failed us in anything he did, and yet he was not the sort of person that would ever talk about his accomplishments. He was truly a grand chap, and although another pilot must inevitably be posted to us, we will never try to replace him...The Squadron was detailed to bomb a German defended position; on the way to the target, your son's aircraft was hit by anti-aircraft fire, so he returned back over our own lines. When he was attempting to land, his aircraft crashed, and your son was killed instantly. I think it was a very gallant attempt, on his part. Frank was buried in a small Canadian cemetery, near the village of Beny-sur-Mer. A number of us attended the funeral; it was very impressive, yet very simple. There is an old French lady who is tending the graves and places fresh flowers there every day. Now that the battle has moved farther south, your so lies in peace and quiet, yet he is still here with us, in a sense. We are fighting as hard as we know, as Frank said, when he left us."
S/L Norsworthy had softened the report somewhat for Mr. and Mrs. Thomas. "While on duty as Flying Control Officer at 126 Wing on 8.7.44, I observed a Typhoon aircraft, pilot F/O F. M. Thomas pass over the north end of B-4 airfield at about 1000 feet. The aircraft was streaming white smoke and the engine did not sound as it if were functioning propertly. The pilot attempted a landing at B4 and made a tight left hand circuit to approach from the north end of the runway QDM 182 degrees. The wheels were being let down and it appeared that a successful landing would be made, when the aircraft lost speed, stalled and went in from about 400 feet approximately 400 yards northeast of the landing strip. The aircraft exploded and burned on impact. The pilot was thrown clear but instantly killed. The aircraft carried a bomb at the time of the accident. The weather at 0700 hours: no low cloud, visibility 3 miles, surface wind ESE, 3 mph." F/Lt B. H. Black
His body was identified by his identity discs.
LINKS: