J. Douglas McCullough J16210
1923 (Approximate) - August 13, 2008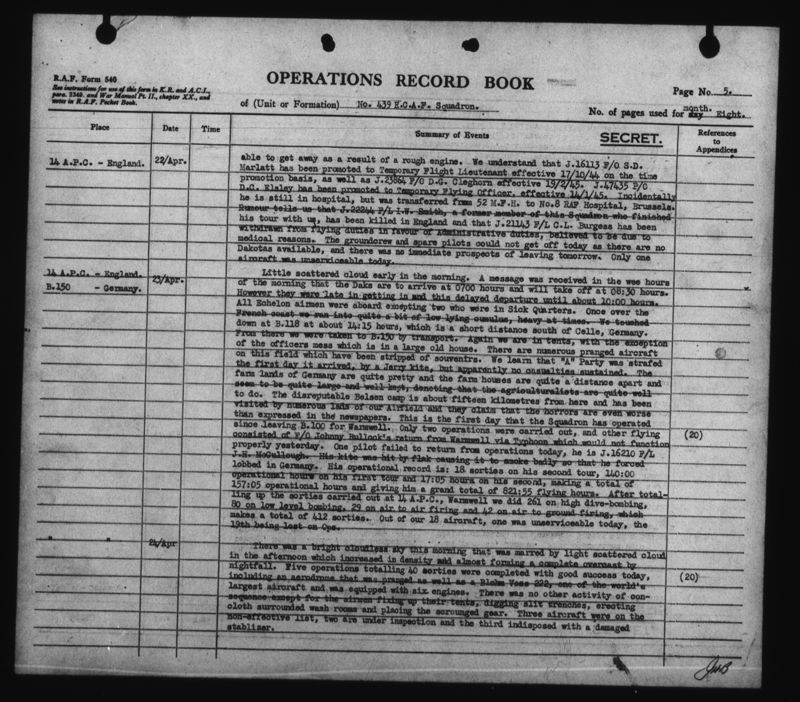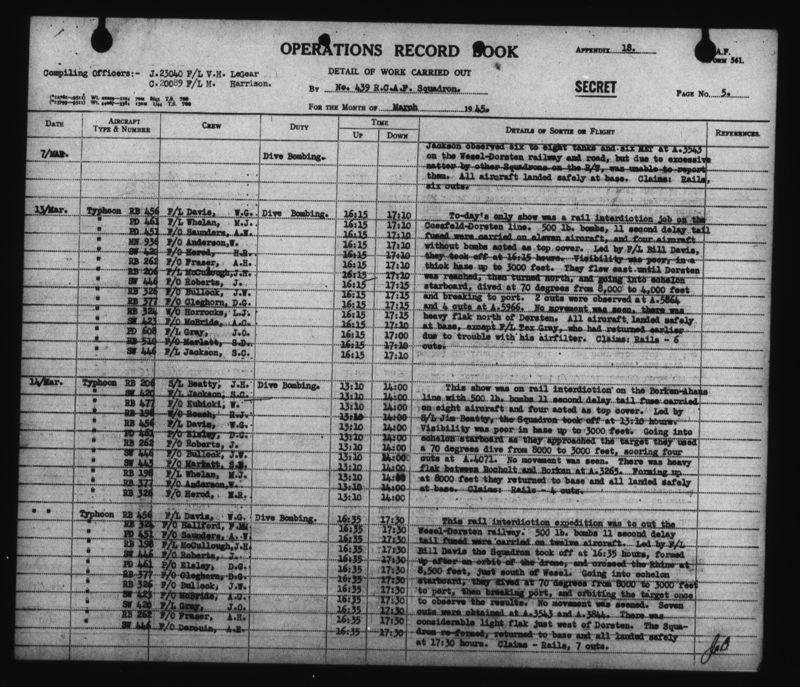 439 Squadron
Much of the information comes from 439 Squadron website.
Shot down by flak at Ratzeburg while attacking a railway marshalling yard on the 23 Apr 1945. Two trains were seen in marshalling yards near Ratzeburg, but before they could be attacked, intense accurate light flak started coming from the yards, so the aircraft broke away. F/L Johnny McCullough was hit, and crash landed about six miles south-east of Ratzeburg at T1153. He called up from the ground to say that he was O.K.
From the 439 Squadron Operations Record, April 23, 1945: "One pilot failed to return from operations today, he is J16210 F/l J.H. McCullough. His kite was hit by flak causing it to smoke badly so that he forced landed in Germany. His operational record is 18 sorties on his second tour, 140:00 operational hours on his first tour and 17:05 hours on his second, making a total of 157:05 operational hours and giving him a grand total of 821:55 flying hours."
As he not mentioned in the Squadron diaries after April 30, 1945, it was assumed he became a POW.
From an obituary from 2008, found in the Toronto Star , it stated that Douglas was born in London, Ontario, the fifth of six children of George and Charlotte McCullough. "After serving with the RCAF in World War II, Doug enrolled in the University of Toronto School of Architecture graduating with a Bachelor of Architecture in 1951. During his early career as an architect in London, Ontario, Doug became involved in the theatre in London, both as an actor and as a direcctor. In the early 1960s, Doug was recruited by the Ontario Government to serve in the Ministries of Education, and Colleges and Universities, and subsequently, the Ministry of Culture and Recreation from which he retired as Assistant Deputy Minister of External Cultural Affairs in 1985. Doug was a keen supporter of the arts and promoter of Toronto's trees, parks and green spaces. He was also an enthusiastic member of the Toronto Lawn Tennis Club for many years."
LINKS: