John Walton Saville J8146
1910 (Approximate) - June 5, 1944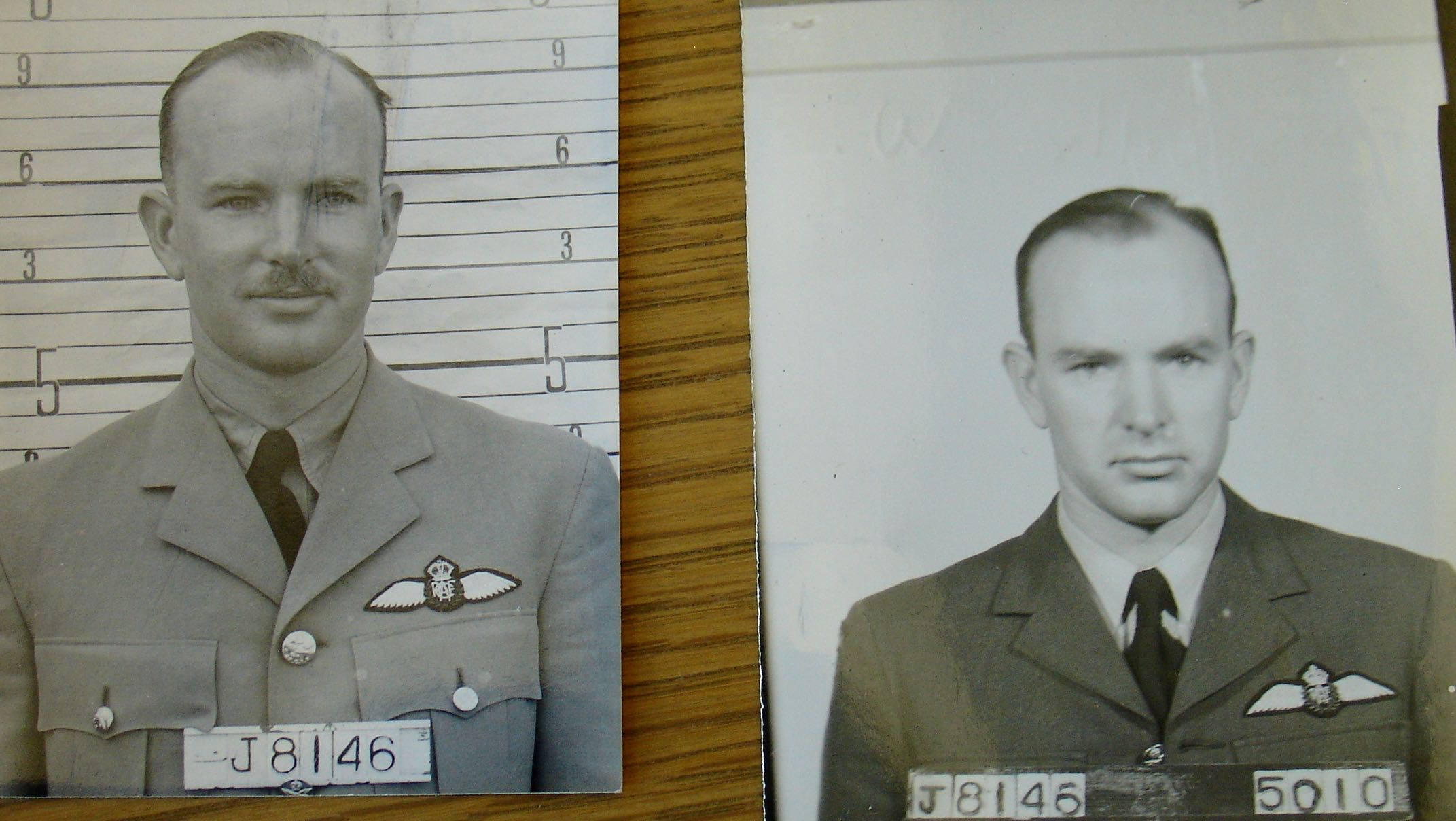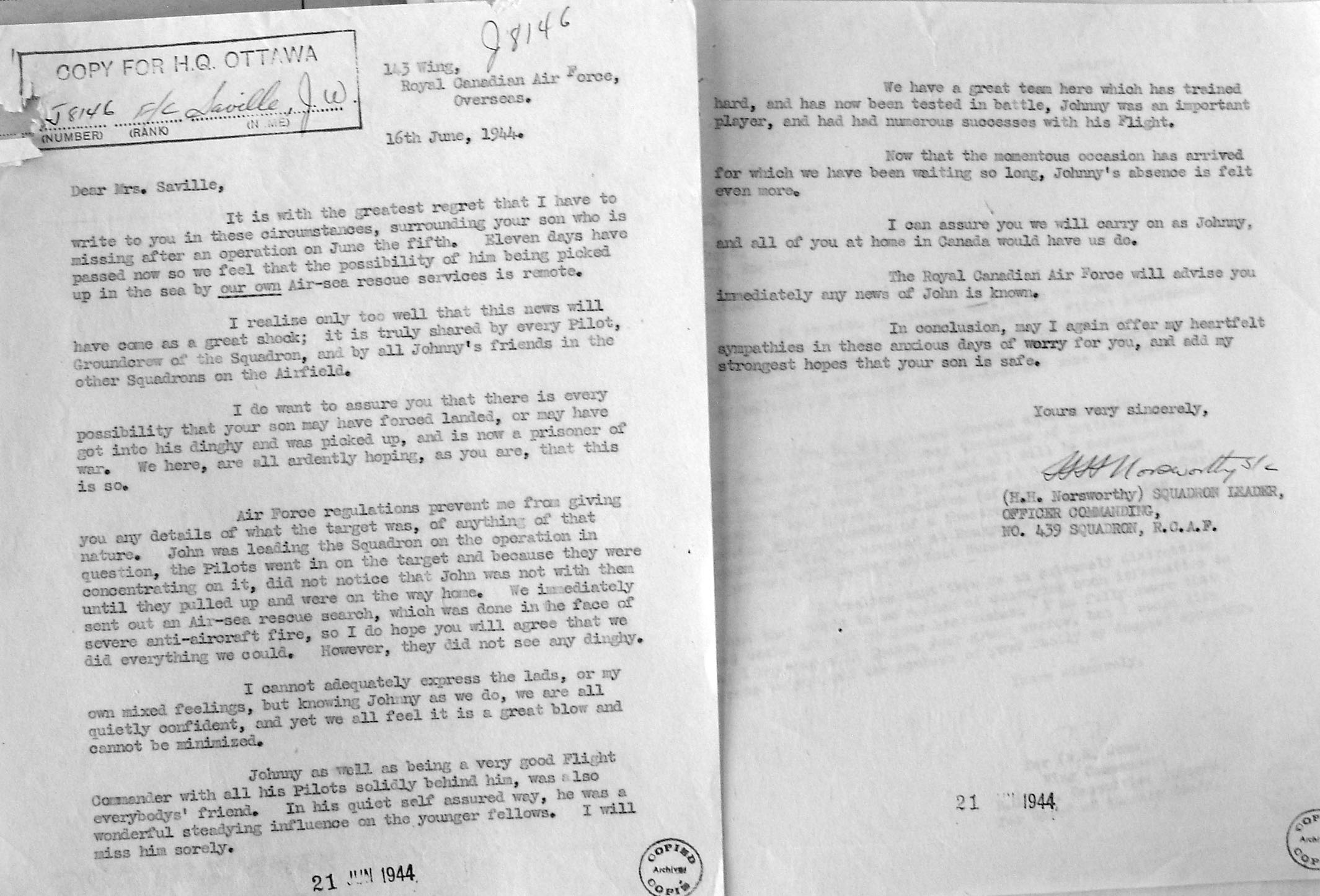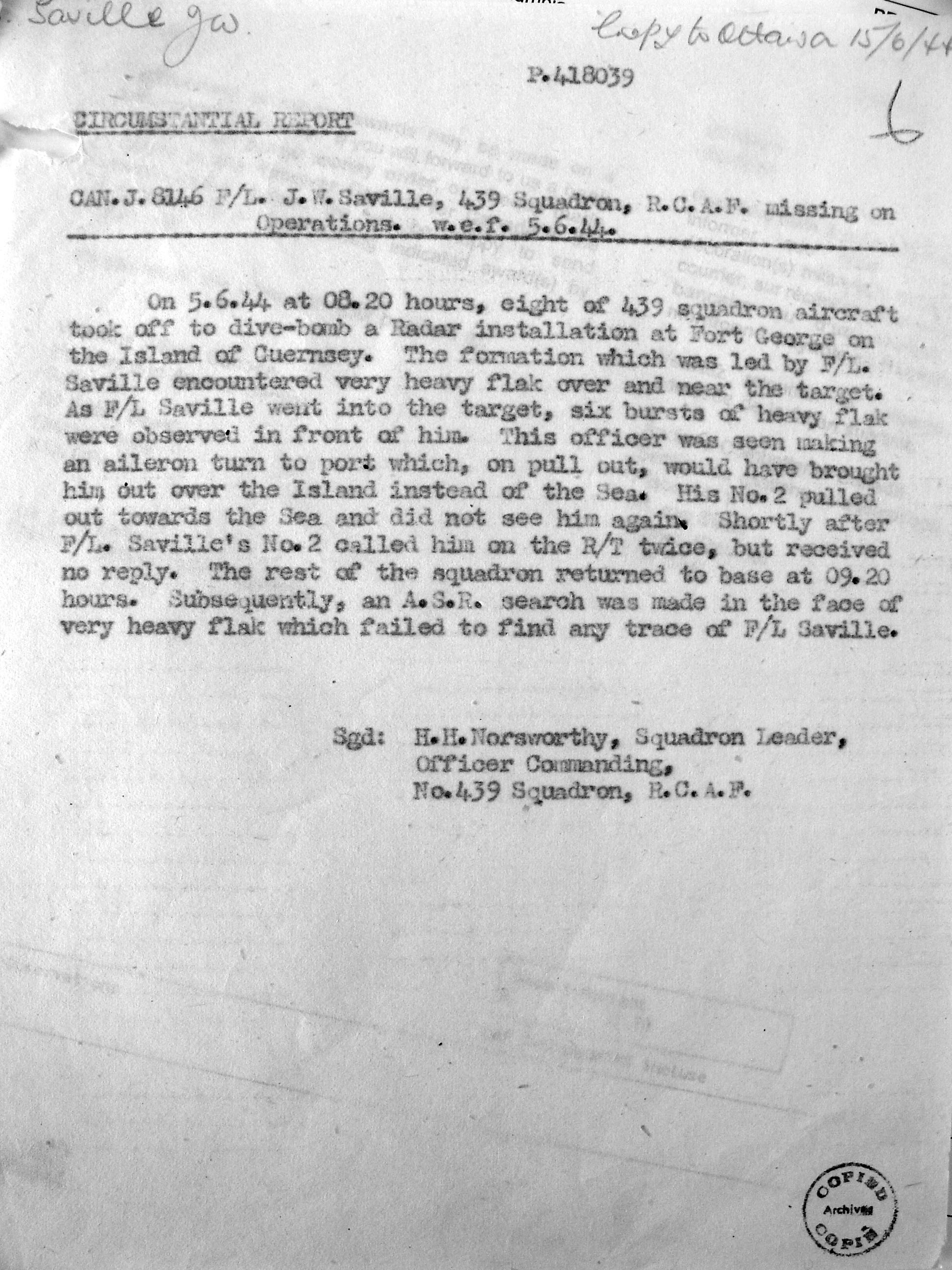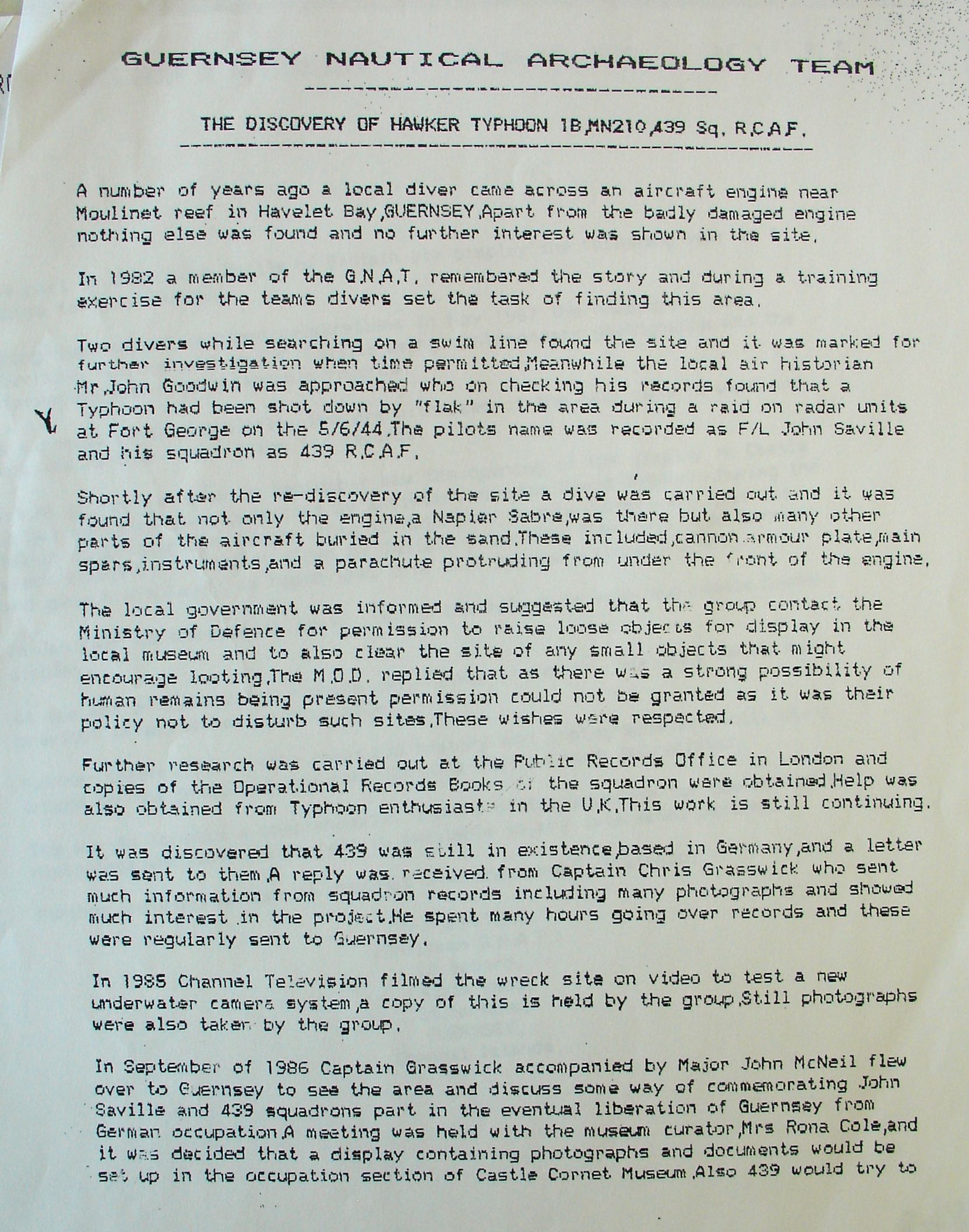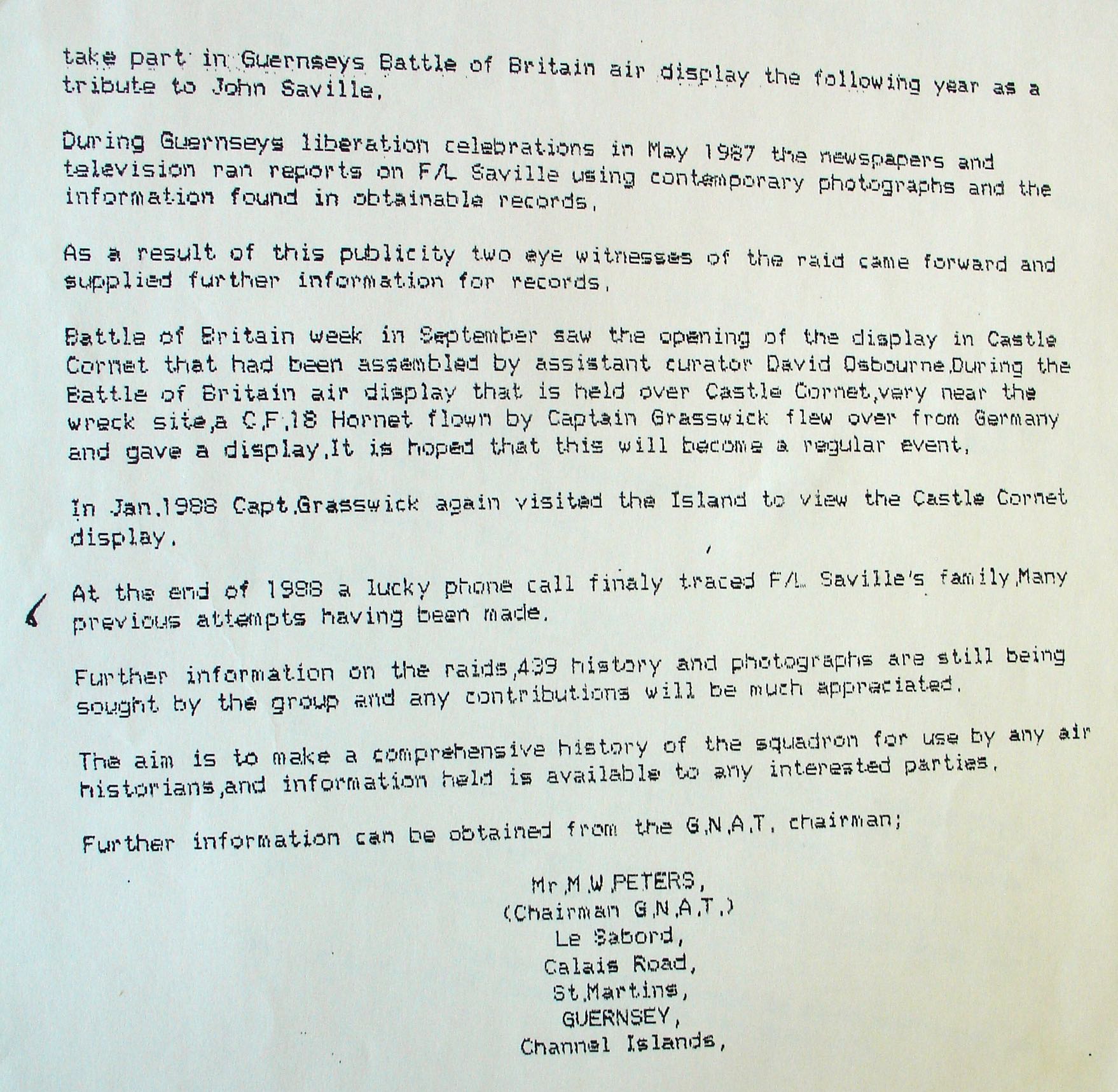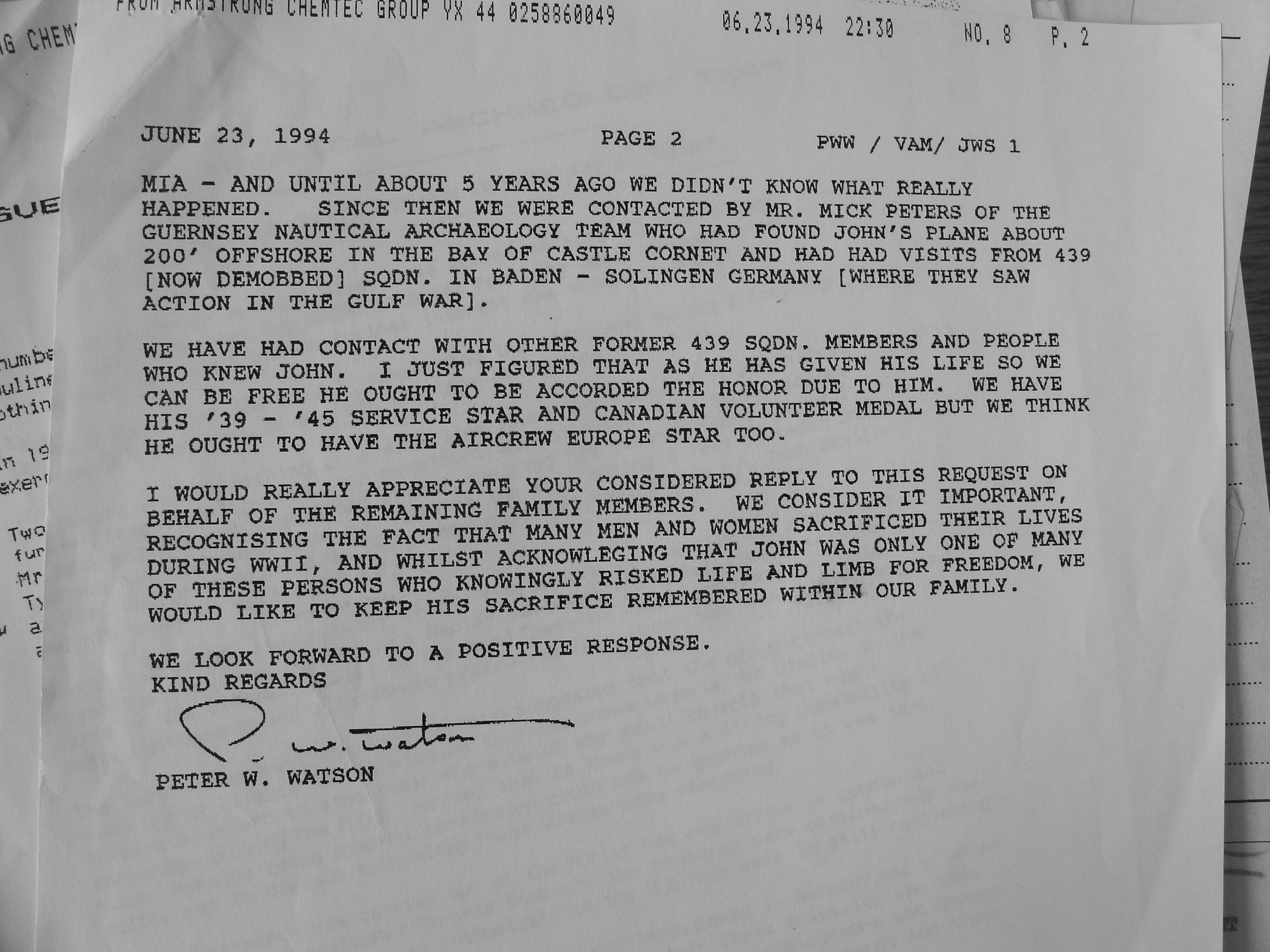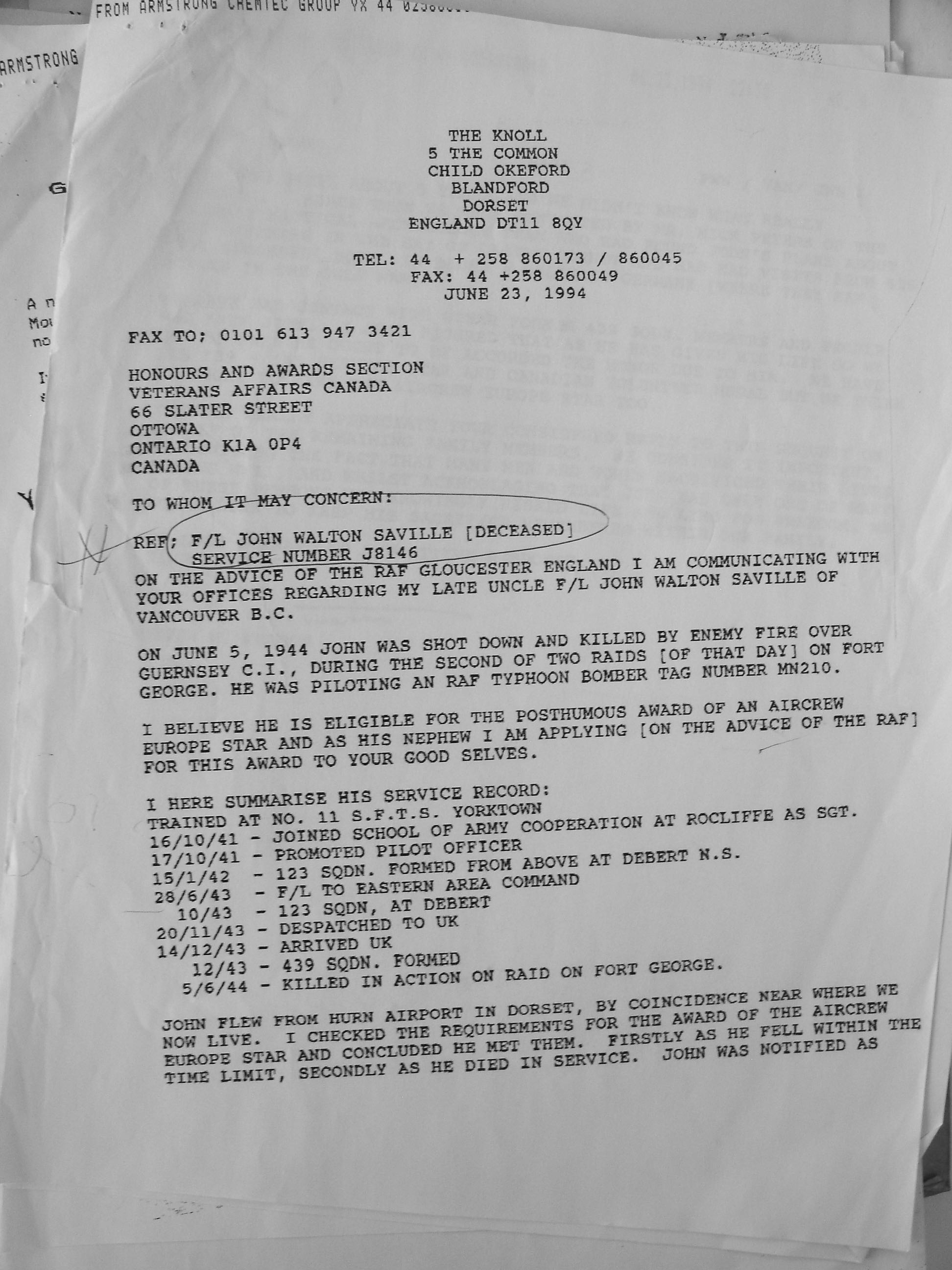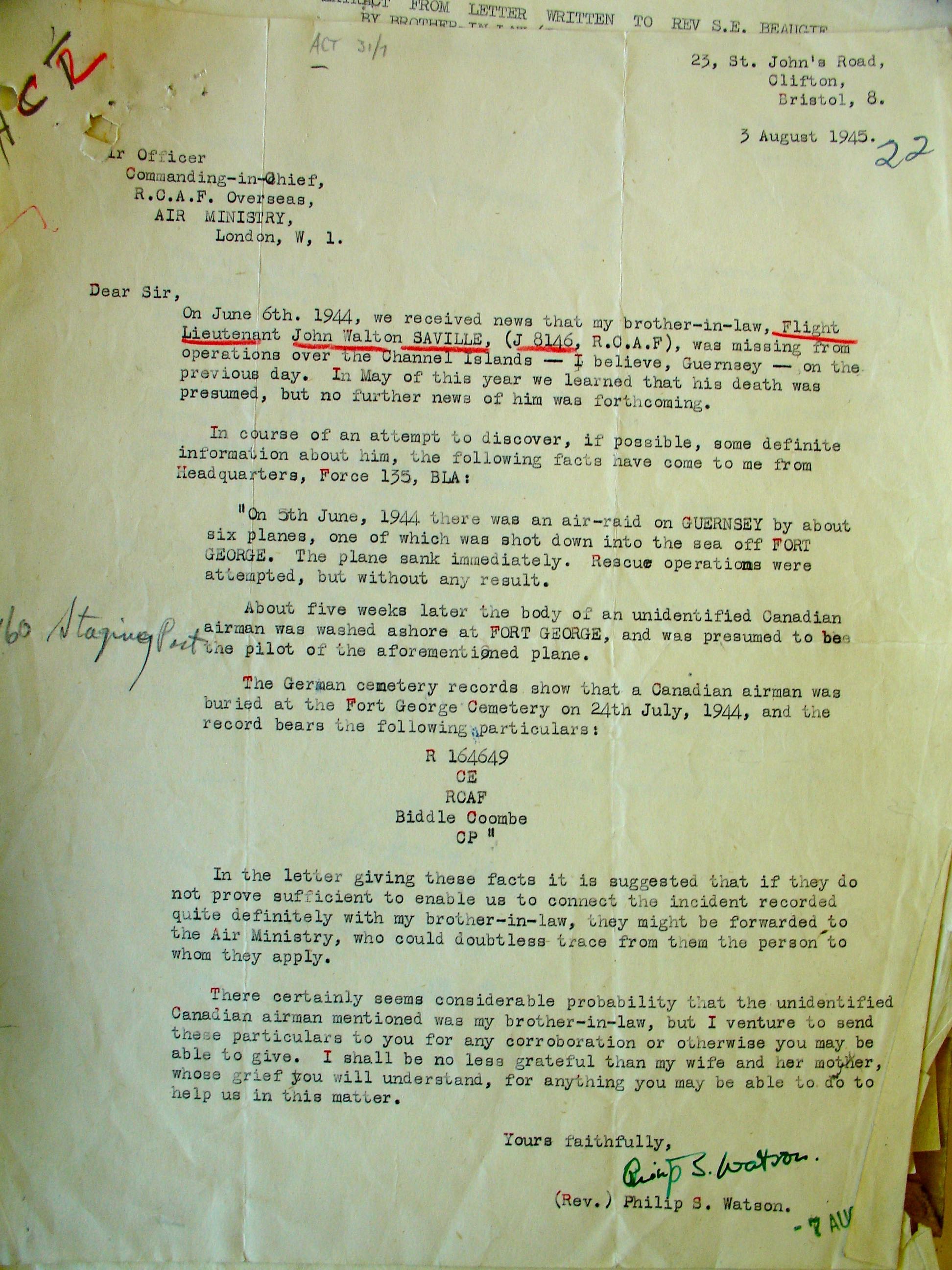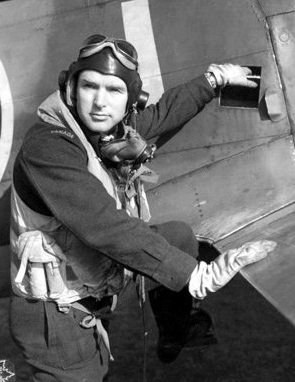 439 Squadron
John Walton Saville was the oldest child of William and Florence Ilma Saville of Vancouver, British Columbia. He had three sisters. He was a garage foreman at the repair shop for BC Motor Transport Ltd. This company provided bus transportation in and around Vancouver. He was bi-lingual and could speak French and English
Saville had applied to the RCAF in June 1940 when he was 30 years old and was accepted on February 1, 1941, when he was 31. On his application, he indicated that after the war, he wanted to get into commercial aviation or re-enlist in the RCAF.
He was assessed on June 6, 1941: "Wants pilot. Well adjusted. Appears younger than stated years. 25 hours solo. Intelligent. Satisfactory."
At No. 2 ITS, Regina, mid May 1941, he was 11th out of 86 in his class. He received an 83%. "Responsible, experienced, confident, leader-type, two years university. Claims 13 hours dual and 25 hours solo. Activity in sports average. Is confident, decisive, may be resourceful. Potential Officer material. Alternative: Observer." He was posted to No. 2 EFTS, Fort William, Ontario. He earned his wings at No. 11 SFTS, Yorkton, Saskatchewan.
He was at Rockcliffe, Ontario by November 1941. He was assessed as "very good and superior" in separate categories. "Intelligent, steady and reliable. Making good progress."
He found himself at 123 Squadron, Debert, Nova Scotia by May 1942. "He is dependable and steady and has carried out his duties well. Average flying ability." In August 1942, "This officer is quiet, conscientious and hard working. A valuable officer." October 1942: "This Officer has shown good consistency in his devotion to duty and example to others in his group." January 1943: This officer has shown a very high ability as a leader and great consistency during his period of training as flight commander. Recommend this Officer's promotion to Acting F/L." In May 1943, he received an 86 on his R.211. "Presently attending Junior War Staff Course. Has efficiently discharged responsibilities of the rank of F/L." "While at this course, he worked hard and well. He expresses his ideas adequately both in speech and writing and although when he came to the course, his military (Army) vocabulary was very limited; he has improved considerably. He is an average learner and shows common sense. He is a very likable Officer, polite, conscientious, and can work well in a team. His knowledge of his own arm seems to be very good but weak in Army cooperation. His knowledge of other arms is limited, however since reporting to the course he made a consistent effort to understand army problems." Saville then attended the Canadian War Staff Course in Kingston in June 1943. However, he did not have sufficient experience or background to enable him to complete the course successfully. His superiors noted that Saville "derived considerable benefit from his attendance on this course."
In August 1943: "This Officer has been misemployed in the EAC as a traffic officer for Air Transport in that he has completed SWSC 6 at RMC at which he did very well. His present move will be beneficial to both services. Recommended for rank of T/F/L." He arrived in the UK in December 1943 with 439 Squadron.
Circumstantial Report: Can J. 8146, F/L J. W. Saville, 439 Squadron, RCAF missing on Operations. w.e.f. 5.6.44. Typhoon MN210 "On 5.6.44 at 08.20 hours, eight of the 439 Squadron aircraft took off to dive-bomb a Radar installation at Fort George on the Island of Guernsey. The formation which was led by F/L Saville encountered very heavy flak over and near the target. As F/L Saville went into the target, six bursts of heavy flak were observed in front of him. This officer was seen making an aileron turn to port, which, on pull out, would have brought him out over the Island instead of the sea. His No. 2 pulled out towards the sea and did not see him again. Shortly after F/L Saville's No. 2 called him on the R/T twice, but received no reply. The rest of the Squadron returned to base at 09.20 hours. Subsequently, an A.S.R. search was made in the face of very heavy flak which failed to find any trace of F/L Saville."
On June 16, 1944, Mrs. Saville received a letter from 439 Officer Commanding, S/L Norsworthy. "Eleven days have passed now so we feel that the possibility of [Johnny] being picked up in the sea by our own Air-sea rescue services is remote...John was leading the Squadron on the operation in question, the Pilots went in on the target and because they were concentrating on it, did not notice that John was not with them until they pulled up and were on their way home. We immediately sent out an Air-sea rescue search, which was done in the face of severe anti-aircraft fire, so I know you will agree that we did everything we could. However, they did not see any dinghy.....Johnny as well as being a very good Flight Commander with all his Pilots solidly beind him, was also everybody's friend. In his quiet, self-assured way, he was a wonderful steadying influence on the younger fellows...We have a great team here which has trained hard and has now been tested in battle; Johnny was an important player and had had numerous successes with his Flight."
On August 3, 1945, a letter written by Reverend Philip S. Watson, brother in law to Saville, asked if the body that had washed ashore five weeks after the crash, might be Saville.
In 1989, Mr. Mick Peters of the Guernsey Nautical Archaeology Team found Saville's aircraft about 200 feet offshore in the Bay of Castle Cornet. See photos for more information.
LINKS: