Kenneth J. Fiset J9078
1915 (Approximate) - Unknown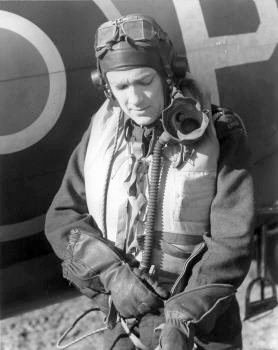 439 Squadron
From an RCAF Press Release released January 6, 1945:"The exploits that won sportsman Squadron Leader Kenneth J Fiset, Montreal, his DFC was a temporary disappointment to himself and the others who took part in it.
In July, he letter formation of eight typhoons to break up German preparations for a counter attack. 'The target, an orchard, was marked by British Army units with smoke. We bombed and strafed it pretty thoroughly, but Jerry was really hidden and when we landed, we couldn't make a single claim. We were pretty disappointed until about five minutes later, when army officials from all over the area began phoning through. Apparently we have really done a job and they couldn't have been any more enthusiastic.'
On another occasion when Fiset led his squadron in an attack on German tanks, he found a more satisfying target. Jerry was in a corner of a big wood and we went in just at dusk with 1000 pounders. After bombing and strafing, we claimed 30 tanks destroyed. A day or two later when British units took the wood, 37 derelict tanks were found, and about a company of German dead.
S/L Fiset began operations in 1943 with an RAF squadron but joined an all-Canadian Wing in early 1944. He received the DFC and command of his squadron on the same day last summer.
In peacetime, S/L Fiset was well known in Montréal sports. He was tennis champion of the city at one time, and bowled in open and parochial bowling leagues. In addition, he took part in baseball and swimming meets and was a member of the north branch YMCA.
Before going overseas, he was stationed at St. Hubert's. A native of Montréal, he attended Luke Callaghan Memorial School and Sir George Williams College. Formerly, he was manager of the waterworks division at Ste. Therese. He's on his way home to Canada."
For additional information about Ken Fiset, please consult Typhoon and Tempest by Hugh Halliday on page 194. Fiset's portrait is at the War Museum in Ottawa.