Kenneth Freeland Sage C1191
May 15, 1920 - December 24, 1944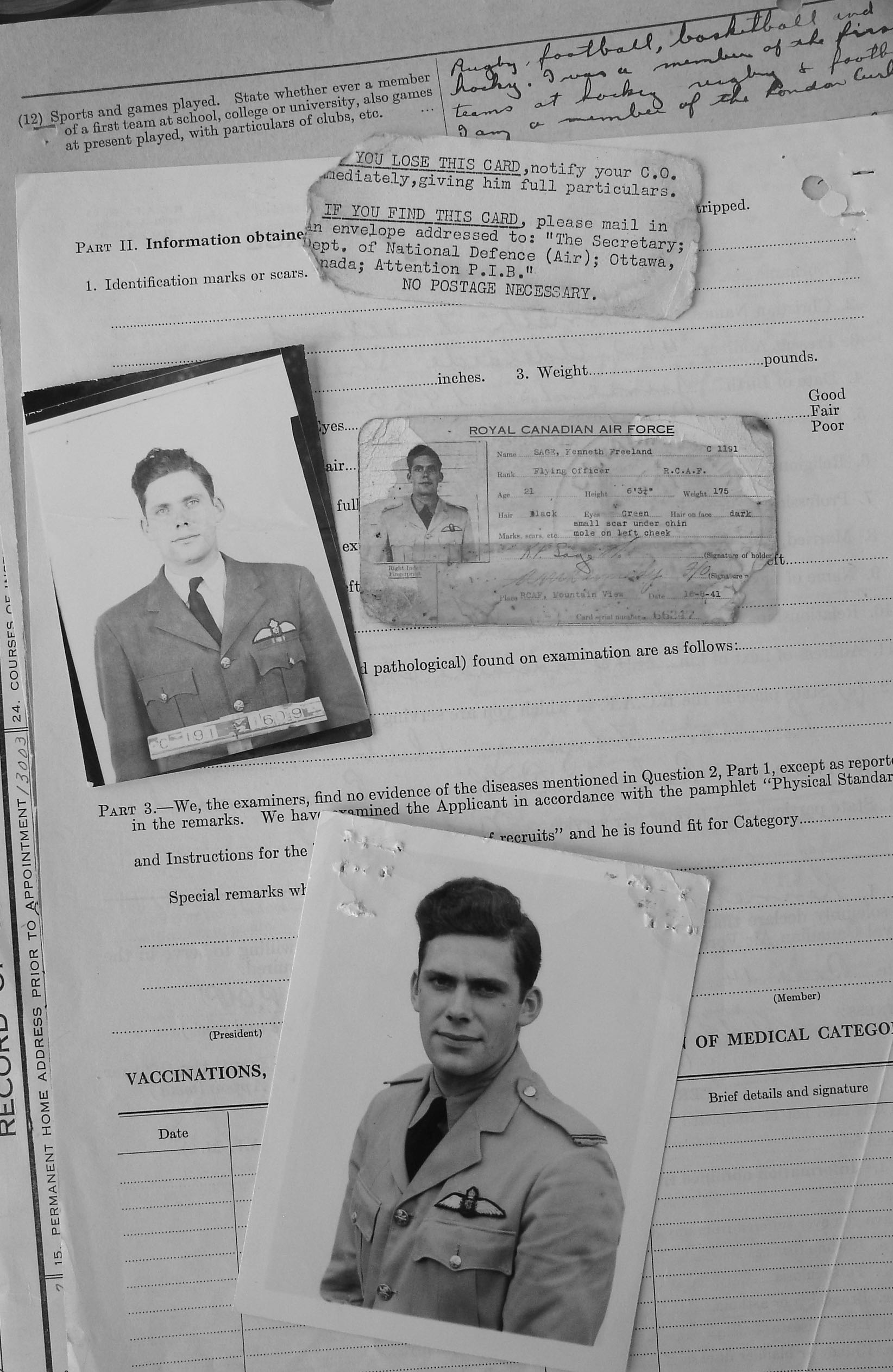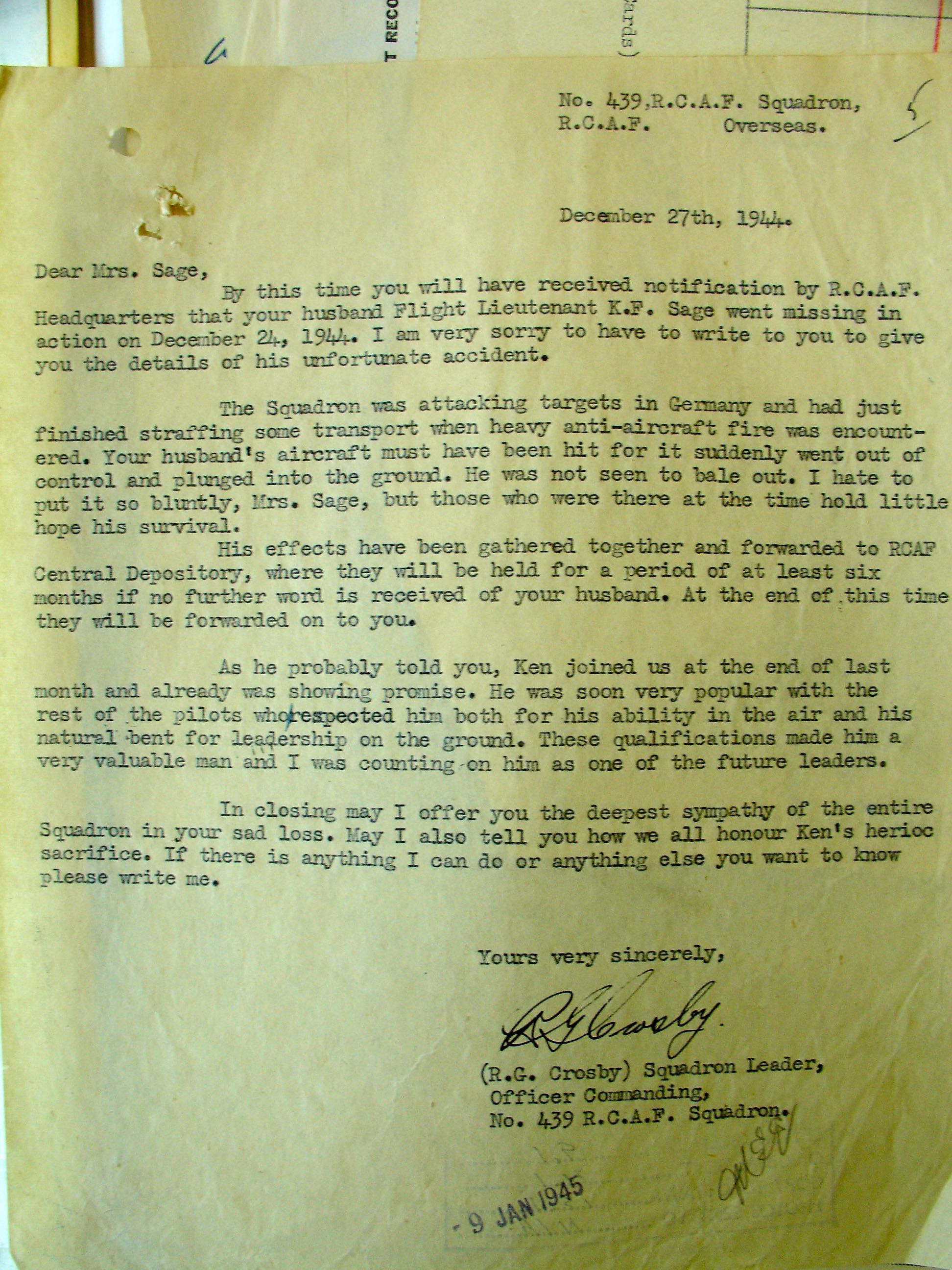 439 Squadron
Kenneth Freeland Sage was an office clerk for Somerville Paper Boxes Ltd. in London, Ontario. He had two brothers, one of them serving in the Navy. Sage hoped that after the war, he would continue to fly and get into farming. He married Iris Irene Tilly on January 20, 1941. They had a daughter, Lynne Louise, on September 8, 1942.
Sage stood 6' 3 1/4" tall, had black hair, green eyes and had a small scar under his chin, with a mole on his left cheek. In the particulars of his interview with the RCAF: "Type: average. Appearance and deportment satisfactory. Intelligent and pleasing. Very anxious to make the RAF his career. A good type showing mental alertness."
He indicated that he liked rugby, football, basketball, and hockey. He was a member of the London Curling Club. He indicated that he had a general knowledge of internal combustion engines and mechanics as he took one year of motor mechanics. "I have flown a great many times as a passenger over the .....airport, Toronto. I have also two hours dual at the London Flying Club, London, Ontario. I attended four years of high school, all except 6 weeks; also one term of night school."
He was accepted in the RCAF in October 1939. He earned his wings and became an armament instructor, which he did not like. He was unhappy and his superiors noted this in their reports and assessments.
From June 8, 1940 until November 23, 1940, he was at #4 B&G, Fingal. He was then transferred to No. 3 SFTS, Calgary for disciplinary reasons, and in spite of this, his work did not improve. It was noted that he was intelligent and capable of good work under supervision. It was also noted that "a good deal of time and money has been invested in the training of this Officer as a General List Armament Officer and it is most desirable that we should not lose his services if this can be avoided." From there he was sent to Air Armament School, Trenton, effective May 5. He found himself then at Mountain View, Ontario, until August 23, 1941.
At Mountain View, Ontario, August 4, 1941: "His knowledge of Armament subjects is poor. Ability as lecturer is fair, but lack of knowledge is a decided handicap. His youthful manner does not tend to command discipline. This officer is definitely not interested in Armament work. Shows a decided inability to organize or conduct the office work necessary. He considers himself primarily a flyer and his entire interest is in flying. Armament works proves irksome to him." The Group Captain of Mountain View wrote a letter to the Department of National Defence. "Indeed it is difficult to think of an Armanent job in which he is likely to be a success without constant and most careful supervision. At present, it would appear that his most suitable employment would be as a Staff Pilot at a Bombing and Gunnery School in which capacity even the little Armament knowledge he has absorbed would be of value." "F/O Sage has never had any interest in armament but is a good pilot."
He was sent to No. 10 SFTS Dauphin on course March 1942, then sent to No. 31 GRS, Charlottetown in June 1942. From there, to No. 2 B&G, Mossbank, Saskatchewan until August 1942. "Given more responsibility, I believe this officer would snap into it and do a good job. He is lacking in aggressiveness and appears disinterested in all activities but flying. He is a good pilot and may improve with a chance to go on operations. Nice personality, quiet and gentlemanly."
September 1942: "It is suggested that this officer from this unit (Mossbank) be transferred...We are of the opinion he would make an excellent fighter pilot. His record as a pilot is excellent and his experience in night flying would ultimately qualify him to take charge of night flying at this Squadron. Since there is a vacancy in the Squadron for more pilots, it is respectfully requested that immediate action be taken in this matter." F/L W. C. Connell, No. 135 Squadron, Mossbank, Saskatchewan. Sage was posted to 135 Squadron, which moved to Pat. Bay, BC effective October 17, 1942.
July 1943, he was recommended for twin engine instructor, "as he is not particularly interested in an overseas posting and in that case would not be happy if the unit should be posted to a foreign country. This officer is very disgruntled due no doubt to the fact that he has been a F/O since April 20, 1940 and there is no establishment for promotion in this unit. This form has been discussed with this officer in detail. He admits that there is justification for criticism but feels that in a number of cases above it is unjustifedly severe. He is most anxious to stay on present work. He did desire overseas posting but does not now due to the acquisition of a family. However, he strongly wishes to accompany the Squadron on any posting. He proposes to act in a manner which will bring about an improved assessment.
In October 1943, "This officer is a twin engine pilot and as such it is thought that he should take an instructor's course. Very young officer but has had over three years a F/O and as such is unhappy." November 1943: Since last R.112 was sent in, this Officer has shown considerable improvement in his interest in the Squadron." He was receiving 3s and 4s in his evaluations, out of 10. December 1943: "Recommendation for appointment to A/F/L. Above average pilot. Very keen and enthusiastic in everything that he undertakes. F/O Sage has been acting F/C for the past month and has proved that he should be promoted to the rank of A/F/L." Then he was sent to #1 Y Depot, Lachine May 1944 where he was posted overseas, arriving a month later. "A capable pilot who is a conscientious and willing worker."
Sage was at No. 61 OTU at Rednal from August 15, 1944 to October 17, 1944. He was posted then to #3 TEU. At Rednal, he was assessed. "A good average all round pilot. Attentive. Should do well with operational experience. A smart, well disciplined officer.".
November 1944: "A very good type of officer, having outstanding qualities of leadership." December 28, 1944: His evaluations were making it into the 6 and 7 out of 10. "A good and experience pilot. Would have made a good leader."
Mrs. Sage received a letter written December 27, 1944 by S/L R. G Crosby, 439 Squadron. "The Squadron was attacking targets in Germany and had just finished strafing some transport when heavy anti-aircraft fire was encountered. Your husband's aircraft [Typhoon MN894] must have been hit for it suddenly went out of control and plunged into the ground. He was not seen to bale out...As he probably told you, Ken joined us at the end of last month and already was showing promise. He was soon very popular with the rest of the pilots who respected him for both his ability in the air and his natural bent for leadership on the ground. These qualifications made him a very valuable man and I was counting on him as one of the future leaders." Only that morning, according to Hugh Halliday in Typhoon and Tempest Sage had escaped a rampaging Thunderbolt. He had nine sorties under his belt when he took a direct hit, flicked over and crashed.
Sage was identified by his blue jacket: Lt. Sage, F. and a partly burned cable transfer application and airgraph letter with his name on it. The personal effects of F/L Sage that were received by M.R.E. were almost completely burnt and illegible, and so were destroyed.
LINKS: