Maurice Preston Laycock J22035
February 25, 1923 - October 28, 1944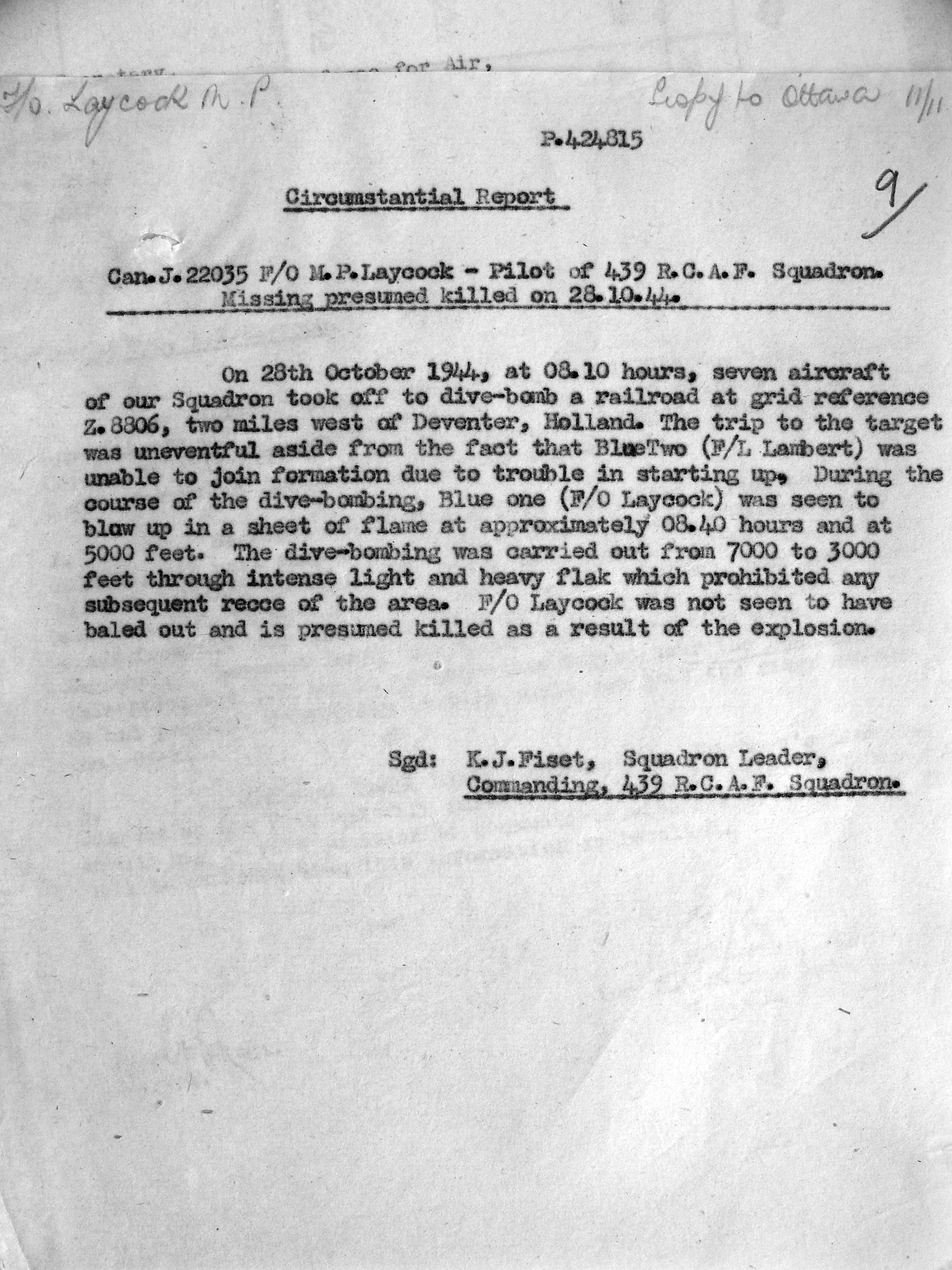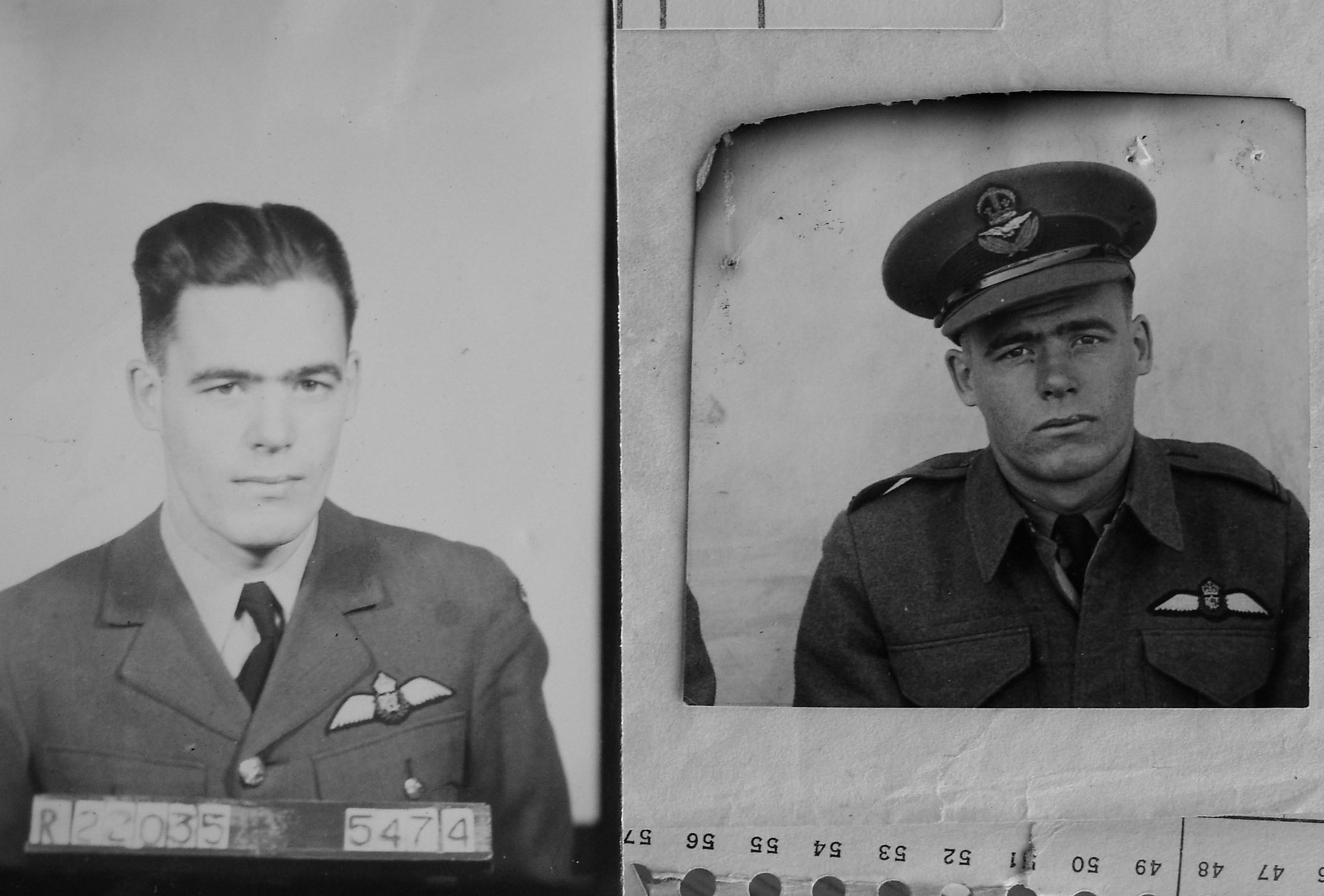 439 Squadron
Maurice Preston Laycock was the son of G. P. and S. Esma Laycock of Fairy Glen, Saskatchewan. He had three brothers, two still on the farm, and another, who joined the RCAF: F/O Walter R. Laycock, J35189. The family attended the United Church.
By October 1941, Laycock was enlisting with the RCAF. "I took all my schooling to XI at Fairy Glen, then my XII in Tisdale and I began working in the bank [Bank of Nova Scotia] immediately after exams. I do not and never have drunk or smoked." He liked hockey and tennis. He wanted to attend university after the war. He was assessed in his interview as "alert, intelligent, no tension. Negative history. Fairly aggressive and confident. Wants pilot but could take AO. Very good rural type of lad."
At No. 2 ITS: Very young, clever and cheerful, this airman finished well up in the class with very high average and a good link mark. It is felt that he is of excellent pilot material. At No. 19 EFTS: Assimilates and retains instruction well. Keen and a hard worker. General flying good average and instrument flying above average. A very good student of over average ability in Ground School. Discipline and deportment good. At No. 2 SFTS: Flying ability high average. Progressed quickly. No serious faults. Excellent appearance. Cheerful, mentally alert. Popular with fellows. Recommend for a commission. He was posted to #19 EFTS, Virden, Manitoba effective July 4, 1942 possibly as an instructor. He was later sent to 123 Squadron, Debert. His superiors wanted him to put in more effort to develop initiative and diligence, reducing mistakes, and requiring less supervision. He took this evaluation to heart and improved. He was sent overseas to 439 Squadron.
In January 1944, Laycock had a contusion on his right knee. He had been riding a bicycle and fell off! He was in treatment at the Ayr Hospital for three days.
In February 1944, Laycock was in the Ayr Hospital again. He had a dislocated rib and shoulder, with some bruising from a truck accident. He had been sitting on the side of an RAF truck when he was struck on the back by an omnibus which had passed too closely to the truck. He was unable to move his right shoulder. He remained at the hospital for a week.
In Typhoon and Tempest by Hugh Halliday, Laycock had a mid-air collision on February 7, 1944 with F/O Ronald Olaf Moen. His propeller blades were shattered, while Moen had damage to the starboard elelevator and rudder, but both pilots made it to their home base safely. Another story: On June 23, 1944, Laycock used an emergency landing strip as an opportunity to pick up a bottle of French wine.
In August 1944, he had an abrasion to his right ankle, as he had been riding a motorcycle and had an accident.
On October 28, 1944, at 0810 hours, seven aircraft from 439 Squadron took off to dive bomb a railroad at grid reference Z.8806, two miles west of Deventer, Holland. The trip to the target was uneventful. However, Blue Two (F/L Lambert, was unable to join formation due to trouble in starting up. During the course of the dive bombing, Blue One (F/O Laycock, flying Typhoon MN870) was seen to blow up in a sheet of flame at approximately 0840 hours and at 5000 feet. The dive bombing was carried out from 7000 to 3000 feet through intense light and heavy flak which prohibited any subsequent recce in the area. F/O Laycock was not seen to have bailed out, presumed killed as a result of the explosion.
November 3, 1944: S/L Fiset wrote, after Laycock's death: "A bright wide awake officer who performs his duties with a high degree of skill and cheerful willingness. His attacks against heavily defended positions were always pressed home with aggressiveness and accuracy and willing regard for personal safety." Fiset strongly recommended Laycock for temporary Flight Lieutenant. Laycock had 77 sorties, 74 of them in the last six months.
A letter dated June 7, 1945 stated that two rings, property of Laycock, were brought to a London military office by Sgt. L.G. Small, 48th Highlanders of Canada. Small stated that during the Allied advance in Holland, his unit reached the town of Twello. There, a Dutchman came to his sub-unit and gave him the rings, telling Small that a Canadian aircraft was shot down in that area and that he had taken the rings from the body of F/O Laycock, 'under the nose of the Germans.' Small said that Laycock was buried near the town of Twello. Small promised the Dutchman that he would make sure the rings were returned to Laycock's next of kin.
Laycock's grave can be found at the VOORST (TERWOLDE) GENERAL CEMETERY , Netherlands.
LINKS: