Ralph Nelson MacDonald J21003
March 13, 1922 - November 3, 1944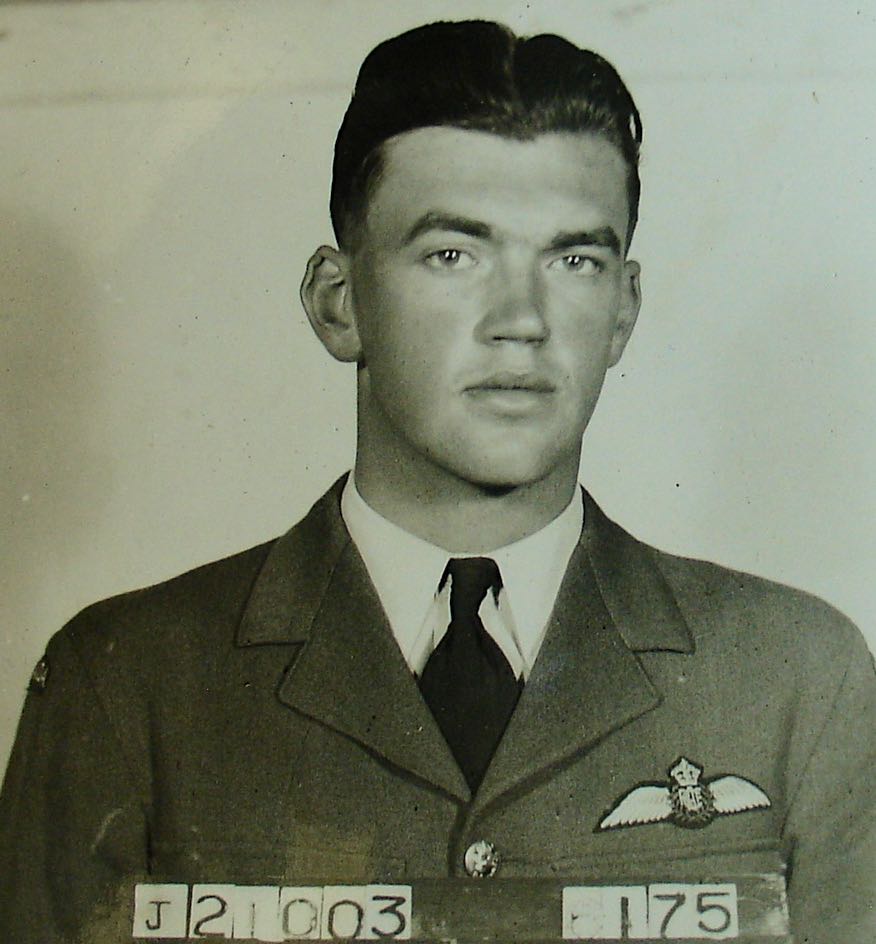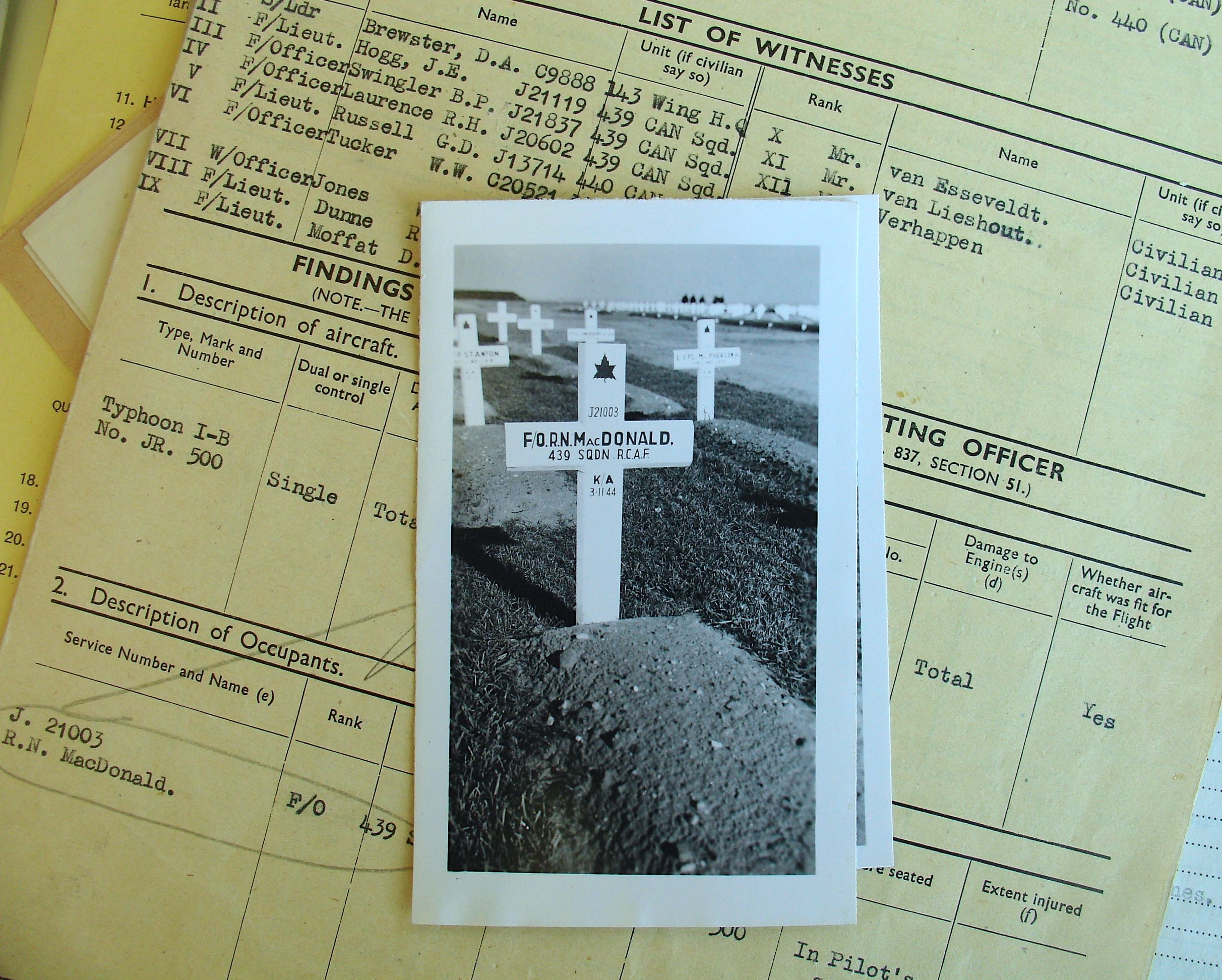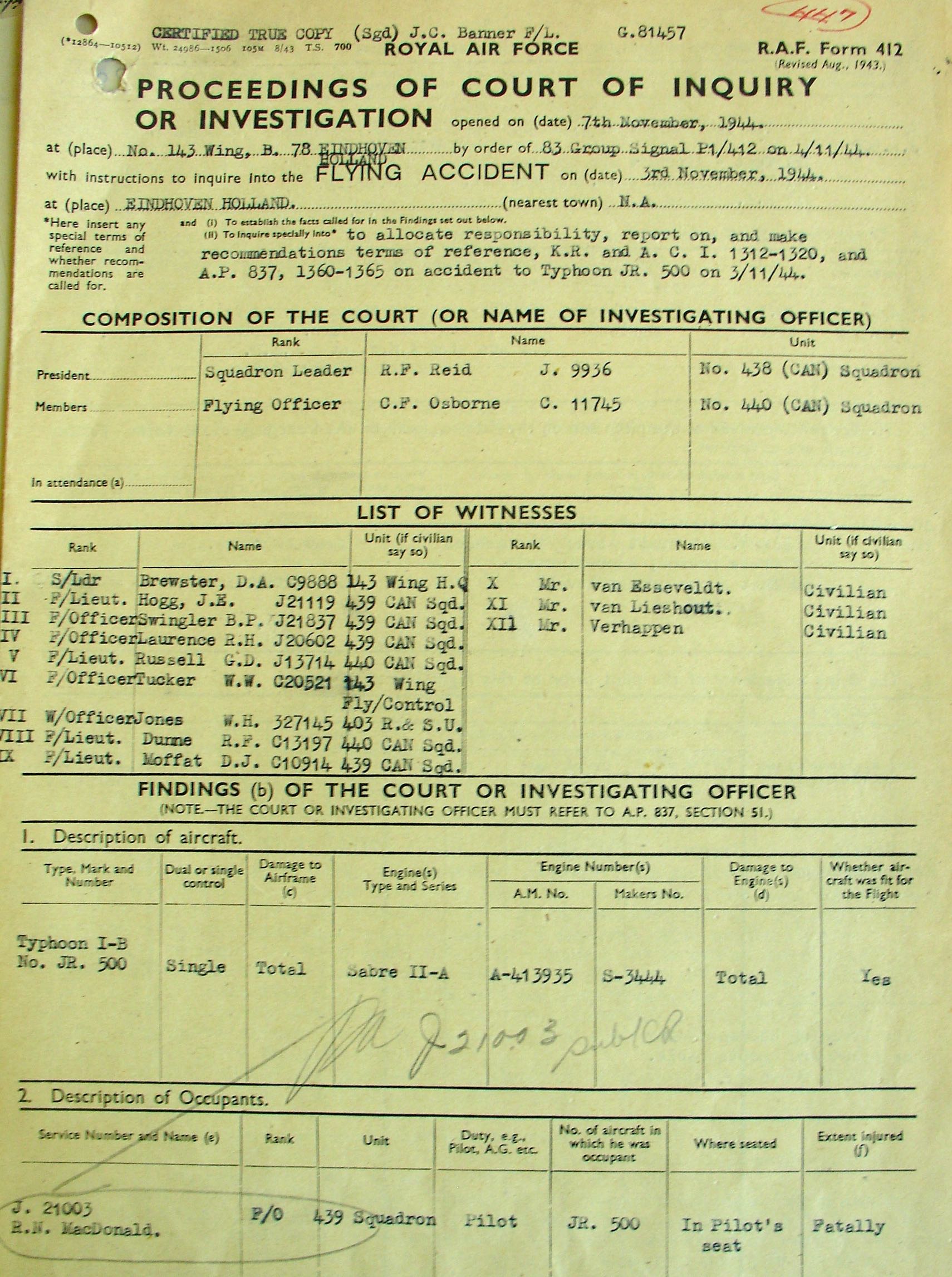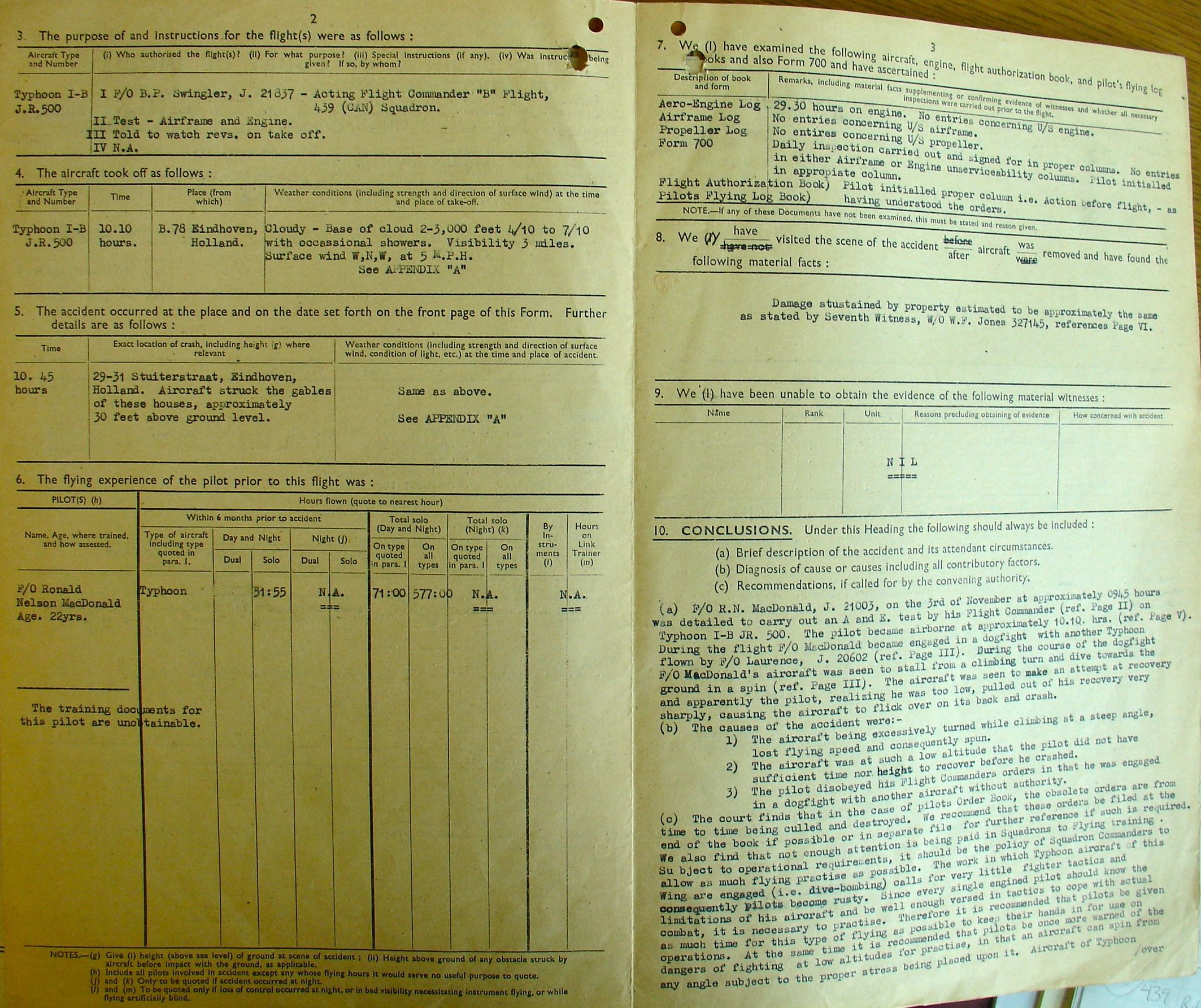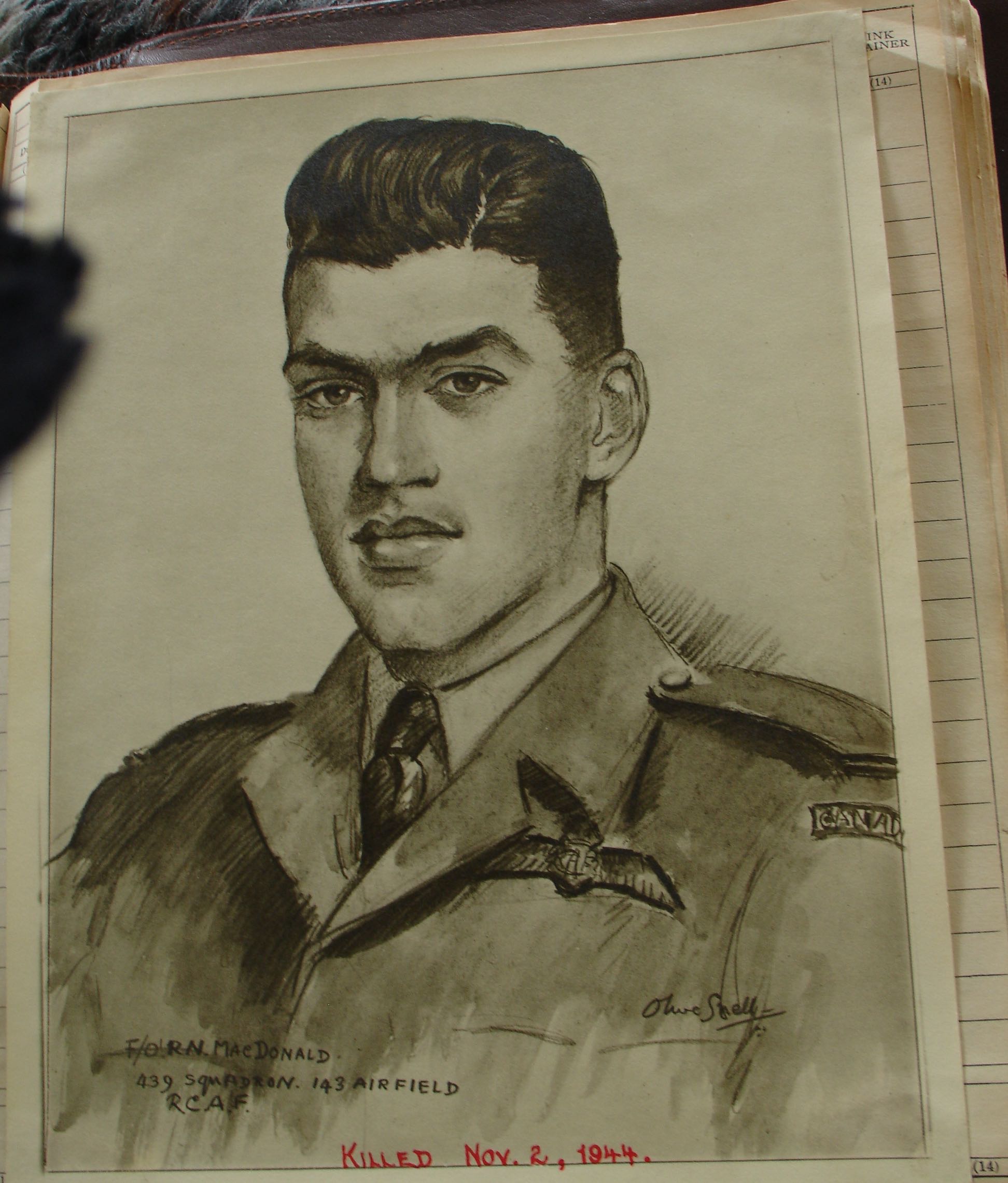 439 Squadron
Ralph Nelson MacDonald was the son of John Nelson and Ethel MacDonald, of Glace Bay, Nova Scotia. He was an employee of the Canadian Bank of Commerce in January 1941, enlisting in the RCAF, November 1941. He was assessed as having a "splendid physique, highest motivation, Christian home and background, above average intelligence (senior matriculation age 16), polite and courteous. Superior quality candidate."
He trained at St. Thomas, Ontario, Windsor Mills, and St. Hubert, Quebec where he received his wings in November 1942. He served with 123 Squadron, Debert, NS. He went overseas in August 1943, joining 439 Squadron.
"In view of the persistently poor night vision scores, the Board strongly recommends that this pilot be employed when flying is carried out mainly during daylight hours. He must wear refractive correction while flying. In view of his unaided visual acuity, attention is draw to Air Ministry letter A644436/44/M/A/2, dated March 27, 1944. Goggles will be forwarded to the unit from the contractor, Clement Clarke."
F/O W. W. Tucker, FCO, reported, "F/O MacDonald in A/C 5V/X [JR.500] took off on a A&L test at 1010 hours [on November 3, 1944]. He made a normal take off under R/T control. A/C crashed beyond vicinity of aerodrome as a result, the crash was not seen by duty controller."
During the Court of Inquiry, held in mid-December 1944, it was reported, "F/O R. N. MacDonald, J21003, on the 3rd of November at approximately 0945 hours was detailed to carry out an A and E test by his Flight Commander on Typhoon 1-B JR.500. The pilot became airborne at approximately 10.10 hours. During the flight F/O MacDonald became engaged in a dogfight with another Typhoon flown by F/O Laurence, J20602. During the course of the dogfight, F/O MacDonald's aircraft was seen to stall from a climbing turn and dive towards the ground in a spin. The aircraft was seen to make an attempt at recovery and apparently, the pilot, realizing he was too low, pulled out of his recovery very sharply, causing the aircraft to flick over on its back and crash."
S/L D. A. Brewster, CTO, 143 Wing reported: "No technical defect."
F/O R. H. Laurence reported, "I was flying behind F/O MacDonald during turn to port, he went into a dive apparently to gain speed, on approaching the ground, he appeared to pull out violently and then flick over on his back and crash into a building, bursting into flames." He added that he did not consider he was carrying out a dogfight, but rather a tail chase, which in his mind were two different things.
Error of judgement was identified as the cause of the crash. "Doing tail chase, F/O MacDonald appeared to put the nose of the aircraft to gain speed. Pilot must have pulled out of dive too quickly. Aircraft stalled and flicked onto its back, crashing into a house."
Causes of the accident:
The aircraft being excessively turned while climbing at a steep angle, lost flying speed and consequently spun.
The aircraft was at such a low altitude that the pilot did not have sufficient time nor height to recover before he crashed.
The pilot disobeyed his Flight Commander's orders in that he was engaged in a dogfight with another aircraft without authority.
"The work in which Typhoon aircraft of this Wing are engaged (i.e. dive-bombing) calls for very little fighter tactics and consequently pilots become rusty. Since every single engined pilot should know the limitations of his aircraft and be well enough versed in tactics to cope with actual combat, it is necessary to practice. Therefore, it is recommended that pilots be given as much time for this type of flyiing as possible to keep their hands in for use on operations. At the same time, it is recommended that pilots be once more warned of the dangers of fighting at low altitudes for practice, in that aircraft can spin from any angle subject to proper stress being placed upon it. Aircraft of Typhoon type are heavy and require a great deal of altitude in which to recover from spins. We allocate the responsibility for the accident to F/O R. N. MacDonald, the pilot of the aircraft, who deliberately disobeyed a Pilots Orders and his Flight Instructions in that he engaged in an unauthorized dogfight with another aircraft and during the course of the encounter, caused his aircraft to spin from a low altitude and crash before recovery could be effected, thereby causing his death." Signed: S/L R. F. Reid and F/O C. F. Osborne.
G/C P. Y. Davoud reported, "In my opinion, F/O MacDonald is to blame for the accident as he should not have started an unauthorized dogfight at low altitude. It is also obvious that he stalled his aircraft upon recovery from a steep dive. All pilots have again been warned that is is possible to stall an aircraft at practically any altitude by mishandling the control column. An order prescribing the type of flying to be done on aicraft "A" and "E" tests is not in all pilot order books."
AVM H. Broadhurst ordered a court martial for F/O Laurence and considered no further action necessary.
MacDonald was identified by the Squadron Adjutant as well as by his identity discs.
In a letter to MacDonald's family, dated November 16, 1944, S/L Fiset wrote, "Ralph was up testing an aircraft when this accident occurred. The cloud base was fairly low that day. Whilst doing a steep turn, the airspeed dropped and the aircraft flicked into a spin. Apparently, recovery was too harsh and in the meantime, the aircraft was down to a dangerously low height, when the aircraft flicked again and spun into the ground. Ralph was killed instantly."
Typhoon and Tempest by Hugh Halliday has additional information about MacDonald, pages 87, 88, 91, 101, 110, 180, and 184.
LINKS: