Royce Allen Johns J21959
1919 (Approximate) - October 5, 1944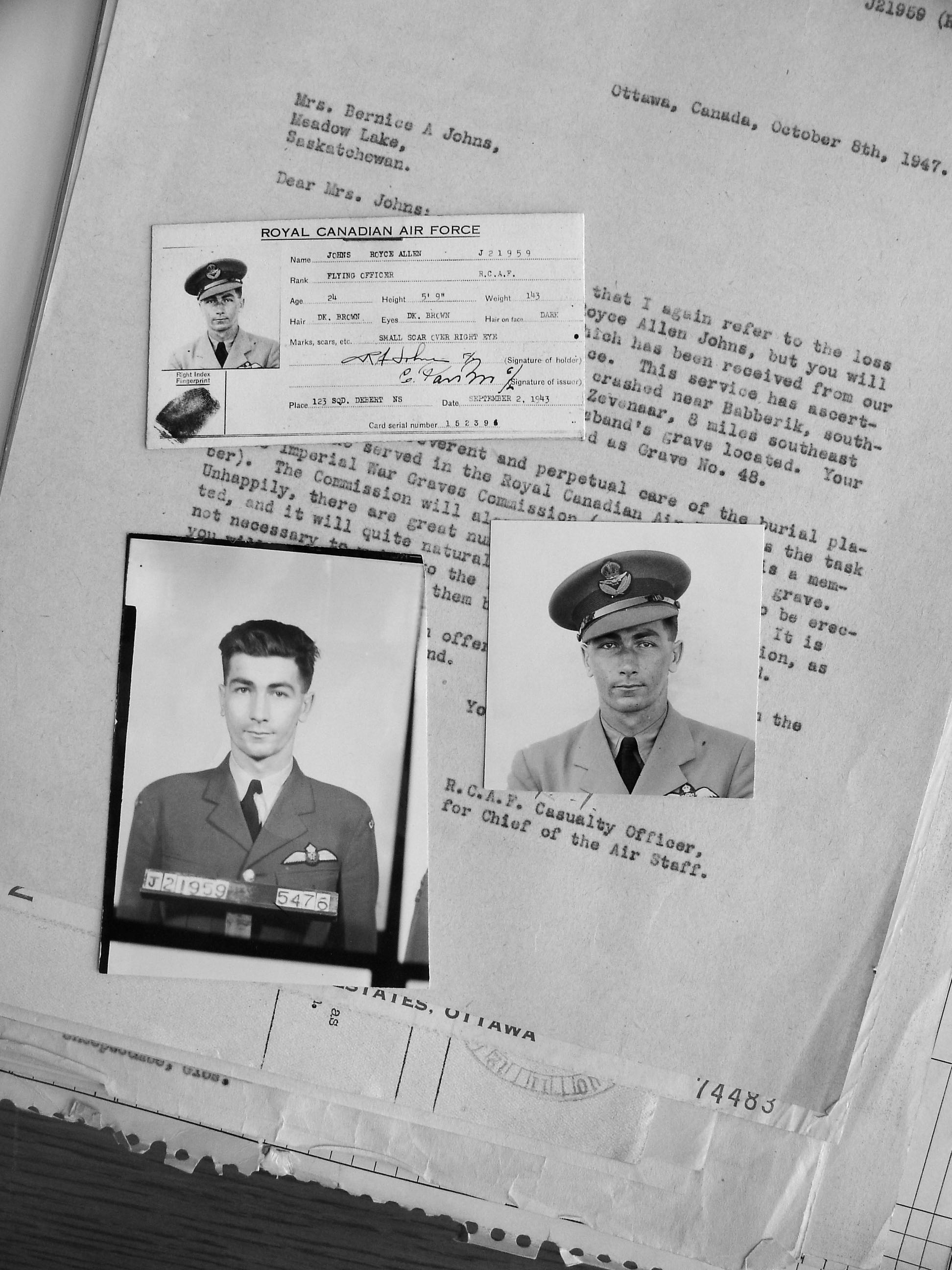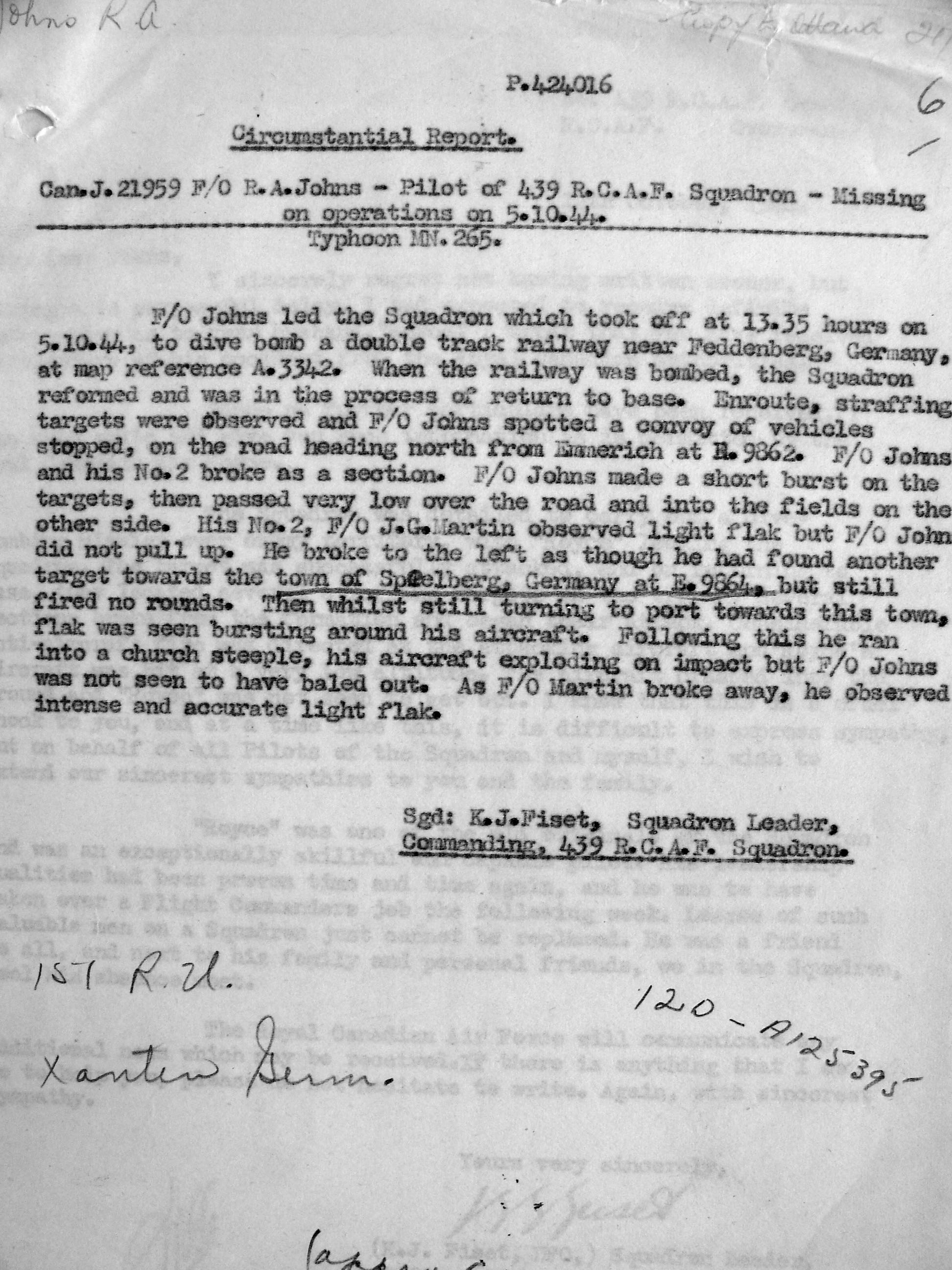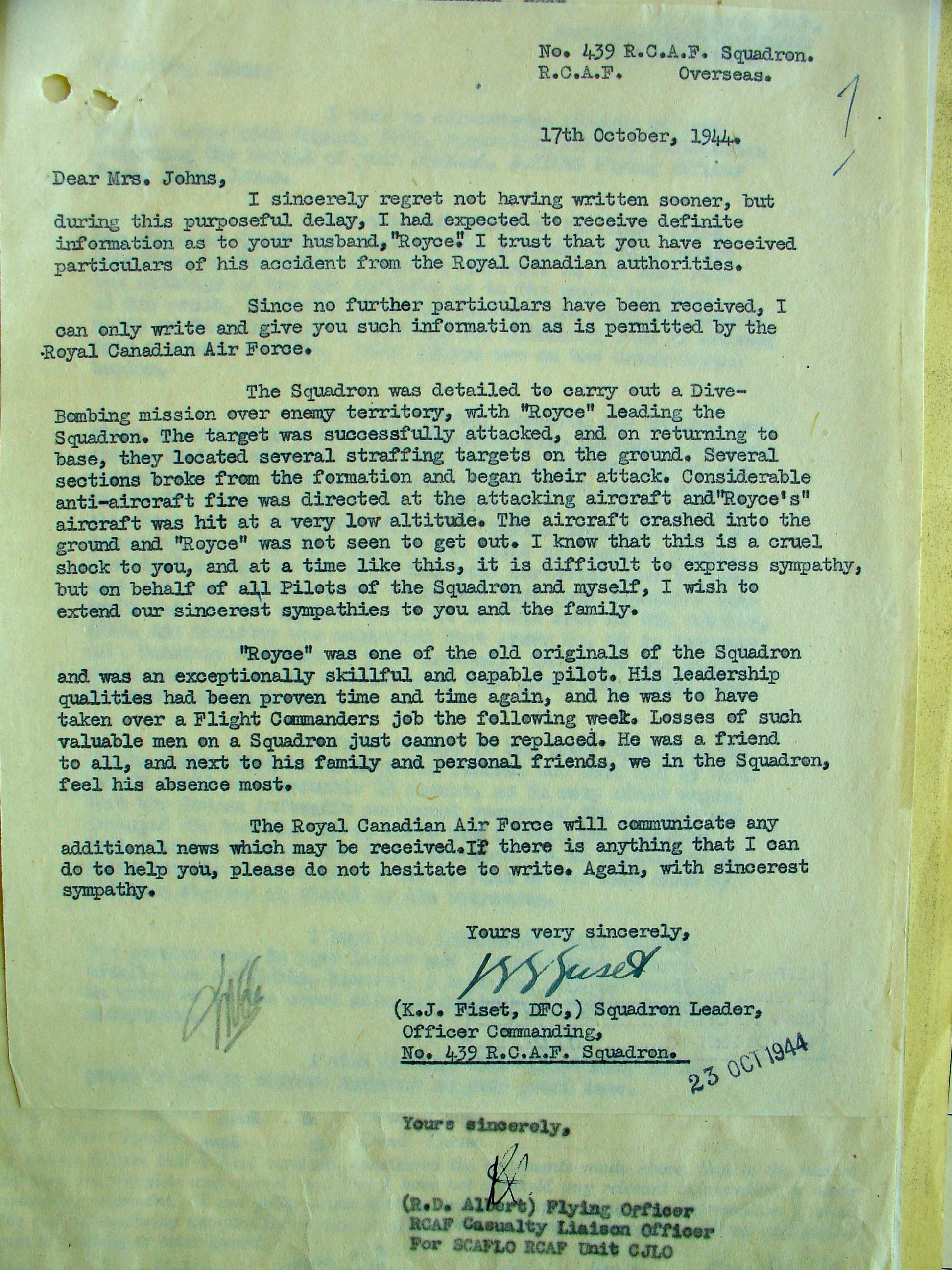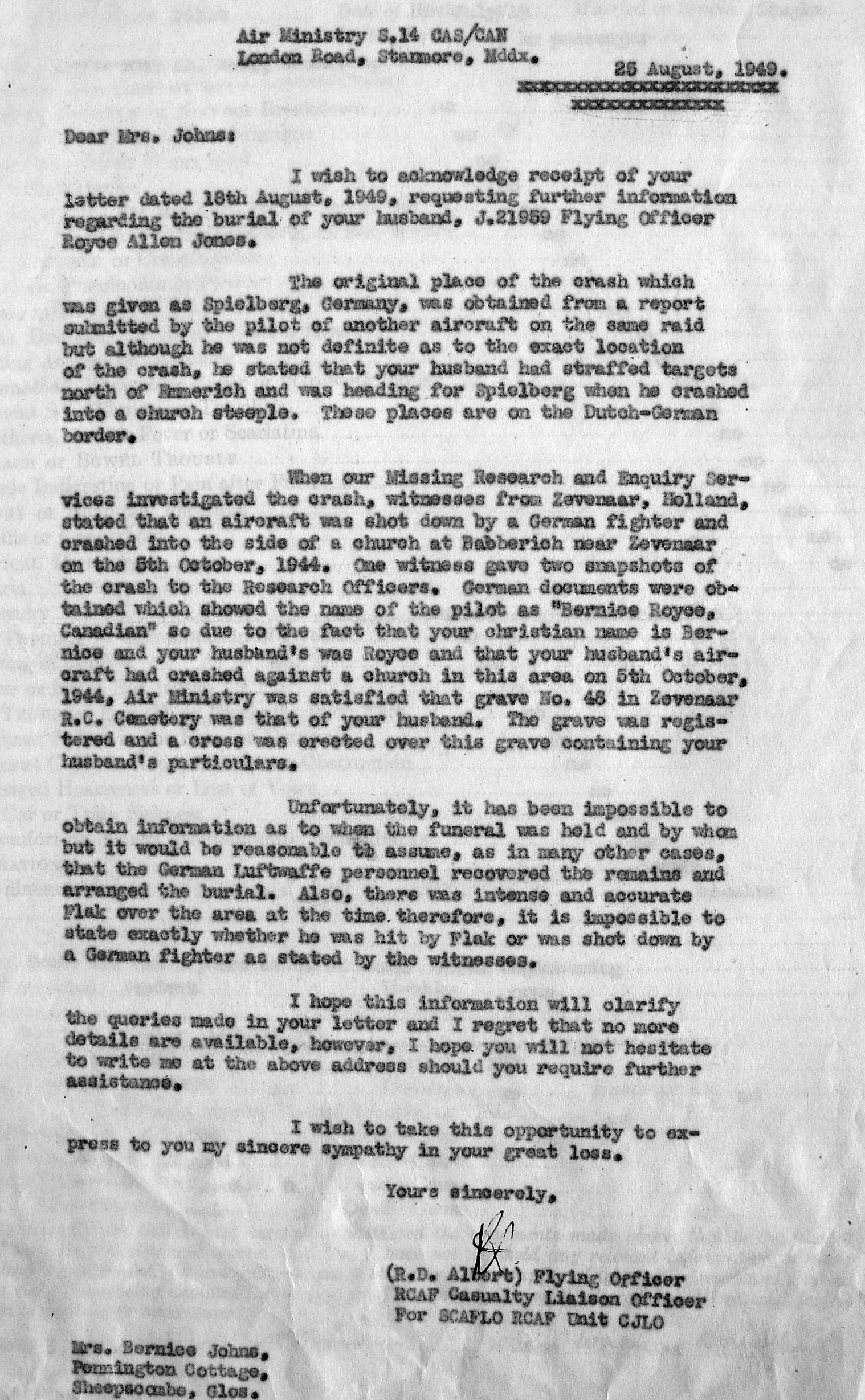 439 Squadron
Royce Allen Johns was the son of Charles and Lenora Johns. He had two younger brothers and two younger sisters. On December 29, 1942, he married Bernice Astley, of Loon Lake, Saskatchewan. Together, they had a son, Royce Frederick, born March 23, 1944.
Johns attended the University of Saskatchewan for two years, studying Engineering. He had worked as a craftsman and did some warehouse work for Northern Distributors.
At a point early in his BCATP training, in late 1941, he was assessed as "composed and co-operative. Keen and alert. Polite and mannerly. Is a university student. Good cardio-vascular neuro-muscular and respiratory efficiency. Rapid re-action time. Very desirable type of material. Fit for full flying duties. Bright and superior intelligence, pleasing personality. Wants pilot very definitely. Teeth in poor condition. Requires partial lower denture before acceptance." He was rechecked on January 3, 1942: "Upper plate satisfactory. Splendid type of young man. Above average in educational qualifications. Officer material. Good knowledge of military matters."
On October 5, 1944, F/O Johns, leading the Squadron in Typhoon MN265/MN641 (depending on the source), took off at 13.35 hours to dive bomb a double track railway near Feddenberg, Germany at map reference A.3342. When the railway was bombed, the Squadron reformed and was in the process of returning to base. Enroute, strafing targets were observed and F/O Johns spotted a convoy of vehicles stopped on the road heading north from Emmerich at H.9862. F/O Johns and his No. 2 broke as a section. F/O Johns made a short burst on the targets, then passed very low over the road and into the fields on the other side. His No. 2, F/O J. G. Martin, observed light flak but F/O Johns did not pull up. He broke to the left as though he had found another target towards the town of Spielburg, Germany at E.9864, but still fired no rounds. While still turning port towards this town, flak was seen bursting around his Typhoon. Following this, he ran into a church steeple, his aircraft exploding on impact. He was not seen to have bailed out. As F/O Martin broke away, he observed intense and accurate light flak.
On October 6, 1944, S/L Fiset wrote: "An exceptionally good pilot who was to have taken over Flight Commander's job in approximately a week. His ability to lead a squadron was very good and he had a number of successful sorties to his credit. Had a very promising career to look forward to, as he was aggressive, keen and a good leader." Johns had flown 76 sorties, of which 71 were in the past six months.
On October 17, 1944, S/L Fiset wrote to Bernice Johns. He outlined the circumstances of her husband's crash. "Royce was one of the old originals of the Squadron and was an exceptionally skillful and capable pilot. His leadership qualities had been proven time and time again and he was to have taken over a Flight Commander's job the following week."
F/O R. D. Albert, RCAF Casualty Liaison Officer, wrote a letter to Mrs. Bernice Johns. Bernice had hoped for more information about her husband's grave, wanting to visit Zevenaar, which she did. She hired an interpreter and completed personal interviews of many witnesses regarding her husband's crash. She was given a small bayonet leather holder and a watch strap by one of the witnesses who had taken them as souveniers; she had hoped to recover a watch, but it was not found. Albert wrote, "When our Missing Research and Enquiry Services investigated the crash, witnesses from Zenenaar, Holland stated that an aircraft was shot down by a German fighter and crashed into the side of a church at Babberich near Zevenaar on the 5th October 1944. One witness gave two snapshots of the crash to the Research Officers. German documents were obtained which showed the name of the pilot at "Bernice Royce, Canadian" so due to the fact that your christian name is Bernice and your husband's name was Royce and that your husband's aircraft had crashed against a church that grave No. 48 in Zevenaar R.C. Cemetery was that of your husband. The grave was registered and a cross was erected over this grave containing your husband's particulars. Unfortunately, it has been impossible to obtain information as to when the funeral was held and by whom, but it would be reasonable to assume, as in many other cases that the German Luftwaffe personnel recovered the remains and arranged the burial. Also there was intense and accurate flak over the area at the time, therefore, it is impossible to state exactly whether he was hit by flak or was shot down by a German fighter as stated by the witnesses."
Additional information about Johns can be found the Typhoon and Tempest by Hugh Halliday, pages 56, 66, 67, 87, 128, 186.
LINKS: