Stafford Marlatt J16113
1915 (Approximate) - Unknown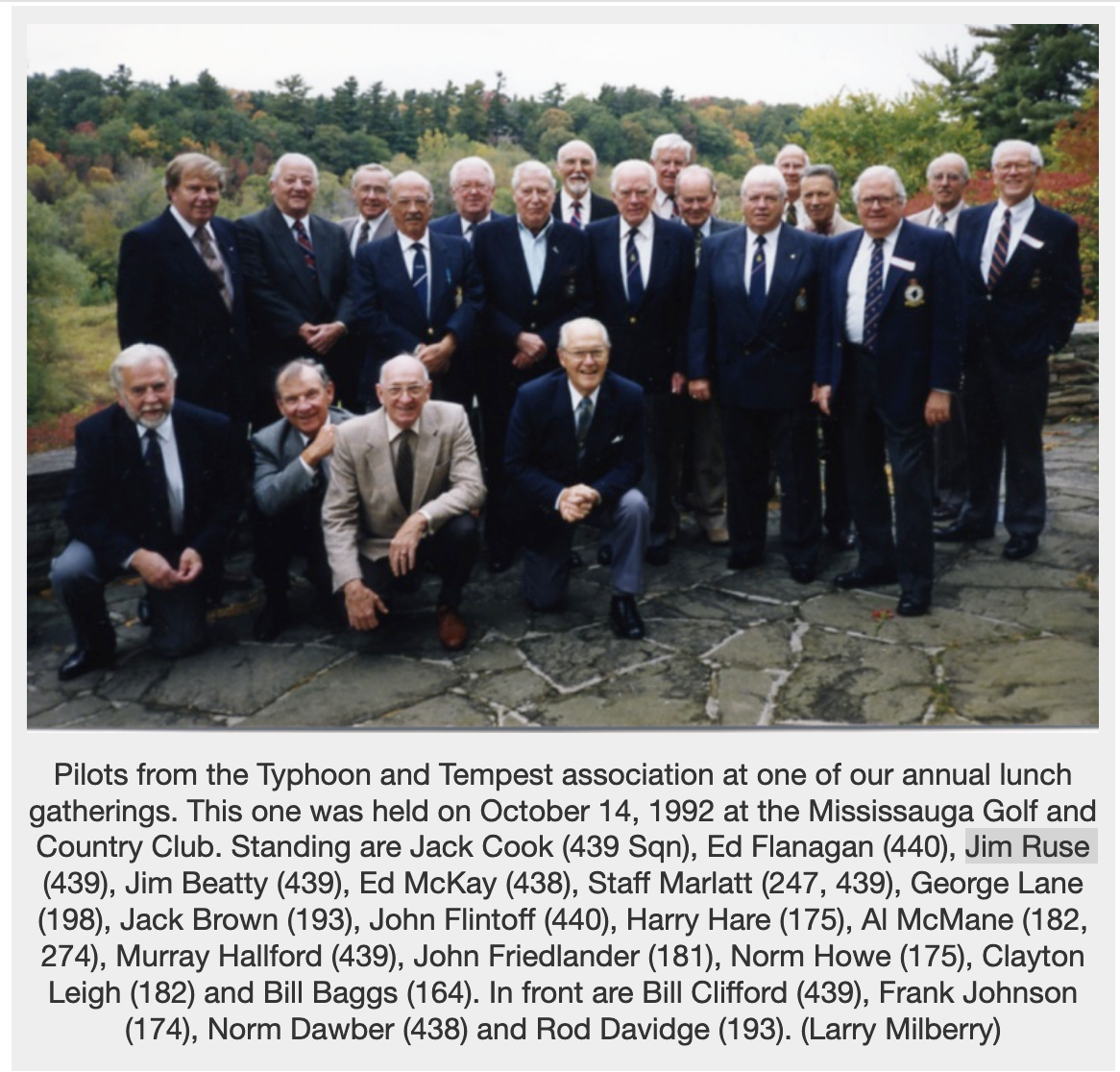 439 Squadron
From the 439 Squadron Website:
MARLATT, F/L Stafford Dean (J15113) - Distinguished Flying Cross - No.439 Squadron - Award effective 10 July 1945 as per London Gazette dated 24 July 1945 and AFRO 1619/45 dated 19 October 1945. Born in 1915, Oakville, Ontario; home there. Former clerk and member of the Royal Canadian Artillery. Enlisted in Toronto, 16 October 1940; commissioned 1942. Trained at No.2 ITS (graduated 23 December 1940), No.12 EFTS (graduated 21 February 1941), and No.1 SFTS (graduated 16 May 1941). Commissioned 1942. Medal presented 9 April 1948. DHist file 181.009 D.1636 (RG.24 Vol.20604) has application for Operational Wings dated 9 February 1944 from J15113 F/O S.D. Marlatt claiming approximately 100 operational hours, night fighting and day offensive sweeps, with No.247 Squadron (Typhoons), 15 September 1941 to 30 October 1943.
On his first tour of operations, this officer completed numerous bomber escort and night fighter sorties. Since joining his present squadron he has been occupied mainly with attacks on the railway and transport system of Germany and in armed reconnaissance work. Flight Lieutenant Marlatt has also taken part in close support missions during which he has achieved outstanding results. In support of the Rhine crossing he was engaged in harassing German communications, artillery concentrations, and troops, and in the latter stages of the war he participated in anti-shipping operations. As a flight commander he showed great ability and leadership and was materially responsible for the consistently good results achieved by his squadron.
In an RCAF Press Release dated April 26, 1945: "The City of Westmount squadron attacked oil cars south of Lubeck and set six of ten ablaze. The attack was led by Flying Officer Frederick Marlatt of 26 Navy Street, Oakville, Ontario. This stationary train had been cannoned after the squadron had made three cuts in the railway line immediately north."
For more information and photos of Marlatt, please consult Typhoon and Tempest by Hugh Halliday.