William Kenneth Scharff J7814
July 25, 1920 - August 19, 1944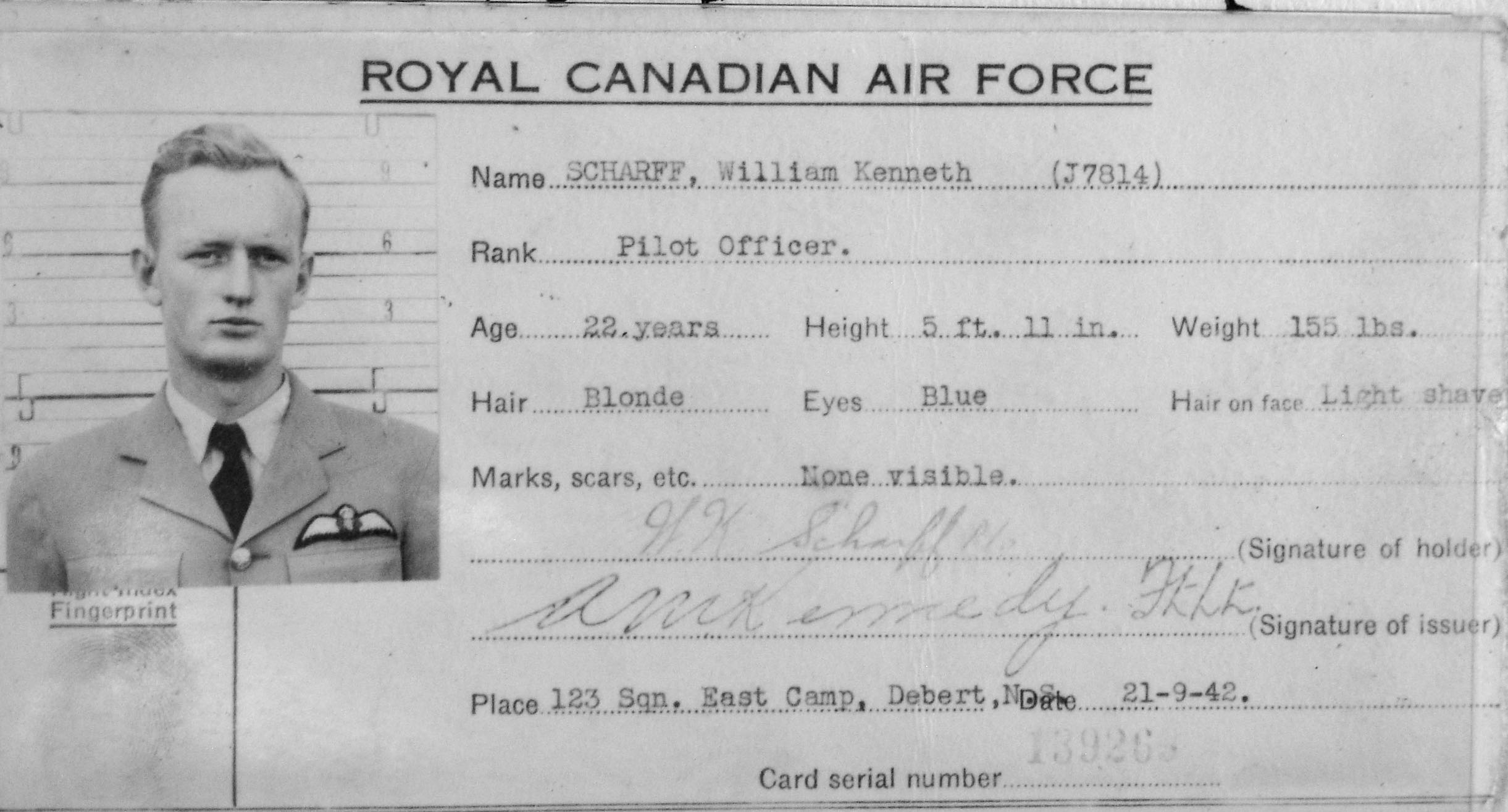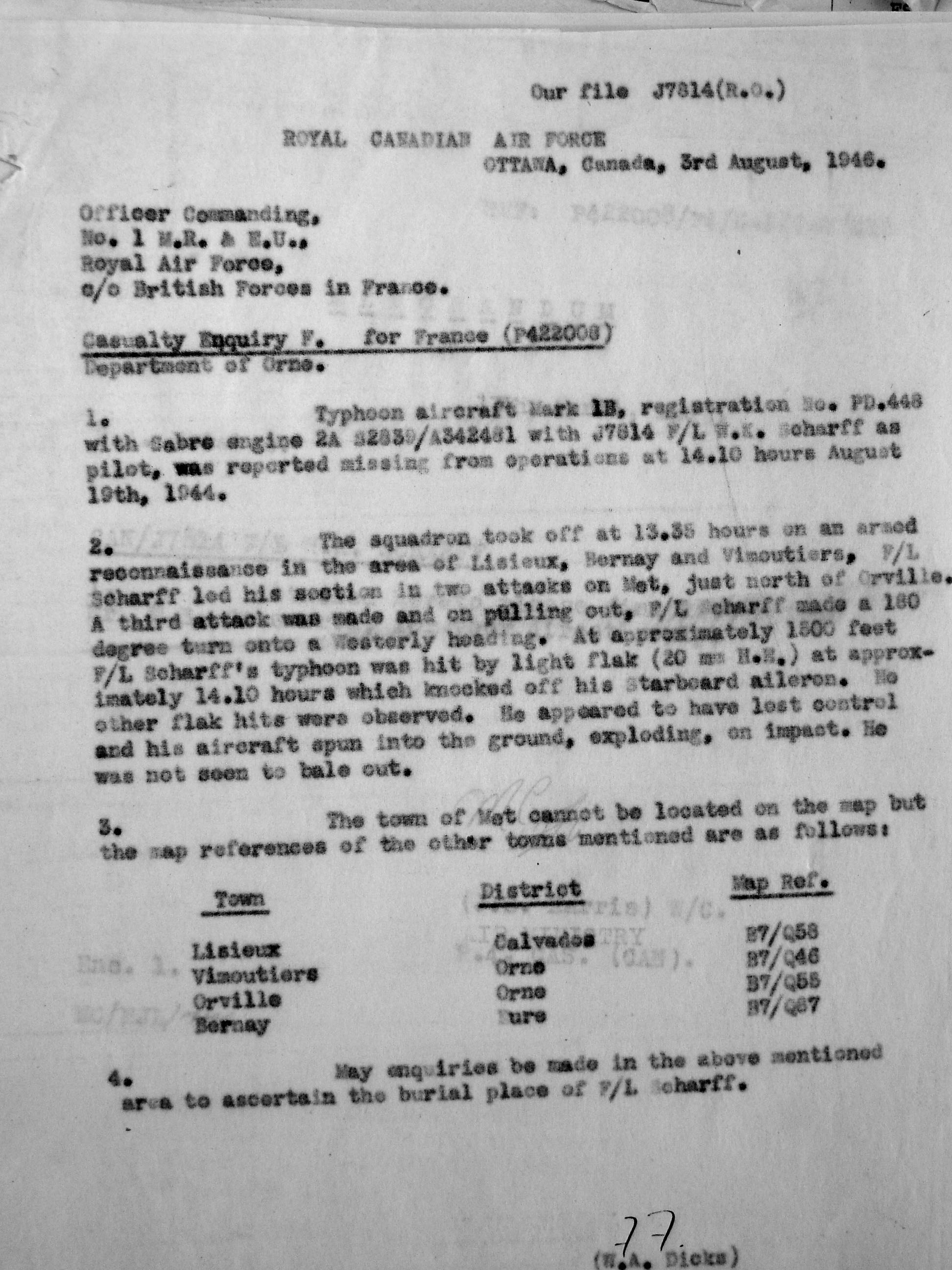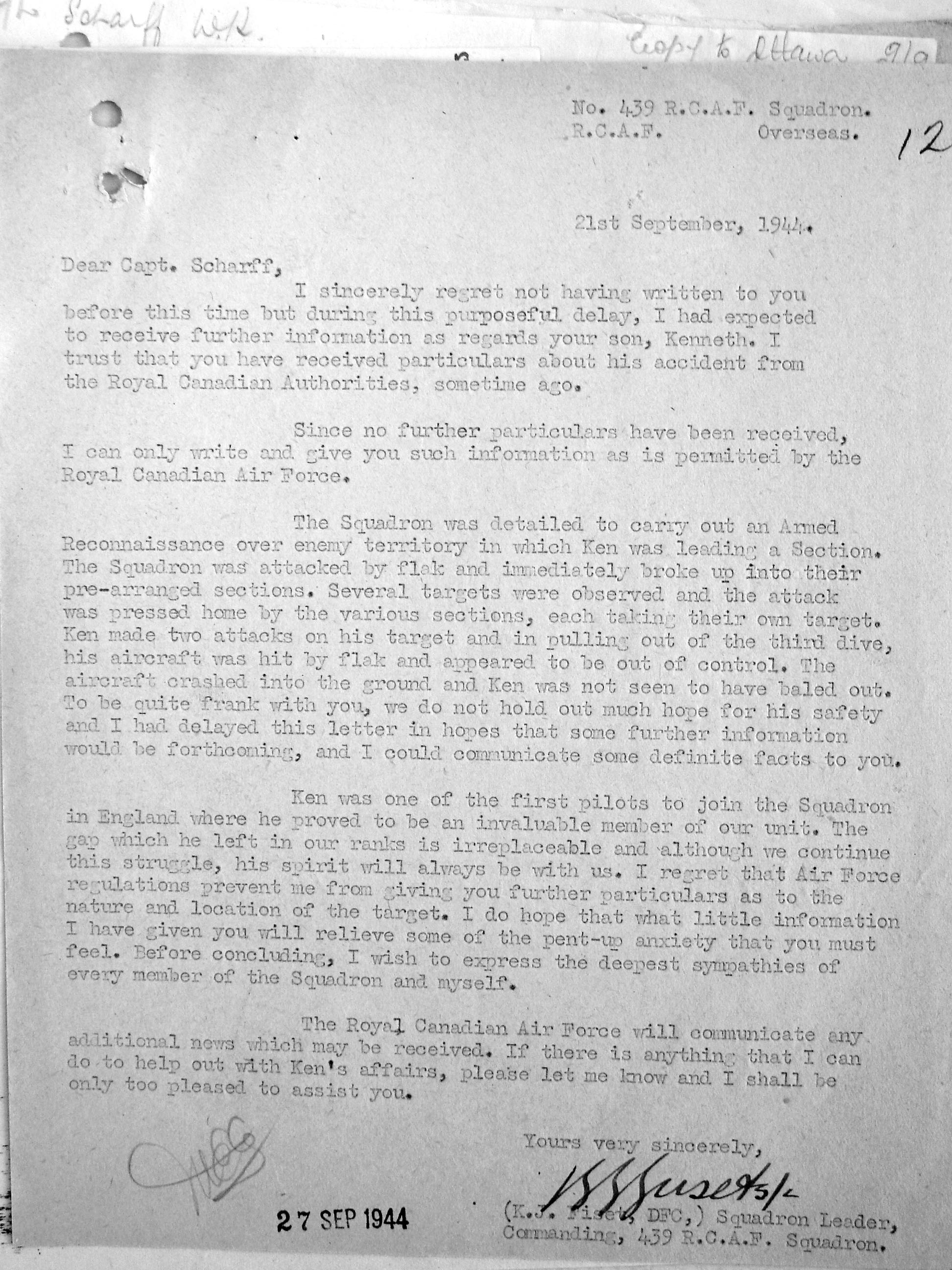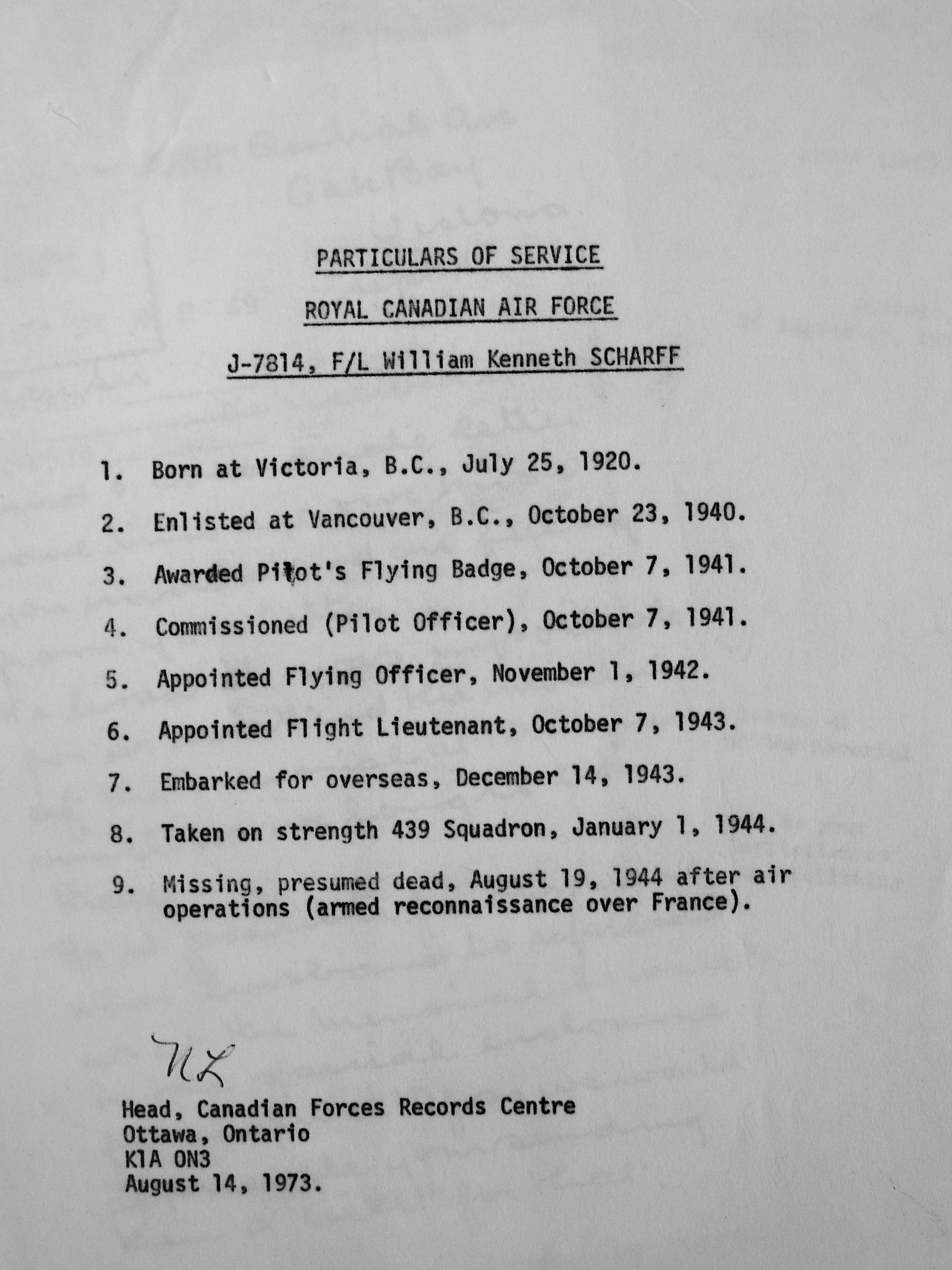 439 Squadron
William Kenneth Scharff was the son of Captain Charles 'Charlie' Ridley and Grace Scharff, Oak Bay, in Victoria, BC. His aunt was Lady Lomas-Walker, Harrogate, Yorkshire. He had one sister. He stood 5'11" tall, weighed 155 pounds, had blue eyes and blonde hair. He was an unemployed student when he enlisted with the RCAF. He wanted to finish university and become an architect after the war ended. On May 30, 1940, he wrote, "I have taken two special courses in mechanical draughting and a course in solid geometry. I am very keen on flying." If he had been selected for Ground Duties, he said he preferred Engineering Draughting. He had a driver's license.
In November 1940 at the Vancouver RCAF Recruiting Centre, his summary indicated, "Excellent material. Very good education. Had built his own sailing boats. Very aggressive. Very well recommended."
In March 1941, he was assessed, "Nervous. Pulse at one time during exam increased considerably. Rather immature. Would perhaps become confused rather easily, but may gain assurance if properly handled. Unimpressive." Further assessment, "Wants to be fighter pilot. Reserved."
He was accepted into the RCAF. At No. 1 ITS, April 1941: "Dependable, dogged, intelligent type of airman. Deportment good. Put on fine show at this school and will never let anyone down. Second Aircrew Recommendation: Air Observer." He was 50 out of 63, with an 83% overall mark. At No. 3 EFTS, London, Ontario: July 7, 1925, he was second in his class out of 28. He earned an 80% overall. "Self confident, bright and intelligent. Conduct and deportment above average."
In October of 1941, he was evaluated, "Intelligent but inclined to be erratic and over voluable." Scharff signed the document, aware of his commanding officers' evaluations. He was awarded his Pilot's Flying Badge as well as his commission on October 7. On December 10, 1941, he was at the School of Army Co-operation at Rockcliffe, Ottawa, Ontario.
Scharff embarked for overseas on December 14, 1943 and taken on strength with 439 Squadron on January 1, 1944.
The Squadron took off at 13.35 hours on an armed reconnaissance in the area of Lisieux, Bernay and Vimoutiers. Scharff led this section in two attacks on MET, just north of Orville. A third attack was made and on pulling out, Scharff made a 180 degree turn onto a westerly heading. At approximately 1500 feet, Scharff's Typhoon was hit by light flak (20 mm HE). This knocked off his starboard aileron. He appeared to have lost control of his aircraft, spinning into the ground, exploding on impact. He was not seen to bail out.
A letter written by S/L Fiset on September 21, 1944 to Mr. and Mrs. Scharff told them about the circumstances of their son's death. "Ken was one of the first pilots to join the Squadron in England where he proved to be an invaluable member of our unit. The gap which he left in our ranks is irreplaceable and although we continue this struggle, his spirit will always be with us."
On January 30, 1945, a letter from the RCAF's Overseas Headquarters indicated that a CBC War Correspondent, Bill Herbert, had interviewed F/L Scharff. It was dubbed onto a cardboard disc, for use on a gramaphone. The dubbing was shipped to the Radio Liaison Officer in Canada with a request it be turned over to Mr. and Mrs. Scharff. Scharff's friend, F/L Prendergast had heard this interview broadcast on or about August 11, 1944.
Scharff's mother requested more information about her son's Leica camera, snapshots and photographs, as well as a pair of chamois gloves.
Scharff has no known grave and his name is on the Runnymede Memorial.
LINKS: