William Lee Saunders J22803
1922 (Approximate) - December 3, 1944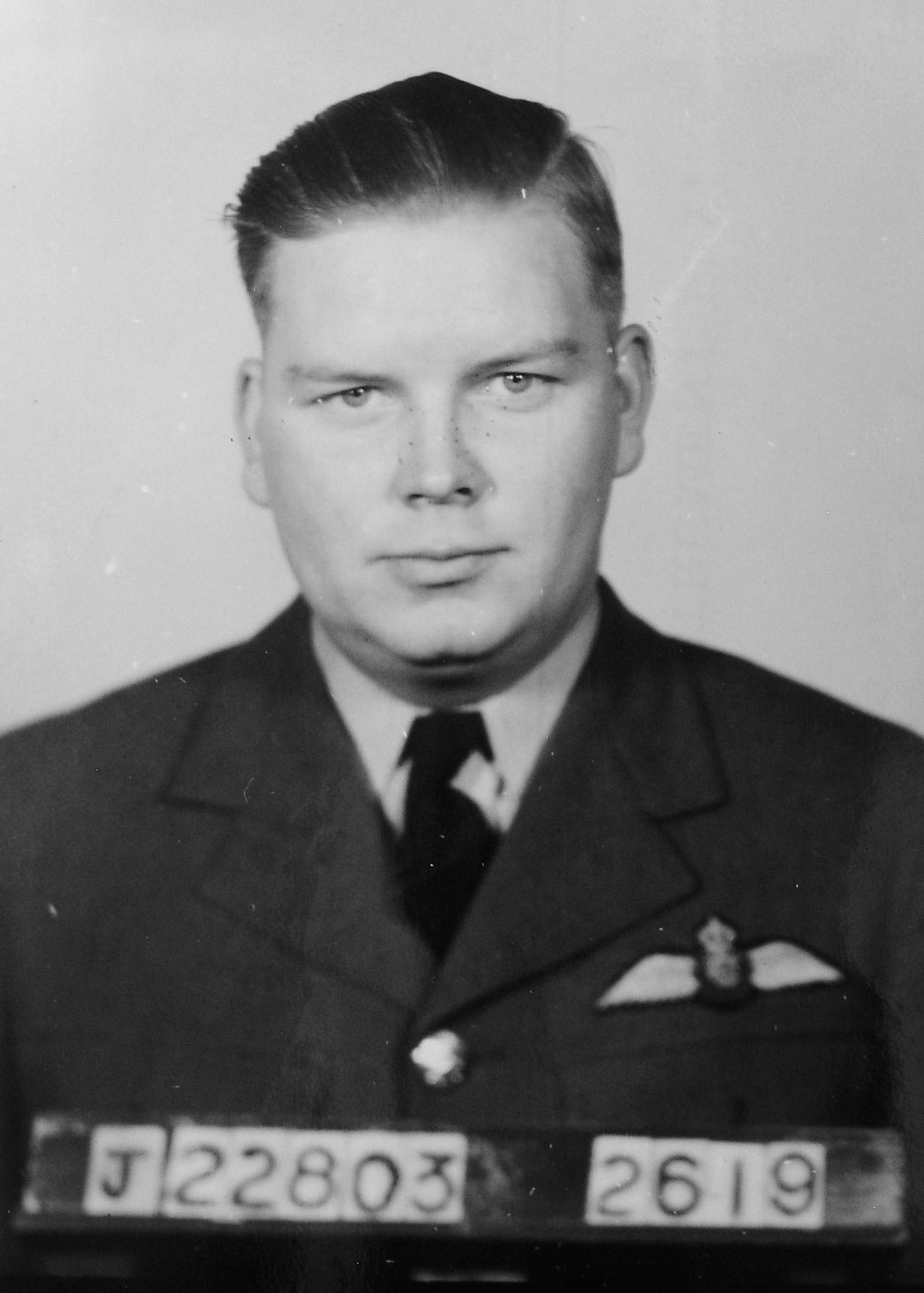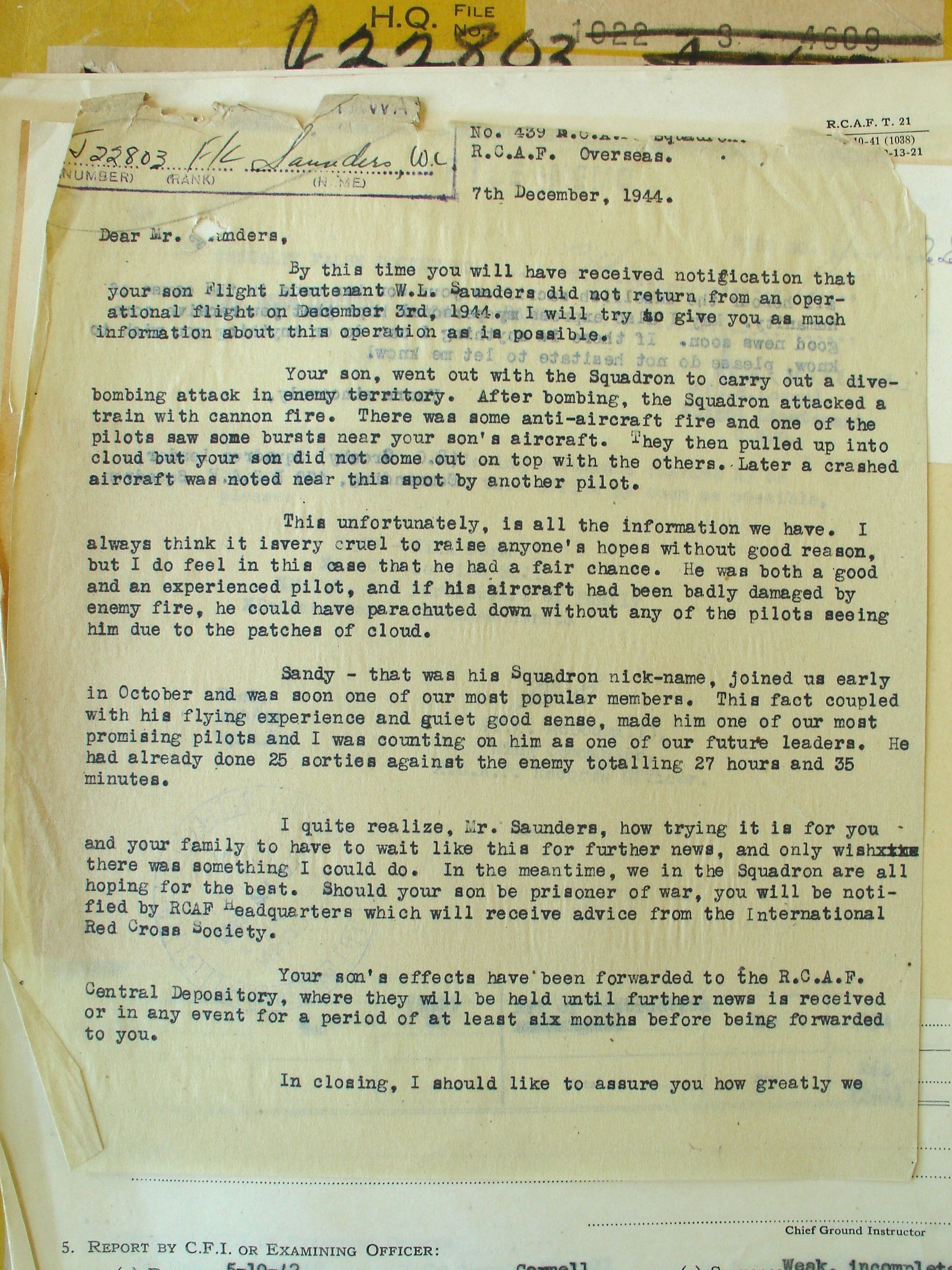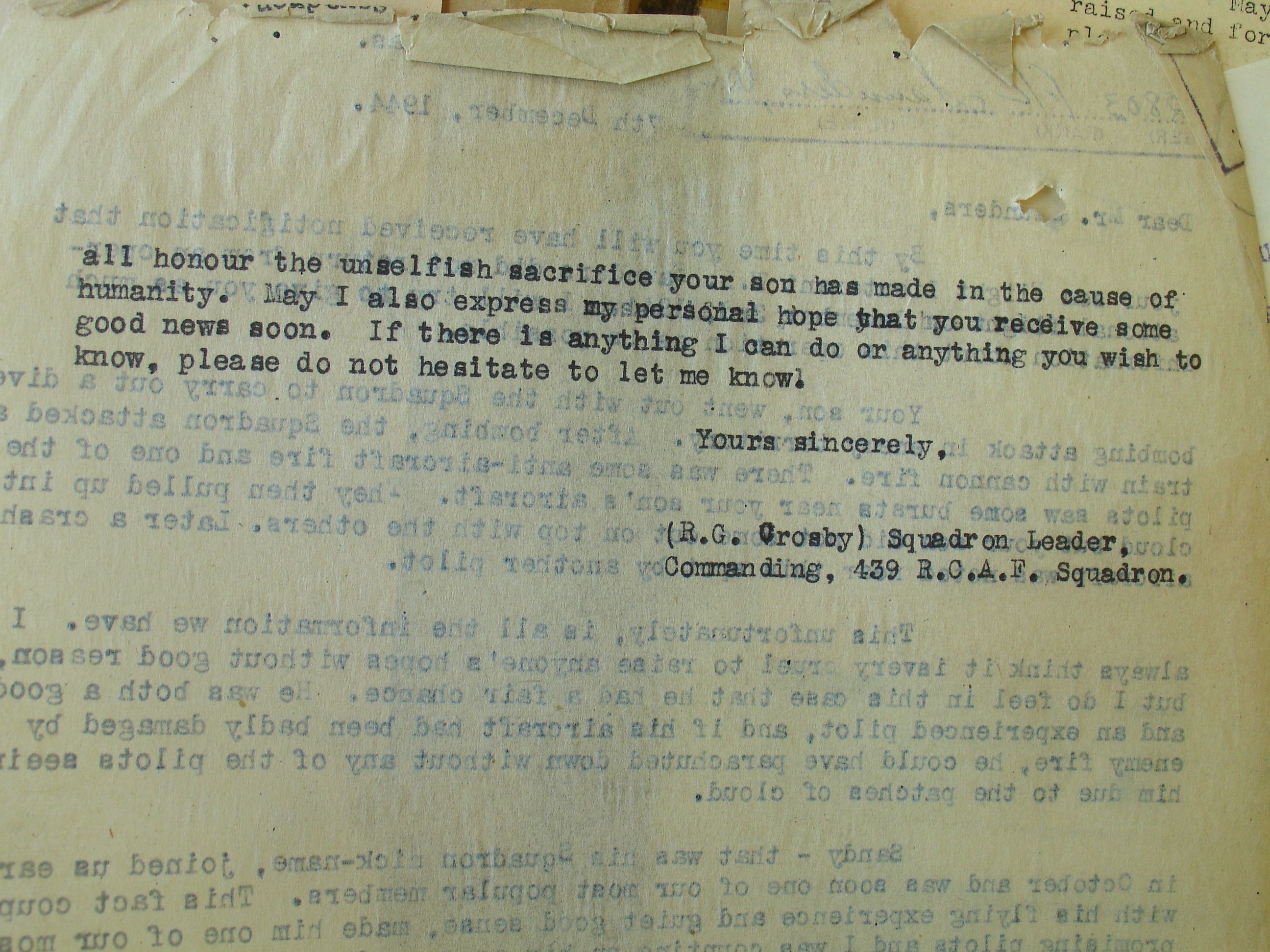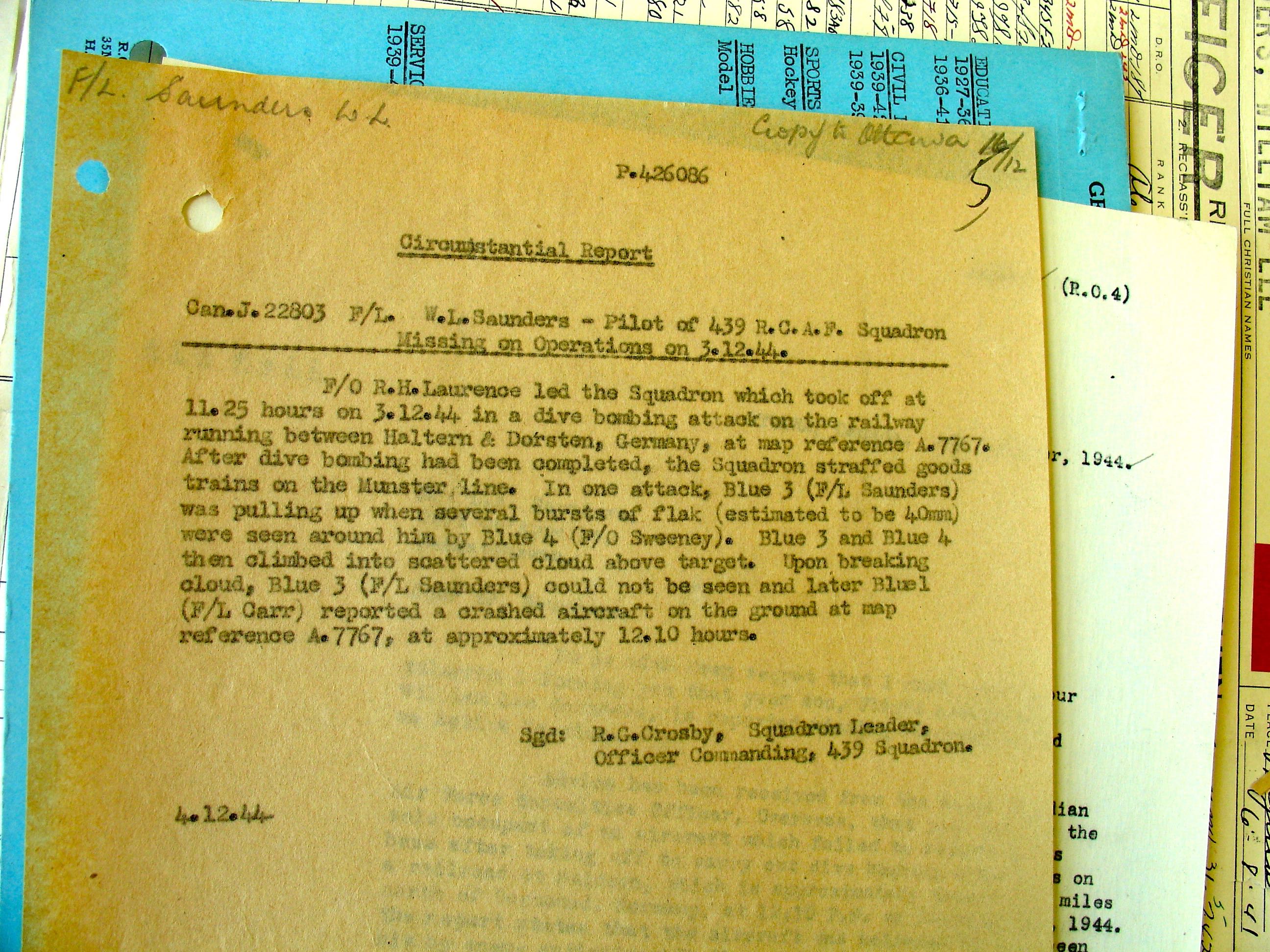 439 Squadron
Early in January 1941, William Saunders, the youngest child of Laun and Millie Saunders, enlisted in Regina, making the trip of almost 75 kilometres from his home in Fort Qu'Appelle, Saskatchewan. He had worked in his father's general store and wanted to return to university and take up medicine after the war. he had one brother overseas and two sisters.
On January 28, 1941 Saunders had a medical exam. It was incomplete. Noted: pulse rapid. He returned for a second medical exam. His pulse was still rapid and he had high blood pressure. The doctor noted William was overweight by 37 pounds but was a good, intelligent type. In early August, William went in for a third exam, but his blood pressure and pulse had improved when he was relaxed. He was considered fit, but still overweight. The doctor noted 'doubtful ocular muscle balance' and was assessed A3B. A1B borderline.
He was sent to #4 ITS in Edmonton between November 1941 and January 1942 to start his training under the BCATP. He graduated, but was in the lower 50% of the class. He was recommended for further training as a pilot or wireless air gunner. Then he transitioned to #5 EFTS in High River, his rating as average. From April to July 1942, he went to #12 SFTS at Brandon, Manitoba. By this time, he was rated as 'above average instrument rating.' From there, he was sent to Arnprior, Ontario to attend #3 FIS, then sent back to instruct.
Saunders was an instructor at #6 EFTS at Prince Albert, Saskatchewan and then at #4 SFTS located in Saskatoon, Saskatchewan in 1943. He was rated as a very good instructor and could be completely depended upon at all times to carry out his duties in a most efficient manner. He was said to have had 'an exceptionally pleasant personality.'
In November 1943, he was on a boat bound for England. He started training on Hurricanes at No. 5 AFU and was there from March 28, 1944 to June 1944. He scored 64% on his flying tests and assessment of qualities of character and leadership: 60%. He was moderately suitable for a position as a flying instructor. 'A young officer who is keen and should do well. He is an average pilot with no special flying faults. Formation, night flying and navigation are average and he has flown Hurricanes at this unit. Air gunnery average. Line and deflection need improving before he becomes a sound marksman.'
Then he went to No. 61 O.T.U. from June 20, 1944 to August 22, 1944. Here he trained on Spitfires, but his rating for high dive-bombing was considered somewhat below average. Ground examinations: 75%. Flying Tests: 51%. Assessment of qualities of character and leadership: 60%. He was below average on high dive bombing, below average on air/air and average on air/ground. "An average pilot with somewhat slow reactions. Has worked hard on this course. Cooperative and reliable officer."
From here, he went to No. 3 Tactical Evaluation Unit to learn about the Typhoon. On October 2, 1944, he officially joined 439 Squadron. Later in November, S/L Fiset wrote: "This pilot should do well with ops experience." By this time, Saunders had had 16 sorties, 17:05 hours in the last six months.
December 3, 1944: Typhoon MN 348 piloted by F/L W. L. Saunders (Blue 3) left the base at 11.25 hours on the 3rd of December 1944 to carry out a dive-bombing attack on the railway running between Haltern and Dorsten, Germany. This attack was carried out and the Squadron in which he was flying, then proceeded to strafe goods trains on the Munster line, however, as F/L Saunders was pulling up from an attack in scattered cloud above the target, flak was seen to burst around the aircraft by an accompanying pilot, after which nothing further was seen or heard of F/L Saunders. Another pilot of the same Squadron reported a crashed aircraft at Buldern, Germany, which is, located 24 miles due north of Dormund, Germany at 12:10 hours on December 3, 1944. This was assumed to be the wreckage of Typhoon aircraft MN348. A report indicated the Typhoon dived into the ground.
Another report stated, "Little remains of the aircraft. Aircraft exploded in mid-air. Remains thought to be those of Typhoon. No trace of pilot who is reported not to have baled out." Saunders had only been flying Typhoons for eight weeks before he was killed.
A letter written by S/L R.G. Crosby to Mr. Saunders, dated December 7, 1944 : "Your son went out with the squadron for dive bombing attacks in the enemy territory. After bombing, the squadron attacked a train with cannon fire. There was some anti-aircraft fire and one of the pilots saw some bursts near your son's aircraft. They then pulled up into a cloud that your son did not come out on top with the others. Later a crashed aircraft was noted near the spot by another pilot. This, unfortunately is all the information we have. I always think it is very cruel to raise anyone's hopes without good reason, but I do feel in this case that he had a fair chance. He was both a good and experienced pilot, and that his aircraft had been badly damaged by enemy fire, he could have parachuted down without any of the pilots seeing him due to the patches of cloud. Sandy, that was his squadron nickname, joined us early in October and was soon one of our most popular members. This fact coupled with his flying experience in quiet good sense, made him one of our most promising pilots and I was counting on him as one of our future leaders. He had already done 25 sorties against the enemy totaling 27 hours and 35 minutes." Crosby continued his letter to say that he was hopeful for the best and possibly Sandy might be a prisoner of war. He also expressed his personal hope that Mr. Saunders would receive some good news soon.
Saunders's body was reinterred in the Reichswald Forest British Military Cemetery by July 1947.
In the 2002 fall issue of Airforce magazine, freelance writer Wayne Saunders, no relation to William "Sandy" Saunders, wrote an article, pages 50 - 54.
LINKS: