Alfred William Edward Sugden J90713
May 12, 1918 - December 3, 1944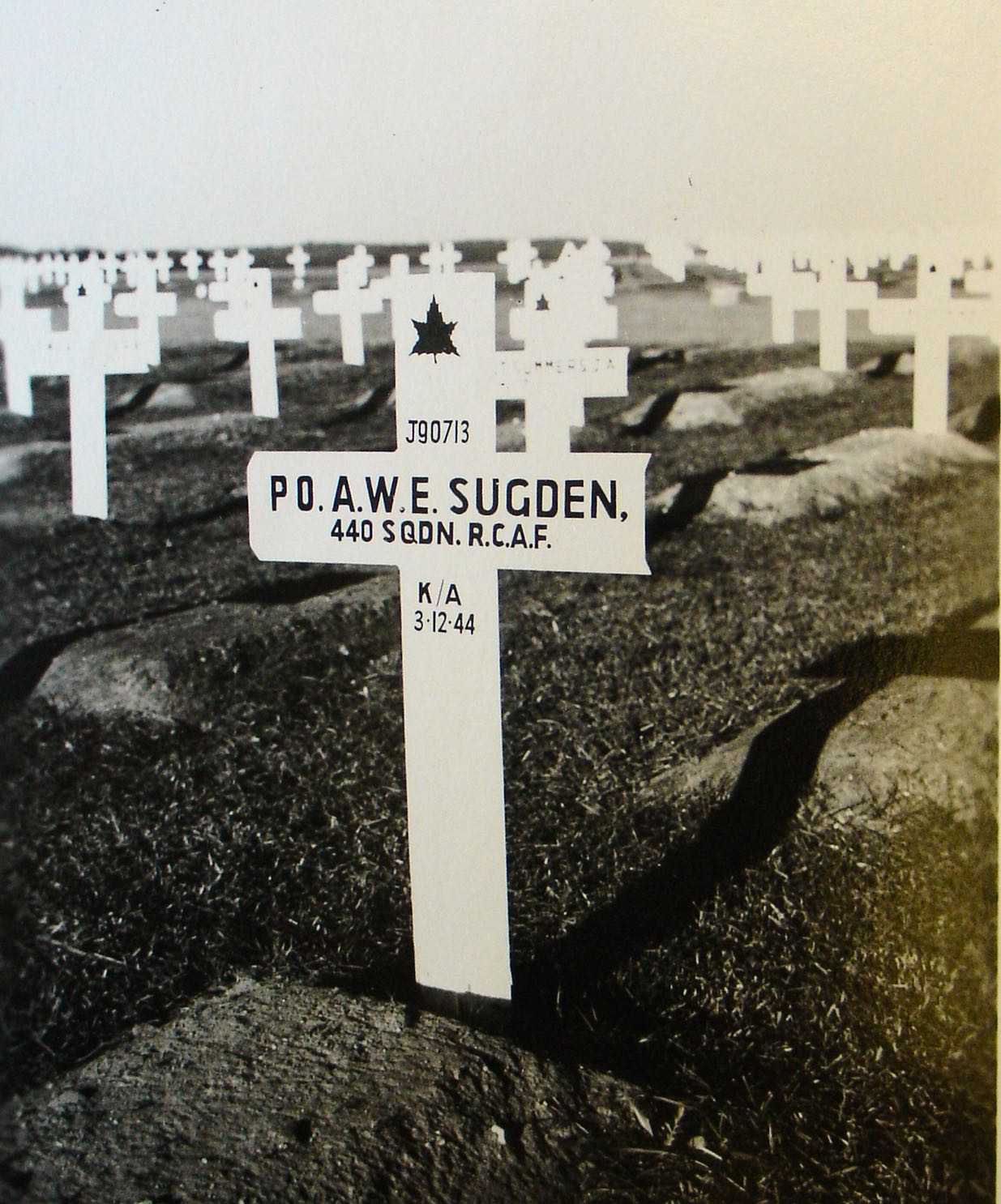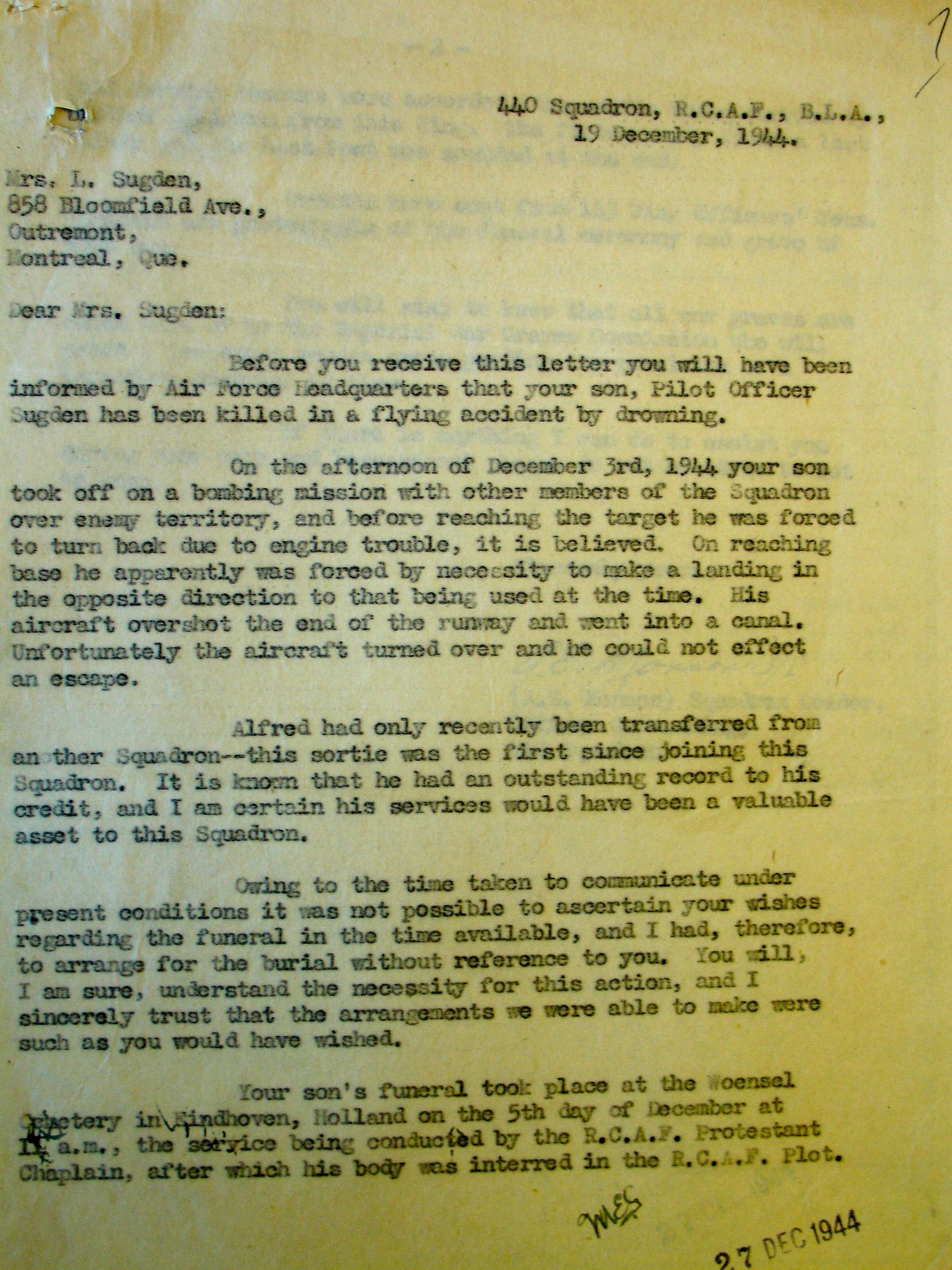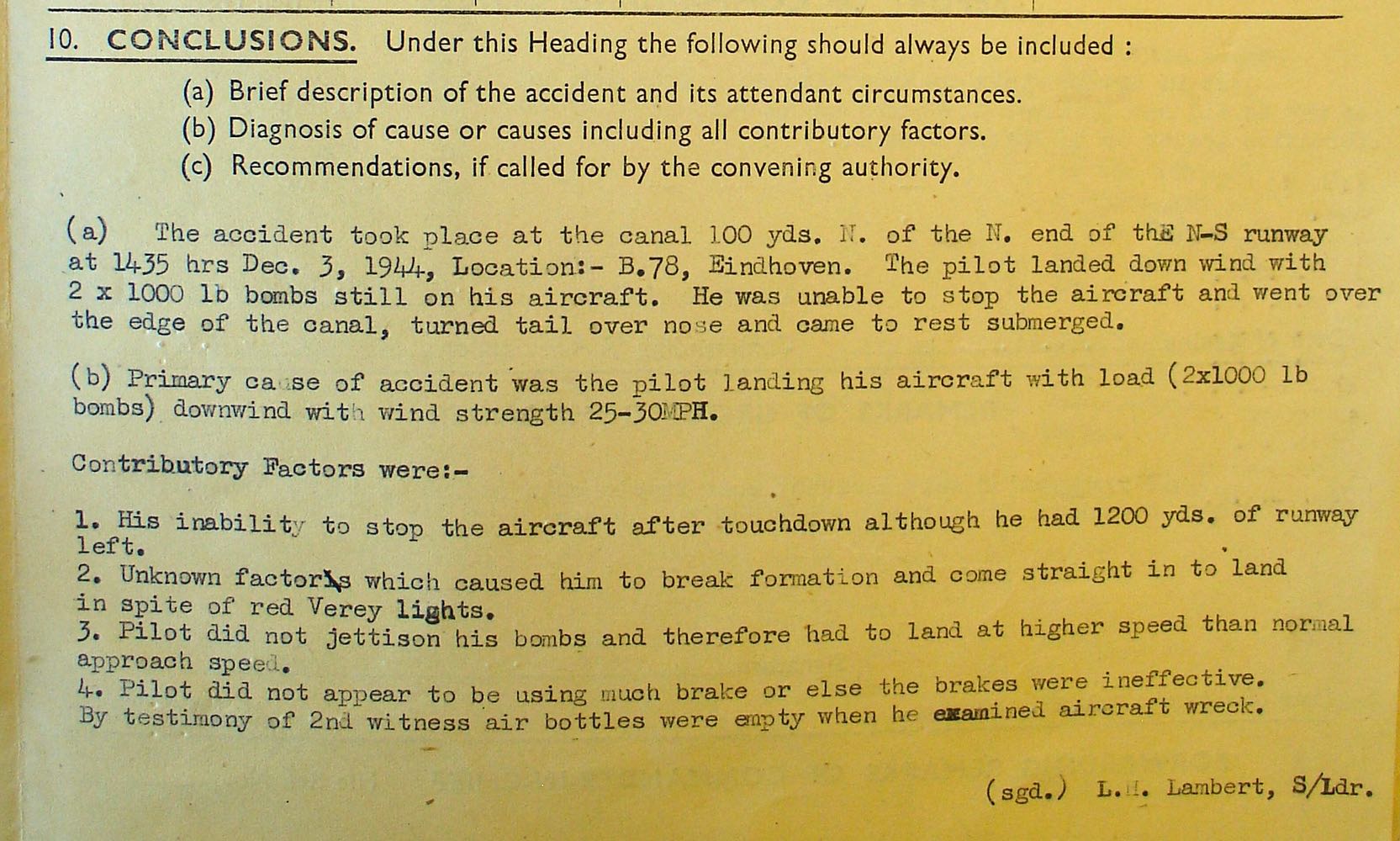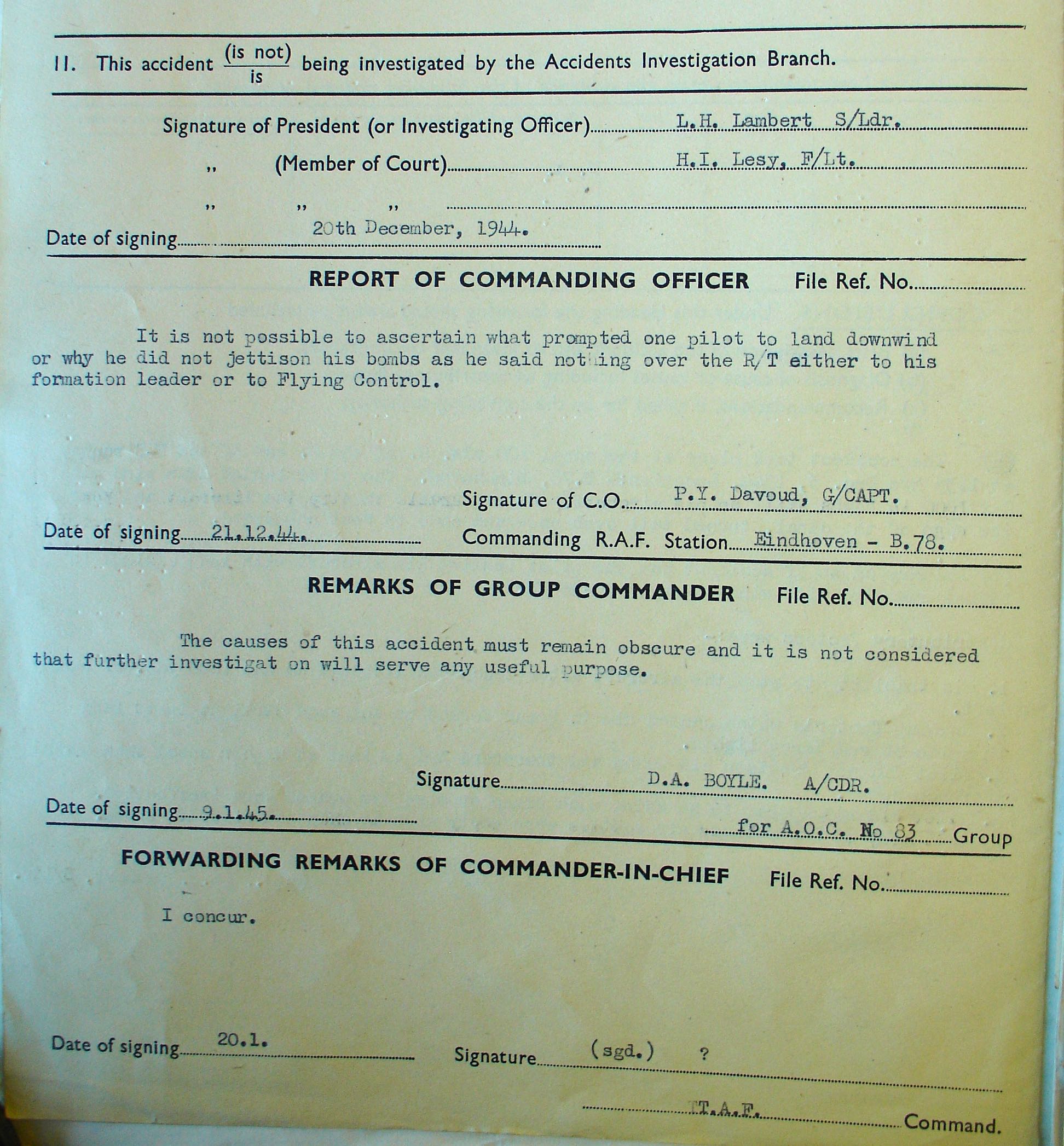 440 Squadron
Alfred William Edward Sugden was the only child of Frederick Albert and Helen Lillian Sugden of Outremont, Quebec. (Mrs. Sugden's brother served in WWI and died at Passchendaele.) The family was Presbyterian. He graduated from Guy Drummond School and Strathcona Academy as well as Outremont Business College. Sugden was a clerk/secretary with the CPR and was looking for a better position. Then he had worked for Marshall and Morrison Ltd, Canadian Car and Foundry, plus Canadian Power Boat Company, leaving this last position because of a reduction of staff. He was a very good hockey player as well as a track athlete, holding local sprint trophies.
Sugden trained at No. 11 EFTS in June 1942, No. 2 SFTS, No. 13 SFTS and went to No. 16 EFTS on a refresher course. He earned his wings at St. Hubert, Quebec and went overseas in December 1942.
On December 19. 1944, S/L Monson of 440 Squadron wrote a letter to Sugden's parents. "On the afternoon of December 3, 1944, your son took off on a bombing mission with other members of the Squadron over enemy territory, and before reaching the target, he was forced to turn back due to engine trouble, it is believed. On reaching base, he apparently was forced by necessity to make a landing in the opposite direction of that being used at the time. His aircraft [Typhoon 1B MN251] overshot the end of the runway and went into a canal. Unfortunately, the aircraft turned over and he could not effect an escape. Alfred had only recently been transferred from another Squadron -- this sortie was his first since joining this Squadron. It is known that he had an outstanding record to his credit, and I am certain his services would have been a valuable asset to this Squadron....Your son's funeral took place at the Woensel Cemetery in Eindhoven, Holland on the 5th day of December at 11 am, the service being conducted by the RCAF Protestant Chaplain, after which his body was interred in the RCAF plot."
A Court of Inquiry was struck on December 3, 1944 to investigate what had happened. Eight witnesses were called.
The first witness, P/O A.B. Ashworth 171153 testified that SAFFRON 28 made emergency landing S-N runway in use N-S. Runway was held clear by Central Flying Control and Airfield Control firing red Vereys, when he was seen making his approach downwind. Aircraft landed with approximately 1200 yards of runway left him. Propeller was turning as A/C landed and taxied. Failed to pull up and crashed in canal, in about direct line with S-N runway. Wind SSW 25/30. Visibility good. Cloud base 1000'. This aircraft was airborne at 1408 as SAFFRON RED 2 in section of four, carrying two 1000-pound bombs. Section were informed by R/T at 1409 that mission was cancelled. At Red Leader's suggestion, they went under control of COSYCOT, who was to vector them over enemy lines to drop bombs as leader did not want to land with bombs aboard. Section were instructed to make Angels 8 and shortly afterwards, Red Leader was heard to ask "'F' Freddie are you coming with us?" There was no reply and at no time was SAFFRO RED 2 heard on R.T, who landed with bombs aboard."
The second witness, F/O Douglas Melville Seath, Officer Commanding No, 6438 Servicing Echelon, 143 Wing, RCAF stated, "On December 3, 1944, I was at the scene of the accident involving Typhoon aircraft MN251, shortly after it occurred. I assisted in hoisting the aircraft out of the water so that the pilot could be removed. I did a routine cockpit check and noticed that the air bottle contents gauge registered empty and that the brake lever was in the locked ON position. ...as far as it was possible to investigate, the aircraft showed no sign of technical failure which could have occurred before the crash.
The third witness, P/O Richard Arthur Watson, 440 Squadron explained the operation ahead of them on December 3, 1944: bombing 'show' with 1000 bombs on an enemy observation post in Venlo. "There were four aircraft and one spare bombed. We pressed tits at 1400 hours and were airborne at 1408 hours. As leader of SAFFRON RED, I contacted Pitchdark before taking off, and after being airborne, and did not notice any of the other three a/c experiencing any difficulty. After we were airborne and formed up, Pitchdark called me and informed me that the operations for which I had been briefed had been cancelled, and that I was to land. I called back and informed them that we were carrying 1000 pound bombs and asked if they would contact Cosycot so we could be vectored for blind bombings, as the cloud base was very low (about 1000 to 1500 feet). We orbitted the airdrome while Pitchdark was contacting Cosycot. While orbitting, I heard someone calling on the R/T but could not distinguish who was calling as message was very distorted. I called back to see if anyone was calling...but received no reply. I contacted Cosycot just after this and told my section to close in for climbing through cloud. P/O Sugden who was flying my Number 2 overtook me then and broke away toward the airfield at a considerable speed. I called him up to find out if he was having difficulty, but received no reply. I did another orbit of the airfield and then Pitchdark called me and said that SAFFRON RED 2 would not be going with us. I contacted Cosycot after this and we were vectored and dropped our bombs through cloud and returned to base without much difficulty. After landing, I was informed of P/O Sugden's accident. As A/F/L, I authorized this flight and instructed the pilots that we were not to land with our bombs on and as to our procedure for bombing, and as to R/T procedure for visual bombing or blind bombing in contact with Cosycot."
F/L Roger Francis Dunne, C13197, was on duty at 143 Wing Sick Quarters on the day of the accident when the body of Sugden was brought in by the amubulance at 1555. "There was no sign of life in the body, but I practiced artificial respiration and gave heart stimulants. I examined the body and found no injury. The cause of death was drowning."
F/L D. J. Moffat, C10914, Medical Officer, 439 Squadron, stated that the Typhoon was "lying upside down in the canal in such a manner that the cockpit was submerged. Attempts were being made to lift the aircraft." He too confirmed death was by drowning.
Sgt. Leonard George White, 1170486, Airfield Controller stated: "A Typhoon aircraft was observed making an approach from the south up wind end of the runway, reds were fired by Central Control and by myself but a/c persisted in touch-down. An aircraft passed my position at north end of runway, its brakes did not appear to be binding and engine seemed to be ticking over, but aircraft still kept quite a good speed, it carried on crossing the perimeter track and hitting the edge of canal with both wheels, turning to port and going over."
LAC Merlyn Rosewell Collins, driver transport, stated that after the aircraft went into the canal, "I ran across to see if I could be of any assistance, the break down gang then arrived with the crane, and attempted to turn aircraft over. All other attempts failed. I then jumped into the water to try to find a point of an attachment by which we could raise the aircraft. I noticed then that the aircraft was resting on the mud with canopy open. But it was impossible to get pilot out due to coldness of water. I could not stand it any longer and returned to canal bank and was taken to sick quarters for change of clothing, etc."
LAC Robie Bertram Smith, R154942, W/T Mech said he checked the radio in Typhoon MN251 at 0730 hours on December 3, 1944 and found the set serviceable and in good condition.
The conclusions, signed off by S/L L. M. Lambert: Primary cause of accident was the pilot landing his aircraft with load (2x1000 lb bombs) downwind with wind strength 25-30 mph. Contributory Factors: 1. His inability to stop the aircraft after touchdown although he had 1200 yards of runway left. 2. Unknown factors which caused him to break formation and come straight in to land in spite of red Verey lights. 3. Pilot did not jettison his bombs and therefore had to land at higher speed than normal approach speed. 4. Pilot did not appear to be using much brake or else the brakes were ineffective. By testimony of the 2nd witness, air bottles were empty when he examined aircraft wreck. Air Commander D. A. Boyle commented: "The causes of this accident must remain obscure." G/C P. Y. Davoud commented: "It is not possible to ascertain what prompted one pilot to land downwind or why he did not jettison his bombs as he said nothing over the R/T either to his formation leader or to Flying Control."
Harry Hardy, 440 Pilot, remembers this incident. "It was a freak accident," he said.
On January 27, 1947, Mrs. Sugden wrote to the Chief of the Air Staff in Ottawa, requesting confirmation of the location of her son's body as she was planning a trip to Europe and wanted to visit her son's grave. She had requested that her son's remains be returned to Canada, but was denied. "Isn't that a laugh," she wrote. "I suppose the decision was made by one man who thought it a great honour to lie in that hole Europe which drains the blood of this country in every generation."
On his headstone at the Groesbeek Canadian War Cemetery at Nijmegen, Holland, his parents chose "At the going down of the sun and in the morning, we will remember him."
LINKS: