Carl Joseph McConvey J88446
December 29, 1920 - July 16, 1944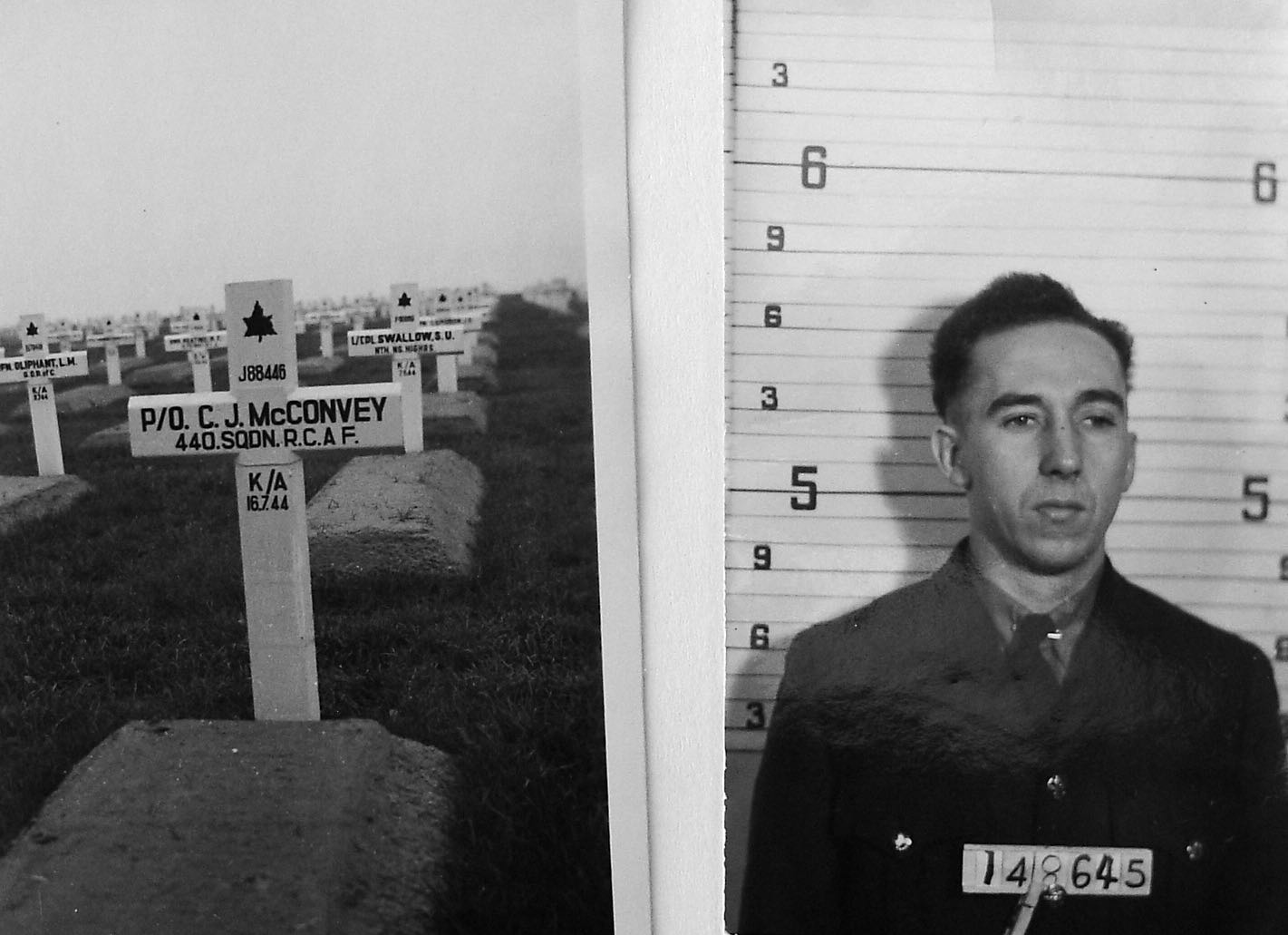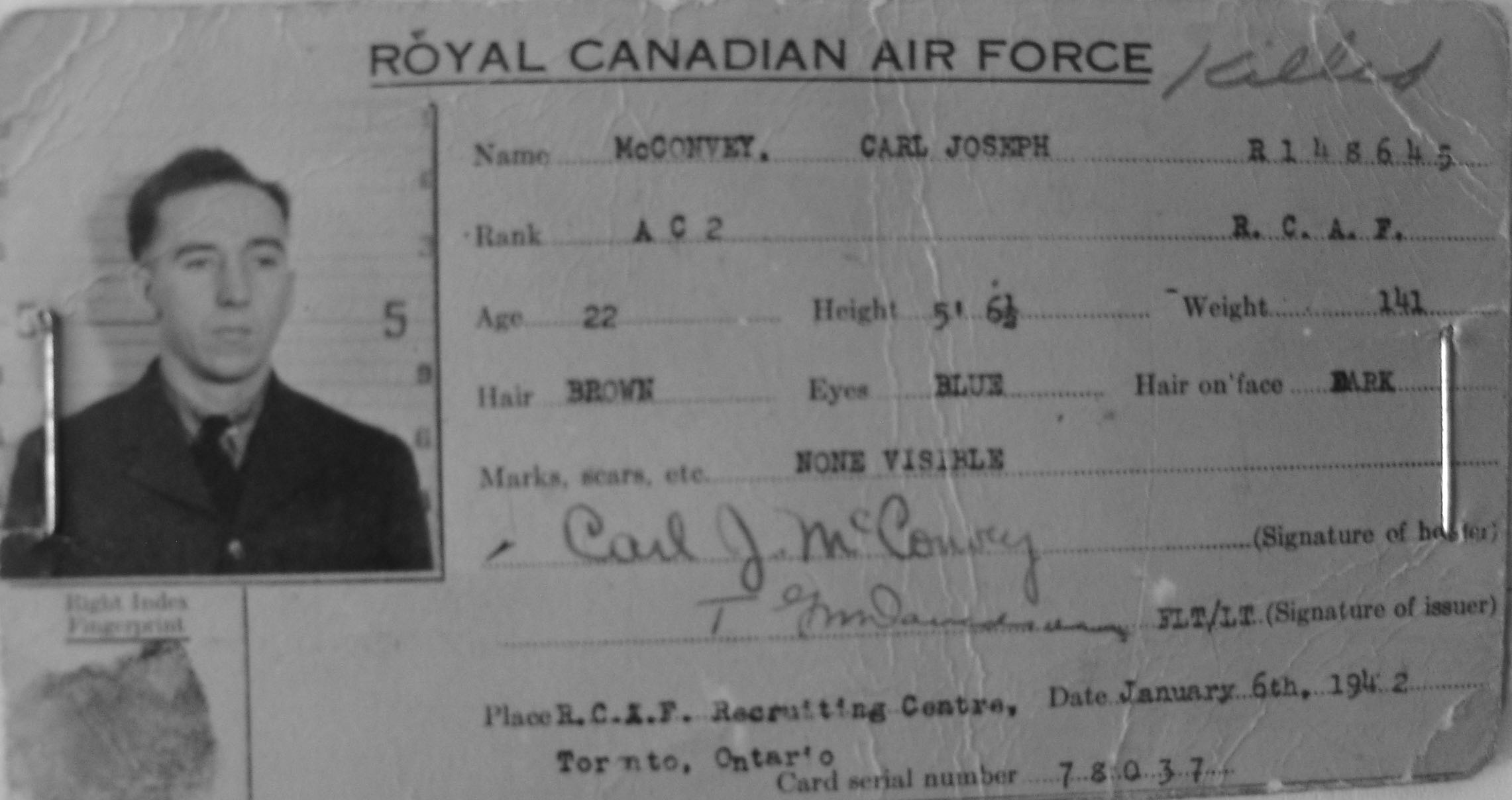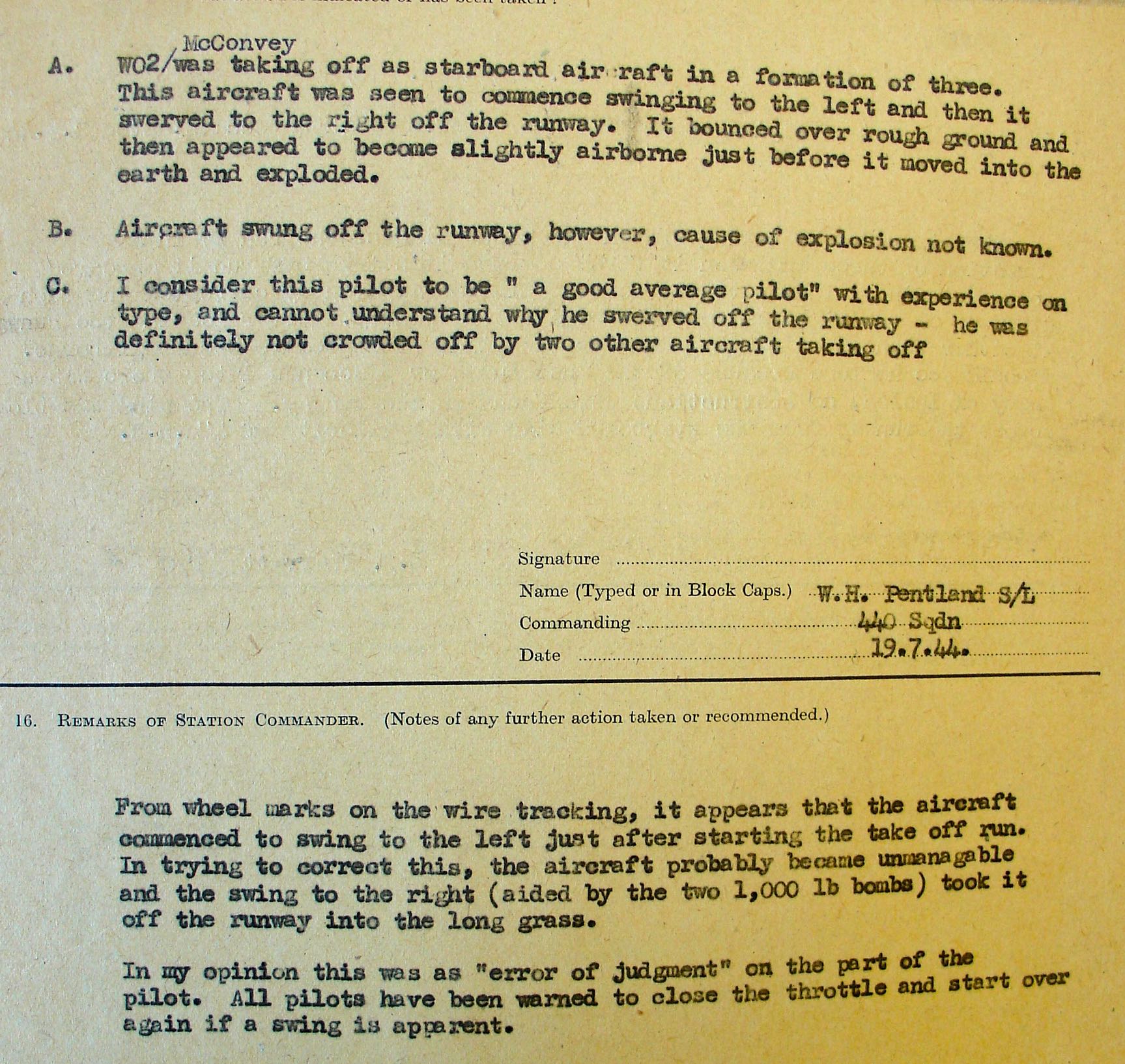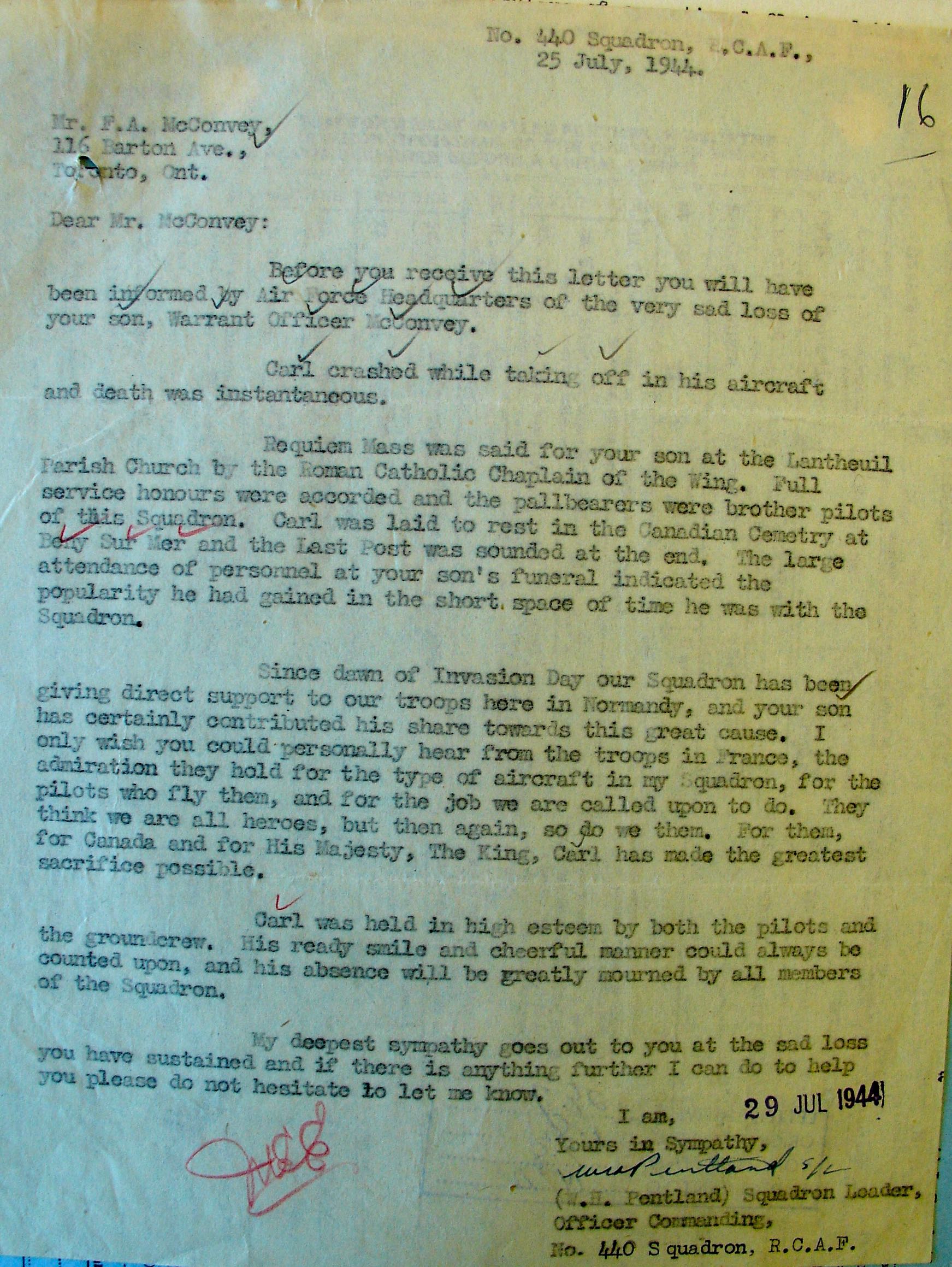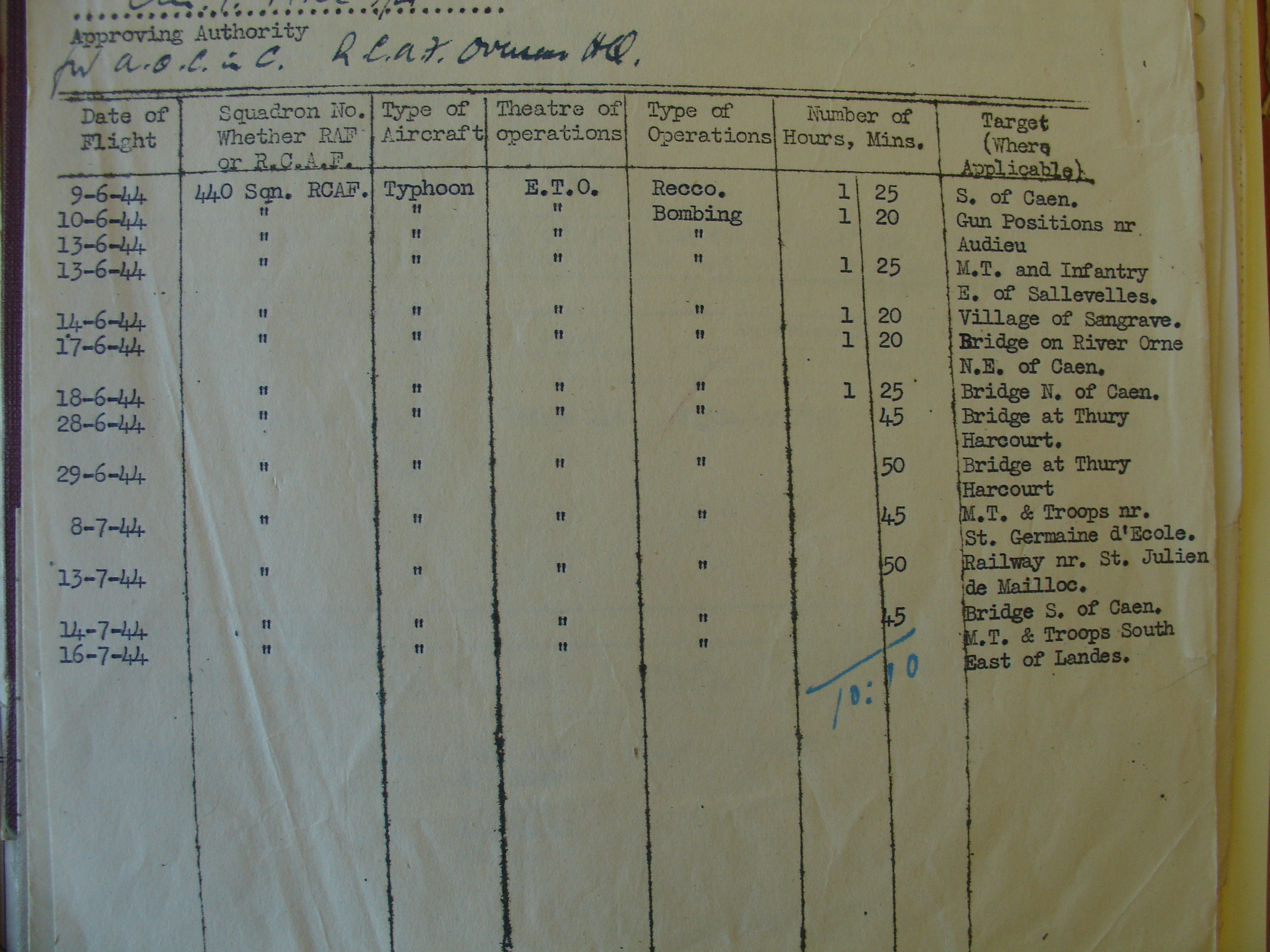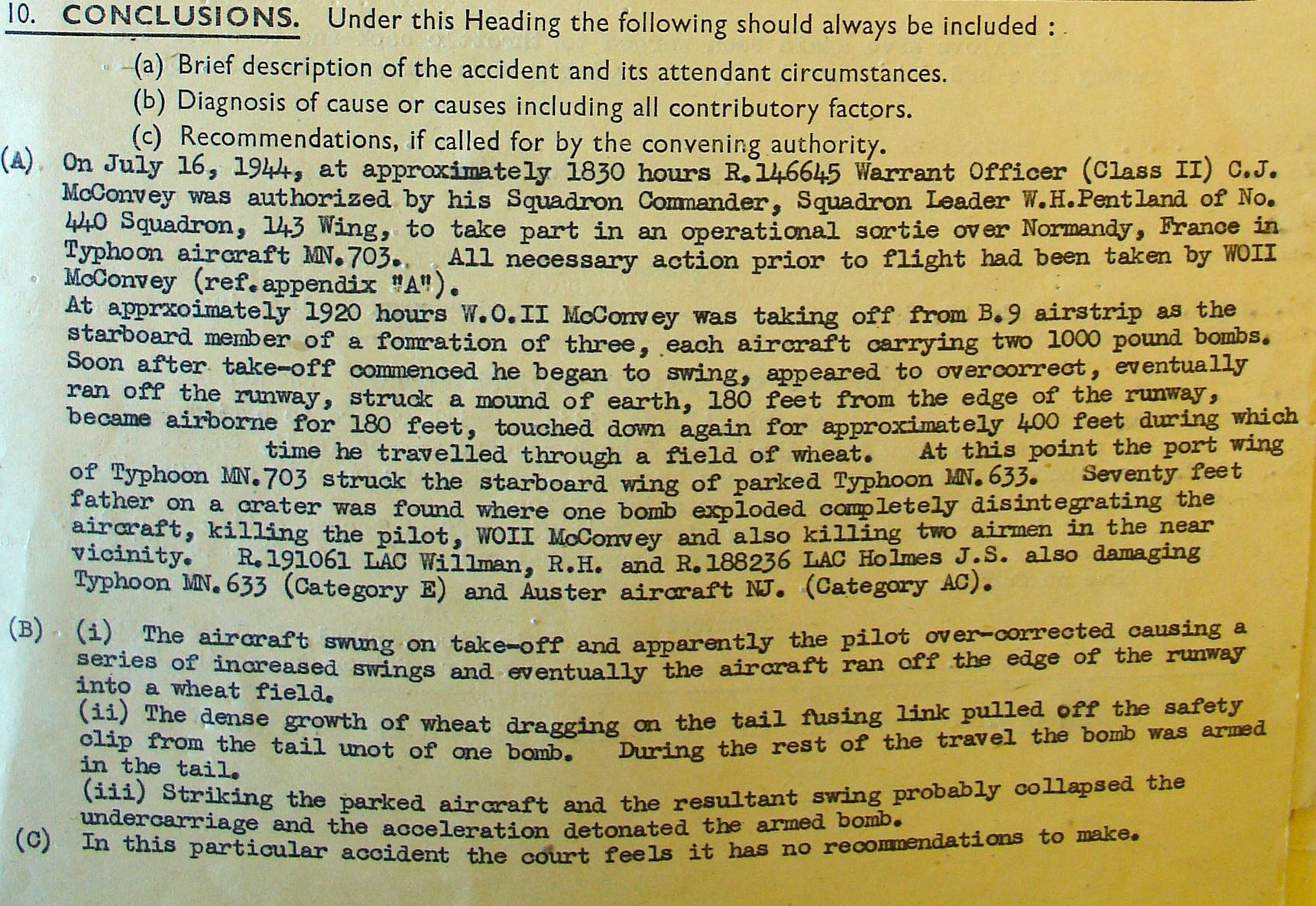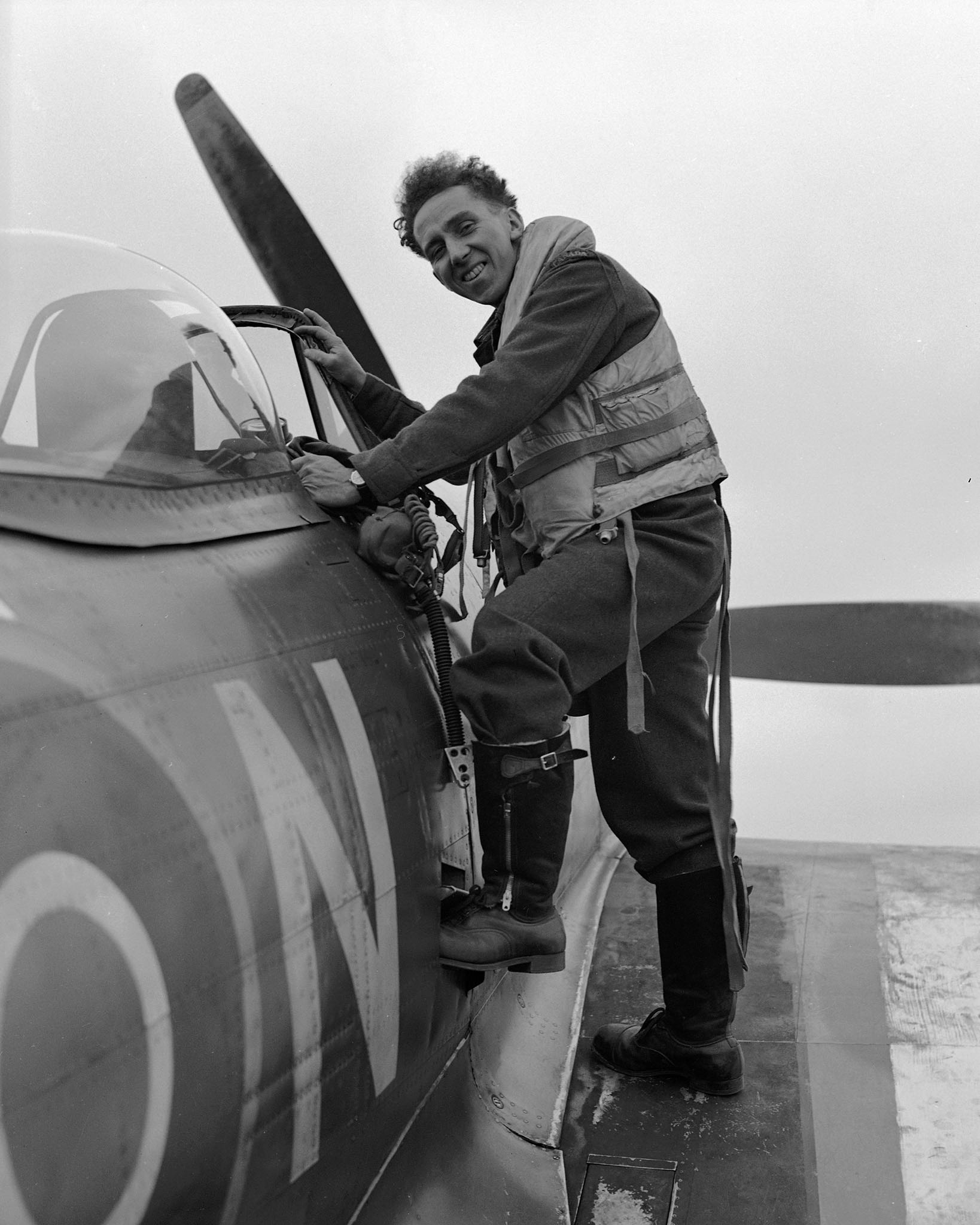 440 Squadron
Carl Joseph McConvey was from Toronto, Ontario. He was the son of Francis Aloysius and Mary Helen (nee Heck) McConvey. He had two brothers, one who was in the Army, and three sisters. The family was Roman Catholic. He was a graduate of Harbord Collegiate Institute. Prior to enlistment, he was a topographical draughtsman with HydroElectric Power Commission of Ontario, and an apprentice engineer. He said he was bilingual, with French being 'fair'.
He enlisted with the RCAF January 6, 1942. He noted that he liked to play hockey, rugby and baseball, but did not have hobbies. He was evaluated: "Keen, alert lad. Anxious to be Pilot. Appears to have good background. Civil experience has been valuable. Very likely looking lad and with training should be first class Aircrew material."
At No. 17 AFU, from June 15, 1943 to August 17, 1943: "An average pilot who is a very well disciplined type and is very keen to learn and improve his flying ability Should do well on operational types. Night flying, weak at first, but showed great improvement and he is now fit to fly operational types without further dual after a period of day experience on the types."
In September 1943, he was involved in an accident at Hedderwick, East Lothian where his aircraft collided in midair with another. He reported, "While flying in position #2 (Hurricane No. W9145) in formation echelon starboard, leader ordered peel off to port. Seconds after I started to dive after the leader, I experienced a terrific crash. The next thing I remembered was when I was free of the a/c and falling downwards. I went unconscious again before falling into sea. I released my parachute and inflated my dinghy. A civilian fishing boat picked me up after I had spent a period of time in and out of dinghy." He was injured. Second degree burns to both hands and wrists, plus small burns (2nd degree) on his forehead. He had a fracture: styloid process of the right ulnar. It was noted this injury could cause a disability later. He was hospitalized at Astley Ainslie Institute, Morningside, Edinburgh for a few weeks.
At Milfield at No. 59 OTU, from September 1943 to December 1943, he was evaluated: "An average pilot. Needs more practice in formation flying. Still a bit erratic, bombing and cannon firing satisfactory. Dusk night landings good."
A Court of Inquiry was struck to investigate McConvey's fatal crash on July 16, 1944 in Typhoon MN703, in France. For further information, see 438 Wilman and 439 Holmes.
The Station Commander reported at the Court of Inquiry: "From wheel marks on the wire tracking, it appears that the aircraft commenced to swing to the left just after starting the take off run. In trying to correct this, the aircraft probably became unmanagable and the swing to the right (aided by the two 1000 lb bombs) took it off the runway into the long grass. In my opinion, this was an 'error of judgment' on the part of the pilot. All pilots have been warned to close the throttle and start over again if a swing is apparent."
S/L Pentland reported at the Court of Inquiry: "WO2 McConvey was taking off as starboard aircraft in a formation of three. This aircraft was seen to commence swinging to the left and then it swerved to the right, off the runway. It bounced over rough ground and then appeared to become slightly airborne just before it moved into the earth and exploded. ...cause of explosion not known. I consider this pilot to be 'a good average pilot' with experience on type, and cannot understand why he swerved off the runway. He was definitely not crowded off by two other aircraft taking off."
S/L D. A. Brewster reported that there was no techical defect.
F/O L. G. Tharratt, Flying Control Officer reported: "The aircraft was taking off on the right side of the runway in a formation of three and when it first started its take off run, it appeared to be swinging slightly to the left. This was apparently corrected and then it swung to the right and off the edge of the runway. After leaving the runway, it either bounced on rough ground or the pilot attempted to become airborne. I could see no more because of the dust but 2 or 3 seconds later, there was a heavy explosion, no obstructions were found on the runway. The wind was blowing across the runway from the starboard side with a velocity of 4 mph."
438 Squadron R168920 Leading Aircraftman Ronald James, Airframe Mechanic stated: "On July 16, at approximately 1915 hours, I was waiting in the revetment for my aircraft to return from an operational flight. I saw two aircraft taking off towards me and wondered where the third aircraft was. I looked around for the third aircraft and saw it coming through the wheat in front of aircraft "T" of 438 Squadron which was parked, facing away from the runway at right angles. The aircraft was heading directly in front of "T" and at a slight angle to the runway. LAC Wilman was standing by the port wing of aircraft "T". I remember yelling to LAC Wilman to get down and fell to the ground myself, then the explosion came. After the explosion, I saw a great mass fire. I saw no fire before the explosion. The undercarriage was intact before the explosion. It appeared that both tires were intact because the aircraft was on an even keel. I did not see LAC Holmes."
R255999 LAC Marshall Nielsen Limon, Armourer Bombs stated: "On July 16, 1944, at approximately 0500 hours, I fused the bombs on aircraft '18-L' and checked all the safety devices. The aircraft did not take off until approximately 1915 hours, so I checked the fusing again just before take-off and found everything satisfactory. The bombs were fused with instantaneous detonators in the nose and No. 42 pistol and .025 second delay in the tail and No. 30 pistol in the tail."
C17492 F/L John William Cantelon, Senior Wing Armament Officer 143 Wing stated: "...I heard a loud explosion apparently coming from the vicinity of B9 strip. I proceeded to the point where the incident occurred as quickly as possible. I learned upon arriving at the area that a Typhoon aircraft had blown up. I thereupon proceeded to search the area for the bombs the aircraft was known to be carrying. One bomb (1000 lbs ME) was found which was blackened and had all the visual signs of having been on the aircraft. The tail was nearby, badly smashed. I next inspectd the No. 30 tail pistol to ensure that it was in a safe position. I then checked the No. 42 nose pistol to ascertain whether the pressure plate stop was still in position. Having satisfied myself that the bomb was visually safe, I then removed the nose and tail pistols and detonators. I gave the detonators to a corporal armourer for safe custody. I replaced both pistols. In company of F/O Wardall, we proceeded on a search for the other bomb, covering the path the aircraft appeared to have followed. Near Typhoon aircraft MN633, a shallow crater was found. Shrapnel was picked up by myself and F/O Wardall which was characteristic of a 1000 pound ME bomb. The crater was approximately 10 feet in diameter and three feet at its deepest point. In my opinion, from observations of the crater, the nose of the bomb struck the ground and crash the nose pistol sufficiently to cause detonation."
LAC Byron Keith Fraser, Aero Engine Mechanic with 438 Squadron (R165867) stated: "I just finished working on my aircraft F.3F which was dispersed next to aircraft on which LAC Holmes and LAC Wilman were working. I saw LAC Wilman standing by the port wing and LAC Holmes was standing close to the tail plane of aircraft MN 633. I saw them both standing by this aircraft as I walked towards the Armament Section of 438 Squadron. As soon as I go to the Armament Section which was about 100 yards from the aircraft beside which LAC Holmes and LAC Wilman were standing, I heard the explosion. I went to the scene of the accident and helped pick up the body of LAC Wilman."
F/L Hal Gooding stated: "Previous to the accident W/O McConvey appeared to be in good health. He had not been working unduly hard. From June 28 1944 to July 16 1944, he had made only 6 operational flights from B9 to enemy lines. Five of these bombing missions were made with two 1000 pound bombs and one with 2-500 pound bombs. W/O McConvey had signed as having read and understood 440 Squadron Pilots Notes."
S/L D. A. Brewster stated that crews were organized to put out the fires and clear away the debris. He sketched the path of the aircraft. Medical Officer F/L David James Moffat, C10914, stated: "I went at once to the scene of the accident. When the body was found, I examined it and I presumed that death was instantaneous. I identified the body as that of W/O McConvey, cause of death: multiple injuries. About the same time, I examined the bodies of LAC Holmes and LAC Wilman. Death to these two airmen appeared to be instantaneous. Cause of death in both cases similar: multiple injuries including severe head injuries and second and third degree burns of exposed parts."
G/C P. Y. Davoud stated: All pilots have again been warned to throttle back and take off the runway if a bad swing develops, particularly when carrying 1000 lb bombs." AVM H. Broadhurst's remarks: "There is evidence to show that the type N bomb release may be faulty and it is being examined to see if any fault can be traced. A letter on this subject will be forwarded through the Armament Specialist Officer. I am not in agreement with three aircraft taking off at the same time when fully loaded and I am issuing instructions to ensure that only two aircraft take off at a time."
S/L Pentland wrote a letter to Mr. McConvey on July 25, 1944. "Carl crashed while taking off in his aircraft and death was instantaneous. Requiem Mass was said for your son at the Lantheuil Parish Church by the Roman Catholic Chaplain of the Wing. Full service honours were accorded and the pallbearers were brother pilots of this Squadron. Carl was laid to rest in the Canadian Cemetery at Beny Sur Mer and the Last Post was sounded at the end. The large attendance of personnel at your son's funeral indicated the popularity he had gained in the short space of time he was with the Squaron."
Fellow 440 Squadron pilot, Walter (Wally) Ward said, "McConvey was a very happy kind of guy. I enjoyed his friendship."
LINKS: