Charles Frederick Joseph Harwood J17954
June 2, 1919 - December 24, 1944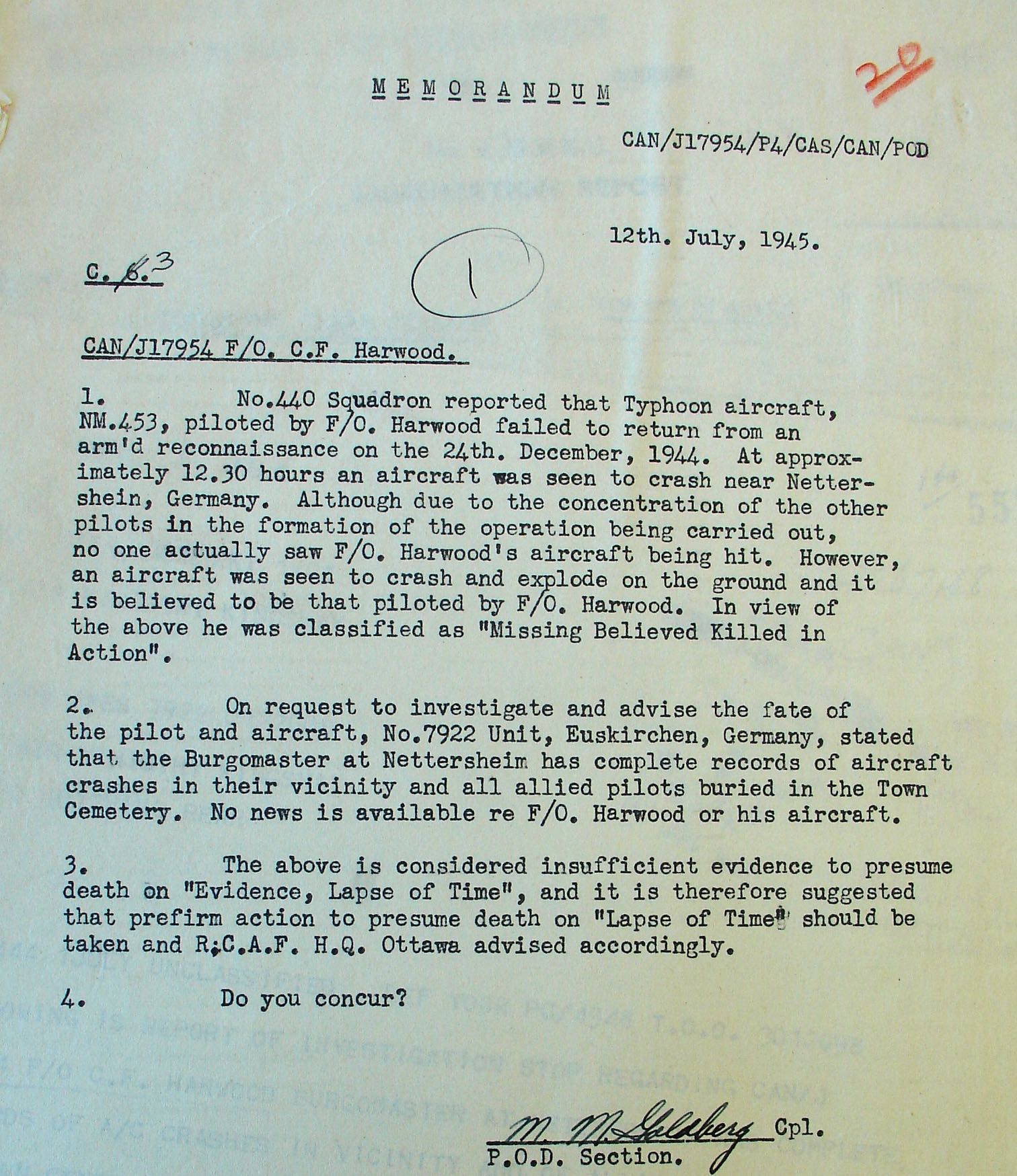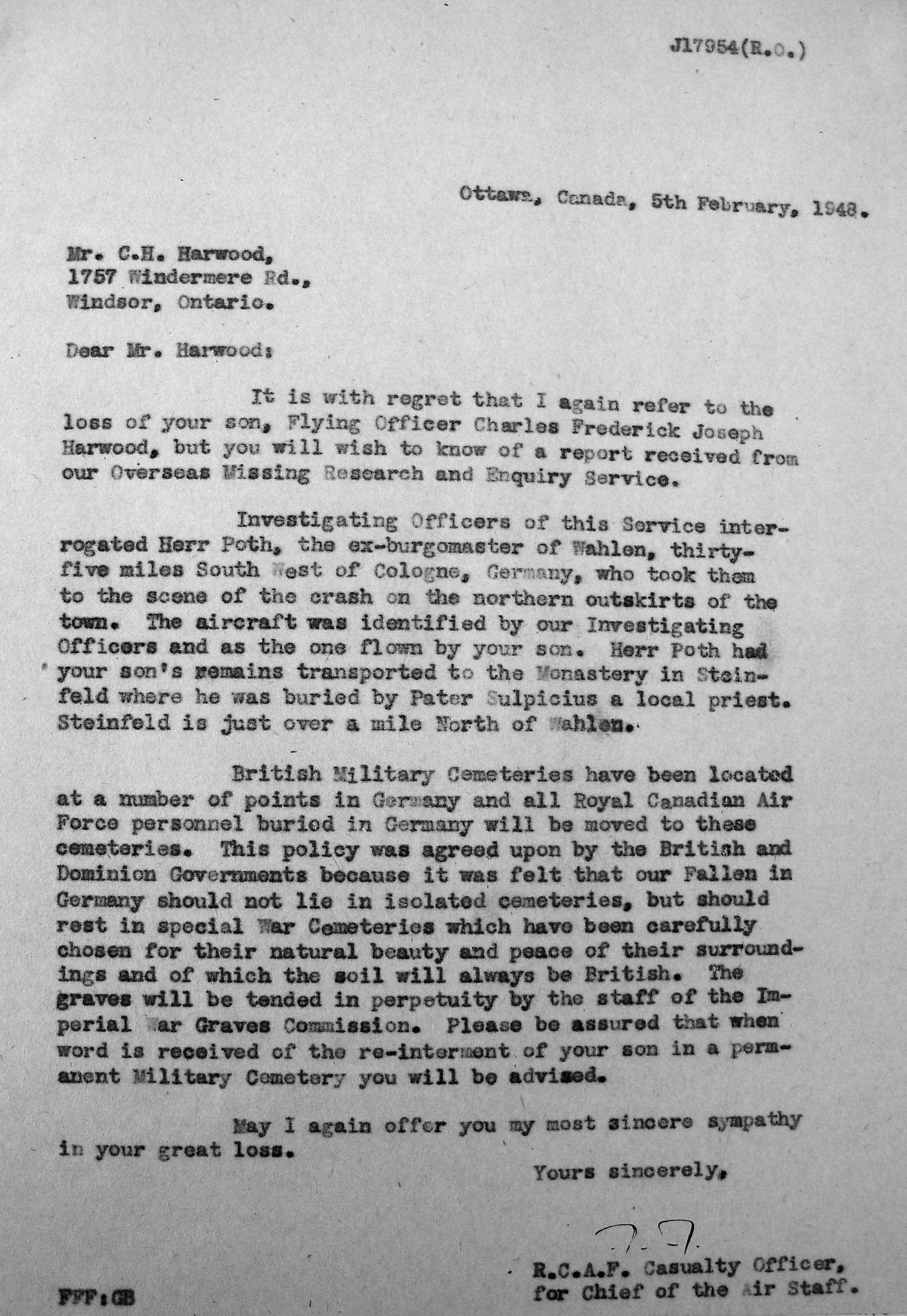 440 Squadron
Charles Frederick Joseph Harwood listed his jobs as Auburn Stoker, in Windsor, Timekeeper and Cost Clerk for H J Heinz Company in Leamington, and was an enumerator for the Canadian Government during one election. He listed football, baseball as sports he really enjoyed. He wanted to stay in aviation after the war.
He was the son of Mr and Mrs C H Harwood. He had one brother and two sisters; the Roman Catholic family lived in Windsor, Ontario.
On November 8, 1942, as part of 185 Squadron, Hal Far, Birzebbugia, Malta, Harwood had an accident causing a concussion and laceration of his scalp. His upper incisor tooth was knocked out. His knees were also lacerated, with contusions on elbow and knees, the injuries considered serious. He was admitted to No. 90 General Hospital. His statement reads, "On 8/11/42 at 1700 hours, I was taking off from Hal Far, when I was airborne, I completed my cockpit drill, but I discovered my pitch remained 'fine'; I worked on my control gear for a few seconds, but it would not respond so I decided to land,as I was close to the field. I just had to lower my wheels and turn on to my line of approach. After lowering my wheels, I noticed my pitch control was practically normal, which I thought nothing of going around, when I was given the 'red flare'. After raising my wheels a second time, my engine lost power rapidly, consequently, I lost what little height I had and crashed."
From No. 7 FIS, he was sent to No 1537 Beam Approach Training Flight from December 27, 1943 to January 2, 1944, to return to No. 7 FIS. He received a 68% in his flying tests. Remarks: "He quickly acquired a good general knowledge of BA procedures and applied it accurately. IF is generally sound but lacks polish. Average. Fit to instruct."
S/L Jenvey wrote a letter to Mrs. Harwood on December 30, 1944: "On the morning of December 24, 1944, your son participated in a strafing operation over enemy territory. While strafing at a low altitude, your son's aircraft was believed hit by flak. Although due to the concentration of the other pilots in the formation on the operation being carried out, no one actually saw his aircraft being hit. However, an aircraft was seen to crash and explode on the ground and was believed to be the aircraft piloted by your son....Charles was admired and respected by both his fellow pilots and ground crew.....he made many friends..."
Outgoing Clear Message to (R) 151 Repair Unit: "H.190 information here states Typhoon 1B MN453 engine Sabre 11A Serial No. S287/A215451 of 440 Squadron piloted by Canadian J17954 F/O C.F. Harwood crashed...near Netterscheim, Germany, December 24, 1944."
The Burgomaster at Nettersheim had complete records of aircraft crashes in the vicinity and of Allied pilots buried in the town cemetery, but did not have knowledge of Harwood's crash.
On January 29, 1945, about the accident of Typhoon 1B MN453: "It is impossible to submit Circumstantial Report on the above accident as no one saw it actually occur."
On July 12, 1945, investigation on the location of Harwood's body continued. "No. 440 Squadron reported that Typhoon aircraft MN453 piloted by F/O Harwood failed to return from an armed reconnaissance on the 24th December 1944. At approximately 1230 hours, an aircraft was seen to crash near Nettersheim, Germany. Although due to the concentration of the other pilots in the formation of the operation being carried out, no one actually saw F/O Harwood's aircraft being hit. However, an aircraft was seen to crash and explode on the ground and it is believed to that piloted by F/O Harwood."
On August 14, 1946, an investigative report was filed by P/O R. Fresco-Corbu. He proceeded to Steinfeld to investigate two graves behind the Military Government building and found that they belonged to two fighter pilots buried on different dates. Herr Poth, ex-Burgomaster from Wahlen recalled one crash happened on Christmas Eve. Herr Poth supervised the transport of Harwood to the monastery in Steinfeld and the burial in consecrated ground. The monastery formed part of the Military Government Building. Peter Suplicius, the local priest told the investigator that the performed the funeral service and also confirmed the date. Fresco-Corbu stated that the grave was very neat and well looked after.
The remains of Harwood's body were exhumed on July 1, 1947 and reinterred at Rhineberg British Cemetery. F/L H. J. Goldstajn filled in the forms, with the recommended identity to be Harwood. His body was badly burnt and smashed. Small parts of clothing were found, including part of his blouse, trousers, shirt, a white flying pullover, officer's type socks and flying boots, plus a Mae West. The cross at Schleiden showed "Unknown British Airman, RAF Dec 1944."
LINKS: