Charles Sydney Aistrop J13484
January 3, 1920 - October 6, 1944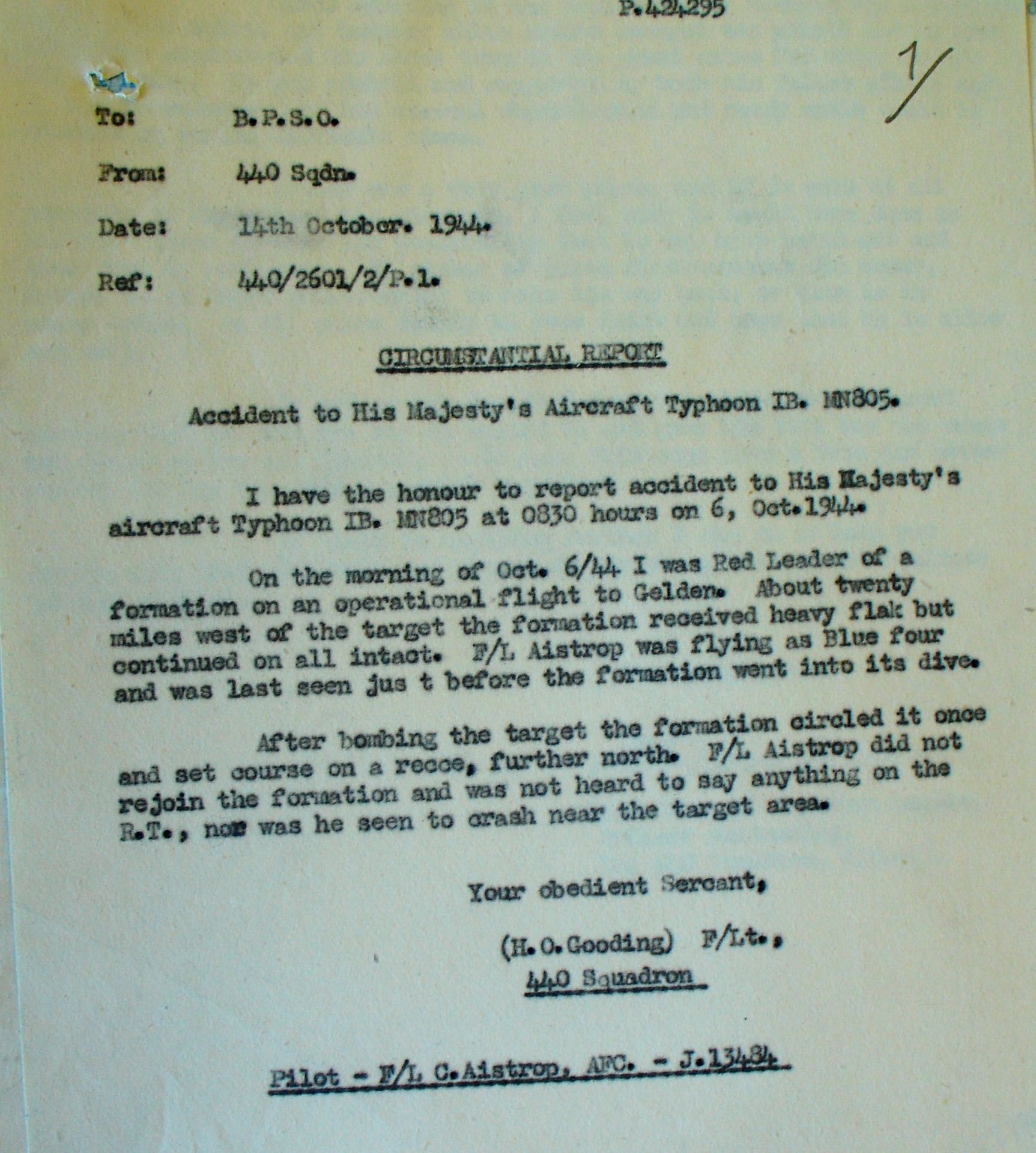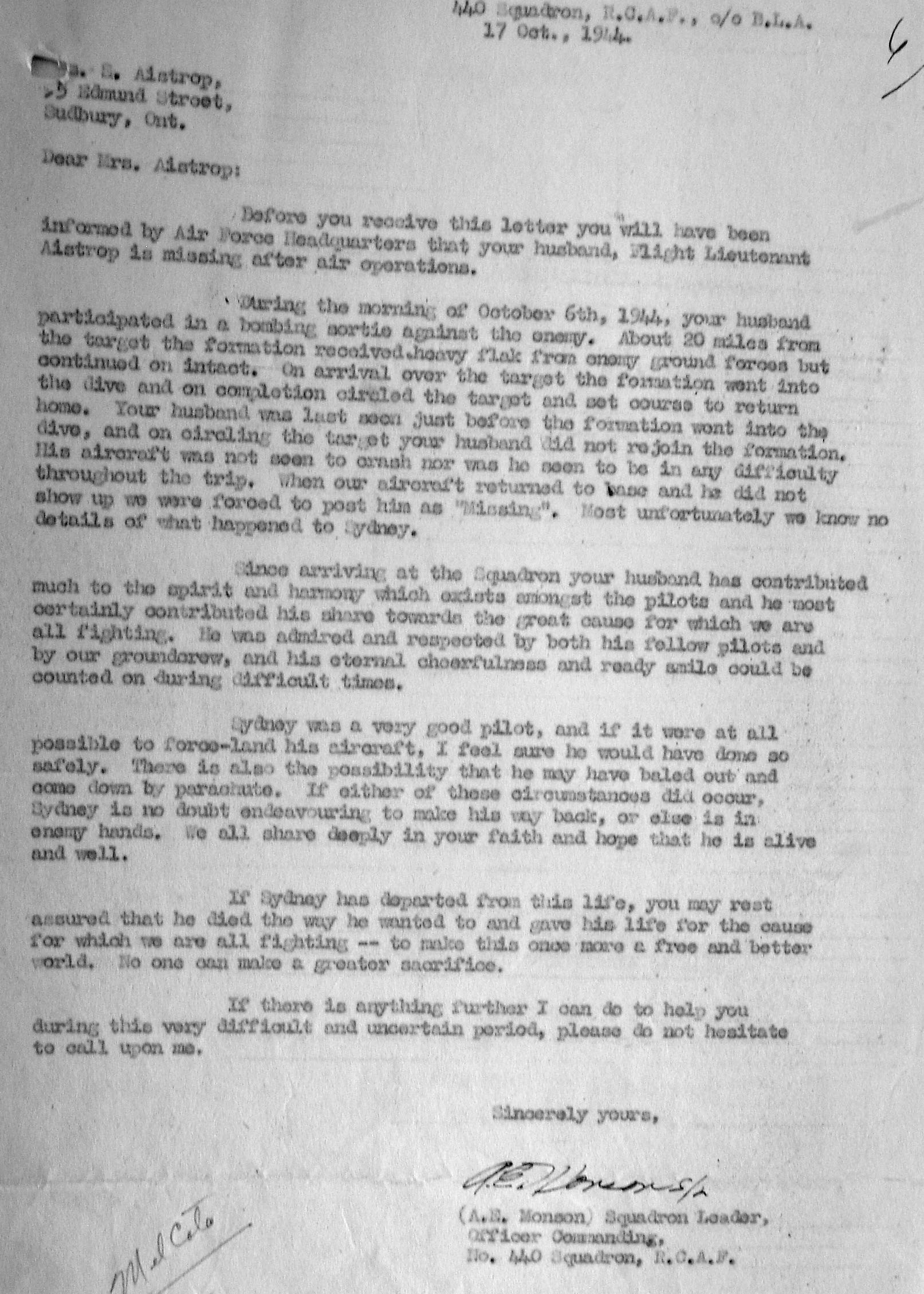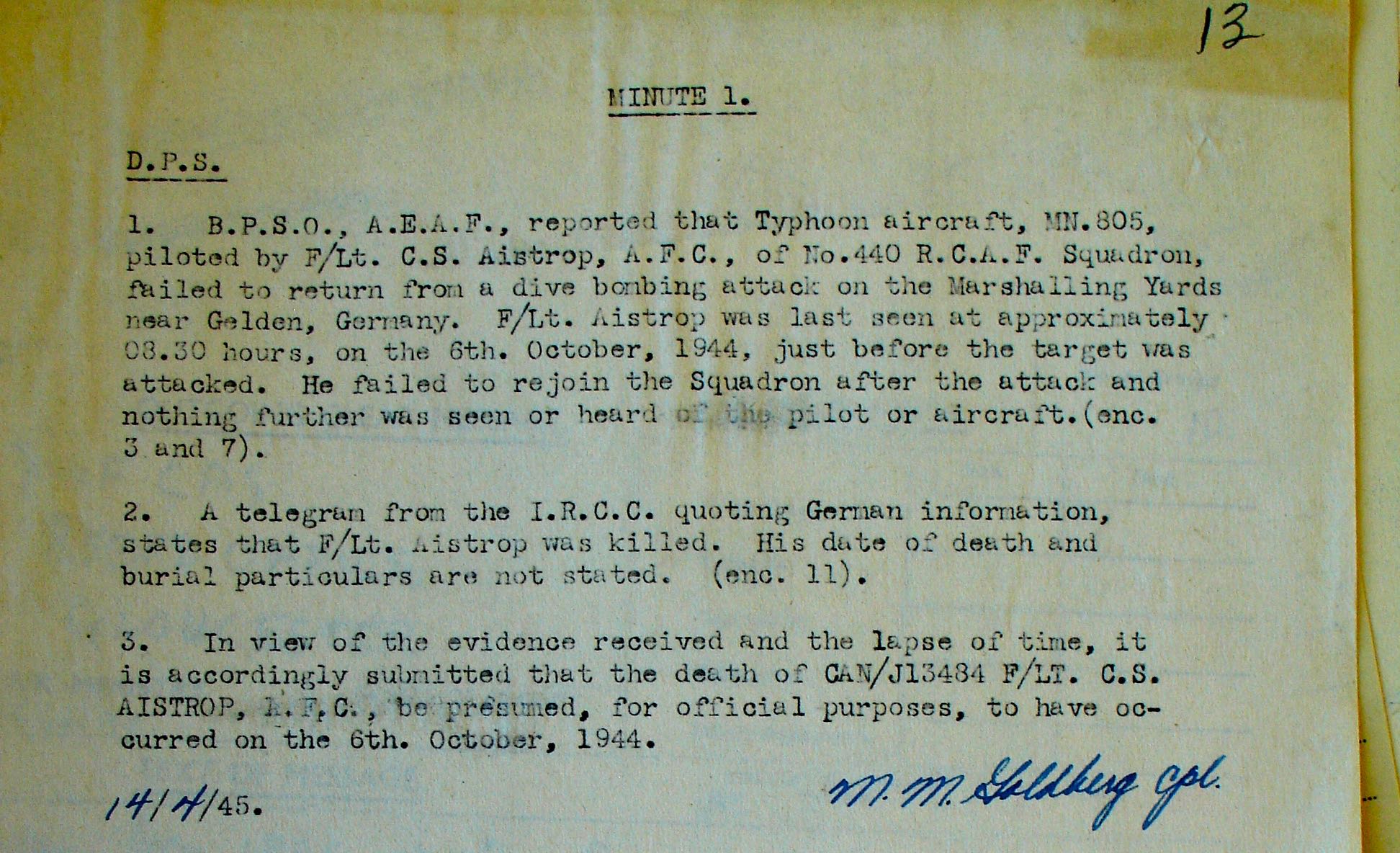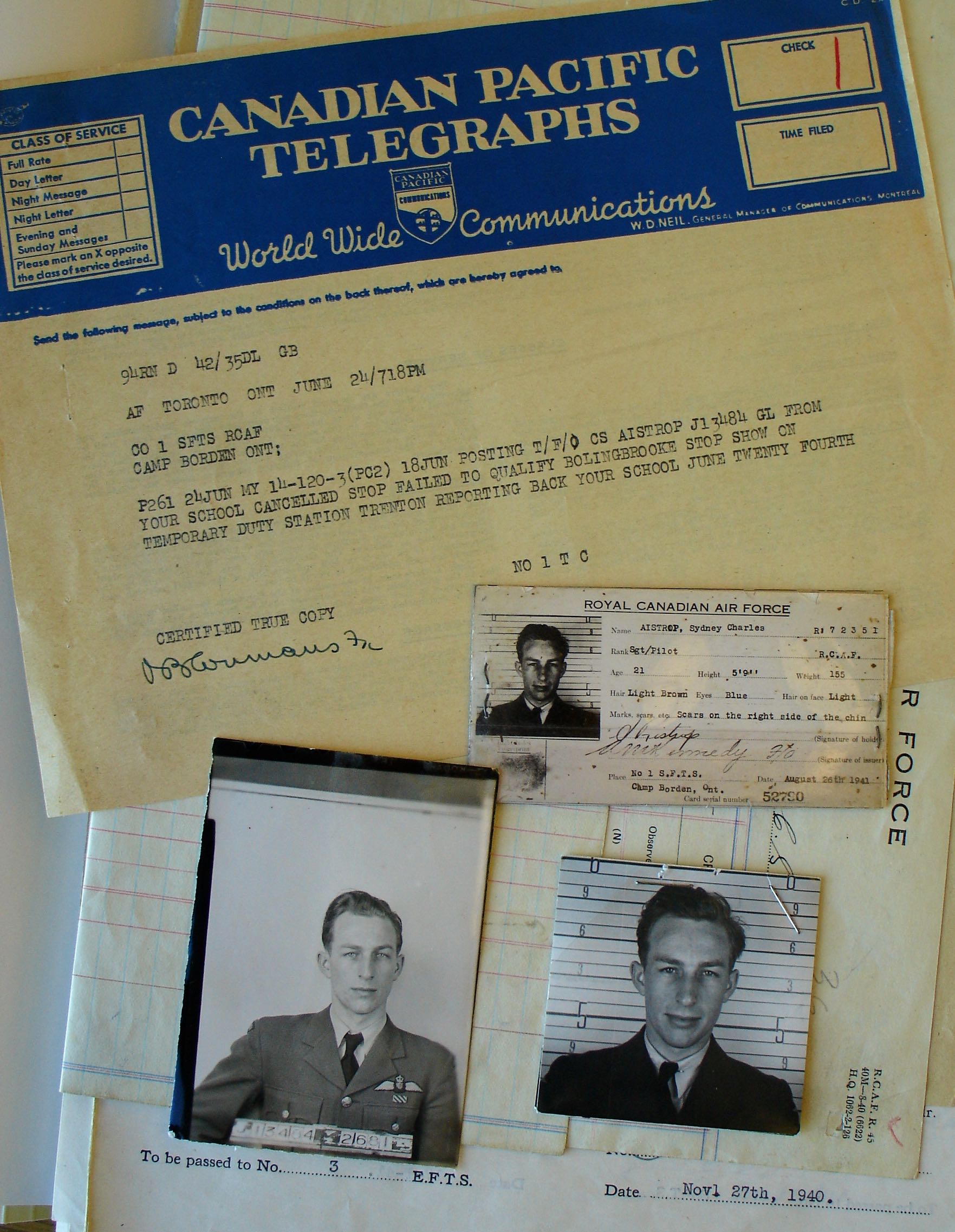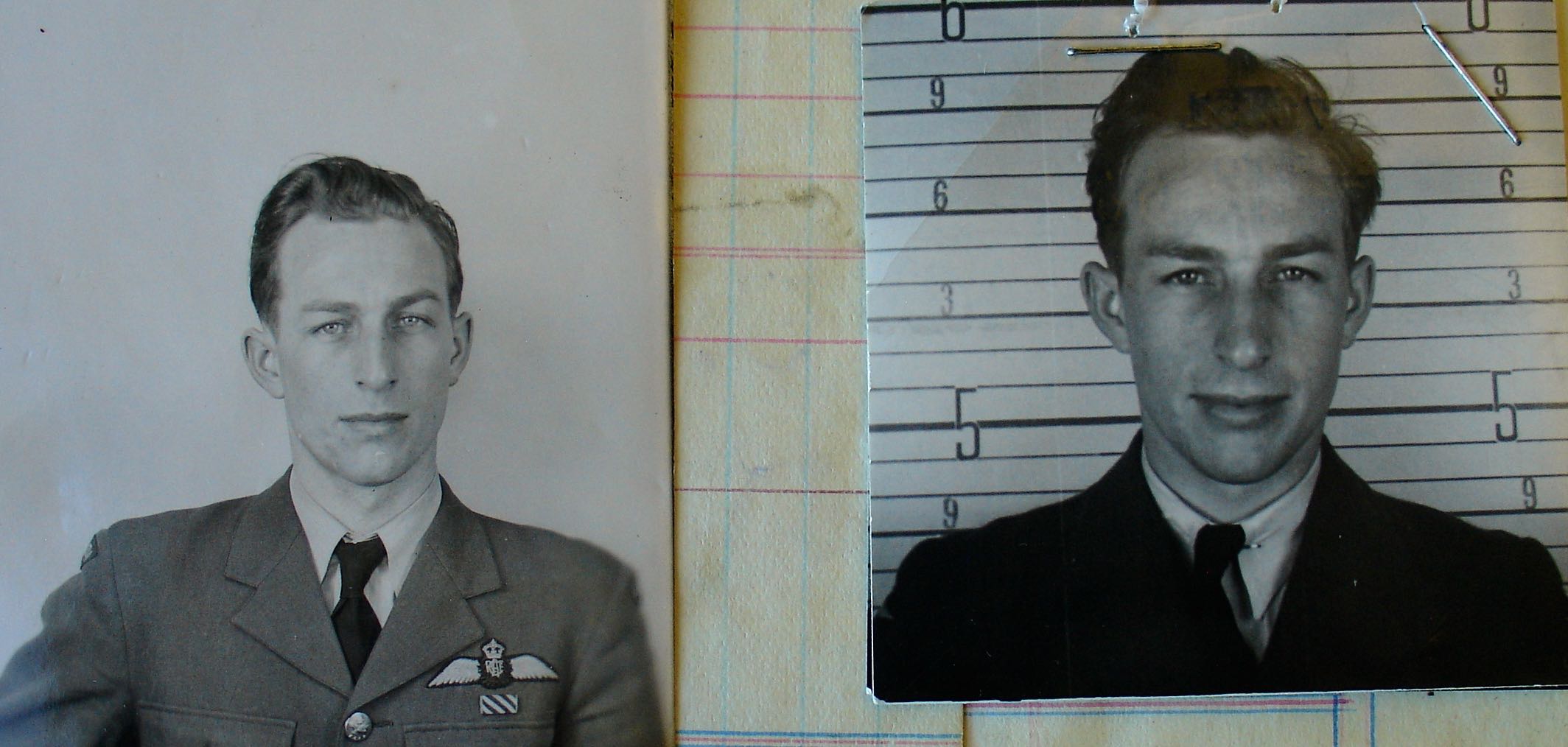 440 Squadron
Charles 'Sydney' Aistrop was the son of Robert Charles and Rachel Aistrop. He was the husband of Verna Alice Aistrop. He was a geologist, in the Department of Mines, a miner with International Nickel and an assemblyman for GEC. He had his driver's license.
He signed up with the RCAF in 1940, Toronto.
He was sent to No. 3 EFTS, November 27, 1940.
He became a flying instructor at #15 SFTS in 1941. "F/O Aistrop is a very experienced instructor with 1600 hours as a pilot instructor and was awarded the AFC for his fine record and work as an instructor."
Circumstantial Report: F/Lt H.O. Gooding wrote: Typhoon IB. MN805. "On the morning of October 6, 1944, I was Red Leader of a formation on an operational flight to Gelden. About twenty miles west of the target, the formation received heavy flak but continued on, all intact. F/L Aistrop was flying as Blue four and was last seen just before the formation went into its dive. After bombing the target, the formation circled it once and set course on a recce, further north. F/L Aistrop did not rejoin the formation and was not heard to say anything on the R. T., nor was he seen to crash near the target area." He had been carrying 1000 lb bombs.
On October 17, 1944, S/L A. E. Monson wrote to Mrs. Aistrop. "During the morning of October 6th, 1944, your husband participated in a bombing raid against the enemy. About 20 miles from the target, the formation received heavy flak from enemy ground forces but continued on intact. On arrival over the target, the formation went into the dive and on completion circled the target and set course to return home. Your husband was last seen just before the formation went into the dive, and on circling the target, your husband did not rejoin the formation. His aircraft was not seen to crash nor was he seen to be in any difficulty throughout the trip. When our aircraft returned to base and he did not show up, we were forced to post him as 'Missing.' Most unfortunately, we know no details of what happened to Sydney. Since arriving at the Squadron, your husband has contributed much to the spirit and harmony which exists amongst the pilots and he most certainly contributed his share towards the great cause for which we are all fighting. He was admired and respected by both his fellow pilots and by our groundcrew, and his eternal cheerfulness and ready smile could be counted on during difficult times. Sydney was a very good pilot and if it were at all possible to force-land his aircraft, I feel sure he would have done so safely. There is also the possibility that he may have baled out and come down by parachute."
In the exhumation report, dated July 16, 1947, a red silk scarf was found as well as his Mae West. Canadian shoulder flashes, khaki battle dress, a F/Lt brevet, long woollen pants, a grey civilian sweater, socks, braces, and a Canadian made shirt were noted. There had been some difficulty in identifying his body. Local German documentation had confused two graves at one point, in a memo dated January 1949. A full investigation was made and positive proof was made to identify Aistrop.
LINKS: