Clifford Waldron Hicks J26912
May 9, 1922 - August 8, 1944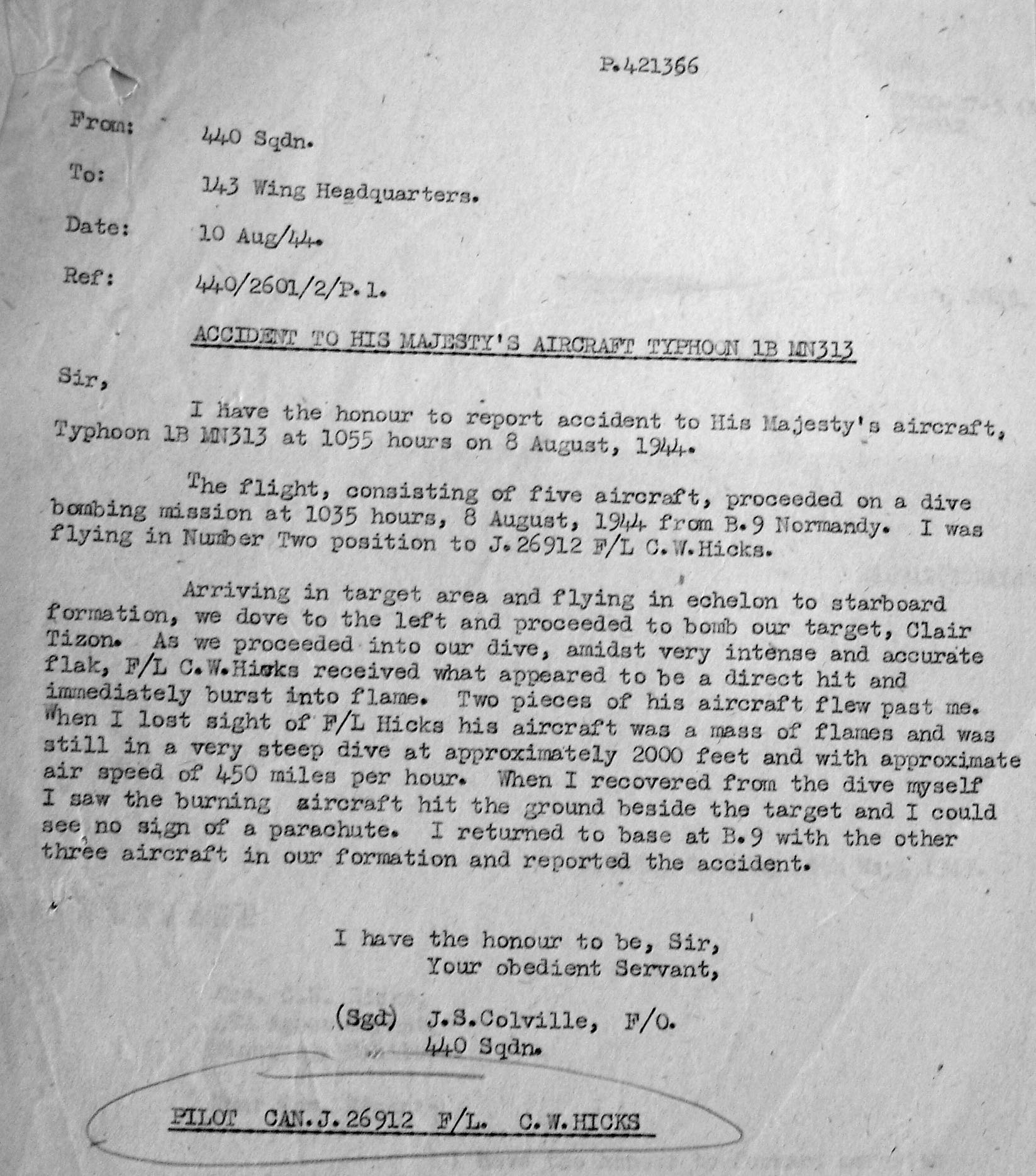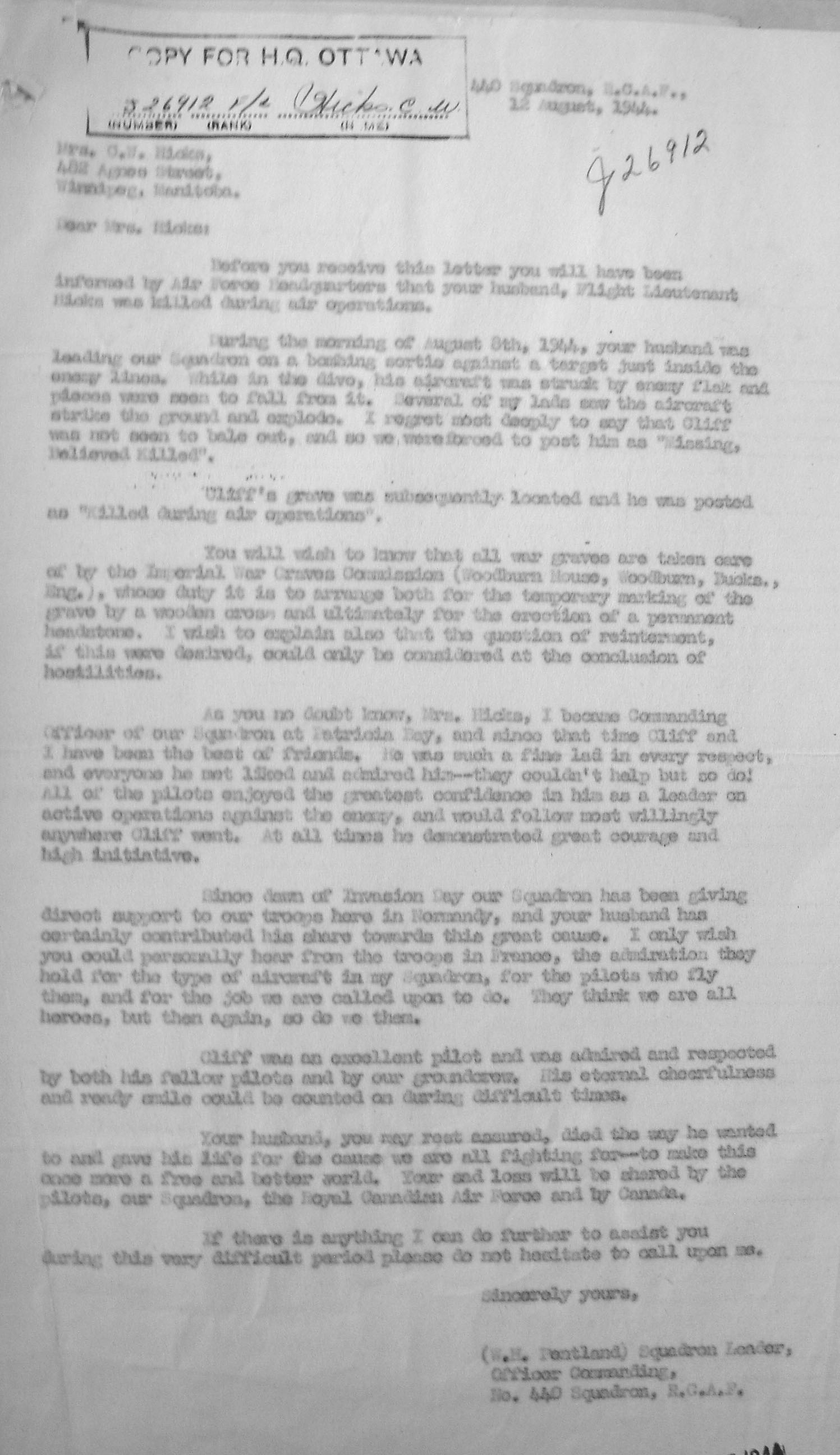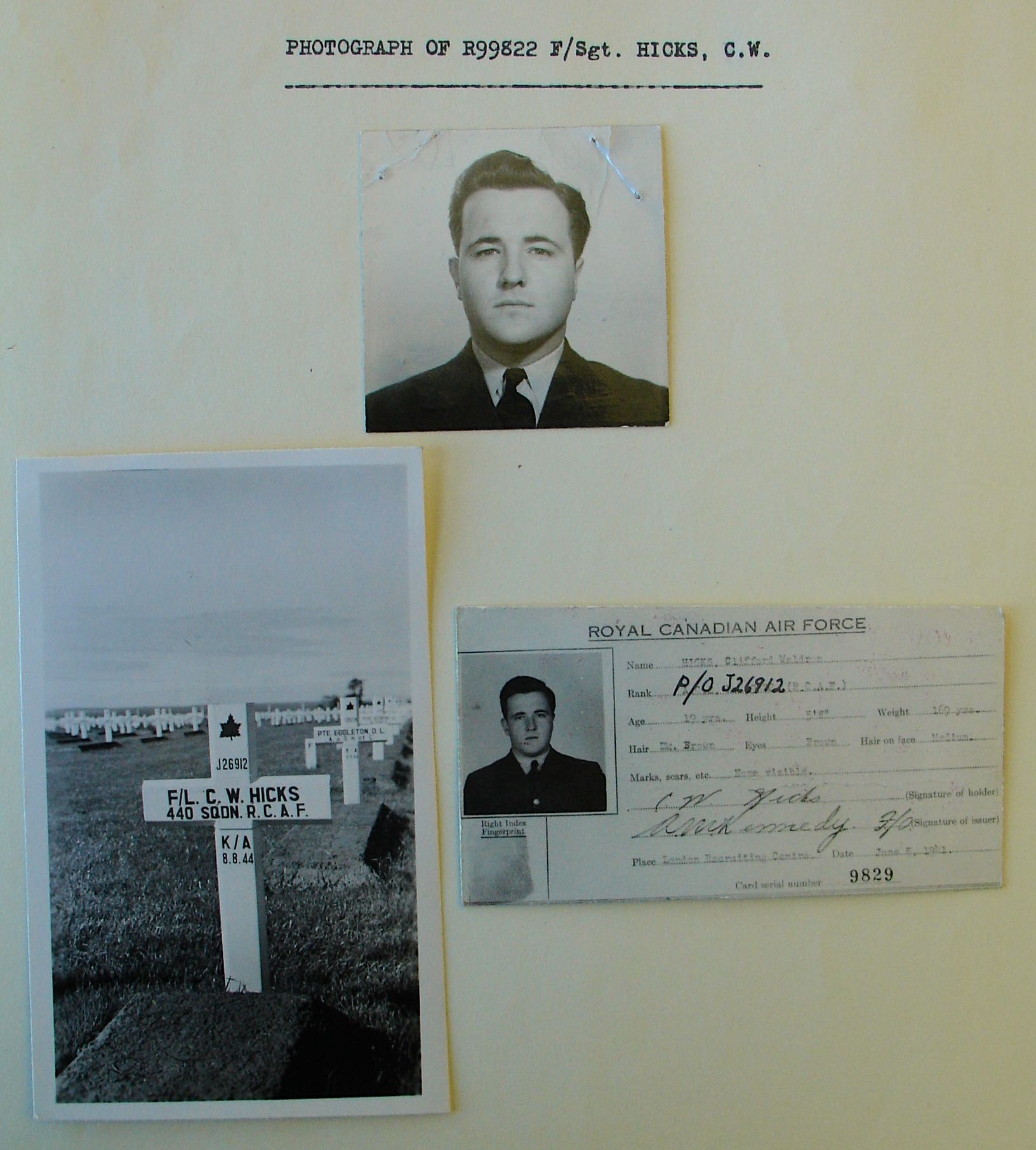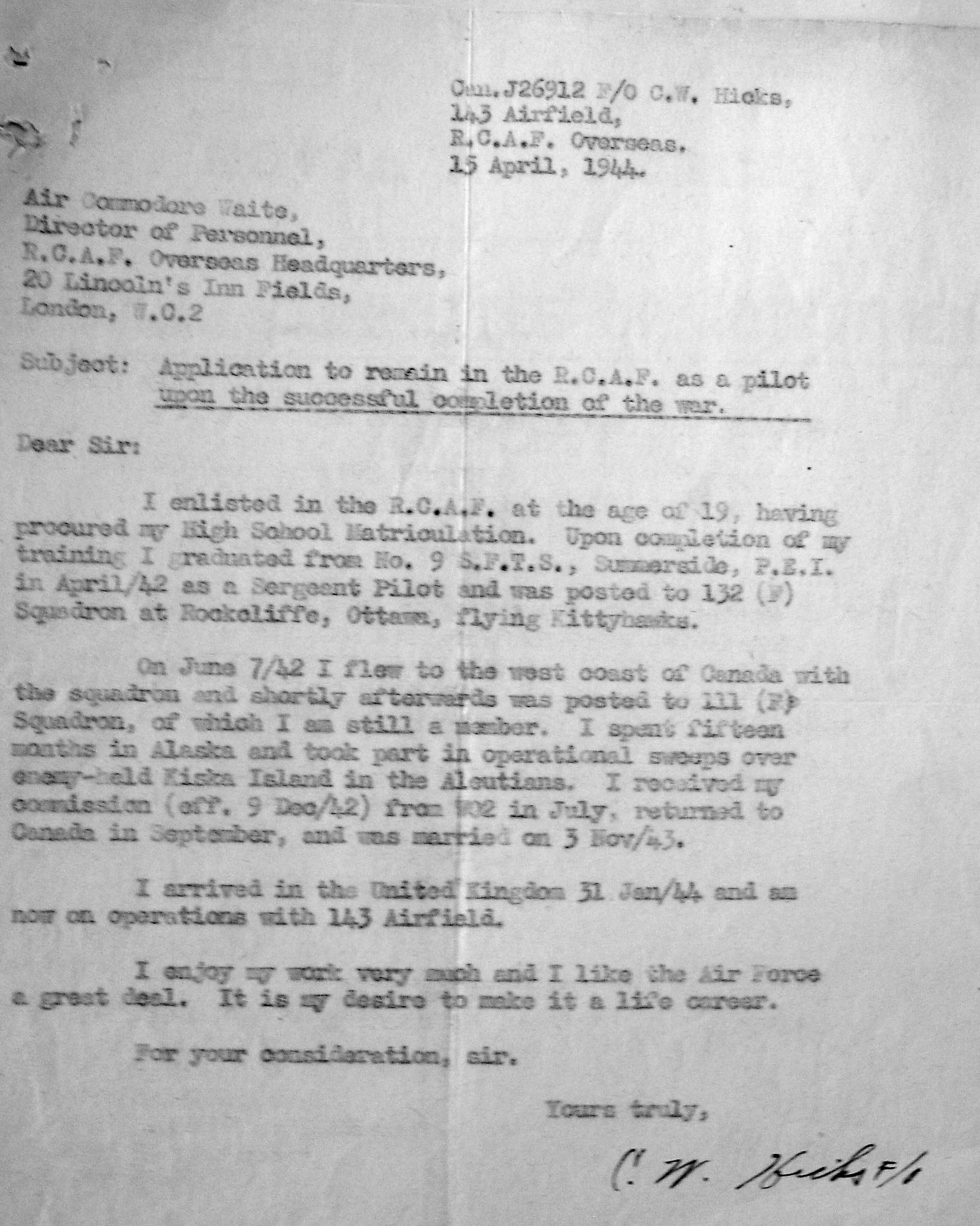 440 Squadron
Clifford Waldron Hicks was the son of Byron and Loretta Hicks of Winnipeg, Manitoba. He had one brother and two sisters. He was a student with his driver's license, prior to enlistment and wanted to stay on with the RCAF after the war. He married Agnes Isobel Forbes, 22, in Ottawa on November 3, 1943. Their son, David Clifford Hicks was born on September 25, 1944, seven weeks after the death of his father.
Hicks enlisted with the RCAF in the spring of 1941. He was assessed at No. 3 ITS, Victoriaville, Quebec in September 1941: "Very good home background. Quiet and very serious. Used to taking responsibility. very clean and well set up airman. Strong face. Good leader type. Keen and alert. Mature. Determined and self reliant. Quite intelligent. Very reserved." He was sent to No. 21 EFTS. He earned his wings at No. 9 SFTS, Summerside, PEI in April 1942, then posted to 132 (F) Squadron at Rockcliffe, Ottawa, flying Kittyhawks. In June 1942, he flew to British Columbia and was posted with 111(F) Squadron, staying with them for 15 months in Alaska. He returned to Canada in July 1943. He arrived in England on January 31, 1944 and was on operations with 143 Airfield.
More information about Hicks can be found in Typhoon and Tempest by Hugh Halliday, on pages 62-64, 73, 179, and 184.
F/O J. S. Colville, 440 Squadron wrote on August 10, 1944: "I have the honour to report accident to His Majesty's aircraft Typhoon 1B MN313 at 1055 hours on August 8, 1944. The flight, consisting of five aircraft, proceeded on a dive bombing mission at 1035 hours, August 8, 1944, from B.9 Normandy. I was flying in No. 2 position to J26912 F/L C. W. Hicks. Arriving in target area and flying in echelon to starboard formation, we dove to the left and proceeded to bomb our target, Clair Tizon. As we proceeded into our dive, amidst very intense and accurate flak, F/L Hicks received what appeared to be a direct hit and immediately burst into flame. Two pieces of his aircraft flew past me. When I lost sight of F/L Hicks, his aircraft was a mass of flames and was still in a very steep dive at approximately 2000 feet and with approximate air speed of 450 miles per hour. When I recovered from the dive myself, I saw the burning aircraft hit the ground beside the target and I could see no sign of a parachute. I returned to base at B9 with the other three aircraft in our formation and reported the accident."
S/L Pentland wrote to Agnes, explaining the circumstances of her husband's death. "Cliff's grave was subsequently located...You will wish to know that all war graves are taken care of by the Imperial War Graves Commission....whose duty it is to arrange both for the temporary marking of the grave by a wooden cross and ultimately for the erection of a permanent headstone. I wish to explain also, that the question of reinternment, if this were desired, could only be considered at the conclusion of hostilities." He explained that he and Cliff had been together since Patricia Bay and had become best of friends and he told her that her husband was liked and admired, how he was a great leader, an excellent pilot with an eternal cheerfulness and ready smile.
In 1952, Agnes married Al Watkins, a Typhoon pilot from 440 Squadron.
LINKS: