Courtney O'Brien Robertson Clacken J39101
Year Unknown (Approximate) - Unknown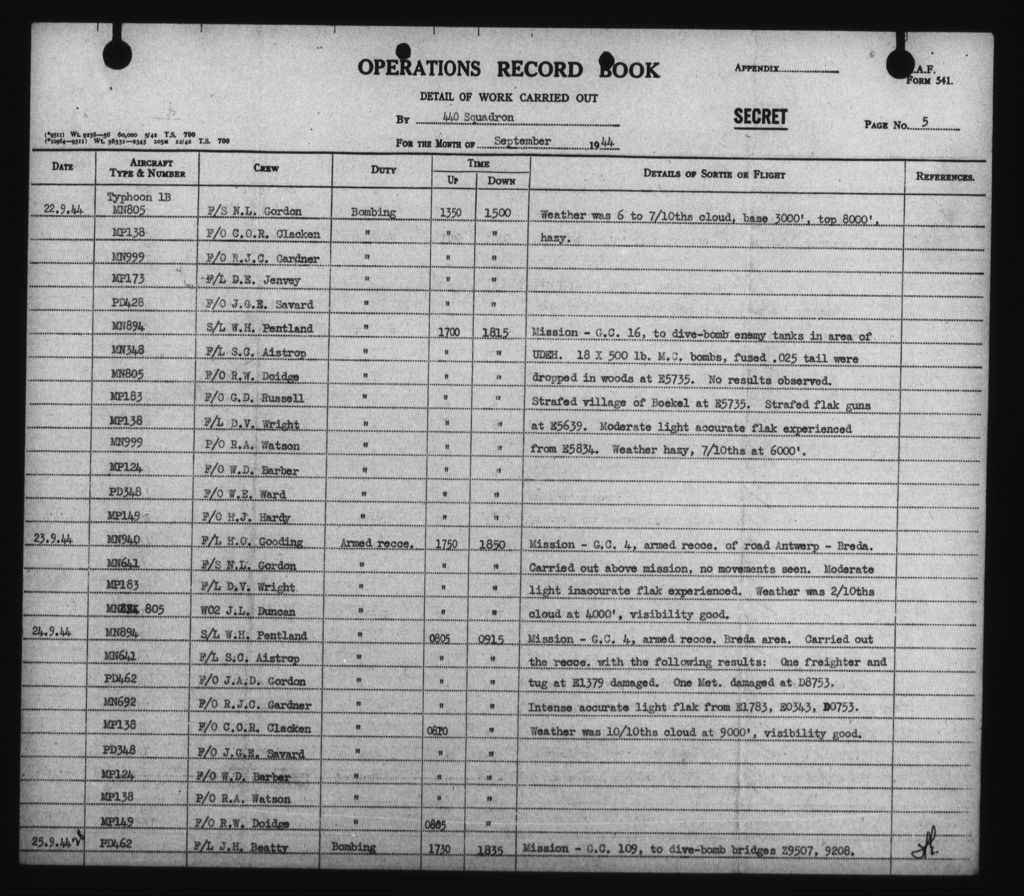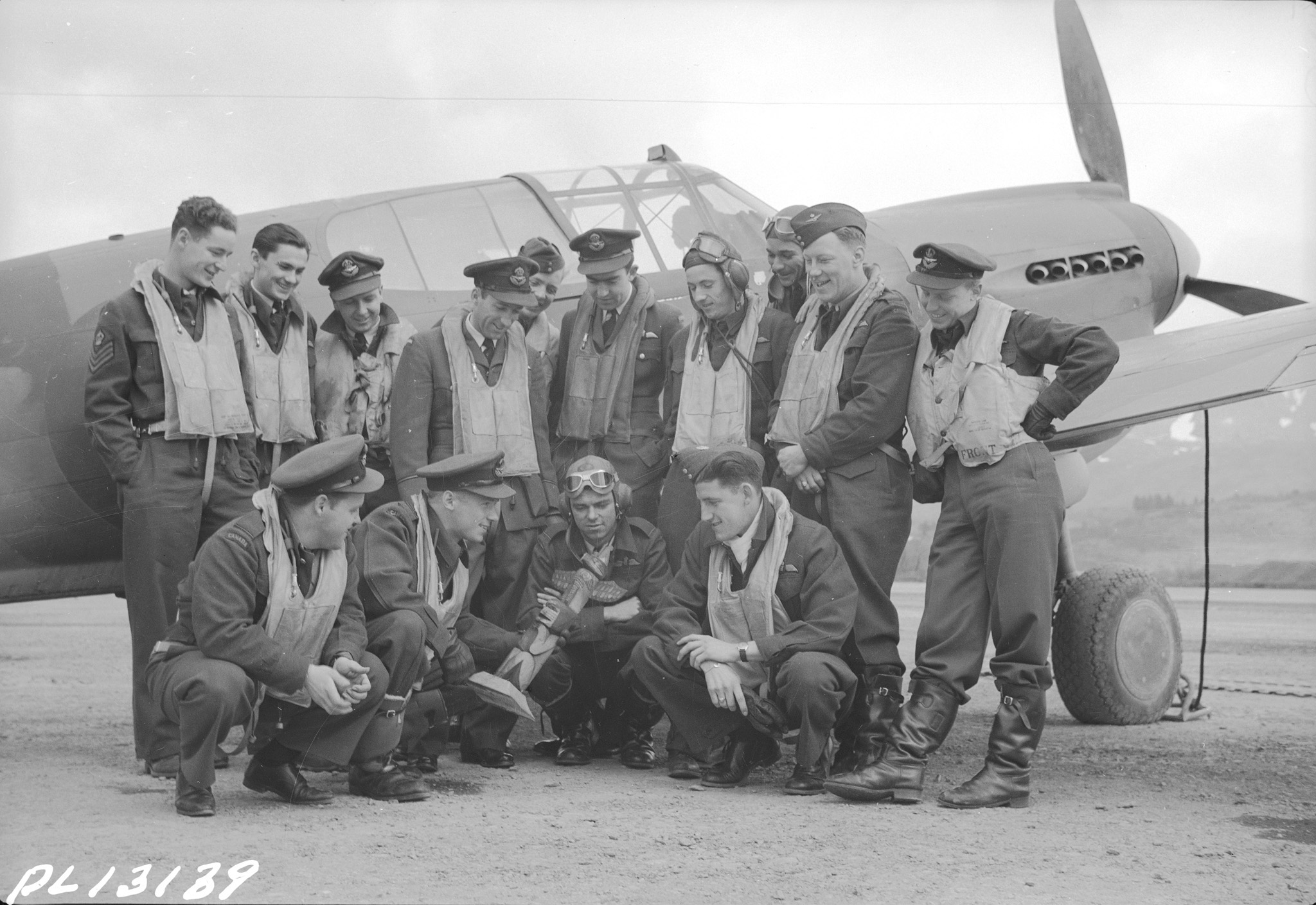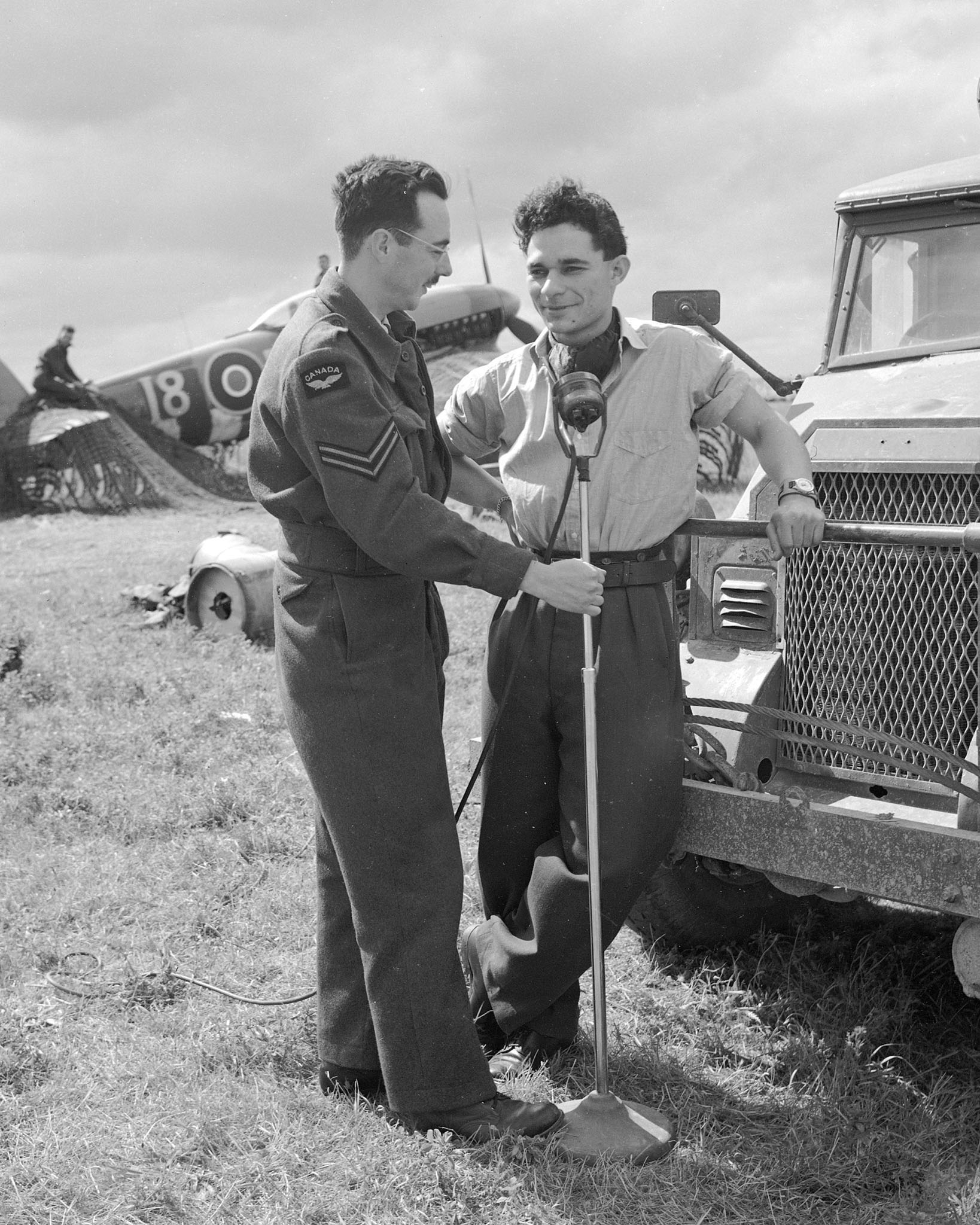 440 Squadron
Courtney O'Brien (Brian) Robertson Clacken was a pilot with 440 Squadron during the Second World War. He was born in Jamaica, with his home at Patricia Bay, BC, prior to the war. He was a former ranch manager and enlisted in 1941. He trained at No. 2 ITS, No. 5 EFTS, No. 3 SFTS; at that time his service number was R53950 and was later commissioned in 1943, with the ranks of Sgt – F/Sgt – WO2 – P/O – F/O – F/L. He earned the DFC, effective from January 18, 1945. See Typhoon and Tempest page 192 for particulars. He was with 111 Squadron in Alaska and BC, and his last flight with 440 Squadron was on November 17, 1944, (weather recce).
Distinguished Flying Cross - No.440 Squadron - Award effective 18 January 1945 as per London Gazette dated 26 January 1945 and AFRO 471/45 dated 16 March 1945.
PL-30938 UK-13020 28/07/44 440 SQN The RCAF microphone is set up on a bomber-fighter Typhoon airfield in Normandy so that F/O Brien Clacken of Jamaica and recently of Victoria, British Columbia can tell radio listeners in Britain, Canada and Jamaica of his experience on the Normandy bridgehead. Interviewing him is Cpl Don Fairbain, former well known announcer of C.B.C.'s Canada wide, Farm Broadcast. Don is a member of the RCAF's no. 1 mobile recording unit, operating in France.
PL-13139 12 June 1943 14 Squadron (442 Squadron) Advanced Fighter Base, R.C.A.F., Aleutians, Alaska, Members of the R.C.A.F. "Thunderbird" fighter squadron pose for a picture "somewhere in Alaska" with the Thunderbird totem pole presented to them by the West Coast Seanich Indian Tribe which adopted them as "fighting brothers." In the picture are, left to right: (Front row) Pilot Officer John H. Clark, Havelock, Ont.; Flight Lieutenant Hal Gooding, Ottawa; Pilot Officer G.R. Blair, Shawnigan Falls,Que.; and Flight Sergeant F.B. Young, Huntington, West Virginia; (back row) Flight Sergeant G.A. Costello, Stonewall, Man.; W02 W.D. Peacock, Noranda, Que.; Flying Officer G.G. Miller, Winnipeg; Flying Officer Bob Lynch, Fort Garry, Man.; Pilot Officer A.L.S. Harrison, Winnipeg, Man.; Flying Officer S.V. Garside, Edmonton, Alta.; Flight Sergeant J.L. Sabourin, Montreal; W02 G.O.R. Clacken; Flying Officer B.E. Middleton, Toronto, and Pilot Officer W.L. Pigden, Belleville, Ont.
LINKS: