Duncan Herbert Cumming J25086
August 9, 1921 - December 24, 1944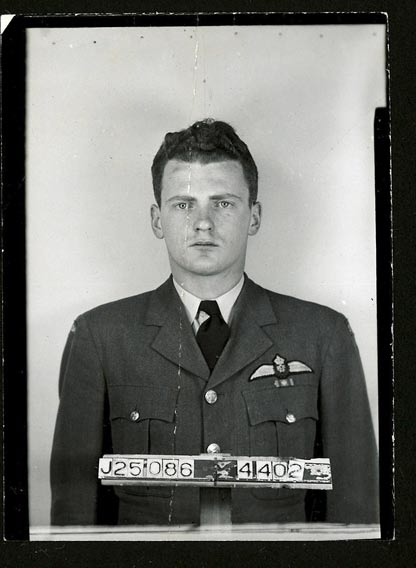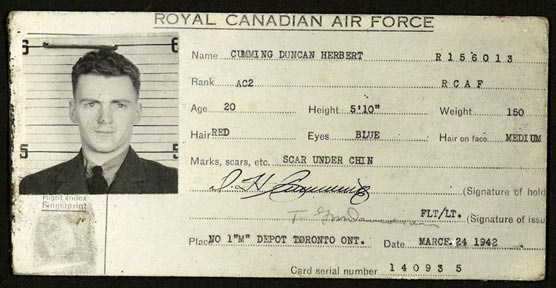 440 Squadron
Duncan Herbert Cumming was the son of Henry Walter and Margaret Eleanor (nee McBean) Cumming of Toronto, Ontario. He attended North Toronto Collegiate. He had two brothers, one, Donald, was with the RCAF. Kenneth was a student. The family attended Church of England.
Duncan was an analytical chemist prior to enlisting with the RCAF on February 13, 1942. He liked to play hockey, rugby, and enjoyed swimming. He was a smoker of 15 cigarettes daily and enjoyed the odd glass of beer.
He was assessed. "An excellent well developed eager lad. Alert, intelligent, excellent reactions, pleasant, a bit self assured, but capable. A really superior boy. Courageous, tenacious, cool."
He was at No. 6 ITS with excellent evaluations. He went to No. 12 EFTS. "Very keen and willing student. Plenty of ability and initiative." At No. 6 SFTS: "Flying: high average ability. Smart but seems a bit sullen. No trouble."
When he was posted to Bagotville, Quebec, he was lost in the woods for two days with his passenger, Corporal E. A. Greenwood, after his plane [Harvard 11 3258] was forced down on May 29, 1943 about 5 pm. They created a signal fire and used a Verey light. A first aid kit, food and flashlight, plus blankets and Verey cartridges were dropped to them. They were found initially by a civilian search party on the Sunday night and was brought to Jeffery Hale's Hospital in Quebec City on Monday, the 31st. He had crashed 8 miles north of St. Tite Des Caps, Quebec. In June 1943: "Dr. J. M. Elliott cleaned out the wound and sewed it up. This man is up and about and he may be discharged from hospital. In five days, the stitches can be removed. As he is nervous and shaken up a lot, it is recommended that he be given 3-4 weeks rest and treatment at home before returning to duty." He also had superficial burns on his chest, shoulders and back, on his face and also on his leg, just below the knee. He had a deep cut on his left knee.
He went overseas in July 1944. Prior to that, he was stationed in Labrador for six months.
In his files, there were forms indicating he sought medical treatment for pneumonia like symptoms, and bad colds, plus Hay fever.
On the 24th of December 1944, Duncan Cumming took off to escort a flight of aircraft [Typhoon MN 665] on a strafing mission over enemy territory. S/L Hal Gooding wrote to Mr. Cumming about the circumstances of the crash that claimed Duncan's life. "Soon after setting course to the target area, the formation was attacked by enemy aircraft and in the ensuing battle, it was observed that your son's aircraft went into a dive. The body of your son was located in the vicinity of the crashed aircraft, and it is believed he baled out of his aircraft before crashing, but it was at too low an altitude for his parachute to fully open. Death was instantaneous...Your son's funeral took place...on the 27th day of December at 11 am" at Woensel Cemetery, Einhoven, Holland.
One report was that Cumming's plane was shot down by an FW-190.
LINKS: