Francis Joseph Crowley J26914
July 25, 1921 - November 11, 1944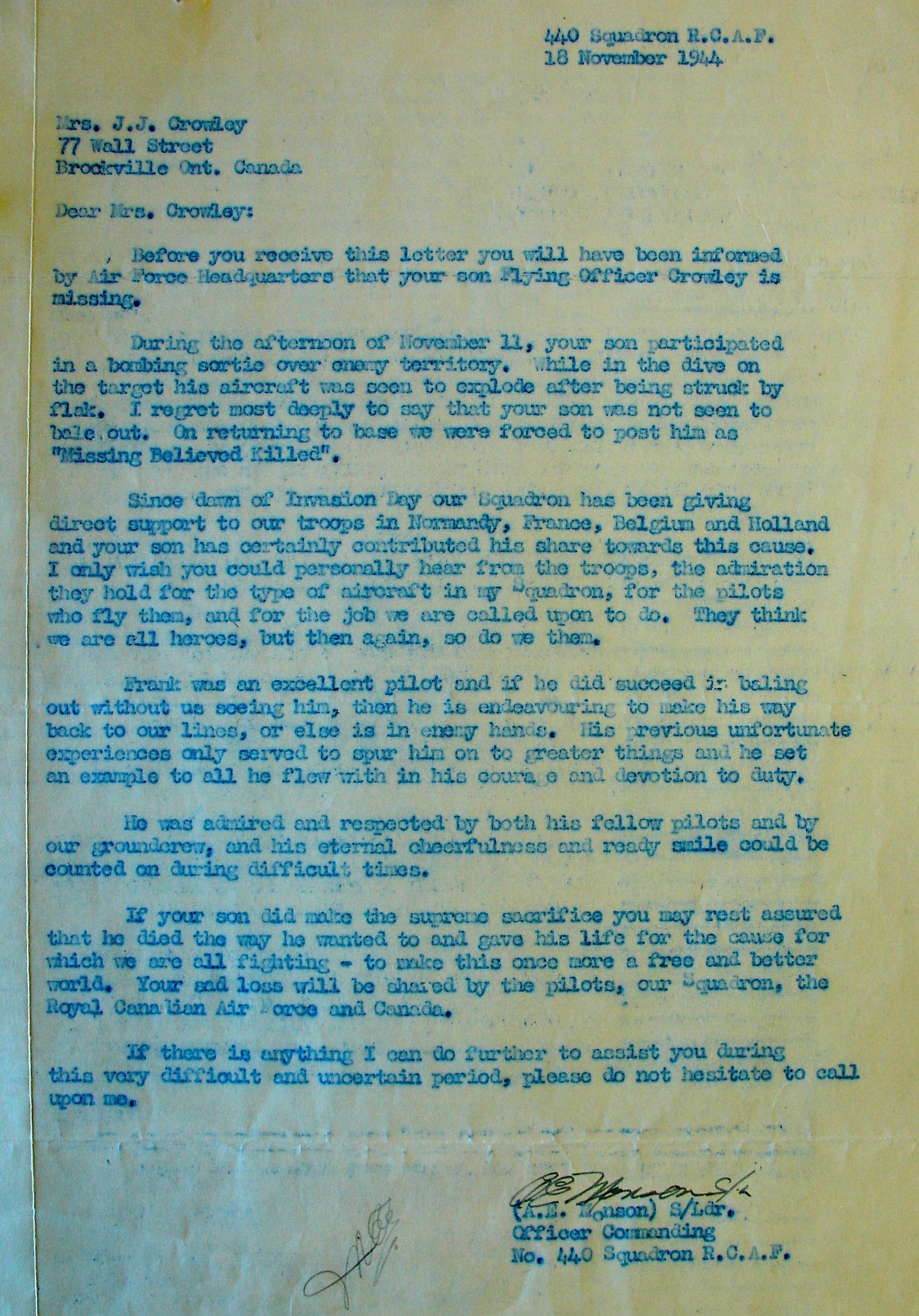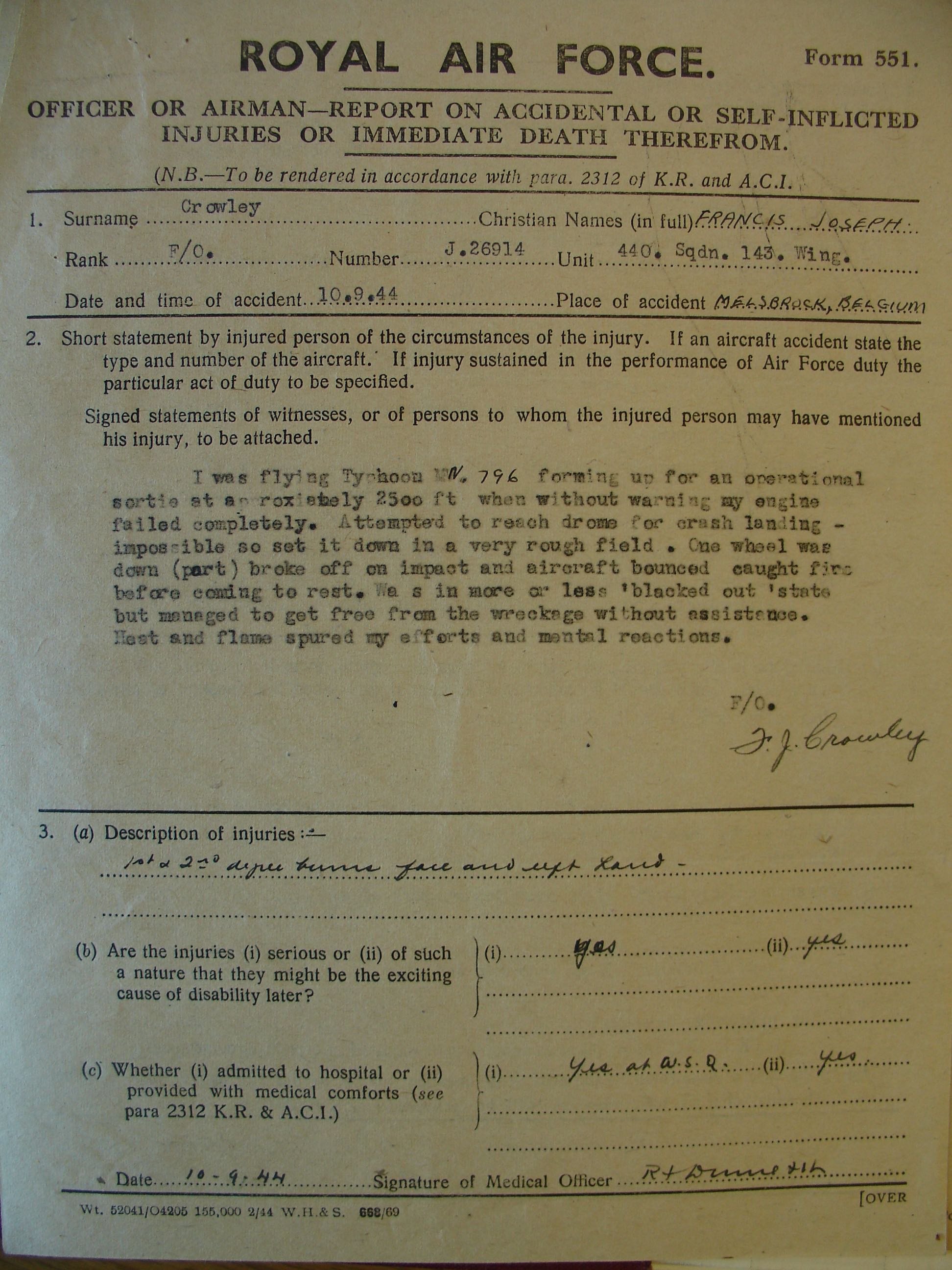 440 Squadron
Francis 'Frank' Joseph Crowley was the son of Joseph J. and Lillian M. Crowley, Brockville, Ontario. He had two brothers, one in the RCAF and the other in the RCN.
Crowley was a clerk and worked in the stock room at F. I. Ritchie Tobacco Wholesale and Retail. He had wanted to return to school after the war was over.
On September 10, 1944, Crowley had an accident and was injured. He wrote on the report, "I was flying Typhoon MN796 forming up for an operational sortie at approximately 2500 feet when without warning, my engine failed completely. Attempted to reach drome for crash landing, failed completely. Impossible, so set it down in a very rough field. One wheel was down (part) broke off on impact and aircraft bounced and caught fire before coming to rest. Was in more or less 'blacked out' state but managed to get free from the wreckage without assistance. Heat and flame spurred my efforts and mental reactions." He received 1st and 2nd degree burns on his face and left hand. The Medical Officer indicated that the injuries were serious and of such a nature that they might be the cause of a disability later. He was admitted to hospital.
Details in Minute 1, DPS: Typhoon aircraft MP129 piloted by F/O F. J. Crowley of No. 440 RCAF Squadron, left base to carry out an operational attack against the enemy. This aircraft was seen by an accompanying pilot, to be hit by enemy flak, burst into flames and explode in mid-air, while dive bombing a railway approximately two miles east of Rouveen, Holland at 1600 hours on the 11th, November 1944. The pilot was not seen to bale out...A telegram from the IRCC quoting German information states that F/O Crowley was killed on the 11th November, 1944. There are no burial particulars stated."
P/O J. M. Cordick was witness to the accident. "On November 11 at 1600, I was flying No. 2 position in Blue Section on a dive bombing mission to target, eight miles north of Zwolle. On reaching target, I made my attack, pulled up and did a climbing orbit to port. While doing the orbit, I noticed Red 3 (F/O Crowley) commence his dive. While in the dive, his aircraft burst into flames and fell earthward in a spiral dive. No flak was seen by myself in the area. A parachute was not observed."
On November 18, 1944, S/L Monson wrote to Mrs. Crowley. During the afternoon of November 11, your son participated in a bombing sortie over enemy territory. While in the dive on the taret, his aircraft [Typhoon MP129] was seen to explode after being struck by flak. I regret most deeply to say that your son was not see to bale. out....Since dawn of Invasion Day, our Squadron has been giving direct support to our troops in Normandy, France, Belgium, and Holland and your son has certainly contributed his share towards this cause. I only wish you could personally hear from the troops, the admiration they hold for the type of aircraft in my Squadron, for the pilots who fly them and for the job we are called upon to do. They think we are all heroes, but then again, do do we them. Frank was an excellent pilot and if he did succeed in baling out without us seeing him, then he is endeavouring to make his way back to our lines or else is in enemy hands. His previous unfortunate experiences only served to spur him on to greater things and he set an example to all he flew with in his course and devotion to duty. He was admired and respected by both his fellow pilots and by our groundcrew and his eternal cheerfulness and ready smile could be counted on during difficult times.
Frank Crowley lost his brother F/S Paul Anthony Crowley, Air Gunner on August 13, 1944, shot down with his crew by a night fighter on a raid to Germany. Frank's brother, John, was serving with the RCN on the HMCS Gatineau and was taken off the ship after Frank was killed. Their father who served in WWI and during WWII, served as an electrician in England. He returned to Canada after his first son was killed.
LINKS: