Gerald Leroy Passmore J35987
July 31, 1923 - February 2, 1945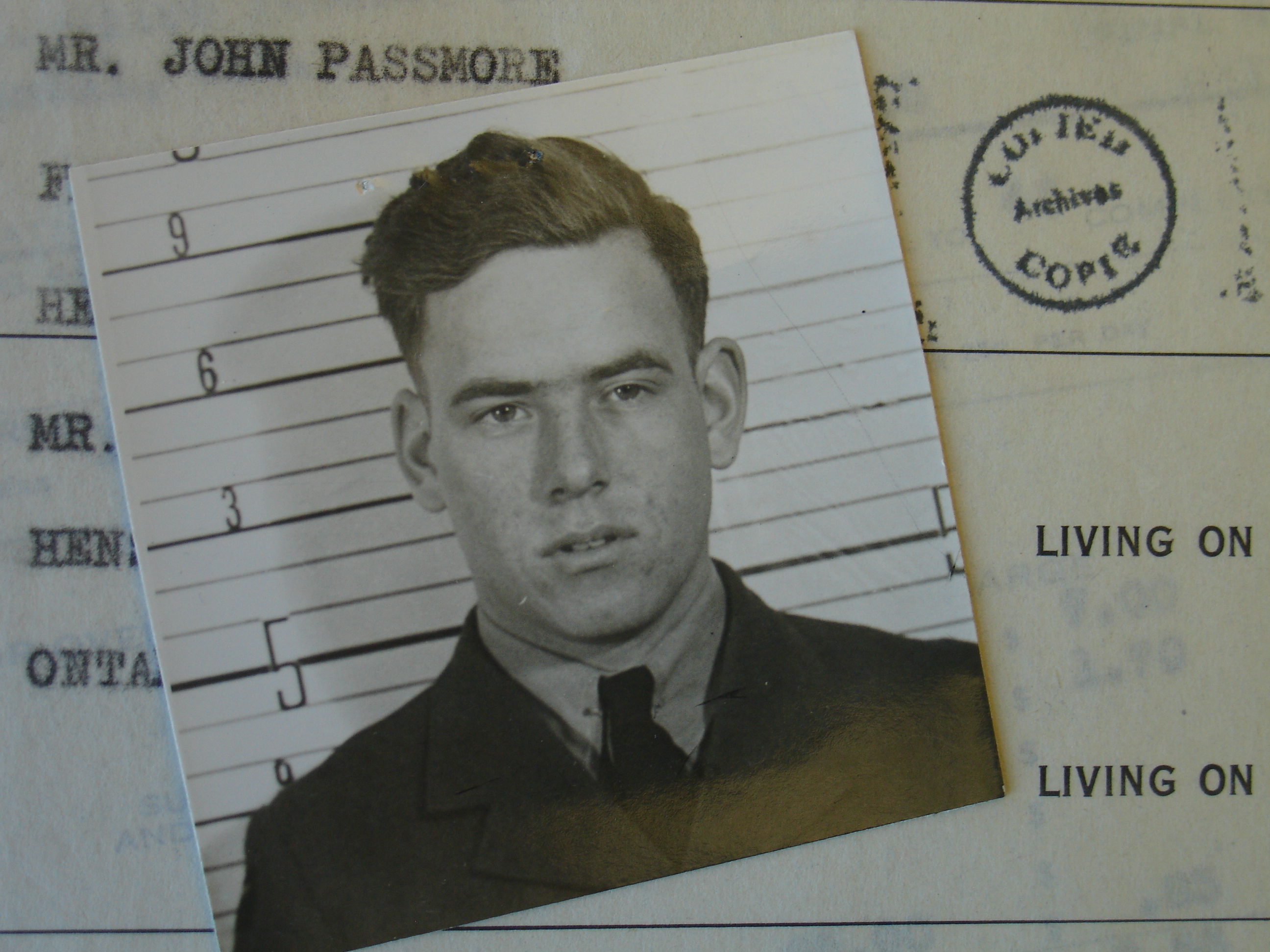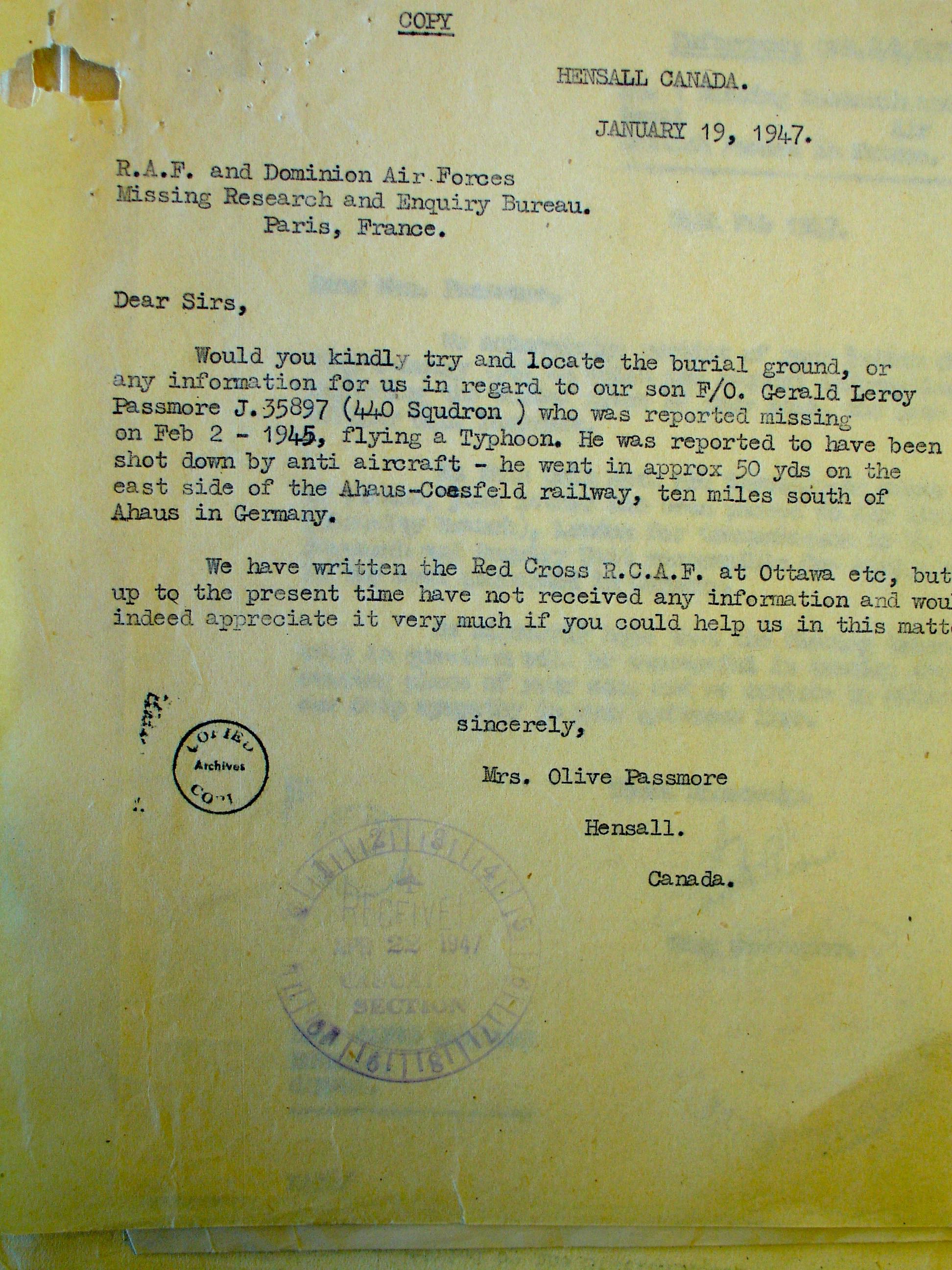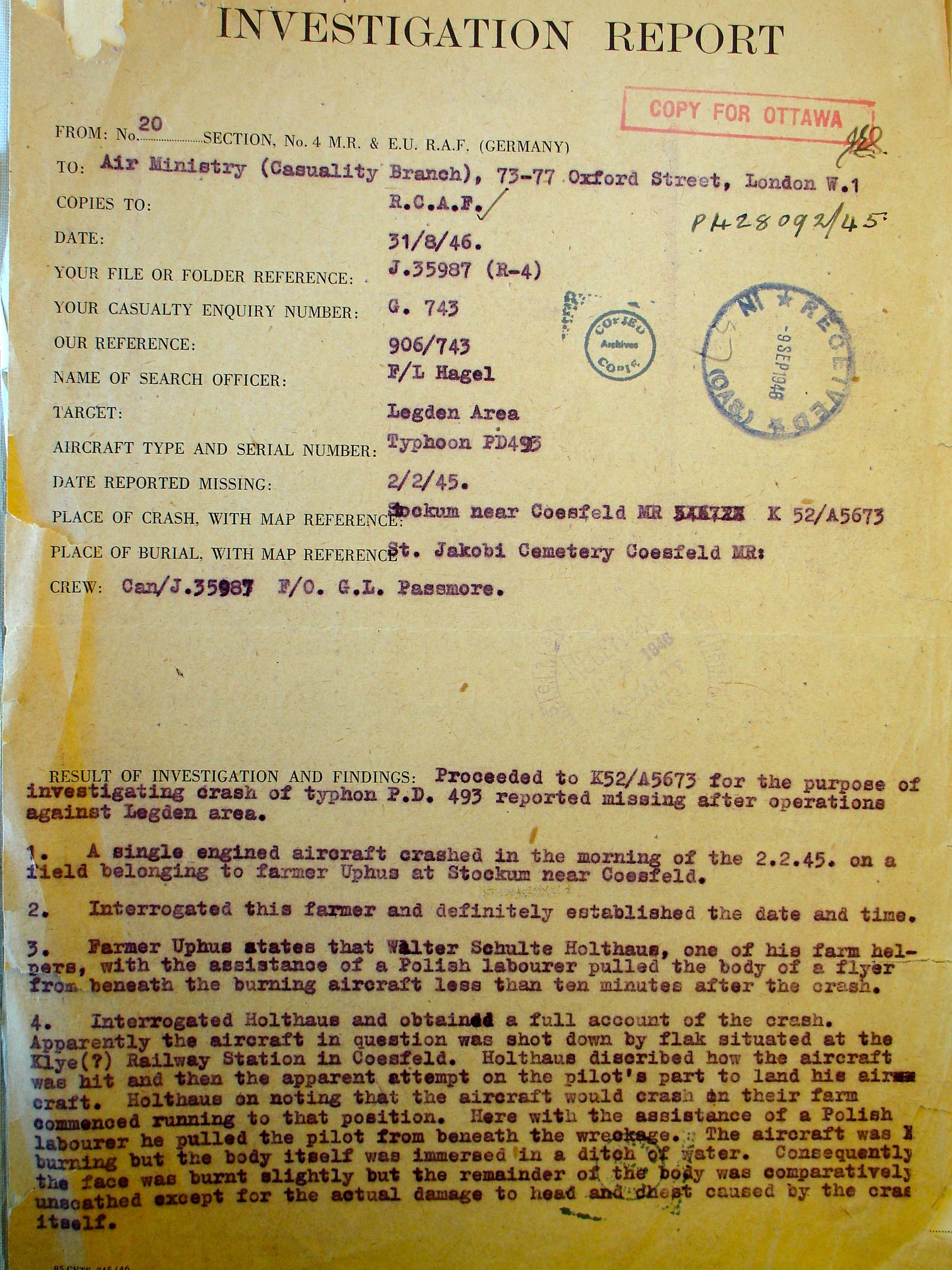 440 Squadron
Gerald Leroy Passmore was the son of John and Olive Pearl Passmore of Hensall, Ontario. He had five older brothers and two older sisters. The family attended the United Church. Gerald was in 'general employ' assisting his father in electrical work prior to his enlistment. He wanted to remain in the RCAF after the war.
At No. 5 ITS, Belleville, November 1941: "Possibilities as pilot. Average all-round at sports. No car accidents. Joined to do his bit and to fly, ambition was aviation. Could be either observer or WAG but better suited for observer. Average shot, but has done very little. Not very likely for a commission. Reserved and hard to assess. Thinks he would like to be a leader but feels young and unsure of self. Good character, serious, conscientious, dependable, nice, but not striking personality."
By August 1944 through to October 1944, he was at No. 57 OTU. "An average pilot whose progress has been promising during the course but still has room for improvement. His combat flying is good. Squadron experience should help him considerably. Selected to fly Typhoons."
Passmore was fondly known as 'Deke' to his Squadron mates. He arrived at 440 in November 1944. He was considered to be one of the most congenial officers that S/L Gooding had under his command.
On February 2, 1945, it was reported, "Typhoon PD 493, piloted by F/O G. L. Passmore of No. 440 RCAF Squadron left base to carry out an operational sortie against enemy railways. While returning from the target, at approximately 1035 hours, F/O Passmore was seen to go in to strafe a train, however, the tail of his aircraft appeared to have been blown off between 300-400 feet and the aircraft hit the ground and burst into flames. The pilot was not seen to bale out." At one point, it was believed that Passmore was uninjured and had been apprehended on February 5, then had been taken as a Prisoner of War, as a priest supposedly brought Passmore from Legden, but that Passmore did not arrive at Handorf POW Transit Camp...noting also the escort was anti-Nazi.
In March 1947, Mr. Passmore was sent a letter from /C Gunn, RCAF Casualties Officer for Chief of Air Staff detailing the circumstances of Passmore's crash and burial, as the family was still waiting for closure. "You will, of course, recall that the original information which we conveyed to you in February 1945, and that information was confirmed to you by letter from S/L H. O. Gooding, your son's Commanding Officer, was to the effect that your son's aircraft was hit by enemy anti-aircraft fire, and the aircraft was seen to go into a dive at low altitude, in the area 17 miles south east of Enschede, Holland. From this information, our Missing Research and Enquiry Services were successful in locating the owner of the farm on which your son's aircraft came down, and they interviewed the German farmer, who had witnessed the crash. This farmer, Uphus by name, definitely confirmed the date and the time, and stated that with the assistance of one of his farm labourers [Walter Schulte Holthaus and a Polish labourer], he removed the body of your son (who was killed instantly) from the aircraft, and was instructed by the German Authorities to make suitable arrangments for burial and convey the body to Coesfeld, where your son was buried....He also advised that burial was conducted with a religious ceremony. The Chief of Police of Coesfeld confirmed the identity of your son and the burial arrangements.....all RCAF personnel who are buried in Germany will be moved to British Military Cemeteries which have been located in Germany, your son will, at a later date, be laid to rest in a British Military Cemetery, where his grave will be perpetually maintained by the Imperial War Graves Commission, who will erect a headstone to his memory....I am sorry indeed to convey such distressing details to you, and it is my earnest hope that you may derive a measure of comfort from the lifing of the 'uncertainty' which you have ilved through these long months." Additional information not relayed to Mr. Passmore was that his son's body had been beneath the burning Typhoon PD 493. When Holthaus was asked, he described how the aircraft was hit by flak at the railway station at Coesfeld. The pilot had attempted to land his aircraft. The pilot's body was immersed in a ditch of water. Uphus was ordered by German Authorities to build a box which would serve as a coffin for Passmore and transport the body to Coesfeld. The Police Master Kaesner gave a description of an identity card with the first name 'Gerald'. All personal effects such as a wrist watch, compass, gun, identity discs, etc. were turned over to the German Authorities. A cross was erected over the grave with appropriate particulars, but was not registered. In 1945, a British Officer made the first enquiry into the fate of Passmore. He had come from Holland and was thought to be a Canadian, a close friend or relative of Passmore. [Thomas G. Quance, Lt. Col. Comd RCEME 3 Cdn Inf Div Cda, Cdn Army Overseas]
LINKS: