Harold Orville Gooding J10608
June 11, 1919 - November 14, 2009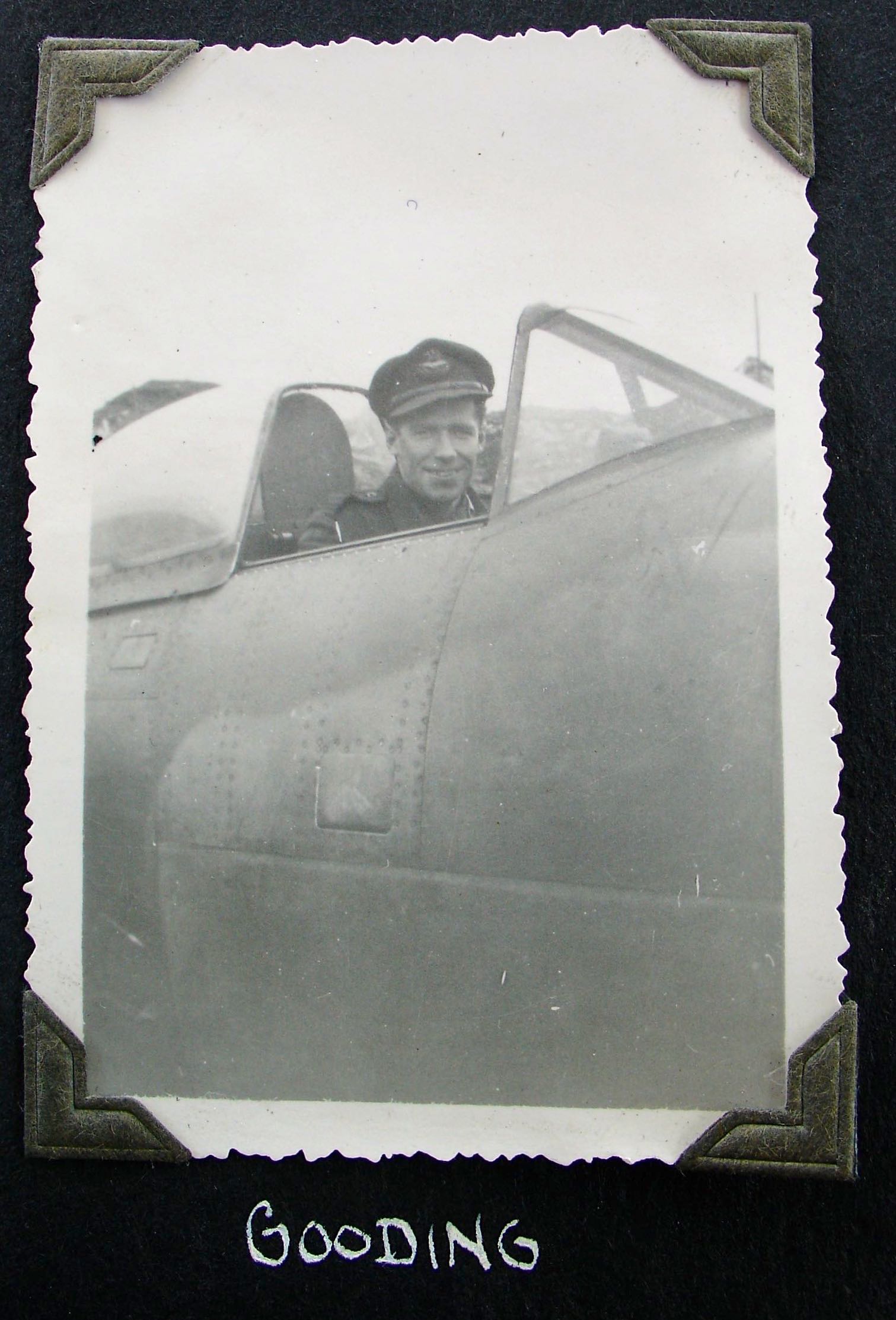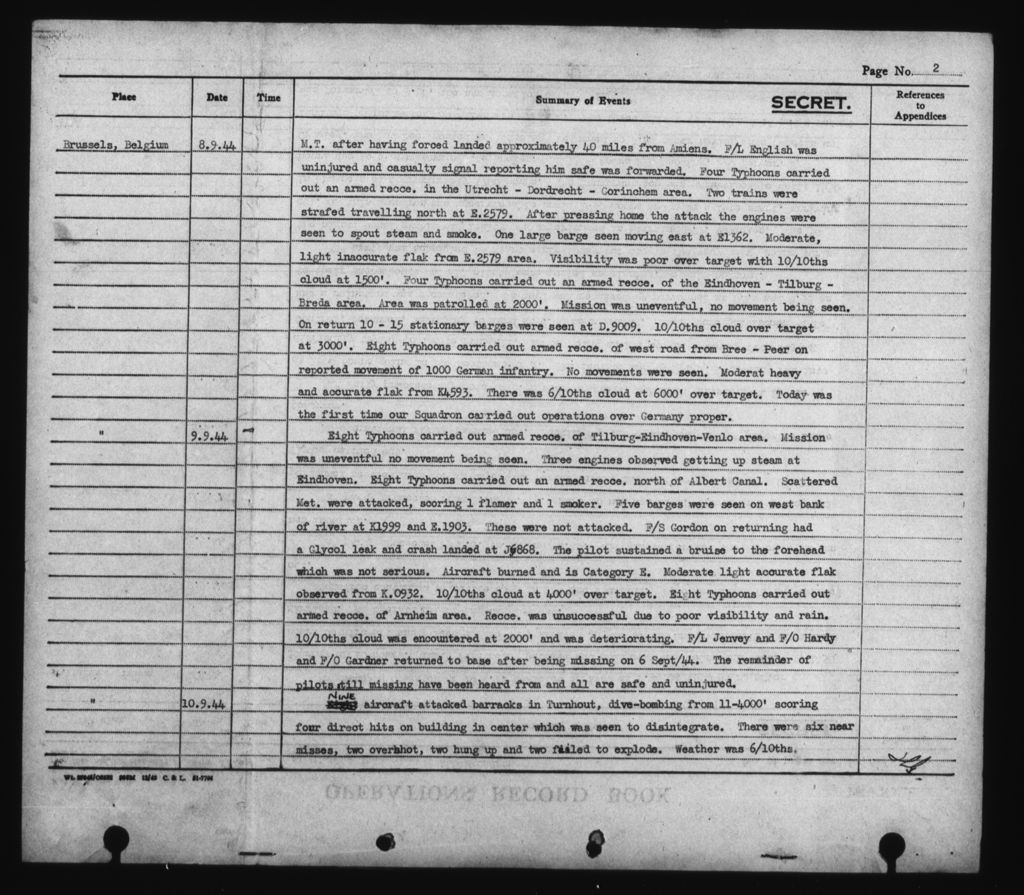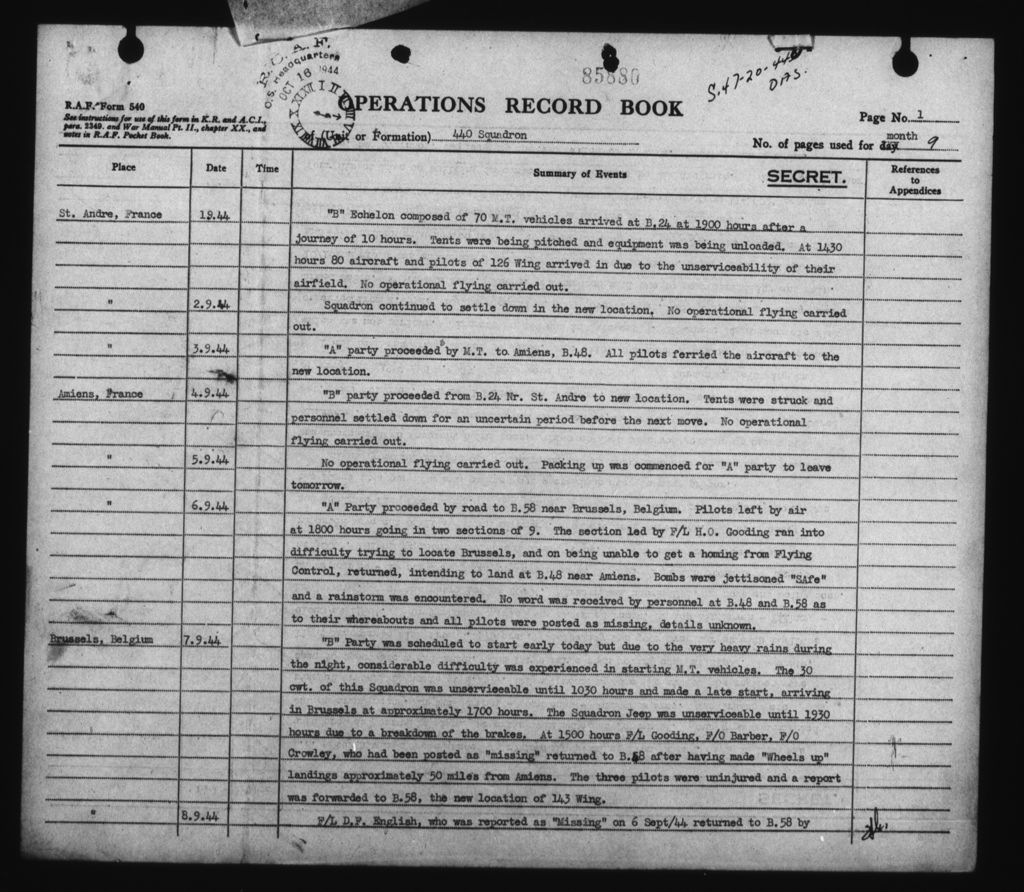 440 Squadron
Hal Gooding was the subject of the book A Man Called Hal: Squadron Leader Harold Orville Gooding, A Canadian Story by Kenneth S. Arnott, published in 2008.
Gooding delivered newspapers for the Ottawa Citizen as a youth and was very sports oriented. He was the captain for two years of the Montagnards hockey team, with the skills and aspirations to become part of the NHL, having been approached by the Boston Bruins. He graduated with honours from Glebe Collegiate High School. He started working with the Federal Civil Service as an "office boy" in the Ministry of Immigration for $35/month. Then he moved to the Ministry of Transport's Civil Aviation Division, where he was introduced to aviation.
Gooding was from Ottawa and enlisted with the RCAF in 1941 at the age of 21. He trained under the BCATP, making his way from Aylmer to Belleville, to #22 EFTS Ancient Lorette, outside of Quebec City and at #13 SFTS St. Hubert, where he earned his wings on March 11, 1942, as well as a commission. He served in the Aleutian Islands from June 1941 - August 1943.
From 111 (F) Squadron website, courtesy of Bill Eull:
Gooding arrived at 111 Squadron on March 22, 1942. He was declared operational on May 5, 1942 after being checked out on the P40. He went with 111 Squadron to Alaska where he was designated Section Leader (Section 4) as the settled into operations on Umnak Island. Here he was awarded the US Air Medal for the attack on Kiska Island with S/L Boomer.
He was promoted to Flying Officer on December 28, 1942.
On May 8, 1943, he was promoted to Acting Flight Lieutenant.
111 Squadron was sent to England on January 20, 1944. Gooding was checked out on Typhoons and was ready and operational in time for D-Day. He flew Typhoon MN555 on June 6, 1944. He was very successful in the dive-bombing raids against German forces.
Harry Hardy, DFC, 440 Squadron, recalls a story involving Hal Gooding. "We got lost!" Hardy laughs. "Hal's promotion was held up six months because of this incident."
The 440 Squadron Diary on September 6, 1944 reads: The Section led by F/L H O Gooding ran into difficulty trying to locate Brussels and on being unable to get a homing from Flying Control, returned, intending to land at B48 near Amiens. Bombs were jettisoned 'safe' and a rainstorm was encountered. No word was received by personnel at B48 and B58 as to their whereabouts and all pilots were posted as missing, details unknown. September 7, 1944: At 1500 hours, FL Gooding, F/O Barber, F/O Crowley who had been posted as 'missing' returned to B58 after having made wheels up landings approximately 50 miles from Amiens. The three pilots were uninjured and a report was forwarded to B58, the new location of 143 Wing. Hardy arrived three days later, unhurt.
Gooding was featured in an article, dated November 9. 2005, in the Toronto Star entitled 'You're scared as hell!' He tells about crash landing in Belgium in 1944 when he was hit in an oil line and his engine seized. He came down with his wheels up, belling landing in a plowed field of planted potatoes. A man approached him, a member of the Free French, who took him to his house and gave Hal some coffee. People came into the house to shake Hal's hand. However, the Germans were close by. Hal spent the night with the man, not getting much sleep. The next day, a small plane came to get Hal.
Gooding had three tours of duty, 309 OPS including three sorties over the beaches at Normandy on D-Day (June 6, 1944) and 2 DFCs, plus the American Air Medal for heroism in action. His tour expired on March 11, 1945.
He said, "D-Day was something else. Columns of ships and Germans up on a hill shooting down on our guys. Boy, they were catching it. We came down and we were shooting up anything that was moving. The more we saw, the lower we got. We could only stay up an hour and a half. We got back, sat in our airplanes and the intelligence people came to talk to us. Then off we went again. A wild day!"
Bob Gardner, son of Currie Gardner said, "Dad was a good friend of Hal Gooding who was his Squadron Leader. For years they had heated arguments over Hal's tail. At some point Hal claims that Dad turned his plane into Hal's tail with Dad's propeller clipping the tail. Dad always claimed that Hal swung his tail into Dad's propeller, as they were taking off. This argument was never resolved. Dad would talk more about this story than any other. It was harmless. No one was getting killed in this story."
Calgarian and friend to Bill Pentland, DFC, Graham Bennett said, "In addition to his outstanding war service, Hal was Chief Pilot for Imperial Oil." He was also the aviation manager for Imperial Oil. Prior to flying for Imperial Oil, he flew VIPs around for the Federal Government.
Hal was married to Doris (nee Higginson). They met at the Ottawa Exhibition before the war. They were married on September 4, 1943. They had two children and three grandchildren. He had been a resident of Sunnybrook Veteran's Hospital in Toronto for nine years prior to his death.
For more stories about Hal Gooding, please refer to pages 63, 64, 73, 75, and 194 in Typhoon and Tempest by Hugh Halliday.
LINKS: