John Cyril Bonner C7177
1910 (Approximate) - July 11, 1993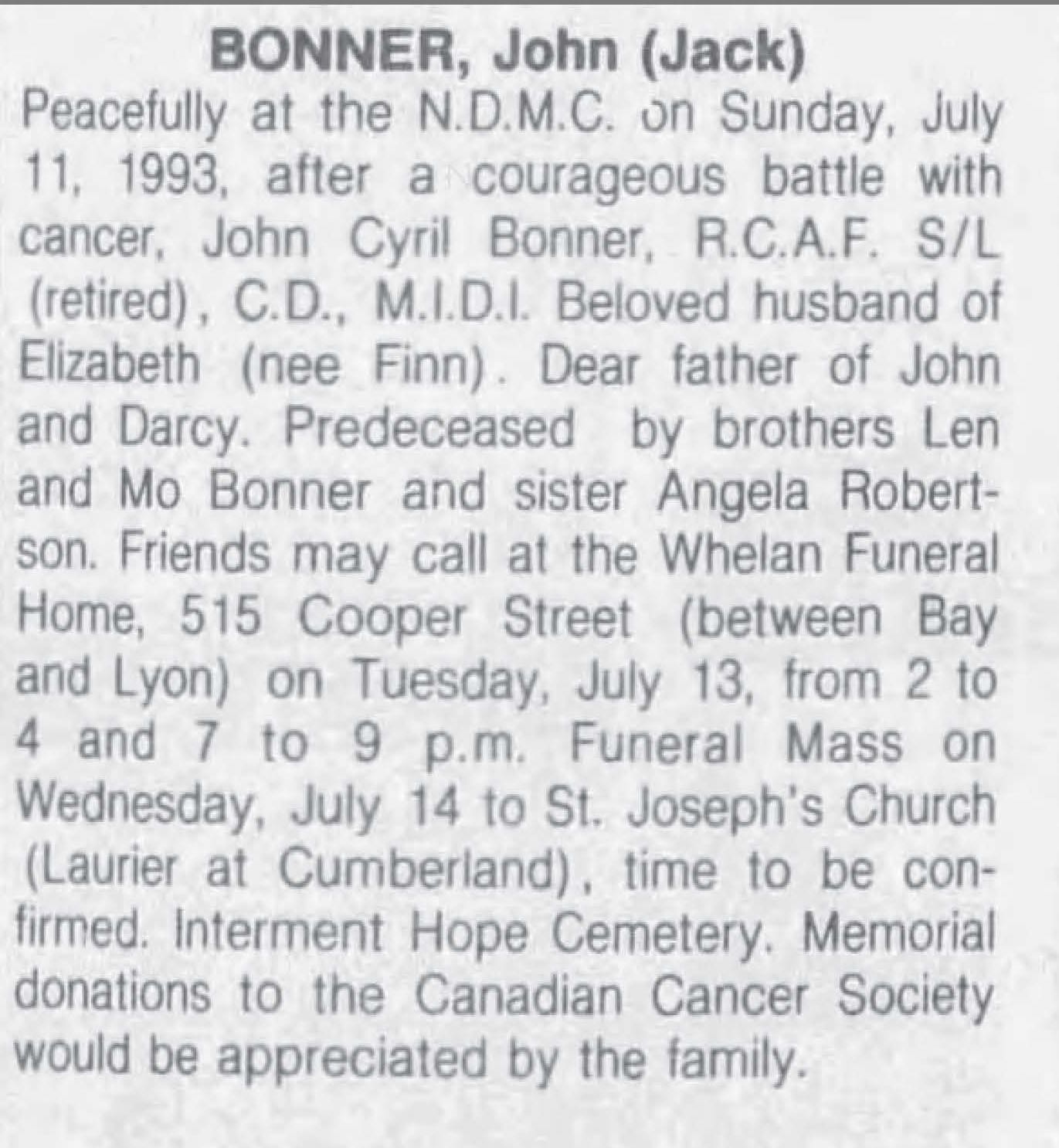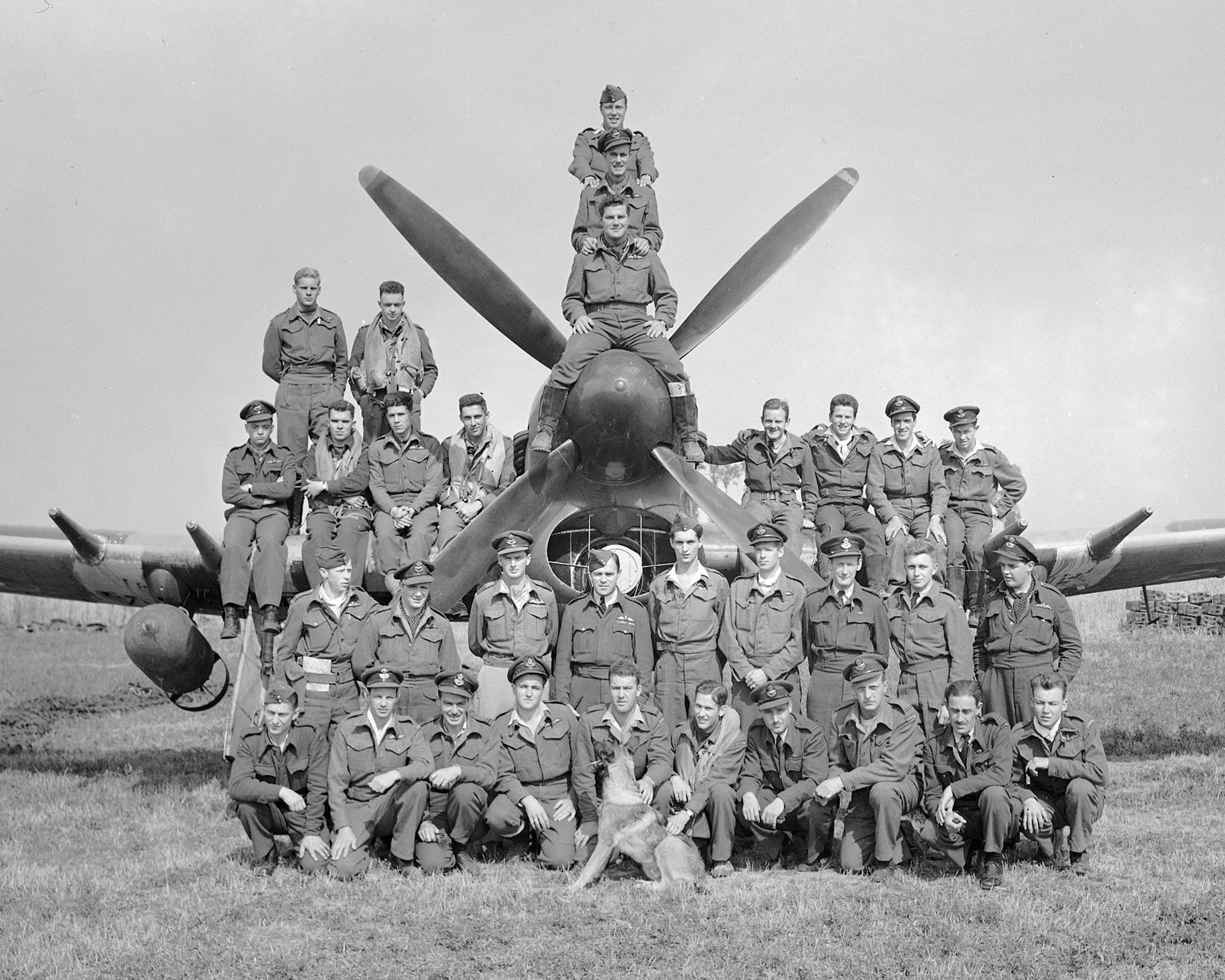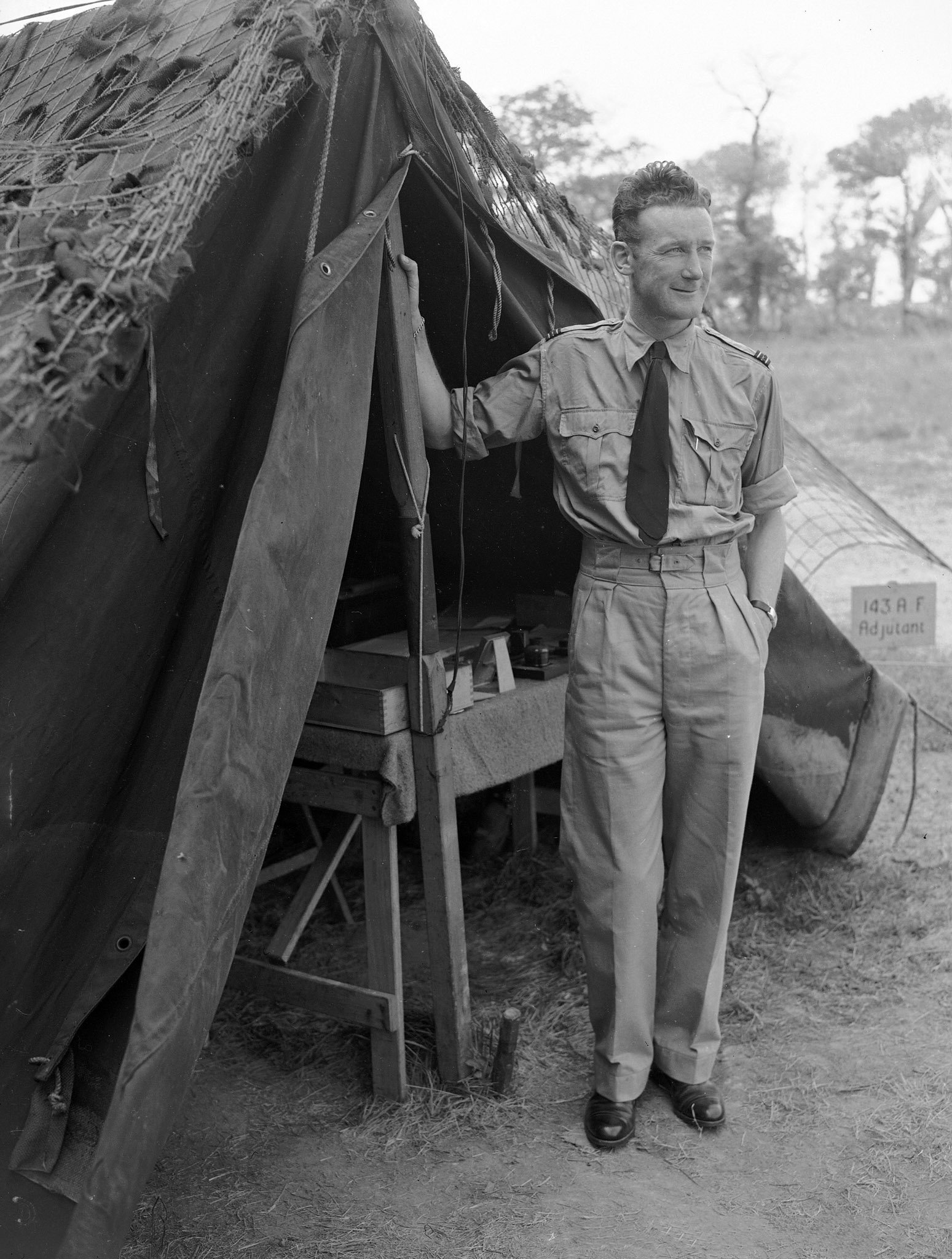 440 Squadron
John Cyril Bonner was from Ottawa, Ontario, married to Elizabeth Finn. He remained in the RCAF until 1960, then went into the insurance business. John died in 1993. See obituary for more details.
Bonner was the adjutant for 143 Wing (438, 439, 440 Squadrons) from Jan 44 to Jan 45. He was the Administration Officer for the Wing Commander.
Text for photo: PL-31102 UK-13568 05/08/44 Flight Lieutenant John C. Bonner, 110 Goulburn Ave. Ottawa, Ontario, adjutant with a RCAF Typhoon fighter-bomber airfield in Normandy.
Bonner is in the August 1944 photo of 440 Sqn personnel. PL-31057 UK13338 04/08/44 440 SQN Pilots of the City of Ottawa "Beaver" squadron are shown about one of their Typhoon fighter-bombers on an advanced RCAF airfield in Normandy along with senior wing and airfield officers and "Smoky" the Alsatian Mascot. KNEELING left to right are F/O Clifford Osborne, 344 Oak Street, Winnipeg, Manitoba; F/O Robert Hattie, New Glasgow, Nova Scotia; Dr. Roger Dunn, 144 Grand Avenue, Quebec City; F/L Clifford Hicks, Crediton, Ontario; F/O Anthony Fromeolo, Alameda, California; F/O Walter Ward, 29 East Road, Toronto, Ontario; S/L Donald A. Brownlee, 188 Huron Avenue, Ottawa, Ontario, Airfield Administrative Officer; F/O Ray Collos, 2026 Clifton Avenue, Montreal, Quebec; F/O Bert Daykin, Montrose Court, Saskatoon, Saskatchewan, Intelligence Officer; WO2 Richard Watson, Oba, Ontario. SECOND ROW, STANDING left to right; F/O John Gordon, 356 Main Street, LaChute, Quebec; F/O Francis Crowley, 77 Wall Street, Brockville, Ontario; Wing Commander M.T. Judd, DFC, AFC, Winchester, England; W/C flying-Group Captain Paul y. Davoud, DSO DFC, Kingston, Ontario, commanding officer of airfield Squadron Leader William Pentland, 311 37th Avenue W., Calgary commanding the "Beaver" squadron; F/L Harold Gooding, 19 Morris Street, Ottawa, Ontario; F/L Jack Bonner, 110 Goulbourn Avenue, Ottawa, Ontario; Airfield Adjutant, F/O Donald Campbell Cpareol, Ontario; F/O Ramsay Milne, Netchosin, British Columbia. SITTING on the Typhoon wings left to right are F/O James Beatty, 20 Cherry Street, St. Catherines, Ontario; F/O Donald Wright, 60 Queen Street, Trenton, Ontario; F/O Delbert English, 1352 Newton Road, New Westminister, British Columbia; F/O Currie Gardener, Hamilton, Ontario; F/O Gordon Russel, 2358 Grand Blvd., Montreal, Quebec; F/Sgt Leonard "Crash" Gordon Canso, New Brunswick; F/O James Stewart, 251 St. Louis Street, Terrebonne, Quebec; Donald Doidge, LaSalle; F/O John Dewar, 406 Victoria Street, London, Ontario; SITTING on the spinner cap is F/O "Sandy" Colvil.
LINKS: