John Fraser Dewar J28180
May 24, 1924 - August 12, 1944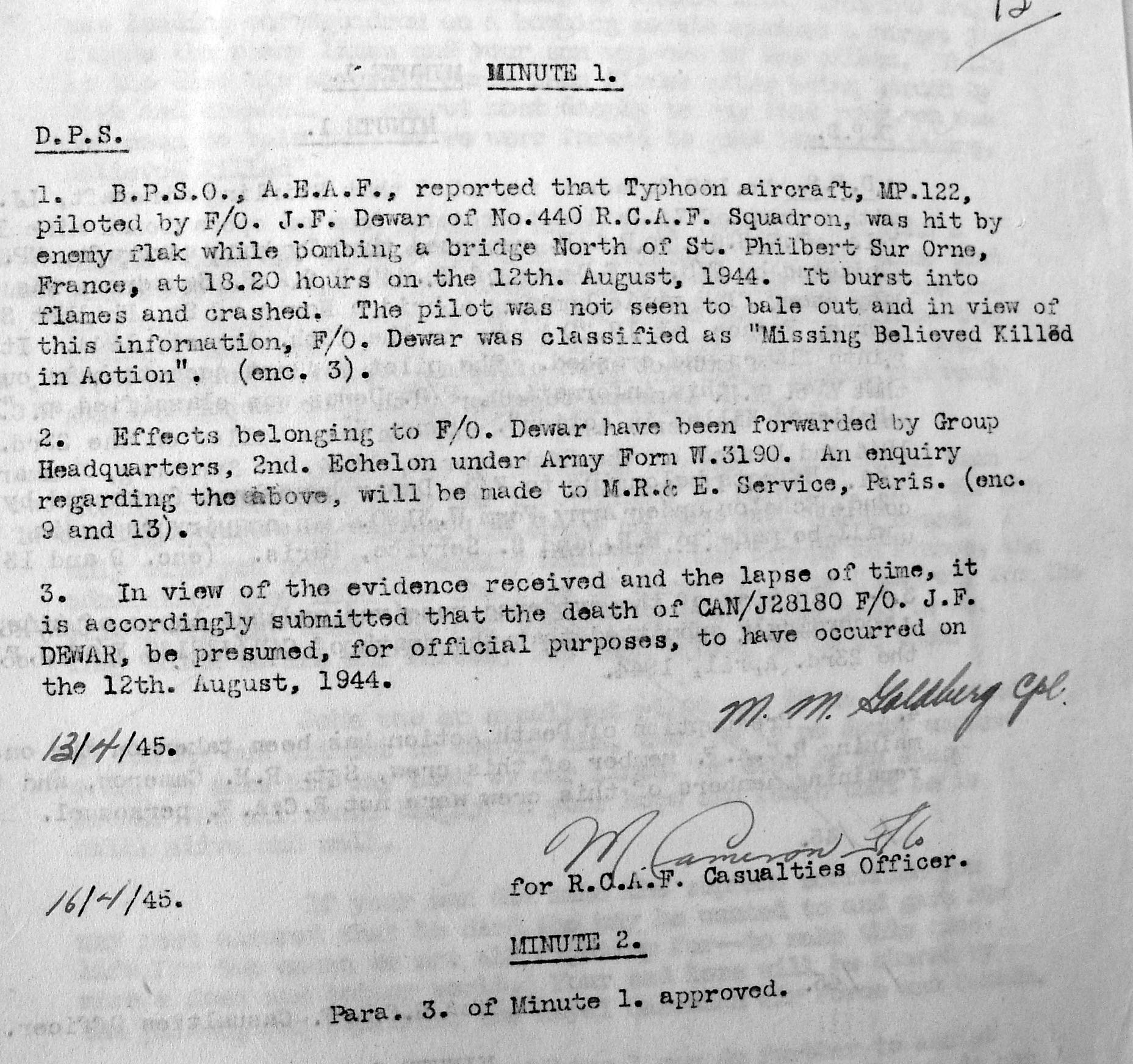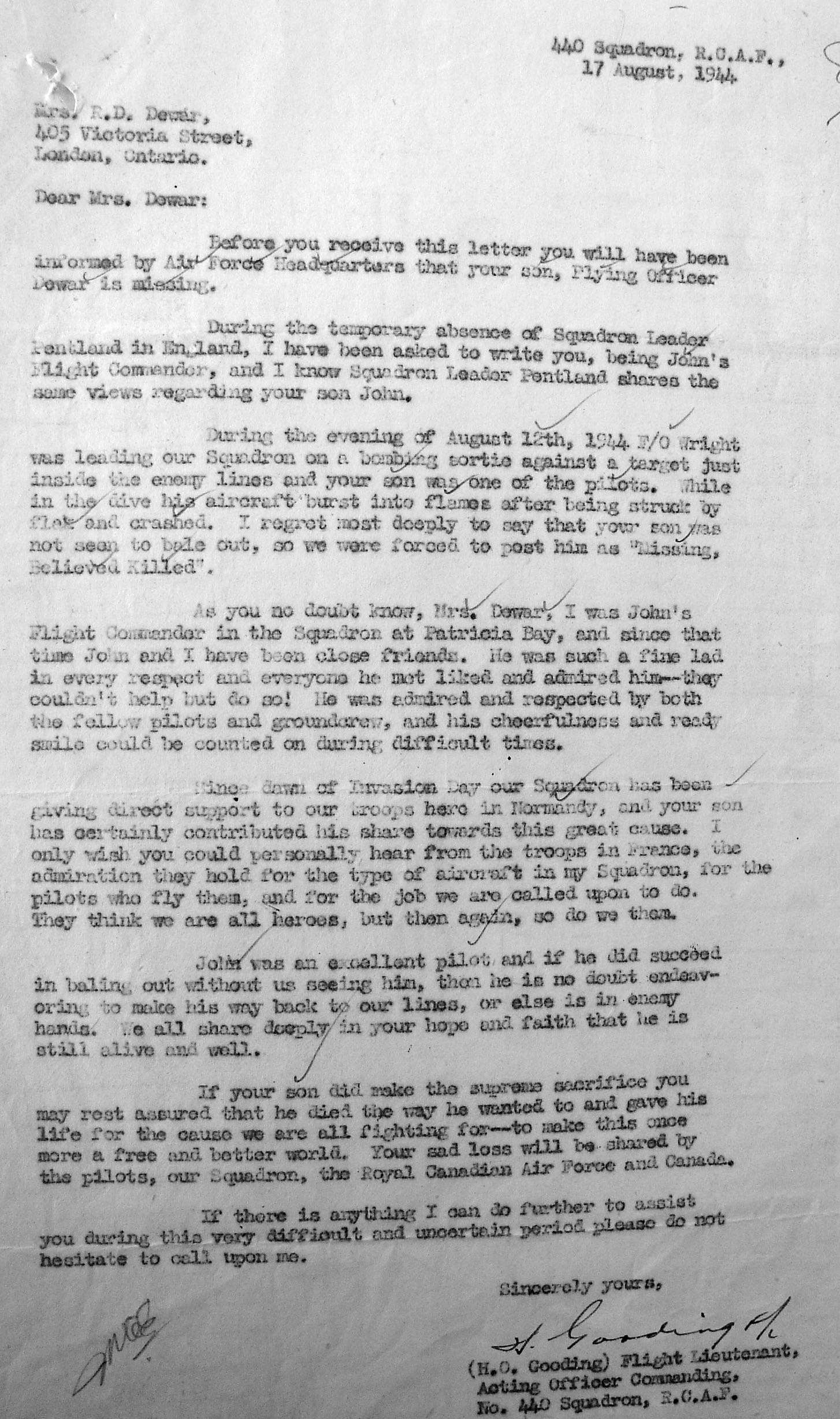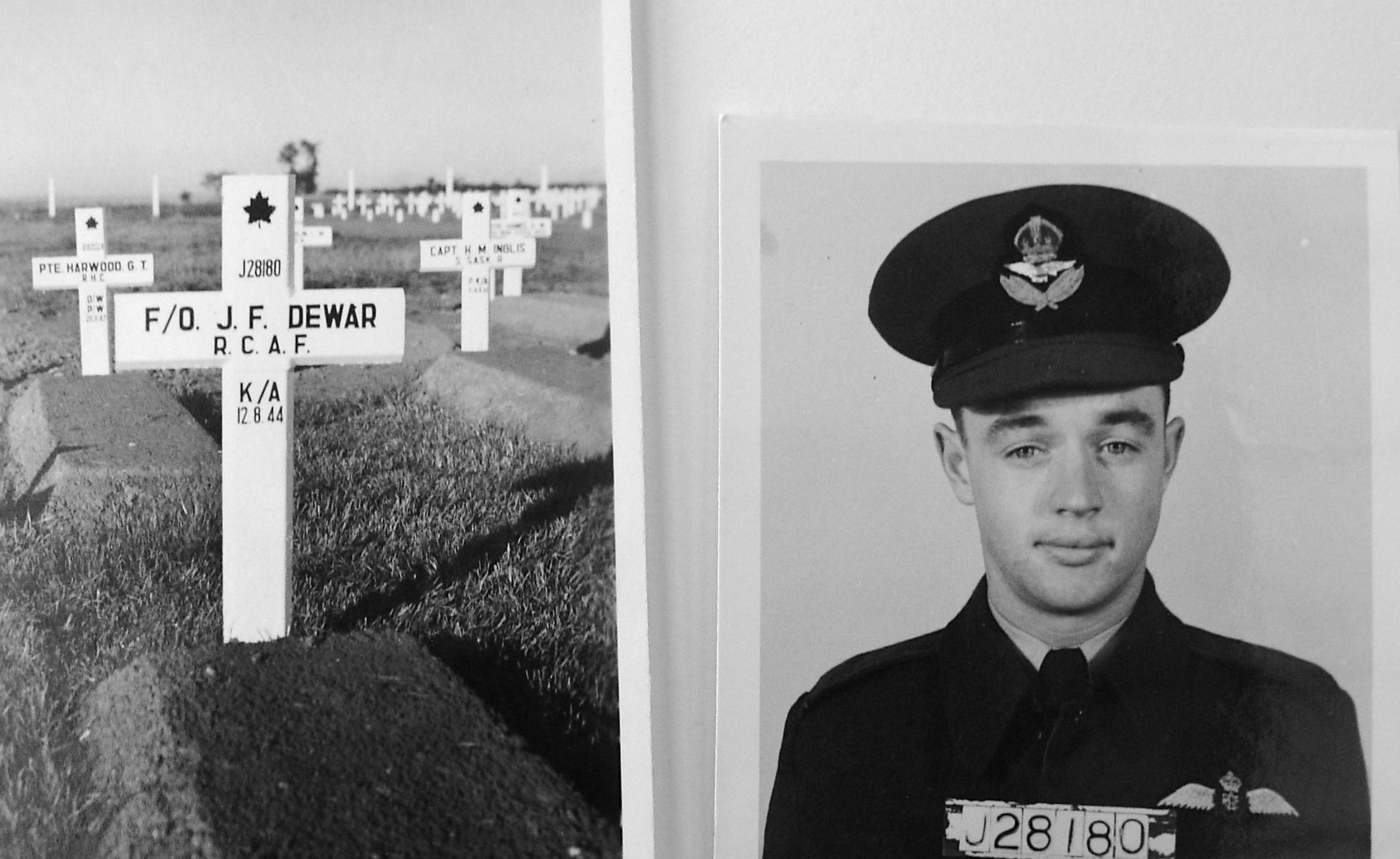 440 Squadron
John Fraser Dewar was the son of Roderick Donald and Mary Barbara (nee Fletcher) Dewar, of London, Ontario. He had three sisters. The family attended the United Church. He was a student and after the war, he wanted to study aeronautics. He enlisted with the RCAF on May 25, 1942. At No. 5 ITS, he was evaluated: "Hard worker, does a job well, good mixer, liked by all, confident, mature for his age, reliable, states what he means clearly, competent, has leadership qualities." At No. 10 EFTS: "A very reliable student, cool in emergencies. Instrument flying was above average and also aerobatics. Should do very well in service flying school. On the whole, flying was above average." He earned his wings at No. 2 SFTS, Uplands, Ontario on July 9, 1943. There he was evaluated: "Average flying ability, progressed steadily, worked hard, aerobatics weak, no serious faults. Instrument flying average. Tends to overcontrol. Primary instruments weak. Appearance, bearing and manner good -- cheerful, cooperative attitude, would probably make a good officer with training. Recommend for appointent to Commission." He was posted to 440 Squadron, after being transferred to Britain on January 9, 1944.
At 18.20 hours on the 12th of August, 1944, Typhoon MP122 piloted by F/O J. F. Dewar of 440 Squadron was hit by enemy flak while bombing a bridge north of St. Philbert-sur-Orne, France. It burst into flames and crashed. The pilot was not seen to bale out.
S/L Hal Gooding wrote to Mrs. Dewar on August 17, 1944, telling her what he could of the circumstances of her son's death. "As you know Mrs. Dewar, I was John's Flight Commander in the Squadron at Patricia Bay and since that time, John and I have been close friends. He was such a fine lad in every respect and everyone he met liked and admired him -- they couldn't help but do so! He was admired and respected by both the fellow pilots and groundcrew and his cheerfulness and ready smile could be counted on during difficult times...John was an excellent pilot and if he did succeed in baling out without us seeing him, then he is no doubt endeavouring to make his back to our lines, or least is in enemy hands."
On February 15, 1946, S/L E R. Emond, Wing Commander, No. 1 Missing Research and Enquiry Unit, RAF wrote a report: "The portion of the remains of the body of F/O Dewar referred to in S/L Laronde's report of January 25, 1946, have been picked up by our Exhumation Section and reunited with the rest of the body in the Canadian Cemetery at Brettville-sur-Haize. The grave nuber is XXIII-A-5. The cross has not yet been properly inscribed by GR&E, so arrangements have been made to have this done immediately."
On July 6, 1946, F/L H. P. Masse, an investigator from No. 1 Missing Research and Enquiry Unit (RAF) wrote: "I proceeded to PONT DES VERS to obtain any information regarding crashes in that area. This spot is just on the borders of the Departments of CALVADOS and the ORNE. On the 17th January 1946, S/L Laronde passed through this village whilst working in the adjoining area of the ORNE. His attention was drawn to a crashed aircraft with was being removed form a house in the main street of the village. He conducted the enquiry. The aircraft was apparently Typhoon MP122, cannon numbers A201618, A31065, C11709, the pilot was Canadian J. 28180 J. F. Dewar."
LINKS: