John Morgan Cordick J40775
May 22, 1919 - November 29, 1944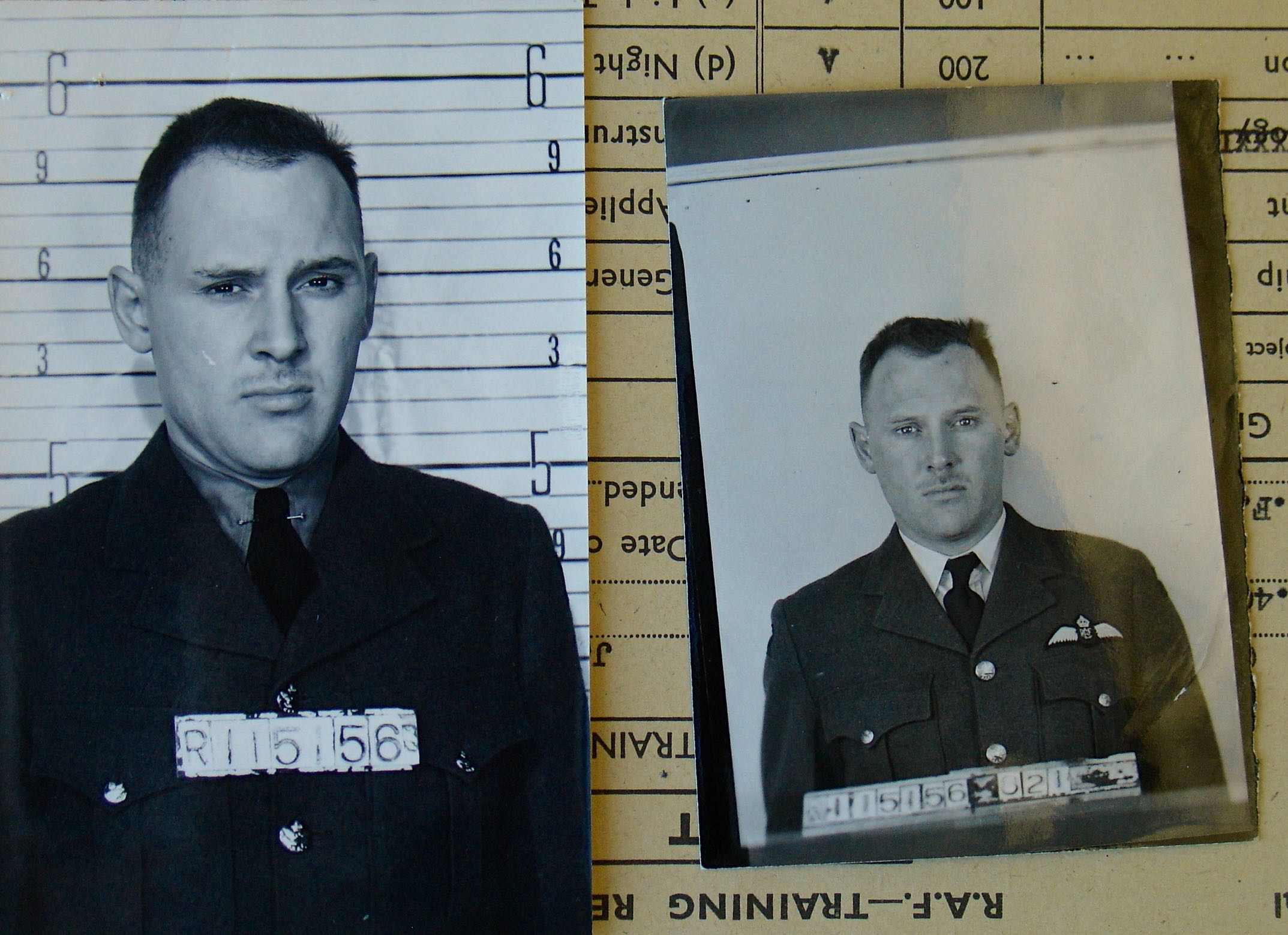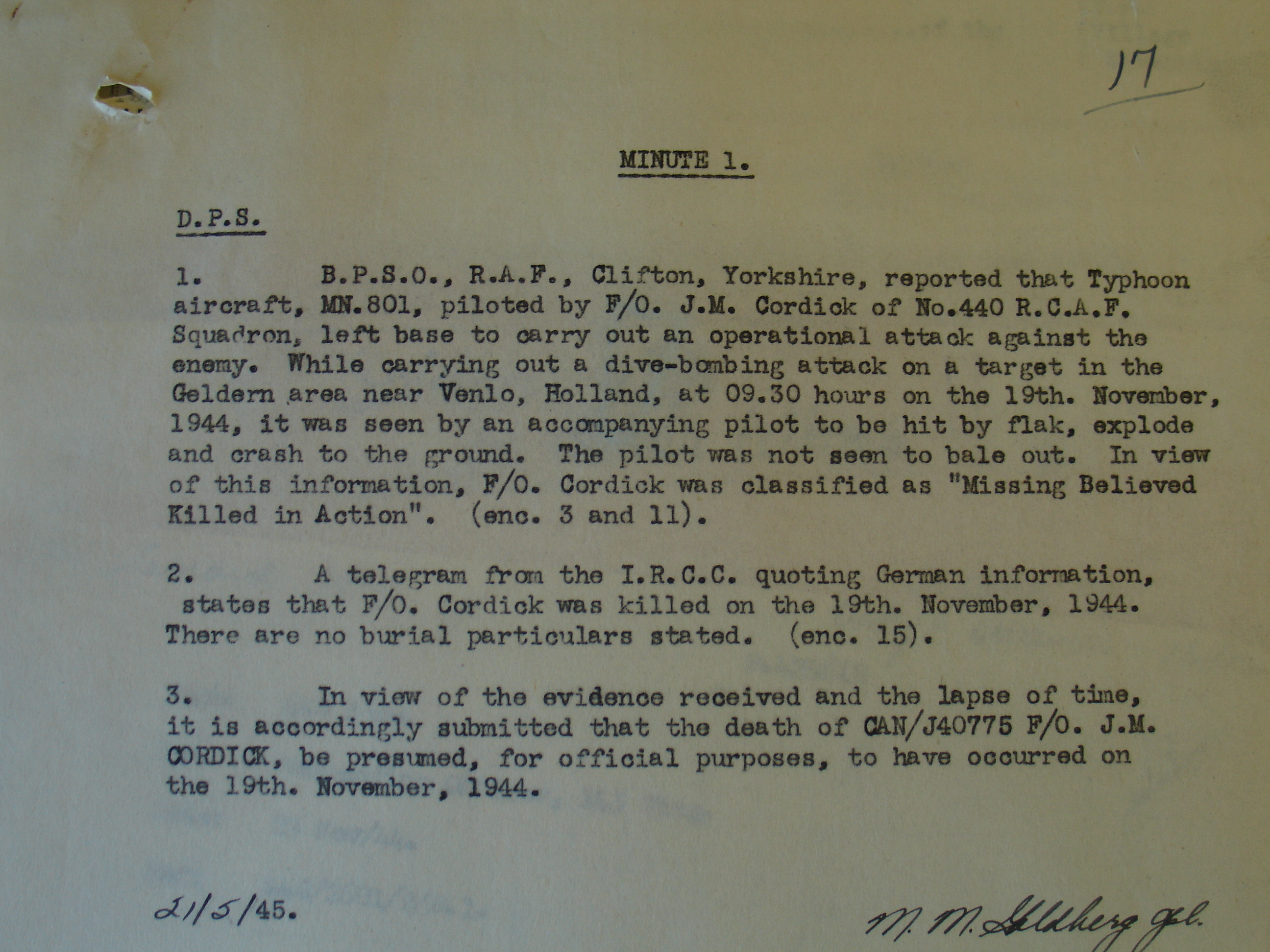 440 Squadron
John Morgan Cordick was the son of Robert J. and Gladys Olive Cordick, Oshawa, Ontario. He had his Grade 12. He worked in a meat packing plant in Toronto prior to enlisting with the RCAF. He had two older sisters. The family attended the United Church. He did not have plans for after the war.
He was assessed in November 1941: "Wants 1. Pilot. 2. WAG. 3. O. Alert, active, stable. Excellent aircrew material. Athletic type, but quiet and a fighter. Wants place where gets most action. May be somewhat heavy handed and handicapped by this."
At No. 1 ITS, he was 42 out of 80 in his class. "Serious, very aggressive type who has applied himself well and is very dependable. Anxious to succeed. Shows ability as a leader. Link Trainer: 46%." December 22, 1941. He was passed to No. 3 EFTS. "A leader among his fellows and with more experience he can make a splendid service type." He was awarded his Pilot's Flying Badge on September 25, 1942 at No. 14 SFTS, Aylmer, Ontario. He was not recommended for Commission.
In June 1943, he was instructing at No. 17 EFTS, Stanley, NS. "This NCO has proven himself to be of high calibre, both in character and in the discharge of his duties. He displays more than the usual interest in improving his ability and is capable of handling greater responsibilities. I recommend full consideration of his appointment to a commissioned rank." F/L L.G. Pond. F/L A. R. Morrissette, on June 29, 1943 wrote: "A keen, capable, conscientious instructor. Displays good organizing ability in the work he has to do. Above reproach and excellent character. Carries himself well both on and off duty. Pleasant type. Good officer material."
On June 26, 1943, Cordick was involved in a flying accident. He overshot the field slightly, in a condition of no wind. He had landed and was heading towards some construction work on the aerodrome. He applied brakes but too harshly or the brakes grabbed, resulting in the aircraft going up on its nose and overturning. "Error of Judgment" assigned.
By July 1944, he found himself at No. 53 OTU for two months. "A good average pilot, very keen and reliable. Requires a little more pilish. Close and Battle Formation: Good. Air Combat and Aerobatics: Good. Reporting: Good. A conscientious and respectful officer who can be relied upon to carry out instructions. Will make a good fighter pilot and will be OK in any squadron."
In August 1944, he was involved in an aviation incident at 53 OTU, flying Spitfire VB EO173. "At the beginning of take off, the tail went dangerously high, was brought down to normal position and then lifted again until the propeller hit the ground. Pilot may have (1) opened the throttle too violently (2) applied brakes (3) pushed the stick too far forward. More than likely, a combination of (1) and (3). The pilot's liability is average. It is considered that the accident may be due to an error of judgment and recommends that no further action be taken."
On November 19, 1944, Cordick was piloting Typhoon MN 801. He left the base to carry out an operational attack. While dive-bombing on a target in the Geldern area near Venlo, Holland, at 0930 hours, it was seen by an accompanying pilot to be hit by flak, explode and crash to the ground. Cordick was not seen to bale out. F/L Jenvey reported, "I was leading Blue Sectino on a dive-bombing mission to target in Geldern area. On reaching the target, I made my attack through moderate flak. While climbing, I saw Blue Three (F/O Cordick) commence his dive, and almost immediately receive a direct hit and explode. The aircraft crashed to earth. A parachute was not observed."
Mr. Cordick received a letter from the S/L of 440 on November 26, 1944. "Your son has participated in many sorties against the enemy and has certainly contributed his share towards our great cause. I only wish you could personally hear from the troops in this theatre the admiration they hold for the type of aircraft in my Squadron, for the pilots who fly them and for the job we are called on to do. They think we are all heroes, but then again, so do we them....John was admired and respected by both his fellow pilots and our groundcrew, and his cheerfulness and ready smile could be counted on during difficult times."
Mrs. Cordick wrote after her son's death, "When my son left England for Holland, he wrote to me saying that he could only take 60 lbs of luggage with him, including his battle dress and just bare necessities, and that he had stored his trunk in England. In this trunk were his Officer's uniforms and numerous other personal articles which we supplied him with and which we would like to have for sentimental reasons, If you could locate this trunk, it would be greatly appreciated by me. Please let me know how to make application for the Gratuity money I am entitled to."
Cordick has a street named after him in Oshawa, located west of Harmony, north of Taunton and off Blackwood Boulevard.
LINKS: