Kenneth Osborne Mitchell J19123
1922 (Approximate) - March 18, 1944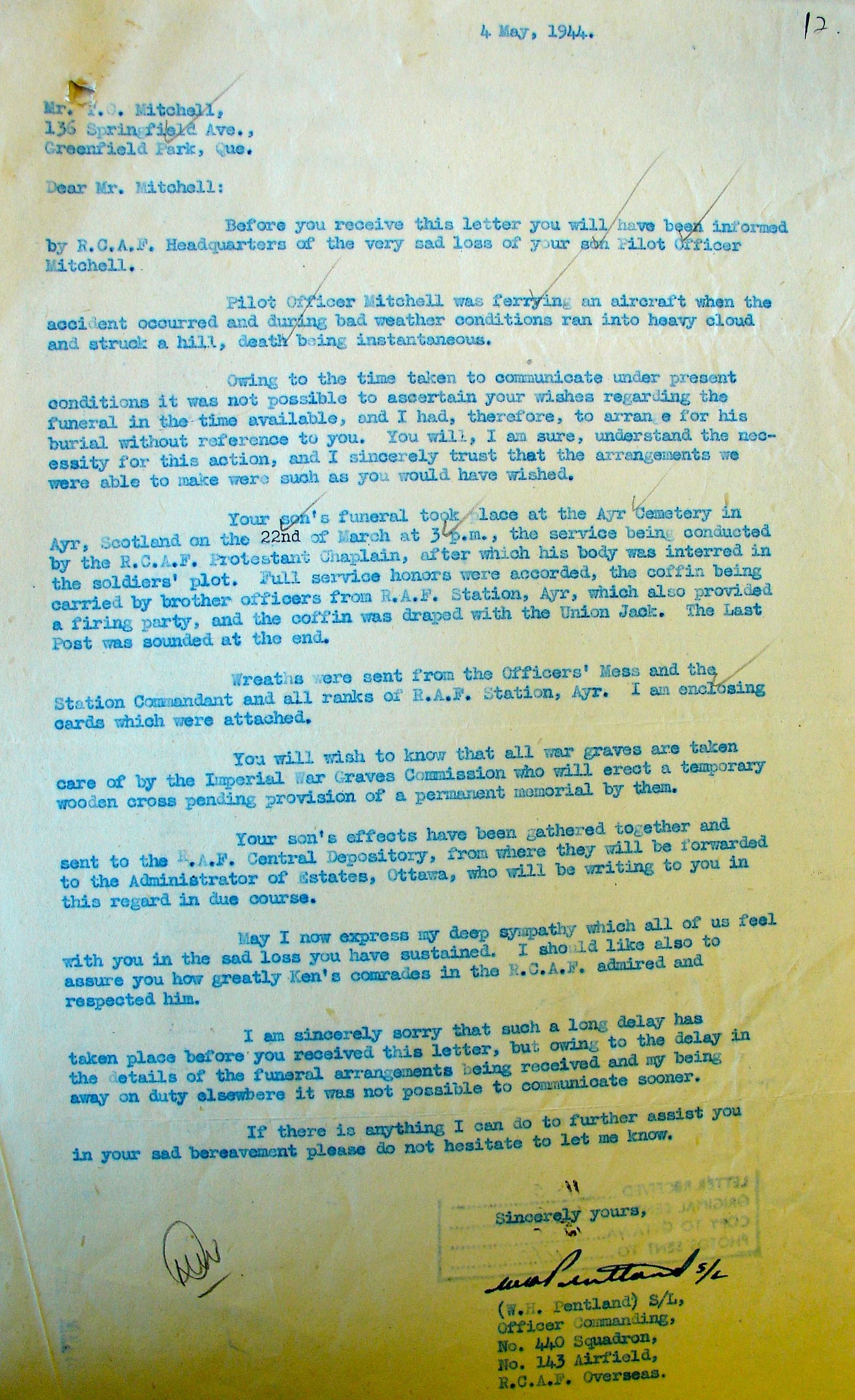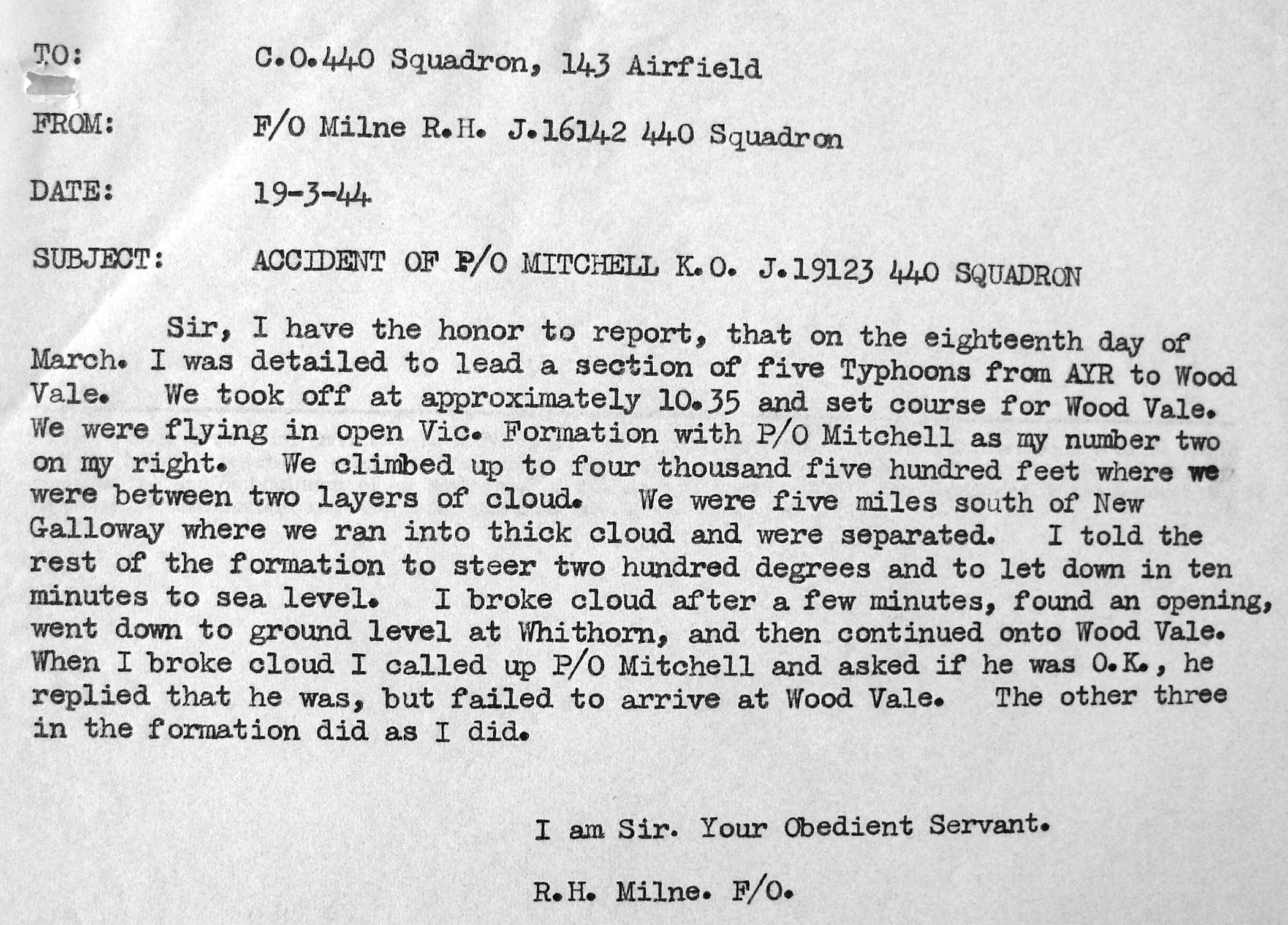 440 Squadron
Kenneth Osborne Mitchell was a shift timekeeper at Fairchild Aviation. He had two younger brothers and a sister. The family attended the United Church. No picture of him was found in his files at the Library and Archives Canada, in Ottawa.
At No. 8 SFTS, Moncton, NB, February 19, 1942: "This airman was doing solo night flying and taxied into rear of another aircraft. Damaged his own part wing and tail assembly of the other aircraft. No one was injured." He was flying Harvard MK3813.
At No. 8 SFTS, Moncton, NB, January 4, 1942: "Neglecting to obey station standing orders in that he did fly his aeroplane in a foolhardy and dangerous manner, contrary to Station Standing Flying Order, Section 4." He was given five days detention.
On September 30, 1942, he was assessed. "An average pilot. Must concentrate more on what he is doing. Inclined to be easily flustered. Formation flying needs watching. Very keen. Not yet recommended for a commission." On this form he was from No. 5 AFU, heading to 174 Squadron.
On February 6, 1943, Mitchell was involved in an incident. "I took off from Chilbolton at 1230 hours. I flew as RED 2 in a formation of twelve aircraft. After completing an attack on motor transport, I returned to base. I made a normal approach and a good landing. Time of landing 1330 hours." The aircraft had some structural issues prior, but S/L C. Stammers, senior engineering officer stated that the remainder of the engine bay was excessively stressed due to heavy landing. But the weakness of this strut could have originated on or about October 14, 1942. On January 8, 1943, the propeller had been changed three different times. Ailerons had been replaced after October 1942. Since that time, the aircraft had been tipped on its nose, thus the propeller changes. No conclusion could be drawn as to the damage to the engine bay.
On February 7, 1943, 1615 hours, 174 Squadron, while completing a landing, the undercarriage of Hurricane IIB HW207 collapsed. On the down wind leg, Mitchell said he selected undercarriage down. "Both green light came on and there was no audible warning. Turning cross wind, I selected flaps down, after which I turned into wind to make the approach for landing. I landed on the first forty yards of the runway on the right hand side. After running approximately sixty yards, I swung to the left side of the runway to allow another aircraft to land. While turning, the horn started to blow and the port green light went off. The port aleo leg slowly collapsed and the aircraft skidded off the runway."
On March 18, 1944, at 1030 hours, Unit 440, 143 Airfield, Typhoon 1B JR439 was being ferried to the airfield's new base. P/O Mitchell was part of a section of five Typhoons. They took off, according to F/O R. H. Milne, at approximately 1035 and set course for Wood Vale. "We were flying in open VIC Formation with P/O Mitchell as my number two on my right. We climbed up to 4500 feet where we were between two layers of cloud. We were five miles south of New Galloway where we ran into thick cloud and were separated. I told the rest of the formation to steer two hundred degrees and to let down in ten minutes to sea level. I broke cloud after a few minutes, found an opening, went down to ground level at Whithorn, and then continued onto Wood Vale. When I broke cloud, I called up P/O Mitchell and asked if he was OK. He replied that he was, but failed to arrive at Wood Vale. The other three in the formation did as I did."
A Court of Inquiry was struck on March 24, 1944. Remarks: "13 Group is investigating the decision to carry out the flight in such weather conditions. This accident would appear to be due to inaccurate instrument flying but no concluision can be reached without an inquiry." S/L Pentland wrote, "P/O Mitchell struck high ground. In my opinion, the aircraft should not have been permitted to become airborne due to extremey weather conditions. Pilots have been instructed that they must not break formation in cloud. P/O Mitchell was an experienced operational pilot." Visiting the site of the crash, it was found that pieces of wrecked aircraft was scattered over a wide area. A hole was made in the ground, about 4 feet deep. The Court of Inquiry felt that there was a lack of airmanship on P/O Mitchell himself. It was noted that the Squadron Commander concerned should have been asked to make sure that all his pilots were fully conversant with normal procedures pertaining to flying in England.
On May 4, 1944, S/L Bill Pentland wrote to Mr. Mitchell explaining what he could of the circumstances of his son's death. "Pilot Officer Mitchell was ferrying an aircraft when the accident occurred and during bad weather conditions ran into heavy cloud and struck a hill, death being instantaneous....Your son's funeral took place at the Ayr Cemetery in Ayr, Scotland on the 22nd of March at 3 pm, the service being conducted by the RCAF Protestant Chaplain, after which his body was interred in the soldiers' plot. Full service honours were accorded, the coffin being carried by brother officers from the RAF Station, Ayr, which also provided a firing party, and the coffin was draped with the Union Jack. The Last Post was sounded." Pentland apologized for the length of time for the letter to be received.
LINKS: