Leonard Ralph Allman J13558
March 10, 1919 - June 6, 1944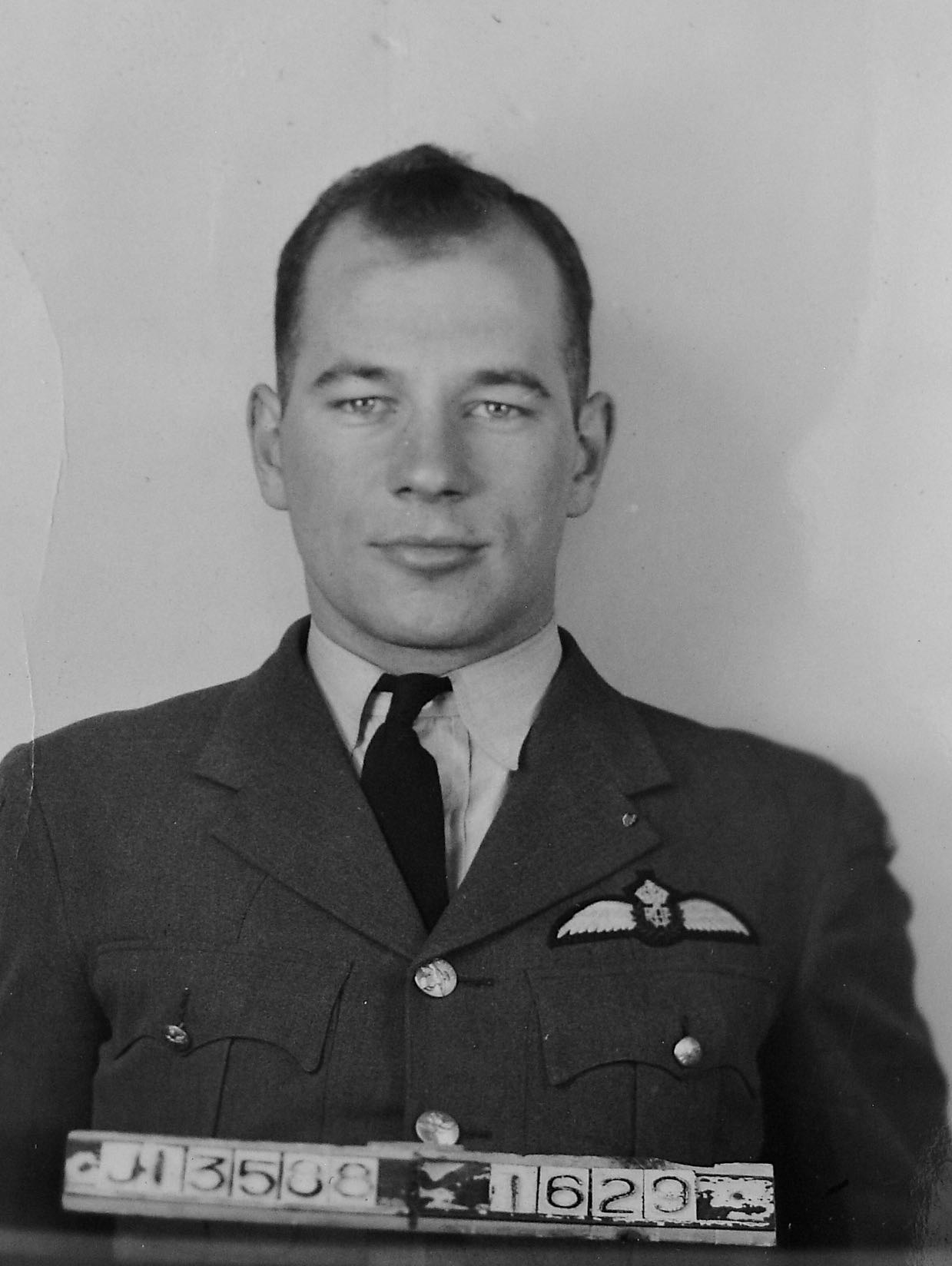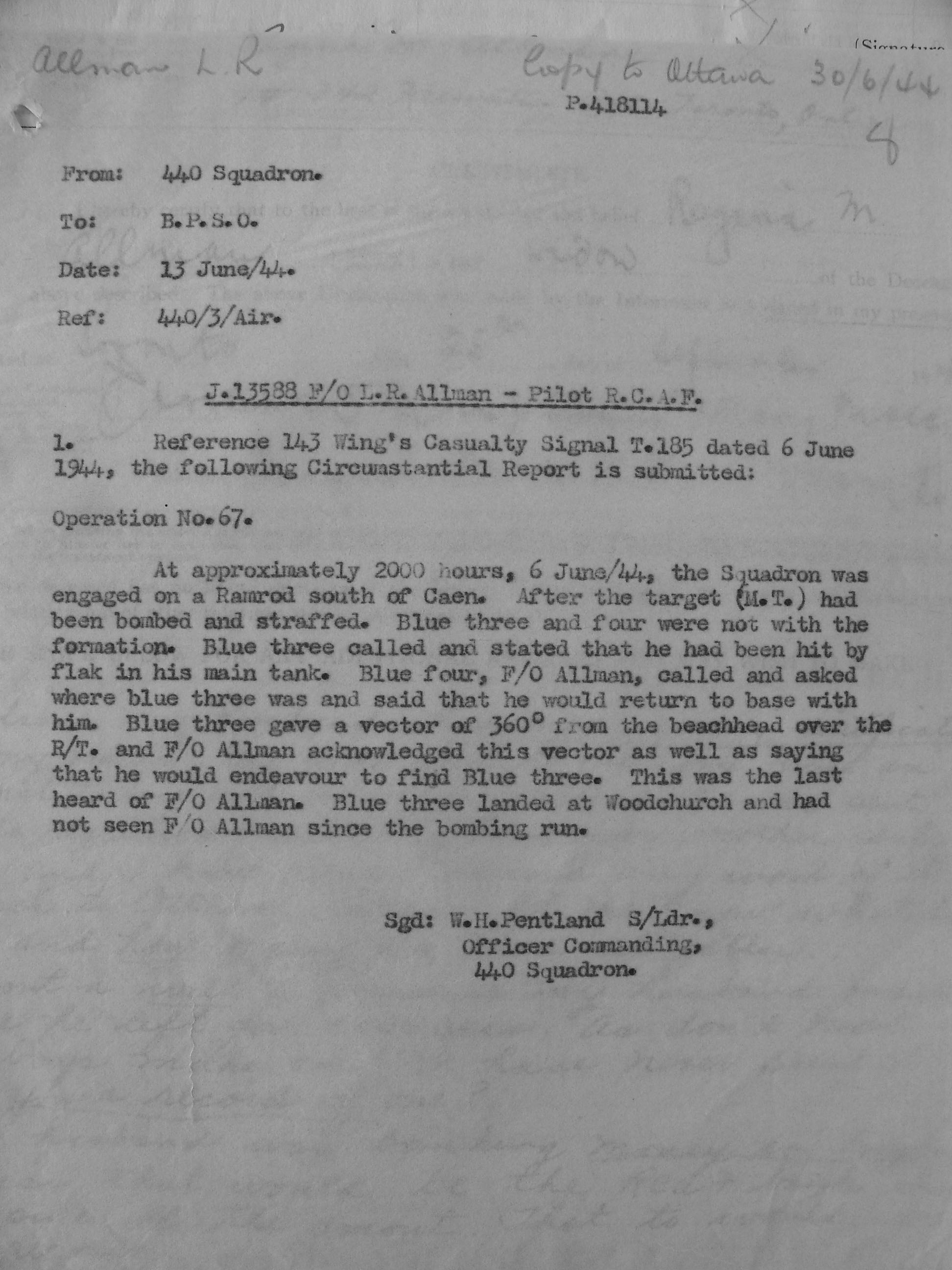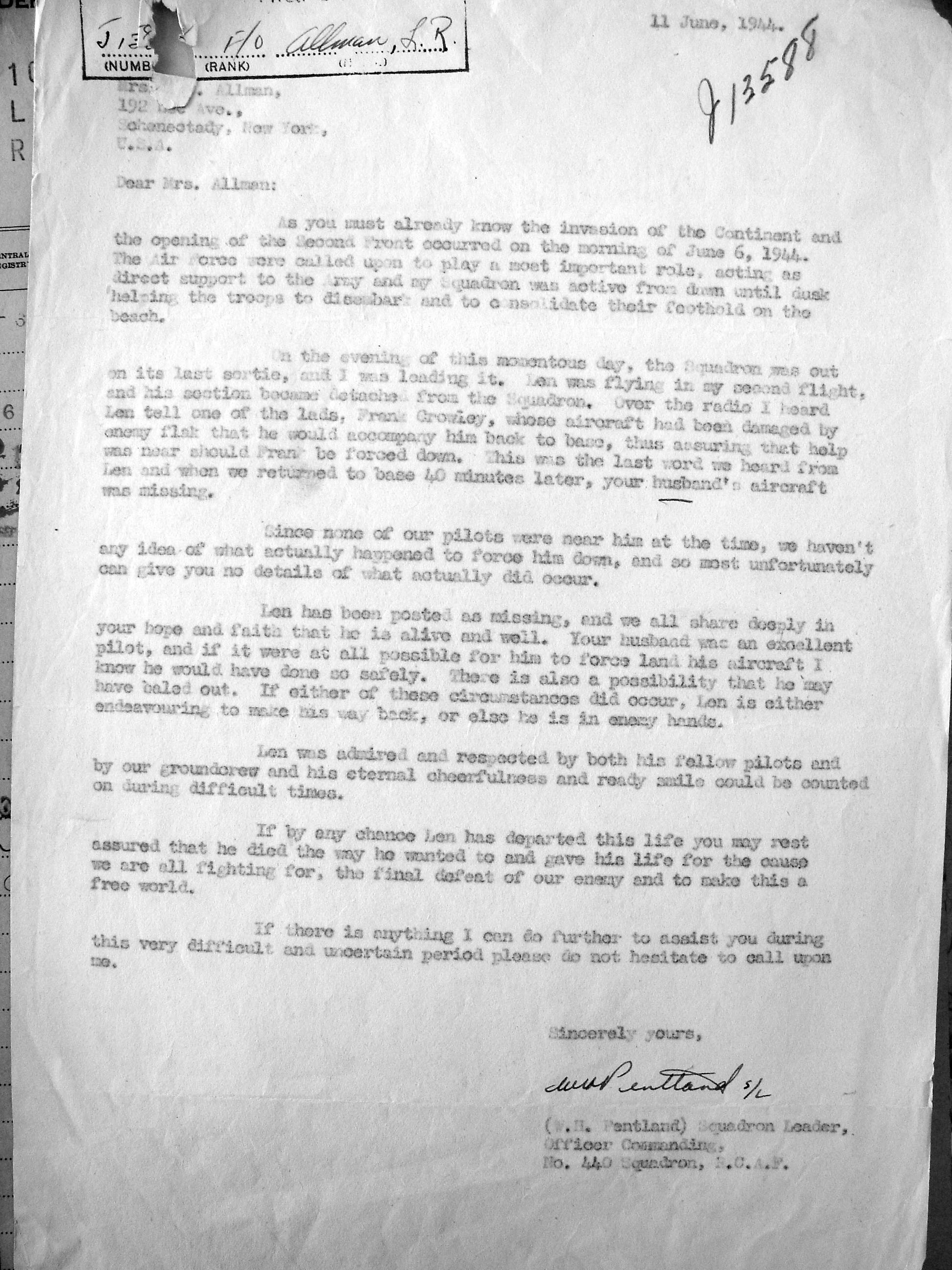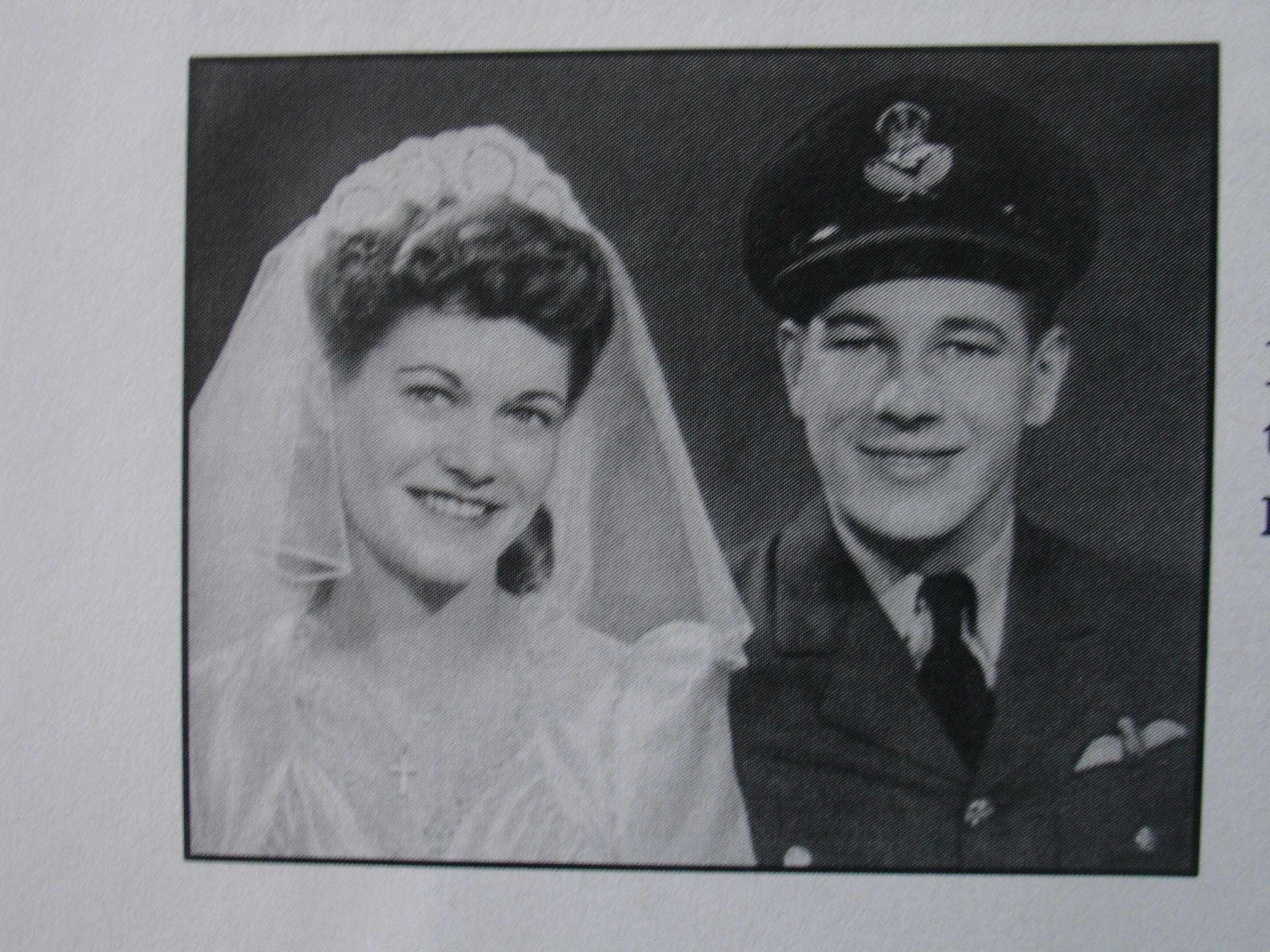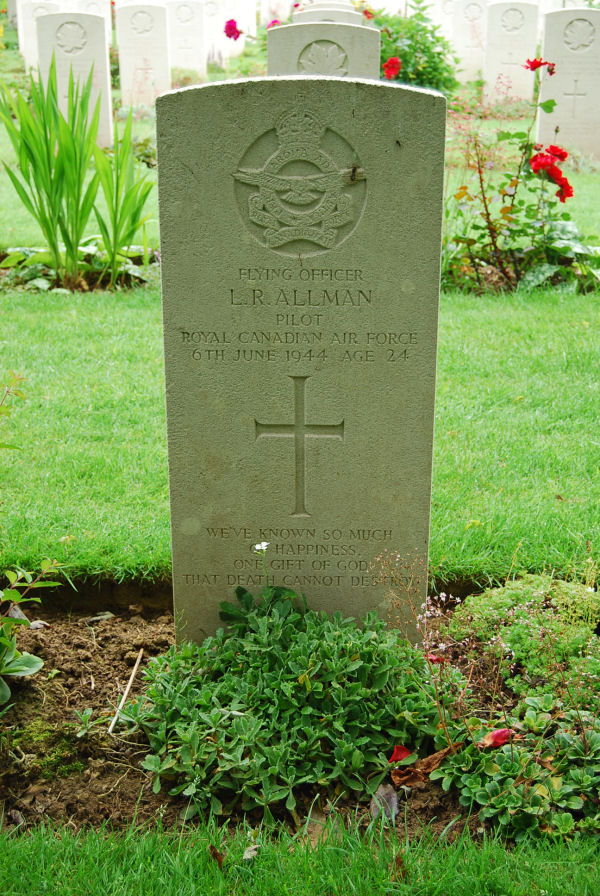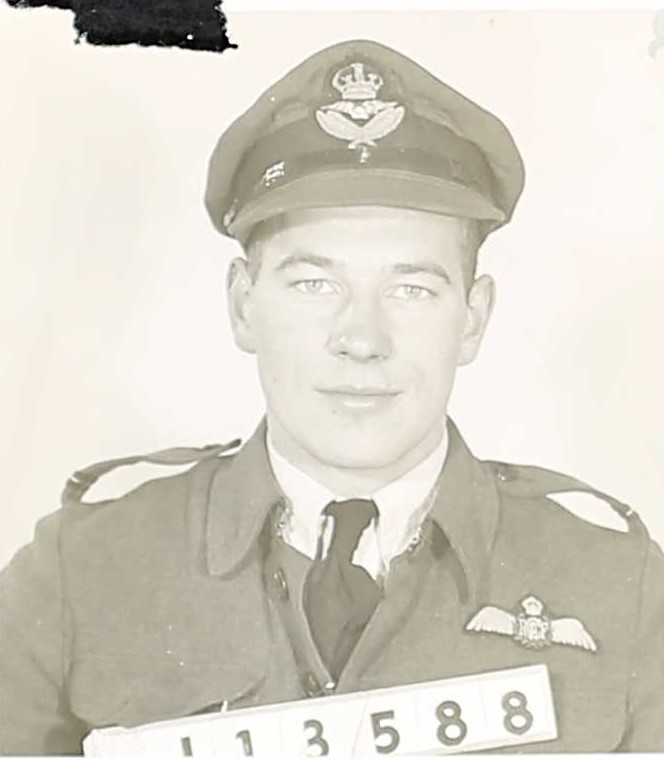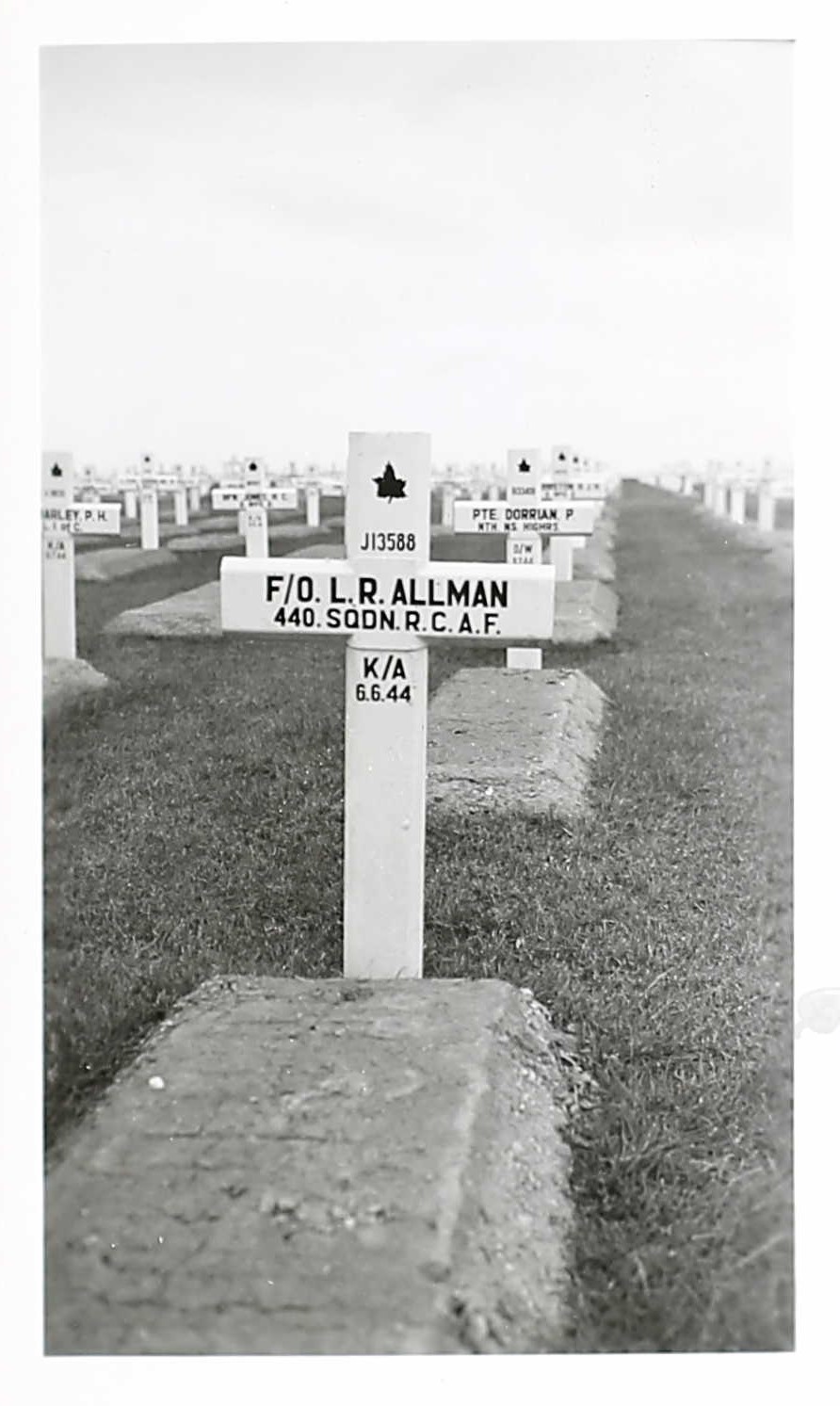 440 Squadron
Leonard Ralph Allman was born in Toronto, Ontario to Ephraim and Annie Allman. He had three brothers and two sisters. One of his brothers, Franklin, died on October 4, 1940 while serving the the Royal Canadian Armoured Corps. Leonard was married to Regina (Reggie) Mary-Ann (nee Novak) Allman of Schenectady, New York.
In August 2010, Allen Milne, best friend of Leonard Allman, published a memoir entitled Allen Milne's Odyssey. He wrote, "In August 1940, I was posted to Dunnville, Ontario to the SFTS to service the engines of Harvards and Yales. That is where I met Leonard Allman, an airframe mechanic who became my best friend. Leonard and I envied the many budding pilots seemingly enjoying themselves. We decided, on a whim, to get our private pilot's license. On weekends at the Mt Hope flying school nearby, we trained on Tiger Moths. After many weekends and scarce dollars, we had obtained our private pilot license. We approached our commanding officer with the licenses and requested to be remustered to aircrew. He reluctantly complied and we were both posted in late 1941, to the ITS in Toronto. That is when I met Laura, my future wife, who was 17 years old at the time. I met her when Len first invited me to his home. He had said, 'Stay away from my sister!' But how could I? In September 1941, Leonard and I were posted to EFTS in Hamilton to train on Tiger Moths. Then on completing that stage of our flying training, I was posted in May 1942 back to the SFTS in Dunnville to train on Harvard and Yales. At the same time Leonard my best friend, was posted to SFTS St Hubert, Québec. Leonard Allman, Laura's brother and my best friend, was killed after bailing out his Typhoon on D-Day, June 6, 1944. His grave is in the Canadian Cemetery near Normandy, which Laura and I visited while on Elderhostel in France. This was a memorable, but poignant visit."
In October 1939, Allman was assesed as 'alert, mature and stable. Above average pilot material.' His night visual acuity quality was above average in February 1942, rated A1B -- A3B. At some point: 'above average application all through his training. High average results.' He earned his wings at #13 SFTS, part of Course 55 on August 28, 1942. He was at #31 GRS, Charlottetown, PEI the next month. A few weeks later, he found himself at Boundary Bay out on the West Coast, with 133 (F) Squadron until February 28, 1943 when he moved to #111 Squadron at Pat Bay, on Vancouver Island. At Tofino, in October 1943, S/L J. B. Doak wrote, "Needs to be checked up periodically. Keen to fly and get overseas."
On January 5, 1944, he was at "Y" Depot for reposting.
In March 1944, Allman was involved in an accident. S/L Pentland wrote, "Accident occurred during move of 440 Squadron from Ayr to Hurn Aerodrome. On downwind leg of Wood Vale Aerodrome, F/O Allman's engine cut-out while he was lowering his under carriage. He proceeded to pump u/c down and make a deadstick landing on runway without flaps which he did not have time to pump down. He overshot the runway and stopped in nose-up position. Engine failure, excess speed due to no flaps. When engine cut out back in again on runway, and pilot opened throttle to 'go around again', this also caused him to overshoot. F/O Allman is an experienced pilot and previously had six hours and 30 minutes on Typhoons." He added, "This pilot should have completed his forced landing on the airfield when once committed to it, despite the tendence to overshoot. He has a clean record and been a consistently careful pilot. Recommend that his Log Book be endorsed."
On June 13, 1944, S/L Pentland wrote about Allman's fatal crash in Typhoon MN428: "Operation No. 67. At approximately 2000 hours, 6 June/44, the Squadron was engaged on a Ramrod south of Caen. After the target (Motor Transport) had been bombed and strafed, Blue 3 and 4 were not with the formation. Blue 3 called and stated that he had been hit by flak in his main tank. Blue 4, F/O Allman, called and asked where Blue 3 was and said that he would return to base with him. Blue 3 gave a vector of 360 degrees from the beachhead over the R/T. F/O Allman acknowledged this vector as well as saying that he would endeavour to find Blue 3. This was the last heard of F/O Allman. Blue 3 landed at Woodchurch and had not seen F/O Allman since the bombing run."
Allman's widow, Regina, wrote to F/C Gooding on June 10, 1944: Leonard told me you were his commanding officer in one of his letters. I received a wire the 8th that Len is missing. I can't begin to tell you how I feel regarding Len's safety. So I've been reading some of Len's letters over and noticed he mentioned you in them; and what a nice chap you are. I wondered if you could help me in anyway in finding out where and how he is. I'm hoping he's alright and he maybe a prisoner of war. I have a strong feeling that he is alright. But any help you could offer I would be so thankful. Len is a good pilot and said he would always take care of himself. Maybe you are not allowed to give out such information but any little bit would be appreciated.
On March 30, 1946, a memo from No. 1 Missing Research & Enquiry Unit, RAF, Le Mans, Sarthe, France indicated: "Whilst sweeping the area of Norrey on Bessin, saw the wreckage of Typhoon MN428. The pilot had tried to bail out but most unfortunately his parachute caught on a damaged wing of the plane and he was dragged down with it. The plane fell in the enemy lines and the pilot was originally buried beside the wreckage of his plane. The body has been removed." Allman was reburied in the Beny Sur Mer Canadian Cemetery, Plot XIII, Row H, Grave 13.
LINKS: