Nelson Leslie Gordon J88818
July 10, 1924 - February 1, 1945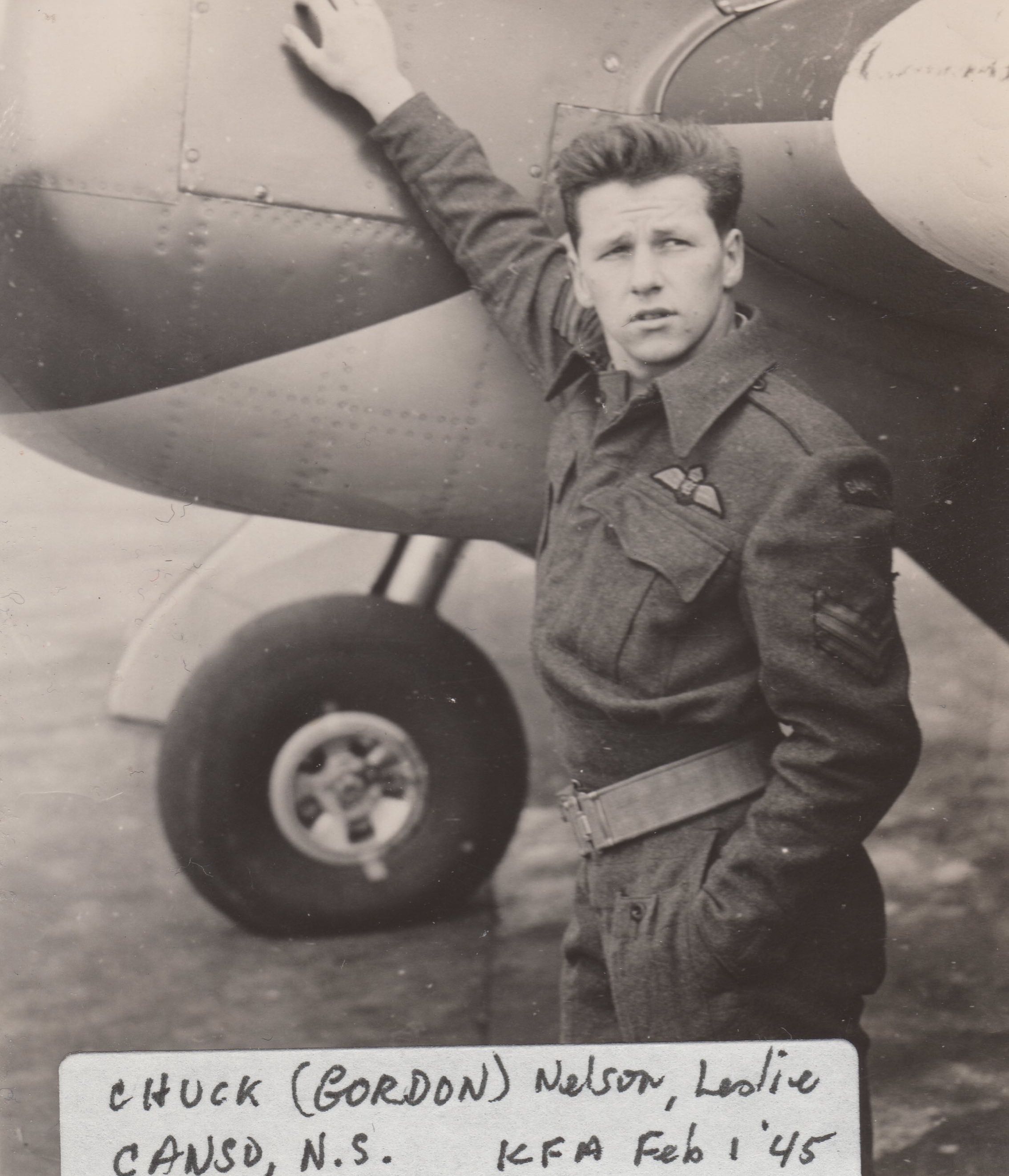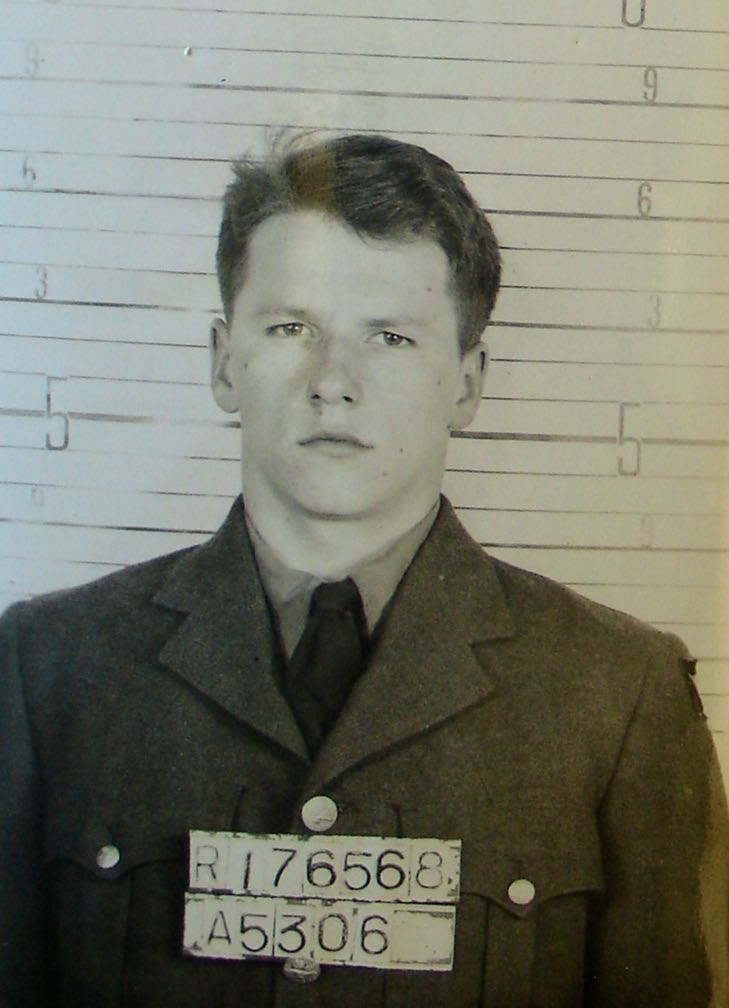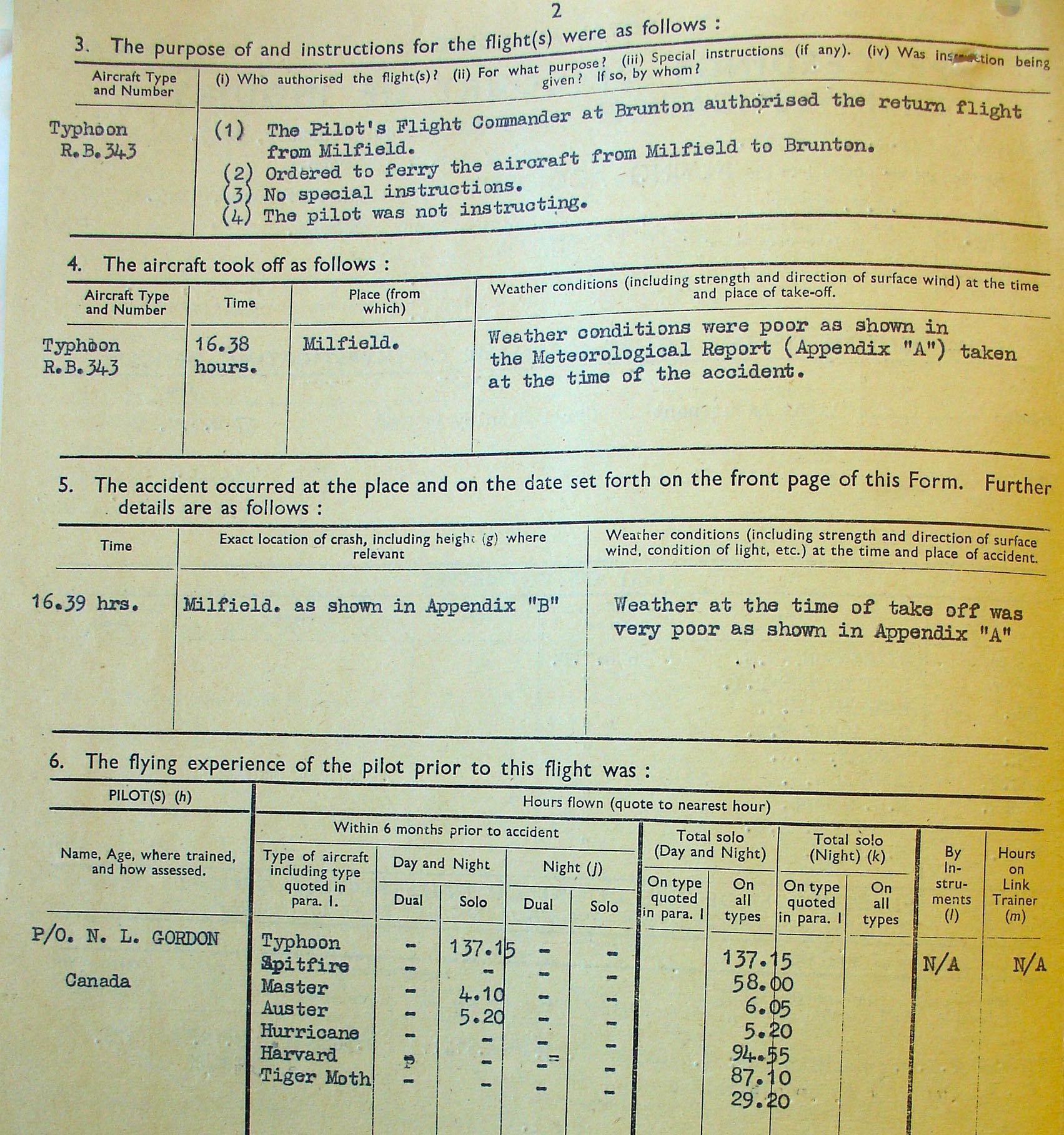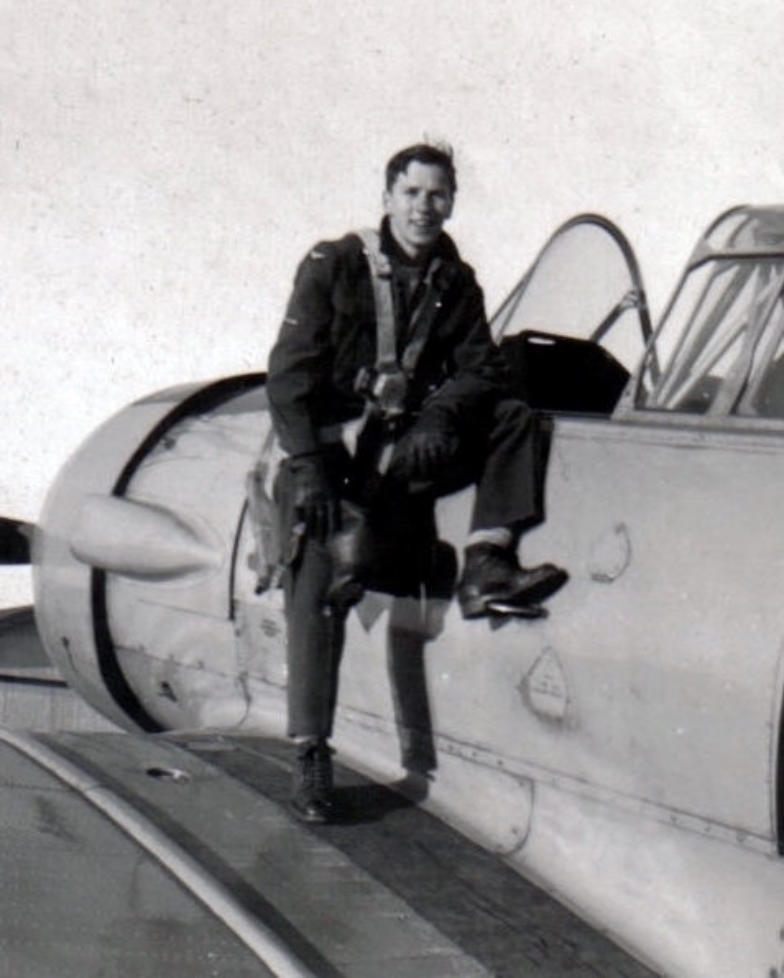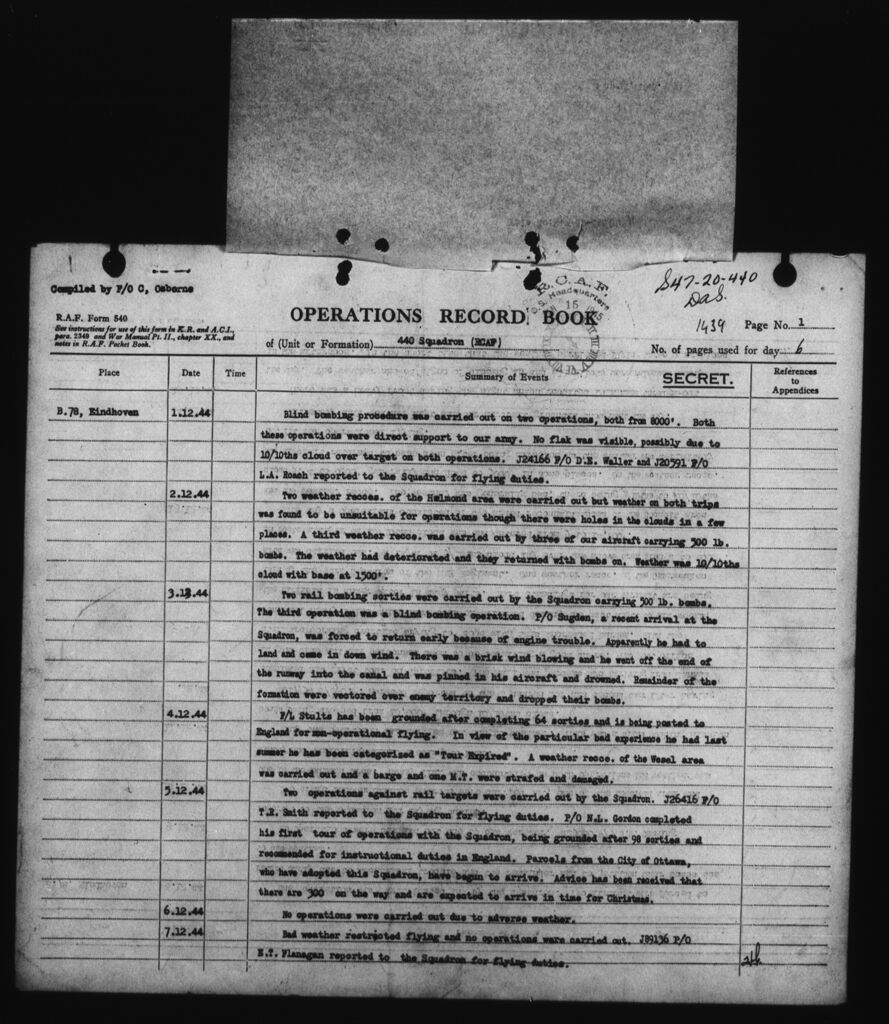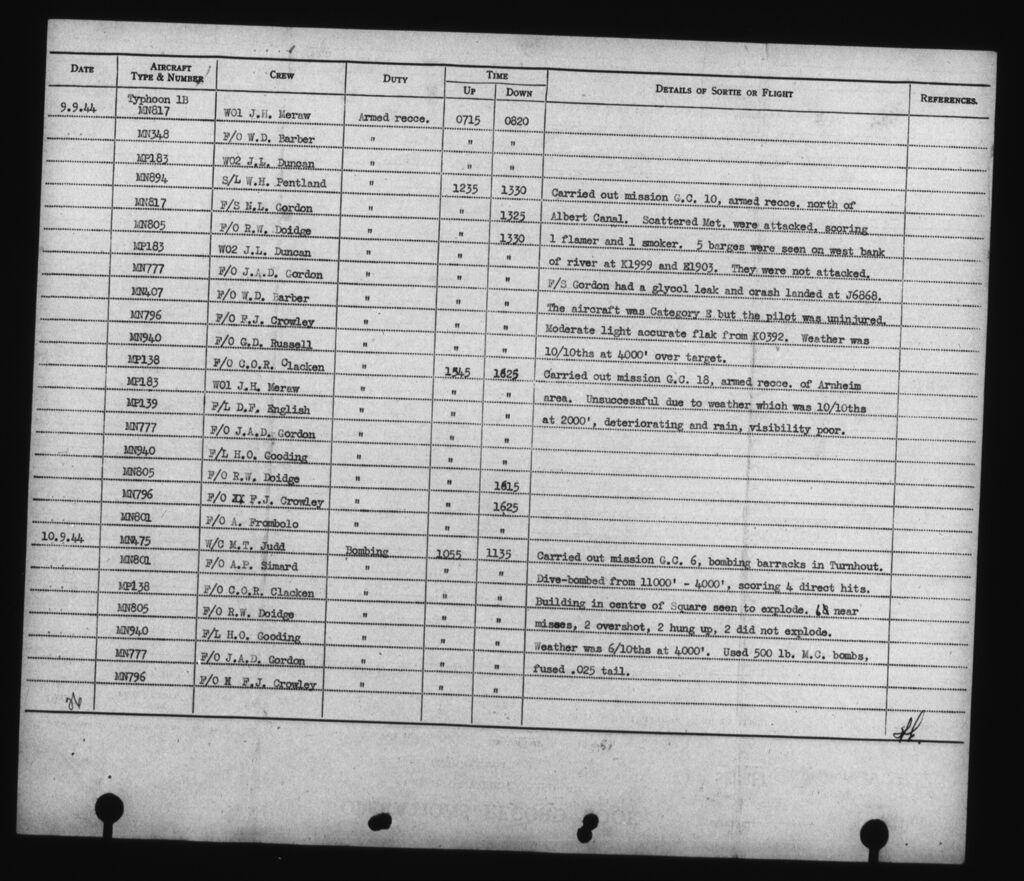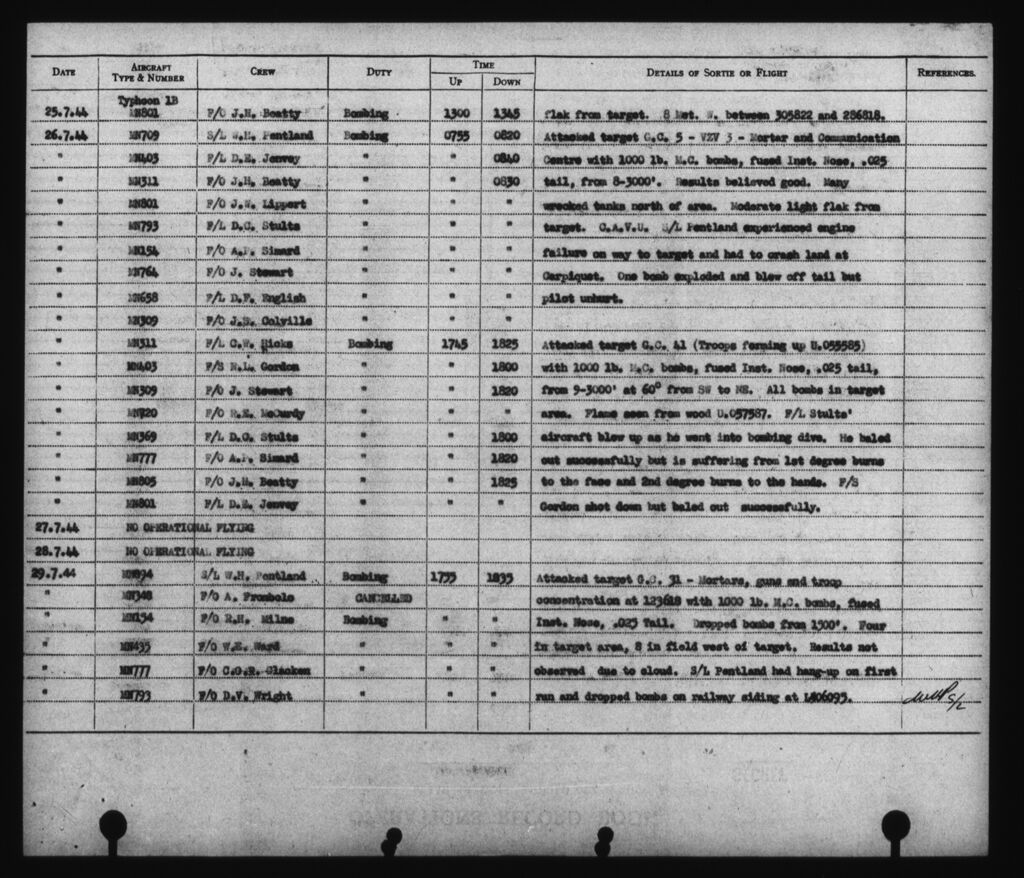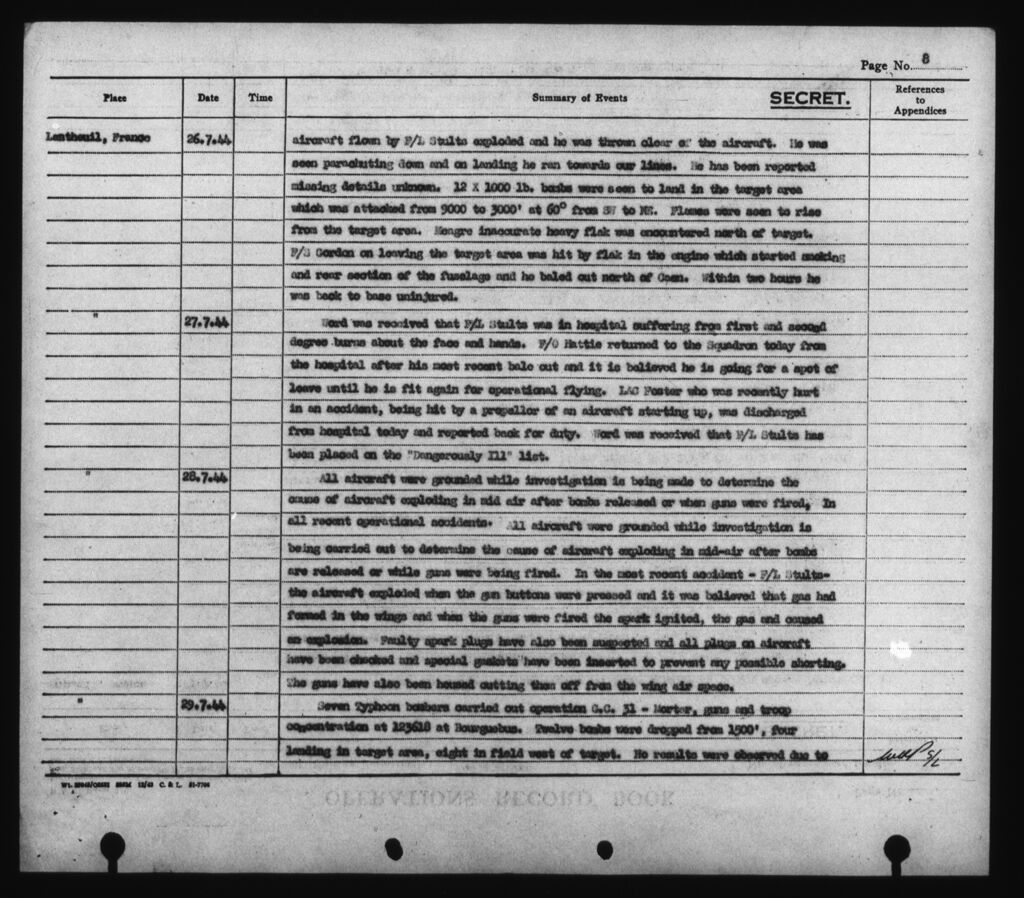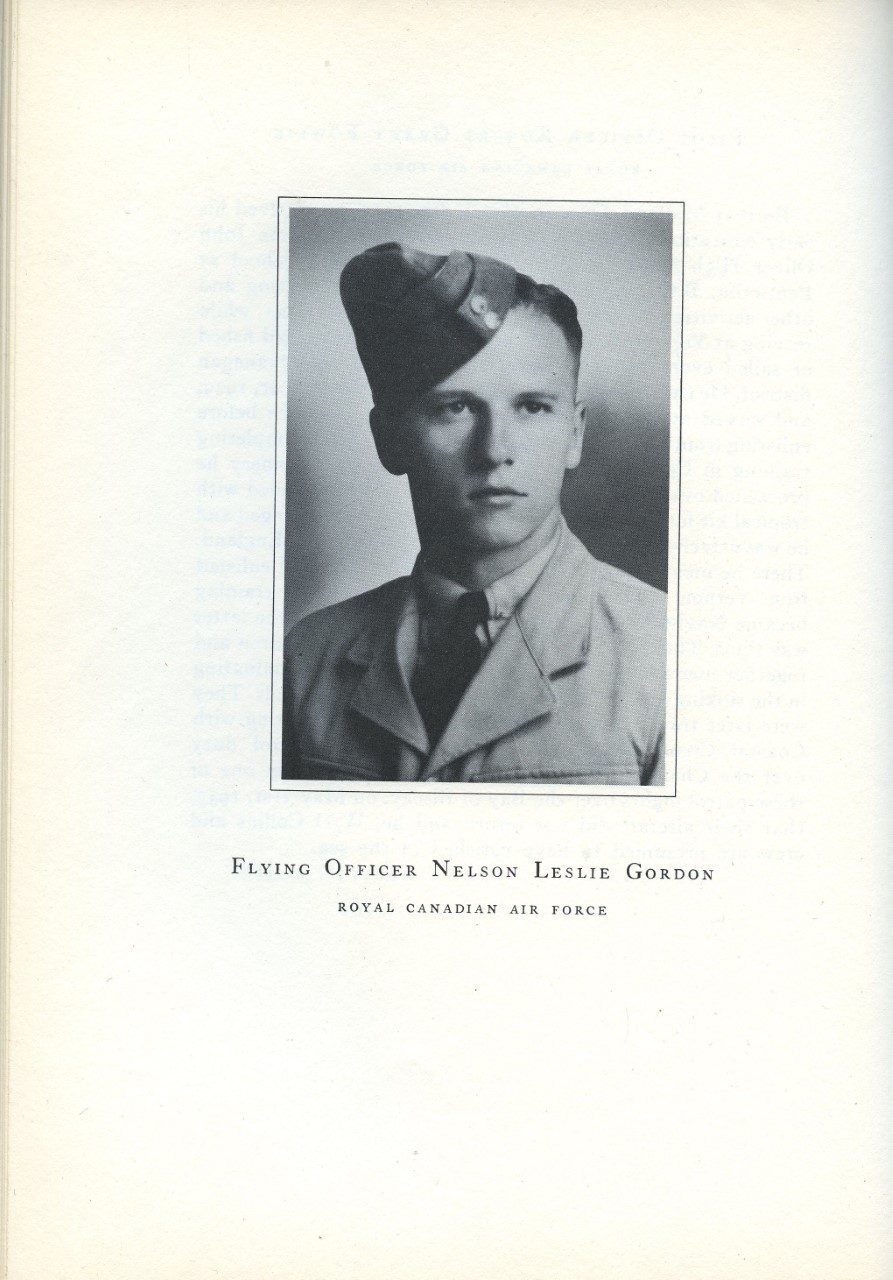 440 Squadron
Nelson Leslie Gordon was the son of Alexander and Violet Lillian Gordon, of Canso, Nova Scotia. He had one sister and two brothers. The family was Anglican. He was a Boy Scout for 12 months in 1938. He was a junior bank clerk prior to enlistment.
Gordon had just finished an entire tour with 440 Sqn and had just recently gone to 56 OTU to instruct. He arrived at 440 Squadron a Flight Sergeant SN R/176568. He was commissioned in late Sept 44 to P/O SN J/88818.
Enlisted in the RCAF on 11 July 1942. 12 EFTS (Finch) - 27 Jan 1943. 1 SFTS (Harvard) - 4 Apr 1943. 1 OTU (Hurricane) - 7 Aug 1943. 3 PRC (United Kingdom) - 10 Nov 1943. 53 OTU (Master & Spitfire) - 21 Dec 1943. 3 TEU (Hurricane & Typhoon) – 3 Apr 1944. 83 GSU (Typhoon) – 30 May 1944. 440 Sqn (Typhoon) – 7 June to 5 Dec 1944. 56 OTU (instructor) – 3 Jan 1945. He was killed in flying accident on 1 Feb 1945.
440 Sqn - Baled from Typhoon MN403 on 26 July 1944 – Flak damaged, parachuted safely within allied lines North of Caen. Uninjured. 440 Sqn - Crash landed Typhoon MN817 NE of Brussels on 9 Sep 1944 – Damaged by flak – Slight bruise to forehead but aircraft written off.
At No 56 OTU, Woodbridge, Hillfield, Northumberland, February 1, 1945, 1705 hours, he was involved in a crash in Typhoon RB 343. Aircraft crashed immediately after take off, assumed to engine failure. "Pilot attempted apparently to regain airfield. He crashed and was killed. Cause of engine failur being investigated and findings will be reported later." He had been ordered to ferry the aircraft from Milfield to Brunton. Weather conditions were poor at the time of the accident. The aircraft did a normal wheels up force landing by hit a 4 foot 6 inch high wall on impact and scattered wreckage over an area of approximately 75 yards square. The Court of Inquiry indicated that the cause of engine failure was still under investigation as of February 29, 1945. "The pilot was at fault in attempting to regain the airfield having suffered engine failure shortly after take off. A tragic mistake for an experienced pilot."
Group Captain, Commanding RAF Station, Milfield, wrote to Mrs. Gordon on February 22, 1945: "Your cable arrived in time to carry out your wishes regarding the funeral. Your son's funeral took place at Aberdeen on the 9th February 1945 at 1:30 pm, the service being conducted by a chaplain of the RCAF assisted by the Station Padre, the Rev. Robert Bell, after which his body was interred in the Spring Bank Cemetery at Aberdeen. Owing to war operations, it was not possible to accord full Service Honours but the coffin was carried by men of the Royal Air Force and it was covered with the Union Jack...Although your son was with us for only a short while, he was very popular with all who came into contact with him and we feel his passing very keenly."
On April 4, 1945: "The cause of this accident was engine failure immediately after the aircraft had taken off. The pilot took off without running up his engine, without reporting to Flying Control, and in bad weather conditions late in the afternoon, when the Chief Flying Instructor had forbidden all flying without his special permission."
More information can be found in Typhoon and Tempest by Hugh Halliday, pages 60, 76, 179, 185, 186.
LINKS: