Roger Eugene George McCurdy J21517
February 19, 1921 - August 13, 1944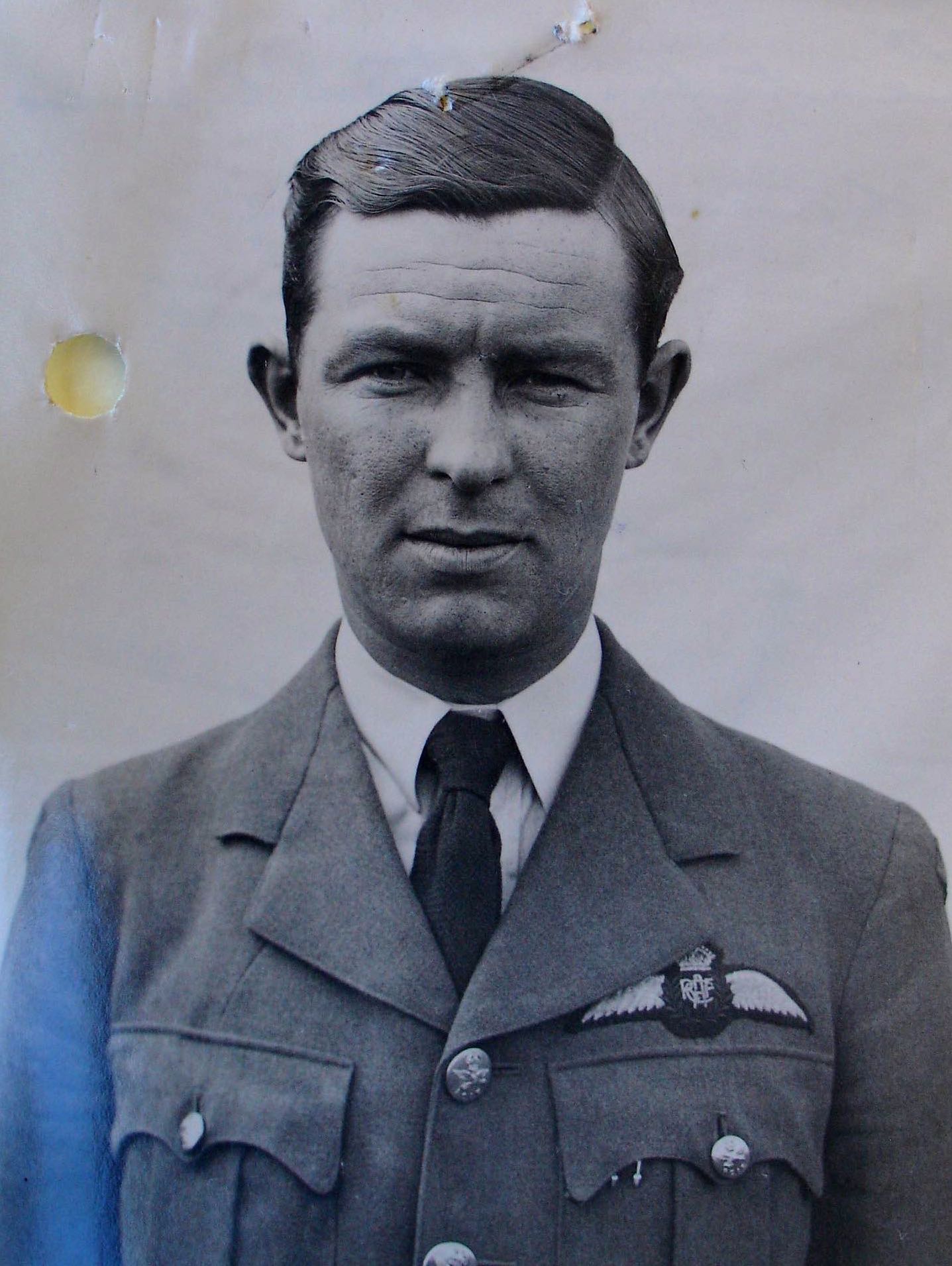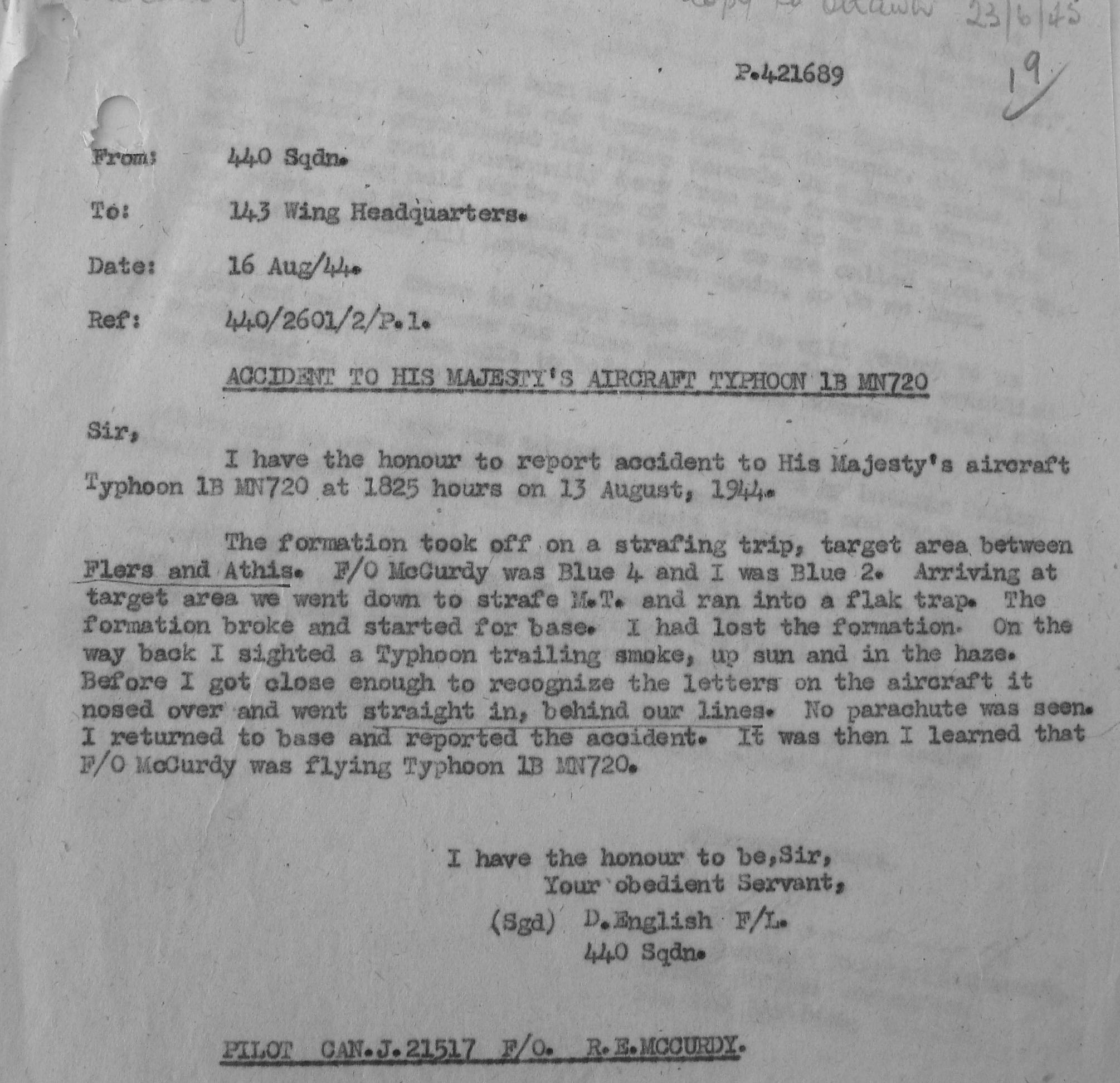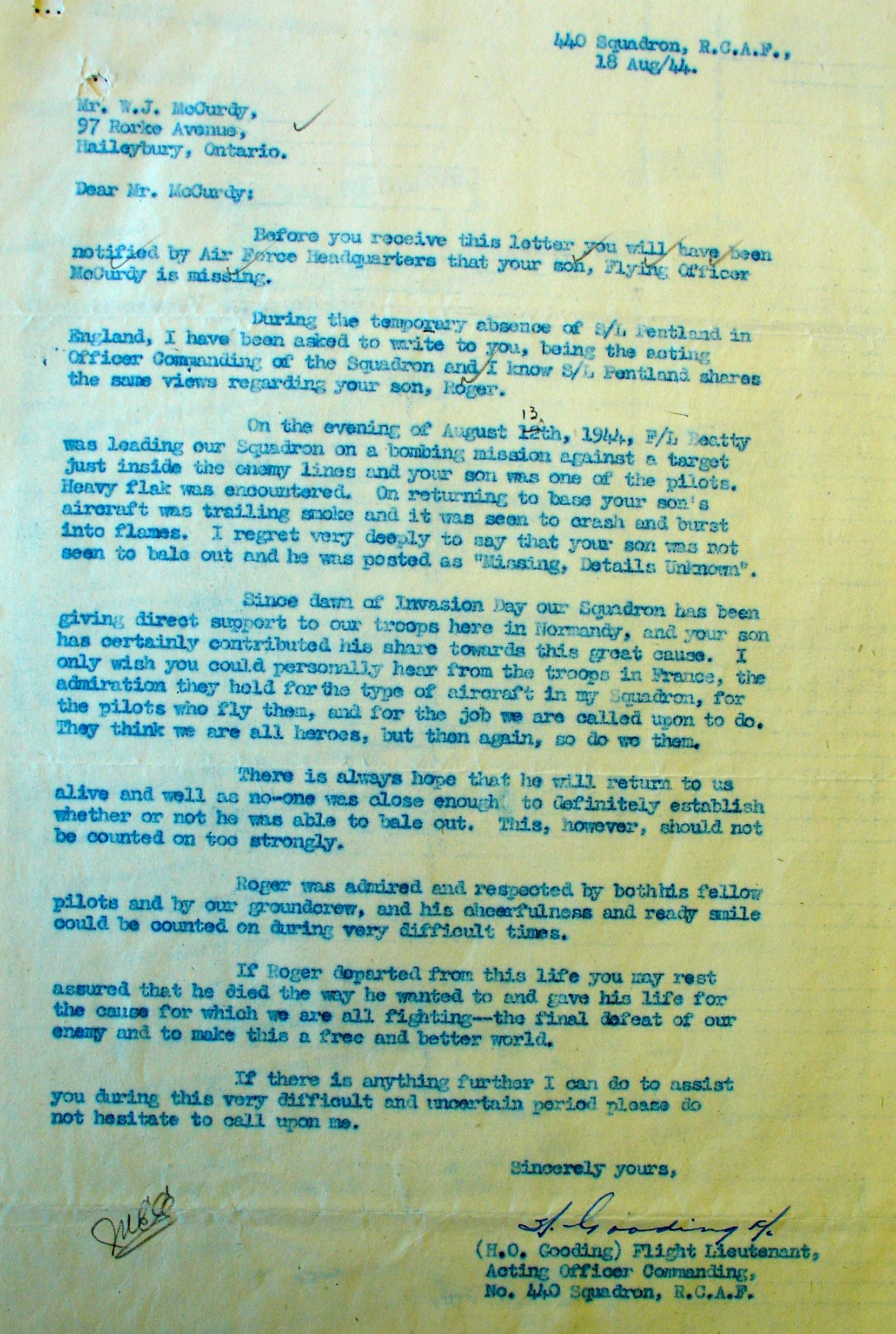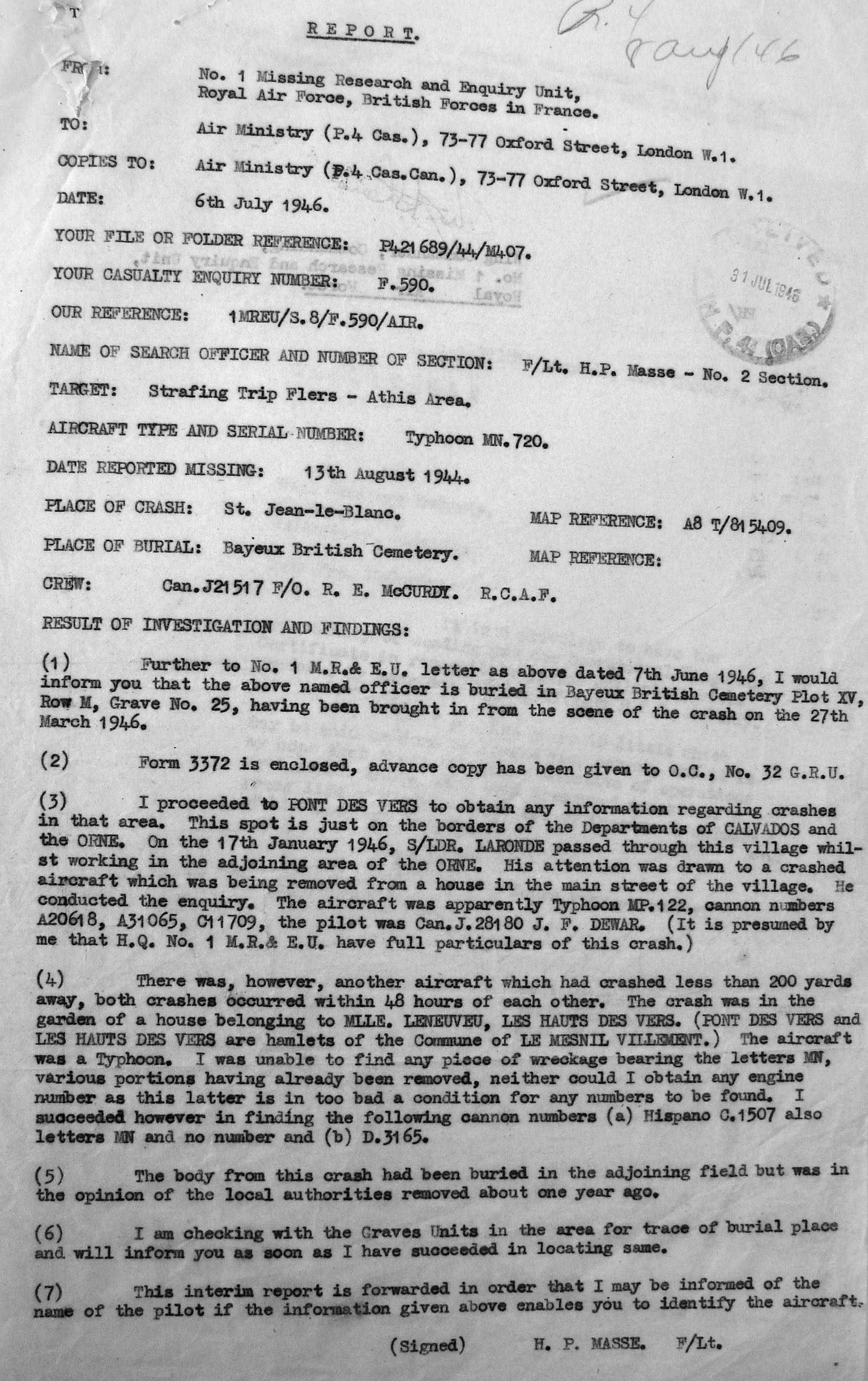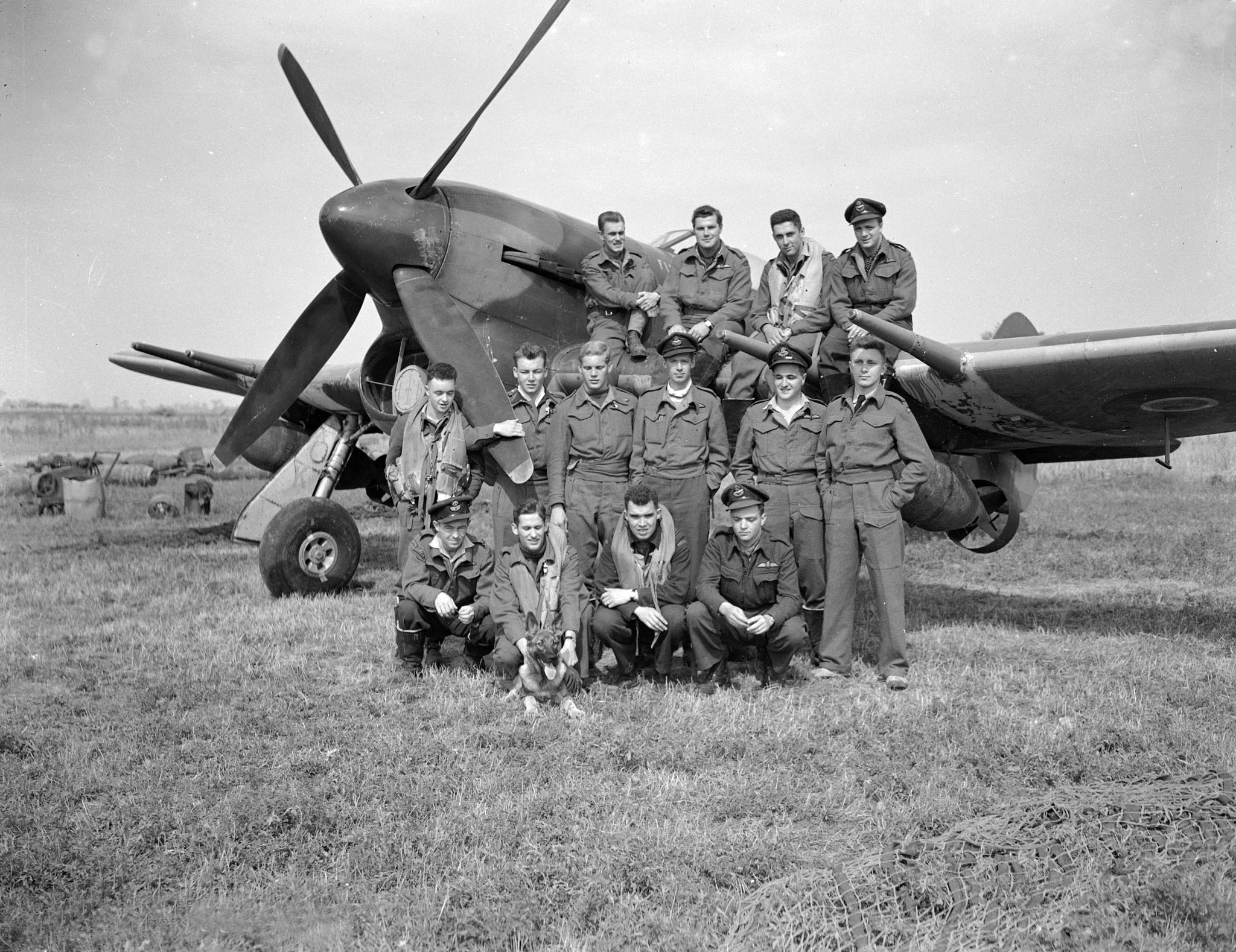 440 Squadron
Roger Eugene George McCurdy was born to Mr and Mrs H J McCurdy of Haileybury, Ontario. He had four brothers, three of them in Service, and four sisters. The family was Roman Catholic. He was a student prior to enlistment in 1941 and he liked music and playing the piano. McCurdy also had an Ontario 1941 driver's license.
In North Bay, Ontario, on June 5, 1941, he changed his name from George Eugeni McCurdy to Roger Eugene George McCurdy. The form was received on June 10, 1941 at the RCAF Recruiting Centre in North Bay.
He had been at No. 3 PRC. At No. 17 AFU, between February 10, 1943 and March 30, 1943, he was evaluated. "An average pilot with no special faults. He should be able to fly operational types by night with further dual after a period of day solo." From there, he went to No. 55 OTU.
On August 13, 1944, McCurdy was involved in a fatal accident, flying Typhoon 1B MN720. F/L E. English wrote, " The formation took off on a strafing trip, target area beween Flers and Athis. F/O McCurdy was Blue 4 and I was Blue 2. Arriving at target area, we went down to strafe MT and ran into a flak trap. The formation broke and started for base. I had lost the formation. On my way back I sighted a Typhoon trailing smoke, up sun and in the haze. Before I got close enough to recognize the letters on the aircraft, it nosed over and went straight in, behind our lines. No parachute was seen. I returned to base and reported the accident. It was then I learned that F/O McCurdy was flying Typhoon 1B MN720."
F/L Hal Gooding wrote a letter to Mr. McCurdy on August 18, 1944. "During the temporary absence of S/L Pentland in England, I have been asked to write to you....on the evening of August 13, 1944, F/L Beatty was leading our Squadron on a bombing mission against a target just inside the enemy lines and your son was one of the pilots. Heavy flak was encountered. On returning to base, your son's aicraft was trailing smoke and it was seen to crash and burst into flames. I regret very deeply to say that your son was not seen to bale out and he was posted as 'Missing, Details Unknown'....Roger was admired and respected by both his fellow pilots and by our ground crew and his cheerfulness and ready smile could be counted on during very difficult times."
On July 6, 1946, F/L H. P. Masse, an investigator from No. 1 Missing Research and Enquiry Unit (RAF) wrote: "I proceeded to PONT DES VERS to obtain any information regarding crashes in that area. This spot is just on the borders of the Departments of CALVADOS and the ORNE. On the 17th January 1946, S/L Laronde passed through this village whilst working in the adjoining area of the ORNE. His attention was drawn to a crashed aircraft with was being removed form a house in the main street of the village. He conducted the enquiry. The aircraft was apparently Typhoon MP122, cannon numbers A201618, A31065, C11709, the pilot was Canadian J. 28180 J. F. Dewar...There was however, another aircraft which had crashed less than 200 yards away, both crashes occurred within 48 hours of each other. The crash was in the garden of a house belonging to MLLE LENEUVEU, LES HAUTS DES VERS. [Hamlets of the commune of Le Mesnil Villement] The aircraft was a Typhoon. I was unable to find any piece of wreckage bearing the letters MN, various portions having already been removed, neither could I obtain any engine number as this latter is in too bad a condition for any numbers to be found. I succeeded however in finding the following cannon numbers: Hispano C1507 also letters MN and no number and D.3165. The body from this crash had been buried in the adjoining field but was in the opinion of the local authorities, removed about one year ago. I am checking with the Graves Units in the area for trace of burial place and will inform you as soon as possible as I have succeeded in locating same." The body of McCurdy had been buried at Bayeaux British Cemetery, Plot XV, Row M, Grave 25.
Mr. McCurdy wrote, "Present addresses of F/O Rog. E. McCurdy's brothers in armed forces: Lt. J. E. McCurdy, 11th SCS, Huntsville, Charlottetown, PEI, Staff Sgt. M. J. McCurdy, Personnel Selection Staff, Ex. Barracks, Toronto, Pt. Joseph McCurdy, Wounded overseas, C/O Christie Street Hospital. We would like to receive our son's clothing and any other articles. Please send to W. J. McCurdy, Haileyburg, Ontario."
PL-31056 UK-13337 04/08/44 440 SQN Ontario members of the "Beaver" city of Ottawa squadron are shown before one of their Typhoon fighter bombers at B-9 Lantheuil advanced RCAF airfield in Normandy. Left to right starting from front row; F/O Roger McCurdy, Haileybury; F/ James Beatty, 20 Cherry Street, St Catherines, Ontario. Standing in second row are; F/O John Dewar, 405 Victoria Street, London, WO2 Richard Watson; OBA F/O Robald Doige, Lasalle, Quebec; F/L Harold Gooding, 19 Morris Street, Ottawa; F/L Clifford Hicks, Crediton; F/O Donald Campbell, Caprool; Seated on the wing third row are; F/L Donadl Jenvey, Ingersoll; F/O "Sandy" Colville, Bowmanville, F/O Currie Gardner, Hamilton; and F/O Gordon Russell