Ronald William Doidge J26406
January 7, 1923 - October 20, 1944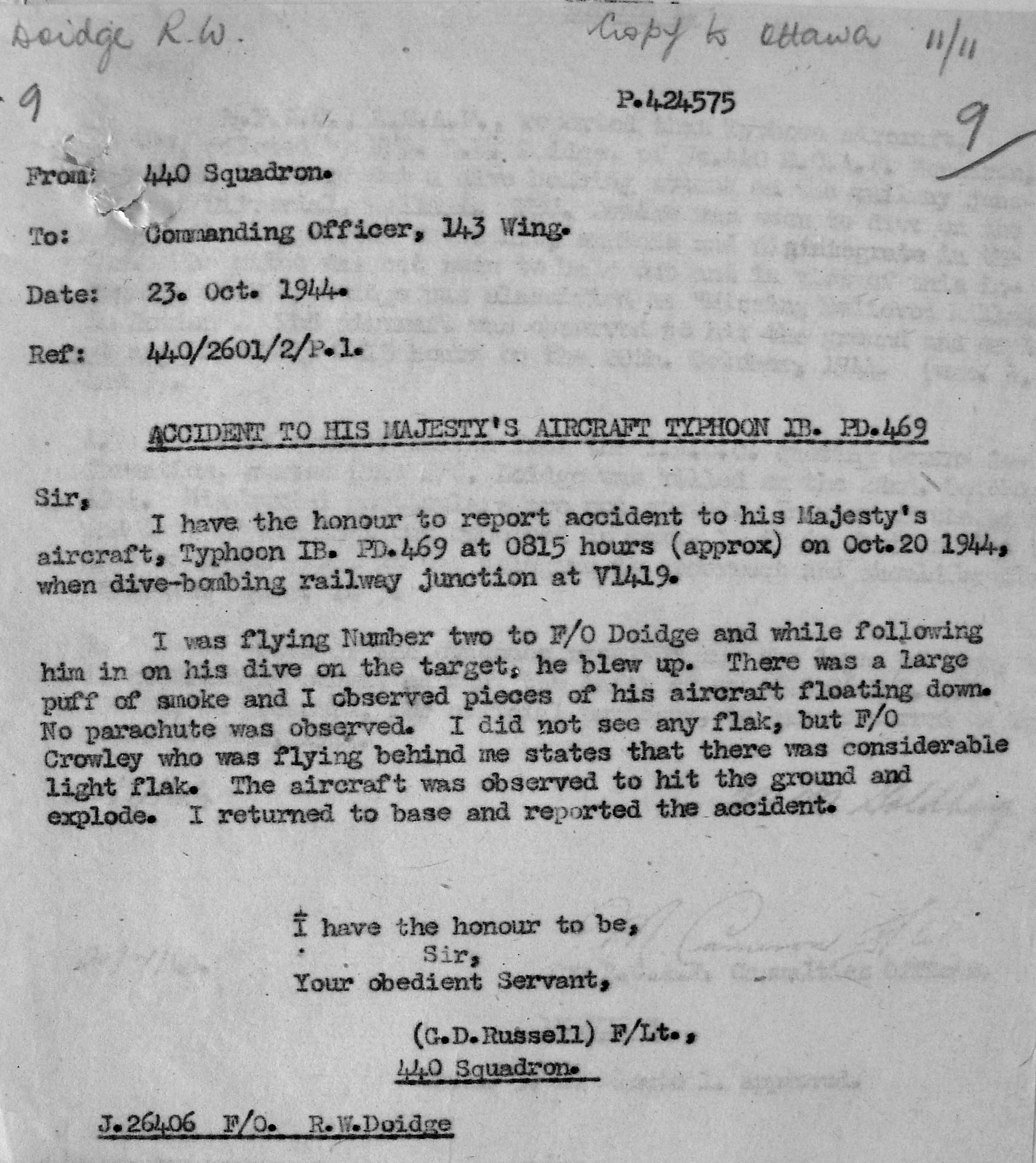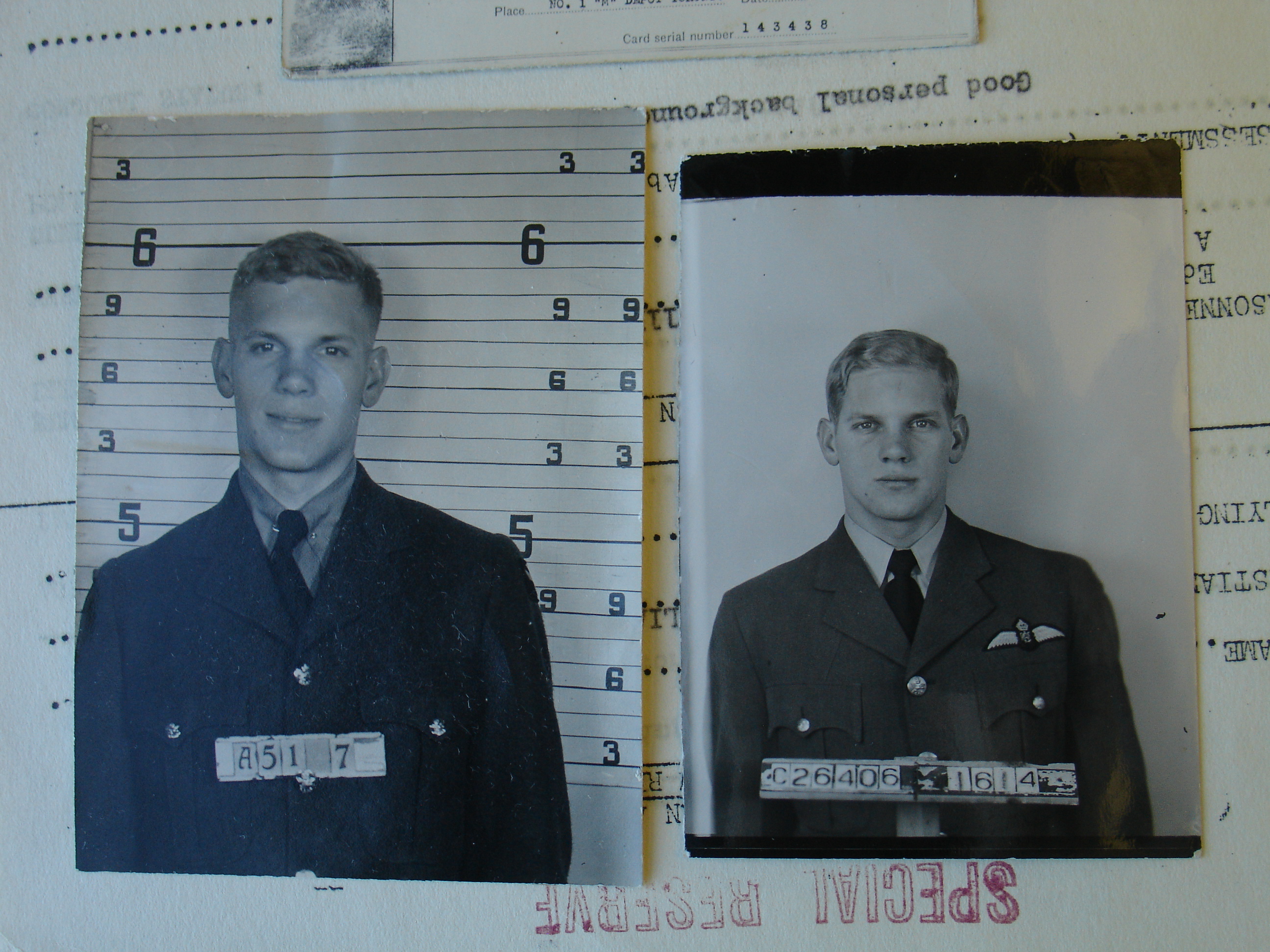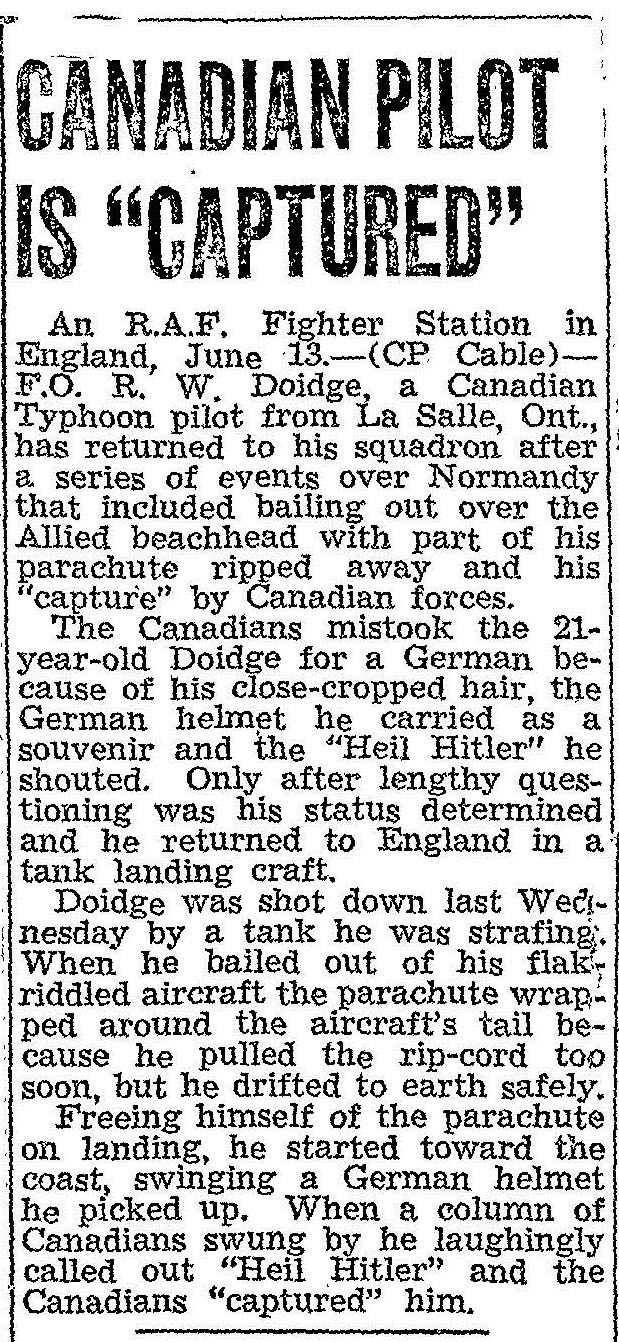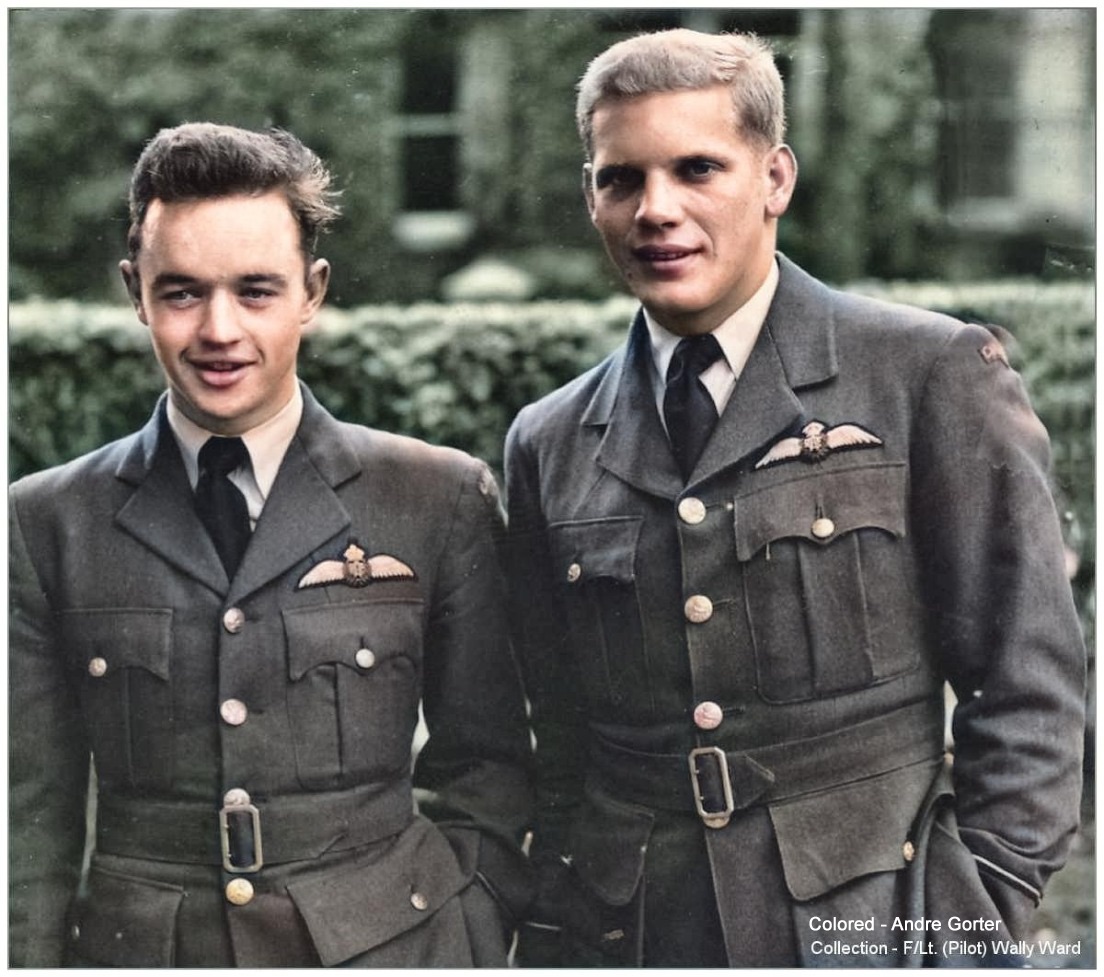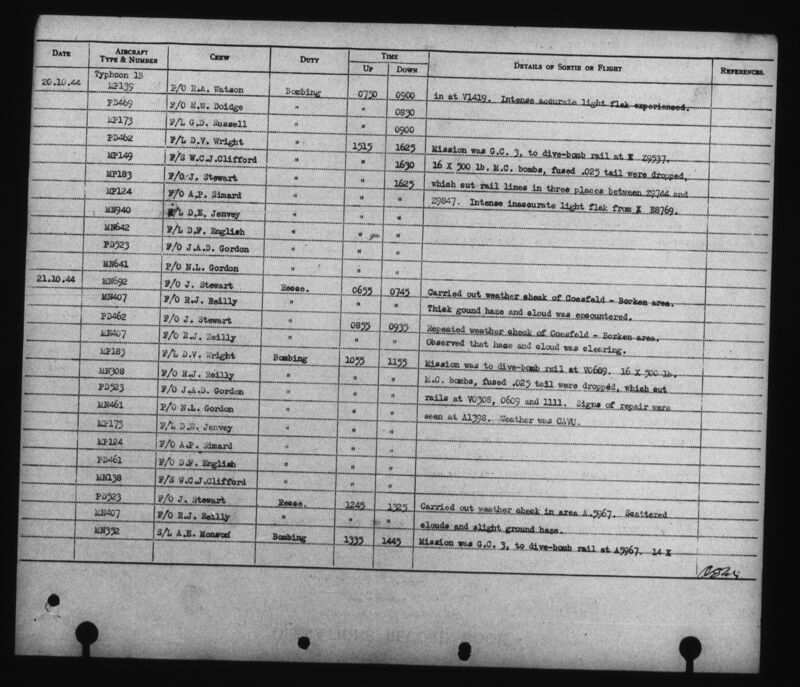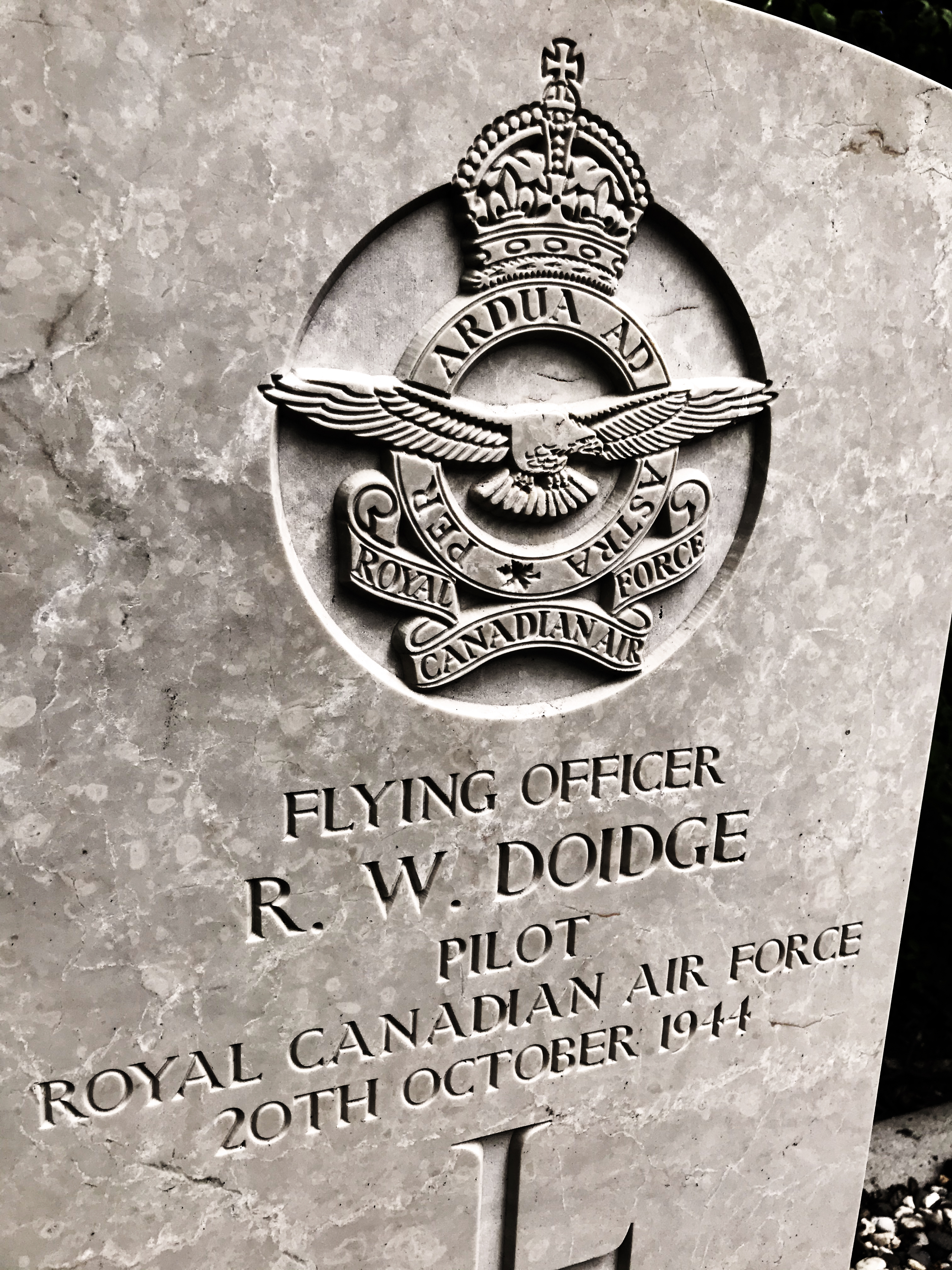 440 Squadron
Ronald William Doidge was a farmhand from La Salle, Ontario, prior to enlisting in the RCAF. He had one brother, Leslie Travis Doidge, with 428 Squadron and a sister, 13 years old. He was engaged to be married to Miss A. Davies. He indicated he wanted to return to school after the war was over. He was a student, having a "C" average. He competed in rugby and basketball for a number of years at Walkerville Collegiate and was one of their better athletes, according to the Principal of Sandwich Collegiate Institute in Windsor, Ontario, where Doidge had attended from September 1941 to March 1942.
On May 7, 1942, he was at No. 1 M Depot, Toronto, AC2, 19 years old, stood 6' tall, weighing 168 pounds. He had light brown hair and blue eyes. He had a scar on his forehead.
November 1943: "F/O Doidge is a good pilot. Reliable in his duties. Should make a good fighter pilot with more experience." Boundary Bay. At Pat Bay: "An excellent pilot. Fine type of officer. Should prove to be outstanding with more experience."
December 1943: "Very promising pilot of the best type. Highly recommended for retention in service." W. H. Pentland, No. 111 Squadron.
Circumstances of crash in Typhoon PD469, October 24, 1944: "BPSO, AEAF reported that Typhoon aircraft PD.469 piloted by F/O R. W. Doidge of No. 440 RCAF Squadron left base to carry out a dive bombing attack on the railway junction at Dijverdal, Holland. F/O Doidge was seen to dive on the target then appeared to be hit, explode and disintegrate in the air. The pilot was not seen to bale out and in view of this information, F/O Doidge was classified as "Missing Believed Killed in Action". The aircraft was observed to hit the ground and explode, at approximately 0815 hours on the 20th, October 1944. A telegram arrived from the IROC quoting German information states that F/O Doidge was killed on the 22nd October 1944. His burial particulars are not stated. In view of the time and date of the incident reported in paragraph 1, it is obvious that the date of death given in the telegram is incorrect and should be disregarded." Crowley and Russell were both witnesses to the crash.
In a letter dated November 10, 1944, F/Lt Clacken, Acting Officer Commanding, 440 Squadron wrote to Mrs. Doidge, of Windsor, Ontario: "As you no doubt know, Mrs. Doidge, Ron and I have been with the same Squadron since Patricia Bay and since that time, we have been the best of friends. He was such a find lad in every respect and everyone he met liked and admired him -- they could not help but do so. He was admired by his fellow pilots and the ground-crew alike and his cheerful and ready smile could be counted on during any difficult times."
In April 2019, Ronald Smit wrote: "On this site it is mentioned that Ron did not bale his plane, but we know he did, or at least that is what I know of it by the official historical organization in the village. He did bale his plane but then his luck ran out. He landed on the roof of a factory (Ten Cate) which still is there. The roof was a zinc plate roof which could not hold him. He was cut up badly by sharp edges and was found dead on the floor from the factory by workers of the first shift. This doesn't change anything of course, but that is what we think to know about it. I hope I have helped you with this. I have a deep admiration and gratitude for and towards all soldiers of WWII. It is only for them that we live in freedom here. For always in my heart, never out of my mind."
For more information about Doidge, please contact Andre GORTER at ronald.w.doidge@gmail.com. Andre has written a detailed story about Doidge, utilizing some of the information from this website, expanding it further.
LINKS: