William Dempsay Peacock J26271
1920 (Approximate) - May 4, 1944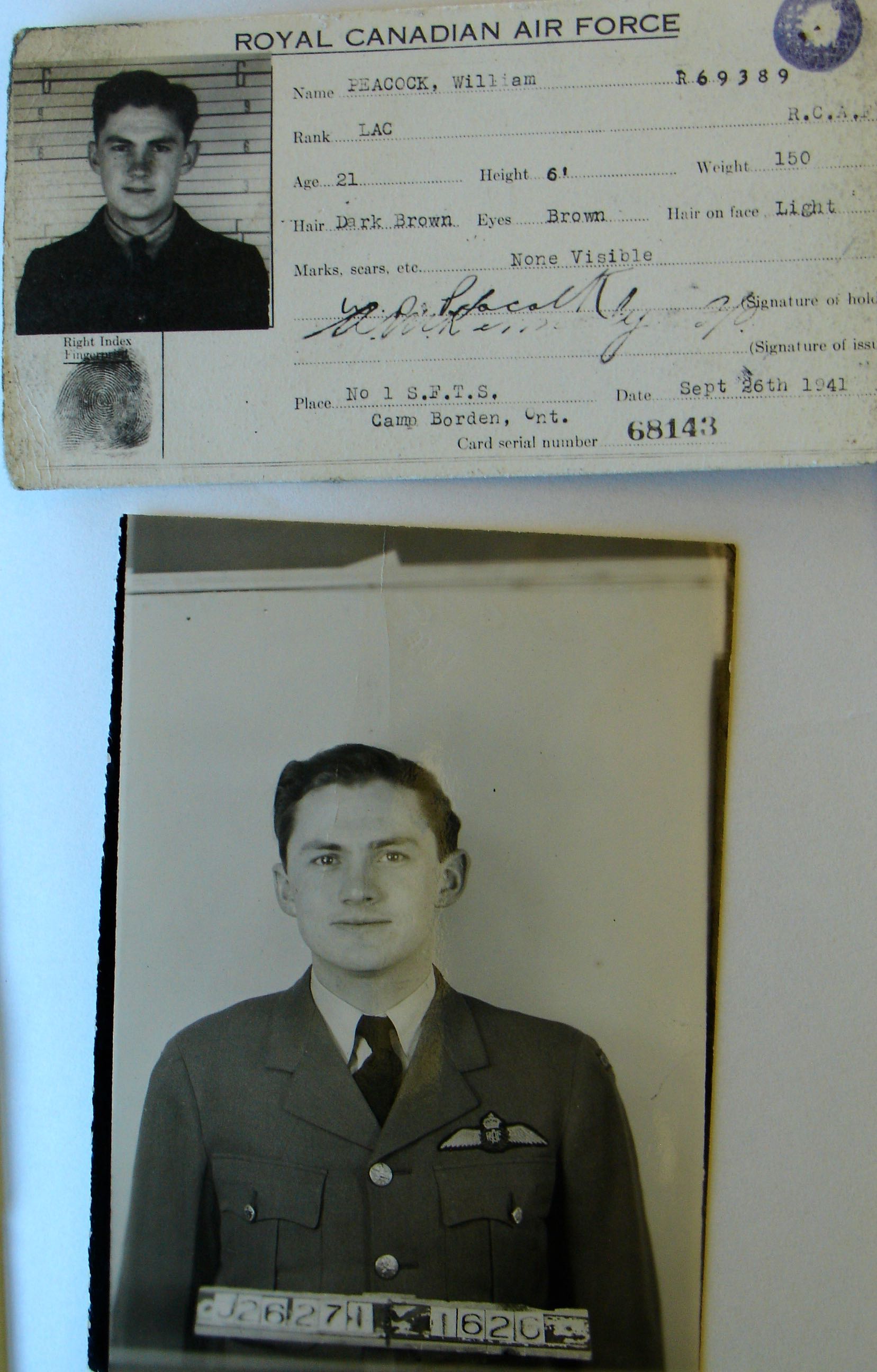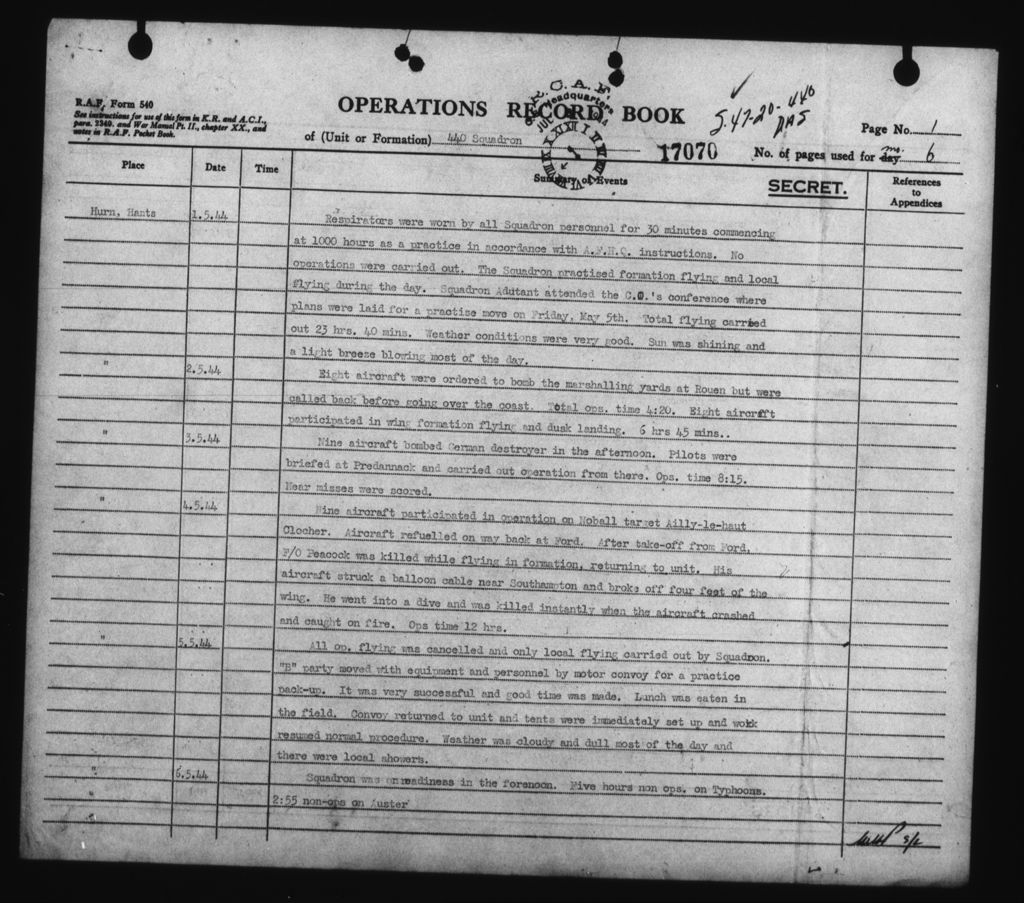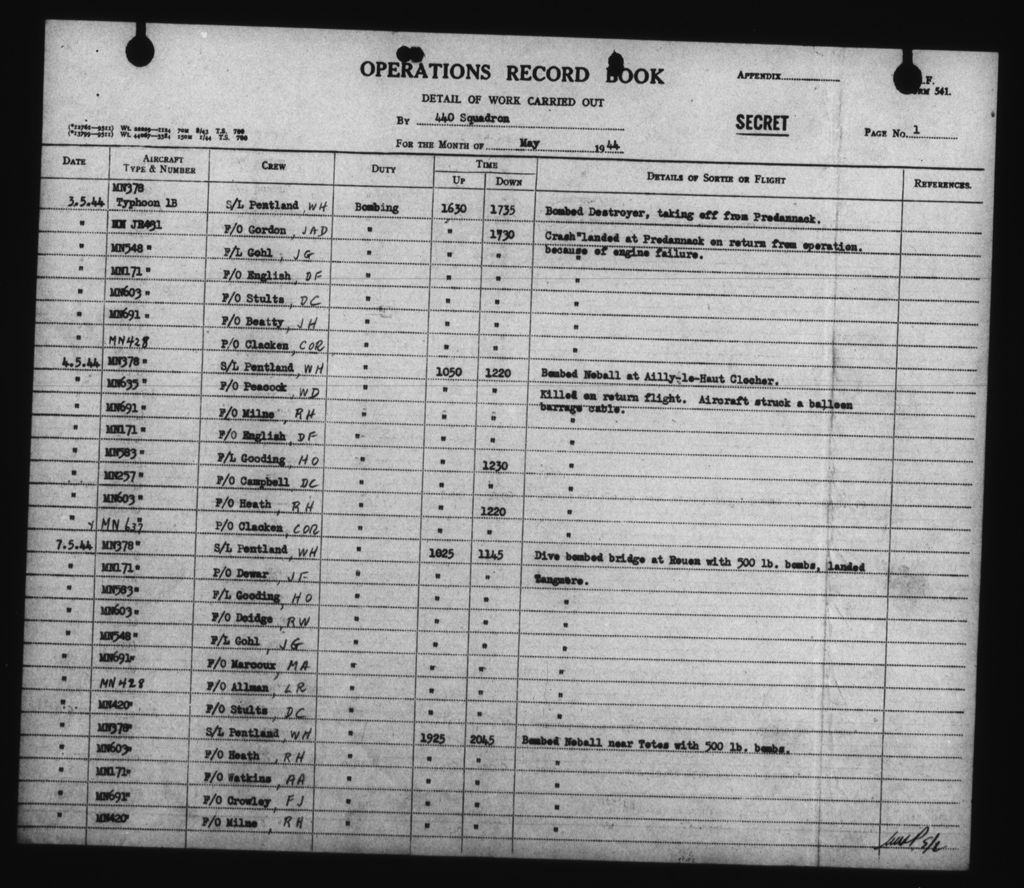 440 Squadron
William Dempsay Peacock was the son of William and Claribel Peacock of Noranda, Quebec. He had five brothers, two of which were in the RCAF. He also had two sisters. The family attended the United Church.
Peacock was born in Swastika, Ontario. He was a diamond drill runner at Noranda Mines. After the war, he wanted to pursue mining engineering. He had a driver's license, dated September 22, 1943.
He was at #3 EFTS, then at No. 1 SFTS, Camp Borden by September 1941.
By July 1942, he was at #9 Bomb and Gunnery School, St. Joli, Quebec. He was involved in a serious accident in a Harvard while with #130 (F) Squadron. He was admitted to Royal Victoria Hospital in Montreal, suffering from shock, a concussion of the brain, 3rd degree burns to his left leg, a compound fracture in his left foot and lacerated nose, left hand and left leg. The accident happened 9 or 10-12 (depending upon the source) miles from the station, on June 6, 1942 at 1350 hours. He was unconscious for an undetermined length of time, with first aid administered around 1600 hours, with medical attention at 1800 hours. He was given morphine, rum and oxygen in the ambulance. Later he was given a blood transfusion and two skin grafts, one in August and the other in September 1942. At No. 1 OTU, Bagotville, March 24, 1943: "Burns on leg has healed very well. This NCO has come through the accident very well. Mental attitude towards flying since the accident is very good." He was posted to Alaska with 111 (F) Squadron.
F/L Hal Gooding witnessed Peacock's fatal accident on May 4, 1944 at 1600 hours "While on a flight from Ford to Hurn, I was Blue Leader flying my flight on the starboard side of Red Flight. We were flying around 1000 feet when near Eastleigh, I saw a piece of wing come off an aircraft in Red Flight, the aircraft turned on its back and then spiralled into the ground. On crashing, the aircraft burst into flames. The formation continued to Hurn and landed." His body was identified by a belt buckle engraved with his name and a signet ring.
S/L Pentland wrote a letter to Mrs. Peacock on May 15, 1944, explaining the circumstances of her son's accidental death. "Bill had just returned from an operational sweep over France and on the return flight to base during bad weather conditions, his aircraft struck a balloon cable. The aircraft crashed and your son's death was instantaneous.....Your son's funeral took place at the North Bournemouth Cemetery in Bournemouth, England on the 10th of May at 3 pm, the service being conducted by the RCAF Protestant Chaplain, after which his body was interred in the soldiers' plot. Full service honours were accorded, the coffin being carried by brother officers from his squadron. The Firing Party fired a last salute and the Last Post was sounded at the end. Wreaths were sent from the Commanding Officer and members of the 143 Airfield Officers' Mess, Officers Commanding and Officers of 438, 439, and 440 Squadrons...He was admired and respected by both his fellow pilots and by our groundcrew, and his eternal cheerfulness and ready smile could be counted on during difficult times." Enclosed with the letter were cards and photographs of the funeral ceremony.
A Court of Inquiry was struck to investigate the accident. P/O Clacken, F/L Gooding, S/L Pentland were on the list of witnesses. Weather conditions: cloud base: 1000feet, ASL, surface wind: SW 'ly 15-20 mph, visibility: 1-5 miles. Peacock had 15.15 hours on the Typhoon. CONCLUSIONS: J. 27621 F/O W. D. Peacock was killed at about 1405 hours, 4 May 1944, when the aircraft he was flying Typhoon MN431 evidently struck the mooring cable of a captive balloon and fell to the ground out of control. The aircraft was almost totally destroyed by the impact with the ground and by the resultant fire. The balloon was moored near Eastleigh, Hants....and the wreckage of the aircraft was found about half a mile west...The accident occurred on the return portion of an operational "Ramrod" of No. 440 Squadron, led by S/L W H Pentland, after an attack on a 'Noball' target in France. The Squadron had landed at Ford, Sussex to refuel, and the accident occurred shortly after the time of take off for Hurn, Hants, where the Squadron is based. Several factors have contributed to the cause of this accident: weather conditions were adverse, with low cloud and limited visibility. Balloons were evidently flying in cloud, whereas they are normally flying below cloud. The 'box' formation in which the Squadron was flying covered a larger frontal area than was advisable in such weather conditions. The aircraft crashed south east of Eastleigh, Hants, which shows that the formation leader must have been flying directly towards Eastleigh, although he believed himself to be farther north. As Squadron Commander, he would normally have waited at Ford for more favourabe weather conditions, but as acting W/C flying of 143 Wing, it was important that he and his squadron return to base as soon as possible, in view of impending operations, and this governed his decision to return. It is recommended that formation leaders be warned to exercise extreme caution when it becomes necessary for them to lead formations near balloon barrages in adverse weather conditions. An extra margin of safety should be allowed when choosing routes, briefing pilots, and deciding upon the type of formation to be flown." W/C F. Hillock on May 26, 1944 concurred with the findings of the Court. "Adverse weather conditions, through operational, led S/L Pentland to err slightly in his navigation and fly two to three miles of the safe Ford-Hurn route. He penetrated the balloon barrage of Eastleigh at a low altitude with the balloons obscured in cloud resulting in F/O Peacock striking a cable and crashing." G/C H. Broadhurst wrote, "This accident was the fault of S/L Pentland who led his flight into a balloon barrage. I do not think he was guilty of negligence and recommend no further action. I am causing equiries to be made as to why his R/T was not working and why balloons were flying in cloud."
Some time after Peacock's death and his personal effects returned to his family, a note was written by Mr. Peacock. "RE: Parcel forwarded to us, am returning same as these effects are not our son's, having received his personal effects about six months after he died and as for the helmet, gas mask etc., we will forget this matter as he was killed in an air crash. No doubt there is a story behind it all that we would not like to hear about. The shoes in this parcel sent are absolutely none of his as we received his in his luggage when returned. We are satisfied in regards to his belongings returned and as stated, the only articles missing are a signet ring with initials WP on it and a Mido watch. As I said before, if these are not to be had, this issue will be closed. With thanks. W. Peacock." Mr. Peacock said that the watch had his son's name and address engraved on the back. Mr. and Mrs. Peacock had given the watch to Bill on his graduation and and he had worn it at the time he had the serious accident at Mont Joli in 1942. Mr. Peacock hoped that the mix-up between his son's and the other man's belongings (LAC T. K. Krause) would be resolved.
In November 1944, a Miss M. P. Breakwell of Toronto, wrote a letter to the Department of Records in Ottawa, seeking the address of LAC W. Peacock R69389, reason unknown.
LINKS: