William Harry Pentland J3204
April 4, 1917 - October 7, 1944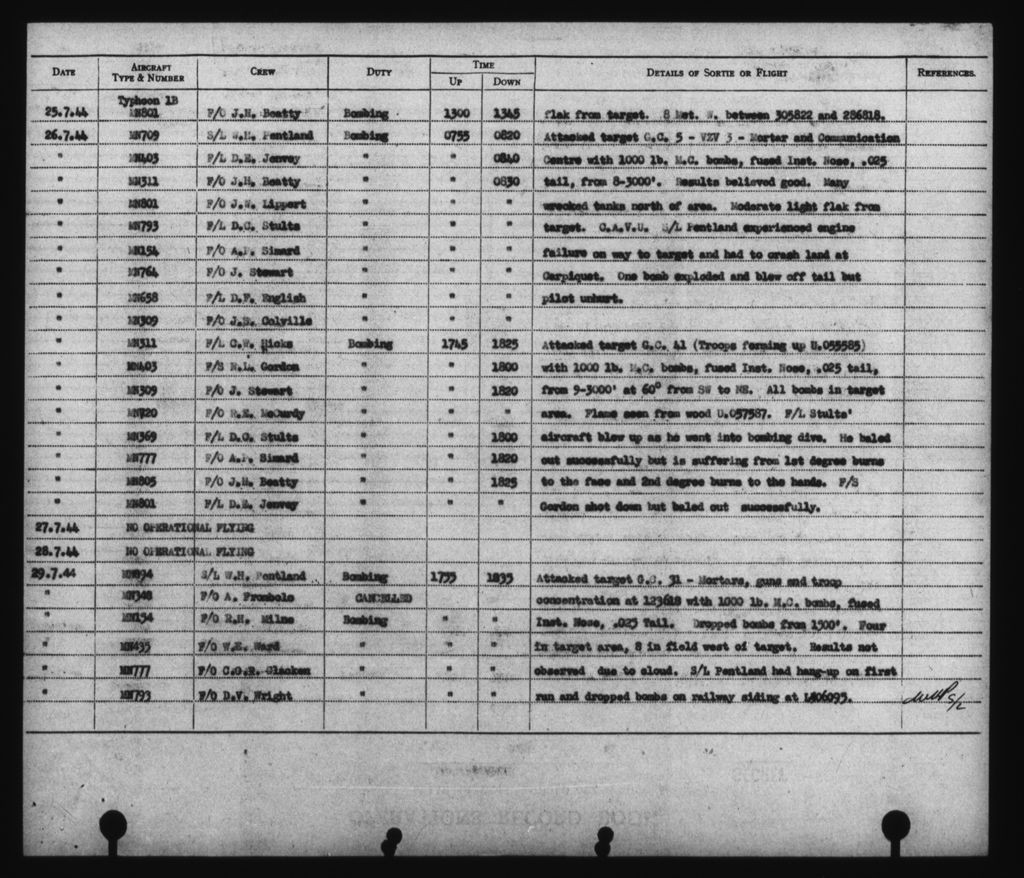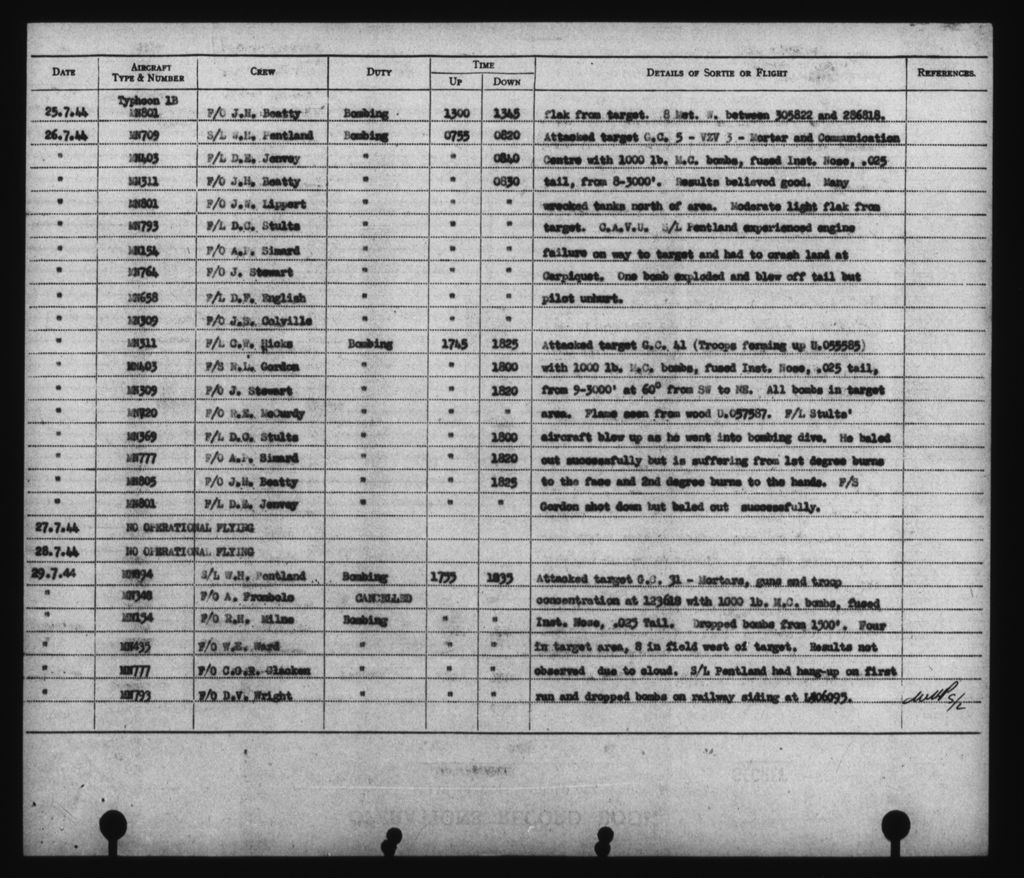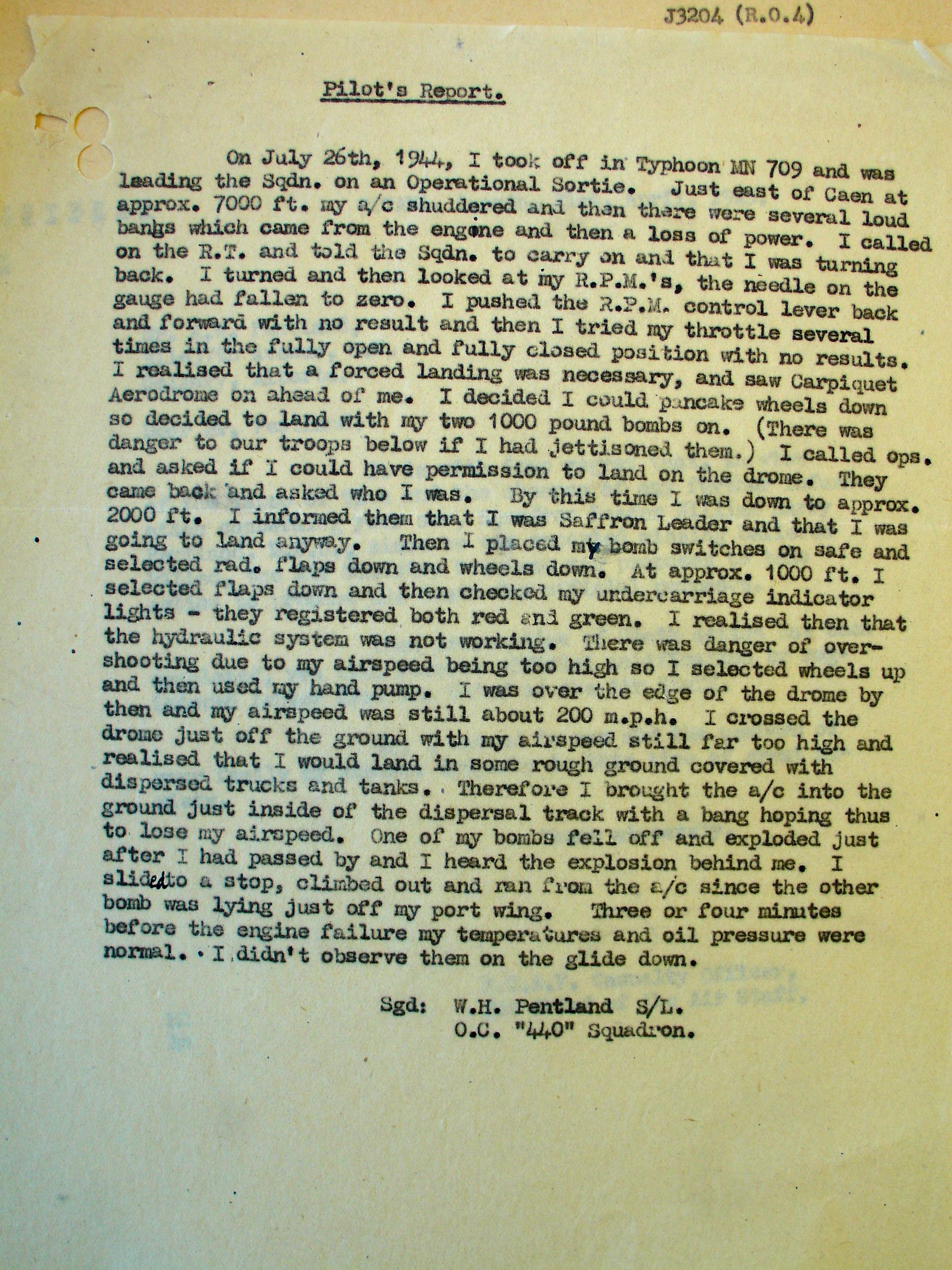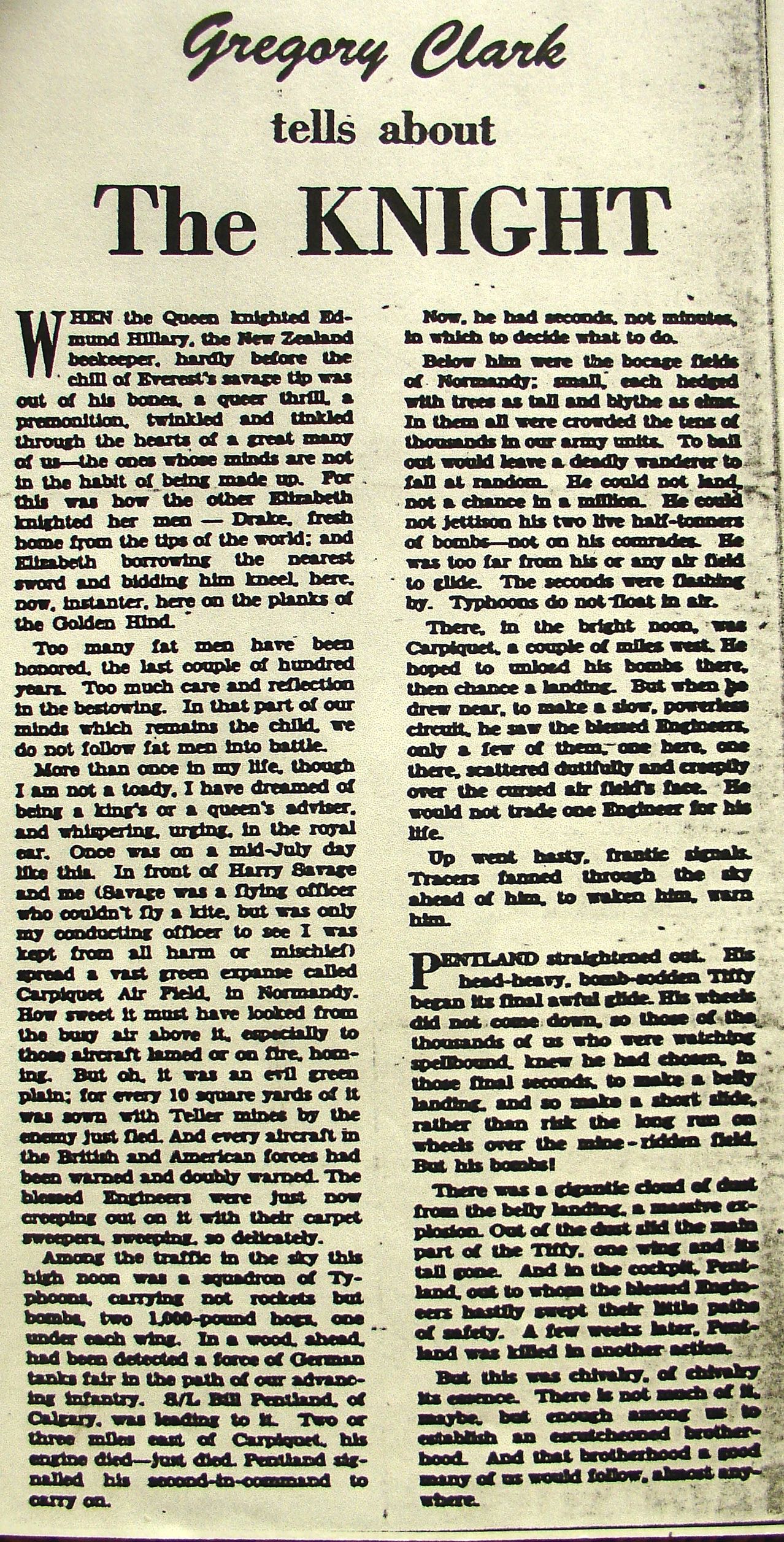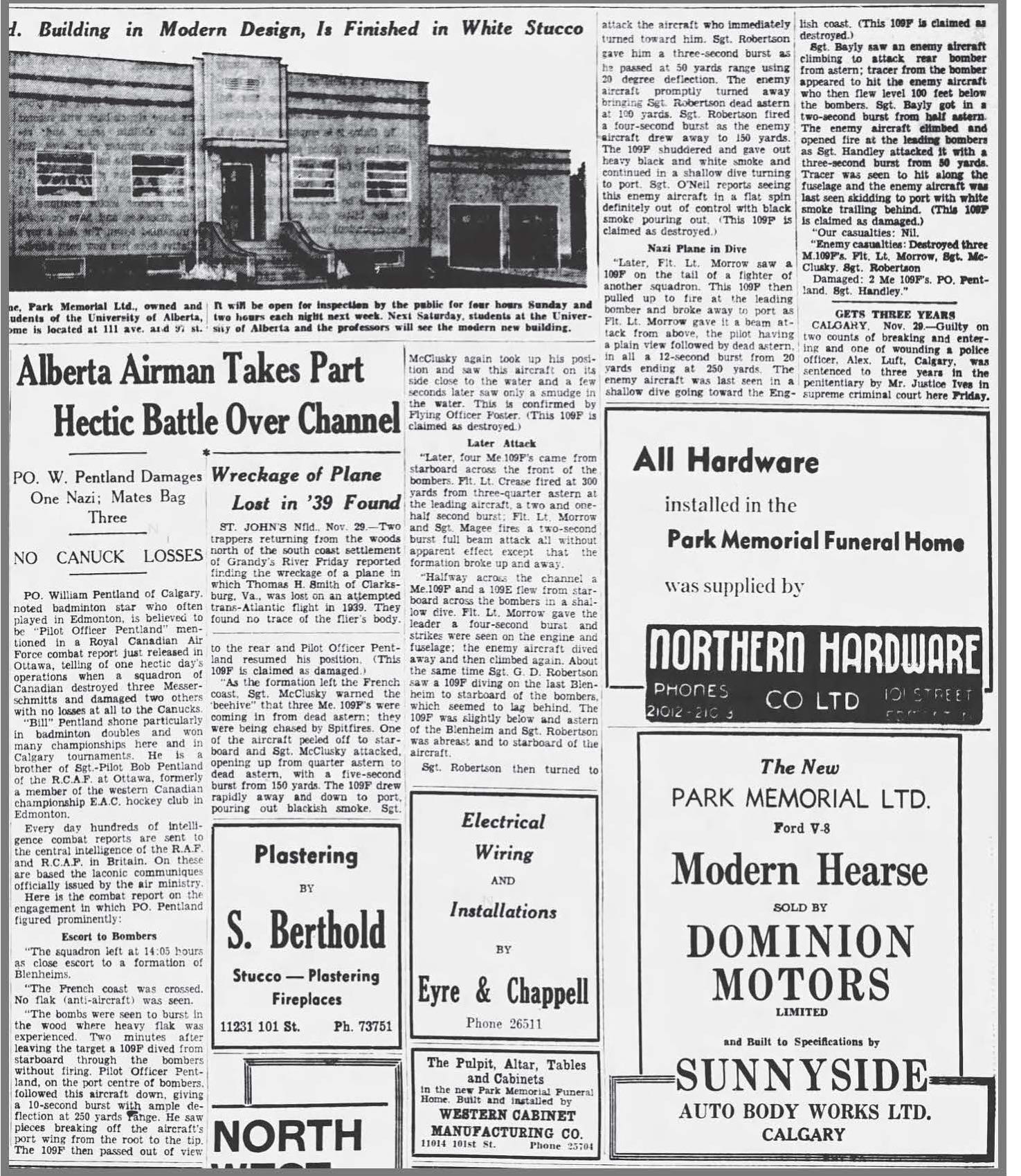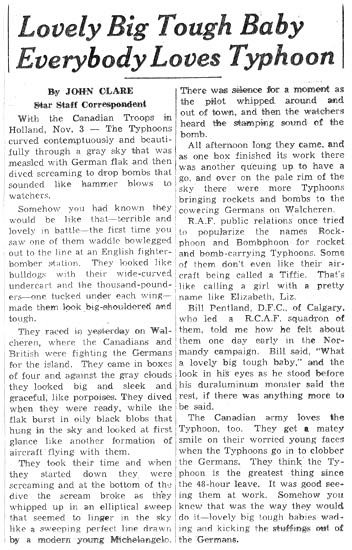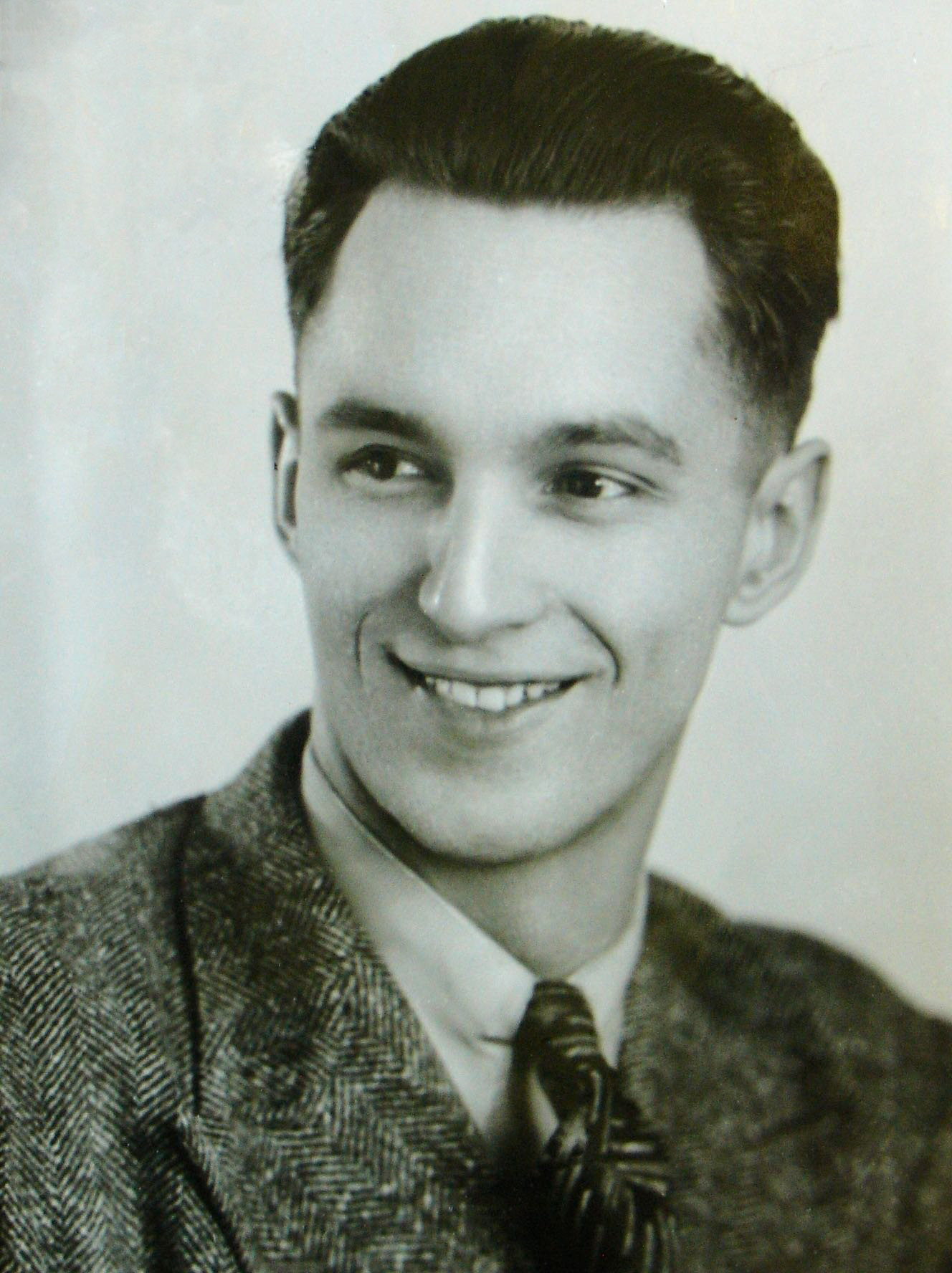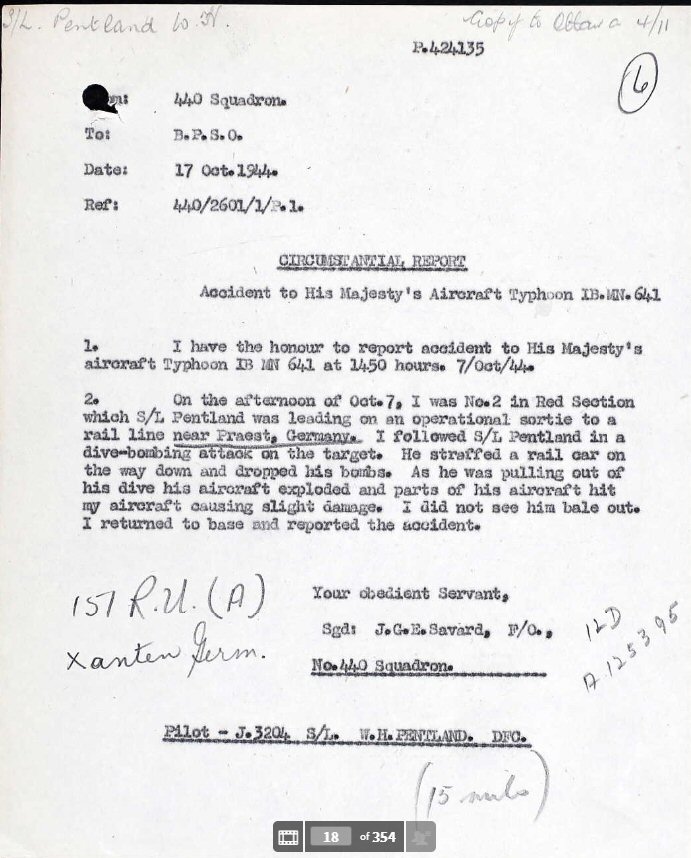 440 Squadron
Graham Bennett, neighbour of William (Bill) Pentland, WWII Typhoon pilot and Robert (Bob) Pentland, WWII Spitfire pilot, said, "I have endless material on the Pentland Boys including Bill's logbook, which was given to me by the boys' sister Patricia.
"Bill and Bob were always nice to me even though I was much younger, born in 1930. We lived on the same street, two houses from each other on 37th Avenue SW, Calgary. We lived at 317 and they lived at 311. I was always very interested in what they did when they were involved in athletics and in their RCAF careers.
"My wife, Beverley, and I visited Bill's grave in the Rheinberg Military Cemetery in Germany where the land was a gift from Germany to the War Graves Commission and is close to where the Canadian forces crossed the Rhine. This was very moving for the two of us.
"Bill's brother, Bob (aka 'Pent') is buried in Union Cemetery (Calgary) and I attended the internment in 1954." After his crash in 1944, Bob was sent to England and then back to Canada as a quadriplegic. "During the ten years he lived, I spent a good deal of time visiting him. I was completely broken up over his passing as I was an only child and he was like the older brother I never had. Our second son has Robert as his middle name."
Graham Bennett wrote an article for the Glencoe Club (Calgary) about the Pentland Boys as a tribute to them. Graham and Beverley are also responsible for two plaques about the brothers, located at The Hangar (formerly AeroSpace Museum) in Calgary.
Fellow 440 Squadron Typhoon Pilot, Doug Gordon, said of Bill Pentland, "Bill had been a Spitfire pilot in Africa before joining 440 Squadron. He was a good head." He remembered a story. "He was flying and he lost his engine. He had two bombs and belly-landed at 200 mph, ripping the bombs off, which exploded behind him. He was not hurt."
The following information is a combination of Graham Bennett's profiles, Bill Pentland's files at the Library and Archives Canada and a story written by Major Gregory Clark (1892-1977), a WWII correspondent for The Toronto Star.
Bill Pentland was born on May 4, 1917 in Lake Saskatoon, Alberta, son of Augustus (Gus) and Agnes Pentland. He attended Rideau Jr. High School and Western Canada High School, Calgary. He served with the 50th Battalion non-militia from 1933 - 1936. From September 1938 until January 1939, he attended Washington State University in Pullman, Washington, taking General Studies. He taught badminton at the university in return for room and board. Bill was a badminton champion for three years in Alberta Men's Doubles. He also played rugby for two years. He was a member of the football teams: Calgary Broncos and Calgary Greyhounds. He also enjoyed track, tennis, basketball and hockey. He worked for Hudson's Bay Company in Calgary as a clerk and trainee, and then moved to the Robin Hood Flour Mills as a clerk before going to university. He also worked at Maple Leaf Petroleum Ltd. until he signed up with the RCAF in Calgary in April 1940. On his attestation papers, he noted he smoked cigarettes and shooting was one of his hobbies.
On May 27, 1940, he was assessed as: tall, muscular, athlete, of outstanding ability and all-round merit. Of very good appearance, manner and personality. Of very good intelligence and mentally keen and alert. In October 1940, he earned his wings. He flew operations with 402 Squadron until December 1941. He was transferred to 417 Squadron and promoted to Flight Lieutenant. In April 1942, he was transferred to North Africa to support Montgomery's 8th Army. In December 1943, he was promoted to Squadron Leader.
Bill Pentland led many air operations over Normandy with 440 Squadron, supporting Allied ground forces from D-Day to end of the war. He was awarded the DFC on September 19, 1944, and the Operational Tour Wing and Bar. Group Captain Davoud wrote, "A first class officer in every respect. A good organizer and a brilliant leader in the air." Bill Pentland was killed on October 7, 1944 while attacking a train on his 97th sortie. He was hit by flak. He is buried in the Rhienberg War Cemetary. Pentland Lake, north east of High Prairie, Alberta, off Highway 750, is named in his memory. His brother, Bob, requested that Bill's logbook be sent to him. This was done. Bill's logbook is now at The Hangar, in Calgary. Graham Bennett has a copy.
William Pentland's logbook highlights featuring the Typhoon, 1944
First flight in a Typhoon: February 25, 1944, circuits and bumps; 28th and 29th Local flying -- 2 hours 30 minutes for February total.
In March 1944, he was doing formation flying, flight formation and local cloud flying, plus squadron exercieses and a fighter weep. He went to Cherbourg and Caen on March 31 and wrote: "Nothing observed! Carpiquet quiet!"
April 1944: He went from Digby to Millfield for a Fighter Leader Course. He noted diving 60o from 8000', pulling out at 1000'. Dive-bombing practice on beach targets, strafing, low level bombing from April 6 - 22, 1944.
April 25th: 1000s and 500s on bridge near Agon; strafed troops (mining) beach Cherbourg.
April 26th: Landed Christchurch. W/C found dinghy; strafed on way out (staff cars); flak in nose tank.
April 29th: Weather u/s; dropped bombs safe over France
May 8th: In Douai; W/C Davidson missing
May 22, 1944: Arromanchose with RPs; Al Watkins in dinghy but not picked up; Frank Crowley in dinghy -- picked up.
May 28th: Watkins picked up after six days in dinghy.
May 28th: South of Rouen; Led Wing; got two direct hits myself; pictures confirmed bridges destroyed.
June 6th: Plumetot; direct support for 3rd British Army on initial invasion stage. Len Allman missing. SECOND FRONT -- This is it! Our wing only one chosen for the job -- we four knew! Operated behind bomb line; staff car and truck; Gohl and Dewar shot up badly. Ron Doidge, Stan Garside and Wilf Mahagan missing. Morning show.
June 12th: Jimmy Gohl bailed out too late off Christchurch!
June 22nd: Ste. Gauburge; direct hits, bombed and strafed motor transport -- five trucks south of Caen. Don Campbell and I gave 'em a working over! M. T. assembling in yards. Taken for a plenty good ride. Bob Hattie baled out of flames. OK! Squadron moved out of France carrying 500s.
June 28th: Cherbourg fell this morning. Bombed tanks, MT and Hun in Verson just ahead of our lines. Very good bombing 500s; 1000s on bridge at Amaye sur Orne. I turned back due to sieve-like effect of my a/c -- 50 flak holes.
July 16th: W/O McConvey killed taking off. Hattie bailed out again due to flak and picked up immediately in No Man's Land by our troops. Burns.
July 18th: Watson bailed out but safe. The Army seems to be backing up the Air Force well!
July 26th : Stults and Gordon bailed out; safe; engine failure over Caen; crash landed wheels up on two 1000 pounders; one exploded! 1st kite to land on Carpiquet.
[In 440 Squadron Diary: S/L Pentland experienced engine failure on way to target and had to crash land at Carpiquet. One bomb exploded and blew off tail but pilot unhurt. Operations Record Book: After take-off on this operation, S/L Pentland experienced engine trouble and as he approached Carpiquet, his engine cut out. He made a wheels up landing with 2.x 1000 lb bombs on the grass alongside runway which was unserviceable, which he chose rather than jettison his bombs or bale out. He intended to bring the aircraft in to land intact but his speed on landing, 200 mpg, did not allow time for the wheels to come down. One bomb came off and exploded just behind him, blowing off the complete tail plane. The other bomb came off as he came to a stop.
Squadron Diary: July 29, 1944: S/L Pentland had hang-up on first run and dropped bombs on railway siding at L806095. Operations Record Book 440 Squadron: S/L Pentland experienced two hang-ups and proceeded out to ____ to shake them off. Just west of Osbourg on observing a railway siding, and effort was made to drop his bombs and the bombs came away and great volumes of smoke rose up from the warehouses beside the track.
Major Gregory Clark, a correspondent during the Second World War, wrote "The Knight" for the 'Weekend Magazine' a supplement to the Calgary Herald and Toronto Star about William Pentland. (Year unknown, possibly in the 1950s.)
"Among the traffic in the sky this high noon with a squadron of Typhoons, carrying not rockets but bombs, two 1000 pound hogs, one under each wing. In a wood ahead had been detected a force of German tanks fair in the path of our dancing infantry. Squadron Leader Bill Pentland, of Calgary, was leading to it. Two or three miles east of Carpiquet, his engine died -- just died. Pentland signaled his second-in-command to carry on. "Now he had seconds, and not minutes, in which to decide what to do. "Below him or the bocage fields of Normandy; small, each hedged with trees as tall and blythe as elms. In them overcrowded the tens of thousands in our army units. To bail out would leave a deadly wanderer to fall at random. He could not land, not a chance in a million. He could not jettison his two live half tonners of bombs -- not on his comrades. He was too far from his or any airfield to glide. The seconds were flashing by. Typhoons do not float in air. "There, in the bright noon, was Carpiquet, a couple of miles west. He hoped to unload his bombs there, and then chance the landing. But when he drew near, to make a slow, powerless circuit, he saw the blessed engineers, only a few of them, one here, one there, scattered dutifully and creepily over the cursed airfield's face. He would not trade one engineer for his life. "Up went hastily, frantic signals. Tracers fanned through the sky ahead of him, to waken him, warn him. "Pentland straightened out. His head-heavy, bomb-sodden, Tiffy began its final awful glide. His wheels did not come down, so those of the thousands of us were watching spellbound, knew what he had chosen, in those final seconds, to make a belly landing, and so make a short slide, rather than risk the long run on wheels over the mine ridden field. But his bombs! "There was a gigantic cloud of dust from the belly landing, a massive explosion. Out of the dust slid the main part of the Tiffy, one wing and its tail gone. And in the cockpit, Pentland, out to whom the blessed engineers hastily swept their little paths of safety. A few weeks later, Pentland was killed in another action. "But this was chivalry, of chivalry its essence."
July 30th: Lippert shot down by enemy aircraft.
August 7th: Very fine bombing; commended often by Army; Cliff Hicks missing this morning.
[440 Squadron Diaries: August 9th: Word was received that S/L Pentland has been awarded immediate D.F.C. This promises to boost the morale of the pilots. A congratulatory message was received from AOC 83 Group by S/L Pentland on the award of an immediate D.F.C.]
August 13th: On Leave! (underlined twice)
August 31st: Thunderbolts USAAF had a good squirt at us! The so 'n so's!
[440 Squadron Diaries: Were attacked and fired on by eight Thunderbolts at 2110 hours in area N.45.]
September 6th: B48 to B58: Brussels; Lost Second Flight!! Belgium. (For more information, See Hall Gooding)
Throughout September, Pentland notes ops in Holland: booby trap hole, light flak and some heavy flak, two direct hits on a low level attack, line broken in two places, pranged two train engines with cannonl also two motor transport flamers and a smoker; strafed Jerry barracks in woods, big explosion observed; strafed houses; flak above cloud.
October: Shelled on Graves dome; burst engine boiler with cannon (wonderful steamer!) and then on same dive, dropped bombs which blew up cars --flames 200 feet high. Good hits.
Last Flight: Typhoon 1B MN 641 October 7, 1944
Several witnesses state that on October 7, 1944, around 1600 hrs, several fighter aircraft came low over Bislich. One was seen to crash out of reasons unknown in Bishlicher Wald near the railway line Wesel-Emmerich. Mrs. Buchhole of Bishlicher Wald 340 stated that she arrived first at the wreckage and found that the pilot was dead and the aircraft wreckage. She informed the police. On the following day, Policeman Kasten fetched the body and brought him to the mortuary of the Catholic cemetery in Bislich. Mr. H. Fierley of Bislich 172 who helped the policemen bring the remains to the cemetery stated that identity documents were found on the body. Harry William Pentland, born 4th May, 1917. The cemetery keeper, Wilhelm van Aaken of Bislich 169, together with the policeman buried the pilot in the cemetery Bislich.
440 Squadron Diary: The third a final target proved very costly when our Officer Commanding, S/L W. H. Pentland, DFC was killed. He has only three more trips to complete his second tour of operations and his loss is deeply felt by all those who worked with and knew him. The target was to dive bomb rails at A.0758 - A.1747 in which 8 of our aircraft participated, using 16x500 lb, 11 second delay bombs. On the bombing run, S/L Pentland was seen to dive with his guns blazing and his aircraft was seen to explode after dropping his bombs. Just after dropping bombs. S/L Pentland's aircraft blew up and pieces of it struck and damaged F/O Savard's aircraft. F/O Savard who followed behind was caught in the explosion and narrowly escaped spinning in.
F/O J.G.E. Savard, 440 Squadron wrote: "On the afternoon of October 7, I was Number Two in Red Section which Squadron Leader Pentland was leaving on an operational sortie to a rail line near Praest, Germany. I followed Squadron Leader Pentland in a dive-bombing attack on the target. He strafed a rail car on the way down and dropped his bombs. As he was pulling out of his dive, his aircraft exploded and parts of his aircraft hit my aircraft causing slight damage. I did not see him bail out. I returned to base and reported the accident.
Letter dated November 11, 1944: Written by G/C Davoud He wrote to Mr. Pentland -- told him that he was relieved to know that when Bill joined the Squadron, he would have a strong, experienced leader. "Bill got all his lads converted to their Typhoons and when they came south and started on operations, he set an exceptional standard as a leader, which he maintained right up to the last. "The area in which he went down was heavily defended, but as usual, he took it all in his stride. I had suggested just previously that I thought he had done enough, but he expressed a wish to do a few more trips, so I did not stand in his way. "No one in the RCAF was ever better deserved of the DFC."
Letter on March 8th, 1950 written by W/C W.R. Gunn stated that Bill's aircraft crashed 5 miles NW of Wesel, Germany. Bill's body was exhumed and reburied in the British Military Cemetery at Rheinberg, Germany.
Acting Squadron Leader William Harry PENTLAND (Can/J.3204), R.C.A.F., 440 (R.C.A.F.) Sqn. This officer has completed -many sorties on his second tour of operational duty. In air operations over the Normandy area he has led the squadron on many sorties during which bridges, enemy strong points, troop concentrations and mechanical transport have been determinedly attacked. Throughout these operations, Squadron Leader Pentland has displayed great skill, courage and resolution.