William Thomas Dunkeld J25085
1921 (Approximate) - December 24, 1944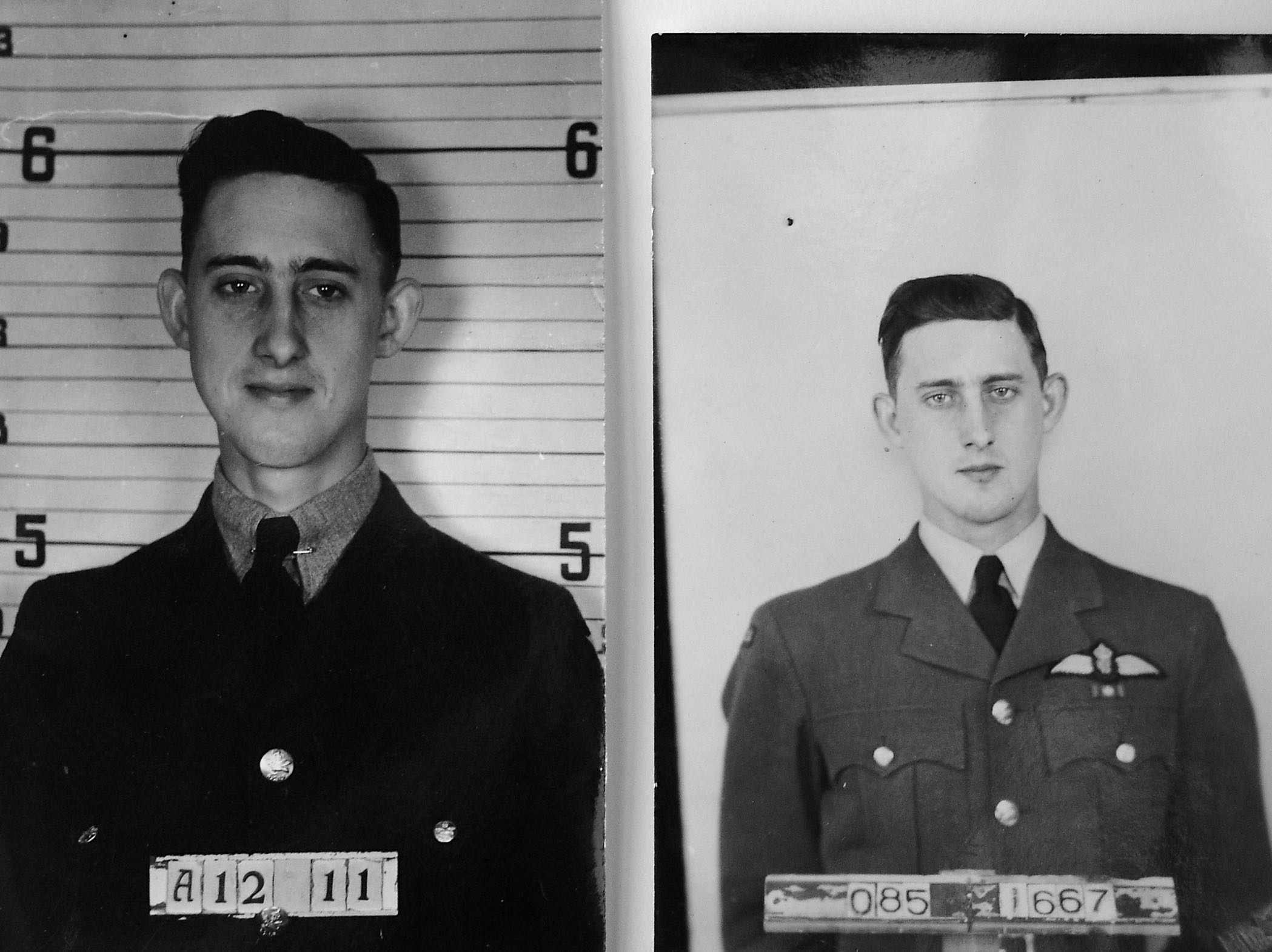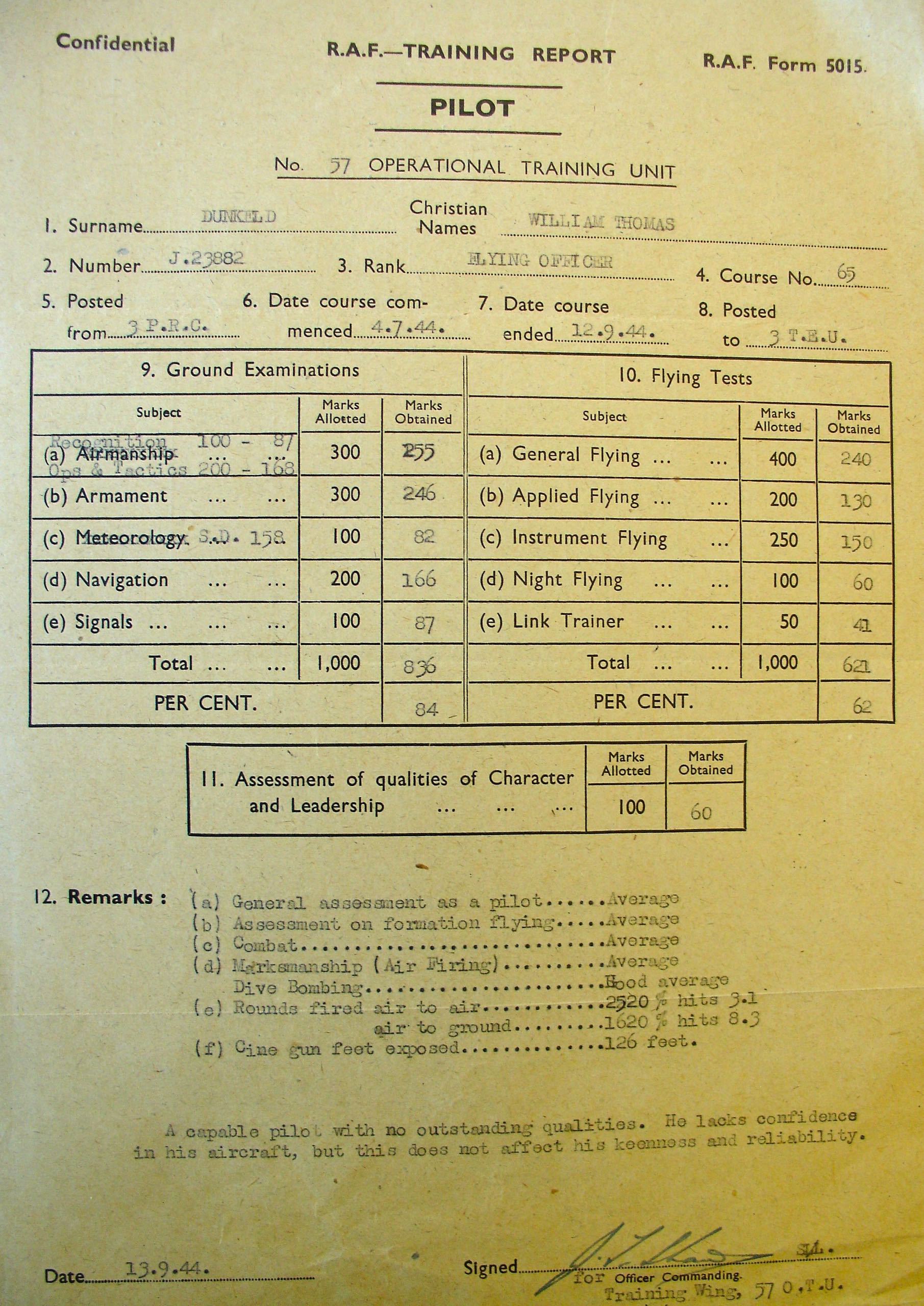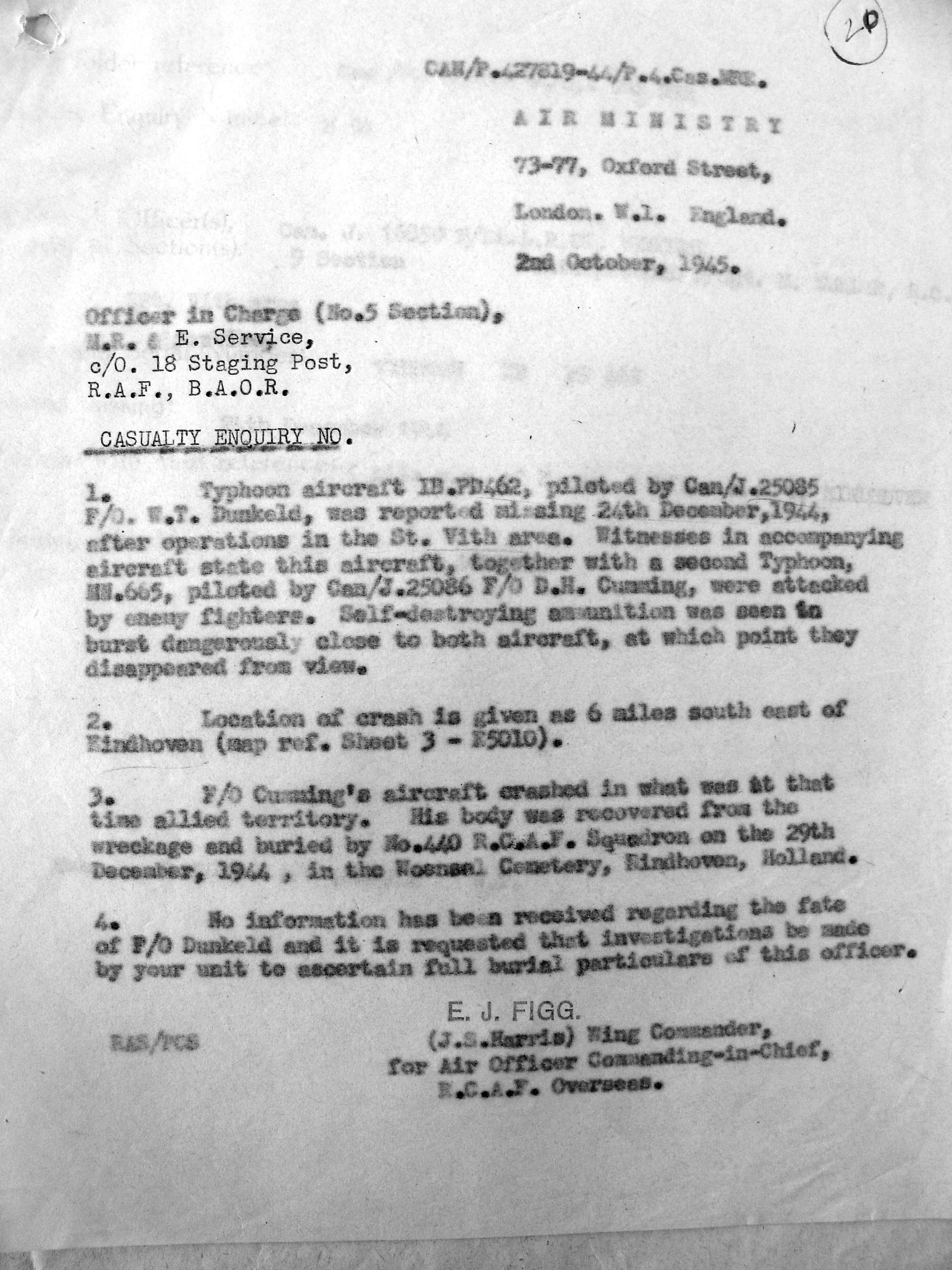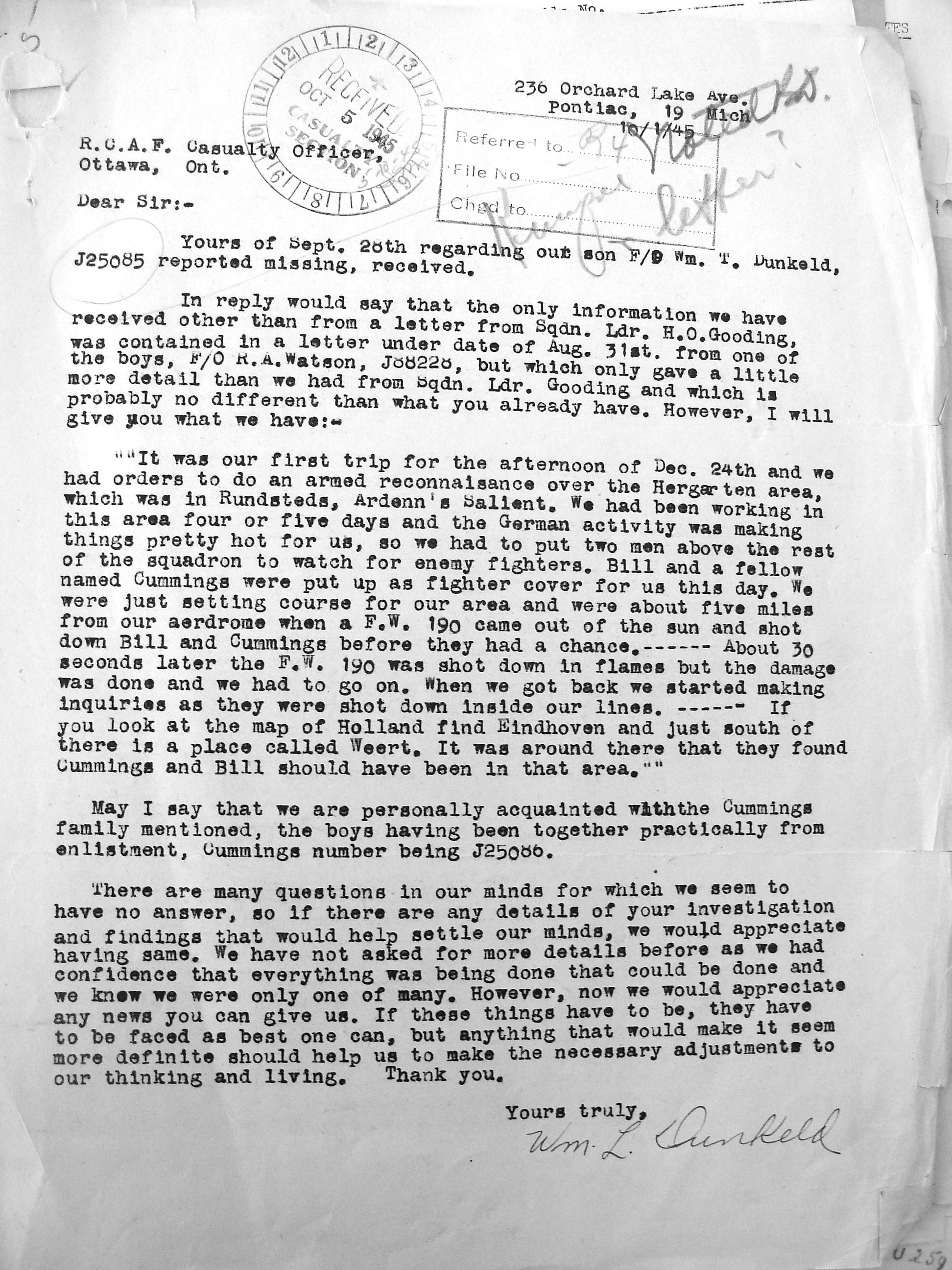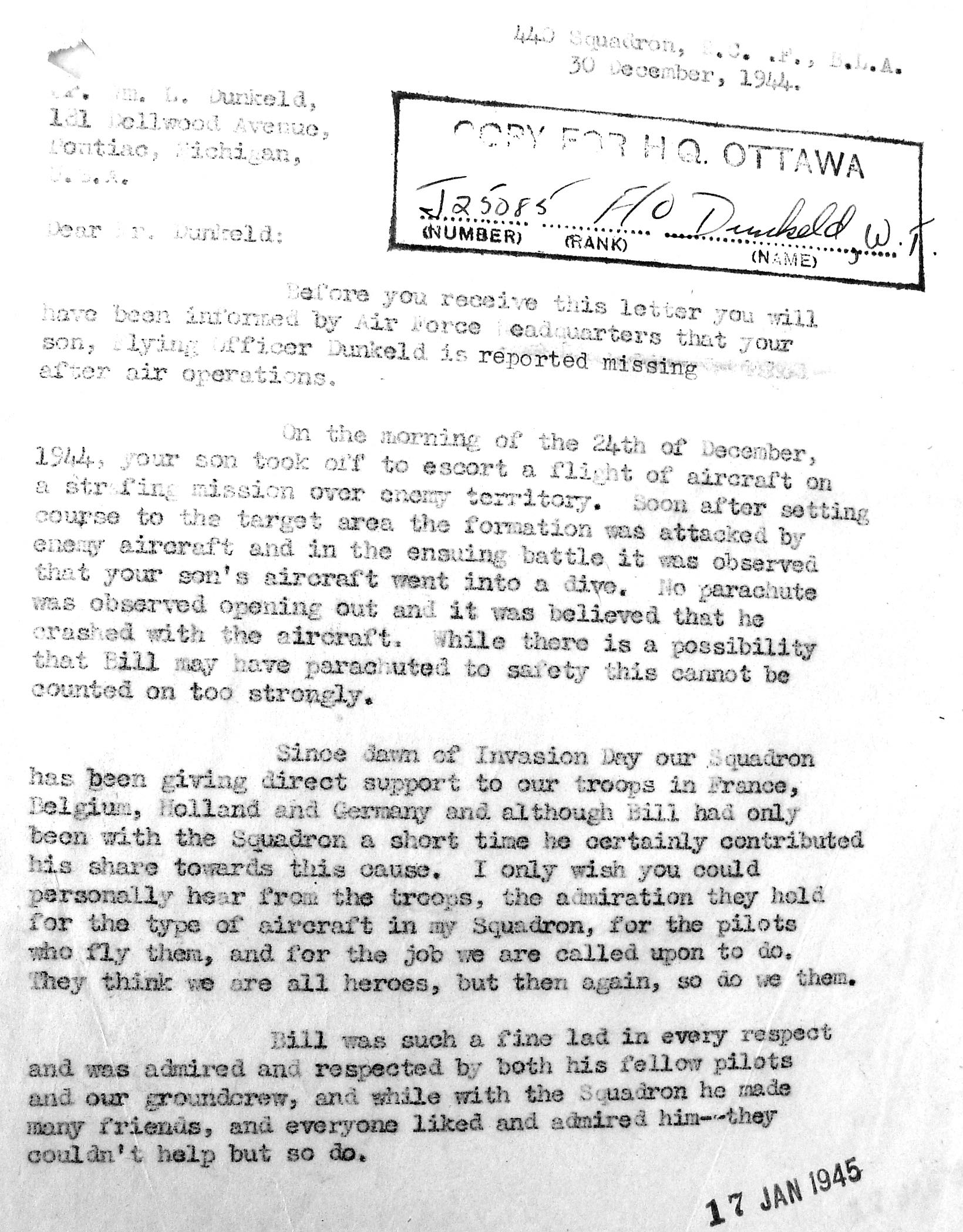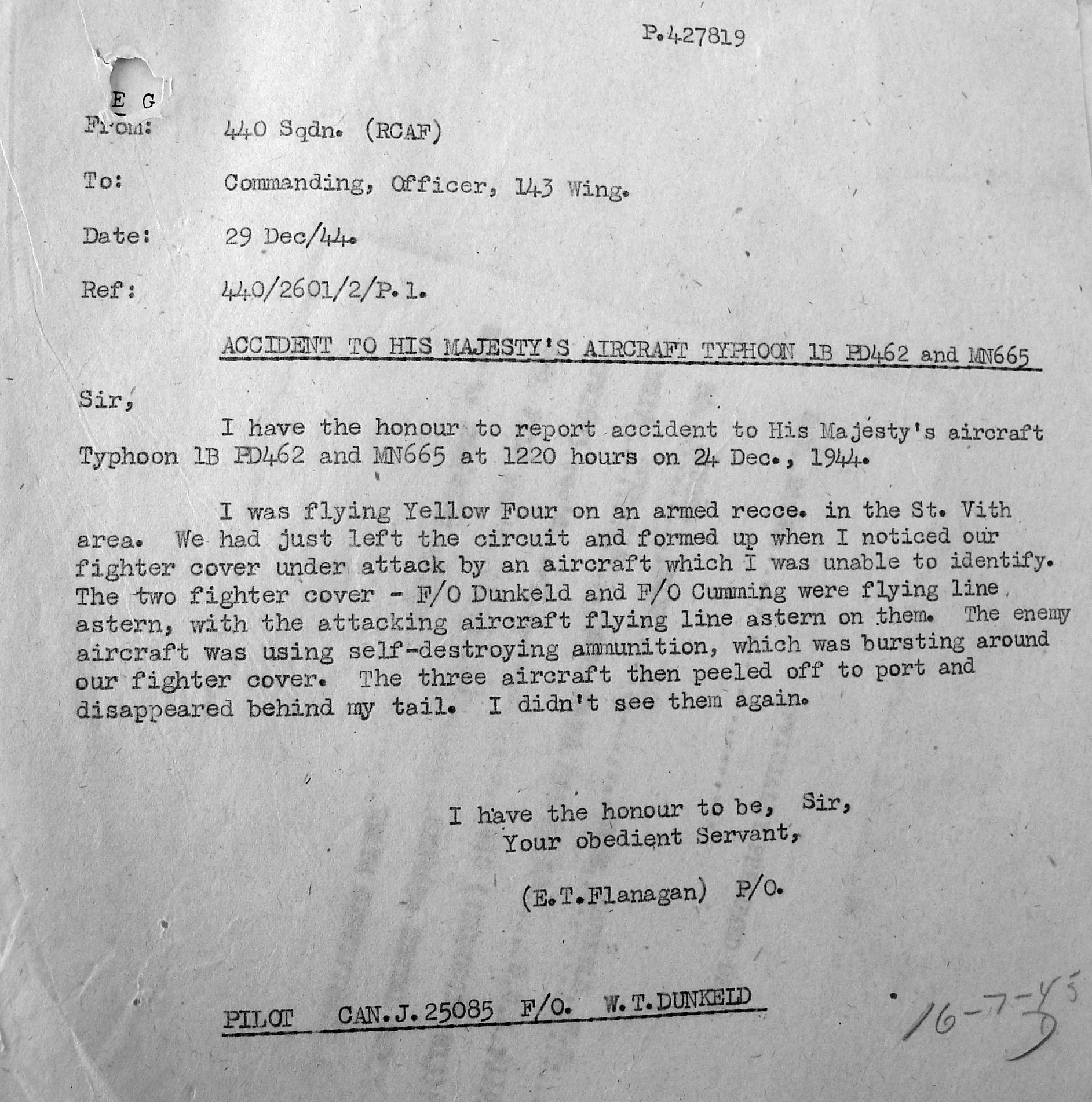 440 Squadron
William Thomas Dunkeld was the son of William L. (WWI veteran) and Lila M. Dunkeld of Pontiac, Michigan. He had one brother who was a missionary in Africa. The family was Baptist. Dunkeld was a factory worker, doing bench assembly at the Yellow Truck and Coach Company in Pontiac, Michigan before enlisting with the RCAF. He wanted to stay in the RCAF after the war. He attended the University of Michigan for two years training to become a music teacher. He stopped his education to take a position as alto horn player in the Detroit Symphony Orchestra and played for close to two seasons.
In February 1944, at C.M.B. Dartmouth, Nova Scotia, he was referred for psychiatric review. "Complaints: none. This family history shows some predisposition. The father was trained in medicine and served in the last war as an MO. After discharge he refused to practice his profession and studied metallurgy and is now employed by Fisher Body Company in Pontiac, Michigan...Birth and early childhood appeared to fairly normal. [Mother a little inclined to segregate children in the community.] [Dunkeld] admits to some tenseness during exams in upper grades, which caused him to lose his appetite. At nine, he became interested in music and studied from then on nearly all wind and reed instruments. He left the Detroit Symphony following his country's participation in the war to enlist in the Marine Band. He could not meet naval physical standards. He felt that he had the improper educational background for Army Air Force and so enlisted in February 1942 in the RCAF. He was sent to No. 1 Manning Pool thence to an eastern station for security guard; then to No. 6 ITS, Sky Harbour EFTS, Dunville SFTS and received his wings in April 1943. He was posted immediately to Y Depot, thence to Bagotville where he piloted a Hurricane with a fighter squadron. Very little flying was obtainable and he felt lucky to get in thirty hours a month. He stayed at Bagotville until October 1943, at which he was involved in a crash. His aircraft failed mechanically while he was low flying. He had very little time to pick a field and the aircraft turned over on its back in the landing. He was not hurt beyond a bruise on the leg. He went flying again that afternoon. About a week following his accident, he began complaining of pains in the back on jumping. He was referred to a physician in Chicoutimi who thought he had some difficulty with one kidney [blood in urine]. These complaints cleared up after and he was later posted to Goose Bay. There he got alone extremely well until one day following more severe acrobatics than usual, he played some basketball. That night he again had pains, this time in the lower part of the abdomen about both groin, lasting three or four days, during which he reported to the MO and was referred to this Command Board. Present situation arose when Surgeon could find no cause for his complaints and referred him as a functional case. He has no fear of flying. He states he is anxious to continue his flying; would not relish being grounded, and presents the personality of an honest, serious, well motivated, slightly over conscientious, sensitive individual. His family background shows some slight predisposition to neuro-psychiatric disorder, but his only tendency to neurotic illness is to be found in a slight tension before ordeals and perhaps a mild feeling of inadequacy." His physical exam was negative for neuroses. Conclusion: "At the moment, this man shows no evidence of neurotic illness beyond subjective complaints described as functional...it is possible that in the few months following the accident, he had a mild psycho-neurosis. It is not possible, at this date, to say definitely that he did, and at the moment there is none present. In my opinion, he is fit, from a psychiatric point of view, to fly." Signed, S/L Moorehouse
Between July 4, 1944 and September 12, 1944, he was at No. 57 OTU. "A capable pilot with no outstanding qualities. He lacks confidece in his aircraft, but this does not affect his keenness and reliability." He was average on his general assessment, as well as on formation flying, combat and marksmanship. Dive bombing: good average.
Dunkeld scored direct hits on a defended outpost with P/O R. A. Watson (J88228) on November 29, 1944. The Squadron received a message congratulating them.
On December 24th, 1944, Dunkeld took off to escort a flight of aircraft on a strafing mission over enemy territory. S/L Hal Gooding wrote, "Soon after setting course to the target area, the formation was attacked by enemy aircraft and your son's aircraft went into a dive. No parachute was observed opening out and it was believed he crashed with the aircraft. While there is a possibility that Bill may have parachuted to safety, this cannot be counted on too strongly...Bill was such a fine lad in every respect and was admired and respected by both his fellow pilots and our groundcrew and while with the Squadron, he made many friends and everyone liked and admired him. They couldn't help but do so."
P/O E. T. Flanagan reported about the accident. "At 1220 hours on 24 December 1944, I was flying Yellow Four on an armed recce in the St Vith area. We had just left the circuit and formed up when I noticed our fighter cover under attack by an aircraft which I was unable to identify. The two fighter cover (F/O Dunkeld and F/O Cumming) were flying line astern, with the attacking aircraft flying line astern on them. The enemy aircraft was using self-destroying ammunition, which was bursting around our fighter cover. The three aircraft then peeled off to port and disappeared behind my tail. I did not see them again."
On October 2, 1945, a Casualty Enquiry reported: "Typhoon aircraft IB PD462, piloted by Can.J/25085 F/O W. T. Dunkeld, was reported missing 24th December 1944 after operations in the St. Vith area. Witnesses in accompanying aircraft state this aircraft, together with a second Typhoon MN665 piloted by F/O D. H. Cumming, were attacked by enemy fighters. Self-destroying ammunition was seen to burst dangerously close to both aircraft, at which point they disappeared from view. Location of crash is given as 6 miles south east of Eindhoven. F/O Cumming's aircraft crashed in what was at that time allied territory. His body was recovered from the wreckage and buried by 440 RCAF Squadron on the 29th December 1944, in...Eindhoven, Holland. No information has been received regarding the fate of F/O Dunkeld and it is requested that investigations be made by your unit [No. 5 Section MR & E Service] to ascertain full burial particulars of this officer."
No. 2 MR & E Unit, RAF reported, "On the 11th of February 1946, a visit was paid to the Maree Chaussee Police of HEEZE, for information regarding the crash of Typhoon PD462. Sgt. Schuurman of the Maree Chaussee Police stated that he first saw the pilot when he was being given lemonade in an ambulance....He said he was in pain and gave his description as that of a big blond haired man. He escorted us to the scene of the crash, approximately 1 mile SE of the village of HEEZE. This farm belonged to Cornelis van MARD, whom we interviewed. He stated that he was there when the crash occurred and was the first to help the pilot out of the aircraft. He also mentioned that the pilot was reluctant at being carried away. he asked him if he was English and he replied that he was Canadian. He said he thought he was wounded in the leg. We then proceeded to Mrs van ZWET...who was the woman who provided the lemonade. She said she saw the pilot when the ambulance stopped at her door, and was asked for some lemonade by the sisters. As far as she can remember, the ambulance left in the direction of Eindhoven. Mrs. R. N. THEEUWEN of Bredrikstraat, HEEZE, is the wife of the doctor who helped the pilot at the scene of the crash. He is now in the Dutch East Indies. She could not give us any information as she was not in HEEZE when the crash occurred, but she gave us the address of the doctor's assistant. A visit to the Bunnengasthuis Hospital in Eindhoven yielded no informatino as regards a F/O Dunkeld having been admitted to that hospital on or around the 24th December 1944. This territory was in Allied hands. On February 13, we interviewed Miss NELLY DE RIJKE, who states that the doctor and herself were at the scene of the crash as soon as it happened. He was not seriously wounded, but had a sprained leg and a broken arm. She described him as having red hair and freckles and about 20 years old. He told her that he was yelling with pain at times. She and the doctor searched him for identification papers but found nothing except a silk map which he gave the doctor as a souvenir. It was then that an ambulance arrived from Eindhoven with two nursing sister nuns who helped him into the ambulance. The Germans, the only ones in the town, tried to interfere, but the sisters told them to leave everything to them, that they would take him to the hospital and got into the ambulance. The Germans still insisted in escorting him to the hospital and got into the ambulance. On the way, they stopped at Kreely Street to give the pilot some lemonade. From this enquiry, it has been found that your letter dated October 2, 1945 has given us incorrect information, as it states that the aircraft was missing on the 24th of November 1944, when all the persons interviewed are positive it took place in the month of August 1944. Could that point be clarified? Another visit is to be paid to the Binnengasthuis Hospital, and also the house of Mr Wichorn of Hoenderweg, HEEZE, where the two Germans were billeted. This investigation will be resumed as soon as transport is available."
The investigation continued into the fate of F/O Dunkeld. Officials of the community were interviewed and people stated that no aircraft had crashed on or around their community 3 months after the liberation of the area. A trip to Belgium resulted in the same response. Heading to the cemetery where F/O Cummings was buried, the sexton could not tell the investigating officer where the body had come from. On October 5, 1946, he interviewed Mr. Henseman, Town Official of Valkenswaard, 9 km sough of Eindhoven who stated that he remembered that two British fighters were shot down by a German aircraft, who in turn was also shot down. "This happened in December, around Christmas. The exact location was near a farm at RAADBROEK, 2 miles south of LEENDE, on the road to WEERT, 500 yards to the right. This farm was owned by M. SWINKLES. Mr. SWINKLES told us that he was not present when the crash occurred, but said he would take us to the spot where one of the fighters had gone straight into the ground. Arriving at the spot, we found a few pieces of DURAL, a thing which could enable us to identify the aircraft. However, further on, he showed us a hole, 5 feet long, 3 feet wide and 5 feet deep, filled with 3 feet of water. He said that the engine was a few feet under the water covered with mud. He said that he had unsuccessfully tried to recover the engine and while doing so, noticed the smell of decomposing flesh which made him abandon his work of recovery. Since then, the rain had gradually made the earth softer and consequently the engine and the remains of the body may be a few feet deeper. We thanked him and proceeded to the adjacent farm. The farmer was absent but his wife remembered the incident very well. She said it happened on a Sunday, which is correct and around noon. One of her sons had been to see one of the aircraft and reported that he had seen a Canadian pilot, presumably F/O Cummings. This seems to confirm your report. Then it can be assumed that the body of F/O Dunkeld is still in the remains of Typhoon PD462. No. 3 Base Recovery Unit will be asked to recover this aircraft and to have the remains concentrated. It is pointed out that the present commitments of No 3 BRU are so great that the recovery, if effected in order of request, should not be expected for another 8 months at least." On the 23rd of November 1946, the remains of the Typhoon and Dunkeld were recovered. His body was very badly burnt and decomposed and his remains were placed in a small coffin and buried on the spot. The coffin was to be reburied in the Venray Military Cemetery, but was buried in the Jonkerbos Cemetery, four kilometres south Nijmegen.
The investigating officer was able to interview one of the nursing sisters, Sister OTHMARA. She remembers attending to a pilot of a crash airplane, 'during the hot season, June or July'. She said she was in the ambulance going to HEEZE to pick up a sick civilian patient. On the way, she was stopped by civilians who told her that a train had been attacked and an allied aircraft was shot down nearby. She arrived at the scene and found Dr. Theeuwne. The pilot had been taken out of the aircraft by a farmer and had been lying in the shade. Some German officers then arrived and ordered her to take the pilot to the German Naval Hospital (now St. Joseph). Two Germans got into the ambulance with her and on arrival, some German attendants were ready to take him out of the ambulance. She said they were very careful. That was last she saw of the pilot, but she noted he was wounded in the ankle, and had some broken ribs and could not move his arms, but he was conscious. The investigator felt that the pilot was taken to Germany along with the other German wounded at the hospital, where he might have died from his wounds and another investigation was put forth. Who was this pilot?
More information about Dunkeld can be found in Typhoon and Tempest by Hugh Halliday, on pages 84, 93, 179, and 187.
LINKS: